Panda Express Firecracker Chicken Breast with marinated white meat and peppers in a spicy black bean sauce.
This Panda Express Firecracker Chicken Breast recipe is a really well seasoned, delicious recipe that is a great option for you if you are watching your weight. With only 3 tablespoons of oil in the entire recipe, you'll love that you're enjoying a great takeout option and it is so low in fat!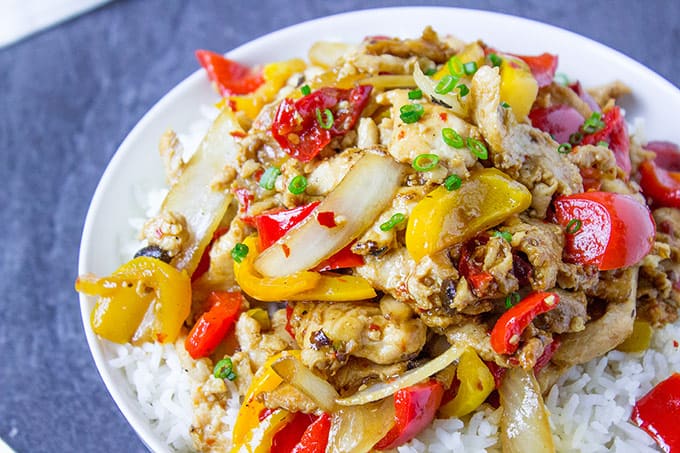 Keeping track of all the Panda Express copycat recipes here on the blog?
Panda Express Firecracker Chicken Breast (you're here!)
And some basic Chinese food cooking tips for your reference:
Invest in a wok. It can be a second hand one or an inexpensive option on Amazon, but a wok will make your prep and cooking infinitely easier.
Learn to slice meat thinly, against the grain. Most Panda Express recipes include beef or chicken cut wide and thin (I think it is to make the pieces look larger, haha) so pay close attention to your prep. If you slice the beef too thick it will NOT be as tender.
Prep your vegetables ahead of time. Once you're working with your wok everything has to be in grabbing distance and able to be added quickly or your food will overcook.
Cook quickly. When you're working in a wok, things happen fast and flavors stay crisp, so don't keep simmering or cooking the food.
Authentic ingredients. Yeah it may suck to spend 8 dollars on a bottle of sesame oil, but that sauce will make you so many delicious meals that by the time you finish the bottle you will be completely at peace with the cost of it. 😉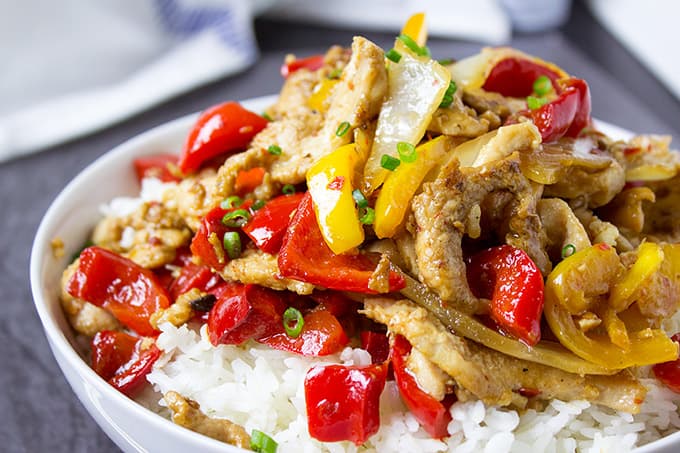 Ingredients
12

ounces

chicken boneless skinless breast

, cut into long thin pieces

2

tablespoons

canola oil

1

teaspoon

sesame oil

8

pieces

whole dry chili pepper

1

teaspoon

minced ginger

1

teaspoon

minced garlic

1

teaspoon

crushed red chili pepper

1 1/2

teaspoons

black beans

, washed (these are pretty optional, but I left them in to preserve authenticity)

1

red bell pepper

, diced into 1" strips

1

yellow bell pepper

, diced into 1" strips

1/2

white onion

, sliced into ¾ inch wedges

1

teaspoon

white wine

(any cooking wine would work here including Shaoxing wine)

1

tablespoon

soy sauce

1

tablespoon

cornstarch

1/4

cup

water
Instructions
Mix the sesame oil, cooking wine, soy sauce, cornstarch mix and water in a small cup.

Heat

wok

over high flame. Add canola oil until it is heated through.

Add chicken breast and cook over high heat for

1 minute

.

Remove the chicken and add in the onions and red and yellow bell pepper and cook for

30 seconds

.

To the pan of vegetables, add whole dry chili peppers into skillet and stir until they darken, for about

30 seconds

.

Add the ginger, garlic, crushed red chili pepper and washed black beans into skillet and stir for another

30 seconds

.

Add the chicken and the mixed sauce ingredients to the pan and stir until the sauce thickens.

Serve immediately.
Nutrition
Calories:
213
kcal
|
Carbohydrates:
9
g
|
Protein:
19
g
|
Fat:
10
g
|
Saturated Fat:
1
g
|
Cholesterol:
54
mg
|
Sodium:
363
mg
|
Potassium:
517
mg
|
Fiber:
2
g
|
Sugar:
2
g
|
Vitamin A:
1695
IU
|
Vitamin C:
95.5
mg
|
Calcium:
11
mg
|
Iron:
0.9
mg