A Panda Express Beef and Broccoli delicious spot-on copycat with tender stir fried flank steak and steamed broccoli in a classic ginger soy sauce.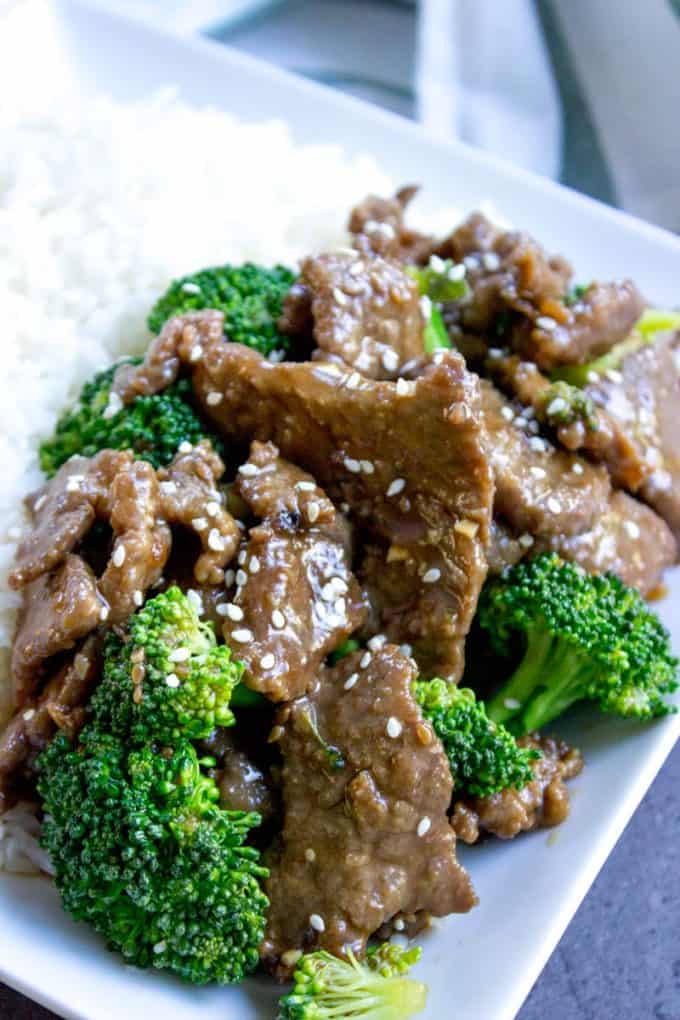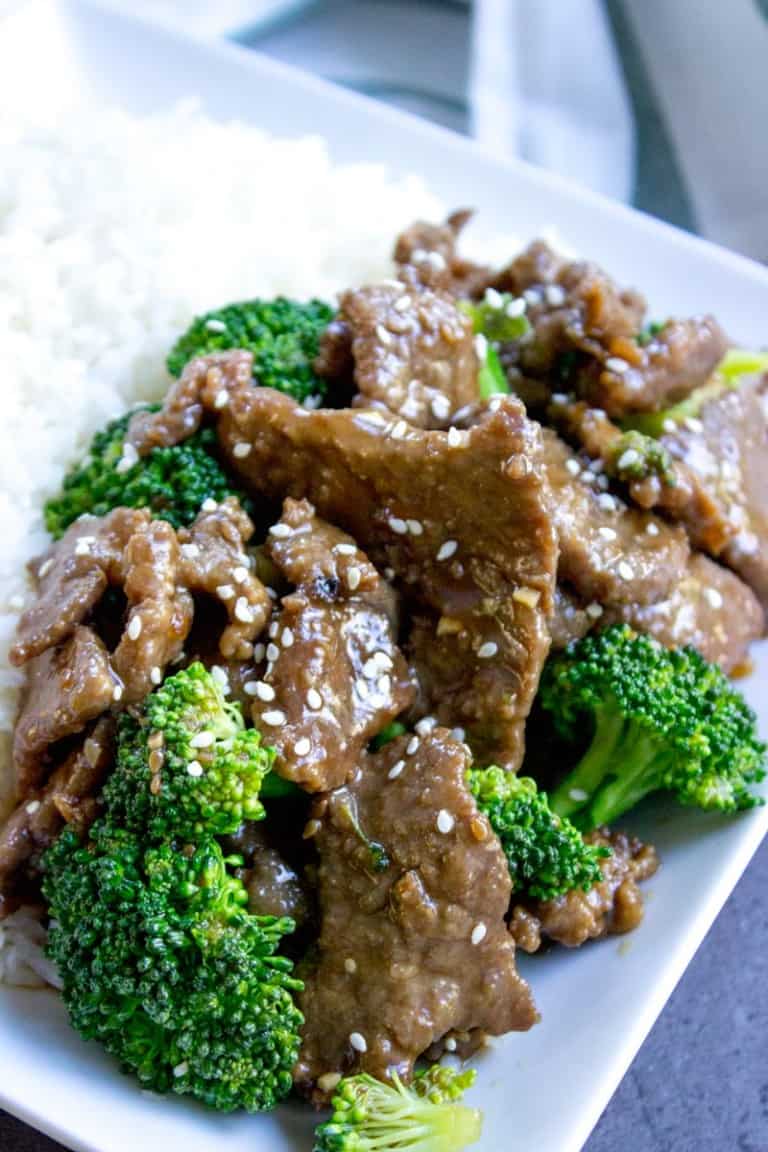 Panda Express Beef and Broccoli is one of my anchor choices every time we go to Panda Express. Not sure if you guys have noticed the wide array of Panda Express recipes on the blog. While there are a LOT of copycat recipes, Panda Express is definitely my most popular copycat source. There are so many things to love about Panda Express, like how when you walk in you see trays of fresh whole vegetables that are going to be cut up and used fresh in the foods. I think we tend to forget about vegetables when we go out for fast food, but it is so easy to include them at Panda Express.
This Panda Express Beef and Broccoli shines because the recipe is quick, tender, healthy-ish 😉 and has lots of delicious broccoli in the mix. It makes you feel better about the Chow Mein and Orange Chicken you put next to it in your two item combo.
There may be a few ingredients in the recipe that aren't in your pantry. Yes you can probably substitute some things, but to get the real Panda Express Beef and Broccoli flavor you will have to visit your local Asian grocer or pop over to Amazon to grab them. There is really just a few things you'd need and it will open up your options exponentially as most of the recipes use the same handful of ingredients.
Keeping track of all the Panda Express copycat recipes here on the blog?
Panda Express Beef and Broccoli (you're here!)
Some tips to keep in mind when making takeout Chinese Food at home:
Invest in a wok. It can be a second hand one or an inexpensive option on Amazon, but a wok will make your prep and cooking infinitely easier.
Learn to slice meat thinly, against the grain. Most Panda Express recipes include beef or chicken cut wide and thin (I think it is to make the pieces look larger, haha) so pay close attention to your prep. If you slice the beef too thick it will NOT be as tender.
Prep your vegetables ahead of time. Once you're working with your wok everything has to be in grabbing distance and able to be added quickly or your food will overcook.
Cook quickly. When you're working in a wok, things happen fast and flavors stay crisp, so don't keep simmering or cooking the food.
Authentic ingredients. Yeah it may suck to spend 7 dollars on a bottle of oyster sauce, but that sauce will make you so many delicious meals that by the time you finish the bottle you will be completely at peace with the cost of it. 😉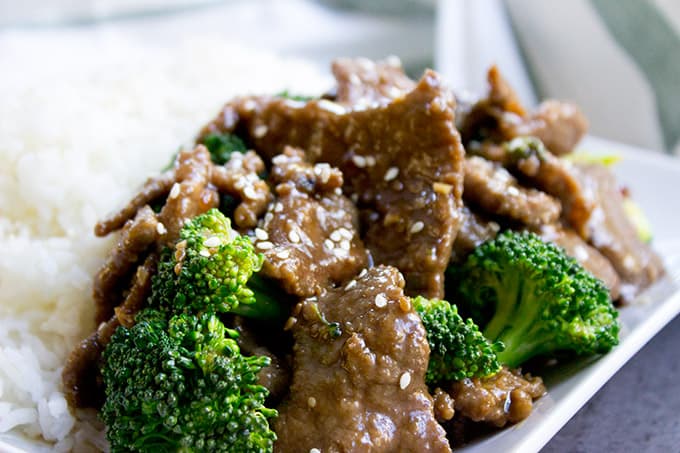 Ingredients
1

lb

flank steak

, sliced thinly against the grain

1

tablespoon

cornstarch

3

tablespoons

shaoxing wine

, divided

1

lb

broccoli floret

, cut into bite sized pieces

2

tablespoons

cooking oil

(I use canola, vegetable is fine too)

1/4

teaspoon

sesame oil

2

garlic cloves

, minced

1

teaspoon

ginger

, very finely minced

2

tablespoons

oyster sauce

2

tablespoons

water

1

tablespoon

brown sugar

1

tablespoon

soy sauce

1

tablespoon

cornstarch

2

teaspoons

sesame seeds

(optional)
Instructions
Add the beef, cornstarch and 2 tablespoons of the shaoxing wine together in a ziploc bag and squeeze the bag a few times to combine.

Let marinade for

20 minutes

.

Half steam your broccoli, I usually microwave in a glass bowl with a wet paper towel on top of freshly rinsed broccoli for 2:45 to cook though. In this case I would cook for

2 minutes

.

Combine the oyster sauce, water, 1 tablespoon of the shaoxing wine, brown sugar, soy sauce and cornstarch into a small bowl and stir to mix.

Heat a

wok

on high, the hotter the better.

Add the cooking oil and sesame oil to the pan and when you see it rippling, add ⅓ of your flank steak.

Sear on high heat,

1 minute

on each side.

Remove beef and cook the last two batches.

Add your garlic and ginger and cook for

10-15 seconds

.

Add the beef back into the pan.

Add in the broccoli.

Stir your sauce again (to make sure the cornstarch hasn't settled) and add it to the pan.

Quickly toss to combine until the sauce just thickens.

Add sesame seeds for garnish (optional).

Serve immediately.
Nutrition
Calories:
315
kcal
|
Carbohydrates:
16
g
|
Protein:
28
g
|
Fat:
13
g
|
Saturated Fat:
3
g
|
Cholesterol:
68
mg
|
Sodium:
597
mg
|
Potassium:
754
mg
|
Fiber:
3
g
|
Sugar:
4
g
|
Vitamin A:
705
IU
|
Vitamin C:
101.6
mg
|
Calcium:
92
mg
|
Iron:
2.8
mg