Enjoy the authentic flavors of Copycat Panda Express Kung Pao Chicken with fresh veggies and crunchy peanuts in an easy ginger garlic sauce!
Dive into the rich tapestry of Asian cuisine with these similar mouthwatering recipes. You'll love the sizzling Spicy Cashew Chicken, the ever-popular Orange Chicken, and our delicious Teriyaki Chicken, there's always something special waiting for your palate!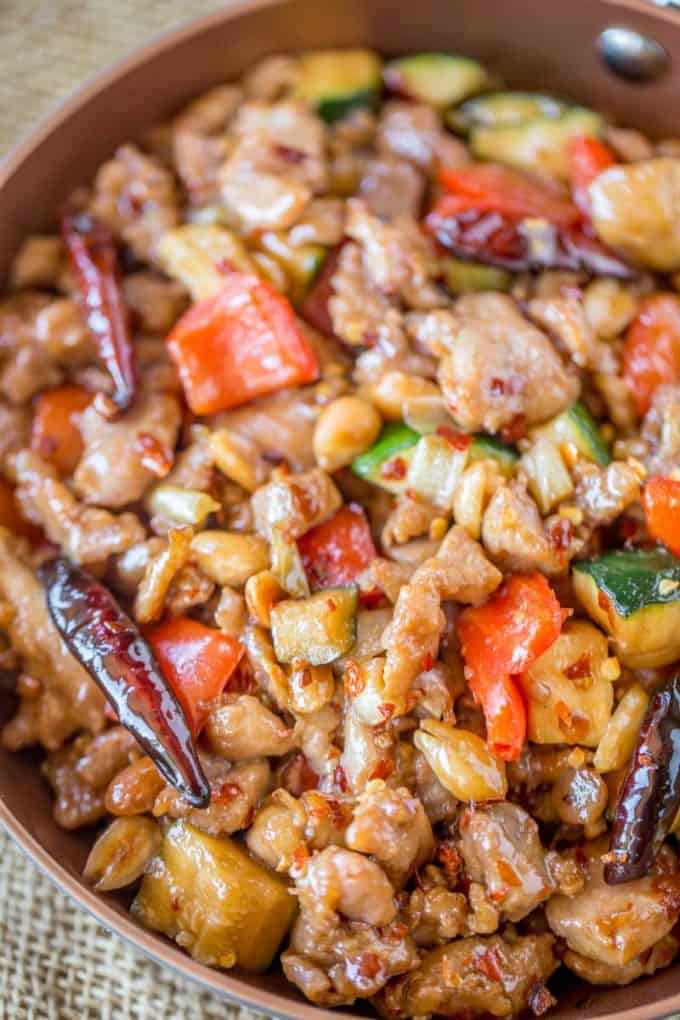 Panda Express Kung Pao Chicken (Copycat) is a classic stir-fried dish from the Sichuan province and has won hearts worldwide with its impeccable fusion of spicy, sweet, and savory flavors. This homemade copycat version captures the essence of the beloved dish while allowing you to adjust the heat level to your preference. The chicken, combined with a symphony of sauce ingredients, offers an explosion of taste in every bite. While traditional versions in Sichuan might lean towards a fiercer heat, the beauty of making it at home means customizing it to your liking.
Another name often given to this dish is "Compound Chicken" which sounds the same when verbalized! What makes this recipe truly stand out is its authenticity. And if you're in the mood to explore more, don't miss out on the Panda Express Orange Chicken (Copycat) that's equally delightful. 
More Easy Panda Express Copycat Recipes
How to Make Panda Express Kung Pao Chicken (Copycat)
Unleash your inner chef and bring the magic of Panda Express right to your own kitchen. With easily available ingredients and simple steps, you can recreate this Asian delicacy in no time. Check it out!
Ingredients: Get fresh chicken breast, and ensure your pantry is stocked with all the sauce ingredients. For that classic stir-fry touch, ensure you have roasted peanuts and vegetables at hand.
Preparing the Chicken – Begin by cutting the chicken breast into bite-sized pieces. Season it well and ensure it's ready for the stir-fry process. To make the chicken more like Panda Express, cut the chicken into large cubes and then pulse it twice in the food processor for just a ½ second each just to break it apart and give it the same unique look.
Sauce Base – In a small bowl add the wine, soy sauce, and water and set aside.
Stir Fry – Heat oil in a pan on medium-high heat. Add the chicken pieces and stir fry until they're golden brown. Push chicken to the side, add vegetables, and stir fry until they're slightly tender. Pour in the sauce and stir everything together.
Serve – Once everything's well-combined and cooked, dish it out and sprinkle roasted peanuts for that added crunch and chopped green onions for a pop of color. Enjoy! 
Frequently Asked Questions
What cut of chicken is best for Kung Pao Chicken?
Chicken breast is recommended because of its lean texture and ability to soak up the flavorful sauce. But you can use any chicken you have on hand. 
Do I have to marinate it for a full hour?
For the best flavor, we highly recommend letting the chicken marinate for at least an hour, even overnight if you'd like! But it technically doesn't need to be marinaded. 
Is Kung Pao Chicken very spicy?
While traditional Kung Pao Chicken is known for its spicy flavor, this recipe allows you to adjust the spiciness according to your preference. Just add more pepper flakes if you'd like more spice, or less pepper flakes and chilis if you prefer less. 
Can I use other nuts instead of peanuts?
Absolutely! Feel free to substitute with cashews or almonds, though peanuts offer the most authentic flavor.
Is this dish healthy?
You'll love this Panda Express Kung Pao Chicken, even if you have never enjoyed it at Panda because the amount of oil per serving is just 1 tablespoon, and with the addition of white meat chicken, zucchini, and bell peppers, this dish is very healthy even though it is "take out."

If you want to cut down the fat even further you can either ditch the peanuts in the pan and just sprinkle a couple of crushed peanuts on top or cut down on the oil by using half. 

Create a free account to

Save Recipes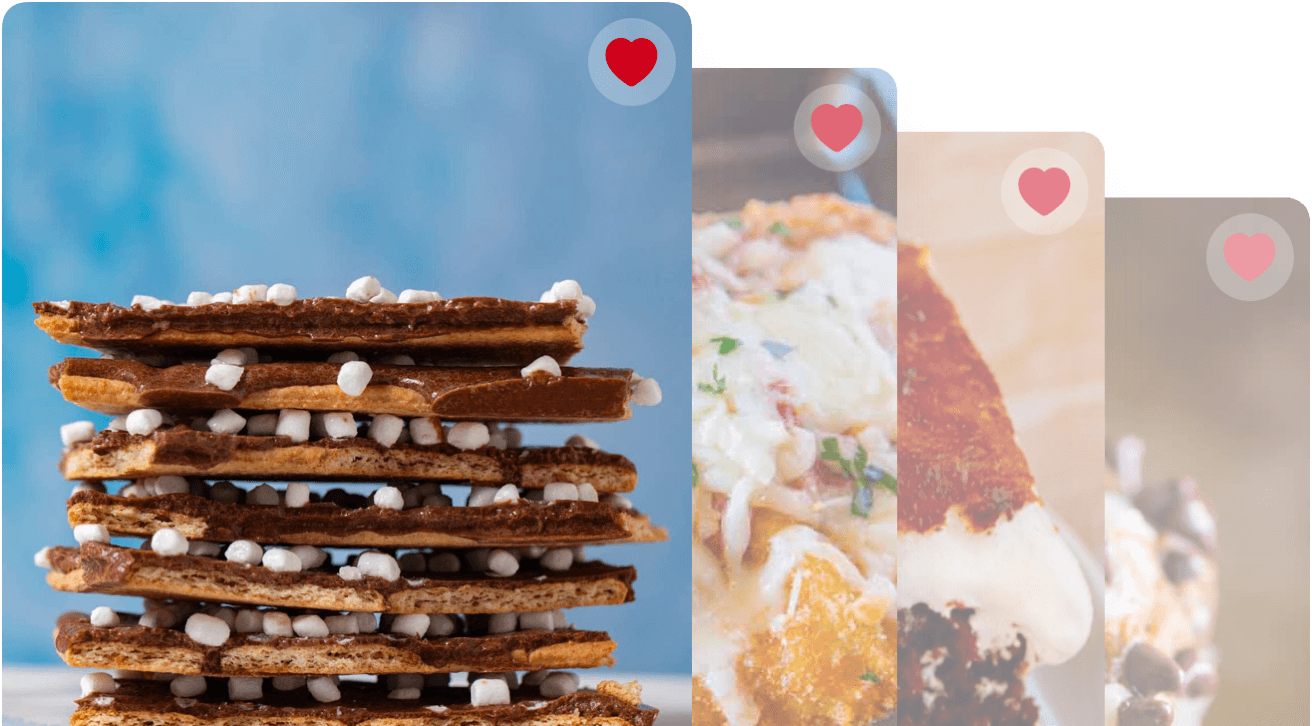 Key Ingredients in Panda Express Kung Pao Chicken (Copycat)
Creating an authentic Kung Pao Chicken dish starts with the ingredients. The beauty of this dish lies in the marriage of fresh components with flavor-packed seasonings, resulting in a stir-fry that's both robust and comforting. Many would argue that the essence of a good Kung Pao is its sauce, and the base for that lies in our key ingredients. Here's what makes it so good:
Soy Sauce: This is a fundamental ingredient in many Asian cuisines, it provides depth, color, and a salty umami flavor to the dish. While light-sodium soy sauce is often used, regular can give a richer taste.
Chicken Breast: While you can go for chicken thighs for a juicier outcome, tender chicken breasts provide a cleaner taste, allowing sauce ingredients to shine through.
Ginger & Garlic: A tablespoon of fresh ginger and about 2 cloves garlic grated are good to use if you don't have the dried version utilized in this recipe. 
Red Chili: For this recipe, we are using dried red chile de árbol (arbol chile) which can easily be found in the Latino section in most grocery stores. 
Sesame Oil: The rich umami flavor of sesame oil gives a deep flavor to each bite. We are using regular untoasted sesame oil, but you can use a variant if that is what you have available. Just make sure it is 100% sesame oil.
Can Panda Express Kung Pao Chicken (Copycat) Be Made Ahead of Time?
Absolutely! Kung Pao Chicken is a dish that tastes even better the next day when flavors have had the time to meld. Prepare the stir-fry, let it cool, and store it in an airtight container in the refrigerator. When ready to serve, reheat on the stovetop, adding a splash of water or broth if it appears too thick. If you're making it for guests, you can prep the chicken and sauce a day or two in advance, and simply stir-fry before serving. Be sure to serve it within 2 days of making it. Add fresh peanuts and chopped green onion before serving.
Substitutions in Panda Express Kung Pao Chicken (Copycat)
Soy Sauce: Tamari or coconut aminos can be great alternatives, especially for those with gluten intolerance or soy allergies.
Chicken: For a vegetarian twist, use tofu or tempeh. Adjust cooking times accordingly.
Peanuts: Allergic to peanuts? Cashews or almonds can be a delightful replacement.
White Wine: You can always use white grape juice as a substitute. Rice vinegar is also a good substitute.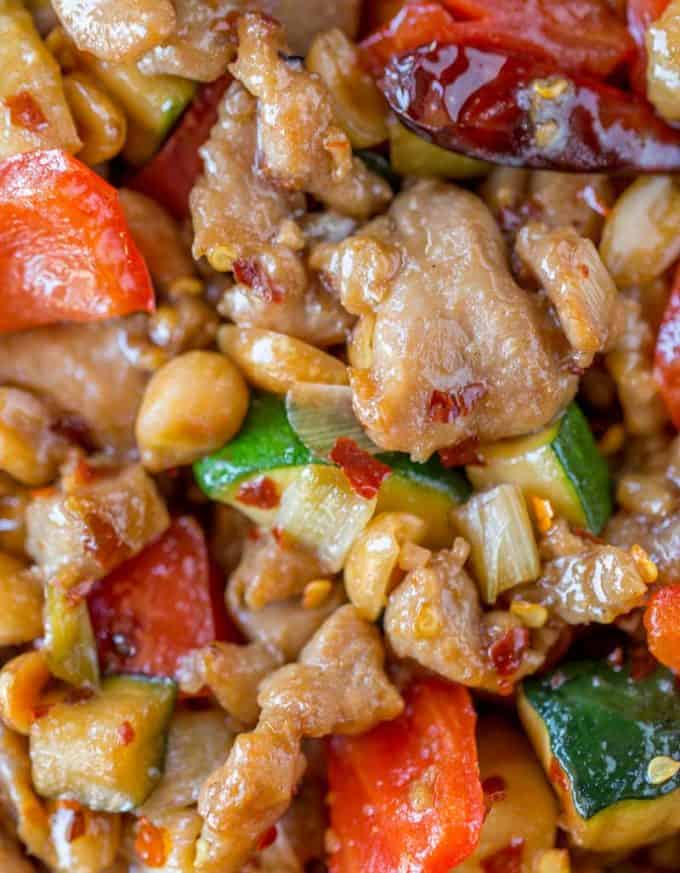 Variations on Panda Express Kung Pao Chicken (Copycat) 
Diversity is the spice of life. While the classic Kung Pao Chicken is undeniably delicious, a few tweaks can present a whole new dish.
Shrimp Kung Pao: Swap chicken for shrimp for a seafood twist. Adjust the cooking time as shrimp cooks faster.
Veggie-Loaded Kung Pao: Amp up the nutrition by adding a plethora of vegetables like extra bell peppers, baby corn, mushrooms, and snap peas.
Panda Express Kung Pao Sauce: If you don't want to make the sauce yourself you can buy the bottled variety and follow the recipe for the vegetables and chicken to complete the dish.
More Easy Asian Takeout Meals
How to Store Panda Express Kung Pao Chicken (Copycat)
Serve: Serve hot and keep covered when not being served. Don't leave the dish out for more than two hours.
Store: In an airtight container, it'll last 3-4 days in the fridge.
Freeze: Freezing is possible, though the texture might change slightly upon reheating. Store in a sealed container and use within 2-3 months.


Ingredients
Chicken Marinade
1

pound

boneless skinless chicken breasts

, diced into 1/2-inch pieces

1/4

cup

water

1/2

teaspoon

salt

1/2

large

egg

1/4

cup

cornstarch

2

tablespoons

vegetable oil
Kung Pao Base
1

teaspoon

cooking wine

, white wine works

2 1/2

tablespoons

soy sauce

1/3

cup

water

2 1/2

tablespoons

vegetable oil

, divided

12

chili peppers

, smaller than 3 inches; if longer, cut in half

1/4

cup

green onion

, diced, white part only, in 1/2-inch pieces

1

teaspoon

ground ginger

, dried (or use a full tablespoon fresh ginger)

1

teaspoon

ground garlic

, dried (or use a full tablespoon of fresh garlic)

1

teaspoon

crushed red chili pepper

1/2

tablespoon

cornstarch

, make it a slurry mixed with ½ tablespoon water

1

teaspoon

sesame oil

2

ounces

dry roasted peanuts

1

red bell pepper

, cut into ¾ inch cubes

1

large

zucchini

, cut into ¾ inch cubes
Instructions
Combine the chicken, ¼ cup water, ½ teaspoon salt, ½ egg, ¼ cup cornstarch and 2 tablespoons of vegetable oil and refrigerate at least 1 hour.

In a small bowl add the wine, soy sauce and water and set aside.

Heat wok/skillet on high heat

60 seconds

, you want that pan to be nice and hot!

Add 2 tablespoons vegetable oil.

Remove chicken from marinade and add to wok, cooking on high heat for

60 seconds

.

Remove the chicken from the pan, add another ½ tablespoon of oil and the red bell pepper and zucchini.

Cook on high and cook for

1-2 minutes

, until just caramelized and slightly cooked.

Remove vegetables and add the chili peppers.

Stir until they darken a bit, then add the green onions, peanuts, ginger, garlic, crushed red pepper, and sesame oil.

Stir throughouly and immediately add the wine/soy/water mixture.

Bring it to a boil, then add the cornstarch and water mix and stir until it has thickened.

Add the chicken and vegetables back in, stir to combine.
Nutrition
Calories:
436
kcal
|
Carbohydrates:
17
g
|
Protein:
30
g
|
Fat:
27
g
|
Saturated Fat:
14
g
|
Cholesterol:
93
mg
|
Sodium:
1173
mg
|
Potassium:
791
mg
|
Fiber:
3
g
|
Sugar:
4
g
|
Vitamin A:
1700
IU
|
Vitamin C:
49.7
mg
|
Calcium:
29
mg
|
Iron:
1.8
mg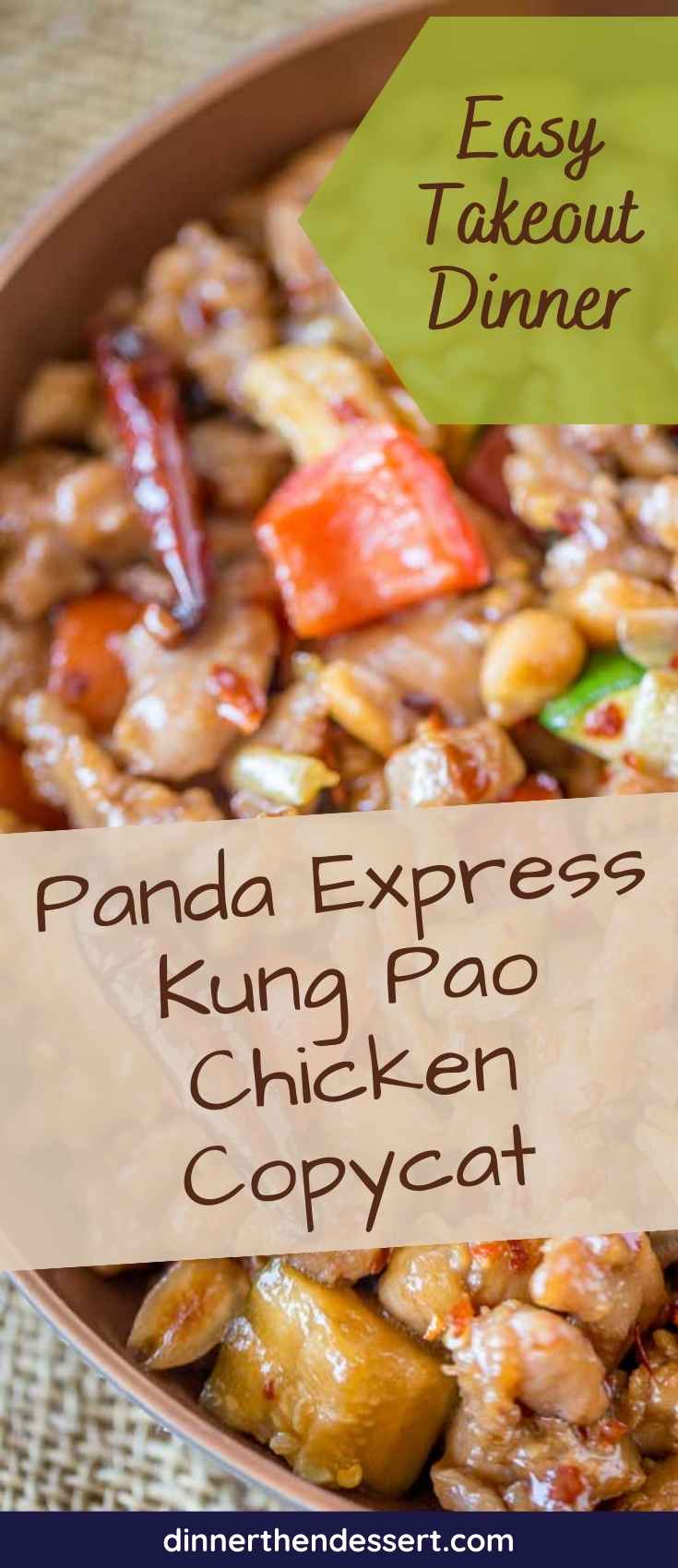 Photos used in a previous version of this post.