Korean Beef Bulgogi is an easy recipe for juicy steak with an authentic taste! Find out what is Bulgogi, how it's made, and why it's a favorite in Korean cuisine.
Beef Bulgogi is a classic Asian comfort food made easily by grilling. With this recipe, you can make authentic Korean BBQ for an easy Dinner from your own stovetop. Be sure to try our other Korean dishes like Korean Kalbi BBQ Short Ribs, Korean Fried Chicken, and Slow Cooker Korean Short Ribs!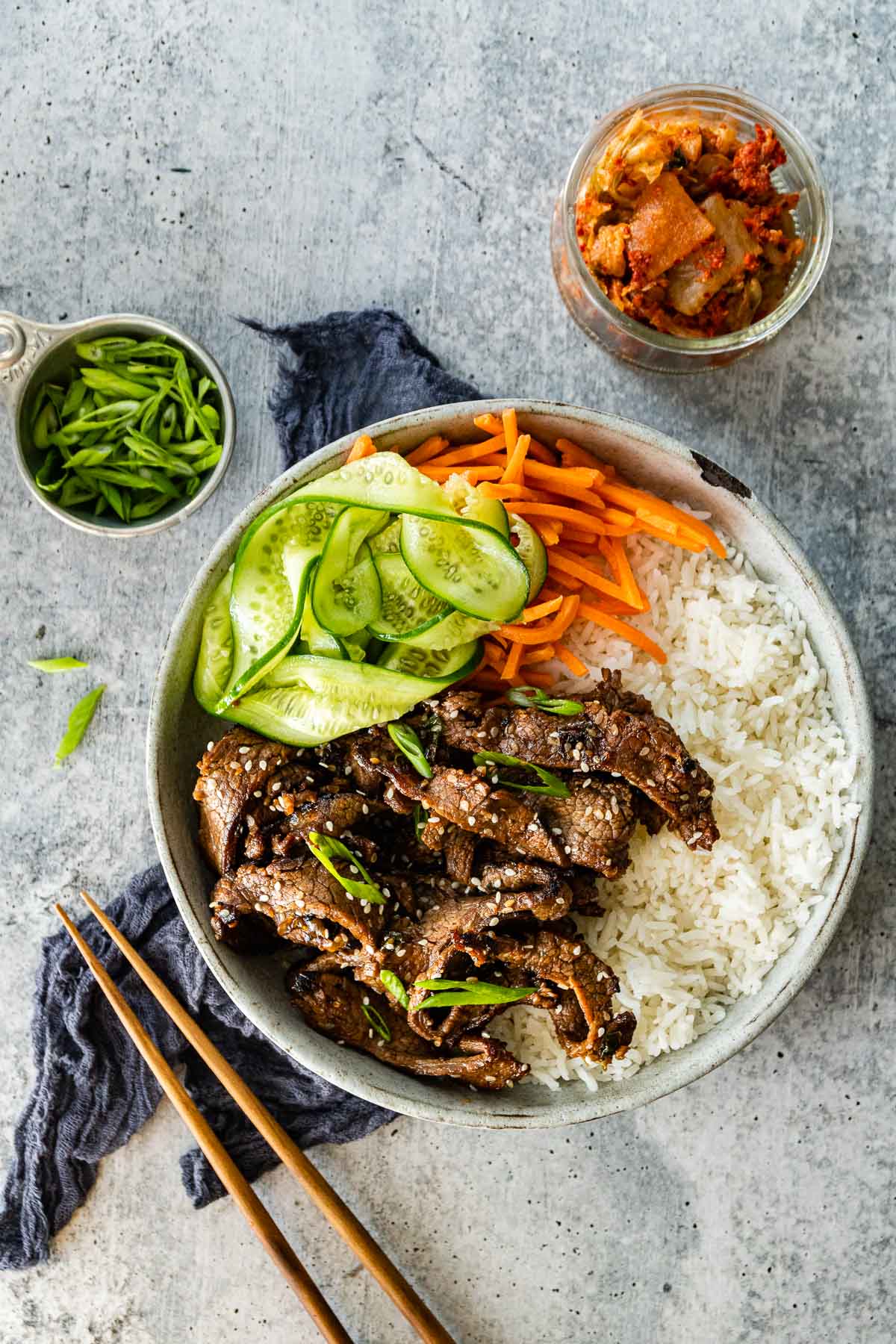 What is Korean Bulgogi beef? Bulgogi is one of the most famous Korean meat dishes and literally translates to "fire meat" because of how it's grilled. This Korean Beef Bulgogi recipe is an easy weeknight family meal that is sure to become a favorite. It's a standout dinner and a flavorful change from Baked Chicken and other usual dinners. This classic Asian dish is often made on a grill. You could use an outdoor barbecue grill or a large grill pan. Of course, this recipe is made even simpler with a cast-iron skillet or cast-iron wok on the stovetop. You get the same smoky flavor without having to use an actual grill.
The marinated meat is flavored overnight with Asian pear, sesame oil, and soy sauce for a sweet and savory sauce that the sliced Bulgogi meat soaks up for maximum flavor. While you can make the classic marinade with Asian pears, fresh pineapple juice will also do just as nicely for this simple dish. The Bulgogi marinade really makes this dish what it is. The beef tenderloin cooks up extra tender and full of flavor. It is one of the most flavorful cuts you can make without too much work.
When the Bulgogi is ready you can put the sliced meat on a serving platter along with delicious sides. Steamed Rice, white rice, or Fried Rice would be great. If you prefer not to use white rice, try keto cauliflower white rice as a replacement in your Korean Beef Bulgogi rice bowl. You can also serve it up with your favorite veggies, and fresh lettuce for lettuce wraps.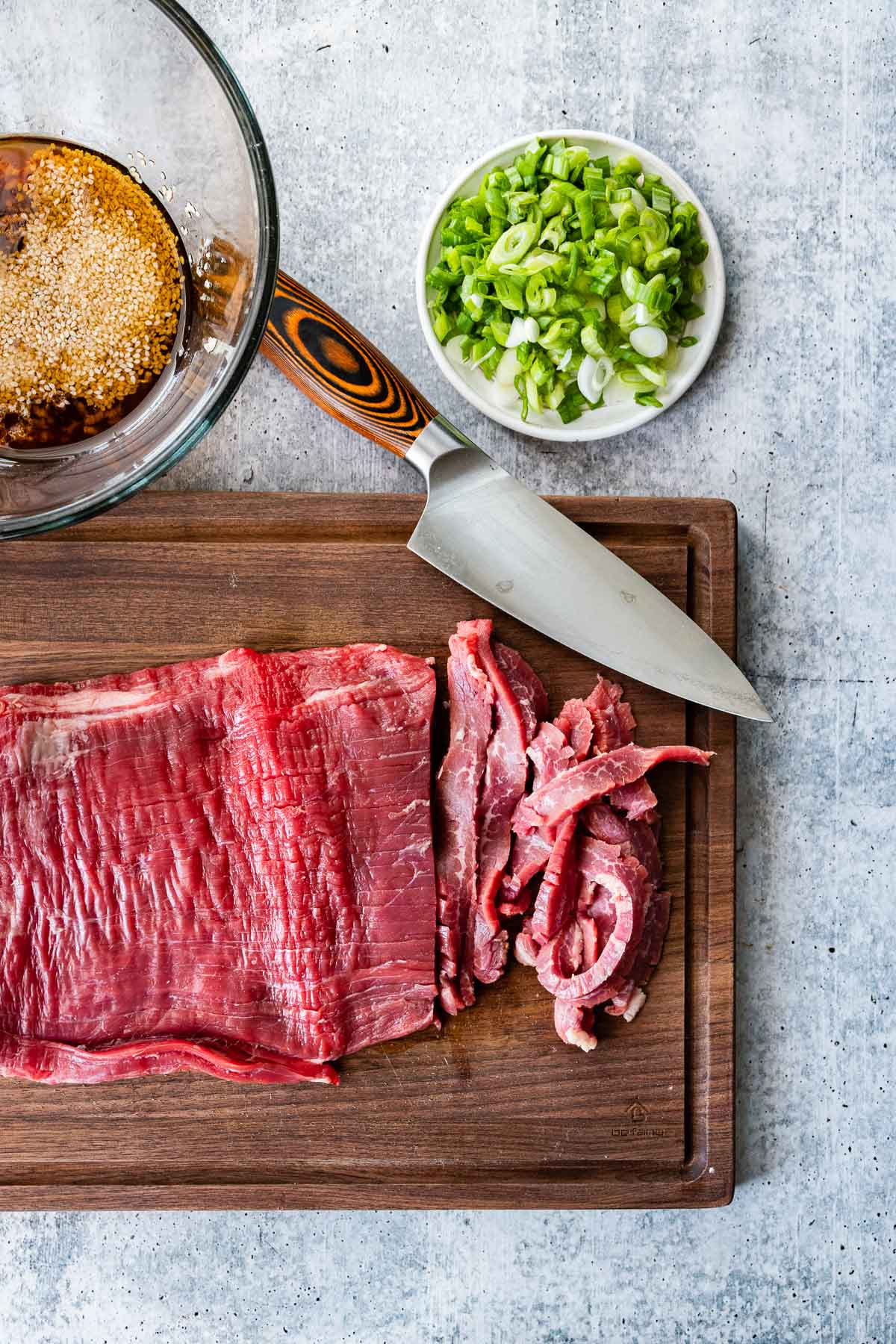 Bulgogi vs. Galbi: What's the Difference?
If you know much about Korean dishes, you've probably heard of both Bulgogi and Galbi. Both dishes are common in Seoul and throughout Korea, and they are made with different cuts of beef. While Bulgogi is made using thin slices of tender beef, Galbi is made using ribeye. Both are typically made by grilling, but Bulgogi can be pan-fried in a cast-iron skillet or cast-iron wok. Galbi is never pan-fried, which is one of the key differences between it and Korean Beef Bulgogi. 
How to Make Korean Beef Bulgogi
Traditionally, making this dish would involve a series of nuanced steps and the procurement of some specialized ingredients. But guess what? You can recreate this authentic taste in the cozy confines of your kitchen. So, why wait for your next trip to a Korean restaurant when you can be the chef? Check it out!
Step One – Marinade: Combine the marinade ingredients in a clean empty bowl. Preferably, let the Bulgogi marinate in the fridge for 4 hours or more. You can cut it down to 2 if you're in a pinch, but the full time will give extra flavor to the marinated beef for extra delicious Korean Beef Bulgogi.
Step Two – Grill: Drain the meat from the marinade then pan-fry it over medium-high heat in a cast-iron grill pan. If you don't want to use vegetable oil use olive oil or avocado oil. Cook Bulgogi in separate batches. That way you can cook them in single layers of meat. You can start your sides while you let the meat cook. The cook time should only be 2 minutes on each side for the Beef Bulgogi Recipe. 
Step Three – Enjoy: Serve hot and enjoy!
More Korean Dinner Recipes
Frequently Asked Questions
What meat is used for Bulgogi?
Beef Bulgogi traditionally uses thinly sliced beef, especially flank steak. The meat's thin slices ensure it soaks up the marinade effectively and cooks quickly.
What pairs well with Korean Beef Bulgogi?
Steamed white rice is a classic pairing with Beef Bulgogi. Additionally, various Korean side dishes (banchan) like kimchi, pickled radish, and seasoned spinach complement the beef's flavors.
How does Bulgogi differ from Korean BBQ?
While both involve grilled meats, Bulgogi is specifically marinated beef or pork that's grilled or pan-fried, whereas Korean BBQ encompasses a broader range of meats, including non-marinated cuts.
Which vegetables complement Bulgogi well?
Bell peppers, mushrooms, and onions are commonly stir-fried alongside or post the beef cooking to make a hearty Bulgogi dish. These veggies absorb the leftover marinade and complement the meat's savory flavors. Beef bulgogi with vegetables is a classic dish!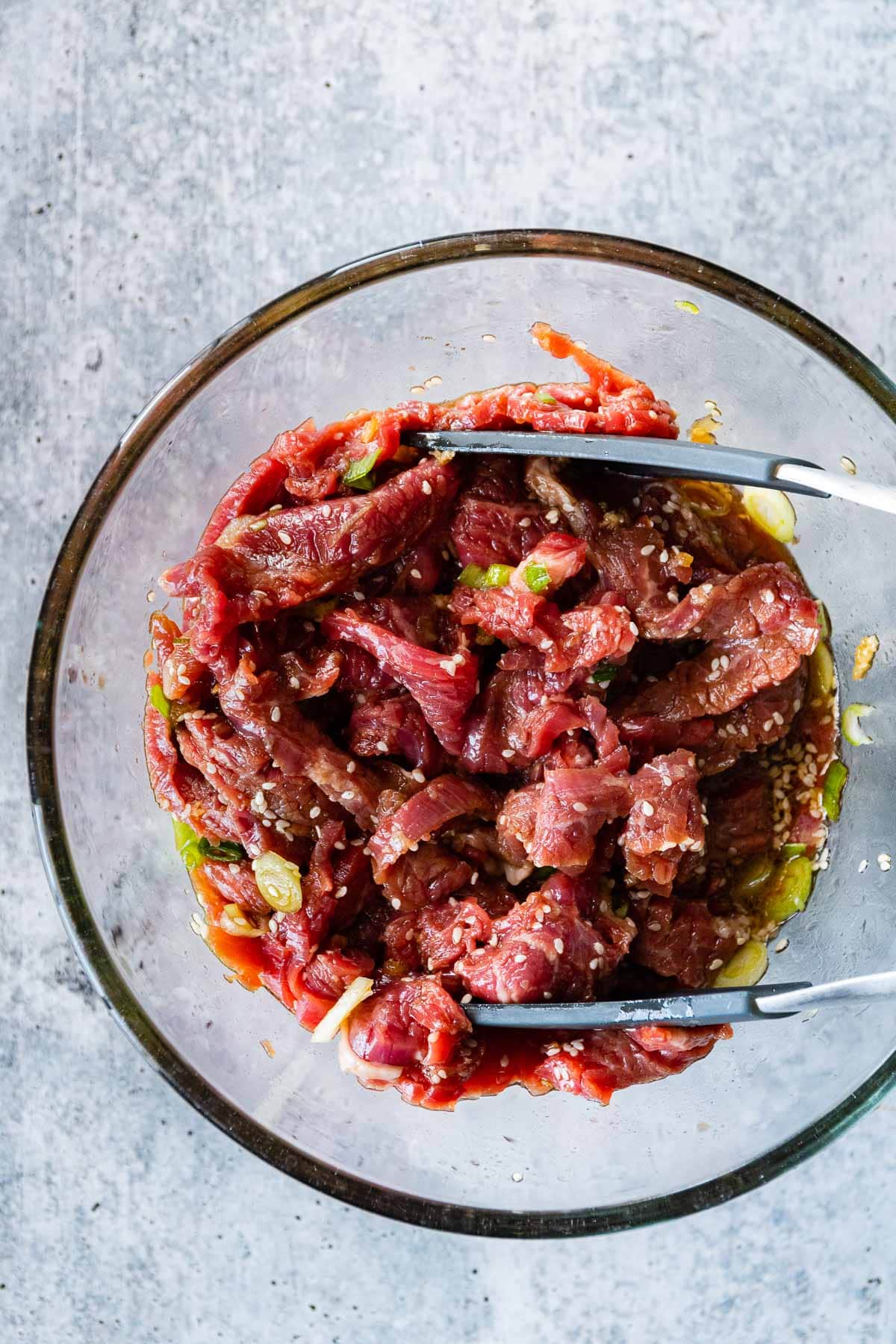 Create a free account to Save Recipes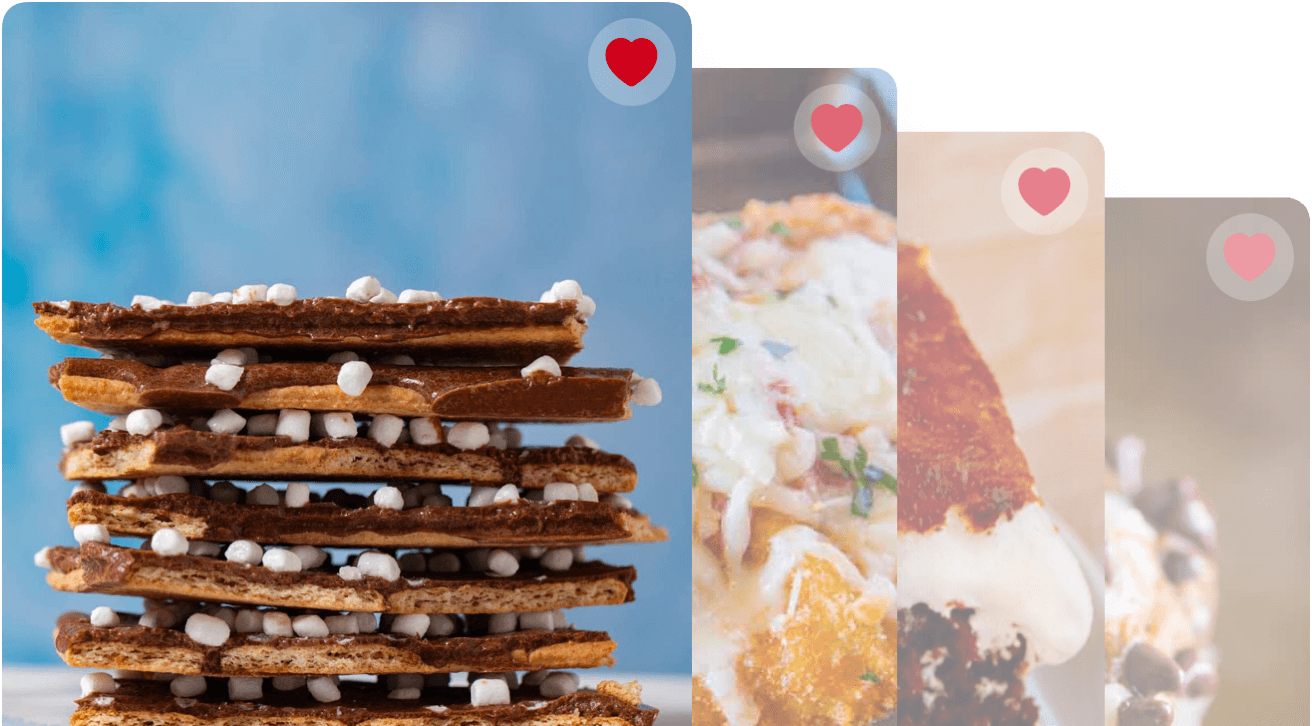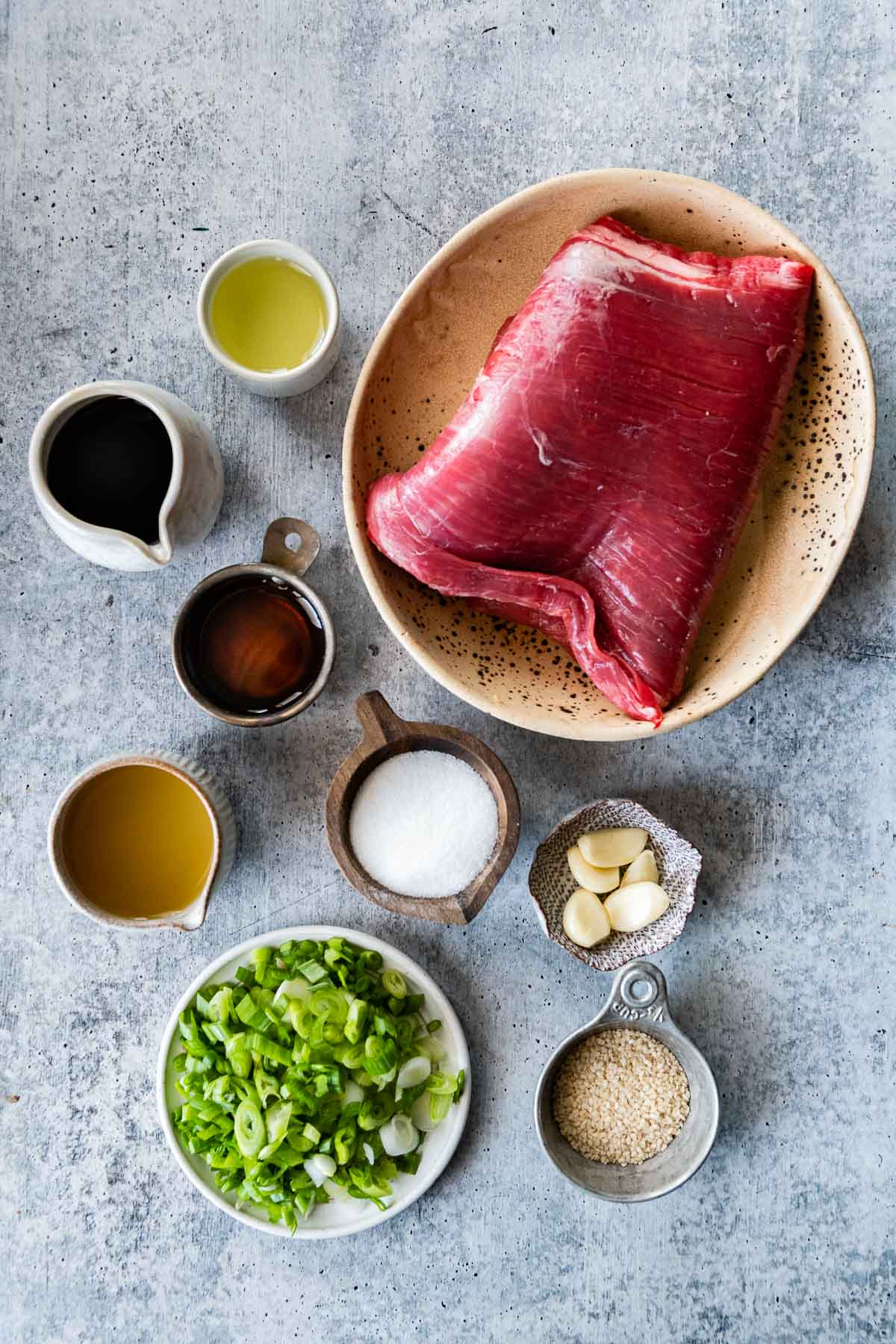 Key Ingredients in Korean Beef Bulgogi
Many of these ingredients are staples in Korean cooking and can be found in any Asian grocery store or specialty sections of larger supermarkets. Check it out!
Flank Steak: This particular cut of beef is preferred due to its lean texture and ability to absorb the marinade effectively. Thin slices ensure quick cooking and a tender bite.
Soy Sauce: The primary salt element, soy sauce, gives the dish its deep umami flavor. Opt for low-sodium versions to control the saltiness.
Pineapple Juice or Asian Pear: These ingredients are not just for sweetness but also play a role in tenderizing the meat. Asian pear, when shredded and added, has natural enzymes that help break down the meat fibers.
Sesame Oil: Imparting a nutty flavor, sesame oil elevates the overall aroma and taste of the Bulgogi. Always opt for pure sesame oil for that authentic flavor.
Green Onions and Garlic: Essential aromatics in Korean cooking, these aeromatics infuse the meat with depth and a burst of freshness.
Can Korean Beef Bulgogi Be Made Ahead of Time?
Absolutely, Korean Beef Bulgogi is one of those dishes that can benefit from a bit of advanced preparation, especially when it comes to marinating. Preparing the meat a day in advance can give it ample time to soak up the flavorful marinade, leading to a more robust and deepened taste profile when cooked. After marinating, the meat can be stored in an airtight container in the refrigerator. If you've cooked the Bulgogi, ensure it cools down completely before storing it in the fridge. When you're ready to serve, simply reheat it on a skillet over medium heat until it's warmed through. If you're concerned about preserving the dish's fresh taste, consider adding garnishments like sesame seeds and freshly sliced green onions just before serving. This not only freshens up the dish but also adds a pop of color and texture.
Bulgogi Sauce Ideas
There are so many amazing sauces you could serve with your Korean beef for extra savory and spicy richness. Depending on your grocery store, you may be able to find these sauces there. Alternatively, you could find them in an Asian market. Here are some popular bulgogi sauces:
Sambal Oelek: Sambal Oelek is an Indonesian chili sauce made with red chili peppers, rice vinegar, and salt for a hot pepper paste.
Gochujang sauce: Gochujang is another chili sauce, with a slightly sweeter undertone. Make it with ¼ cup gochujang paste mixed with 2 cloves of minced garlic, and a tablespoon each of rice vinegar, soy sauce, sugar, and sesame oil. Add a teaspoon of sesame seeds for extra crunch and flavor.
Ssamjang: You can make ssamjang with soybean paste, red chili pepper paste, minced garlic, honey, sesame oil, sesame seeds, and rice wine. 
Variations on Korean Beef Bulgogi
Diet Coke: For some extra sweet delicious flavor, mix Diet Coke in with the marinade. 1 cup of Diet Coke should be plenty. You could also try ginger ale for a more mild sweet taste. 
Mix-ins: For some vegetable mix-ins, try adding a couple of medium bell peppers to Korean Beef Bulgogi. Red pepper, yellow pepper, or green pepper would work. You can also add some sliced onion or chili peppers. For mushrooms try using white, oyster, or dried shiitake mushrooms.
Flavor add-ins: For spice add some red pepper flakes or sriracha to the recipe. For some warm flavors, try brown sugar or grated ginger. You could also mix in some extra black pepper, minced garlic, toasted sesame oil, white wine, or red wine to the marinade.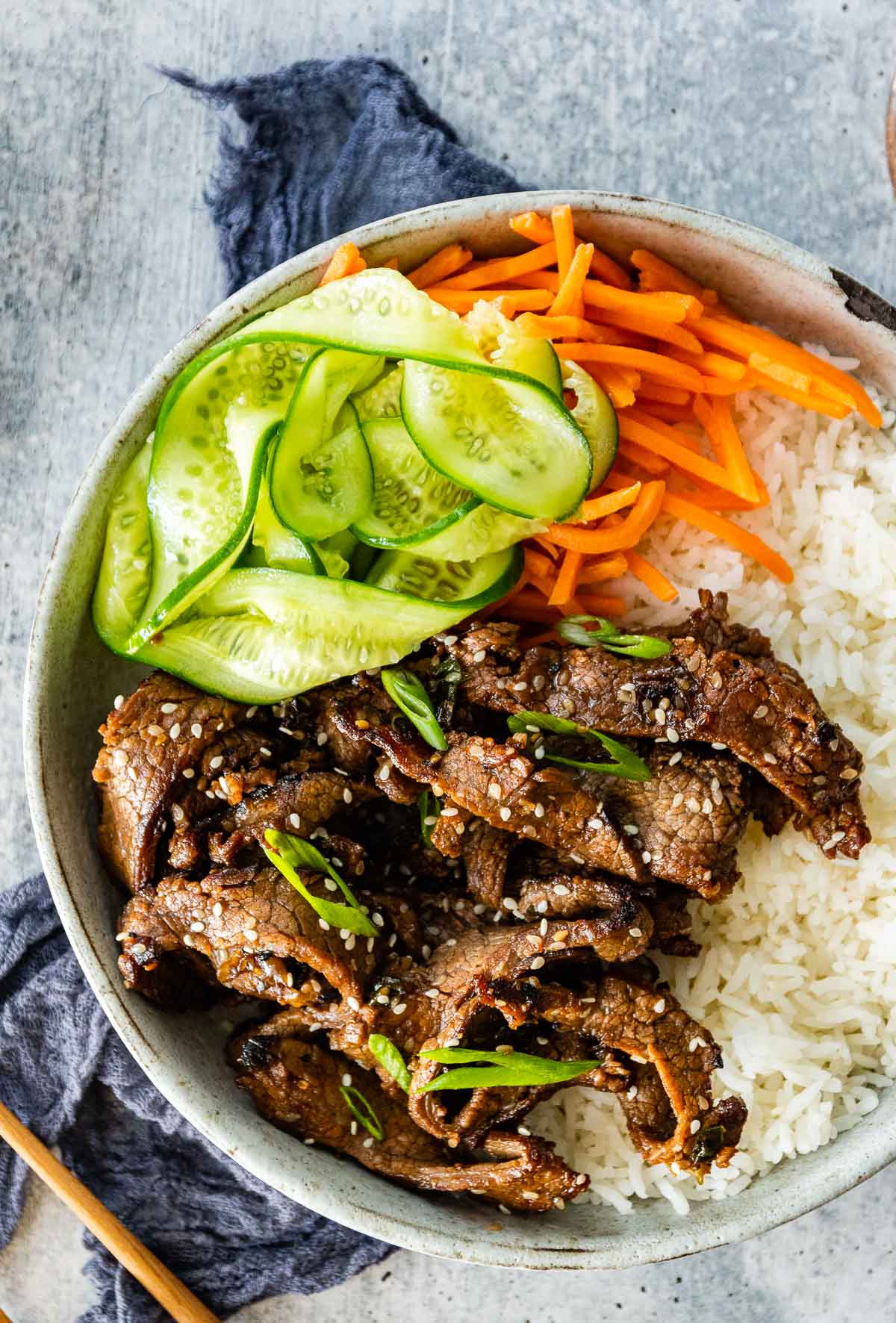 Bulgogi Jeongol
Jeongol is a classic Korean hot pot. Make Jeongol by putting vegetables, meat, seafood, seasonings, and other ingredients all together to cook in one hot pot. You can make this dish with sliced bulgogi steaks.
Cook bulgogi until browned before adding it to the hot pot.
You can cook Bulgogi Jeongol with mushrooms like white, oyster, and shiitake. Add other veggies like carrots, cabbage, onions, and plenty of seasonings and spices to your taste.
Put your ingredients in the hot pot with the sliced beef and beef broth.
Cover and boil to cook. Enjoy this savory soup version of Korean Beef Bulgogi!
More Favorite Asian Dishes
How to Store Korean Beef Bulgogi
Serve: You can not keep Korean Beef at room temperature for more than 2 hours.
Store: Transfer the leftover Bulgogi to a Ziploc bag or cover the whole dish in plastic wrap to store in the fridge. It will keep well for 3-4 days.
Freeze: You can freeze Korean Beef Bulgogi in a gallon freezer bag for up to 3 months. To reheat the beef, move it from the gallon freezer bag to a cookie sheet. Pop the cookie sheet in the oven to reheat it, or cook the leftovers up in a beef stew.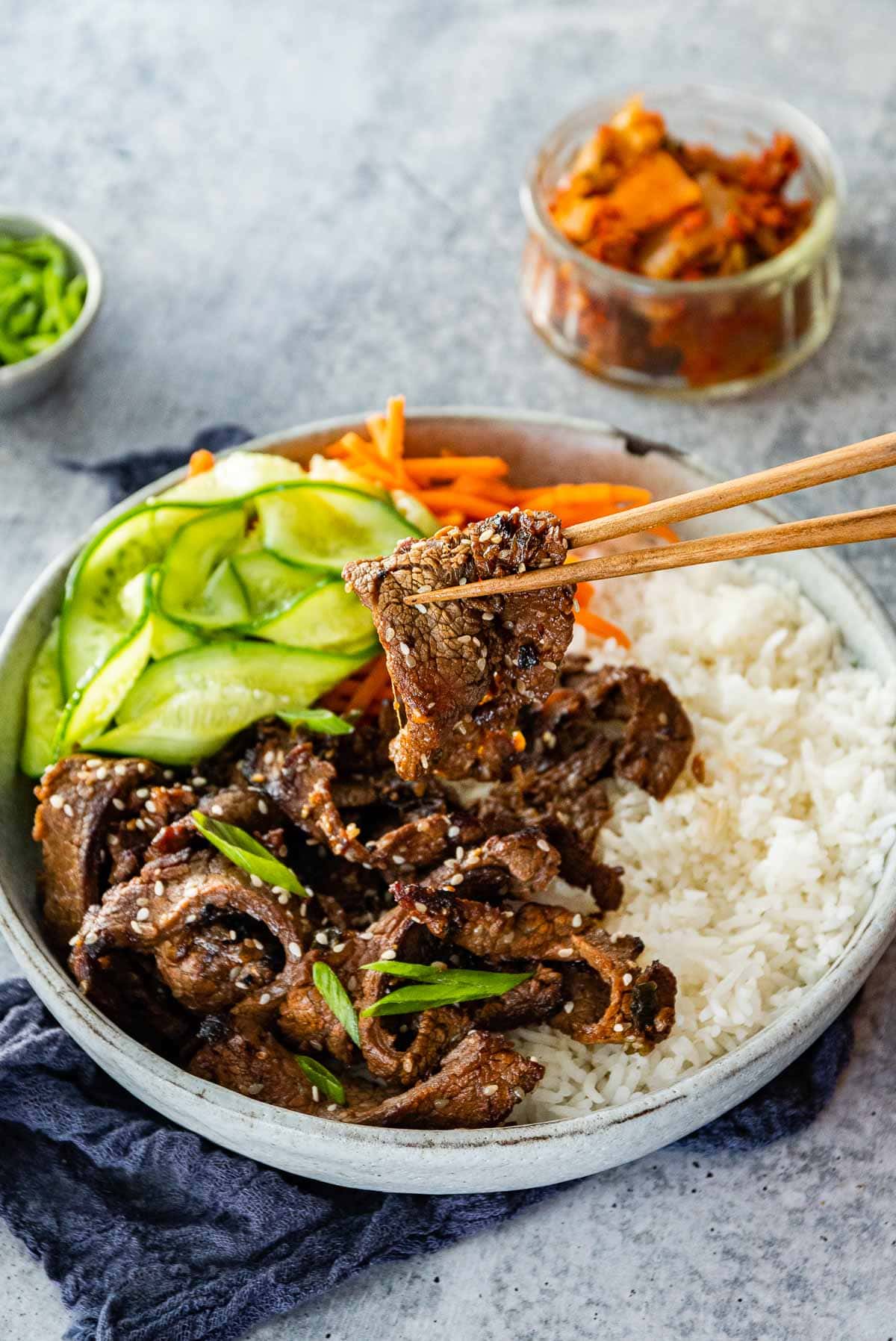 Ingredients
2

pounds

flank steak

, thinly sliced against the grain

1/3

cup

low sodium soy sauce

1/3

cup

pineapple juice

, or shredded Asian pear

2

tablespoons

sesame oil

2

tablespoons

sugar

1/2

cup

green onions

, thinly sliced

5

cloves

garlic

, minced

2

tablespoons

sesame seeds

2

tablespoons

vegetable oil
Instructions
Add the steak, soy sauce, pineapple juice, sesame oil, sugar, green onions, garlic, and sesame seeds to a large bowl.

Mix ingredients well, cover, and refrigerate for a minimum of

2 hours

but 4 or more is preferred.

Drain the marinade well from the meat.

Heat vegetable oil in a large skillet on high heat.

Cooking in small batches sear the beef for

2 minutes

on each side.
Nutrition
Calories:
255
kcal
|
Carbohydrates:
7
g
|
Protein:
25
g
|
Fat:
14
g
|
Saturated Fat:
6
g
|
Cholesterol:
68
mg
|
Sodium:
416
mg
|
Potassium:
453
mg
|
Fiber:
1
g
|
Sugar:
4
g
|
Vitamin A:
62
IU
|
Vitamin C:
3
mg
|
Calcium:
54
mg
|
Iron:
2
mg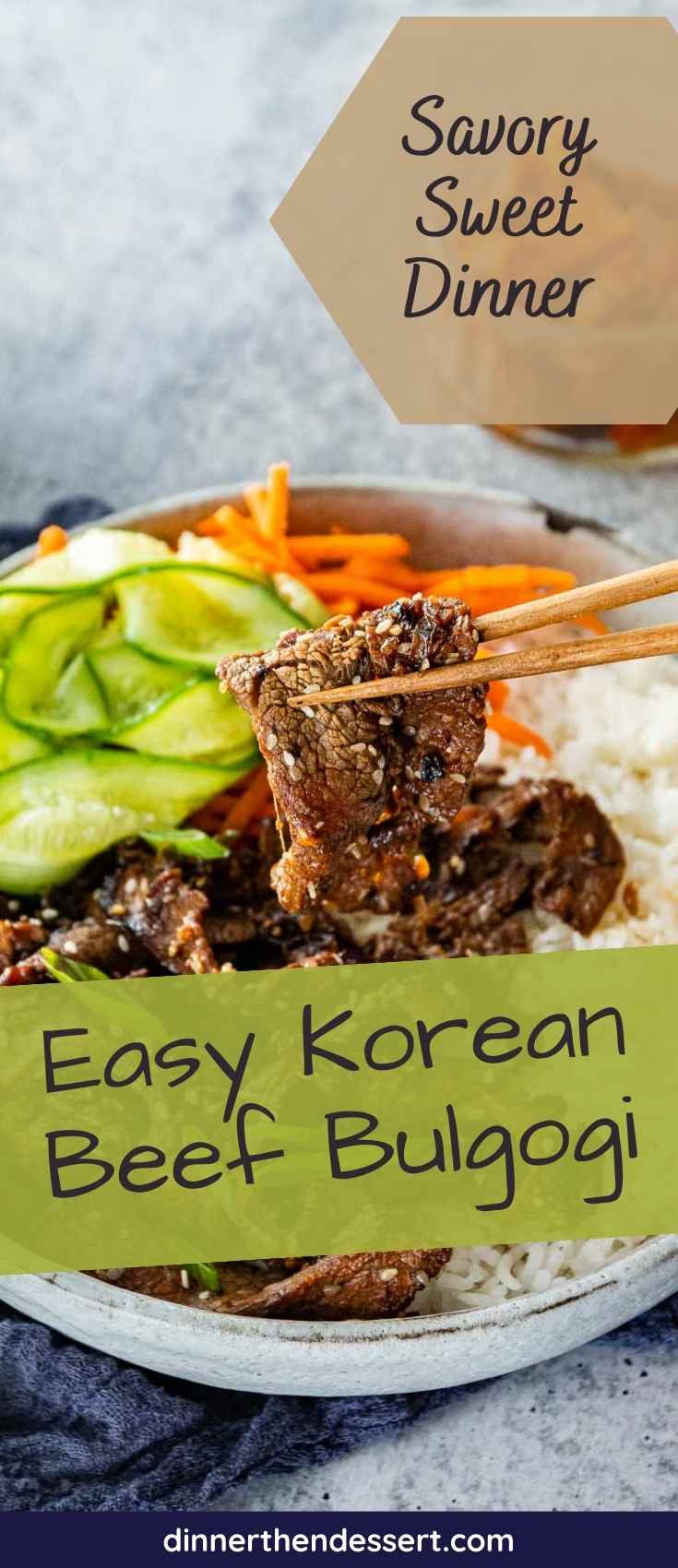 Photos used in a previous version of this post.