Korean Kalbi BBQ Short Ribs are flavorful and sweet, made from flanken short ribs marinated all day long, then baked or grilled to perfection!
These ribs are incredibly flavorful, and if you're looking for another Asian dish to try you'll love my Orange Chicken, Mongolian Beef, and Teriyaki Chicken.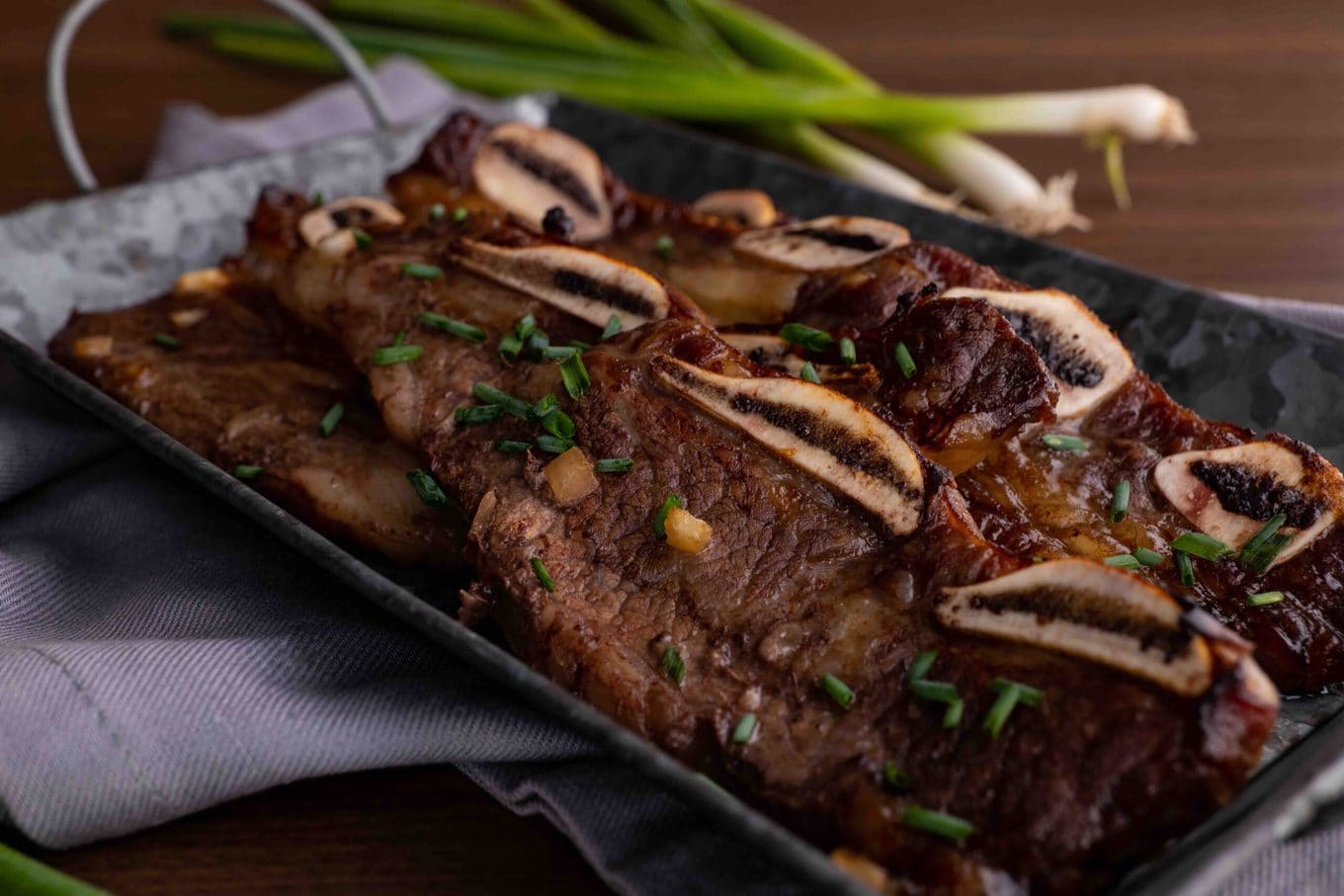 Korean Kalbi BBQ Short Ribs are the PERFECT combo of sweet and savory, made from flanken ribs in a marinade of brown sugar, sesame oil, soy sauce, mirin, and spices. It's one of my all-time favorite Korean dishes because it's also incredibly easy to make.
The best part about this Korean BBQ is that you can make it all summer on the grill, and in the oven when the weather is too cold. If you can't find mirin at your grocery store, try replacing it with about ½ teaspoon of sugar per 1 tablespoon of white vinegar or dry white wine.
Kalbi is marinated overnight, which means the marinade is a pretty big part of this recipe. Use a combination of low sodium soy sauce, sesame oil, and mirin, with spices, brown sugar, and onion. You can substitute the pear for kiwi in this kalbi marinade recipe. The fruit helps tenderize the meat, which is really important for the finished texture of your Korean bbq ribs.
You'll want to marinate the meat for a minimum time of 24 hours, because it can give the kalbi an amazingly sweet and savory flavor and soft texture. If you're looking for some side dishes to serve with these ribs, try serving alongside Macaroni Salad, Fried Rice, or Egg Rolls.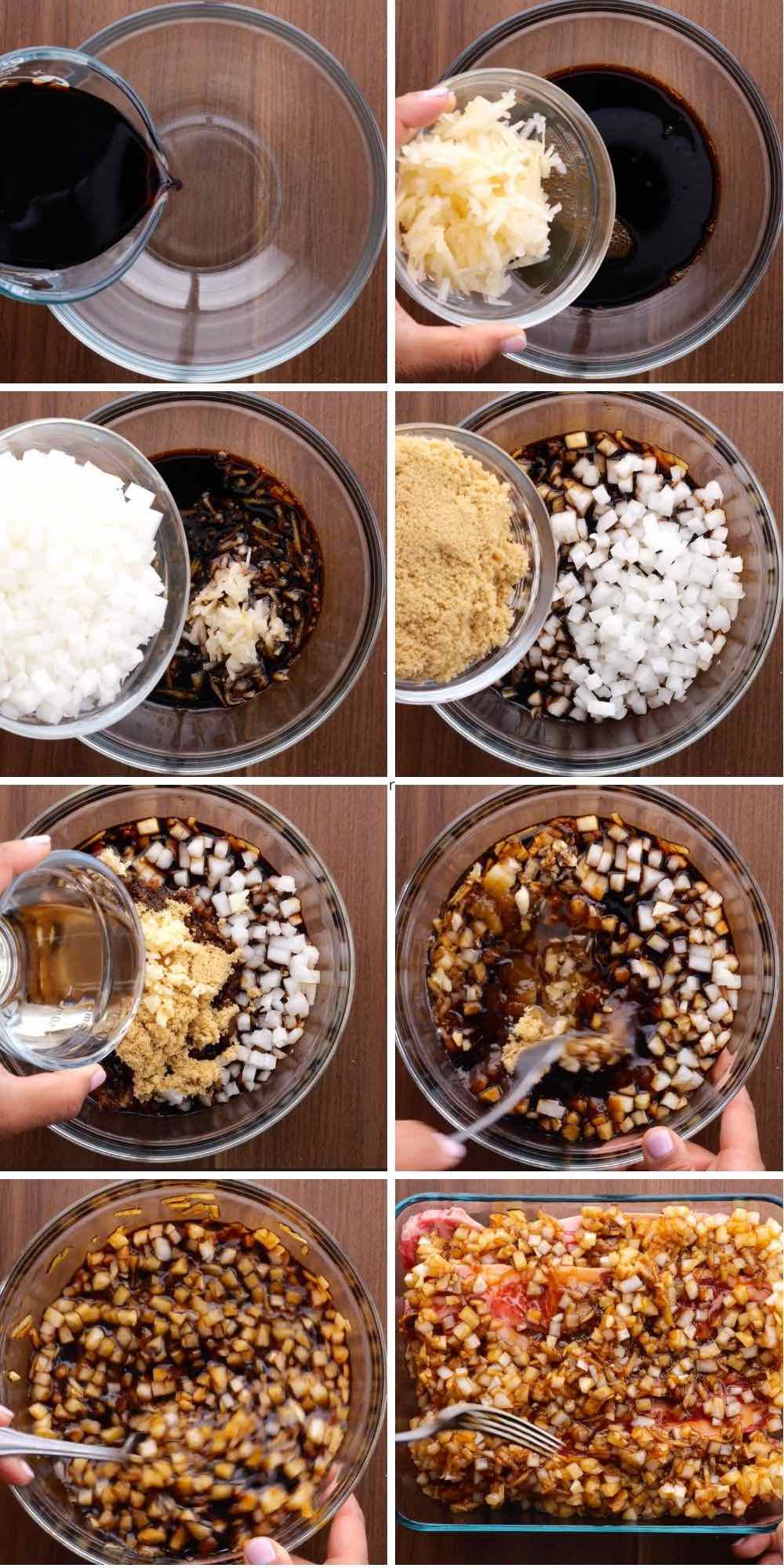 Frequently Asked Questions
What is the best meat for Korean Kalbi BBQ?
Kalbi is made with flanken-style short ribs, which means the beef is cut thin to around ½ inch thickness, and across the bone, leaving a few bones to each rib. Flanken ribs can be cooked quickly, which makes them best for beef rib recipes that call for broiling.
What is the difference between Bulgogi and Kalbi?
Kalbi (Galbi) is a recipe that uses short ribs, while bulgogi uses ribeye steak. Both of these dishes use a similar marinade.
How much Kalbi (Galbi) should you make per person?
You should plan on ½ – ¾ pound per person, more if you have some BBQ lovers because much of the portion is going to be discarded as bone or connective tissue. When planning for larger eaters you can actually do 1 pound per person.
What to Serve with Korean BBQ
Tips for Making Korean Kalbi BBQ Short Ribs
Add a sprinkle of sesame seeds over the meet just before serving. They're decorative and they also add a nice flavor to the dish. You can also top with chopped green onions for presentation.
Kalbi is often called Galbi, which is another way to say ribs. Galbi literally translates to "rib" in Korean.
You can add some more spices like cayenne or black pepper to give your short ribs more of a kick.
If you use Asian pears instead of regular pear, the recipe may turn out slightly different as Asian pears are usually crunchy, and have a sweet yet different flavor.
You can serve this Korean dish just over white rice if you aren't making any other side dishes.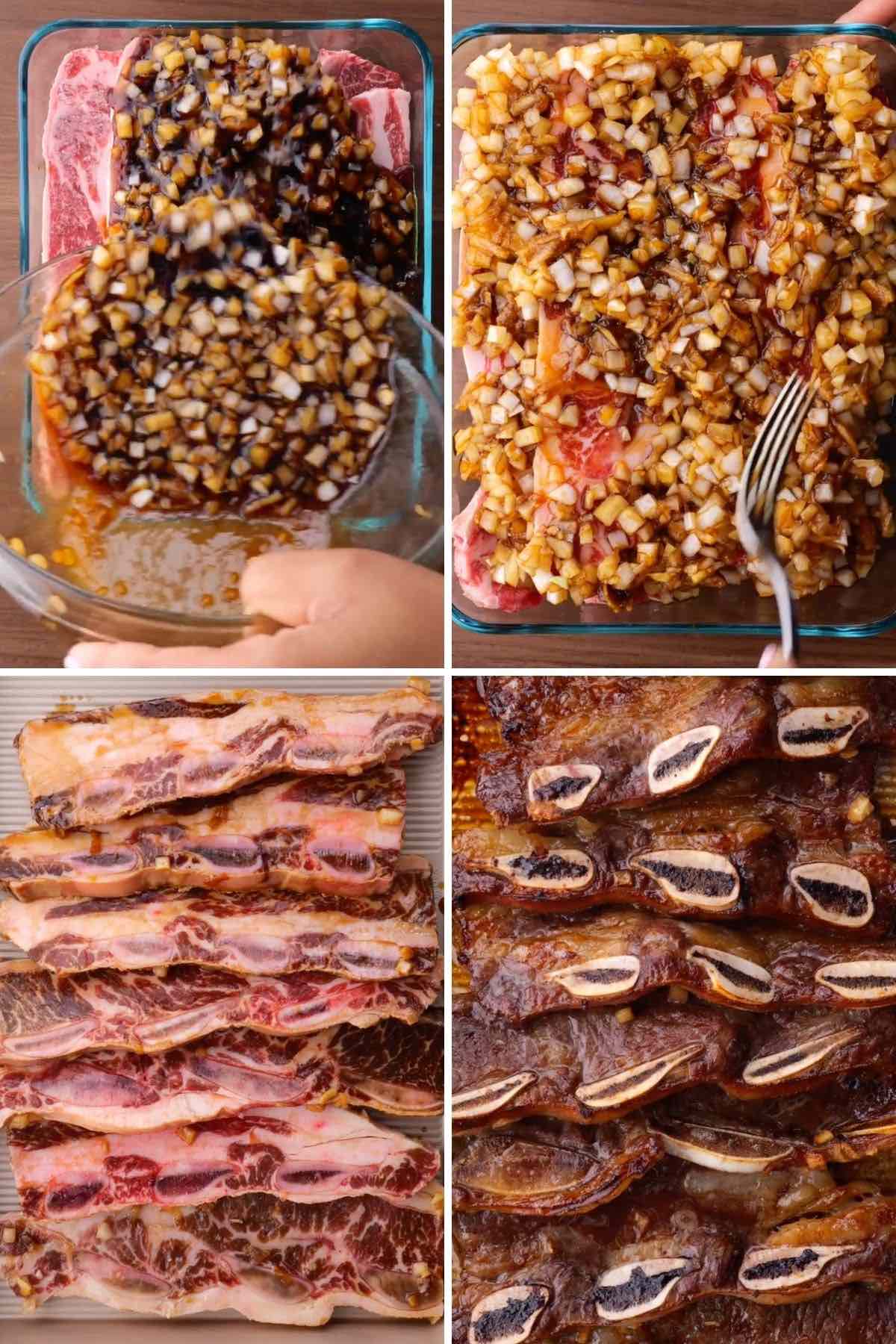 Create a free account to

Save Recipes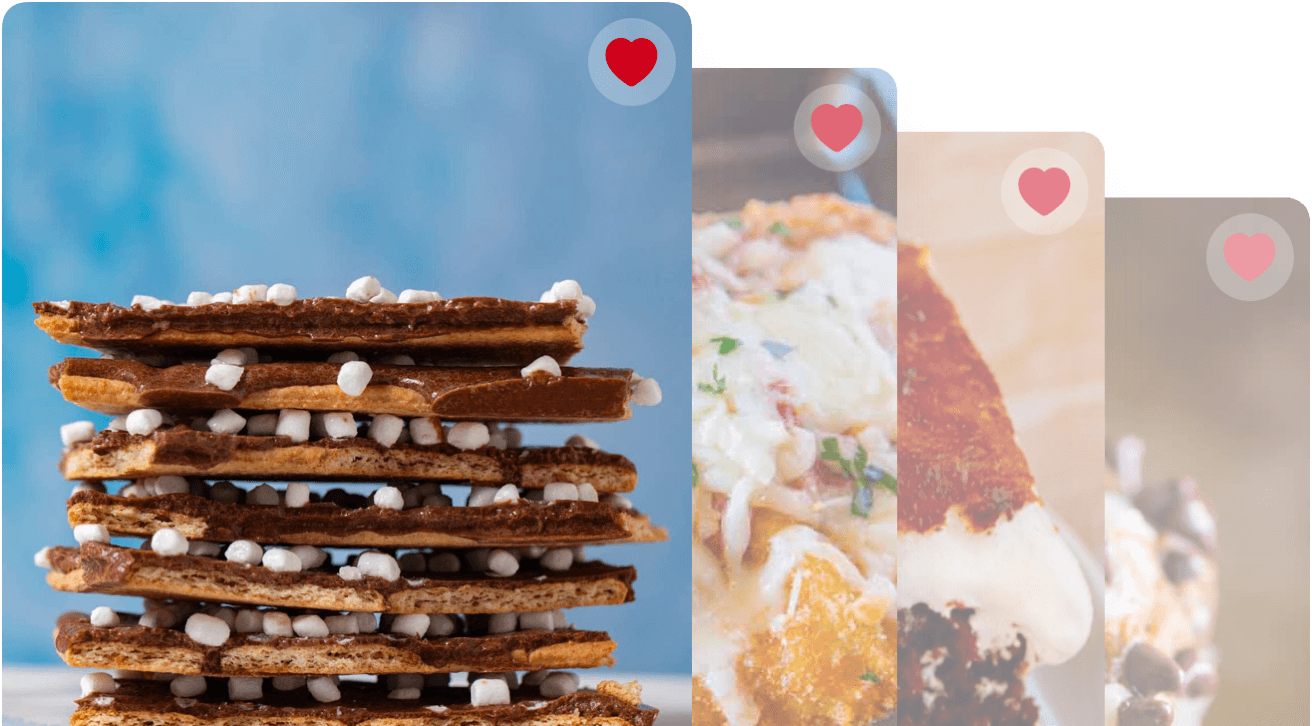 Slow Cooker Korean Kalbi BBQ Short Ribs
Slow cooking short ribs is a great cooking method because they get to the point where they're falling-off-the-bone tender, plus they get to cook in their marinade all day long.
In a medium bowl, whisk together your marinade ingredients. Add short ribs to the slow cooker, and pour marinade on top.
Turn the slow cooker on low for 6-8 hours.
Use a slotted spoon to remove short ribs from slow cooker and serve.
Instant Pot Korean Kalbi BBQ Short Ribs
Marinate your beef in the refrigerator as usual, for at least 24 hours before cooking.
Pour the whole bag (ribs and marinade) into the pot. Lock the lid and seal the pressure valve. Set on manual high for 5 minutes, then allow to release naturally.
If you want your Korean kalbi to be more crispy, place them on a sheet pan and broil for 1-2 minutes, watching closely so they don't burn.
How to Store Korean Kalbi BBQ Short Ribs
Serve: Do not leave Korean BBQ at room temperature longer than 2 hours.
Store: Wrapped tightly, Korean Kalbi Short Ribs will last in the refrigerator 3-4 days.
Freeze: Cooked Korean BBQ will last in the freezer up to 1 month, wrapped in plastic wrap and foil to prevent freezer burn. Thaw in the refrigerator and reheat on the grill. You can also freeze the meat and marinade together, and thaw overnight in the refrigerator before cooking.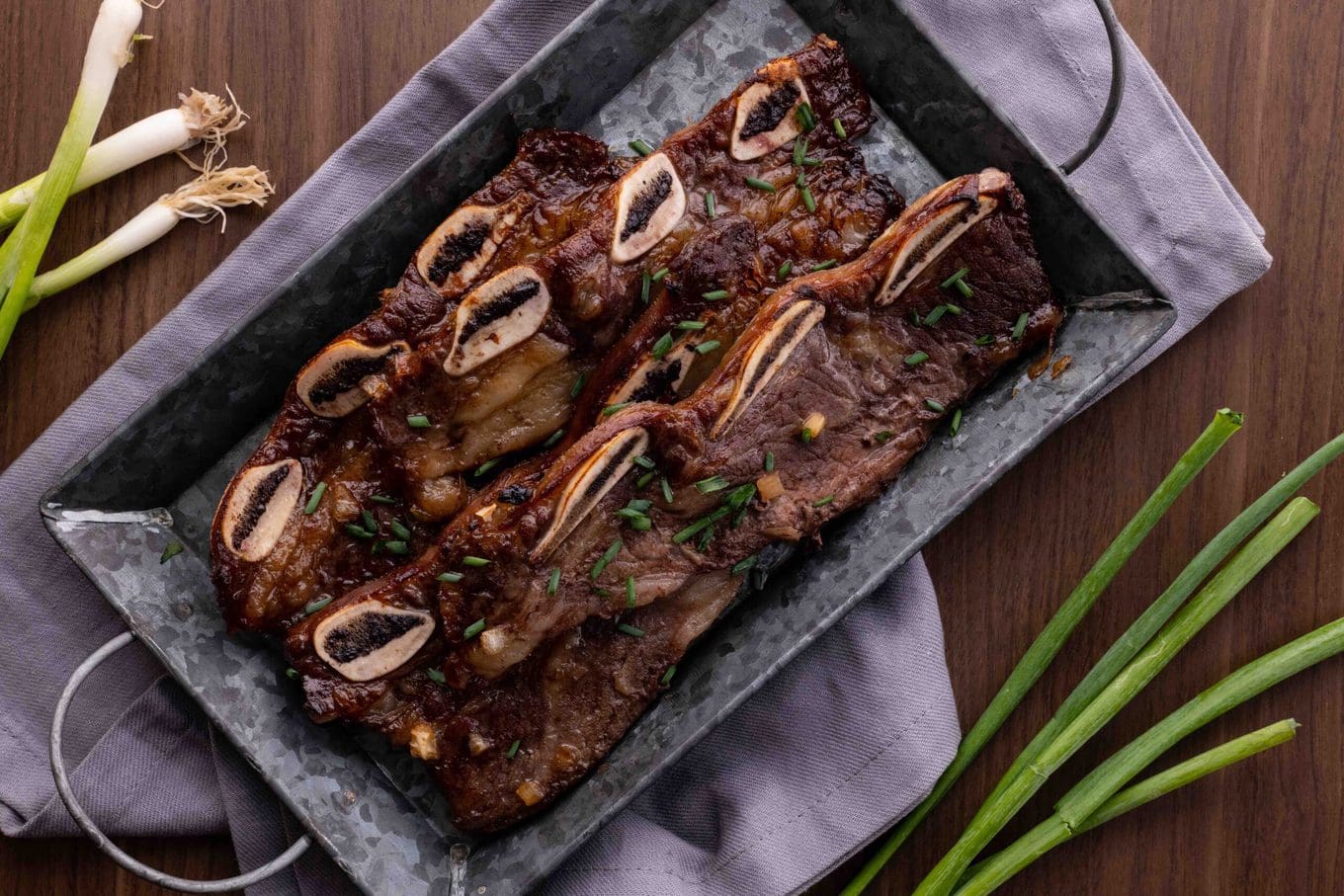 Ingredients
1

cup

low sodium soy sauce

1

pear

, cored and grated

1

yellow onion

, grated

3/4

cup

brown sugar

, packed

3

garlic cloves

, grated

2

tablespoons

sesame oil

1/4

cup

mirin

4

pounds

flanken short ribs

, cut across the bones ½ inch thick

green onions

, for garnish
Instructions
Mix all the ingredients together and marinate for at least

24 hours

then drain from the marinade before cooking.

Cook in the oven for

12-14 minutes

at 400 degrees then broil for

1-2 minutes

OR heat your grill to medium high and cook for

4 minutes

on each side.
Notes
Note: click on times in the instructions to start a kitchen timer while cooking.
Nutrition
Calories:
443
kcal
|
Carbohydrates:
31
g
|
Protein:
33
g
|
Fat:
20
g
|
Saturated Fat:
7
g
|
Cholesterol:
97
mg
|
Sodium:
1233
mg
|
Potassium:
726
mg
|
Fiber:
1
g
|
Sugar:
25
g
|
Vitamin C:
2.3
mg
|
Calcium:
43
mg
|
Iron:
4.4
mg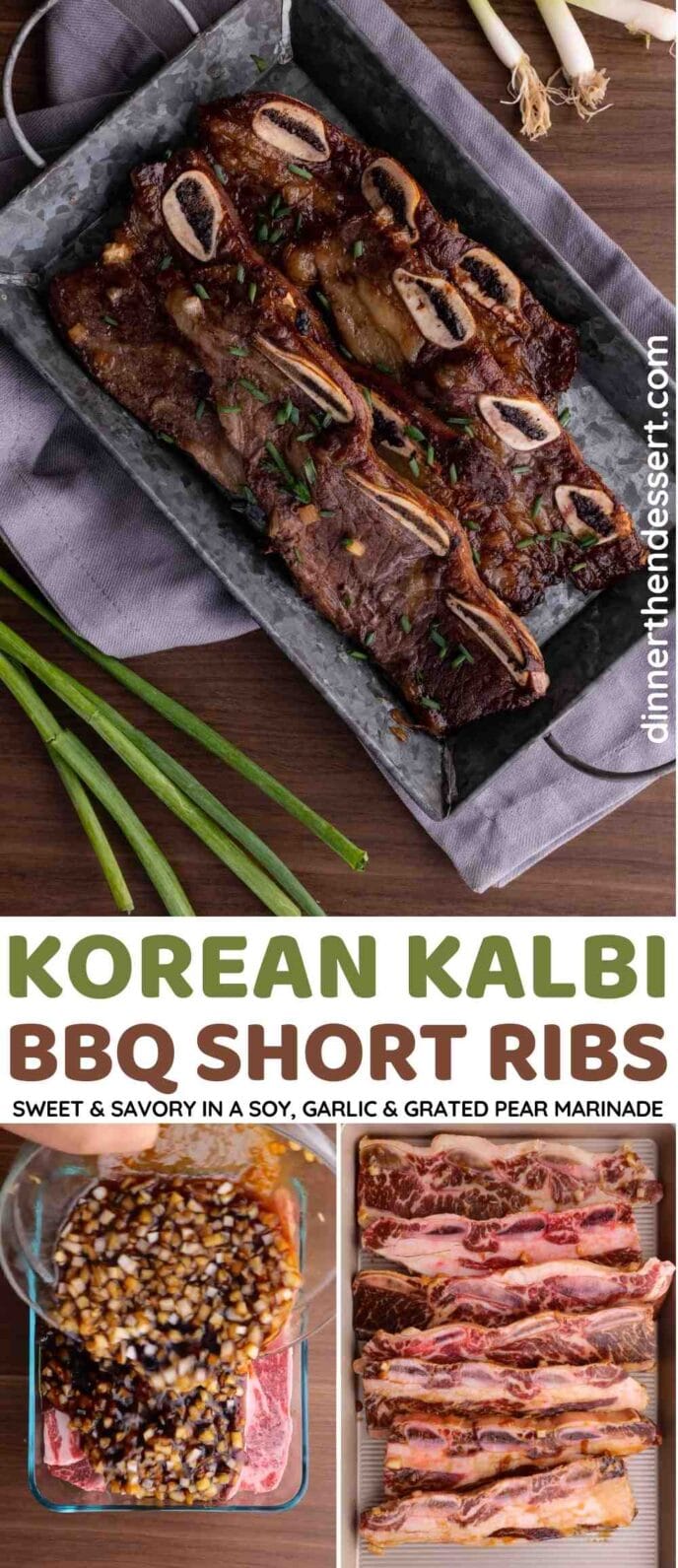 Photos used in a previous version of this post.