Slow Cooker Korean Short Ribs browned and cooked until fork tender with just a few minutes of prep work and all your favorite flavors.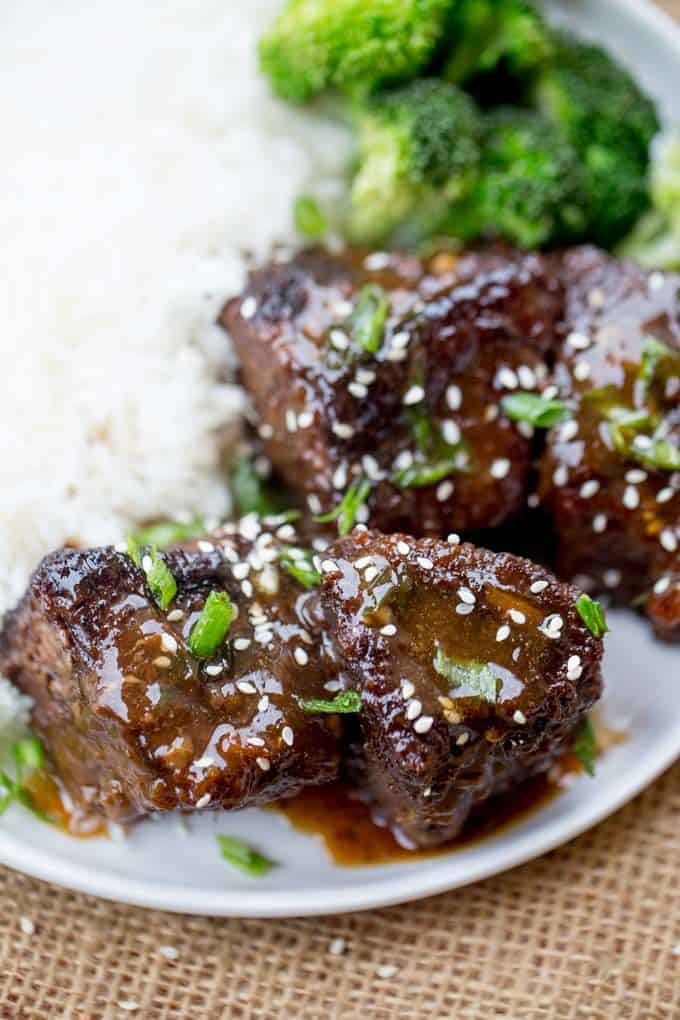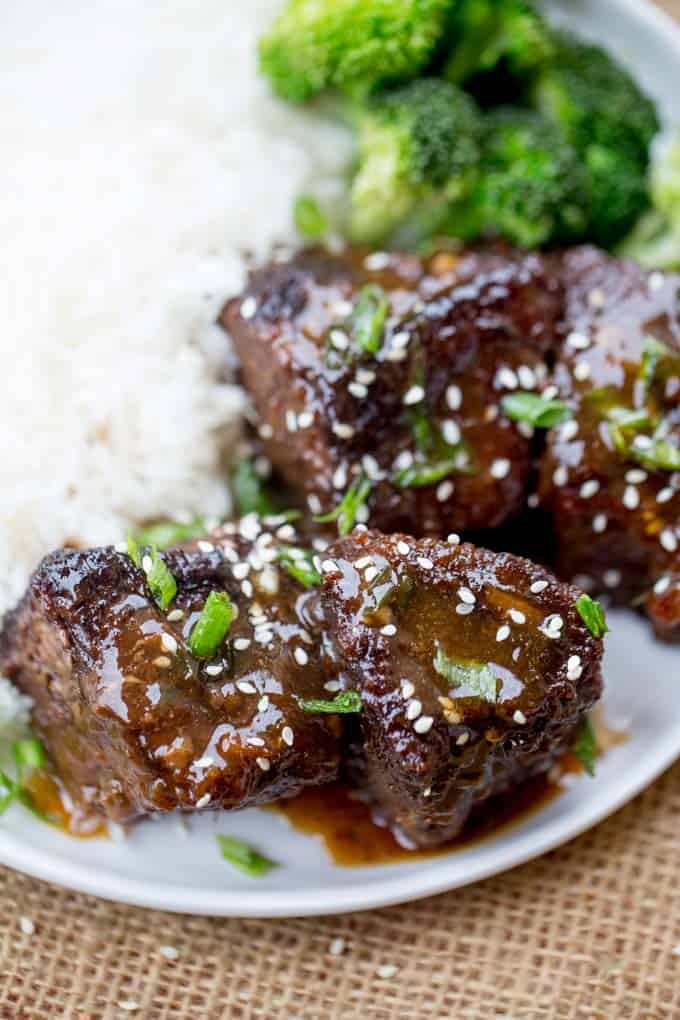 Slow Cooker Korean Short Ribs are the big brother to the Slow Cooker Korean Beef and the perfect entree for your dinner party. The smaller cuts used in the other recipe are based on a large chuck roast cut into small bite sized pieces and are a perfect family meal.
These larger short rib cuts are going to run more money because you're working from a smaller available cuts of beef. Here's my spiel I used in my Easy Braised Short Ribs recipe and is still 100% the way to go about sourcing the beef for this recipe too:
Most important tip I can give you about making short ribs: Be that obnoxious person with your meat guy. You are looking for the English cut of short ribs. They look like a cube, one bone per piece (in this case we aren't using bone in, but you'll want to avoid the giant chunks of fat that would be near where the bone was.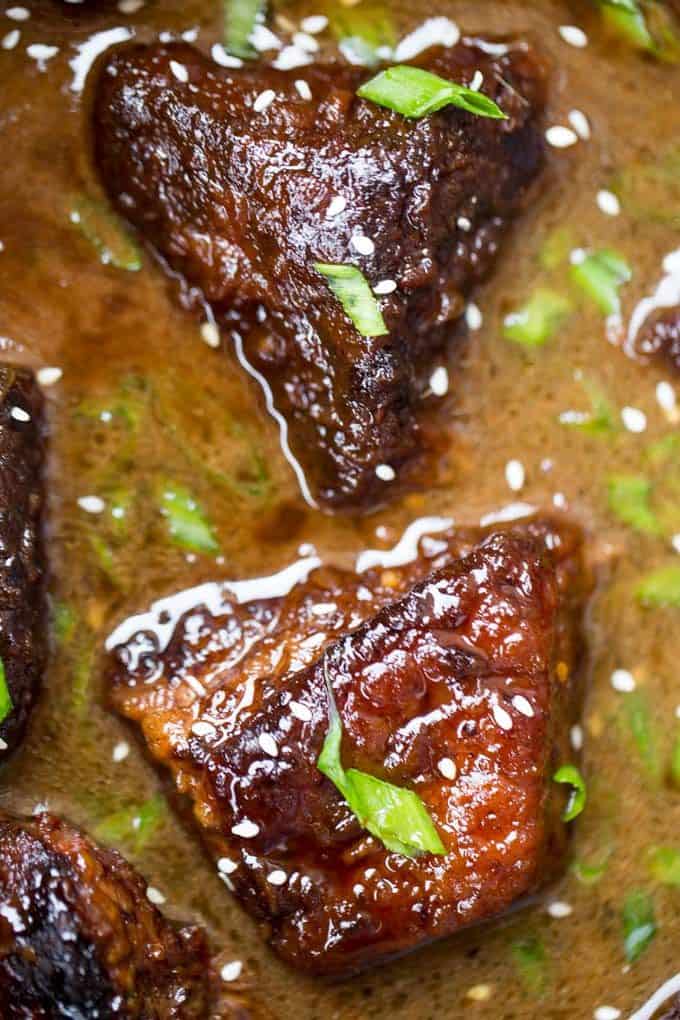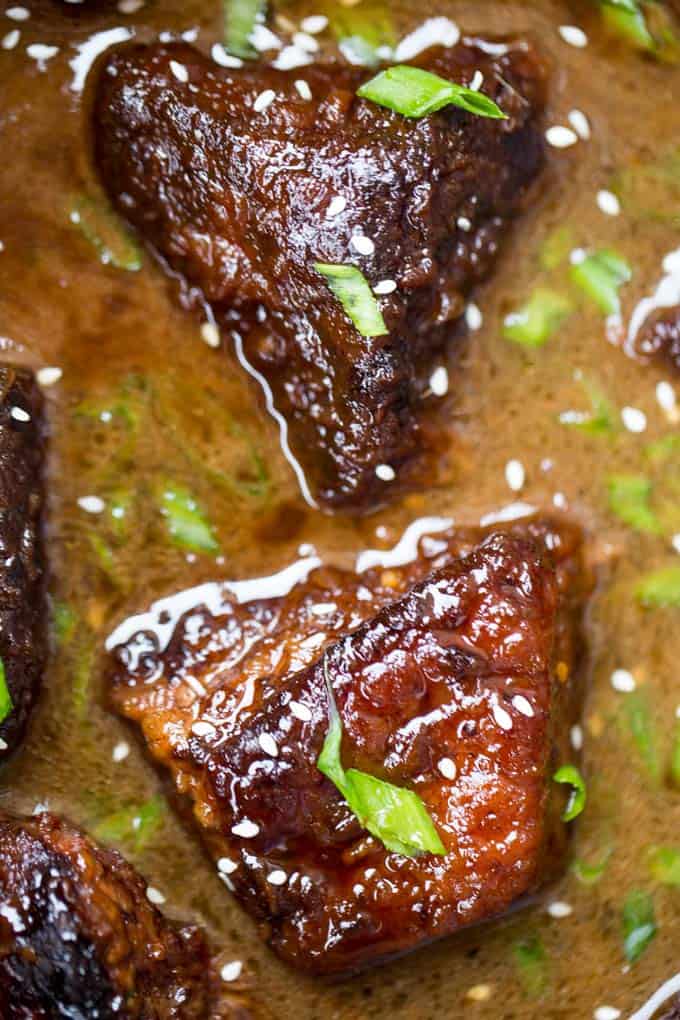 Now here is where you get obnoxious. When you get to the grocer completely avoid the prepackaged stuff. They give you one nice piece and about four pieces that are 80% bone/fat. So you end up spending ten dollars a pound on mostly bone/fat.
Here is what you do, walk up to the meat guy (or gal) and say, "I was x number of short ribs, I need them for an event and they all need to be this thick (hold your fingers apart at least three inches) since they are going to be a single piece per serving. I can't have pieces that are mostly bone."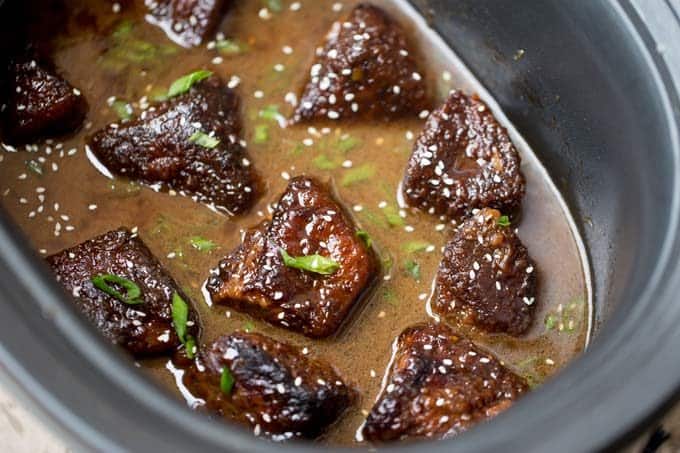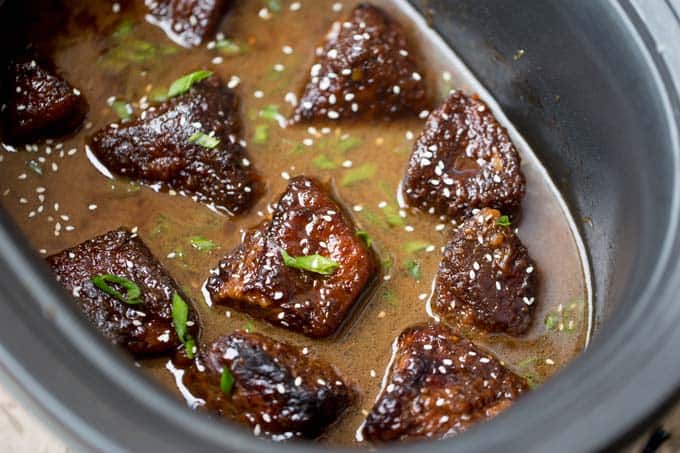 THEN, inspect. Anytime I am at a new grocer they always try and sneak some skinny pieces in there. Be that person who says, "Nope, nope, nope, I need this one swapped out." Trust me, you don't want to get stuck with the pieces that are all connective tissue and bone because the meat department is trying to sell the skinny end of the short rib.
You deserve the exact cut you want. The only other thing to truly ensure amazing short ribs, is salt, pepper and flour each piece. Then tap off the excess flour and brown it in your dutch oven on all sides. YES, all sides, including the bone (this helps add flavor, I promise). Then when it braises, it will become this beautiful, crust covered tender piece of meat.
Trust me these Slow Cooker Korean Short Ribs are going to have enough flavor on their own even without the bones. Look at what they get to cook in: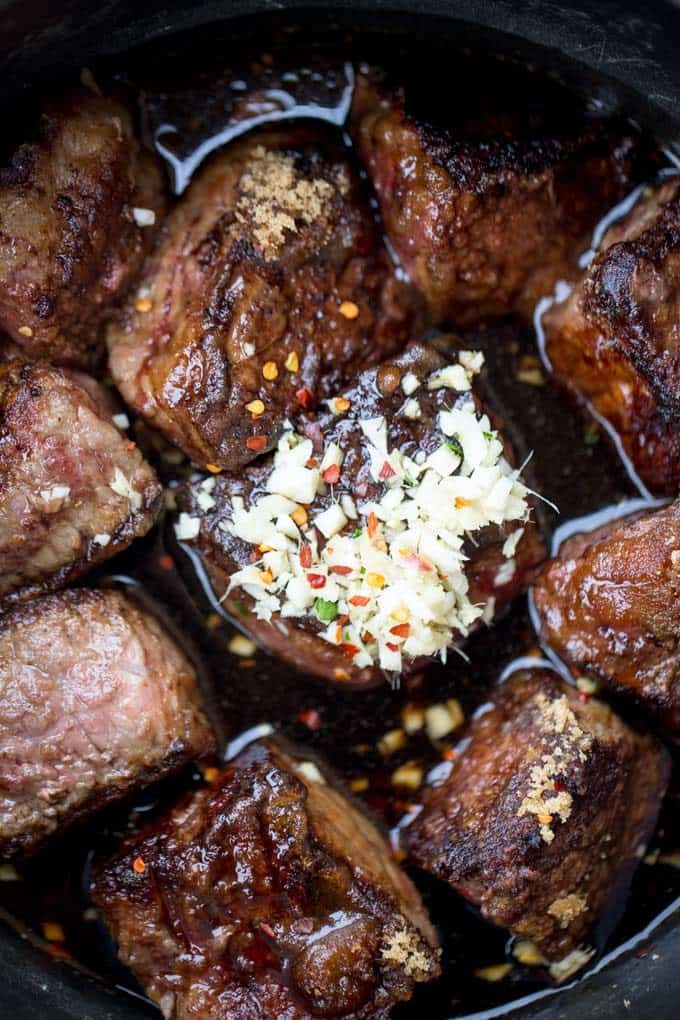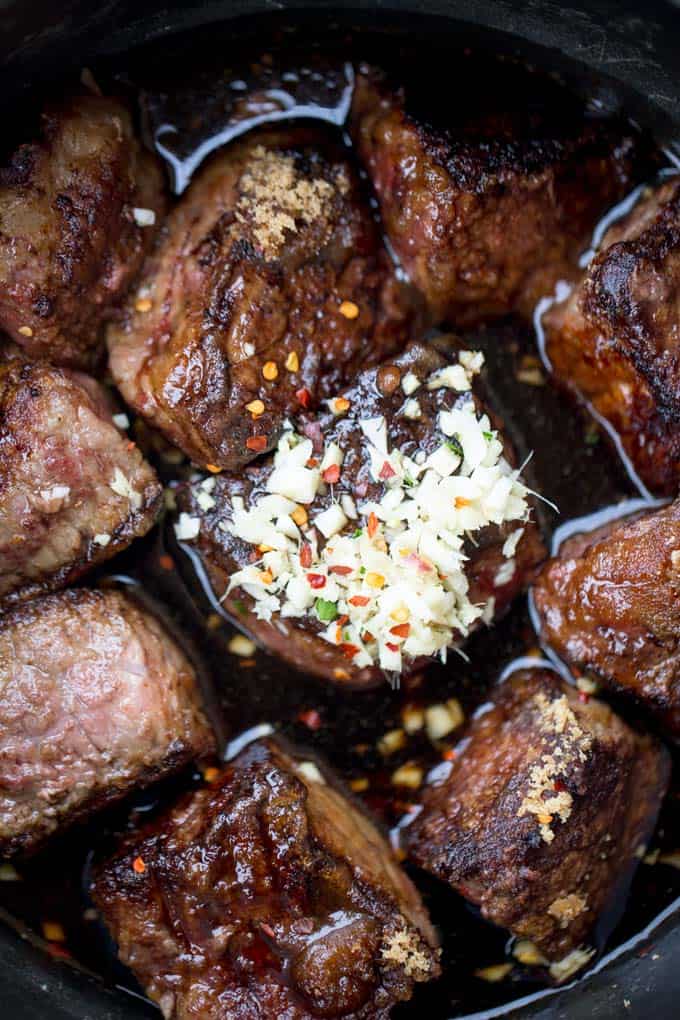 The reason we're going boneless here for the Slow Cooker Korean Short Ribs is because we're making this in the slow cooker. When braising in the oven the heat will help melt more of that tough connective tissue, but the slow cooker won't get quite hot enough to do the same, so I avoid it in slow cooker short rib recipes.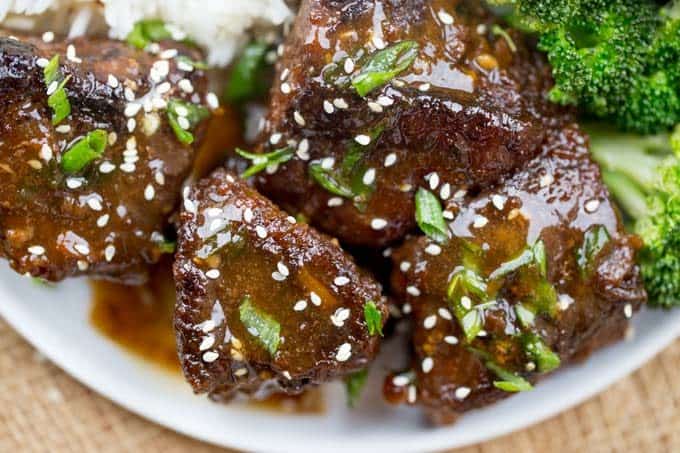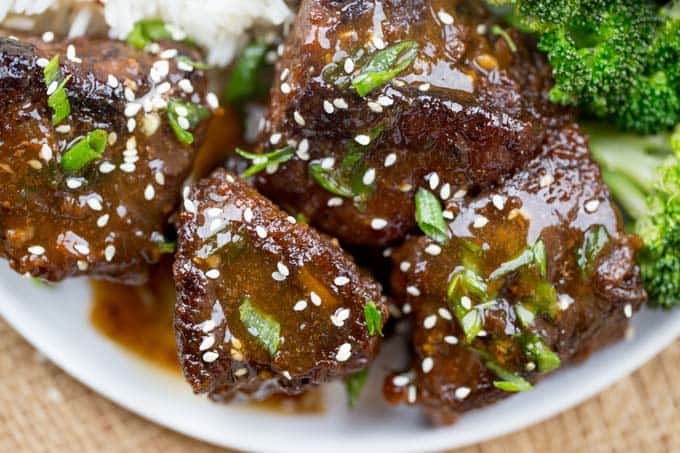 Tools Used In This Slow Cooker Korean Short Ribs Recipe:
Slow Cooker: Love this slow cooker and how programmable it is, it has been a workhorse for me… until…
My New Slow Cooker: This recipe was made in this slow cooker. For larger roasts I also brown the meat in the insert and not lose a bunch of the flavor by transferring the meat and leaving the browned bits behind. If you're thinking of a new slow cooker, consider it if your budget is open.
Sesame Oil: The flavor of sesame oil in this dish is unmistakeable and not really able to be substituted. Some Asian grocery stores will try and sell less expensive options that aren't actually sesame oil, so just be sure the one you're buying is authentic sesame oil.


Ingredients
1

tablespoon

canola oil

1/4

cup

flour

3

pounds

short ribs

I use boneless because they have less fat and connective tissue in 3 inch chunks

1

cup

brown sugar

1/2

cup

lite soy sauce

1

tablespoon

sesame oil

4

cloves

garlic

minced

1

tablespoon

minced ginger

1/4

teaspoon

crushed red peppers

2

tablespoons

corn starch mixed with 2 tablespoons water

diced green onions

for garnish (optional)

sesame seeds

for garnish (optional)
Instructions
In a cast aluminum slow cooker insert (or another skillet if your slow cooker has a ceramic insert) add the tablespoon of canola oil.

Dredge the beef in flour on all sides and shake off the excess.

Brown the beef on high heat on all sides. Make sure the pan is hot, you don't need to worry how done the meat is, you're just going for color.

Add the beef, brown sugar, lite soy sauce, sesame oil, garlic, ginger and crushed red peppers to the slow cooker.

Cook on low for

6-7 hours

or on high for

3-4 hours

.

Add in the cornstarch slurry and cook and additional

20-30 minutes

while you cook your rice and vegetables to thicken the sauce.

Garnish with green onions and sesame seeds if desired.
Nutrition
Calories:
511
kcal
|
Carbohydrates:
44
g
|
Protein:
34
g
|
Fat:
21
g
|
Saturated Fat:
7
g
|
Cholesterol:
97
mg
|
Sodium:
1200
mg
|
Potassium:
688
mg
|
Sugar:
35
g
|
Vitamin A:
25
IU
|
Vitamin C:
0.7
mg
|
Calcium:
51
mg
|
Iron:
4.6
mg