Easy Braised Short Ribs with bbq sauce are crazy tender oven braised short ribs with just 15 minutes of prep. 
We love easy braised beef recipes including my delicious recipe for Pot Roast, Ultimate Beef Stew and my favorite Vegetable Beef Soup that makes you feel like you've stepped off a plane and into Paris.
 BRAISED SHORT RIBS
Easy Braised Short Ribs are my go to "hey this looks super impressive" comfort food dinner when I'm looking for a shortcut but still need an amazing presentation. Instead of creating the braising sauce from scratch, I use my favorite BBQ sauce recipe and a small amount of beef broth with just a few vegetables for the easiest, most delicious meltingly fork tender short ribs you'll ever eat.
The Trick to Braising
The trick behind the perfect braising is the searing of the beef before it goes into the oven. First you're going to season the ribs with salt and pepper and toss it in all-purpose flour. Then you're going to sear the ribs on high heat until they are a dark brown with a good crust on all sides before they cook low and slow in the oven in your dutch oven.
HOW TO PICK SHORT RIBS
Most important tip I can give you about making short ribs: You are looking for the English cut of short ribs. They look like a cube, one bone per piece. Now here is where you get obnoxious. When you get to the grocer completely avoid the prepackaged stuff.
They give you one nice piece and about four pieces that are 80% bone. So you end up spending ten dollars a pound on mostly bone. Here is what you do, walk up to the meat guy (or gal) and say, "I want x number of short ribs, I need them for an event and they all need to be this thick (hold your fingers apart at least three inches) since they are going to be a single piece per serving. I can't have pieces that are mostly bone."
You can absolutely request bone-in ribs if you'd like them, but I always request boneless short ribs, as you braise them the bone will always fall off the rib leaving fatty connective tissue behind.
THIS IS AN EASY SHORT RIB RECIPE
You can certainly make the flavors from scratch next time. I've made an Italian version with garlic, tomato sauce, dry red wine, fresh thyme, bay leaves and garlic cloves. Just season with salt and pepper to taste.
Since we're using a thick BBQ sauce as the base I'm adding some beef stock to the recipe to give it some additional liquids to cook low and slow until the beef short ribs are super tender. If heat is too high in your dutch oven (or the lid is not on firmly enough) you may need to add more liquids during the cooking time. The first time you make this recipe, check on the beef a couple times while cooking to be sure you're not running too hot.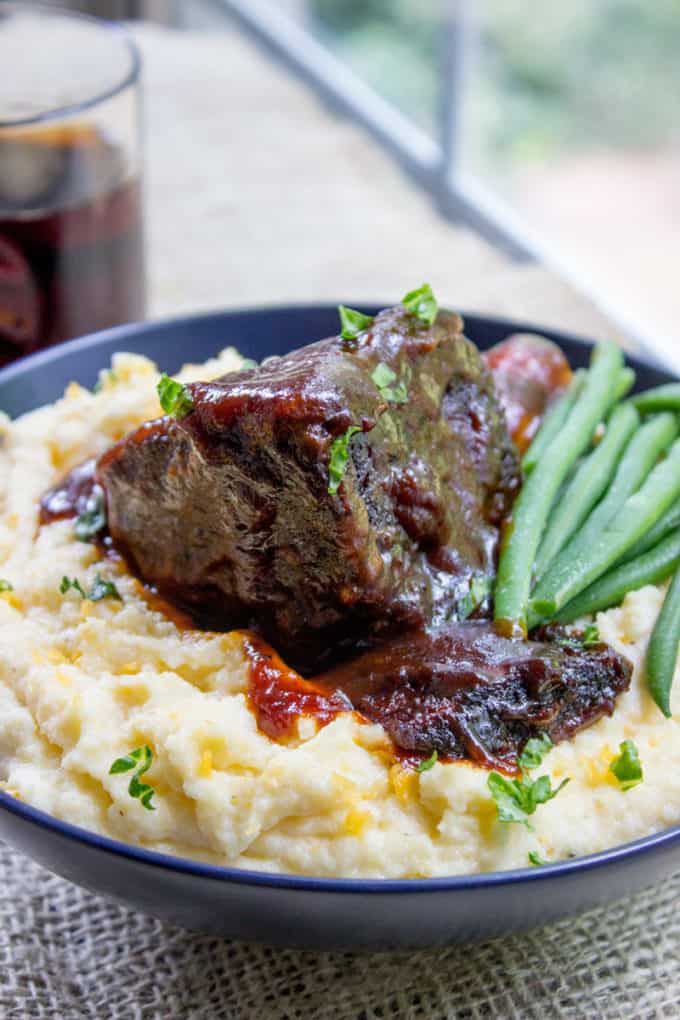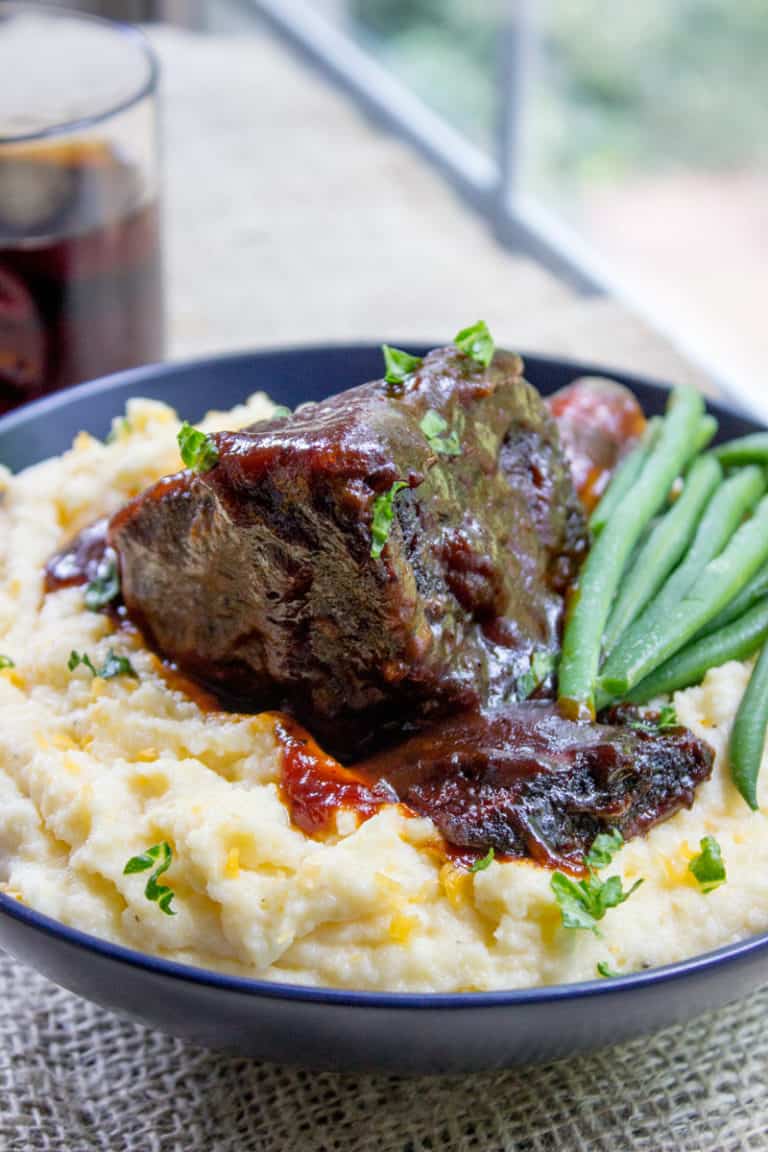 Create a free account to

Save Recipes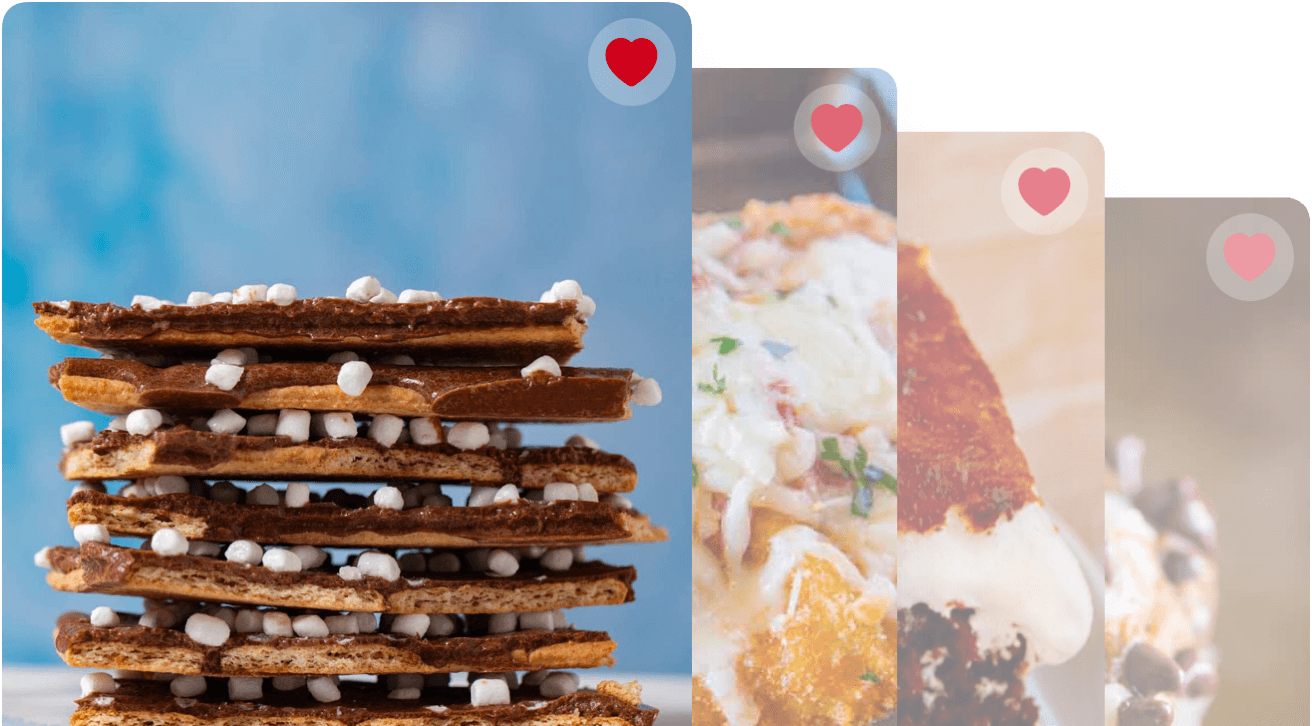 BBQ SAUCE
By using bbq sauce we avoid using red wine, tomato sauce or tomato paste and any other homemade sauce ingredients. So be sure you're using a high quality bbq sauce, follow the old saying they use for wine, use one you'd drink.
I cook these short ribs with my favorite bbq sauce ever. This sauce happens to be a copycat recipe from my favorite bbq restaurant I grew up eating at, Tony Romas. Back in the 1990s you'd have to wait hours to get into a Tony Romas and the wait was worth it!
The ribs and the sauce and that ONION LOAF made it all worth while. I've been to a Tony Romas recently, the magic is gone, but I do have the loaf, the cole slaw and this bbq sauce recipe on my site to keep the magic alive. Make the sauce, you won't regret it. I keep it in my deep freeze at all times, it tastes best warm.
BEST EVER BBQ SAUCE
1 cup ketchup
1 cup vinegar
1/2 cup corn syrup
2 teaspoons sugar
1/2 teaspoon salt
1/4 teaspoon garlic powder
1/4 teaspoon onion powder
¼ teaspoon Tabasco sauce
Add all the ingredients into a saucepan and whisk until combined.
Bring to a boil, then simmer on low for 45 minutes.
What to serve with Short Ribs
Short Ribs are best served with a glass of red wine,  Mashed Potatoes, egg noodles, Creamy Polenta or French Fries and a salad like a Wedge Salad topped with Blue Cheese Dressing.
HOW TO COOK SHORT RIBS
The only other thing to truly ensure amazing short ribs, is salt, pepper and flour each piece. Then tap off the excess flour and brown it in your dutch oven on all sides. YES, all sides, including the bone (this helps add flavor, I promise). Then when it braises, it will become this beautiful, crust-covered tender piece of meat.
Slow Cooker Short Ribs:
Brown the short ribs well on all sides in a dutch oven then add to your slow cooker and cook on low for 8 hours with the bbq sauce. Do not add any additional beef stock.
Items Used in Post:
Dutch Oven – This is the one I used, but I know not everyone gets awesome kitchenware as presents, so if you want something 90% as good for 90% less money…
Lodge Dutch Oven – This one isn't coated and will work great too, but for this recipe go coated if you can: Coated Lodge Dutch Oven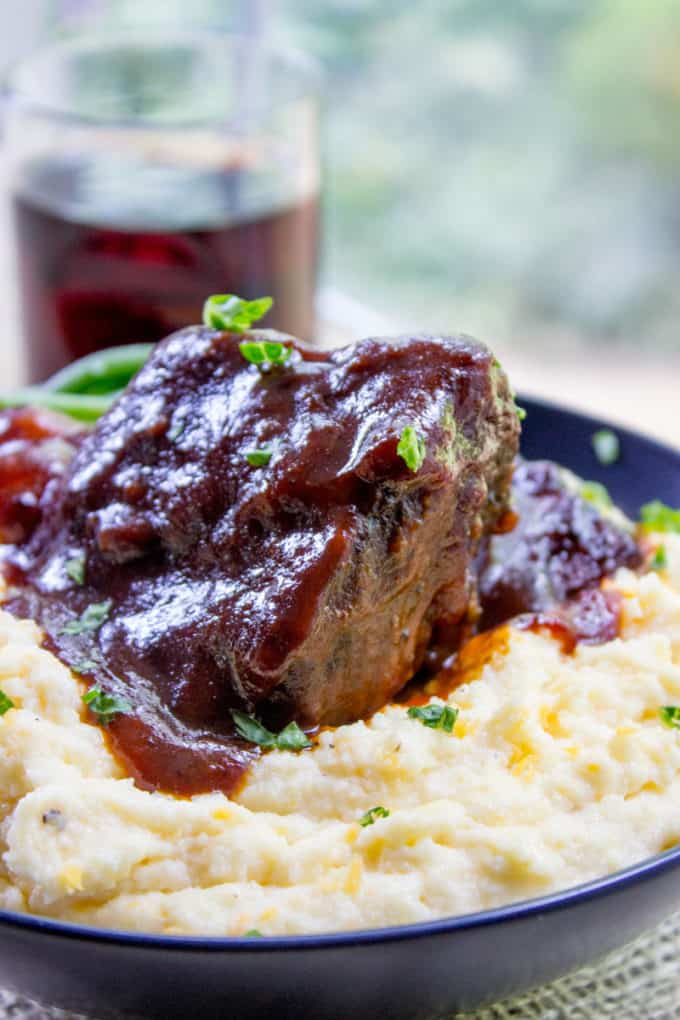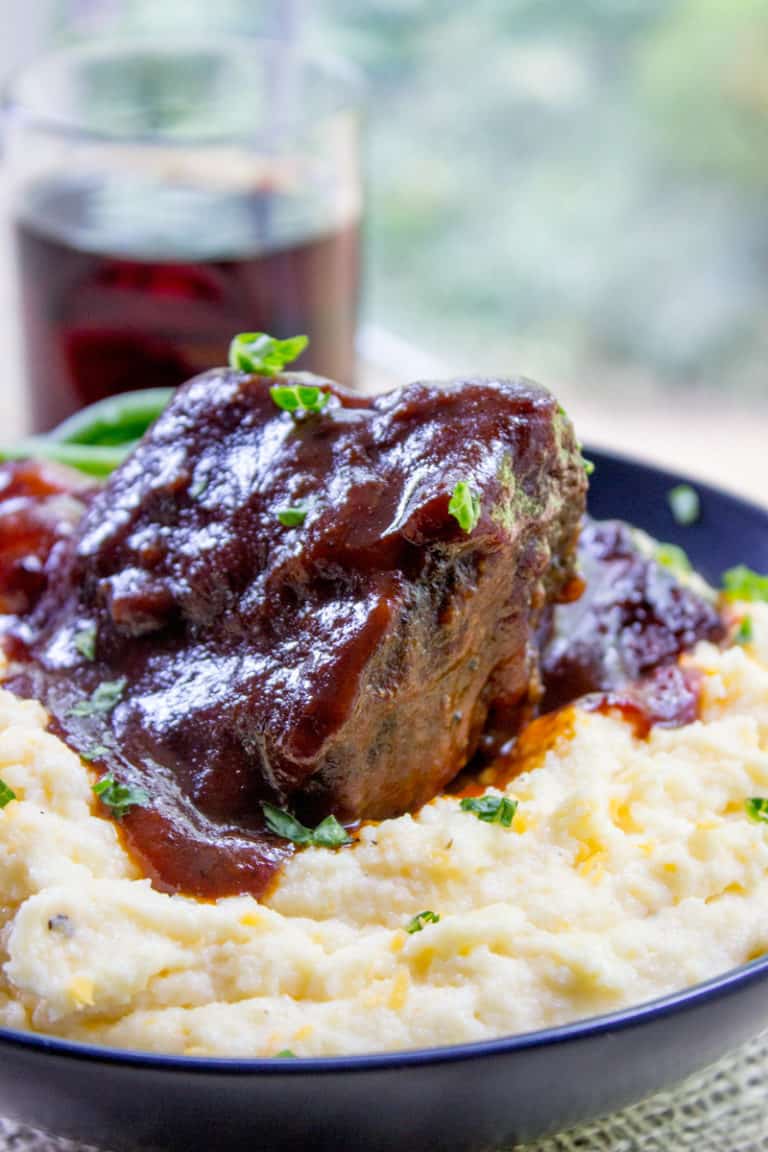 Ingredients
2

teaspoons

kosher salt

1/2

teaspoon

coarse ground black pepper

1/4

cup

flour

1/4

cup

vegetable oil

1

yellow onion

, chopped

3

pounds

beef short ribs

, thick cut (English Style)

2

cups

bbq sauce

(recipe above)

1

cup

beef broth
Instructions
Preheat the oven to 325 degrees, season your ribs with salt and pepper and toss with flour.

In the dutch oven, add the oil high heat and brown the beef on all sides until dark brown,

4-5 minutes

on each side.

Lower the heat to medium, add the onions and caramelize them to a nice deep golden brown color, about

3 minutes

, then add the bbq sauce, beef broth and short ribs back into the pot leaving them exposed by about a ½ inch.

Put the covered dutch oven in your oven and cook for

2 to 2 ½ hours

, or until the meat it tender and can easily be pierced with a fork. The timing will depending on the size of each rib, if you have nice large cuts, stick closer to 2 ½ hours.
Nutrition
Calories:
558
kcal
|
Carbohydrates:
44
g
|
Protein:
33
g
|
Fat:
26
g
|
Saturated Fat:
14
g
|
Cholesterol:
97
mg
|
Sodium:
2011
mg
|
Potassium:
860
mg
|
Fiber:
1
g
|
Sugar:
32
g
|
Vitamin A:
215
IU
|
Vitamin C:
1.9
mg
|
Calcium:
51
mg
|
Iron:
4.5
mg