Easy Braised Short Ribs
This post may contain affiliate links. Read my disclosure policy here.
Easy Braised Short Ribs are my shortcut way to enjoy crazy tender oven braised short ribs without the hour of prep they'd normally need.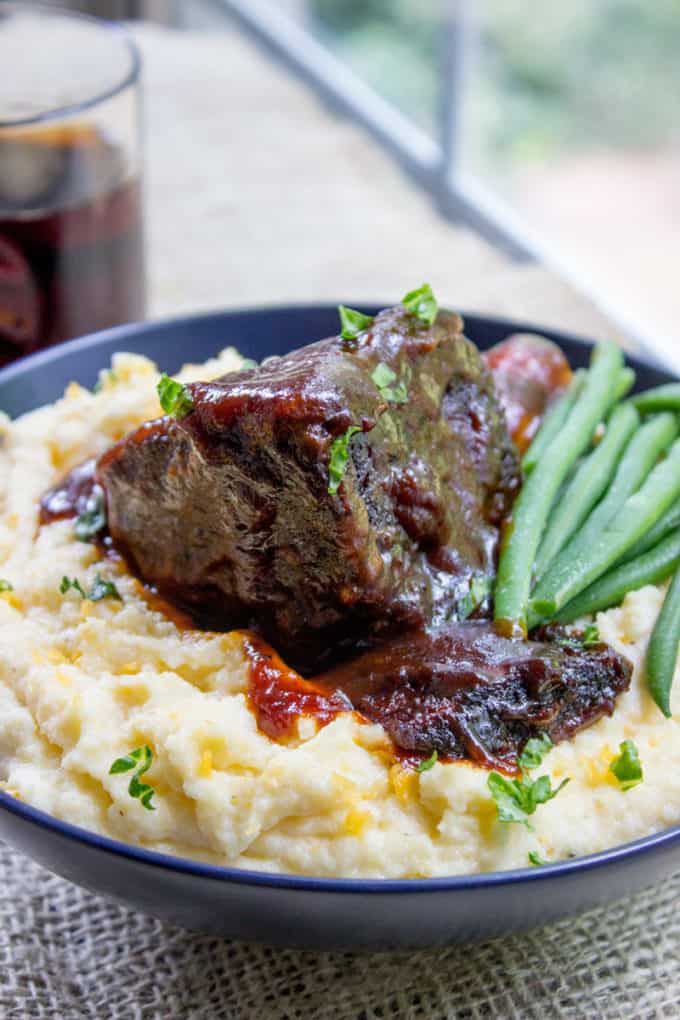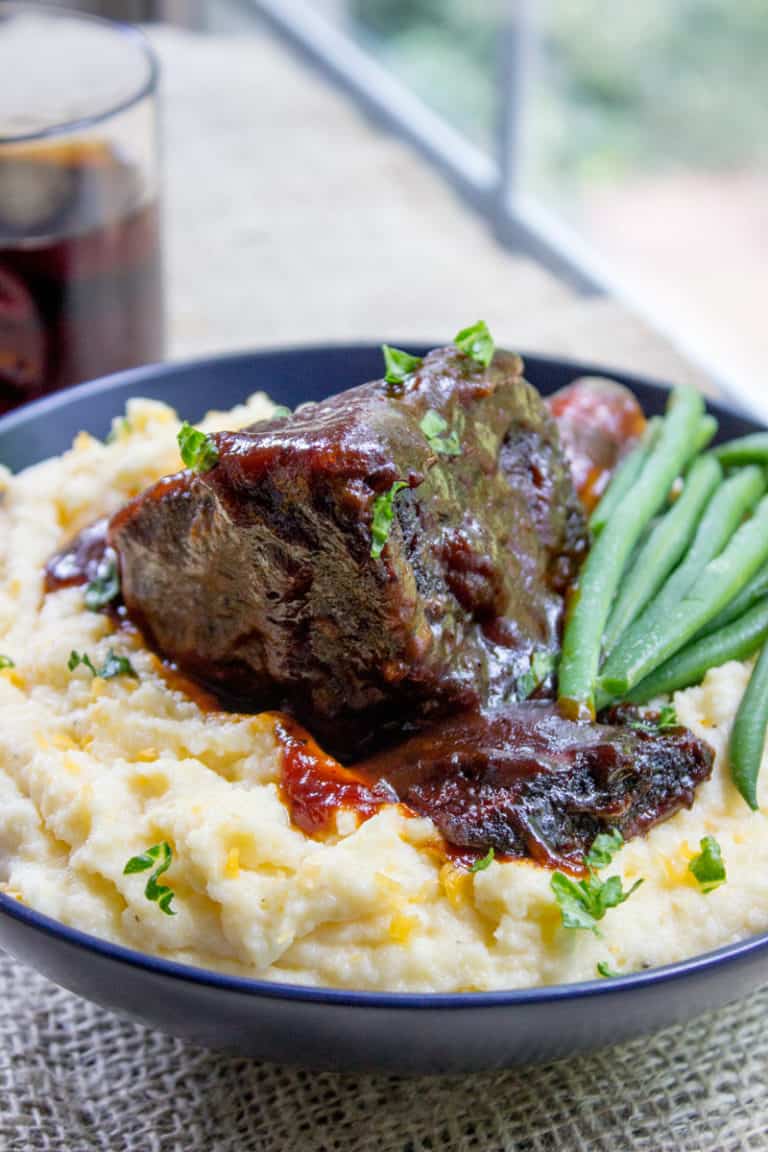 Easy Braised Short Ribs are my go to "hey this looks super impressive" dinner when I'm looking for a shortcut but still need an amazing presentation. Instead of creating the braising sauce from scratch, I use my favorite BBQ sauce recipe that I always keep in my deep freeze and brown a few veggies to add some depth.
My normal short rib recipe (which I will share soon I hope!) is based on a recipe from the Blue Duck Tavern in Washington, DC. It's was a fantastic restaurant until the head chef changed (I miss you Brian McBride, you made that restaurant amazing). Once the new chef came in back in 2011 things started going downhill (this still makes me sad). I hear another new chef recently took over and that they took the BDT fries off the menu (these were… AMAZING). Luckily before all of that happened I got my three favorite recipes (including the fries!) so I could recreate them at home.
Anyway, back to my Easy Braised Short Ribs (although now I am totally craving all my old favorites). There are a few things you need to prepare yourself for when you are making short ribs. One, you'll be happy they are easier than you would think (since they cost so much in restaurants!) and two, it is all in the prep!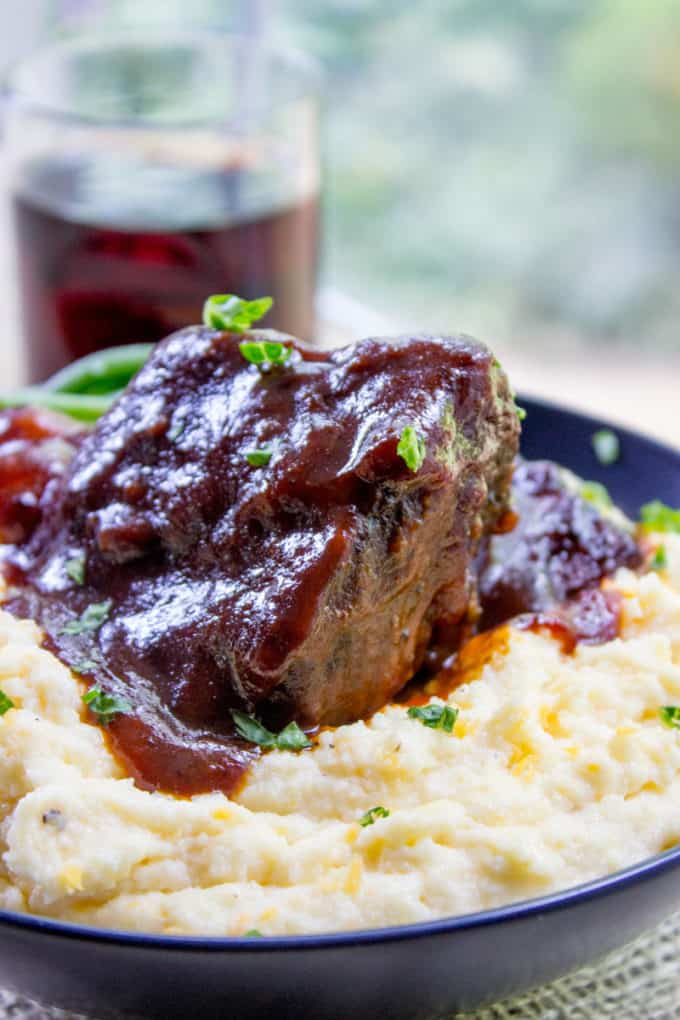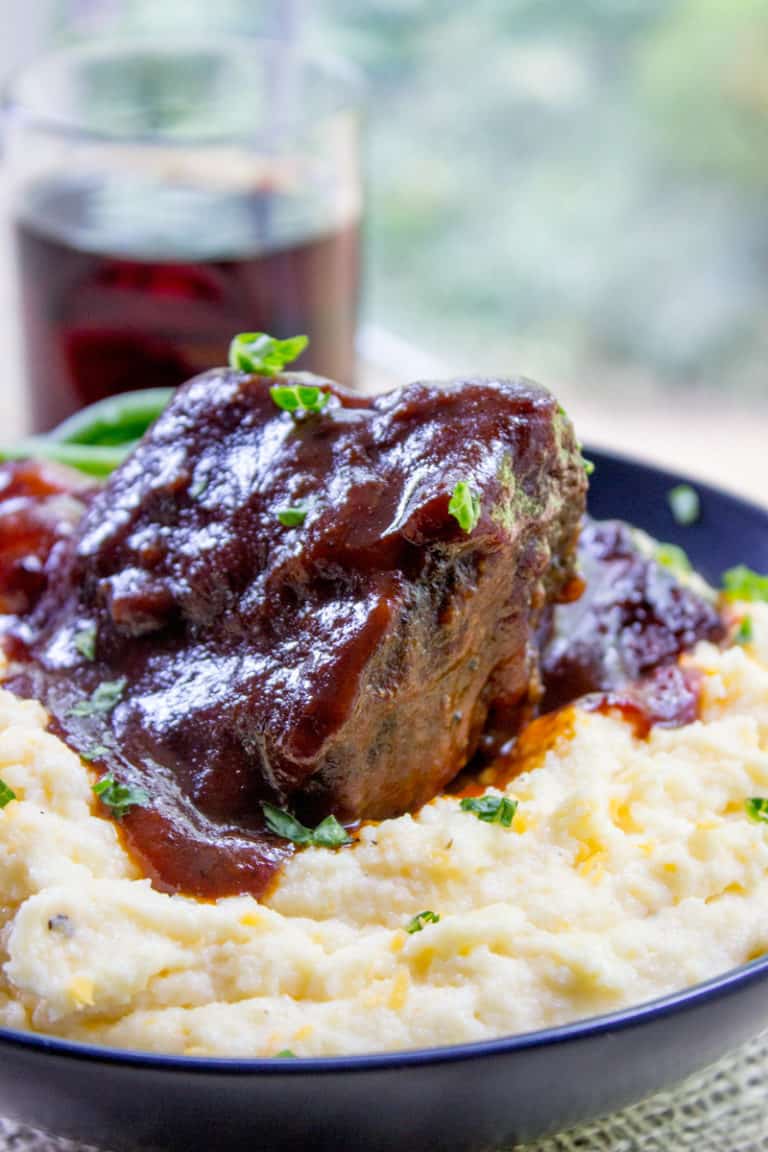 Most important tip I can give you about making short ribs: Be that obnoxious person with your meat guy. You are looking for the English cut of short ribs. They look like a cube, one bone per piece. Now here is where you get obnoxious. When you get to the grocer completely avoid the prepackaged stuff.
They give you one nice piece and about four pieces that are 80% bone. So you end up spending ten dollars a pound on mostly bone. Here is what you do, walk up to the meat guy (or gal) and say, "I was x number of short ribs, I need them for an event and they all need to be this thick (hold your fingers apart at least three inches) since they are going to be a single piece per serving. I can't have pieces that are mostly bone."
THEN, inspect. Anytime I am at a new grocer they always try and sneak some skinny pieces in there. Be that person who says, "Nope, nope, nope, I need this one swapped out." Trust me, you don't want to get stuck with the pieces that are all connective tissue and bone because the meat department is trying to sell the skinny end of the short rib. You deserve the exact cut you want.
MY OTHER RECIPES
The only other thing to truly ensure amazing short ribs, is salt, pepper and flour each piece. Then tap off the excess flour and brown it in your dutch oven on all sides. YES, all sides, including the bone (this helps add flavor, I promise). Then when it braises, it will become this beautiful, crust covered tender piece of meat.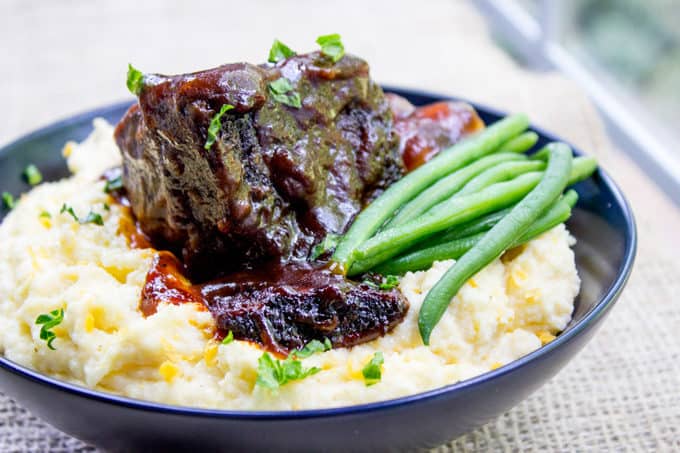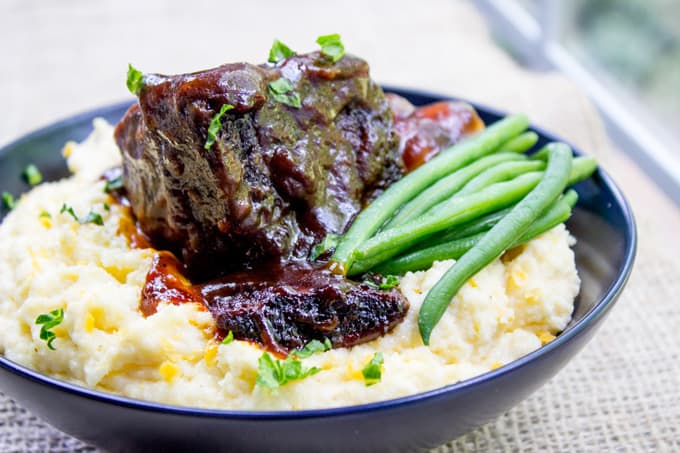 Items/Ingredients Used in making this recipe:
Dutch Oven – This is the one I used, but I know not everyone gets awesome kitchenware as presents, so if you want something 90% as good for 90% less money…
Lodge Dutch Oven – This one isn't coated and will work great too, but for this recipe go coated if you can: Coated Lodge Dutch Oven
Pig Tail Flipper – I can't recommend this highly enough, especially for flipping in tight spaces.
Tony Roma's BBQ Sauce – I linked to my homemade version, but if you're in a hurry and want the pre-made version
Polenta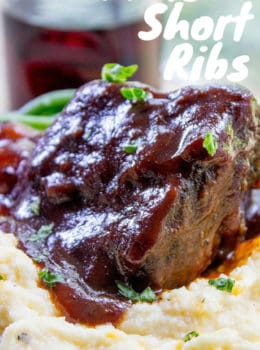 Easy Braised Short Ribs
Easy Braised Short Ribs are my shortcut way to enjoy crazy tender oven braised short ribs without the hour of prep before they go in the oven that I normally have for dinner parties.
Prep Time 20 minutes
Cook Time 2 hours
Total Time 2 hours 20 minutes
Ingredients
Kosher salt and pepper
1/4 cup all purpose flour
2 tablespoons unsalted butter
1 onion , chopped
6 thick English cut beef short ribs (approx. 3 pounds)
2 cups Favorite BBQ Sauce (I use my Tony Roma's BBQ sauce I keep in the freezer)
1 cup chicken or beef stock
Instructions
Preheat the oven to 325 degrees.

Salt and pepper your short ribs (I season aggressively, about 2 teaspoons kosher salt and 1 teaspoon of fresh cracked black pepper) and roll them in flour.

Tap off any excess flour (some of your salt will come off in case the 2 teaspoons is off putting).

In the dutch oven, add the butter and melt on medium high.

Brown your short ribs on every side, including the bone side.

Remove the short ribs from the dutch oven once fully browned.

Add the onions and caramelize them to a nice deep golden brown color, about 3 minutes or so.

Add the sauce, chicken/beef stock and mix.

Place the short ribs bone side down into the sauce, leaving the top 1/2 inch exposed.

Don't stack them or crowd them too much, they need to each have one side exposed to properly braise.

Put the covered dutch oven in your oven and cook for 2 to 2 1/2 hours, or until the meat it tender and can easily be pierced with a fork. The timing will depending on the size of each rib, if you have nice large cuts, stick closer to 2 1/2 hours.

Remove from oven and let sit for 10-15 minutes.
Dinner, then Dessert, Inc. owns the copyright on all images and text and does not allow for its original recipes and pictures to be reproduced anywhere other than at this site unless authorization is given. If you enjoyed the recipe and would like to publish it on your own site, please re-write it in your own words, and link back to my site and recipe page. Read my disclosure and copyright policy. This post may contain affiliate links.