BBQ Beef Short Ribs are fall-off-the-bone tender cooked in a tomato, beef broth, brown sugar, and vinegar sauce with stovetop and slow cooker options.
This Beef Rib recipe is amazing comfort food that's sure to be a hit with the whole family. For more amazing Beef Recipes, be sure to try Oven BBQ Beef Brisket and Cube Steak with Gravy next.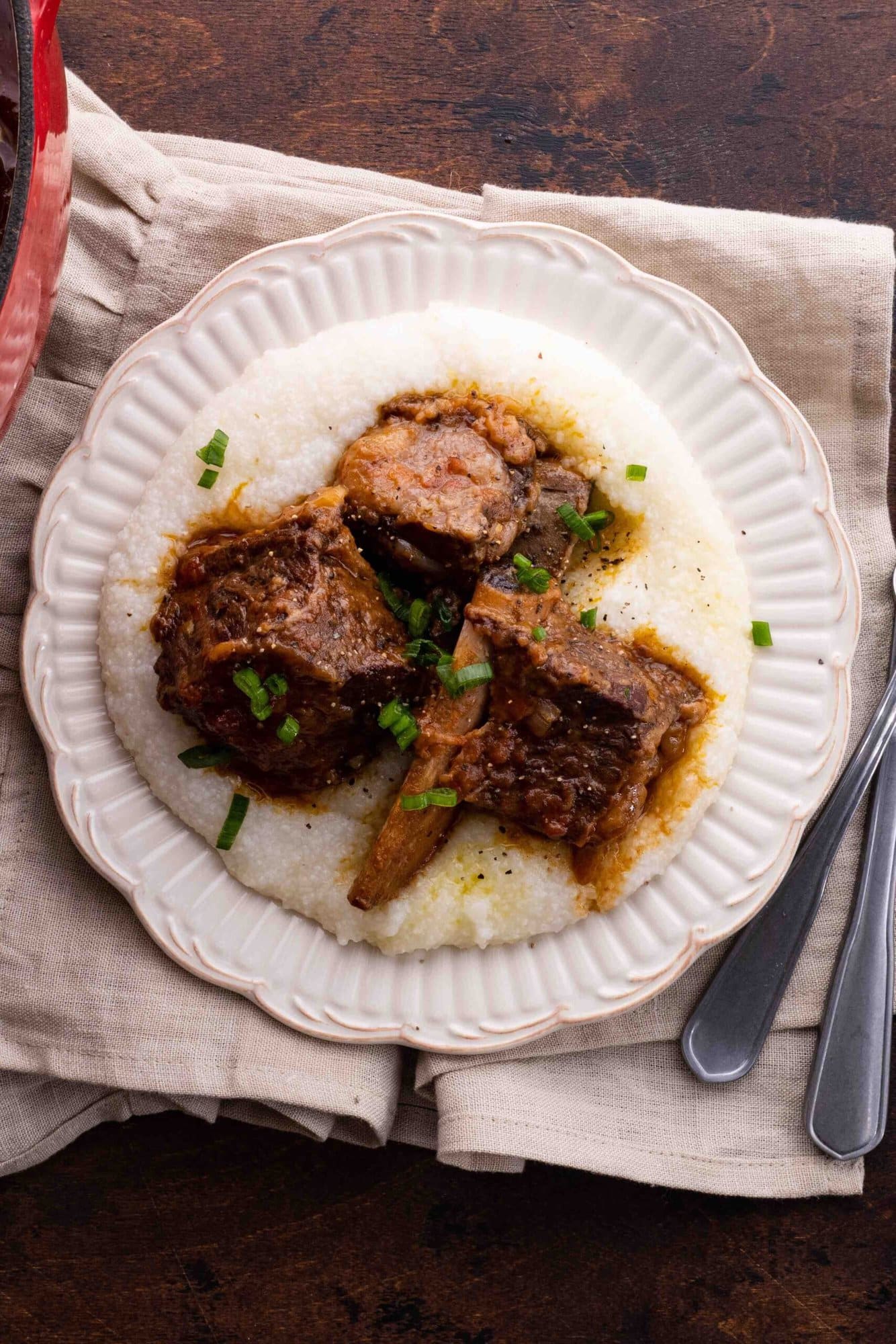 This Beef Rib recipe is the perfect way to enjoy tender ribs and tangy barbecue sauce any time you're craving them. There's no need for an outdoor hot grill, or going to a barbecue restaurant. You can make this favorite recipe just as good by slow cooking, or cooking on the stovetop.
The key to making this all-around delicious Beef Short Rib recipe is cooking the ribs low and slow in the cooking liquid. While the Barbecue Beef Ribs cook, they absorb the flavors and liquid around them. The vinegar and salt help break down the connective tissue so that the finished dish is unbelievably juicy, and easily falls off the bone. The other ingredients like brown sugar, tomato sauce, mustard, and Worcestershire sauce give the ribs the sweet and tangy flavor of your favorite barbecue sauce.
Once the ribs are done cooking, they're perfect to serve with your favorite comforting and filling side dishes. Cook egg noodles, grits, or Creamy Mashed Potatoes to serve along with them, and top it all off with any additional barbecue sauce.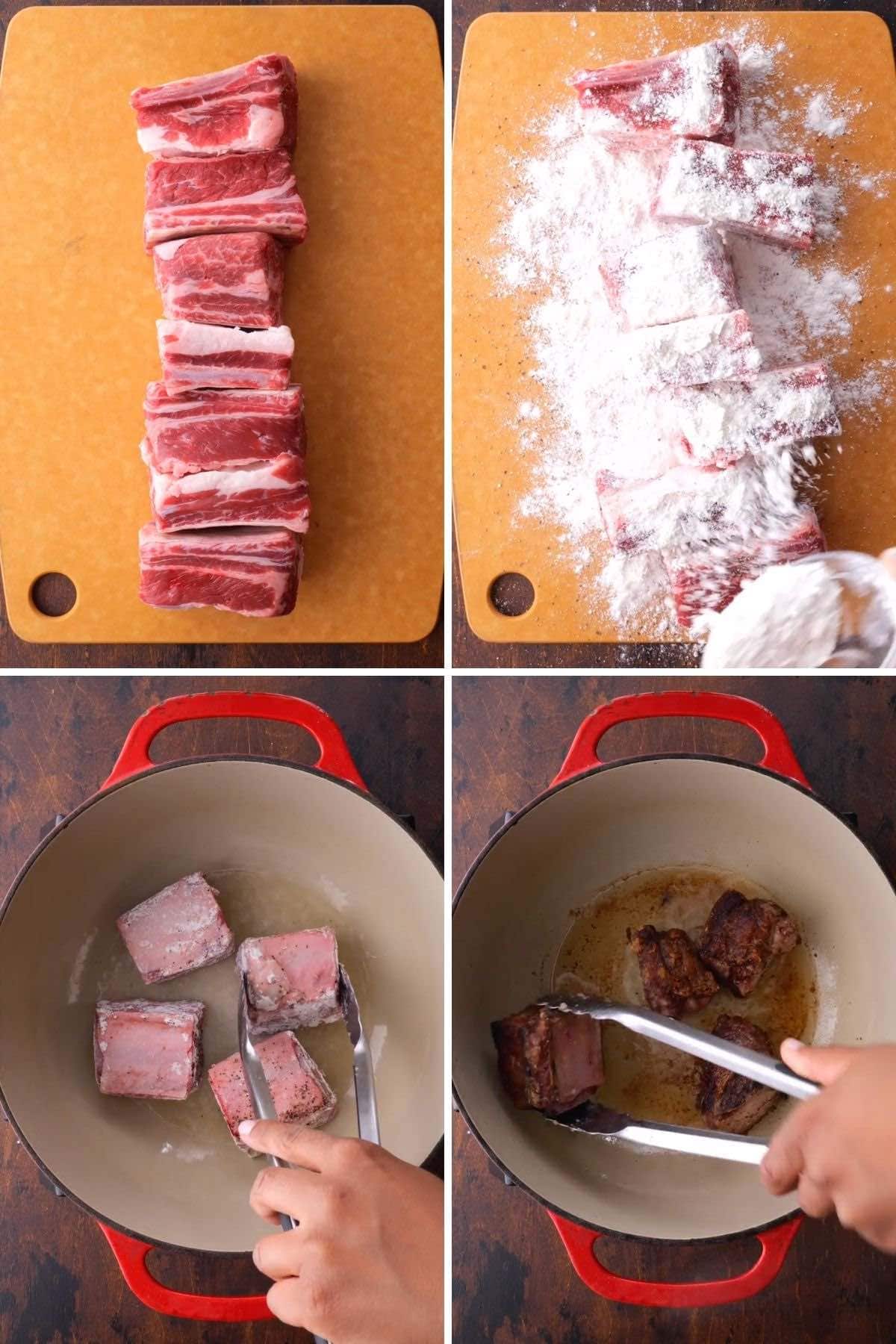 Beef Recipes
Frequently Asked Questions About BBQ Beef Short Ribs
Why do Short Ribs need to be cooked for so long?
Short Ribs contain a lot of connective tissue that takes time to break down while you cook it. You need to cook it for hours to get it nice and tender for serving.
Why do the Short Ribs need to be coated in flour before cooking?
Searing the short ribs with flour on them helps to give them a nice brown coating and some texture. The flour will also help thicken the sauce as you start adding those ingredients.
How do I know when Short Ribs are done cooking
The connective tissue will have broken down and you will see the meat start to pull apart when it is done cooking. Take a fork to the meat and if it shreds easily, it is finished.
How to Make BBQ Beef Short Ribs
Prep Time: To get the ribs ready for the recipe, season the raw beef with salt and pepper. Then add flour to a shallow bowl, and roll each rib in the flour. Tap any excess flour off on the side of the bowl.
Sear: Add oil to the base of a dutch oven or another large pot that you have a lid for. Turn the stovetop to medium-high heat. Sear the short ribs for 4-5 minutes on each side. Then remove the beef, and set them on a plate to the side.
Cooking Liquid: Add the onions to the dutch oven and cook for 5-6 minutes until translucent and caramelized. Stir in the garlic and cook until translucent, about 30 seconds. Then add in the tomatoes, beef stock, tomato paste, brown sugar, apple cider vinegar, Worcestershire sauce, and yellow mustard. Stir until the mixture is well combined.
Stovetop Cooking: Add the ribs back into the pot. Cover and cook at medium-low temperature for 3 hours.
Serve: Transfer the ribs to a serving plate and enjoy with mashed potatoes, grits, or egg noodles on the side and tangy barbecue sauce on top.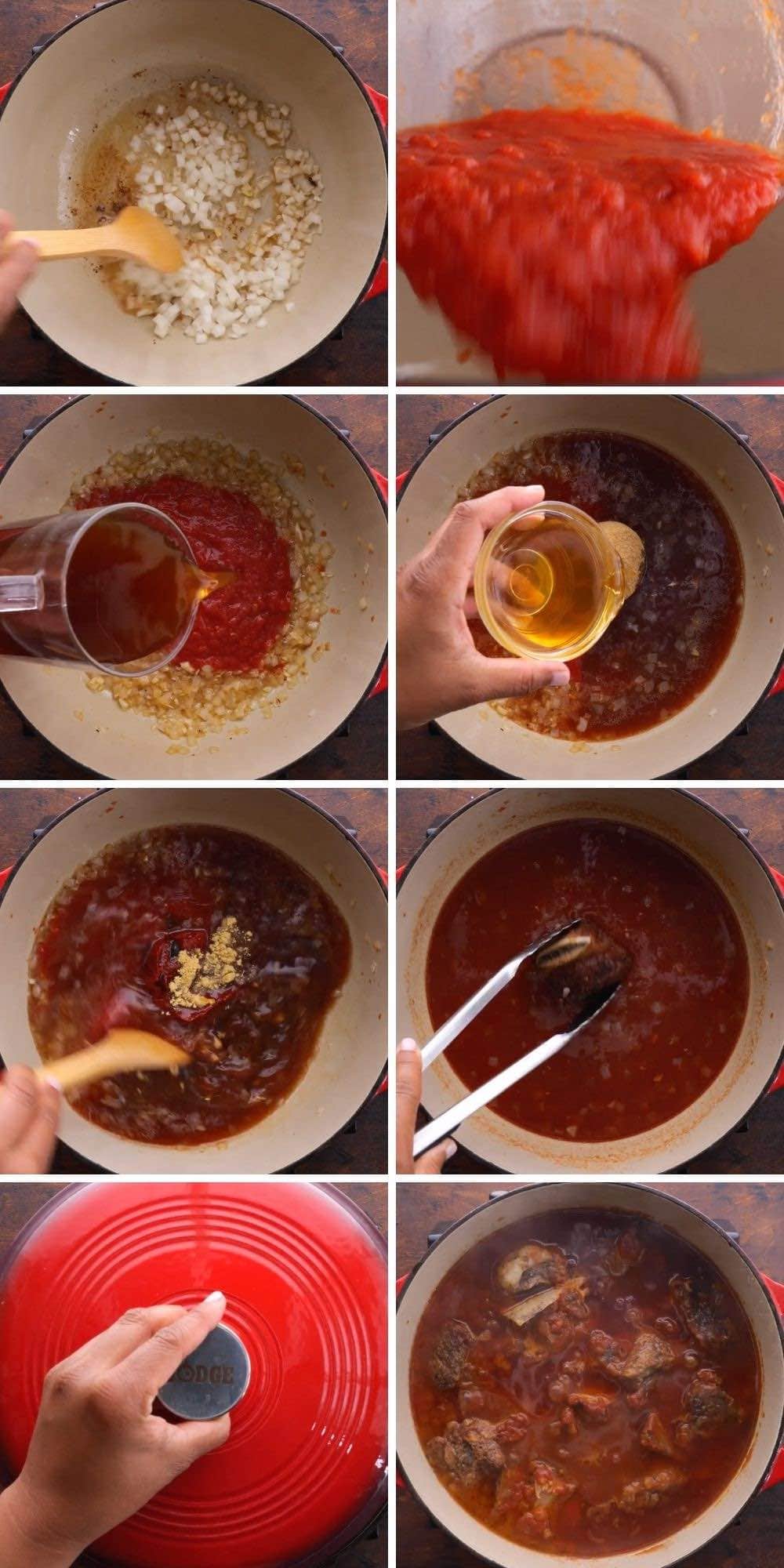 Slow Cooker Method for BBQ Beef Short Ribs
If you're using a slow cooker, begin by preparing the recipe as directed. However, instead of adding the ribs back into the dutch oven, you will add the cooking liquid and the ribs to the crockpot. Cover and cook on low for 8 hours. For either cooking method make sure the ribs have reached 195-203 degrees F and are fork-tender before serving.

Create a free account to Save Recipes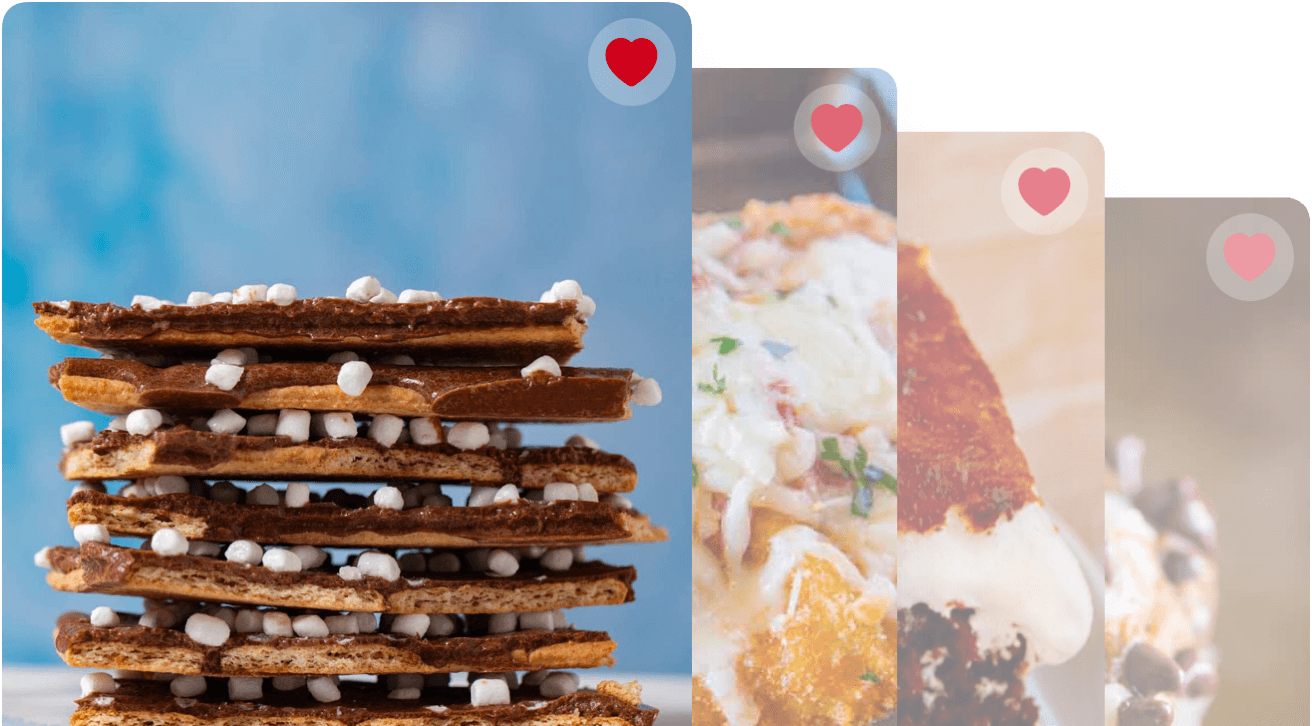 Variations on BBQ Beef Short Ribs
Smoky Flavor: Just because you don't cook the meat on a grill, doesn't mean you can't make BBQ Ribs with an authentic smoke flavor. Simply whisk a little liquid smoke into the cooking liquid to give the meal that classic smoky flavor.
Seasonings: You can add some different spices to the beef rub along with the salt and pepper. Try using a teaspoon garlic powder, paprika, onion powder, or cumin.
Spicy Sauce: There are plenty of other sauces you can add to the tangy barbecue sauce cooking liquid. Add a little adobo sauce or Frank's hot sauce to give the ribs a little bit of spice.
Apple Juice Ribs: For a rich, Fall flavor in the rib recipe, you can whisk 2 cups of apple juice or apple cider with the cooking liquid. The sweet flavor will soak in with the tangy barbecue sauce for amazing, deeply flavored ribs.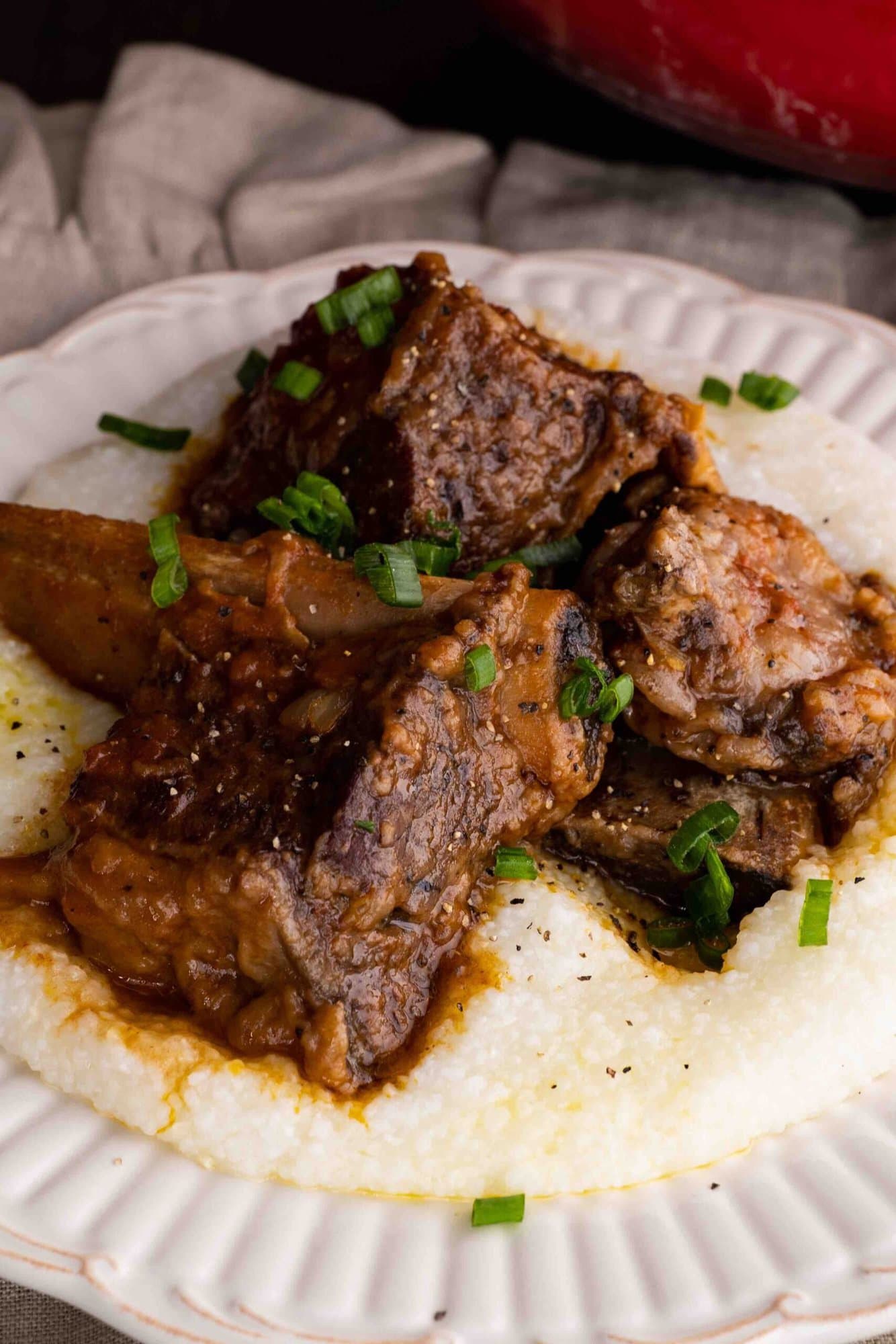 Serving Ideas
This Short Rib recipe is great served with something that will soak up the barbecue sauce. A few great options are buttered egg noodles, mashed potatoes, white rice, riced or mashed cauliflower. Have you ever tried barbecue served with traditional dressing, like the kind you'd serve at Thanksgiving? Give it a try! This recipe would taste great with this Cornbread Dressing recipe, or you can use the boxed stuff if you're tight on time. You could also use any other bread side to sop up the sauce, like Buttermilk Biscuits, Texas Roadhouse Rolls, or Ultimate Cornbread.
Side Dishes to Serve with BBQ Beef Short Ribs
How to Store BBQ Beef Short Ribs
Serve: Don't leave this BBQ Beef Ribs recipe at room temperature for more than 2 hours.
Store: You can wrap them in aluminum foil or seal them in an airtight container to store the ribs in the fridge for 3-4 days.
Freeze: To freeze the recipe, separate the ribs with layers of freezer paper so that they don't stick together. Then seal them in a freezer-safe plastic container. They'll stay good frozen for up to 6 months.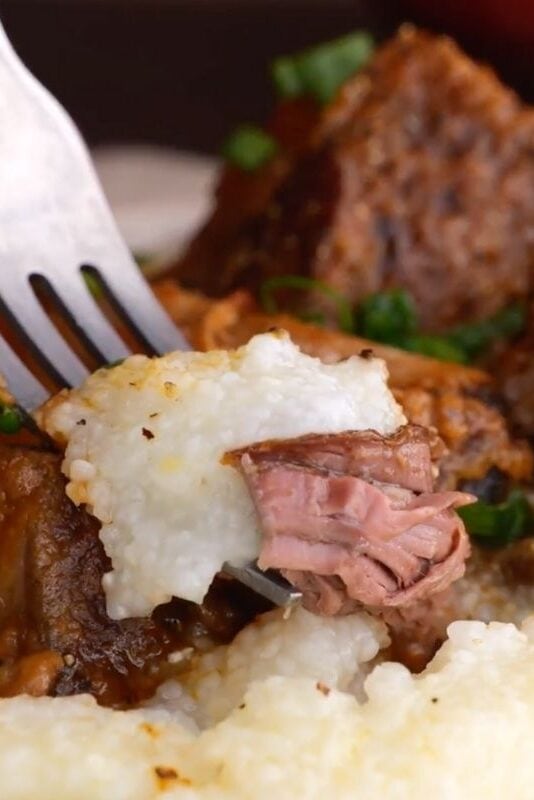 Ingredients
4

pounds

bone-in beef short ribs

2

teaspoons

kosher salt

1

teaspoon

coarse ground black pepper

1/3

cup

flour

3

tablespoons

vegetable oil

1

yellow onion

, diced

4

garlic cloves

, minced

15

ounces

crushed tomatoes

2

cups

beef broth

6

ounces

tomato paste

1/3

cup

brown sugar

, packed

1/4

cup

apple cider vinegar

2

tablespoons

Worcestershire sauce

1

teaspoons

ground mustard
Instructions
Season the beef ribs with salt and pepper.

Roll in flour, tap off excess.

Add oil to a large pot on medium-high heat.

Sear all the sides of the short ribs, about

4-5 minutes

on each side.

Remove the beef and add in the onions, cooking for

5-6 minutes

or until translucent and just beginning to caramelize.

Stir in the garlic and cook for

30 seconds

until fragrant.

Add in the crushed tomatoes, beef broth, tomato paste, brown sugar, apple cider vinegar, Worcestershire sauce, and ground mustard until well combined.

Put the beef back into the pot, cover, and cook for

3 hours

or until fork-tender.

If using a slow cooker, cook on low for

8 hours.

Serve with mashed potatoes, grits, or egg noodles.
Nutrition
Calories:
438
kcal
|
Carbohydrates:
24
g
|
Protein:
35
g
|
Fat:
23
g
|
Saturated Fat:
8
g
|
Polyunsaturated Fat:
4
g
|
Monounsaturated Fat:
9
g
|
Trans Fat:
0.04
g
|
Cholesterol:
98
mg
|
Sodium:
1210
mg
|
Potassium:
1083
mg
|
Fiber:
2
g
|
Sugar:
15
g
|
Vitamin A:
444
IU
|
Vitamin C:
12
mg
|
Calcium:
64
mg
|
Iron:
6
mg