Oven Roasted Texas Brisket is the easiest recipe for fork-tender brisket with Texas-style seasoning. Smoker, Slow Cooker and Barbecue instructions included!
Our tender roast Beef Brisket with Caramelized Onions is the perfect Main Dish for holidays, potlucks, or family dinners. Give classic brisket a Texas-style makeover with easy recipe!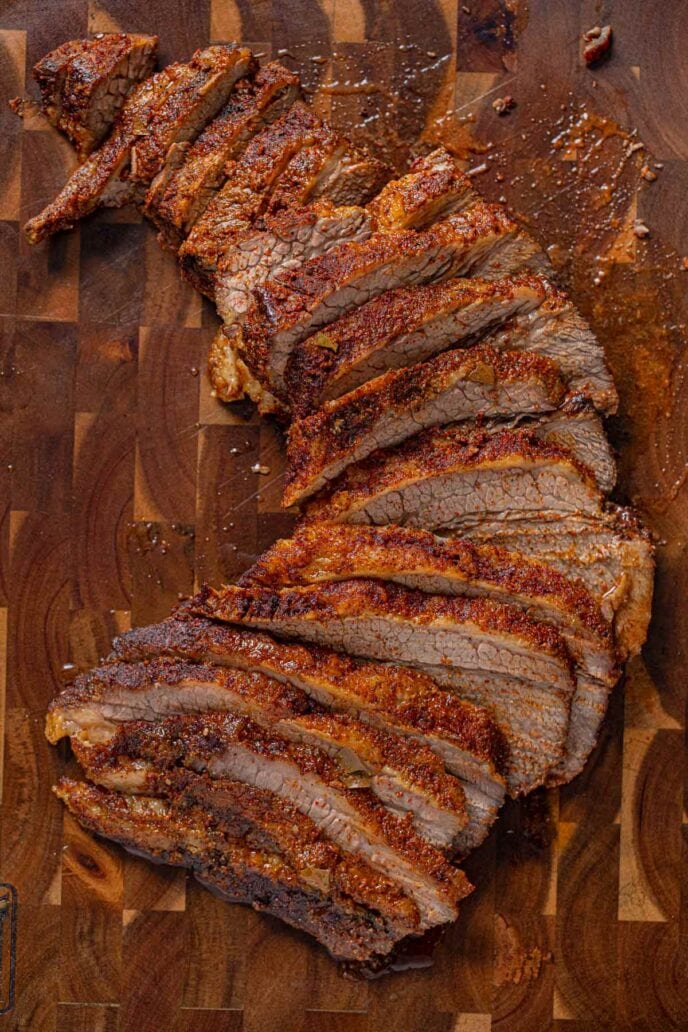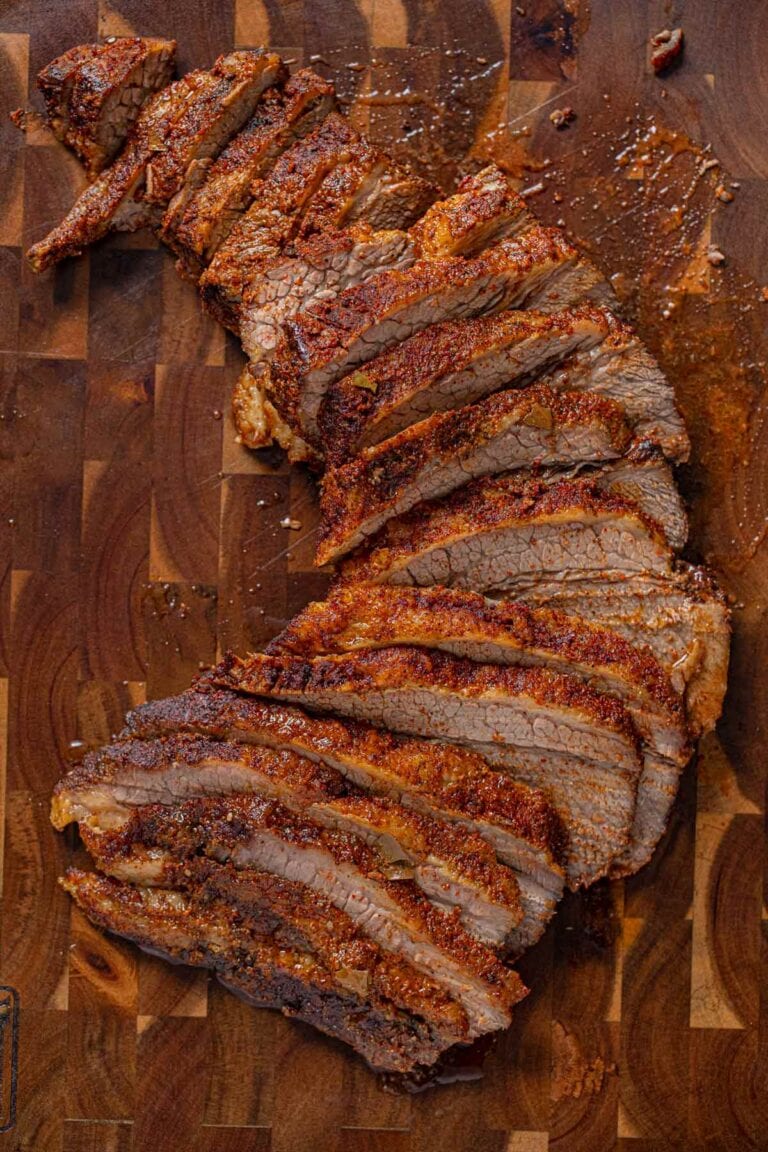 OVEN-ROASTED TEXAS BRISKET
Craving BBQ Texas Brisket but don't have a fancy smoker? Not a problem with this easy recipe for Oven Roasted Texas Brisket! All you need is a good dry rub, some beef broth, a trimmed brisket, and about 4 hours to get a perfectly cooked Texas Brisket. No fussing with wood chips and or smoker temperature, this is a great recipe whether it's your first time or fiftieth time cooking brisket.
Once you learn how to cook a brisket in the oven, you can make tender BBQ Brisket the next time a craving strikes. This Texas Oven Brisket recipe is baked in about half the time as smoking or barbecuing, but is just as flavorful and juicy. Slow roasting lets all the smoky, Texas-style seasonings soak in and makes the brisket melt-in-your-mouth fork tender.
If you have the equipment and want a traditional Smoked Texan Brisket, we've got you covered later in this post. You can also cook this Texas Brisket in the slow cooker! Slow Cooked Brisket is an easy way to get tender beef brisket without heating up your kitchen or your backyard. However you make it, this is a go-to recipe for the best brisket!
This Texas Oven Brisket recipe is easy and quick to get ready for the oven, with no wet brine or marinating overnight needed! The homemade dry rub for this Texas Oven Brisket gives tons of flavor and a crisp crust while keeping the meat inside tender and juicy during slow roasting.
SIDE DISH RECIPES FOR TEXAS OVEN BRISKET
You can enjoy Texas Brisket with your favorite barbecue sides like Mac and Cheese and Baked Beans. Serve brisket instead of Pot Roast for a comfort food dinner with Mashed Potatoes and Green Beans. Beef Brisket is even better the next day as sandwiches slathered with BBQ Sauce and Coleslaw.
Tips for Texas Brisket
Marinate beef brisket overnight if you have the time. It will make the beef even more flavorful and tender.
Trim the brisket while it's cold, straight from the refrigerator. You want to trim the fat cap back until all the hard fat is gone except for about ¼ inch.
Bring the beef to room temperature for about an hour before you roast. This will allow the meat to reach the internal temperature evenly.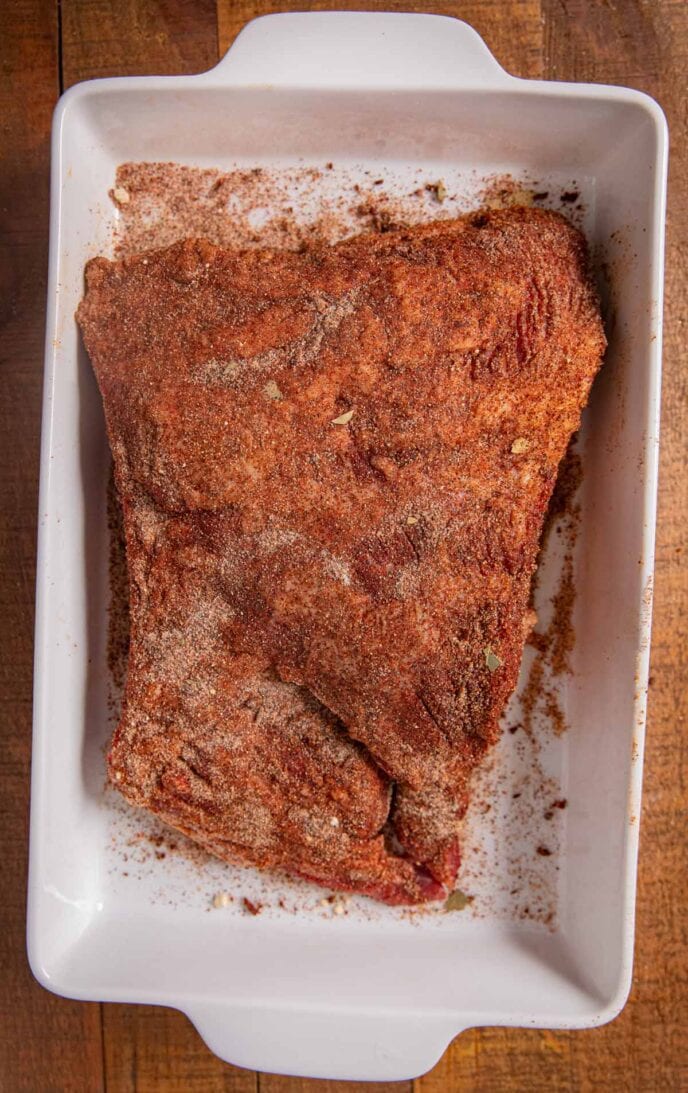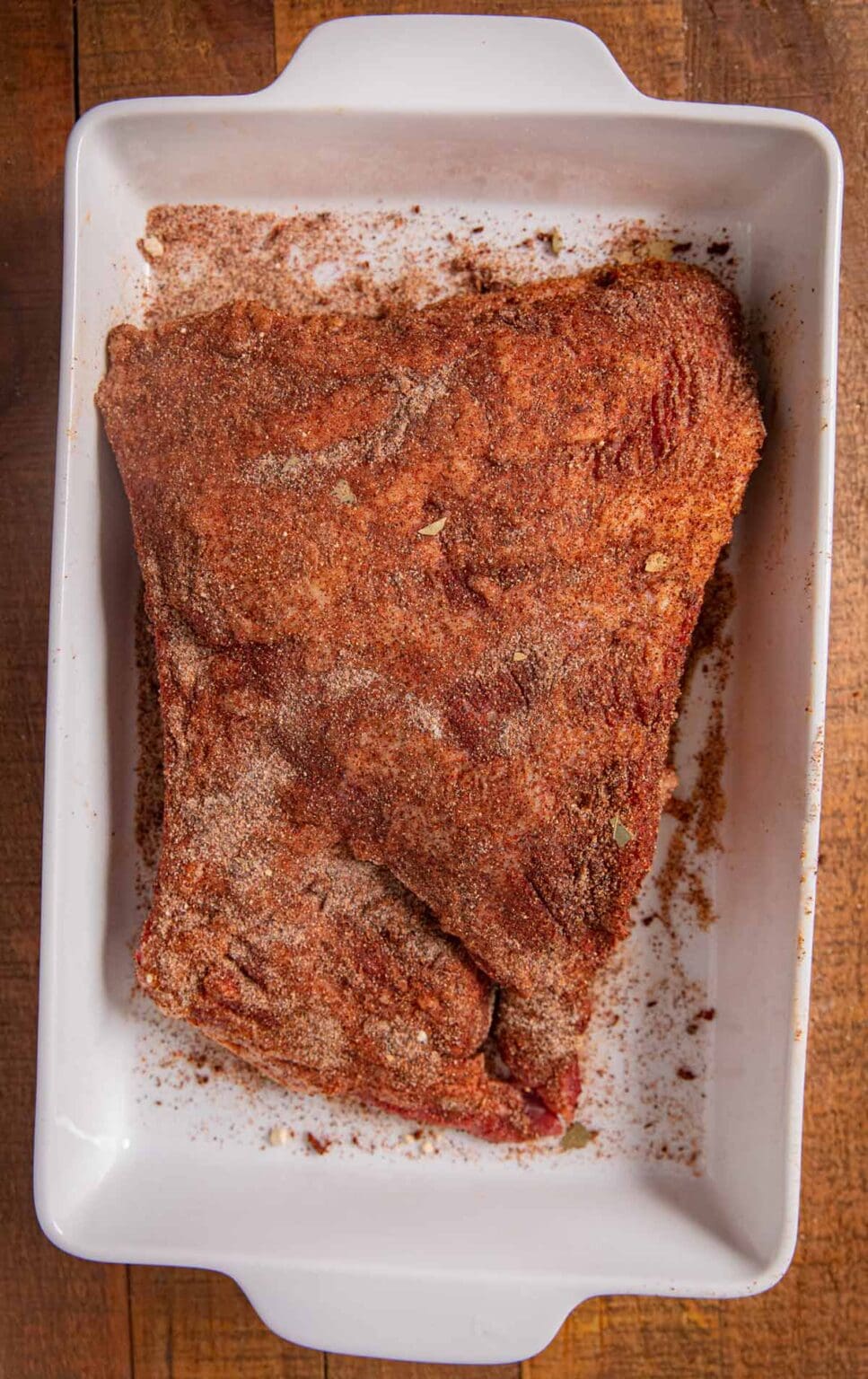 Create a free account to

Save Recipes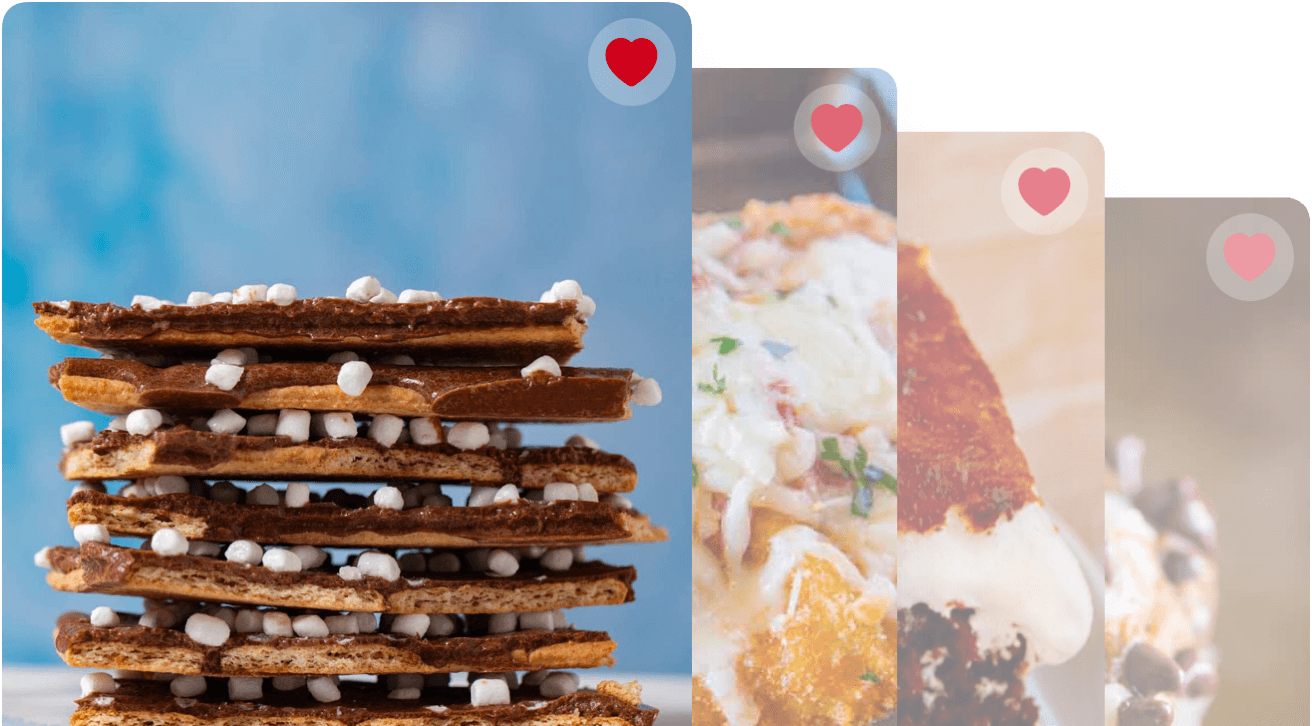 VARIATIONS ON OVEN BAKED TEXAS BRISKET
Spices: Other seasonings to add to your dry rub are smoked paprika, cayenne pepper, white pepper, brown sugar, or dried thyme.
BBQ Sauce: Braise your brisket every 15-20 minutes in the last hour of cooking with your favorite BBQ sauce, like this easy Homemade BBQ Sauce. Serve with more barbecue sauce on the side!
Smoked Texan Brisket
Preheat smoker to 225 degrees F with hardwood, like hickory or mesquite, smoke and indirect heat.
Season beef brisket and place with the thicker side closest to the heat source, fat side down, on grill.
Smoke brisket until reaches an internal temperature of 165 degrees, 3-4 hours, or about 45 minutes per pound.
Remove brisket and wrap in butcher paper or aluminum foil.
Return to smoker and smoke an additional 2-3 hours, or until it reaches an internal temperature of 205 degrees.
Unwrap butcher paper (or foil) and rest brisket uncovered at least 30 minutes before you slice and serve.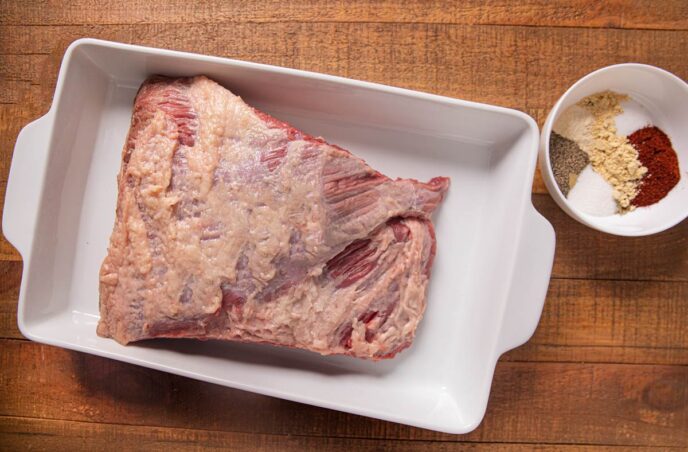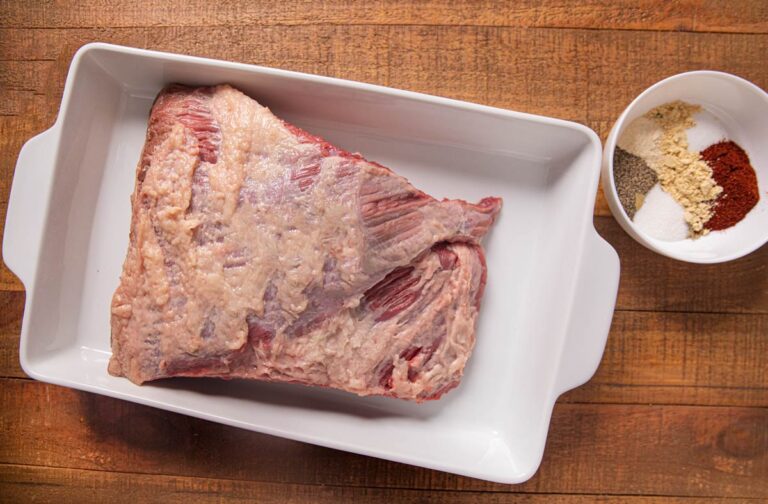 Texas Brisket on the Barbecue
Preheat grill to low heat on one side leaving half the grill unheated.
Season trimmed brisket and sear in a skillet in oil over medium heat for 3-4 minutes on each side.
Place brisket fat side up in a heavy duty disposable roasting pan.
Pour beef broth into pan and cover pan tightly with aluminum foil.
Place pan on grill over indirect heat and close barbecue lid.
Cook for about 3-4 hours on the grill, until internal temperature reaches 205 degrees.
Remove from grill and pan, tent with foil and rest for about 20 minutes. Slice against the grain.
Slow Cooked Beef Brisket
Trim and season beef brisket.
Place fat side up in a large slow cooker.
Cover slow cooker with lid and cook on low for 8 hours.
Remove from crockpot and broil for 1 minute to get crust.
Rest for at least 30 minutes before you slice brisket.
MORE MOUTHWATERING BEEF MAIN DISHES
HOW TO STORE ON OVEN BAKED TEXAS BRISKET
Serve: Rest brisket for at least 10 minutes before slicing against the grain to serve. Keep Texas Oven Brisket at room temperature for up to 2 hours.
Store: Store Texas Brisket in an airtight container or heavy duty storage bag and refrigerate for up to 3 days. Serve leftovers cold or reheat on low in the oven so it doesn't dry out.
Freeze: Once cooled, slice Oven RoastedTexas Brisket and freeze in a sealed container for up to 3 months. To keep from sticking, freeze slices in a single layer on baking sheet for one hour before placing in container. To reheat, thaw overnight in the refrigerator and heat in oven on low heat.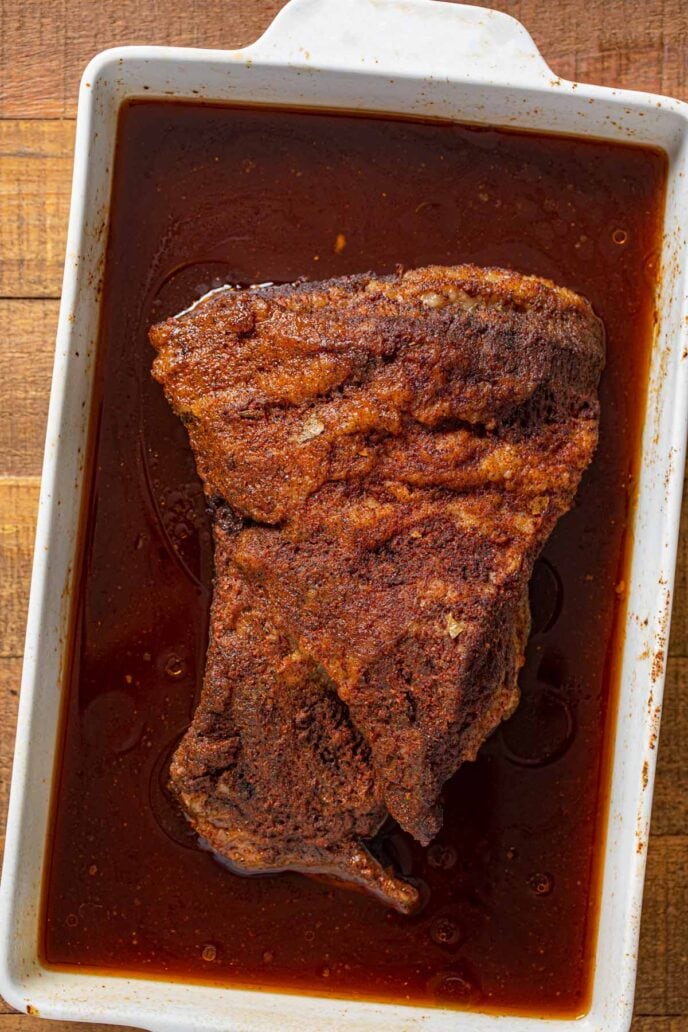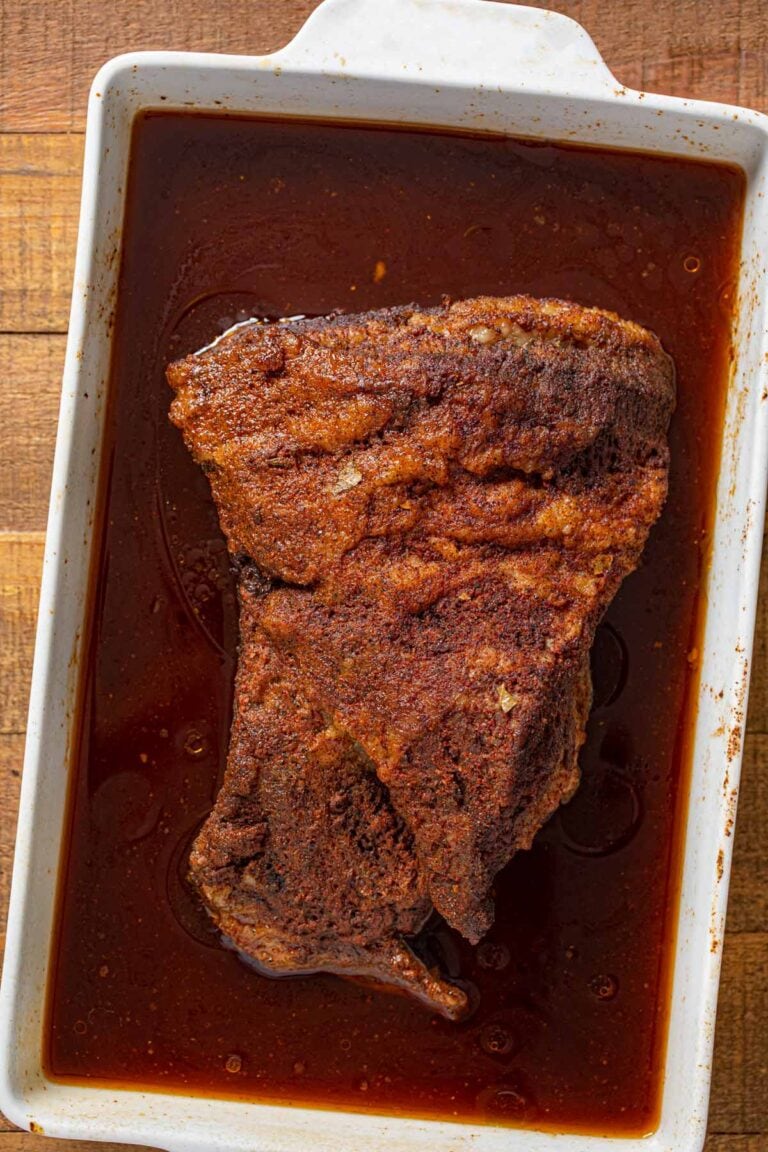 Ingredients
4

pounds

beef brisket

2

tablespoons

chili powder

1

tablespoon

Kosher salt

1

tablespoon

coarse ground black pepper

1

tablespoon

garlic powder

1

tablespoon

onion powder

1

tablespoon

sugar

2

teaspoons

mustard powder

1

bay leaf

, crushed

2

cups

beef broth
Instructions
Preheat oven to 300 degrees.

Combine the spice ingredients in a large mixing bowl. Add brisket and turn to coat well.

Place brisket, fatty side up, in a 9x13 baking dish.

Carefully pour the beef broth around the brisket in the baking dish. Try not to wash the seasoning mixture off the brisket.

Cover the baking dish tightly with aluminum foil. Bake for

4 hours

until meat is fork-tender.

Serve thinly sliced, against the grain.
Nutrition
Calories:
302
kcal
|
Carbohydrates:
4
g
|
Protein:
39
g
|
Fat:
14
g
|
Saturated Fat:
5
g
|
Cholesterol:
112
mg
|
Sodium:
1745
mg
|
Potassium:
680
mg
|
Fiber:
1
g
|
Sugar:
1
g
|
Vitamin A:
474
IU
|
Vitamin C:
1
mg
|
Calcium:
24
mg
|
Iron:
4
mg