Slow Cooker Beef Brisket is an easy holiday dinner with only 4 ingredients. Comes out fork tender and delicious, includes our recipe for homemade BBQ sauce!
My flavorful Beef Brisket with Caramelized Onions is a favorite brisket recipe with our family and with the holidays coming up and oven space in short supply I knew this crockpot brisket recipe was just the right recipe for the season. Crock Pots dinners are so easy we created over 150 fork-tender Slow Cooker Recipes for you to try on the site!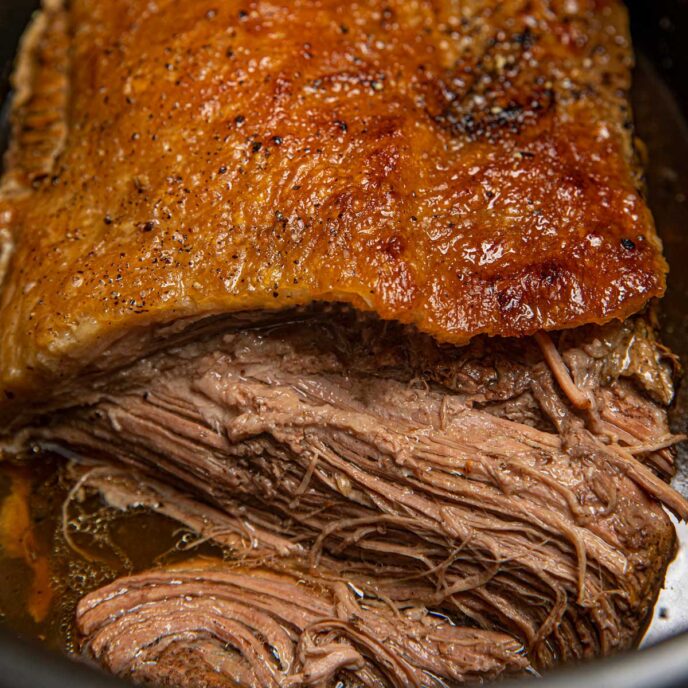 SLOW COOKER BRISKET
Our Slow Cooker Beef Brisket recipe is perfect for the holidays. Who doesn't like easy prep? And cleaning a Crock Pot is a breeze. Five pounds of beef will yield approximately 8 – 10 servings depending on how you slice it. This brisket recipe makes the beef so tender and flavorful it will simply fall apart when served.
Since we are keeping this recipe simple for holiday preparations I've included more options below for a BBQ Brisket you'll enjoy all year long *especially in the summer!* Then serve them up in my favorite Homemade Dinner Rolls for delicious mini BBQ Beef Sandwiches.
If you're not a fan of onions or Worcestershire sauce (like in my Classic Brisket with Caramelized Onions), no worries, this brisket recipe tastes amazing with garlic, black pepper and and 1 tablespoon of kosher salt as a dry rub. Your slow cooker will bring out plenty of flavor and it's hands off, so holiday cooking will feel so much easier!
SLOW COOKER BEEF BRISKET SAUCE
If you prefer beef brisket with sauce, I've provided my bbq sauce recipe I use when the family wants BBQ Pulled Chicken for dinner.
BBQ SAUCE INGREDIENTS:
½ teaspoons Kosher salt
¼ coarse ground black pepper
¼ cup dark brown sugar
2 teaspoons chili powder
1 teaspoon garlic powder
1 teaspoon onion powder
½ teaspoon dry mustard
1 ½ cups ketchup
2 tablespoons apple cider vinegar
2 teaspoons Worcestershire sauce
Add all ingredients in a bowl and stir until completely combined. Store leftovers in airtight container, like a mason jar or sauce bottle, for up to 1 month in the refrigerator.
Our barbecue sauce is rich and loaded with flavor. This classic style, tomato-based barbecue sauce has the perfect combination of tangy-sweet with a hint of heat that is perfect for brisket. Drizzle the sauce on the brisket after it has been sliced. It is probably best to just put a bottle of sauce on the table and let everyone add as much as they want.
MORE HOLIDAY MAIN DISHES
HOW TO MAKE SLOW COOKER BEEF BRISKET
Trim the fat off the brisket, leaving about ¼ inch.
Pat the brisket dry with paper towels.
Season the brisket with the salt and pepper and rub the garlic all over it.
Add the brisket fat side up into the slow cooker for a cook time of 8 hours on low heat.
To finish, place brisket in the oven fat side down on broil for 1 minute.
Let brisket rest around 30 minutes prior to slicing and slice along the grain of the meat.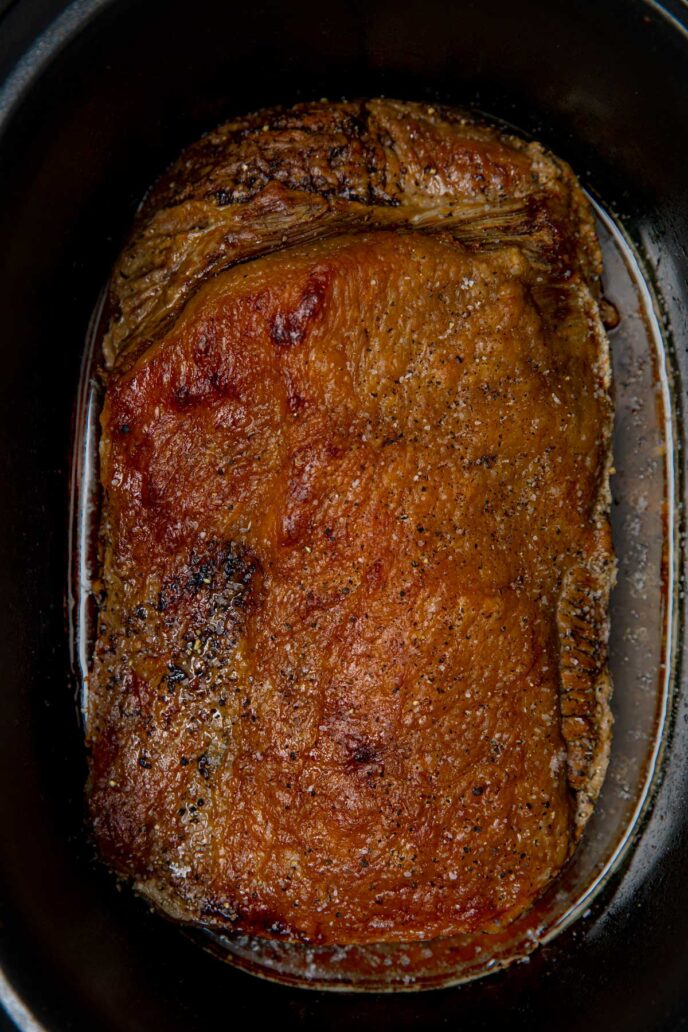 Create a free account to

Save Recipes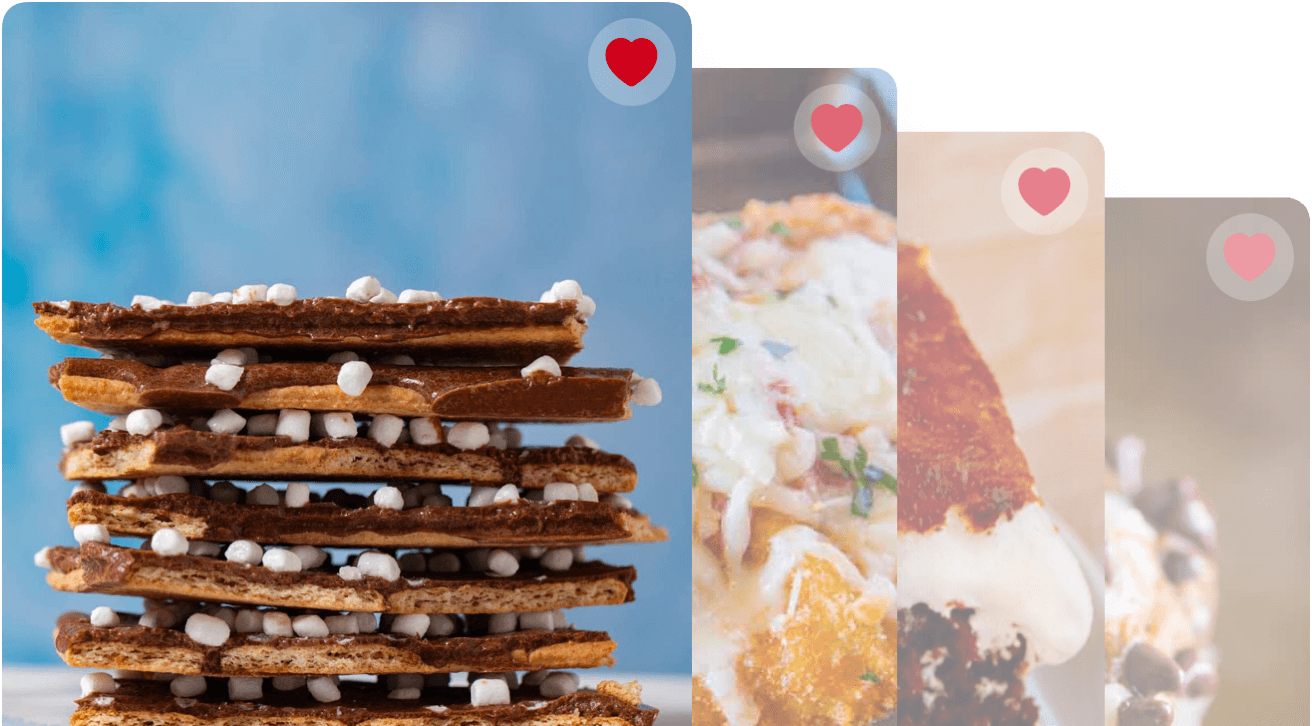 VARIATIONS ON SLOW COOKER BRISKET
Instant Pot: Slow Cooker Brisket can also be cooked in an Instant Pot. Add the brisket to your Instant Pot and season per the recipe instructions. Pressure Cook at High Pressure for 75 minute and Natural Release for 15 minutes. Remove the lid carefully, place onto a roasting rack and broil for 30 seconds to 1 minute if you want a crispier top.
Spice Rub: Since we are using just salt and pepper and garlic here for a classic holiday preparation you can add any spice rub you'd like to make this brisket more BBQ friendly.
Here's an easy BBQ Rub Seasoning Mix Recipe I use on my crazy popular Crockpot BBQ Beef Sandwich Recipe (Have you tried these yet? They're amazing).
Homemade BBQ Rub Seasoning Recipe:
1

tablespoon

brown sugar

1

tablespoon

paprika

1

teaspoon

ground black pepper

1

teaspoon

kosher salt

1

teaspoon

chili powder

1

teaspoon

garlic powder

1

teaspoon

onion powder
Mix all the ingredients together and store in an airtight container in a cool location.
FREQUENTLY ASKED QUESTIONS ABOUT BEEF BRISKET
What is brisket? Beef brisket comes from the breast of the cow and is best when slow-cooked. Beef brisket is one of the least tender cuts of beef but when braised, smoked or slowly roasted in a Crock Pot, it's rendered soft and satisfying with incredible flavor.

What should I serve with beef brisket? Our Easy Coleslaw is a must with Slow Cooker Beef Brisket.
How do I slice beef brisket? When the brisket is done remove from the slow cooker and let it rest for 30 minutes before slicing. You'll want to slice across the grain of the beef to break up the muscle fibers.
HOLIDAY SIDE DISH RECIPES
HOW LONG IS BEEF BRISKET GOOD?
Serve: Slow Cooker Brisket is best when allowed to rest around 30 minutes before slicing. Do not allow the brisket to set out longer than 2 hours.
Store: Refrigerate the brisket in shallow airtight containers or wrap tightly with heavy-duty aluminum foil or plastic wrap. Properly stored, cooked brisket will last for 3 to 4 days.
Freeze: Lay the brisket slices in a single layer on a baking sheet lined with parchment or wax paper and freeze until solid. Once frozen, move brisket slices to a freezer bag or container for up to 3 months.
HOW DO YOU KNOW IF BEEF BRISKET IS COOKED?
According to the USDA Website, Beef Brisket is fully cooked and safe to eat at 145 degrees F. Make sure to rest red meat for 3 minutes after reaching a safe internal temperature.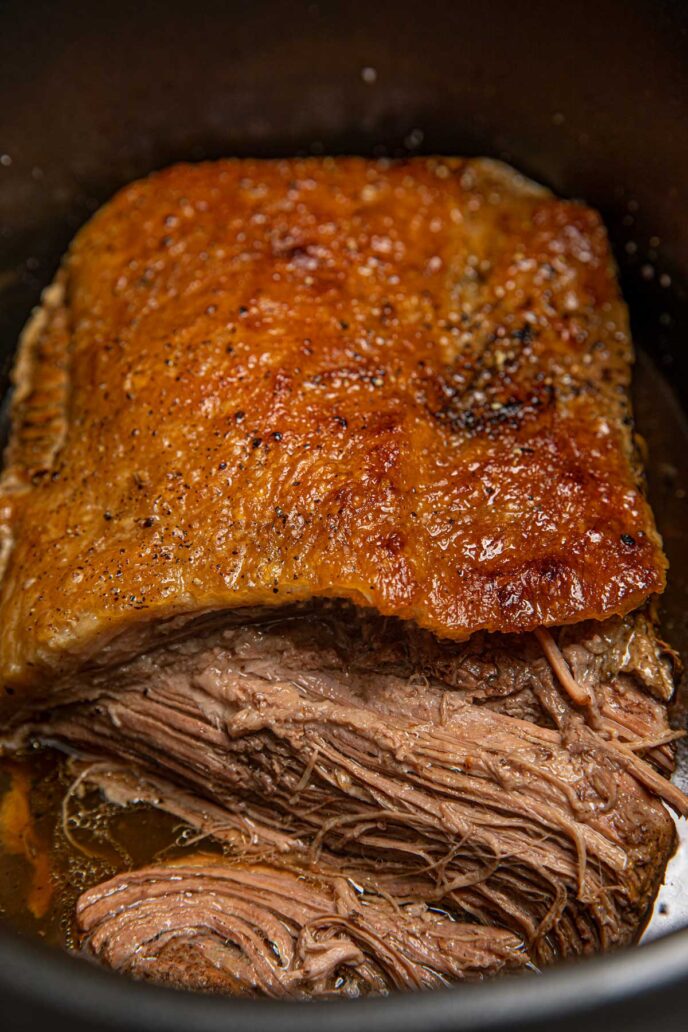 Ingredients
5

pounds

beef brisket

,fat trimmed

1

tablespoon

kosher salt

1

teaspoon

coarse ground black pepper

4

cloves

garlic

,minced
Instructions
Trim the fat off the brisket, leaving about ¼ inch.

Pat the brisket dry with paper towels.

Season the brisket with the salt and pepper and rub the garlic all over it.

Add the brisket fat side up into the slow cooker for

8 hours

on low heat.

To finish, place brisket in the oven on broil for

1 minute

.

Let brisket rest for

30 minutes

prior to slicing and slice along the grain of the meat.
Nutrition
Calories:
442
kcal
|
Carbohydrates:
1
g
|
Protein:
59
g
|
Fat:
21
g
|
Saturated Fat:
7
g
|
Cholesterol:
176
mg
|
Sodium:
1096
mg
|
Potassium:
942
mg
|
Fiber:
1
g
|
Sugar:
1
g
|
Vitamin C:
1
mg
|
Calcium:
17
mg
|
Iron:
5
mg