Easiest Brisket with Caramelized Onions
This post may contain affiliate links. Read my disclosure policy here.
This is the easiest, Ultimate Beef Brisket topped with Caramelized Onions you'll ever make and it is simple enough for a regular family meal but flavorful enough for a holiday meal!
 Brisket with Caramelized Onions
Flavorful, easy brisket may sound like I'm trying to trick you. With a tough cut of meat you'd think it would take forever and lots of fuss to make flavorful.
Brisket is also one of the most versatile cuts of meats you can cook with and you can serve it (cooked mostly the same way in fact!) for so many different occasions.
This brisket is perfect for: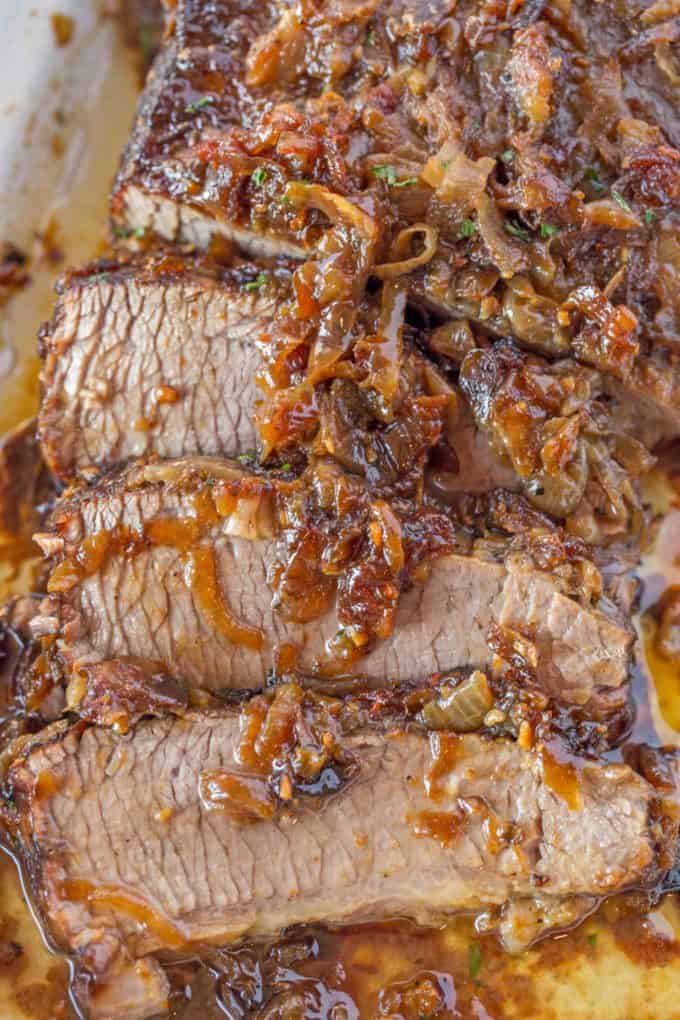 Another amazing thing about brisket? It is significantly less expensive than most cuts of meat.
Want to cook this brisket in the slow cooker? Add the ingredients to the slow cooker (onions on the bottom) and cook on low heat for seven hours on low. When the meat is done, remove it and place it on the platter. Strain out the onions and add them to a skillet with a tablespoon of butter on high heat and brown them.
MY OTHER RECIPES
How do you cook brisket of beef? Brisket can be cooked in the slow cooker on low heat for 7 hours, cooked in the oven for 3-4 hours, smoked on the grill for 5-6 hours.
How long do you cook a brisket in the oven at 225? Cooking at 225 degrees a brisket could take a full 5-6 hours to cook. I prefer 3-4 hours at 325 degrees.
How do you make a tender brisket? The brisket is generally considered to be a tougher cut of meat, so cooking low and slow in either a smoker, an oven, a slow cooker or an indirect heat grill is important to help break down the tough connective tissue.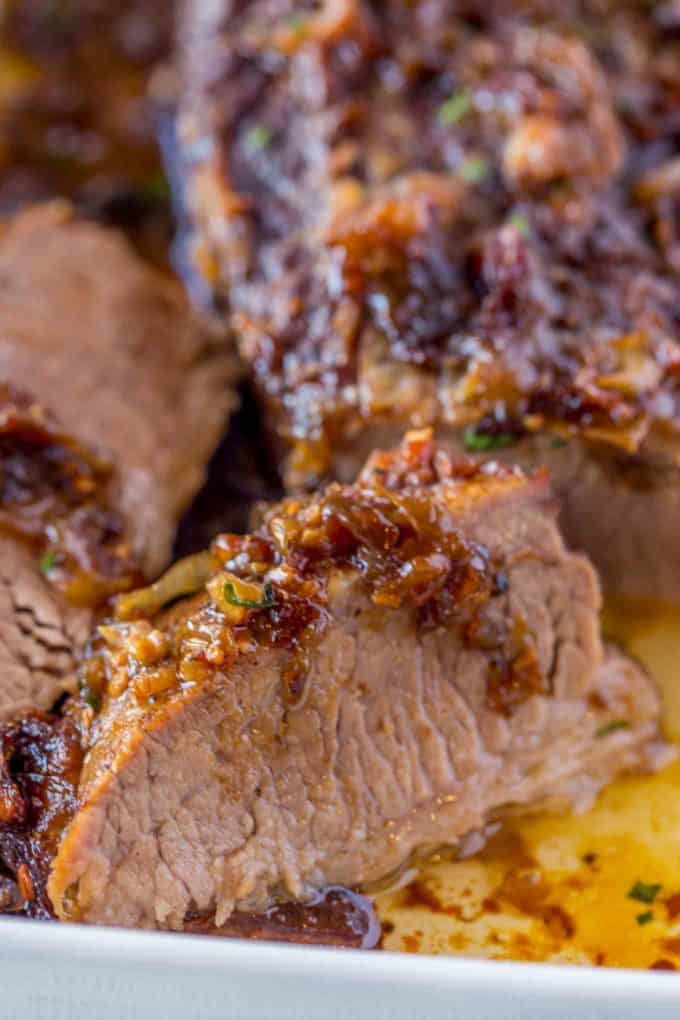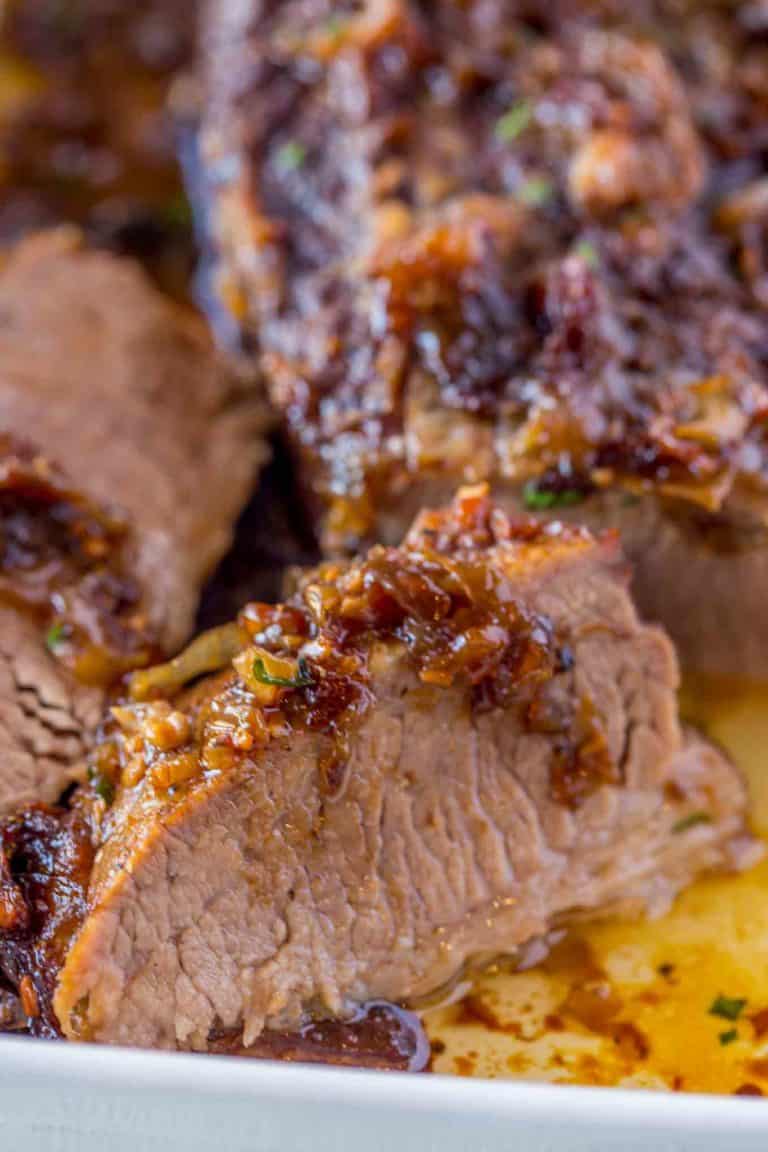 Looking for more roasts?
Tools used in the making of this Brisket with Caramelized Onions:
Cast Iron Skillet: This is my most used pan in my kitchen, heavy, keeps heat well and gives the BEST sear ever.
Pig Tail Flipper: I use this to flip the chicken without damaging the skin and its super easy. I use this tool EVERY time I cook something that requires flipping, it is amazing.
Beef Base: I almost never buy boxes of broth because I keep the beef, chicken and vegetable version of this Better Than Bouillon.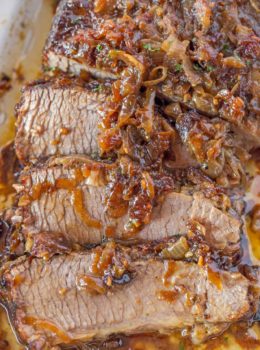 Easy Brisket with Caramelized Onions
This is the easiest, Ultimate Brisket topped with Caramelized Onions you'll ever make and it is simple enough for a regular family meal but flavorful enough for a holiday meal!
Ingredients:
4 tablespoons butter, unsalted
4 yellow onions, sliced
1 teaspoon kosher salt, divided
2 tablespoons of canola oil
4 pound beef brisket
1/2 teaspoon coarse ground black pepper
2 cloves garlic, minced
2 tablespoons Worcestershire sauce
1 cup beef broth
2 tablespoons beef base (or second cup of beef broth)
Directions:
Preheat the oven to 325 degrees.

In a large cast iron skillet melt the butter on medium heat and add in the onions and half the salt.

Let cook for 15-20 minutes stirring every few minutes.

Once they start caramelizing remove them from the pan.

Add in the canola oil and turn the heat up to medium-high.

Season the brisket with the remaining salt and pepper.

Brown on both sides for 3-5 minutes on each side.

Remove the beef and add the garlic, Worcestershire sauce, beef broth and

beef base

(if using).

Stir well and add the brisket back in fat side up.

Top with the onions and tent tightly with foil or a lid.

Cook for 3-4 hours.
I use beef base in the recipe as well as beef broth. I don't buy the beef broth separately, I just mix three times the amount of beef base required for one cup of water.
Nutrition Information
Yield: 10 servings, Serving Size: 6 ounces cooked beef
Amount Per Serving:
Calories: 352 Calories
All images and text ©
Made this recipe?
Show me what you made on Instagram or Facebook and tag me at @DinnerthenDessert or hashtag it at #dinnerthendessert.
Dinner, then Dessert, Inc. owns the copyright on all images and text and does not allow for its original recipes and pictures to be reproduced anywhere other than at this site unless authorization is given. If you enjoyed the recipe and would like to publish it on your own site, please re-write it in your own words, and link back to my site and recipe page. Read my disclosure and copyright policy. This post may contain affiliate links.