Rainbow Roasted Vegetables are the perfect way to enjoy eating healthy, colorful vegetables for adults and kids! Makes a perfect side for quick meals or dinner parties where you want to impress!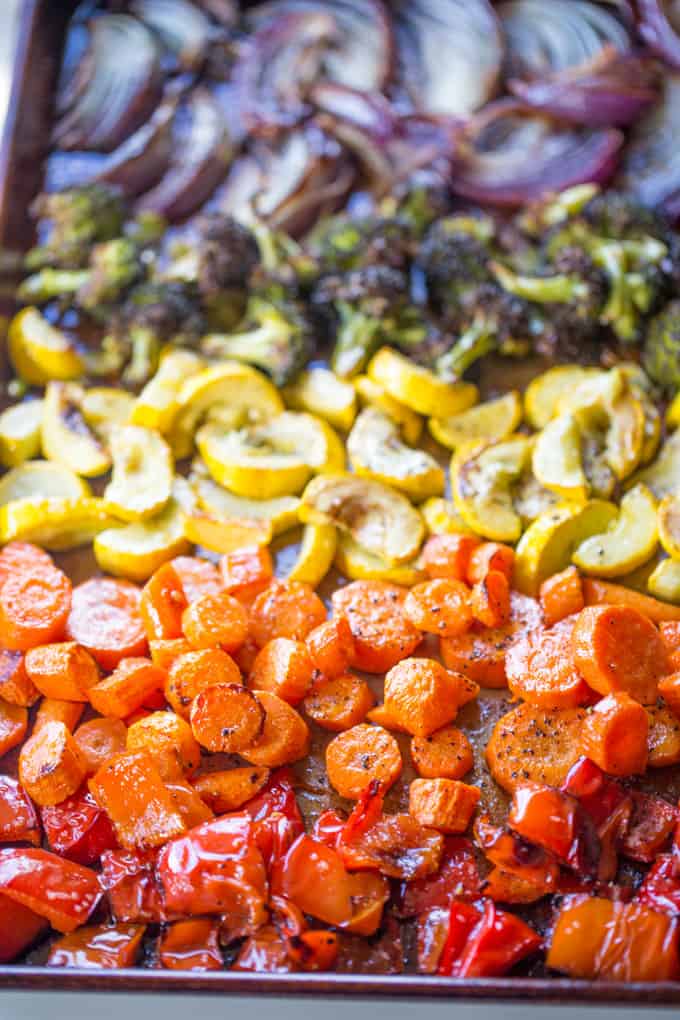 Rainbow Roasted Vegetables are an easy way to add color, tons of vitamins and flavors to your meal in one sheet pan. The idea for eating the rainbow may seem like a candy slogan, but since each vegetable brings different vitamins and flavors to the table this recipe is actually a great way to add a lot of depth to your meals without making many dishes.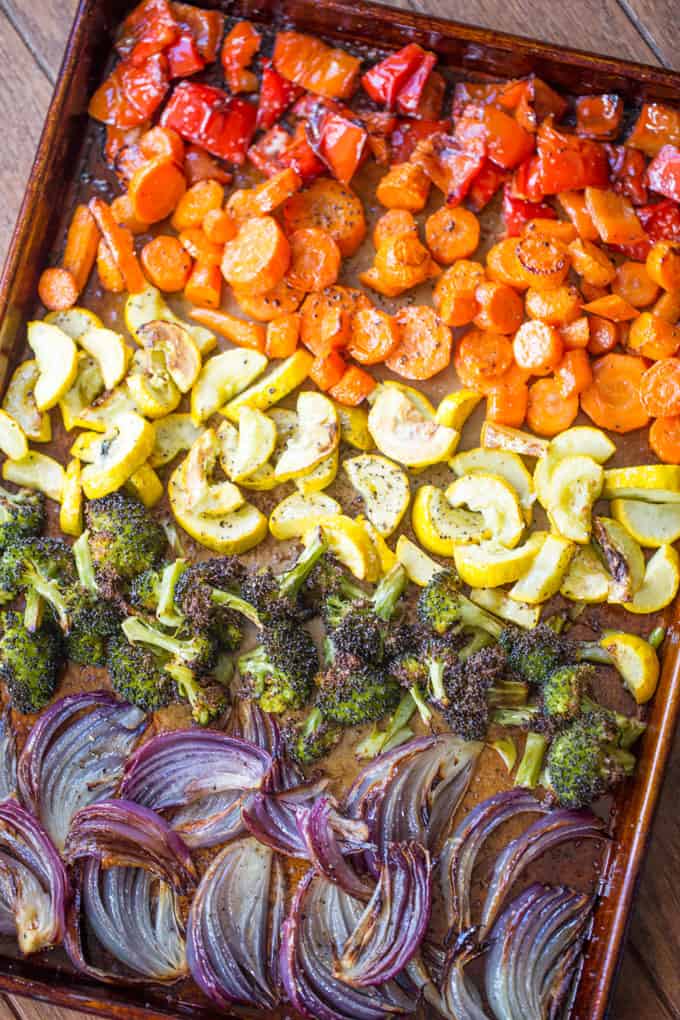 The name of the game in our house has been rainbows and unicorns since we became parents and in the effort to get the kids to eat vegetables we are totally willing to play to their weaknesses.
We buy baby food pouches and arrange them in the cupboard in rainbow order to get them excited to eat different flavors, we make rainbow popsicles and rainbow smoothies at every turn to entice them.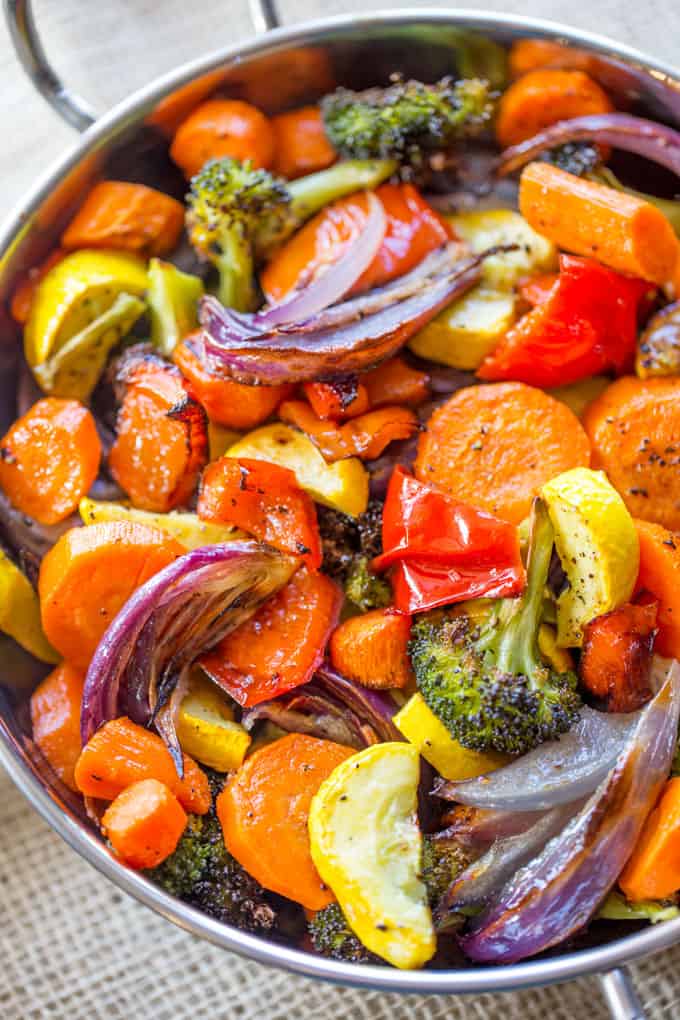 This rainbow gets them to eat roasted bell peppers and red onions. Carrots aren't yucky when cooked with the rainbow colors (personally I'd always choose a roasted carrot over a raw one!) and that's enough to get me prepping these vegetables.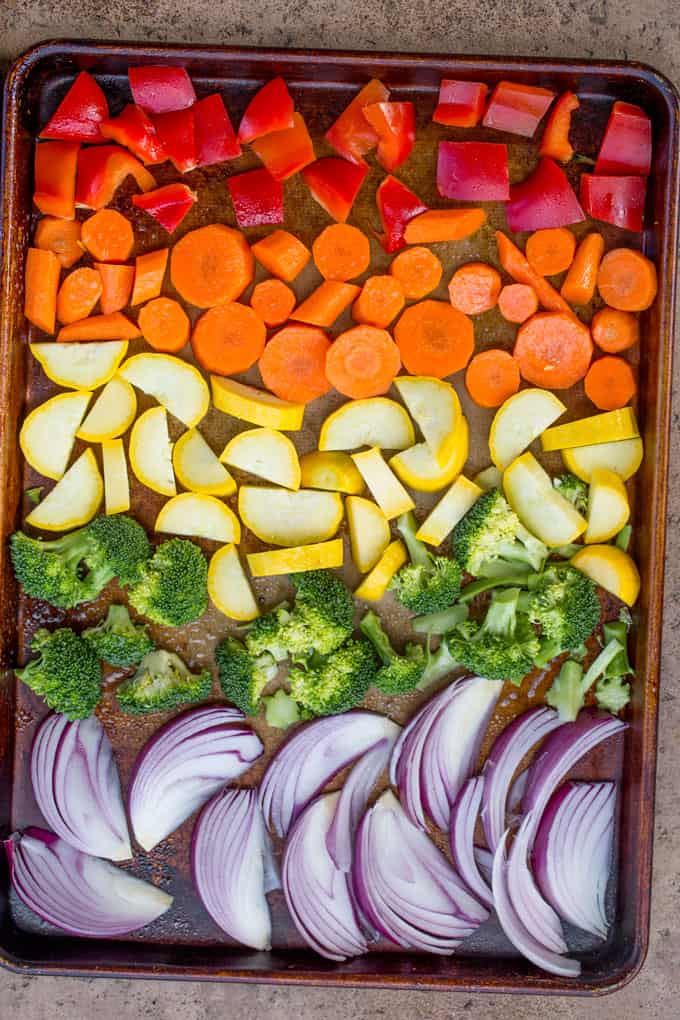 The vegetables I chose for this recipe can be chopped and stored ahead of time if you prepare your week's cooking on the weekends. Here are some fun alternatives to the veggies I chose to include in the Rainbow Roasted Vegetables:
Red: beets, radishes, red potatoes, tomatoes
Orange: orange bell pepper, butternut squash, pumpkin, acorn squash, sweet potatoes
Yellow: yellow bell pepper, yellow beet, yukon potatoes, yellow tomatoes
Green: brussels sprouts, green bell pepper, asparagus, green beans, zucchini, snow peas
Blue/Purple: Eggplant, purple cabbage, purple asparagus, purple carrots, purple potatoes 
Tools Used in the Making of these Rainbow Roasted Vegetables:
Sheet Pan: A good quality sheet pan, I keep a stack of these in my kitchen. And they don't need to be expensive. Just make sure you keep the food from touching each other/in a single layer for optimal roasting.
My Favorite Knife: This is a funny one to mention but I will because there is so much chopping here. I have almost everything you'd imagine Williams-Sonoma would sell including a super expensive Shun Knife Set. Instead of using that, I use this knife every single time I cook. I bought it in 2005 and the whole set was 20$ The knife I love is the rock 'n chop one with the ball on top and the curved blade. Never been sharpened and I can cut anything with it. Total knife love. Also, 1200 reviews on Amazon can't be wrong. This knife is amazing.


Ingredients
2

red bell peppers

, cut into 1" chunks

4

carrots

, cut into 1/2" thick coins

2

yellow squash

, cut into 1/2" thick half circles

1

pound

broccoli

, trimmed and cut into bite sized pieces

1

red onion

, trimmed and cut into 1/2" thick wedges

1/2

teaspoon

Kosher salt

1/4

teaspoon

black pepper

3

tablespoons

canola oil
Instructions
Preheat the oven to 400 degrees.

In one large bowl add ½ tablespoon of oil and gently toss onions, then place onto tray. Do the same for every veggie except the broccoli when you use a full tablespoon.

Arrange them in a single layer onto your cookie sheet in the order of the rainbow: red bell pepper, carrots, yellow squash, broccoli and red onion.

Sprinkle on Kosher salt and black pepper.

Cook for

20-25 minutes

or until they're just starting to brown and the carrots are fork tender.
Nutrition
Calories:
135
kcal
|
Carbohydrates:
15
g
|
Protein:
4
g
|
Fat:
8
g
|
Saturated Fat:
1
g
|
Sodium:
250
mg
|
Potassium:
651
mg
|
Fiber:
5
g
|
Sugar:
7
g
|
Vitamin A:
8635
IU
|
Vitamin C:
133
mg
|
Calcium:
66
mg
|
Iron:
1.1
mg