Ultimate Garlic Pork Loin Roast is an easy recipe with video for juicy, tender roasted pork loin. Perfect for weeknight meals and holidays!
Whether it's Stuffed Pork Tenderloin, Brown Sugar Garlic Pork Chops, or this delicious Garlic Roast Pork Loin, oven roasted Pork can be a busy weeknight Dinner or the Main Dish in a special occasion meal.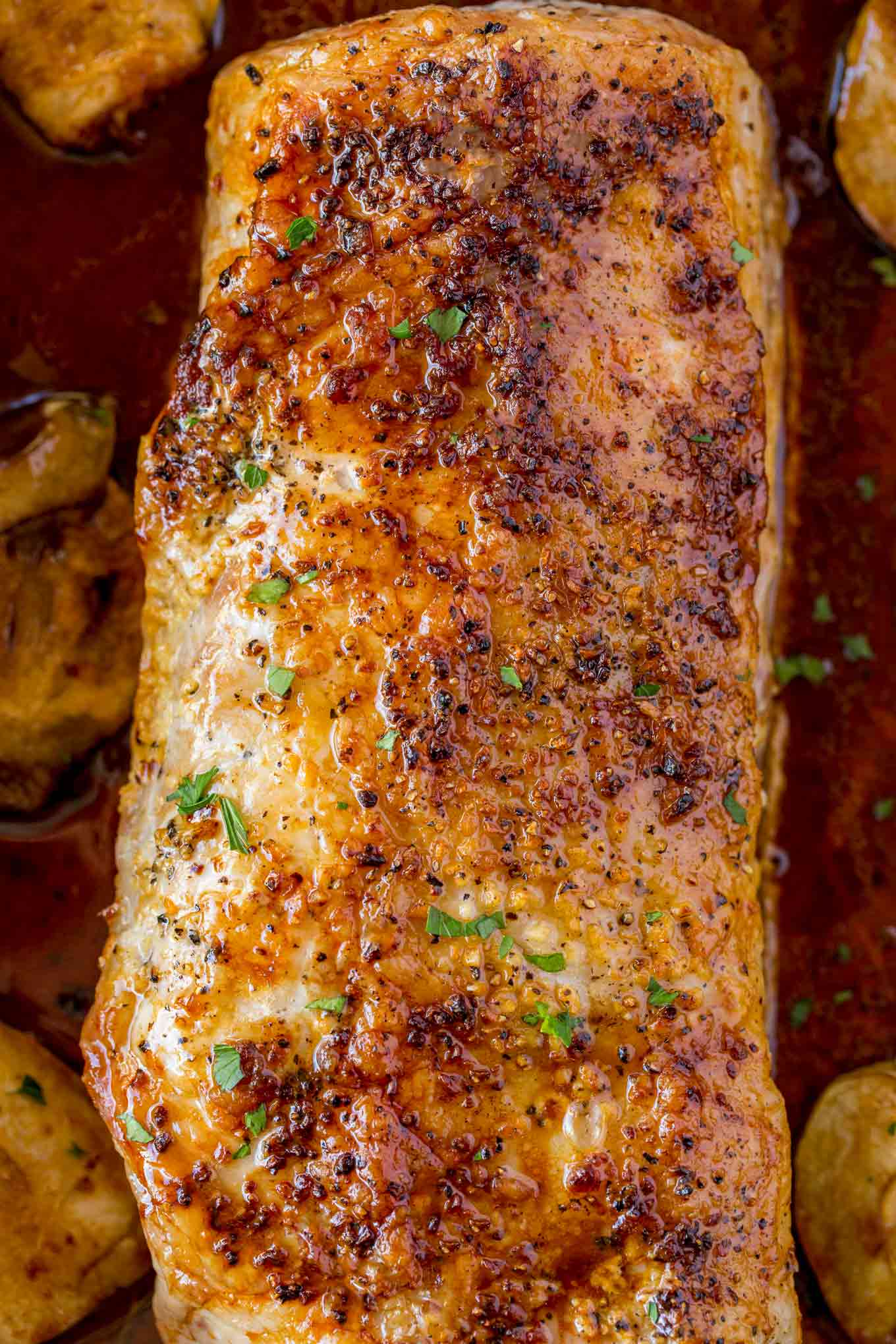 Looking to impress your guests with a dish that appears elaborate but is surprisingly easy to make? Look no further than the Ultimate Garlic Pork Loin Roast. This show-stopping yet effortless roast will leave everyone in awe, and you'll enjoy the cost savings compared to a pricier Perfect Garlic Prime Rib for a holiday feast. Whether you're seeking the best cooking methods, roasting techniques, accompanying dishes, or seasoning tips, this recipe is the ultimate way to cook a 4 lb pork loin in the oven.
This Ultimate Garlic Pork Loin Roast is a breeze to prepare and requires minimal time investment. The magic lies in the choice of meat: a boneless, center-cut pork loin. Unlike its tenderloin counterpart, this cut comes with its own built-in baster thanks to a thin layer of fat on top. By boldly seasoning with fresh garlic and utilizing this fat cap, you'll create a wonderfully flavorful and succulent meal with a crispy seasoned crust.
Some suggestions for accompanying dishes with Pork Loin Roast are to keep them mildly seasoned so they don't clash with the garlic flavor and delicate, succulent meat. Think cozy, comforting sides like Mashed Potatoes or Mac and Cheese, plus some fresh Roasted Broccoli. Even a light Beet Salad would be perfect with this amazing Garlic Pork Loin Roast.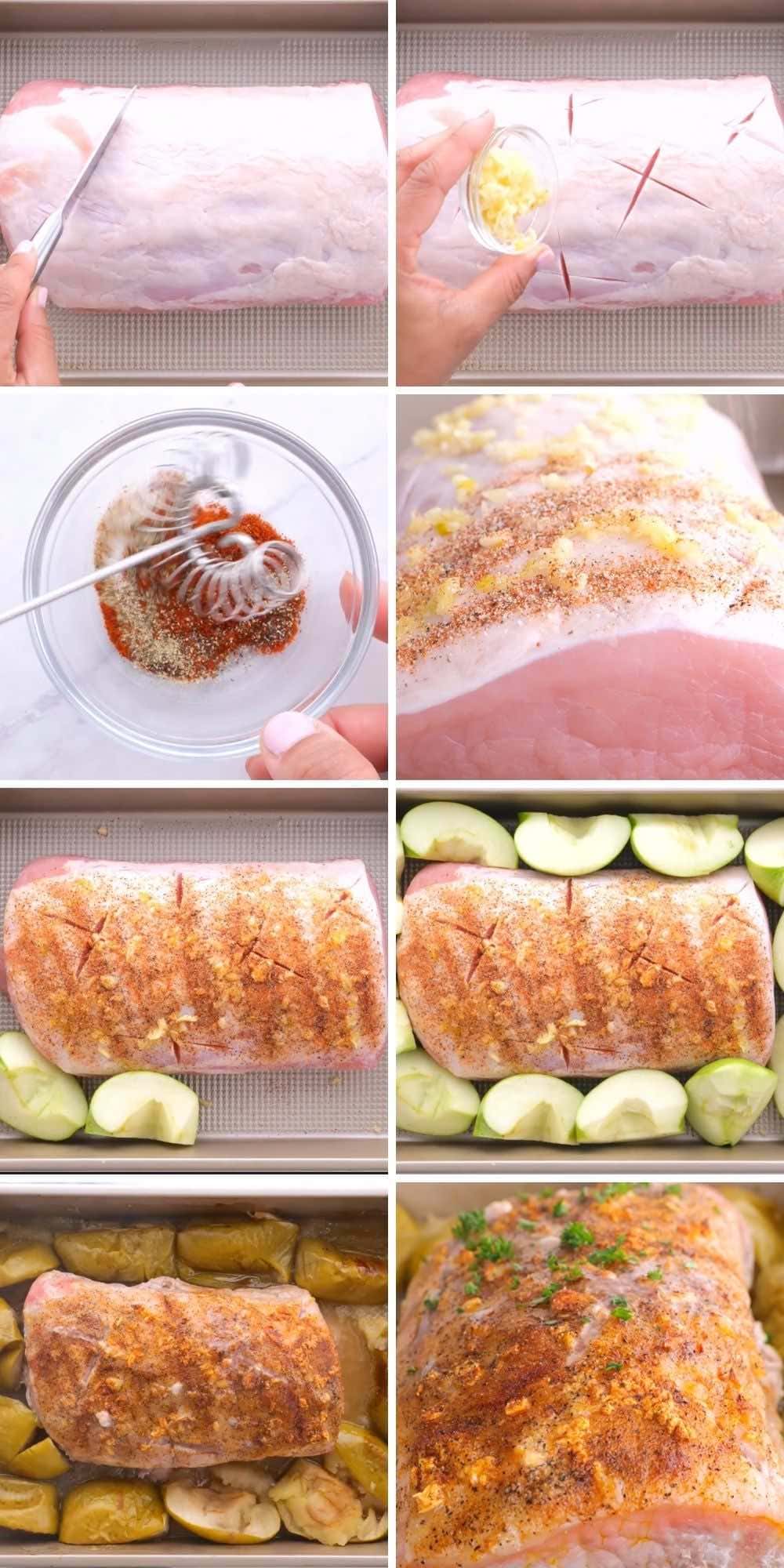 What is the difference between pork loin and pork loin roast?
The term "pork loin" typically refers to the cut of meat itself, which is a long and relatively lean section of the pig located along the back. It can be sold boneless or bone-in. On the other hand, "pork loin roast" specifically denotes a preparation method where the pork loin is roasted in the oven or cooked in a similar manner, often seasoned or marinated. In other words, pork loin roast refers to the cooked and seasoned version of the pork loin cut, highlighting its preparation style rather than just the cut of meat itself.
How to Make Ultimate Garlic Pork
Prep: Preheat the oven. Place the pork loin in a roasting pan (or baking pan with high sides) with the thick fat layer side up.
Season: Cover the fat cap with garlic. Mix the salt, pepper and paprika together and rub into the meat. To have seasonings adhere even more, score the top with your knife in an x pattern. You don't have to cut very deeply, just enough to create grooves the seasonings can sit in.
Roast: Roast the pork until it reaches an internal temperature of 150-160 degrees, about 60-70 minutes. Let meat rest for 5-10 minutes before slicing and serving.
Delicious Side Dishes for Pork
FAQs about Ultimate Garlic Pork Loin Roast
Can I cook Pork Loin in the Slow Cooker?
You can certainly make Pork Loin Roast in the slow cooker! There are instructions in this post or you can try these other slow cooker Pork Loin recipes. This one is wrapped in bacon to make a Slow Cooker Bacon Garlic Pork Loin, or you can try making Slow Cooker Honey Apple Pork Loin where the pork is stuffed with sliced apples.
What is a Safe Temperature to Cook Pork to?
The National Pork Board recommends cooking to an internal temperature between 145-160 degrees. This is a perfectly safe temperature to cook to even though it used to be higher in the past. Since you are cooking a roast here and it will continue to cook through once outside the oven, you can aim for 150-155 degrees and let it rest for 5-10 minutes before serving.
How Long to Cook a Pork Loin Roast Per Pound?
To cook a pork loin roast safely, the cooking time is roughly 25 minutes per pound at 375 degrees for up to 4 pounds. For how long to cook a 4 lb pork loin in the oven it's about 1 hour 45 minutes, up to 2 hours. If you are cooking  a roast that's 5-10 pounds, reduce heat to 350 degrees and cook for about 10 minutes per pound.

Create a free account to Save Recipes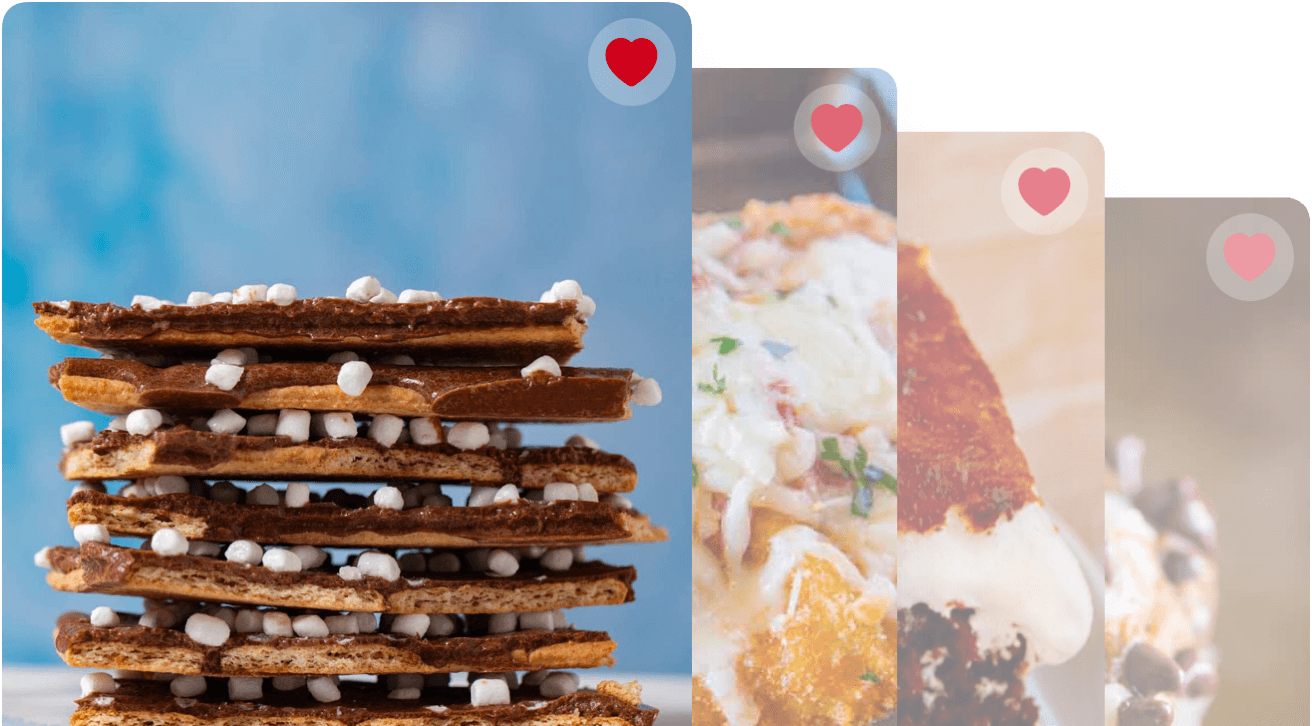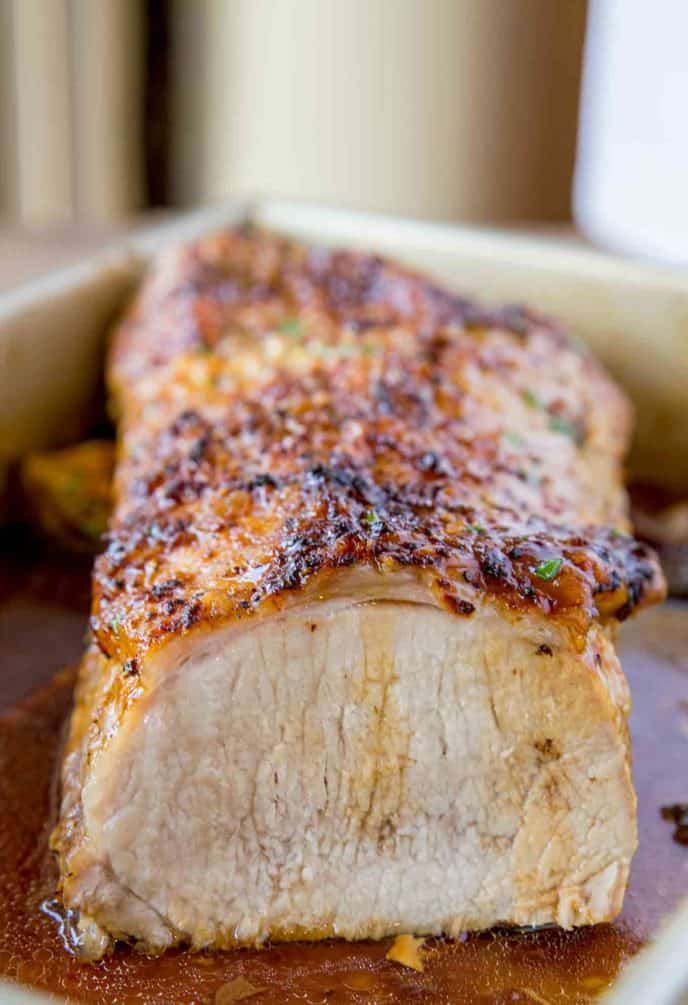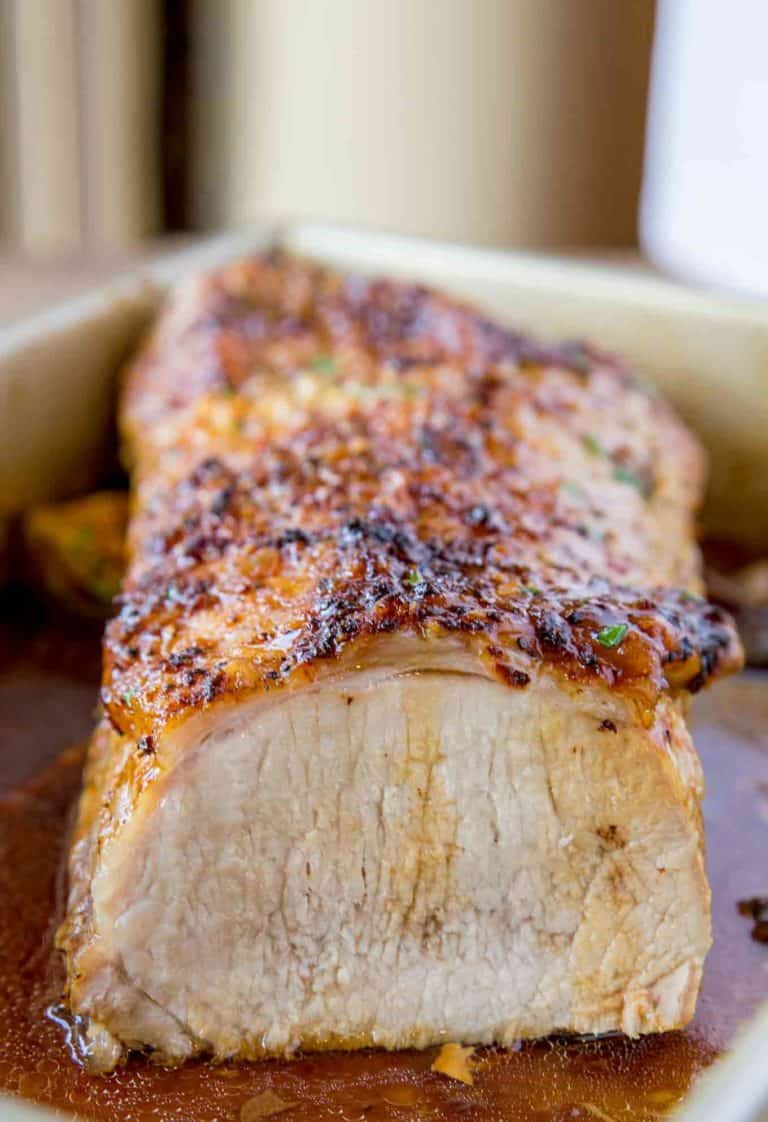 Key Ingredients
Pork Loin: Center-cut pork loin is a tender, juicy cut of meat that is ideal for roasting. Pork loin roast is much larger and fattier than pork tenderloin so it stays juicy and flavorful with longer cooking time.
Garlic: Fresh minced garlic is the perfect robust and aromatic seasoning for pork loin roast. Since this is the Ultimate Garlic Pork Loin Roast, there is plenty of pungent, fresh garlic!
Salt: Kosher salt aids in tenderizing the meat and brings out the natural saltiness of the pork.
Pepper: Coarse ground black pepper adds a subtle spiciness and warmth to the seasoning.You want to use fresh ground pepper for the best flavor.
Paprika: Paprika is a spice made from ground dried peppers. It adds a mild, sweet, and slightly smoky flavor to the roasted pork.
Can Garlic Pork Loin Roast be made ahead of time?
Yes, you can make this Garlic Roast Pork Loin recipe ahead of time to save prep time and cooking time. You can use the slow cooking method (below) in the morning so it's ready to go by dinner time. You can also rub the spices into the pork and chill it for up to 2 days in the fridge before cooking.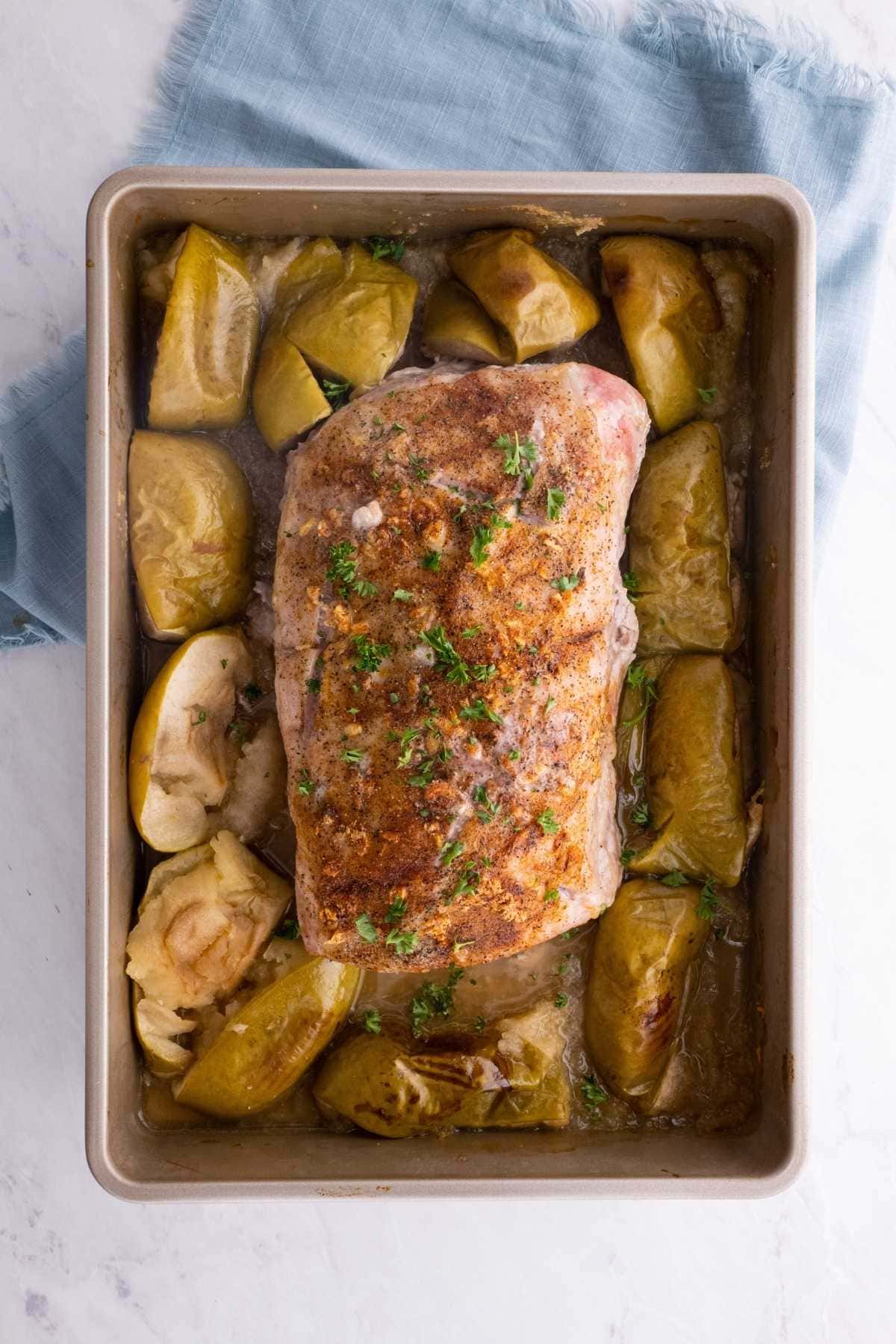 Variations
Aromatics: Add some aromatic vegetables to this pork loin recipe like onions, celery, carrots, whole garlic cloves, etc. Chop onions and other vegetables into large pieces and sprinkle them around the roasting pan without crowding the piece of meat.
Apples: Apples and pork are a natural pairing with the sweet, fruity apples complimenting the salty, succulent pork. Add 3-4 tart green apples, quartered, to the baking pan then you can serve the baked apples as a quick and easy side dish.
Herb-Crusted: Create a flavorful herb crust by combining minced garlic with a mixture of fresh herbs such as rosemary, thyme, and parsley. Season the meat as usual then coat with herb mix before roasting.
Bacon-Wrapped Pork Loin: Wrap the pork loin with strips of bacon before roasting, and bake on a wire rack in the pan so the roast isn't sitting in grease while cooking. Bacon adds a smoky flavor and keeps the meat moist.
Slow Cooker Ultimate Garlic Pork Loin Roast
Place a 3-4 pound pork loin in the slow cooker.
Rub minced garlic on top of the pork loin.
In a small bowl combine paprika, salt, and fresh ground pepper.
Rub the blend of seasonings all over the pork.
Cover the slow cooker and cook pork loin for approximately 6-8 hours or until it reaches an internal temperature of 150-160 degrees Fahrenheit.
Remove the pork loin from the cooker and let the meat rest for 10 minutes before cutting into slices and serving.
Instant Pot Ultimate Garlic Pork Loin Roast
Add a tablespoon olive oil to the Instant Pot and turn on Saute function.
When the oil is hot, sear a 2.5-3 pound pork loin on all sides until browned.
Remove the pork from the pot and set it aside.
Add minced garlic to the pot and saute for a minute until fragrant, about 30 seconds.
Deglaze the pot with 2 cups chicken broth and add the wire rack.
In a small bowl, mix together the salt, pepper, and paprika. Season meat with spices.
Place the pork fat side up on the rack.
Securely close the lid and set the pressure release valve to the sealing position.
Manually cook on High Pressure for 25 minutes.
Quick release pressure and let pork loin rest for 5-10 minutes before serving in individual slices.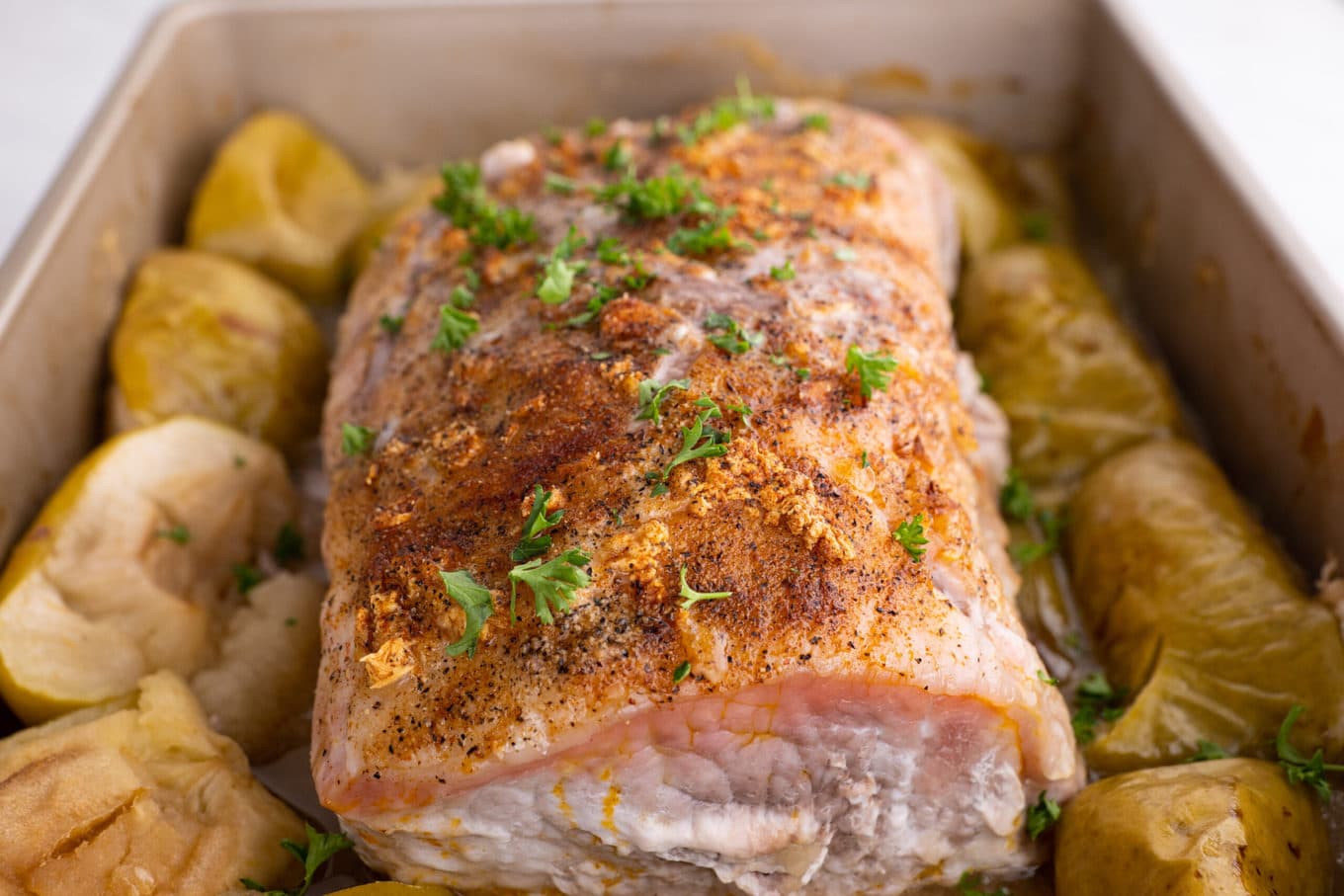 More Roasted Pork Recipes
How to Store
Store: Let the Garlic Pork Loin Roast cool down, then seal it in an airtight container to store in the fridge for up to 4 days. This pork dish should be stored after no more than 2 hours at room temperature.
Reheat: The best way to reheat leftover pork loin roast is heat up 3-4 slices at at time in a skillet with some chicken broth. Cook over medium heat and flip occasionally until the meat is heated through so that meat doesn't burn or dry out.
Freeze: Once the meat has cooled completely, wrap with plastic wrap and store in a freezer-safe container. It will stay good for up to 3 months. Thaw it overnight in the fridge before reheating the pork as directed above.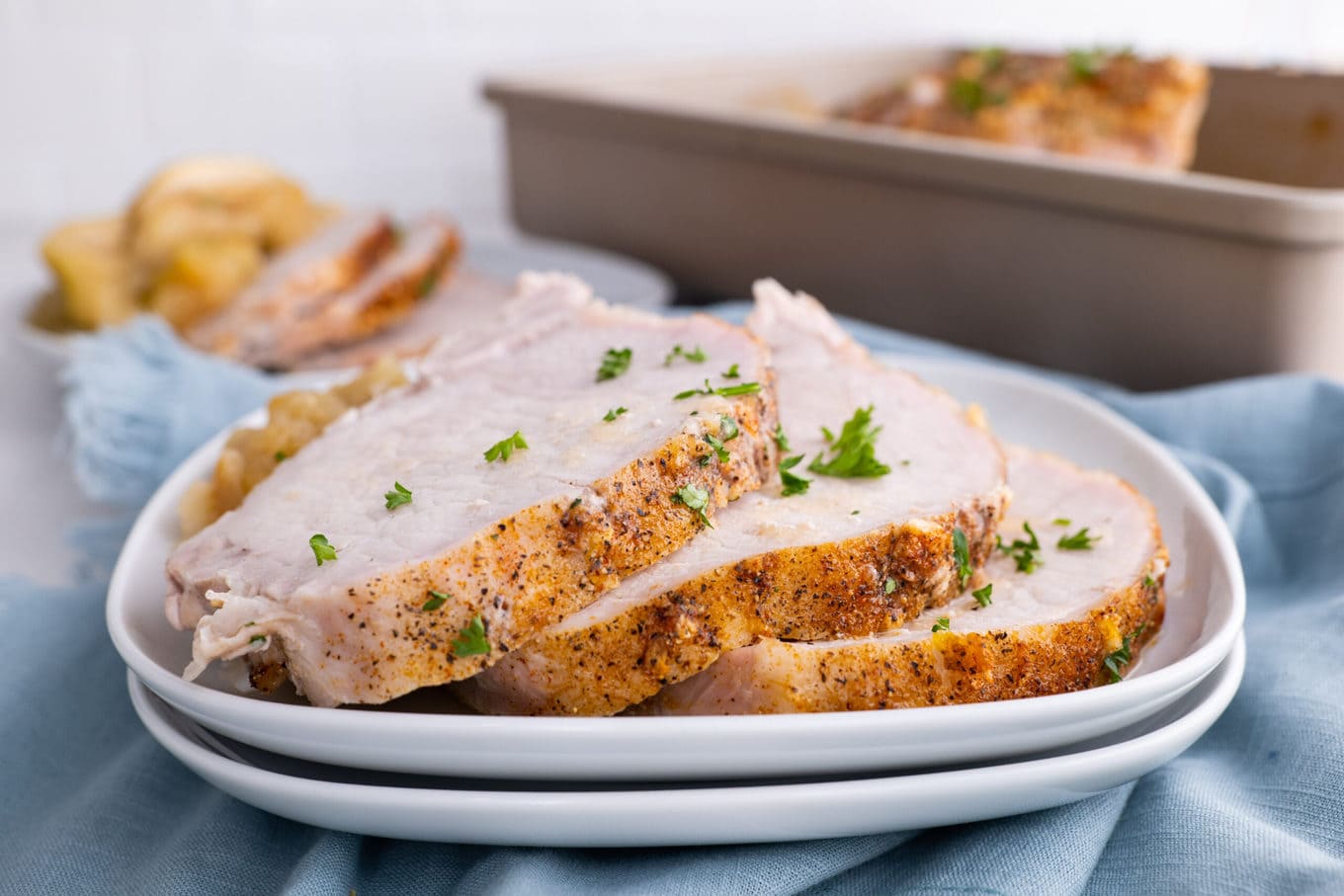 Ingredients
3

pound

pork loin

, not tenderloin

4

cloves

garlic

, minced

1/2

teaspoon

Kosher salt

1/2

teaspoon

coarse ground black pepper

1/4

teaspoon

paprika
Instructions
Preheat your oven to 375 degrees.

Add the pork loin to your baking pan.

Coat with the garlic on top of the fat cap.

Mix the seasonings (salt, pepper and paprika) in small bowl and rub it on the pork.

Cook the pork for

60-75 minutes

or until it has reached a temperature of 150-160 degrees.

Remove from the oven and let rest for

five minutes

before serving.
Nutrition
Calories:
250
kcal
|
Protein:
47
g
|
Fat:
4
g
|
Saturated Fat:
1
g
|
Cholesterol:
147
mg
|
Sodium:
314
mg
|
Potassium:
912
mg
|
Vitamin A:
40
IU
|
Vitamin C:
0.7
mg
|
Calcium:
15
mg
|
Iron:
2.3
mg