Sweet Coleslaw is a favorite Southern BBQ side. Creamy slaw with an easy mayo-based dressing with vinegar, celery seed, and sugar in minutes.
If you love this Easy Coleslaw recipe, but wish it was little more classic Southern style, aka with a lil' more sugary sweetness, you'll love this new summer Side Recipe. Southern Sweet Slaw is sure to be your new favorite cookout dish!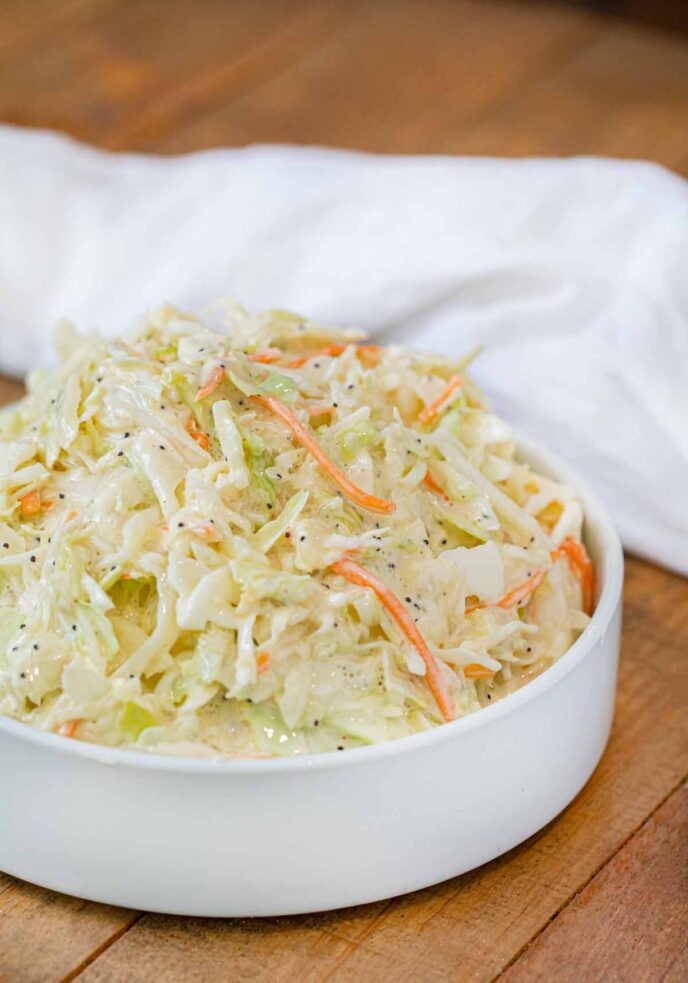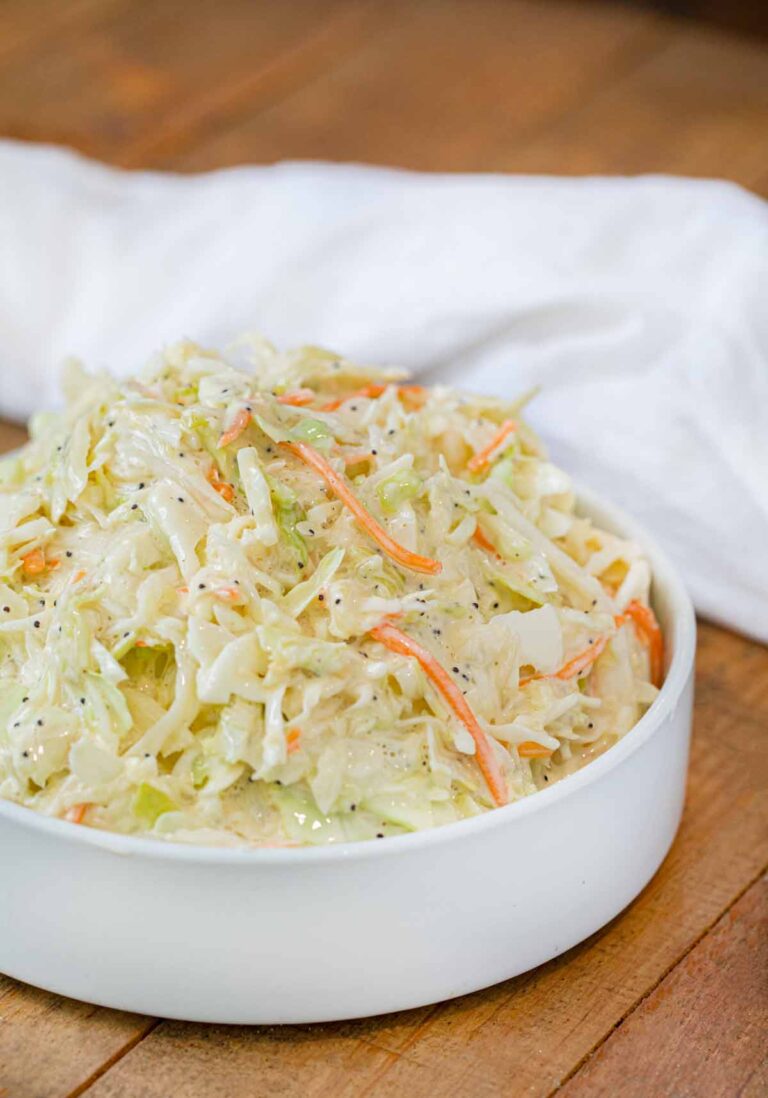 Coleslaw is one of those side dishes that can be really good or… well let's just say a lot of people think they don't like coleslaw based on a few bad bites. If you are a coleslaw skeptic, this is the slaw recipe you've been waiting for. Forget the soggy, soupy coleslaws of the past and get ready for crunchy, sweet, tangy goodness that's the perfect side dish or condiment for any BBQ!
This Sweet Coleslaw has a creamy dressing that is just the right amount to lightly coat the shredded cabbage and carrots. With just 5 simple ingredients and less than 5 minutes, you get a delicious sweet slaw sauce. A bag of coleslaw mix makes this recipe even easier but if you want to shred your own veggies, we have the amounts you will need in the FAQ.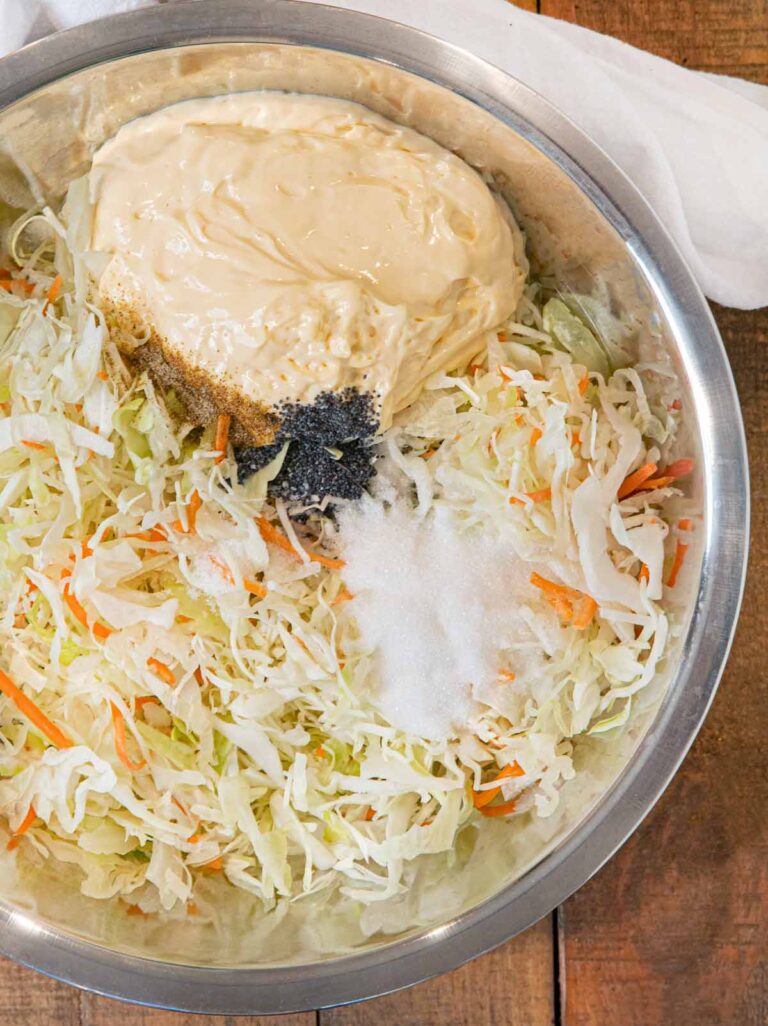 Celery salt is the secret ingredient to make this Sweet Coleslaw recipe stand out. A small amount adds so much earthy, slightly bitter celery flavor that balances all the seasonings so each bite hits every taste bud. With the addition of the celery salt you'll use poppy seeds to add the distinct look you get with Sweet Coleslaw.
If you prefer to skip the poppy seeds, you can use celery seed instead of celery salt in your recipe. Celery seeds will add a texture similar to poppy seeds. Make sure to use whole celery seed to make this substitution.
This Sweet Coleslaw is great for making ahead. Since your veggies aren't swimming in dressing, they will stay nice and crunchy for a few days. Double this coleslaw recipe to feed a crowd or for leftovers to top sandwiches, hot dogs, or just as a cool, creamy summer afternoon snack.
Easy Summer Recipes to Serve with Sweet Coleslaw
Make it ahead of time!
If you are making Sweet Coleslaw in advance, simply prepare and cover tightly with plastic wrap in your serving container. Toss the coleslaw right before serving and enjoy! You should not freeze coleslaw since the sauce will separate during freezing and won't come back together right when thawed. This is such a quick recipe, you should just make it the morning of your party without having to worry about thawing and a broken dressing.
Sweet Coleslaw is perfect as a cookout side dish or for topping Pulled Pork Sandwiches and Pulled BBQ Chicken Sandwiches. Try this sweet slaw on top of some chili dogs (or Chili Dog Casserole) for a Southern ballpark inspired meal!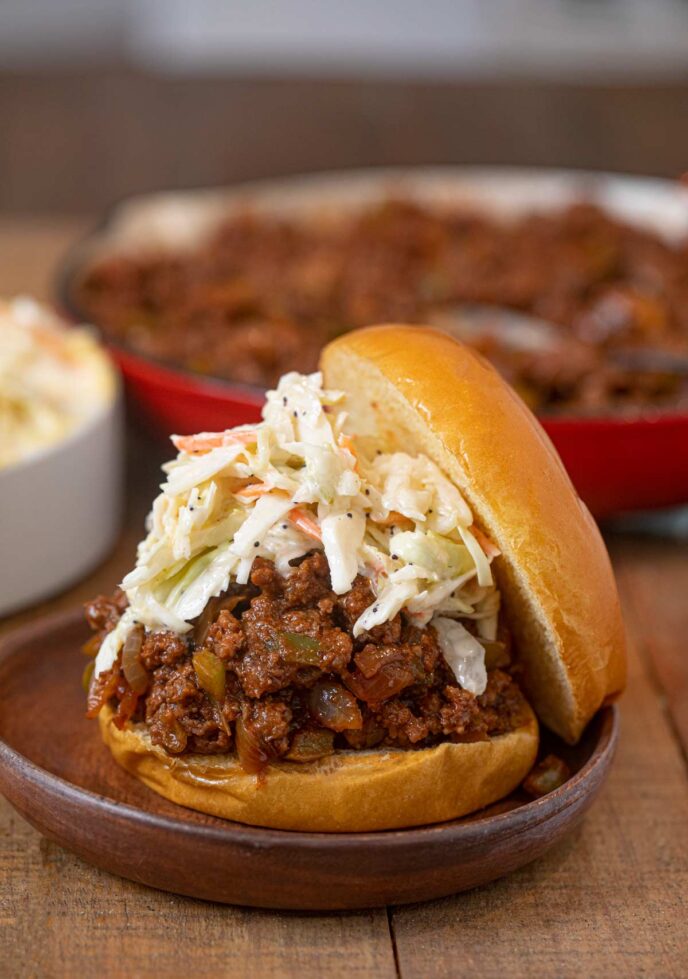 Create a free account to

Save Recipes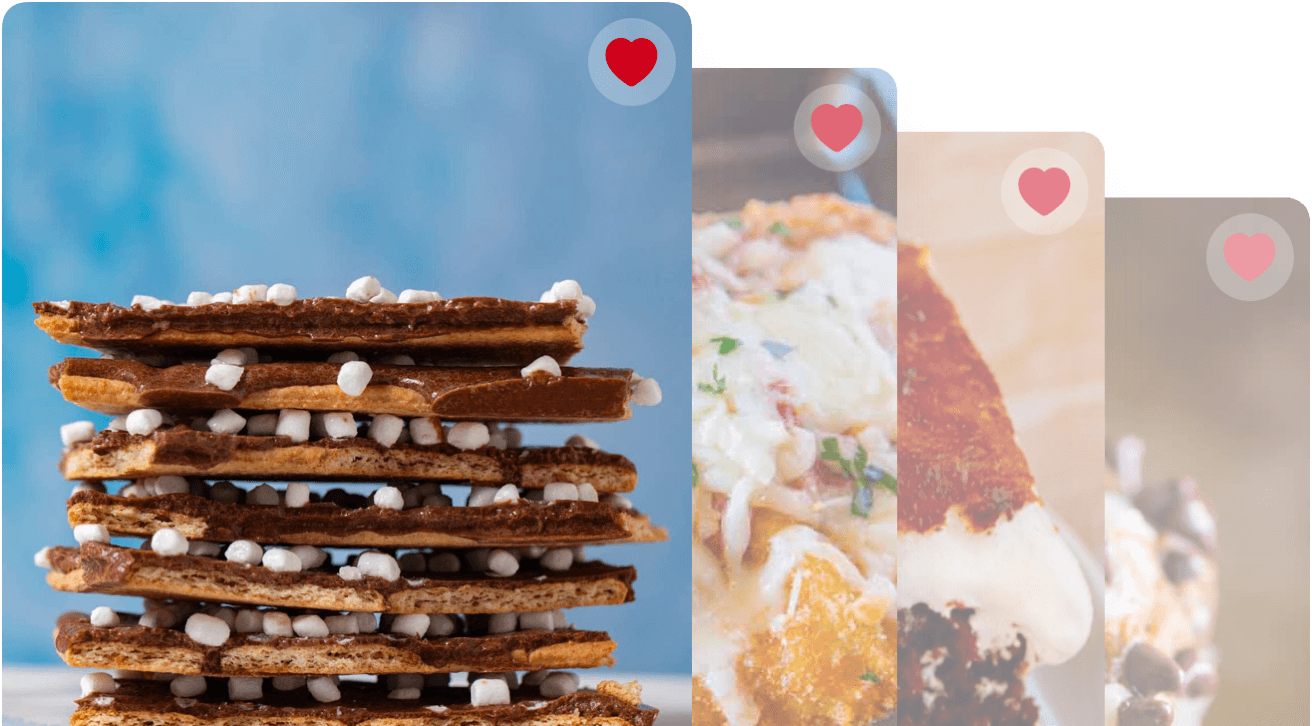 Frequently Asked Questions
How do I make my own coleslaw mix?
Instead of store bought coleslaw mix, make your own with shredded 4 cups green cabbage, 1 cup red cabbage and 1 cup shredded carrots.
What additional vegetables can be added to Sweet Coleslaw?
Broccoli slaw mix, finely sliced red onions or yellow onions, diced green onion, and shredded zucchini can be used in coleslaw.
Can I add relish to Sweet Coleslaw?
Yes! Sweet pickle relish and dill pickle relish can be added to your coleslaw for more tangy sweetness. Use 2 tablespoon of each relish for perfect balance.
What other seasonings can be used in Sweet Coleslaw?
Use grated onion, onion powder, caraway seeds, poppy seeds, or mustard to add flavor to this creamy sweet slaw.
How can I make Sweet Coleslaw without mayonnaise?
For a lighter coleslaw recipe, swap ½ cup mayonnaise with sour cream or plain greek yogurt. If you want a no-mayo based dressing, use all sour cream or greek yogurt. Keep in mind it won't be as creamy and much tangier.
More Summer Cookout Side Dishes
How to Store Sweet Coleslaw
Serve: This Sweet Cole Slaw gets better with time. Refrigerate at least 4 hours before serving and only keep at room temperature for up to 2 hours.
Store: Store your Sweet Cole Slaw in an airtight container and refrigerate for up to 1 week. As it breaks down, add more coleslaw mix to keep it fresh longer.
Freeze: You don't want to freeze leftover prepared coleslaw. When the dressing thaws the texture will be off and separated.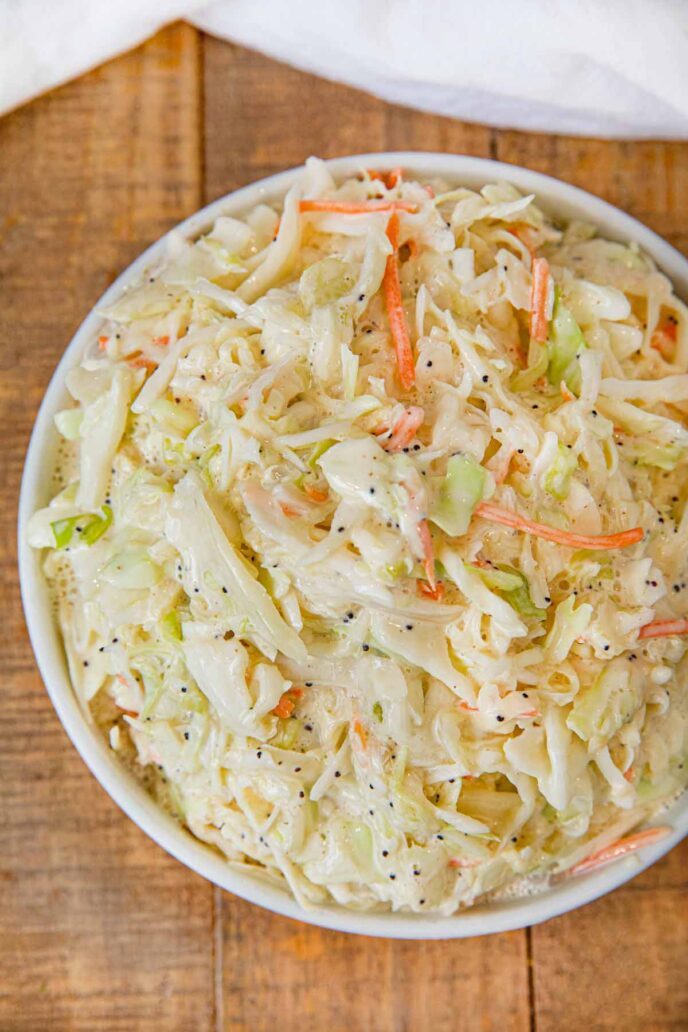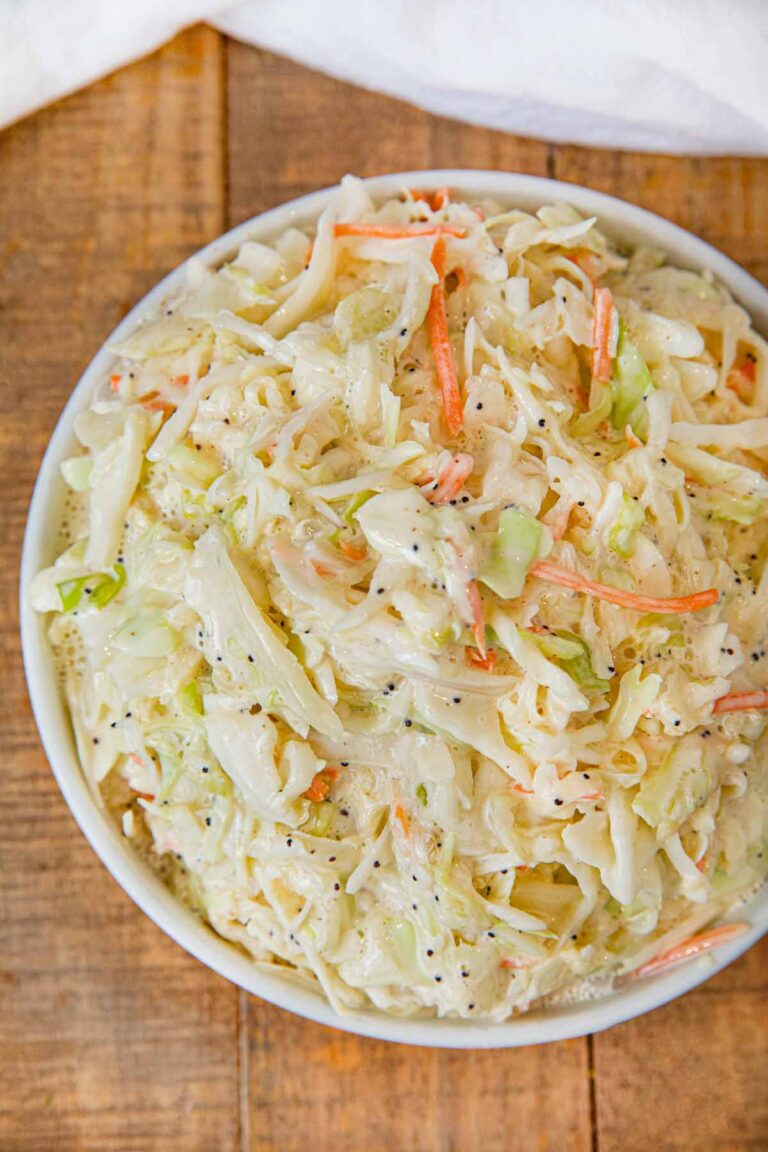 Ingredients
1/2

cup

mayonnaise

1/4

cup

sugar

2

tablespoons

apple cider vinegar

1/2

teaspoon

celery salt

1

tablespoon

poppy seeds

16

ounces

coleslaw mix
Instructions
Whisk together the mayonnaise, sugar, vinegar, celery salt, and poppy seeds in a large bowl.

Toss well with coleslaw mix.

Chill at least

4 hours

to let the cabbage soften and the flavors combine, but the longer it chills the better.
Nutrition
Calories:
130
kcal
|
Carbohydrates:
18
g
|
Protein:
1
g
|
Fat:
6
g
|
Saturated Fat:
1
g
|
Cholesterol:
4
mg
|
Sodium:
417
mg
|
Potassium:
137
mg
|
Fiber:
2
g
|
Sugar:
15
g
|
Vitamin A:
94
IU
|
Vitamin C:
28
mg
|
Calcium:
35
mg
|
Iron:
1
mg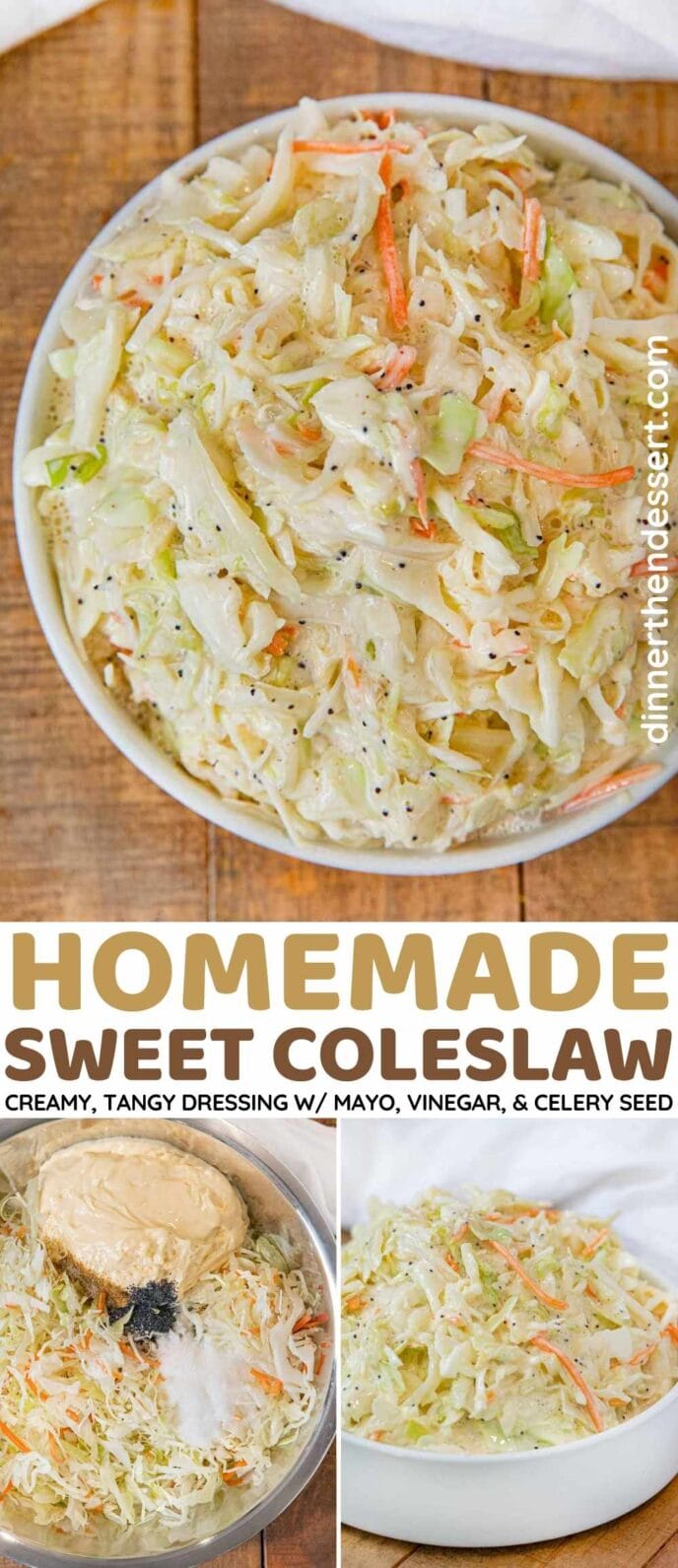 Photo used in a previous version of that post.