Your whole family will love this Chili Cheese Dog Casserole! An easy comfort food of cheesy chili dog goodness and baked with a golden flaky crust!
Family friendly dishes like Tater Tot Casserole and Cheeseburger Casserole are always an easy weeknight hit. We love Dinner Recipes that quick and tasty that are a hit with the kids!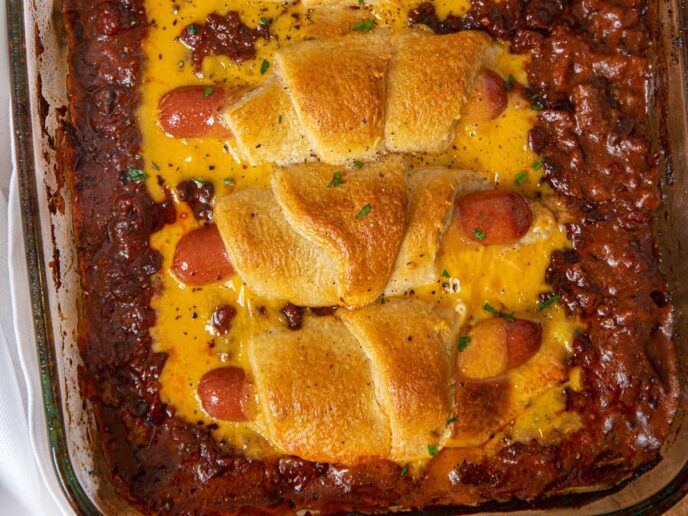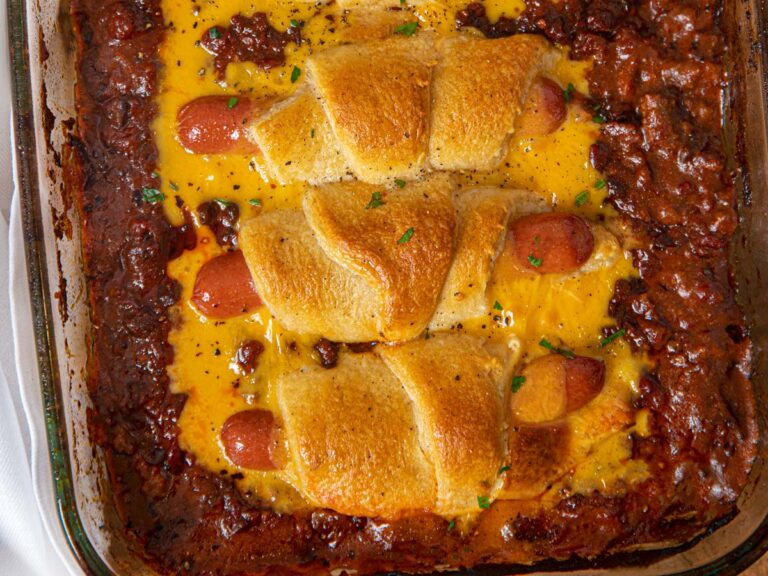 CHILI CHEESE DOG CASSEROLE
When it comes to finding meals that my whole family loves, you really can't go wrong with a casserole made out of our favorite foods. There's nothing like throwing together an easy oven meal that I know my kiddos will devour, like my Baked Spaghetti.
We love chili cheese dogs, they are such a fun and indulgent food. But let's be honest, yes they are pretty easy, but they can be a bit of a mess to clean up and we don't always want fire up the grill. This Chili Cheese Dog Casserole has all the best parts of a classic chili dog with less mess.
Chili Cheese Dog Casserole is the best Super Bowl main dish! No need to worry chili dripping out of the bun onto your carpet and guests can easily help themselves. Make it up to a day ahead of time, and pop in the oven right before guests arrive. It can easily be doubled for a big crowd too.
If you want to make slow cooker Chili Cheese Dog Casserole (and who wouldn't want an easier way?), I've included some instructions down below the variations. Speaking of variations, this casserole was made with my Beef Chili, but you can use 2 cans of store-bought chili instead if you're in a pinch. Or stir in some Chili Seasoning to give it even more flavor.
Serve with with your favorite chili toppings like diced onions, cilantro, tomatoes, hot sauce, and sliced avocado. To give it more of a crunch, top with some corn chips like Fritos. Make a garden salad or Rainbow Roasted Vegetables for a healthy, tasty side to balance out your meal.
Can you make Chili Cheese Dog Casserole ahead?
This is a great casserole for making ahead of time and storing in the freezer. I wouldn't pre-make it without baking, as the crescent dough sheets will get soggy and won't crisp up at baking time.
MORE EASY FAMILY FRIENDLY DINNERS
HOW TO MAKE CHILI CHEESE DOG CASSEROLE
Preheat Oven: Heat oven to 375 degrees.
Prepare Chili Dogs: Roll hot dogs and cheese in crescent dough triangles.
Prepare For Baking: Fill a baking dish with chili and place the rolled hot dogs on top.
Bake Casserole: Bake 25 to 30 minutes or until golden brown.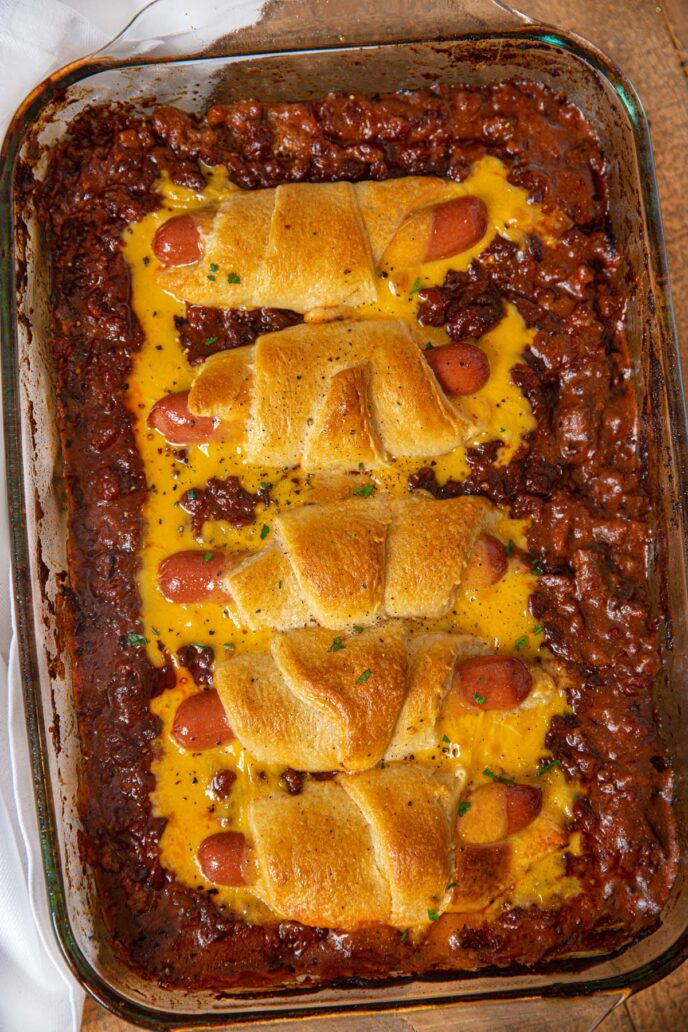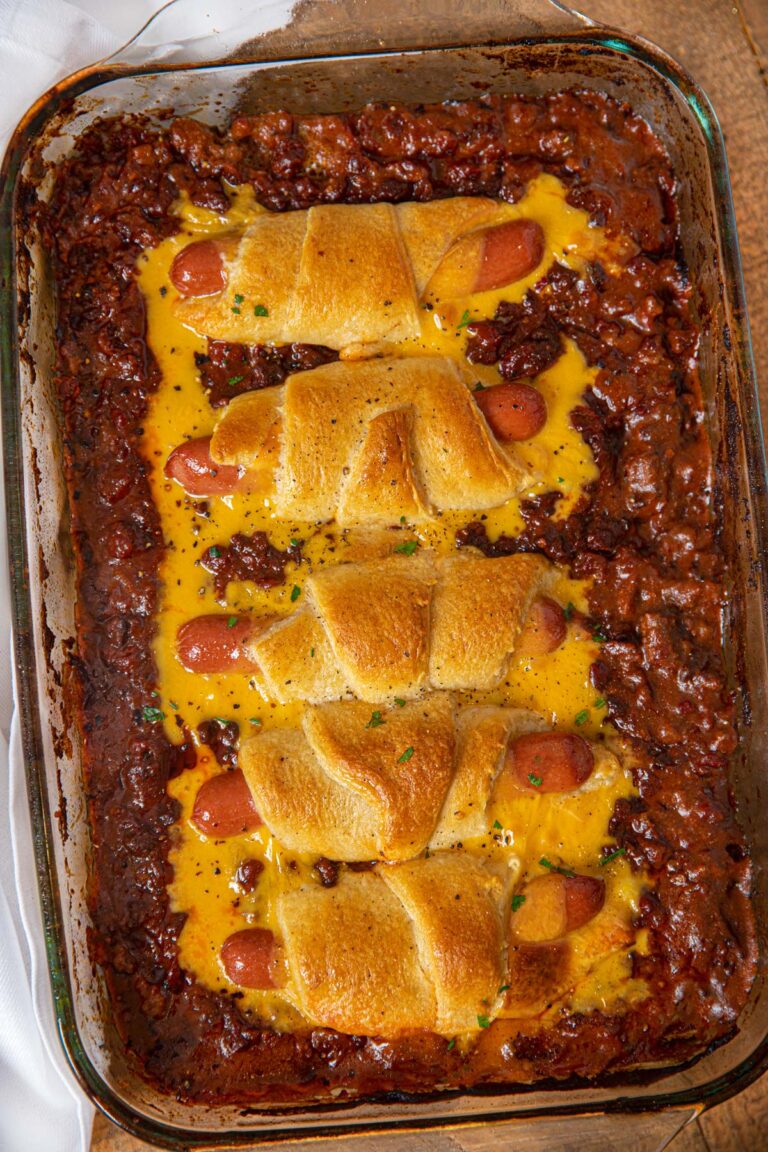 VARIATIONS ON CHILI CHEESE DOG CASSEROLE
Tater Tots: Make this a twist on my Tater Tot Casserole by surrounding the hot dogs with frozen tater tots.
Hot Dogs: Try out different hot dogs like cheese stuffed, spicy dogs, or even cajun-style chicken sausages. You can also use little smokies instead of full sized dogs.
Biscuits: Give your Chili Cheese Dog Casserole a bubble topping by using canned biscuits or homemade Biscuit Dough instead of the crescent roll sheet.
Slow Cooker Chili Cheese Dog Casserole
Note: You want to use canned biscuits (8 count) when making Crockpot Chili Cheese Dog Casserole.
Cut each biscuit into 6 pieces and set aside.
Mix chili, hot dogs, and cubed cheese together and add to crock pot. Sprinkle onions on top.
Evenly place biscuit pieces in slow cooker, covering chili mix and onions.
Cover insert of slow cooker with a towel and place lid on top. Cook for 2 ½ to 3 hours on low, until biscuits are done.
Add shredded cheese and replace lid, cooking for 3-5 minutes or until cheese is melted.
MORE FUN FAMILY FAVORITE RECIPES
HOW TO STORE CHILI CHEESE DOG CASSEROLE
Serve: This casserole should be stored after 2 hours at room temperature.
Store: Your Chili Cheese Dog Casserole will be good in the fridge for up to 4 days sealed tightly.
Freeze: Allow to cool completely and wrap tightly with foil. Freeze casserole for up to 3 months, thawing overnight in the fridge before reheating in the oven.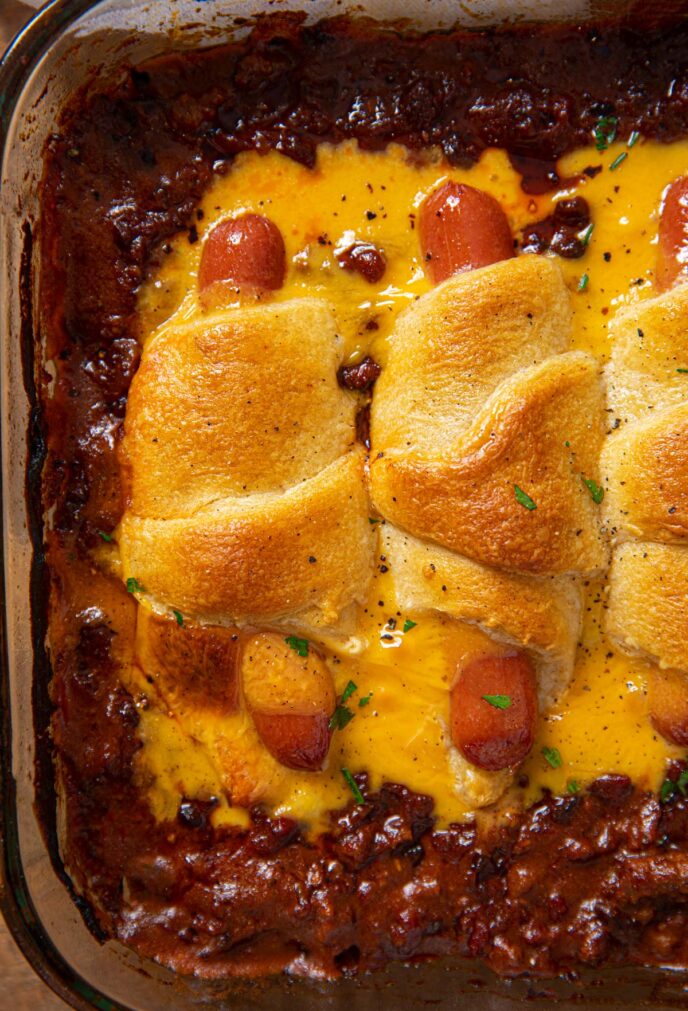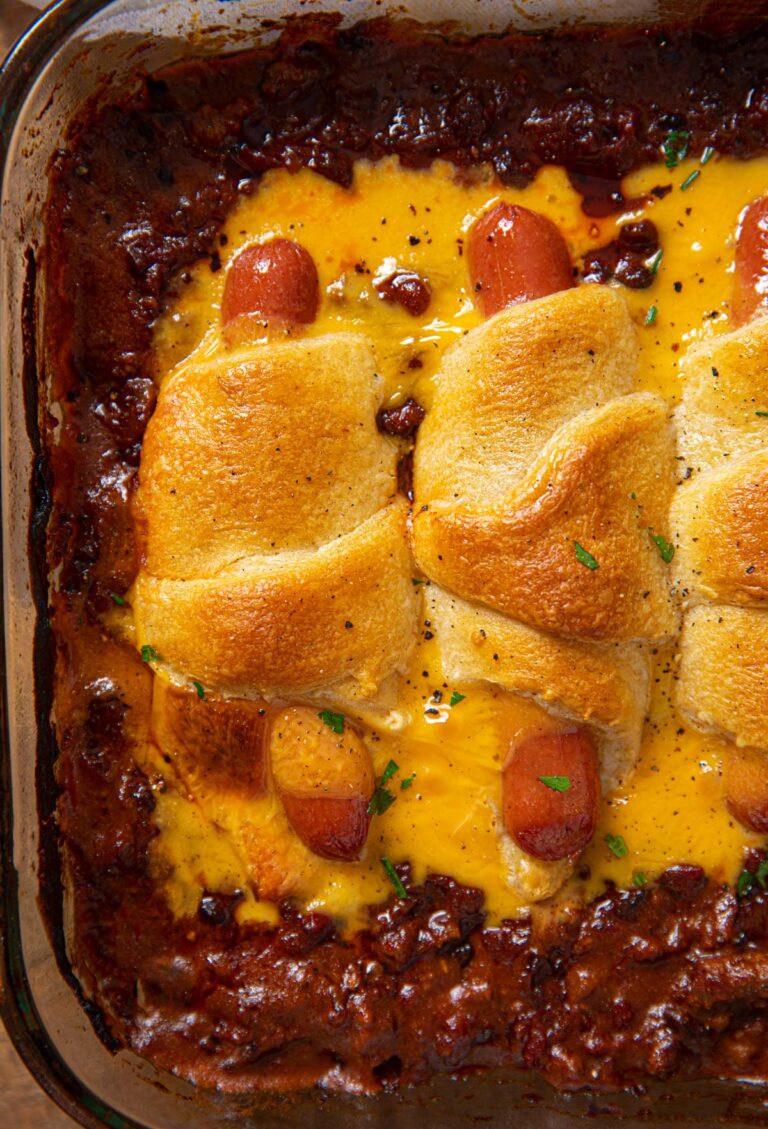 Recipe
Save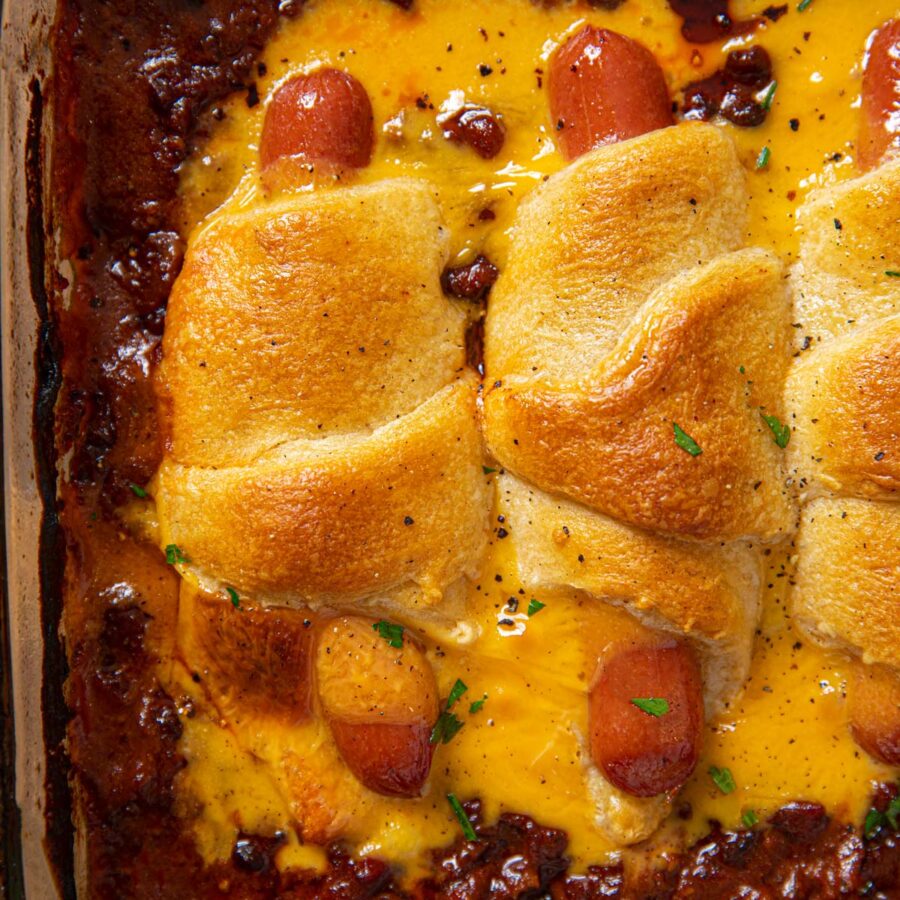 Chili Cheese Dog Casserole
Yield:

5

servings

Prep Time:

10

minutes

Cook Time:

25

minutes

Total Time:

35

minutes

Course: Dinner
Cuisine: American
Author: Sabrina Snyder
Your whole family will love this Chili Cheese Dog Casserole! An easy comfort food of cheesy chili dog goodness and baked with a golden flaky crust!
Instructions
Note: click on times in the instructions to start a kitchen timer while cooking.
Preheat oven to 375 degrees.

Lay out the crescent sheets in triangles.

Sprinkle the cheddar cheese evenly on the triangles of crescent dough, then wrap each triangle around a hot dog.

Pour the chili into a 9 inch by 13 inch baking dish.

Place the rolled hot dogs on top of the chili in the baking dish, evenly spread out.

Bake 25 to 30 minutes or until golden brown.
Nutrition Information
Yield: 5 servings, Amount per serving: 432 calories, Calories: 432g, Carbohydrates: 33g, Protein: 22g, Fat: 25g, Saturated Fat: 12g, Cholesterol: 79mg, Sodium: 1519mg, Potassium: 835mg, Fiber: 9g, Sugar: 3g, Vitamin A: 917g, Vitamin C: 3g, Calcium: 270g, Iron: 8g
All images and text © for Dinner, then Dessert.
Keyword:
Chili Cheese Dog Casserole
Save