Chili Seasoning Mix is a delicious blend of chili powder, cumin, garlic, parsley , basil, salt, pepper and more. 
Chili is perfect for cold weather, whether it's my crazy popular Slow Cooker Beef Chili, Turkey Chili or Classic Beef Chili. If you want to whip up a batch for an especially chilly evening, you should start off by making your own, homemade Chili Seasoning Mix. It's incredibly easy and goes great with pretty much any kind of chili.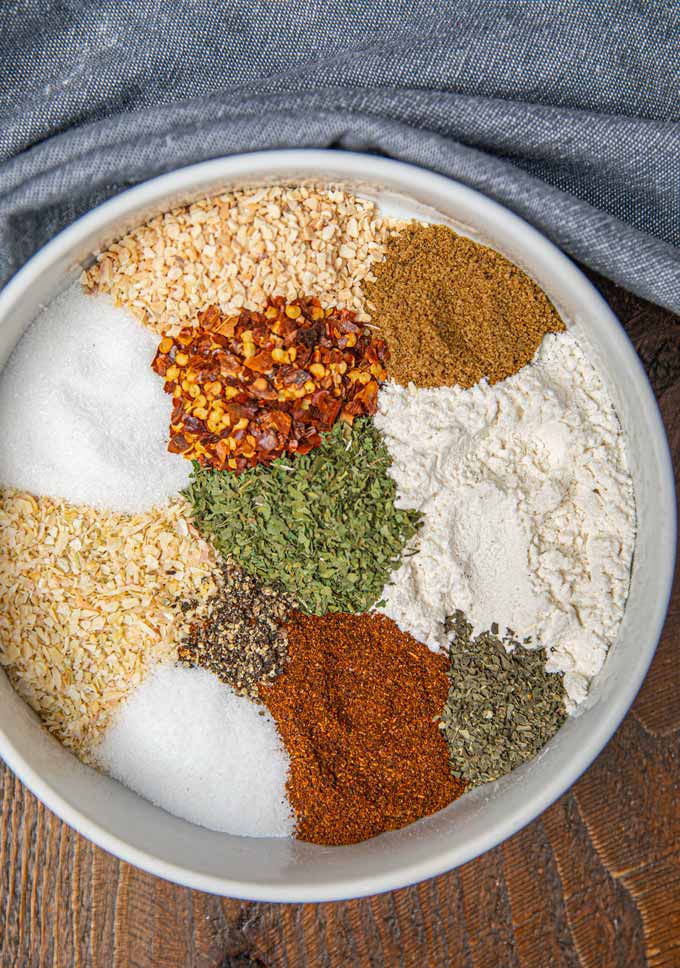 CHILI SEASONING MIX
The next time you whip out your favorite chili recipe, you should also use your own homemade Chili Seasoning. All you need to do is sprinkle a hand full onto your ground beef or chicken while you're cooking it to get a delicious Mexican American inspired flavor. This seasoning recipe is quick, easy and it calls for spices that you can easily find at the grocery store or are probably already in your spice cabinet.
Before you make your next batch of chili, you can make this spice mix well ahead of time and keep it in an airtight container ready to use when you need it. Homemade Chili Seasoning Mix keeps very well in cool, dry places so it's all ready to go for times when you can't spend all night making a meal. Just like with any seasoning recipe, it is highly customizable to suit your personal tastes and the general flavor of your chili recipe.
Chili Seasoning Mix mixes the mild spice of chili powder with the rich, savory flavors of onion, garlic, cumin, parsley, salt, basil and pepper together into a rich blend that not only helps to tenderize meat, it also infuses it with flavor that sauce alone won't. You can also individually package this blend into seasoning packets that you can take along with you to the next cookout.
If you enjoy your chili hot enough to melt metal, there are various chili cook offs around the world, where people gather to show off their delicious and often terrifyingly hot pots of liquid gold. Some of the more notable ones are the Arizona State Open Chili Contest, Louisiana State Open Chili Championship and the New Jersey State Chili and Salsa Cook Off, where people travel to show off their cooking skills. Once you perfect this Chili Seasoning Mix you may want to toss your hat into the ring.
HOW TO MAKE CHILI SEASONING MIX
In a bowl, stir together flour, chili powder, onion powder, red pepper, onion, garlic, sugar, cumin, parsley, salt, basil and pepper.
Store in an airtight container.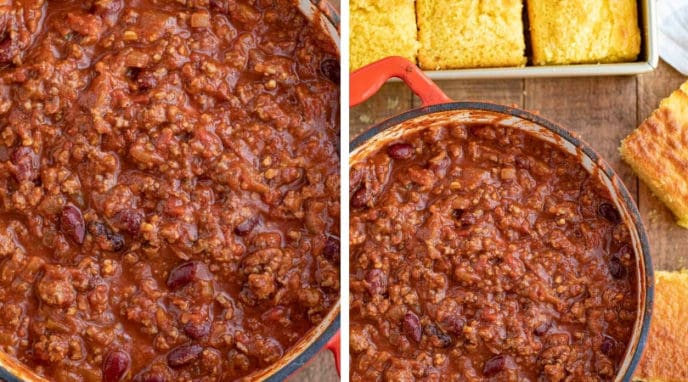 Create a free account to

Save Recipes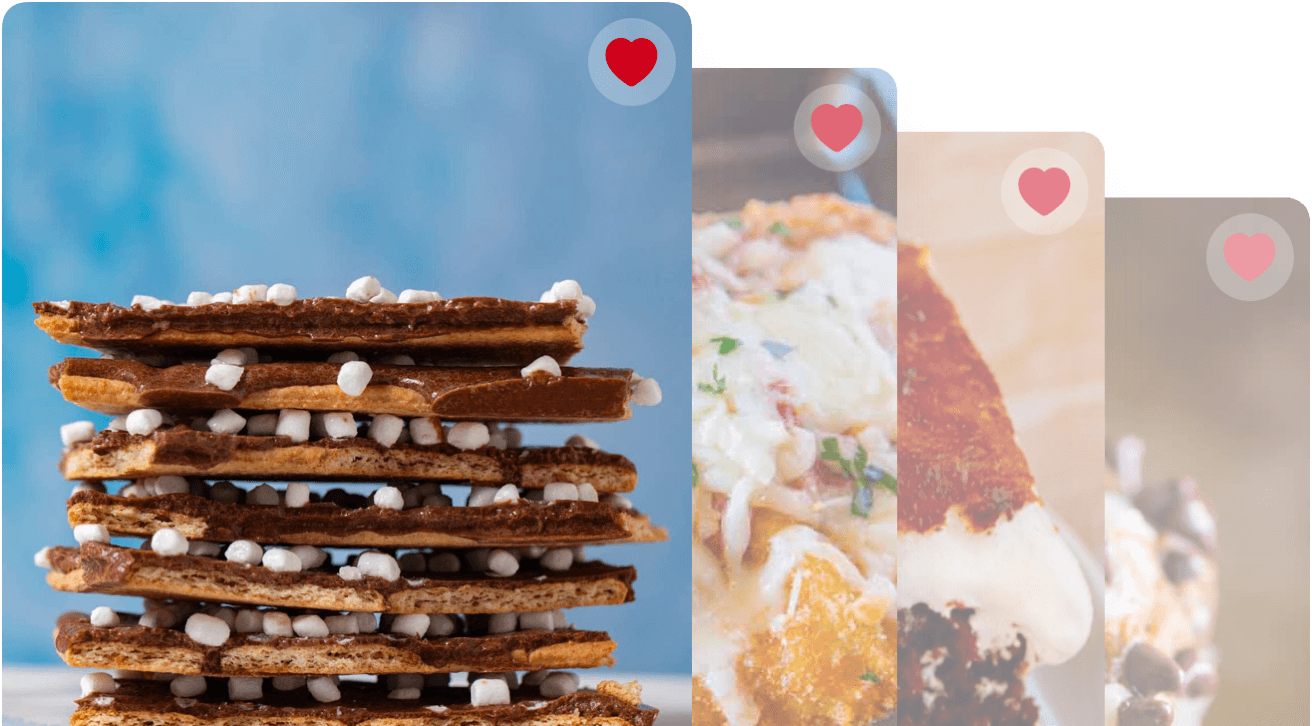 VARIATIONS ON CHILI SEASONING MIX
Spices: If you don't want to use my spices specifically, you can use a bit of cayenne pepper, garlic powder, paprika, and red pepper flakes based on the flavor palate of your pot of chili.
Hot: You can add dried chili pepper to the spice blend by chopping it into fine pieces and mixing it into the  seasoning blend. Remember that a little goes a long way so start small and work your way up.
Gluten free: To make this chili seasoning recipe gluten free, you just have to switch out the all-purpose flour for a wheat substitute, such as cornstarch or tapioca flour.
HOW LONG IS CHILI SEASONING MIX GOOD FOR?
Store: If you keep it in an airtight container in a cool, dry place your homemade Chili Seasoning Mix will last for about 1 year before you should throw it out and make a brand new batch.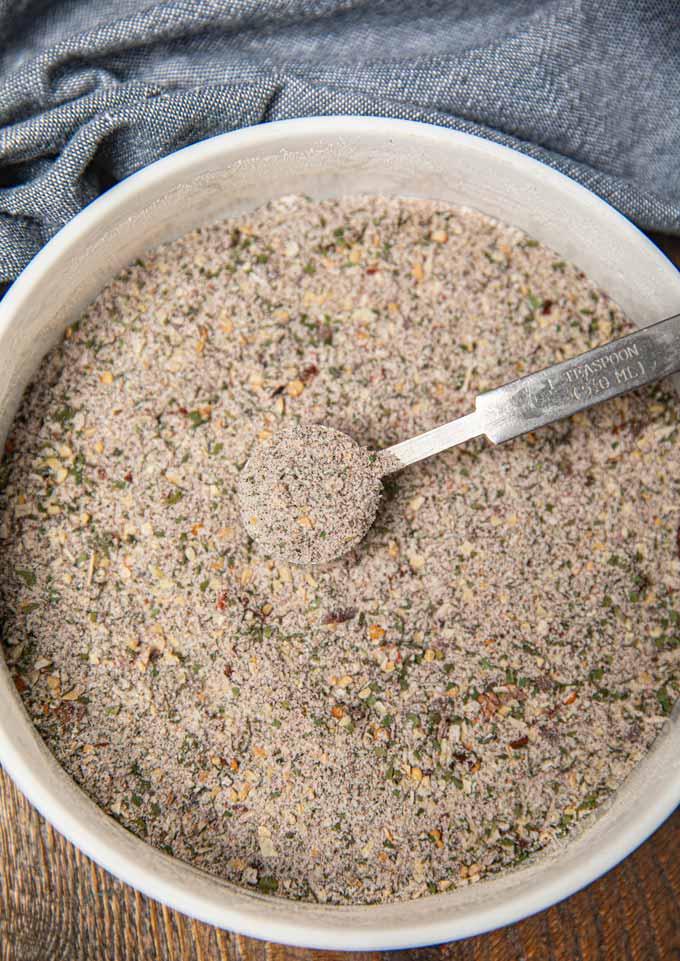 Ingredients
1/4

cup

flour

4

teaspoons

chili powder

1

tablespoon

red pepper

, crushed

1

tablespoon

dried onion

, minced

1

tablespoon

dried garlic

, minced

2

teaspoons

white sugar

2

teaspoons

ground cumin

2

teaspoons

dried parsley

2

teaspoons

salt

1

teaspoon

dried basil

1/4

teaspoon

ground black pepper
Instructions
In a bowl, stir together flour, chili powder, red pepper, onion, garlic, sugar, cumin, parsley, salt, basil and pepper.

Store in an airtight container.
Nutrition
Calories:
19
kcal
|
Carbohydrates:
4
g
|
Protein:
1
g
|
Fat:
1
g
|
Saturated Fat:
1
g
|
Sodium:
400
mg
|
Potassium:
34
mg
|
Fiber:
1
g
|
Sugar:
1
g
|
Vitamin A:
226
IU
|
Vitamin C:
1
mg
|
Calcium:
8
mg
|
Iron:
1
mg