Taco Bell Seasoning is a classic blend seasoned with onion powder, garlic salt, cumin, paprika, cayenne pepper, and chili powder.
The next time you want take out, you can make your very own copycat version of the Taco Bell original taco seasoning mix. You can use Taco Bell Seasoning on Oven Baked Tacos, BBQ Beef Stuffed Peppers, Steak Fajitas or any other Mexican American dish you're craving.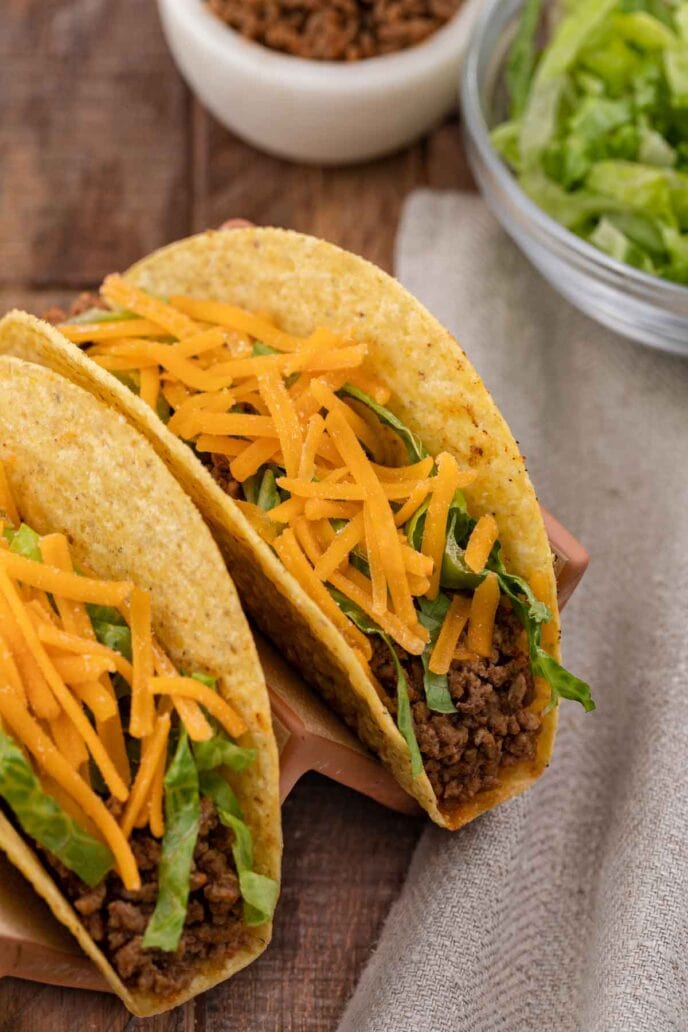 Dress up your ground beef, turkey, or any other meat you're making for taco night with that delicious taco seasoning that we all know and love from Taco Bell. This DIY seasoning mix is extremely easy to make, and once it's done all you need are some tortillas, sour cream, taco meat, salsa, and cheese to make yourself these iconic tacos. Taco Bell Seasoning is made from ingredients that you either already have lying around or that you can easily find at your local grocery store.
When making your Taco Bell Seasoning mix, make sure you have a large, sealable container that you can mix it in. This will help you with clean up, since you don't have to transfer it out of a bowl when you're done. You can customize this taco seasoning mix however you'd like, according to your tastes. You can also easily mix this seasoning blend into generic taco sauce to give it some more flavor.
To use your Taco Bell Seasoning, put the taco meat into a skillet and once it begins to simmer, mix the taco seasonings into it. Make sure that you stir well to coat all the parts of the meat. Once the meat has cooked through (insert a probe thermometer into the thickest part of it to check the internal temperature), dish it out into corn or flour tortillas, cover it in salsa, cheese and any other toppings you'd like.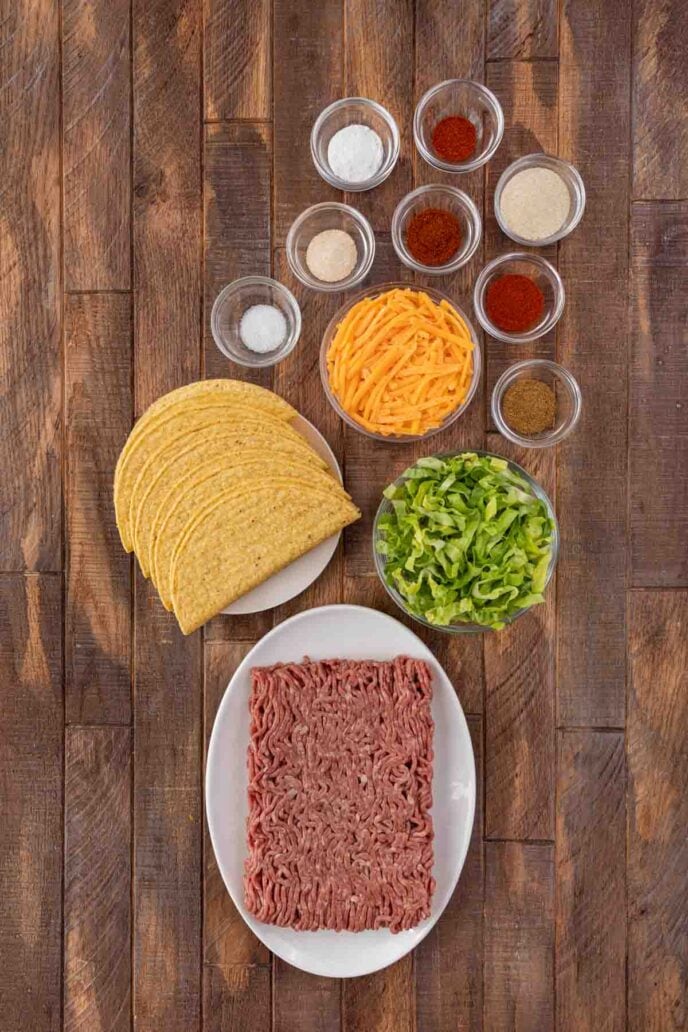 How to Make Taco Bell Seasoning
Mix: Whisk onion powder, cornstarch, garlic salt, cumin, paprika, chili powder, cayenne pepper, and sugar together in a bowl.
Store: Pour the mix into a sealable container for storage.
Recipes for Taco Bell Seasoning
Frequently Asked Questions About Taco Bell Seasoning
Can I add Taco Bell Seasoning before or after my meat has cooked?
It is not recommended to add your seasoning before the meat begins to cook. You want to cook your meat until the juices start flowing before you add in your Taco Seasoning to provide some liquid for the seasonings to blend. You can also wait until your meat is almost completely cooked. This might work best especially if you are going to strain the meat due to cooking a high-fat ground beef, or any other meat that produces a lot of liquid while cooking. Draining the liquid will also drain out much of your seasoning.
Will Taco Bell Seasoning go well with any meat?
You can use this Seasoning on any meat, or even a meat substitute. It will work on ground meets, sliced and chopped meats, or on full pieces of chicken, steak, or pork. Consider sprinkling it on any meat that you might use to make tacos, burritos, or any Mexican flavored dish.
Variations on Taco Bell Seasoning
Hot: Are you a fan of hot sauces and find the Taco Bell taco seasoning to be just a little too tame? You can dry a few chili peppers, dice them finely and mix them into the seasoning. I would suggest trying jalapeños, habaneros, or Serrano peppers.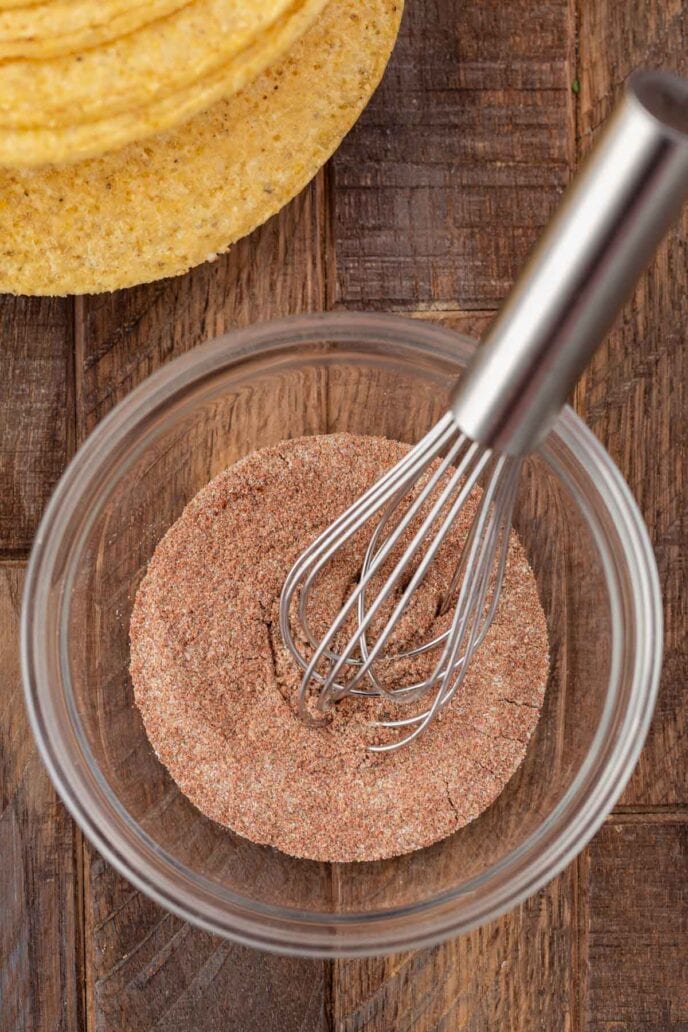 Create a free account to Save Recipes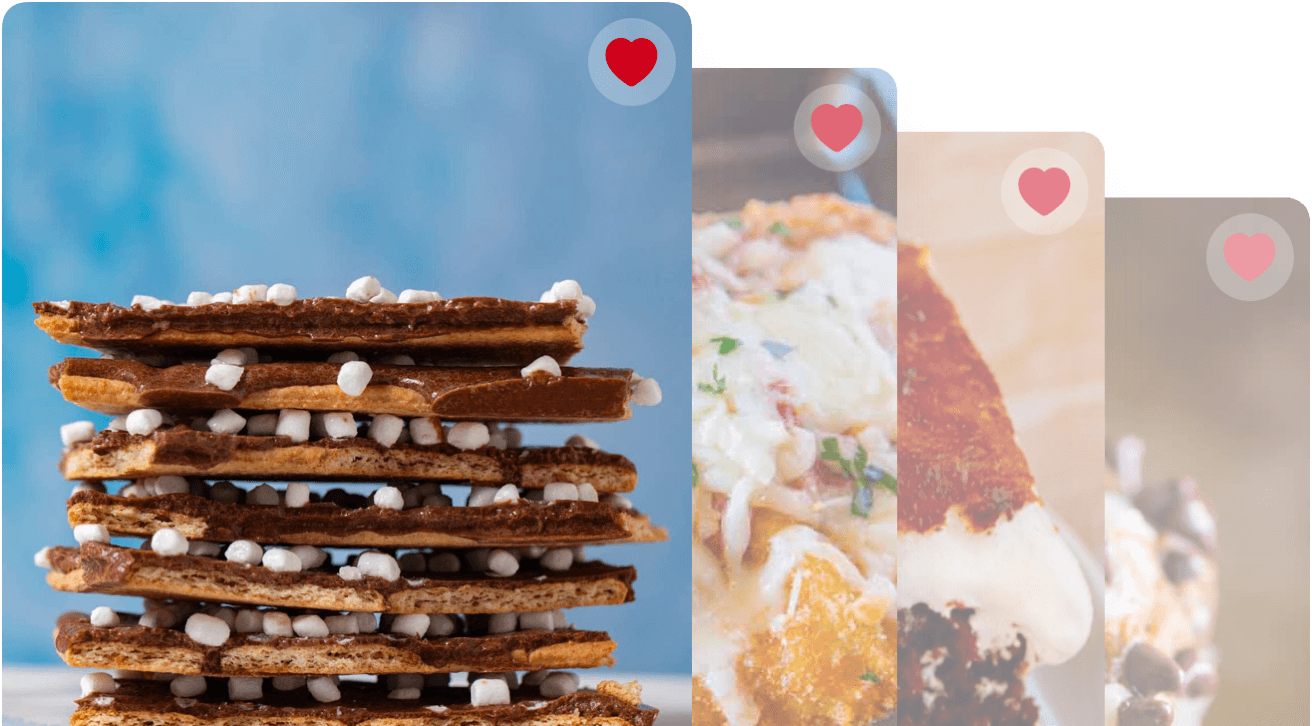 Serving Ideas
The obvious way to use Taco Bell Seasoning is to season ground beef and make tacos or burritos. However, there are lots of other options for using this Seasoning recipe.
Chicken and Turkey: Use this recipe to season ground chicken or turkey to use in your favorite recipes. It will bring that flavor you love, but using meat that is typically lower in fat. Ground chicken and turkey are fantastic in tacos and burritos.
Bowls: Season your meat of choice and use it to make taco or burrito bowls. You can use veggies as the base if you're looking to go low-carb, or use rice as the base if you want to go gluten free. These bowls also make a great lunch on the go, for work or school. Just heat them up in the microwave, grab a fork, and you're good to go.
Nachos: Cook a batch of meat with this Taco Bell Seasoning and then set it out with all of your favorite toppings to assembly nachos. Refried beans, nacho cheese, shredded cheese, olives, jalapeños, tomatoes, onions, sour cream, guacamole, and hot sauce would make a great start. Make a party out of it. Guests can assemble their nachos just the way they want.
Taco Burgers: You can season some ground beef and make a burger version of a taco. Just grab your favorite bun, scoop the meat onto the burger, top with lettuce, cheese, tomatoes, and your choice of hot sauce if you'd like some heat.
Taco Bell's Famous Taco Sauce
Taco Bell was founded in 1962 by Glenn Bell, a businessman who had previously founded a hot dog stand called Bell's Drive In. In 1948, he saw the tacos that a neighboring restaurant called the Milta Cafe served and bought one in order to figure out how it was made. He finally did, created a version of their spice blend and began opening little shops around California called El Taco.
The Taco Bell Seasoning recreated here comes from later versions of the spice blend. Taco Bell is now one of the largest fast food chains in the world and continues to make delicious tacos for everyone to enjoy.
More Taco Bell Recipes
How to Store Taco Bell Seasoning
You should keep this taco seasoning in an airtight container in a cool, dry place. You can keep the taco seasoning in the fridge but you don't have to, since it won't lengthen the lifespan of the spice blend much longer than how long it will last in the cupboard. Storing the spices in the fridge can also dampen the spices and make them get soggy and gross.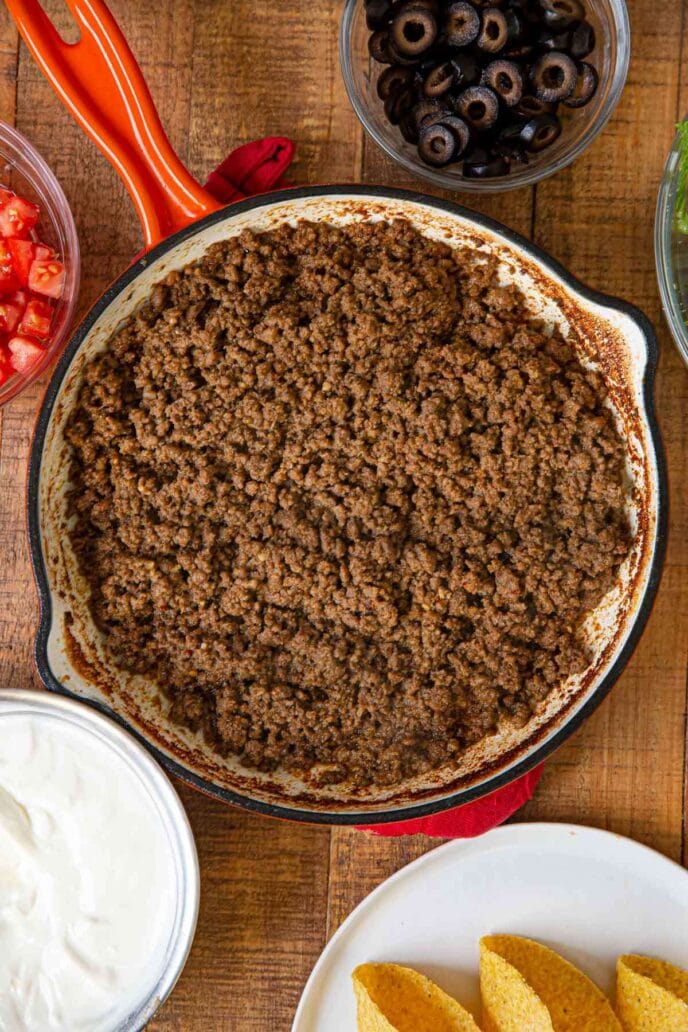 Ingredients
1

tablespoon

onion powder

1

teaspoon

cornstarch

1

teaspoon

garlic salt

1

teaspoon

ground cumin

1

teaspoon 

paprika

1

teaspoon

chili powder

1/4

teaspoon 

cayenne pepper

1/4

teaspoon

sugar
Instructions
Whisk onion powder, cornstarch, garlic salt, cumin, paprika, chili powder, cayenne pepper, and sugar together in a bowl.

Good for one pound of ground beef or store in a covered container.
Nutrition
Calories:
8
kcal
|
Carbohydrates:
2
g
|
Protein:
0.3
g
|
Fat:
0.2
g
|
Saturated Fat:
0.03
g
|
Polyunsaturated Fat:
0.1
g
|
Monounsaturated Fat:
0.1
g
|
Sodium:
296
mg
|
Potassium:
35
mg
|
Fiber:
1
g
|
Sugar:
0.3
g
|
Vitamin A:
445
IU
|
Vitamin C:
0.3
mg
|
Calcium:
8
mg
|
Iron:
0.4
mg