Taco Bell Beefy 5-Layer Burrito (Copycat) is an easy, cheesy meal with refried beans, ground beef, cheddar cheese, nacho cheese, and sour cream.
Just like Taco Bell Bean Burritos, this is the ultimate Copycat Recipe for another popular Taco Bell menu item. Making these burritos at home tastes just as good, and is quicker than going to drive thru.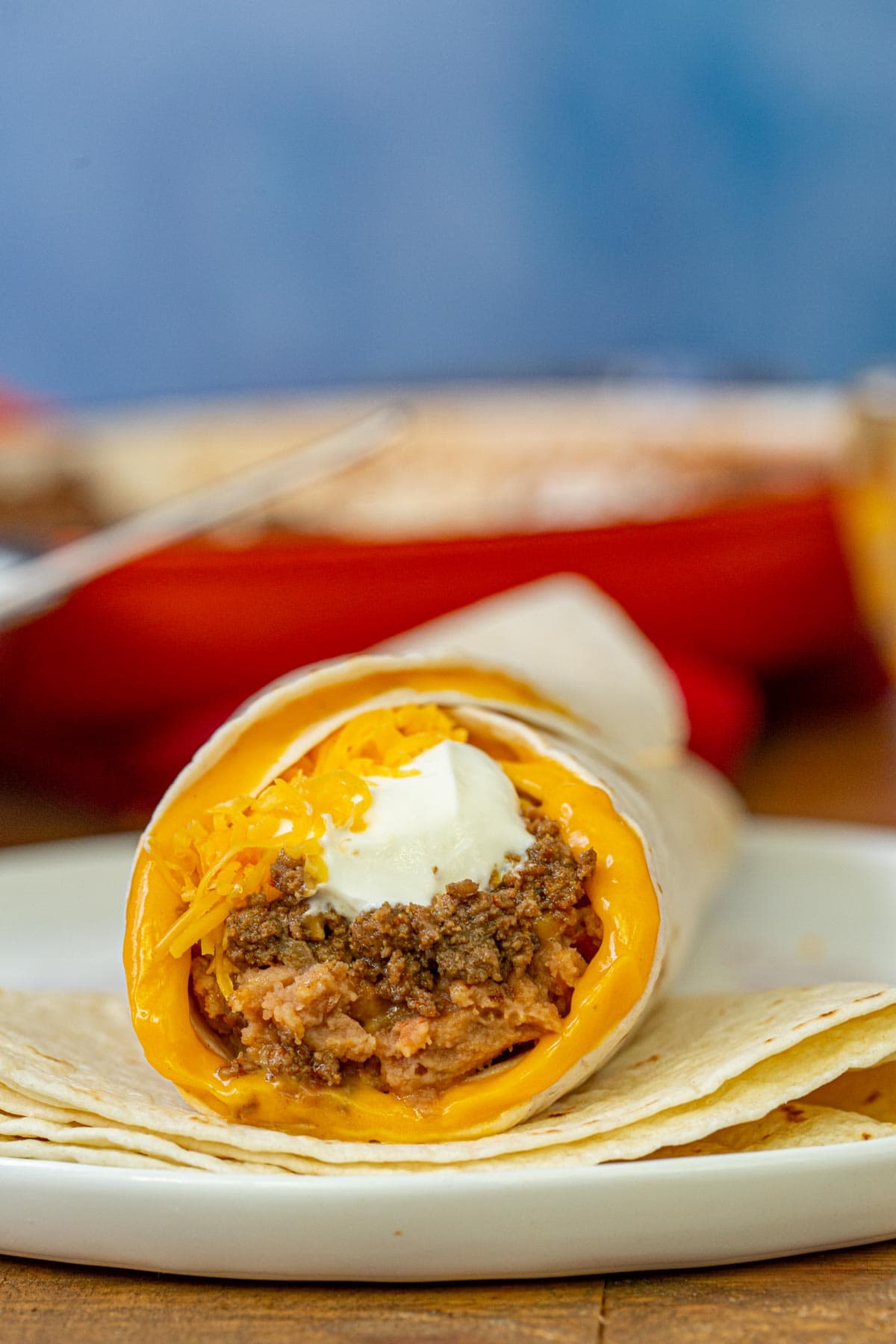 TACO BELL BEEFY 5-LAYER BURRITO (COPYCAT)
One of the things that separates this Beefy 5-Layer Burrito from other burrito recipes is that you use a double tortilla. Over one of the tortillas you spread rich nacho cheese. You can use canned nacho cheese, but the Homemade Version is definitely worth the extra effort. Once you've spread the nacho sauce over the first tortilla you add the second on top and put the other fillings inside. It adds and extra cheesy layer that's absolutely delicious!
Along with making the fresh nacho sauce, we also have delicious and easy recipes for Refried Beans, and Seasoned Ground Beef. Try them out for a burrito that has all Taco Bell's flavors, but made even better!
We love making copycat recipes of our favorite restaurant dishes, and Taco Bell's Beefy 5-Layer Burritos turn out great every time. Beefy 5-Layer Burritos are the perfect make-ahead meal to keep in your freezer and grab for an easy lunch. They're also wonderfully kid-friendly and great to have on hand for when they need to pack a quick meal.
MORE MEXICAN RECIPES
MEAL PREP BURRITOS:
Start by cooking the refried beans, ground beef, and nacho cheese.
Lay out 6 squares of tin foil large enough to wrap the finished beef burritos.
Wrap the tortillas in a damp paper towel and microwave for 20 seconds at 50% power.
Lay out 6 of the tortillas on the ready tin foil.
Spread nacho cheese over the the 6 tortillas then top them with the remaining tortillas and gently press down.
Top the second tortilla with beans, ground beef, sour cream and cheddar cheese.
Roll each burrito. Be careful not to let the nacho cheese spill out. Wrap them in tin foil.
Write the date on the tin foil and put them in the freezer.
When you're ready to enjoy one of the burritos take it out of the freezer and remove it's wrapping.
Wrap the burrito in a damp paper towel and put it in the microwave for 2-3 minutes on high or until heated through.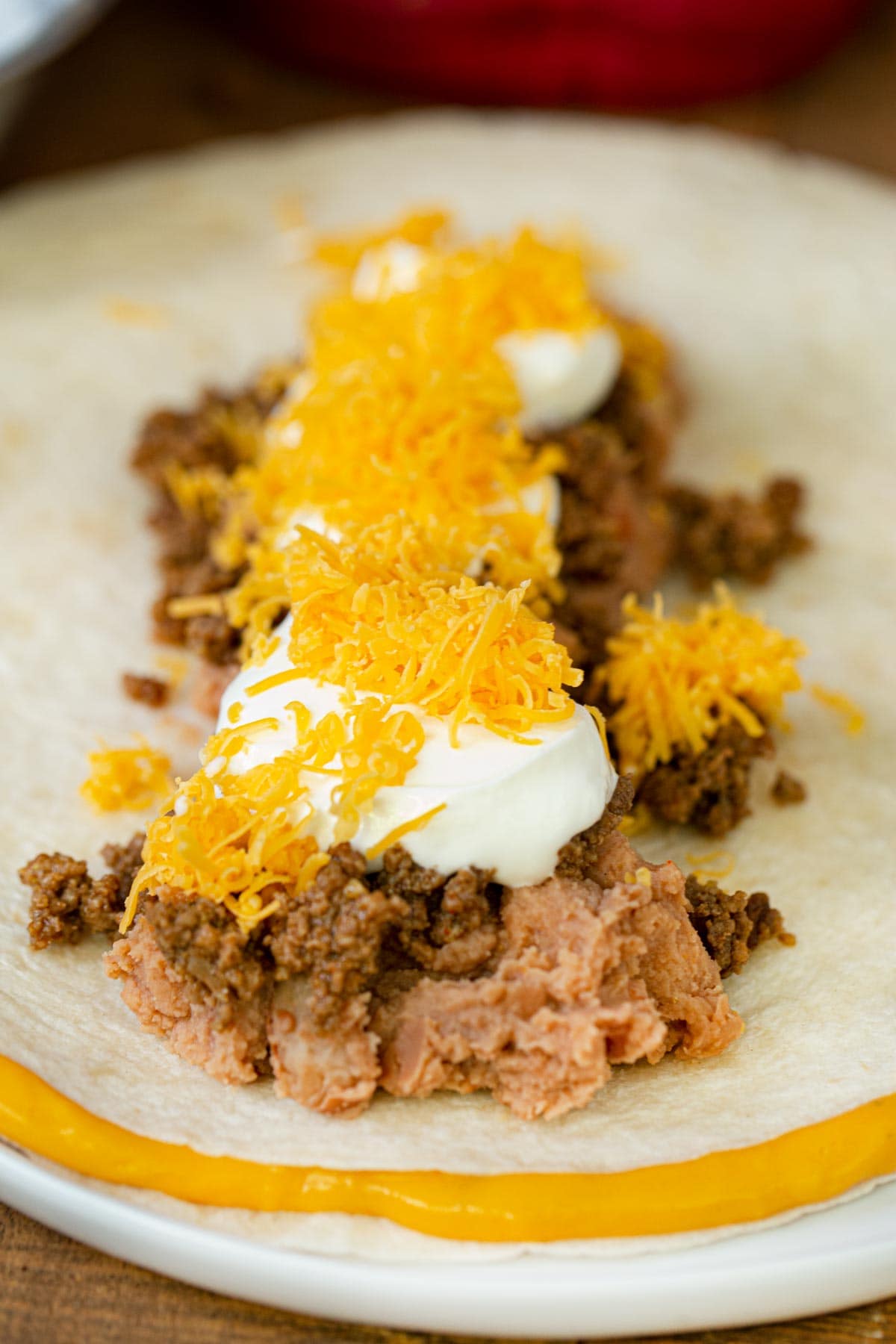 Create a free account to

Save Recipes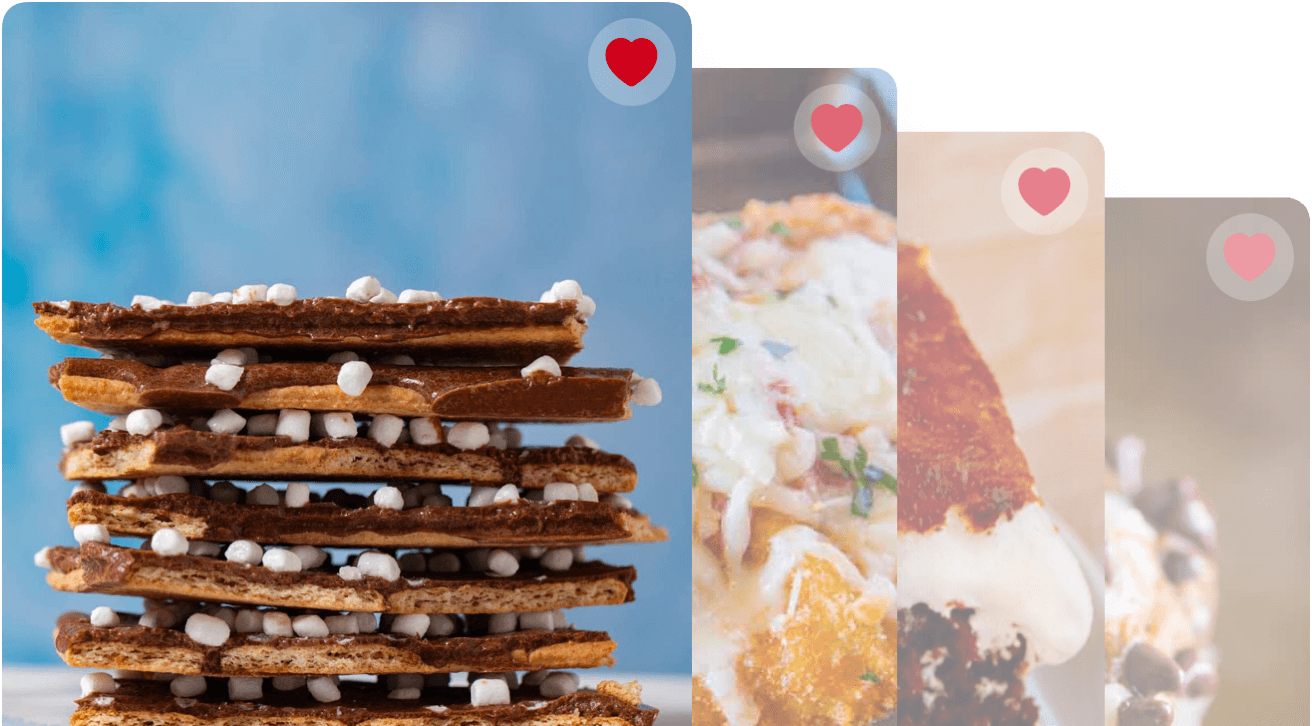 VARIATIONS ON TACO BELL BEEFY 5-LAYER BURRITO (COPYCAT)
Meat: Instead of using beef try using ground turkey, chicken or thinly sliced steak. Whatever meat you have could taste great in this burrito recipe.
Cheese: Along with the nacho cheese try adding shedded Swiss, pepper jack, provolone, or mozzarella cheese.
Double Burritos: You can use the same double burrito trick with a variety of different recipes. Try making classic Beef Burritos but adding an extra tortilla and spreading nacho cheese over it. You could also try adding other kinds of sauce to the outer burrito like guacamole or sour cream along with the nacho cheese.
Crunchy Taco: Instead of using tortilla try adding the same ingredients to a hard shell taco and enjoy.
Add-ins: For some extra spice add diced jalapeños, red pepper flakes, and chili powder. For some more crunch put in some shredded iceberg lettuce and Frito chips. You can also add different kinds of cheese like shredded Swiss, provolone, pepper jack, or mozzarella.
MORE TACO BELL BURRITO RECIPES
7-Layer Burrito:
Spread refried beans over your tortilla.
Add ¼ cup Mexican Rice.
Put 2 tablespoons sour cream on top.
Add ⅓ cup shredded lettuce.
Top with 2 tablespoons shedded pepper jack cheese.
Spread 2 tablespoons of guacamole.
Top the whole thing with diced tomatoes and fold the wrap.
Cheesy Bean and Rice Burrito:
Heat up enchilada sauce in a pan.
Mix in 1 cup of instant rice, and ½ cup diced green bell peppers.
Cover and remove from the burner and let sit for 5-10 minutes.
Spread ¼ cup cup of refried beans over the tortilla
Top with ¼ cup rice.
Top with diced tomatoes and ¼ cup shredded cheddar cheese.
Add sour cream.
Once it's stuffed roll the tortilla.
MORE FAST FOOD COPYCAT RECIPES
HOW TO STORE TACO BELL 5-LAYER BURRITO (COPYCAT)
Serve: Don't leave these burritos at room temperature for more than 2 hours.
Store: Keep the burritos in the fridge in a ziplock bag or airtight container for 3-4 days. You can reheat it over a skillet or in the microwave wrapped in a wet paper towel.
Freeze: Wrapped in tin foil, you can keep Beef Burritos in the freezer for up to 3 months.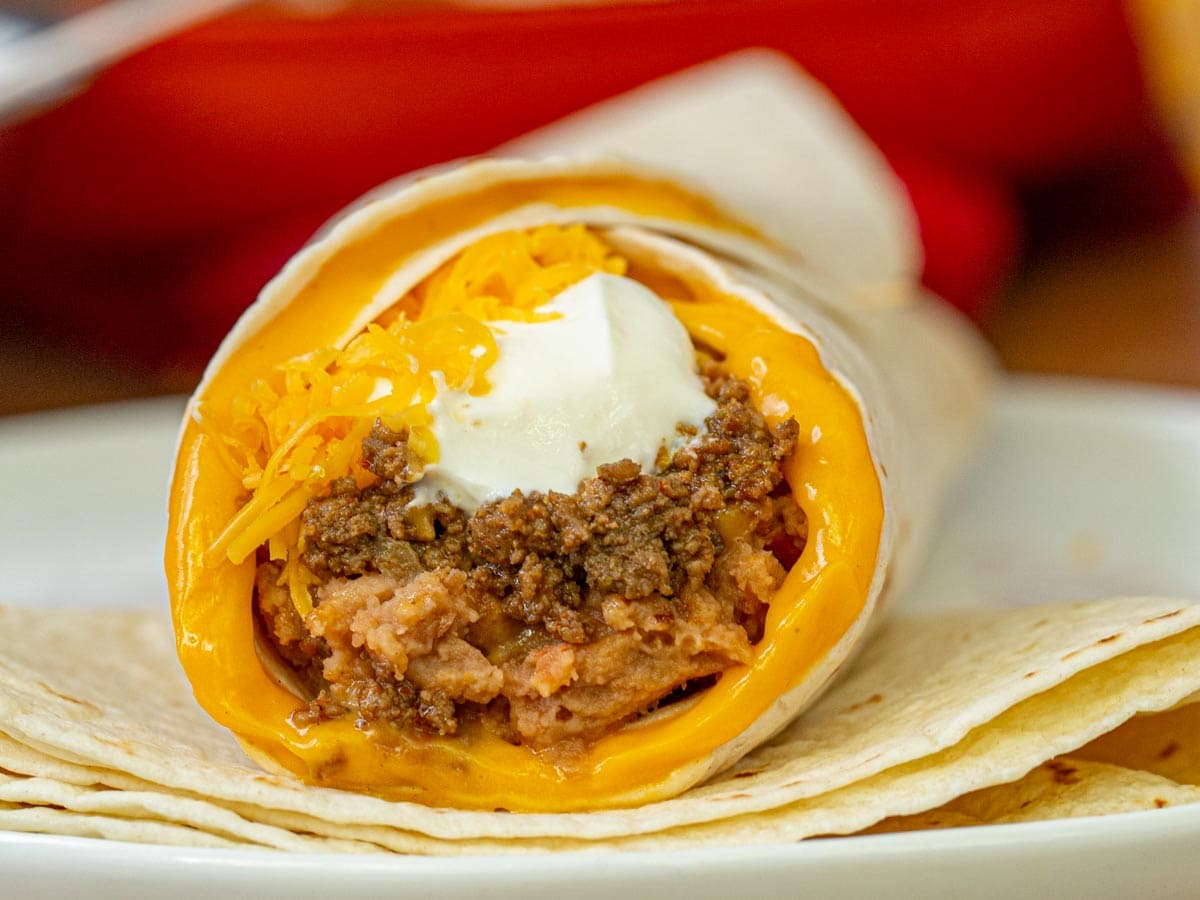 Instructions
Wrap tortillas in damp paper towels and microwave for

20 seconds

on 50% power.

Add the nacho cheese sauce to half the tortillas and spread evenly leaving a 1 inch border.

Top with remaining tortillas and gently press down.

Top the second tortilla with refried beans, Taco Bell ground beef, sour cream and cheddar cheese.

Carefully fold in the top and bottom and wrap tightly before serving (some cheese may escape so be careful while wrapping)
Nutrition
Calories:
523
kcal
|
Carbohydrates:
21
g
|
Protein:
26
g
|
Fat:
36
g
|
Saturated Fat:
15
g
|
Cholesterol:
92
mg
|
Sodium:
1384
mg
|
Potassium:
304
mg
|
Fiber:
5
g
|
Sugar:
6
g
|
Vitamin A:
731
IU
|
Vitamin C:
1
mg
|
Calcium:
287
mg
|
Iron:
3
mg