Taco Bell Bean Burrito (Copycat) is an easy meatless burrito that you can make in less time than it would take you to get through the Taco Bell drive-thru.
The next time you want a quick Mexican Dish make yourself this fast food inspired bean burrito. Made with beans, Taco Bell Red Sauce, yellow onion, and cheese.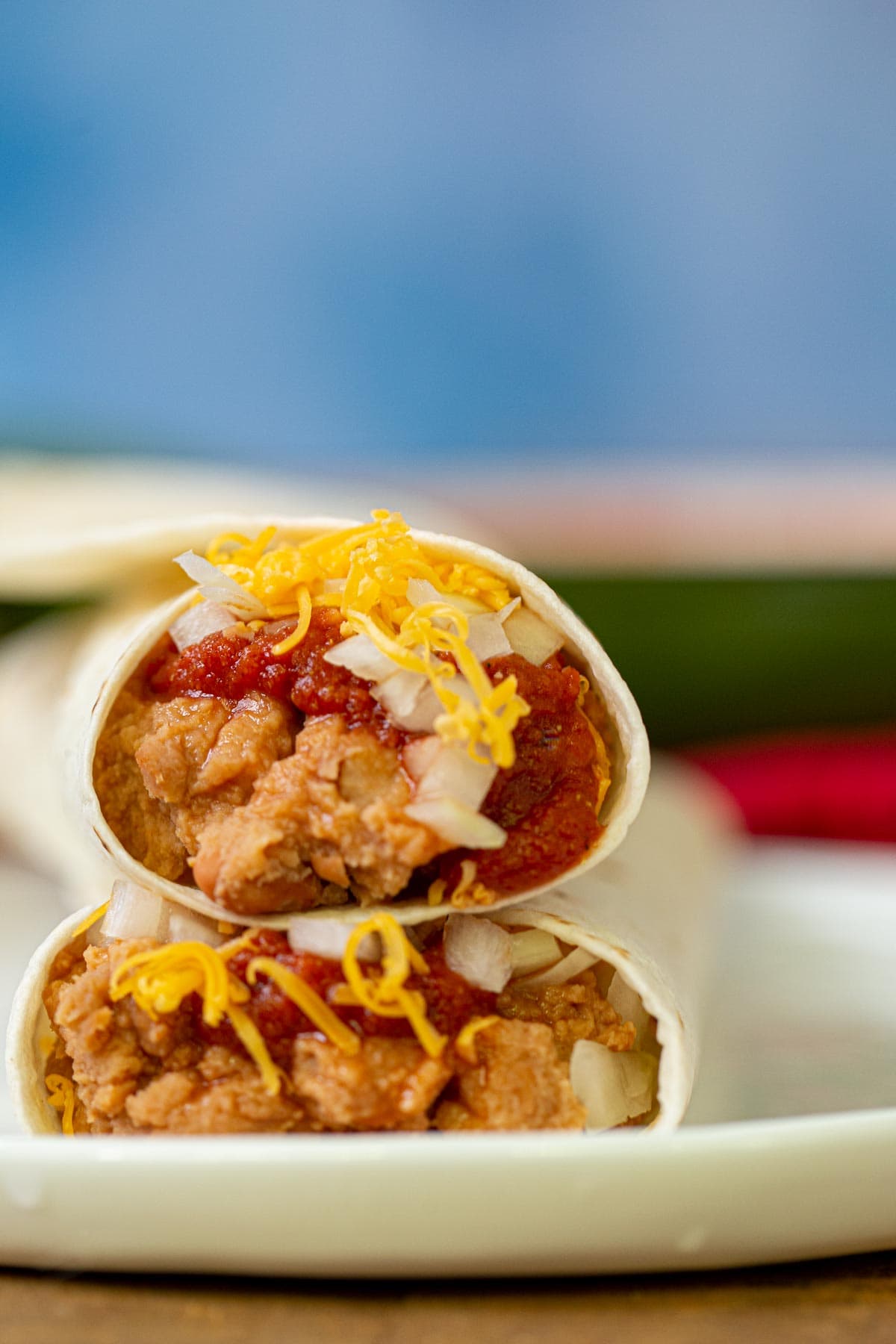 TACO BELL BEAN BURRITO
Taco Bell Bean Burritos are an excellent lunch recipe that you can make in minutes, and are perfect to make ahead of time. Perfectly freezer-friendly for a pre-made meal that you can take on the go. They're also wonderfully kid-friendly and could even be an easy dinner.
This meatless burrito is filling, cheesy, and flavorful. It's as simple as a flour tortilla filled with refried beans, onions, cheddar cheese, and Taco Bell's signature red sauce. There's no need to save up on packets of sauce from Taco Bell either, we have an easy homemade Red Sauce that you can make in just a few minutes and store in your fridge.
While you could just heat up some canned refried beans for this recipe, it only takes a few extra steps to make your own Refried Beans. They so much more flavorful and fresh. You'll definitely be able to taste the difference.
It's always great when you can make homemade versions of your favorite restaurant recipes. With this easy recipe you'll have all the cheesy flavor of a Bean Burrito from Taco Bell, but you don't have to go out to get them. Copycat recipes are also great because you can experiment with the ingredients to find a personalized combination that works best for you.
MORE MEXICAN DISHES
How to meal prep burritos:
Cook your refried beans and Taco Bell red sauce.
Cut your onion into small pieces.
Lay out 6 pieces of foil and parchment paper on top of each other. Make each piece large enough to wrap a finished burrito.
Lay out one tortilla on the prepared tin foil and parchment paper.
Top the tortillas with refried beans, red sauce, onions, and cheese.
Roll and fold each burrito before carefully wrapping and sealing them in tin foil. Write the date on the tin foil so you know when you put them in the freezer.
When you're ready to enjoy one of the burritos take it out of the freezer and remove it's wrapping.
Wrap the burrito in a damp paper towel and put it in the microwave for 2-3 minutes on high or until heated through.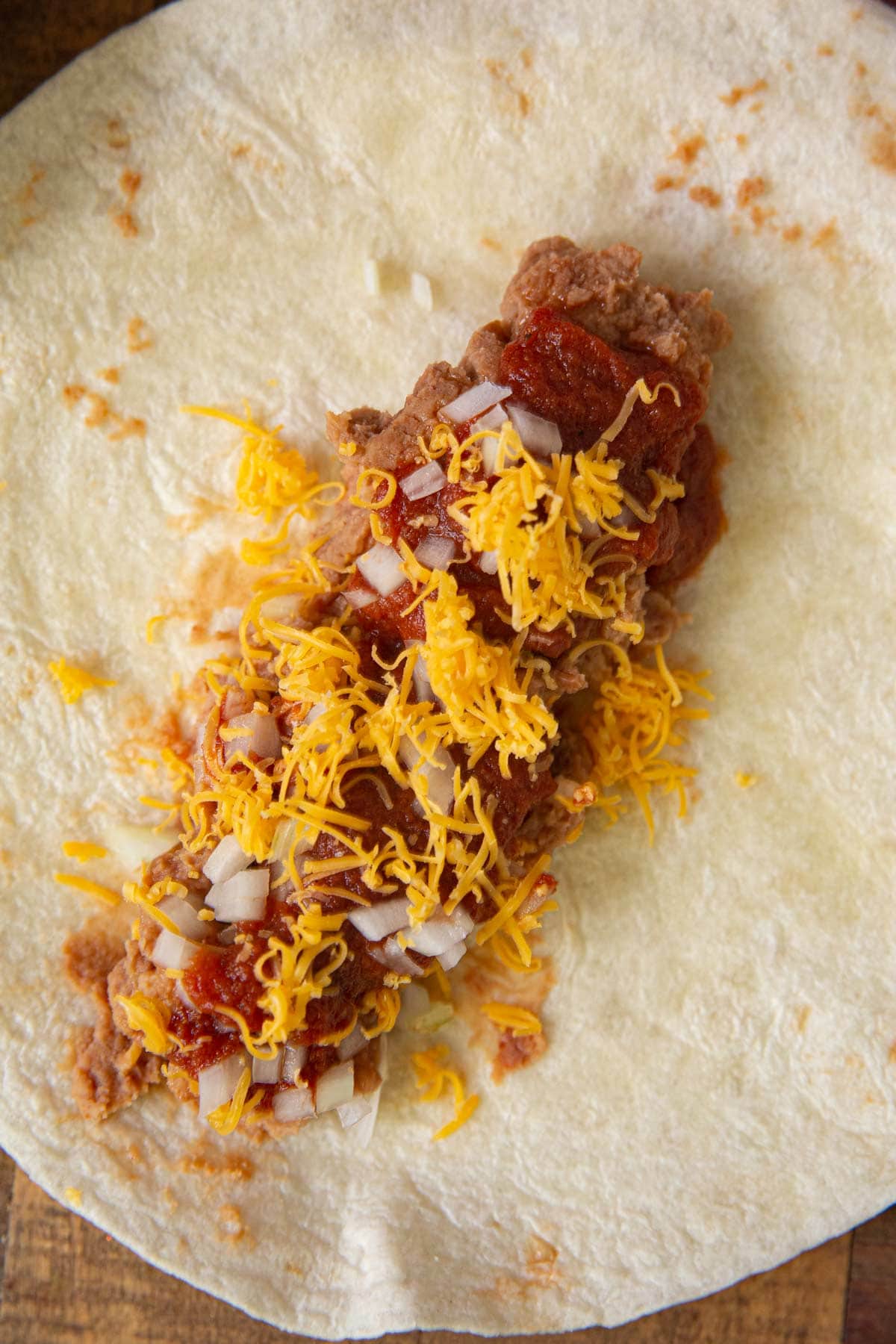 Create a free account to

Save Recipes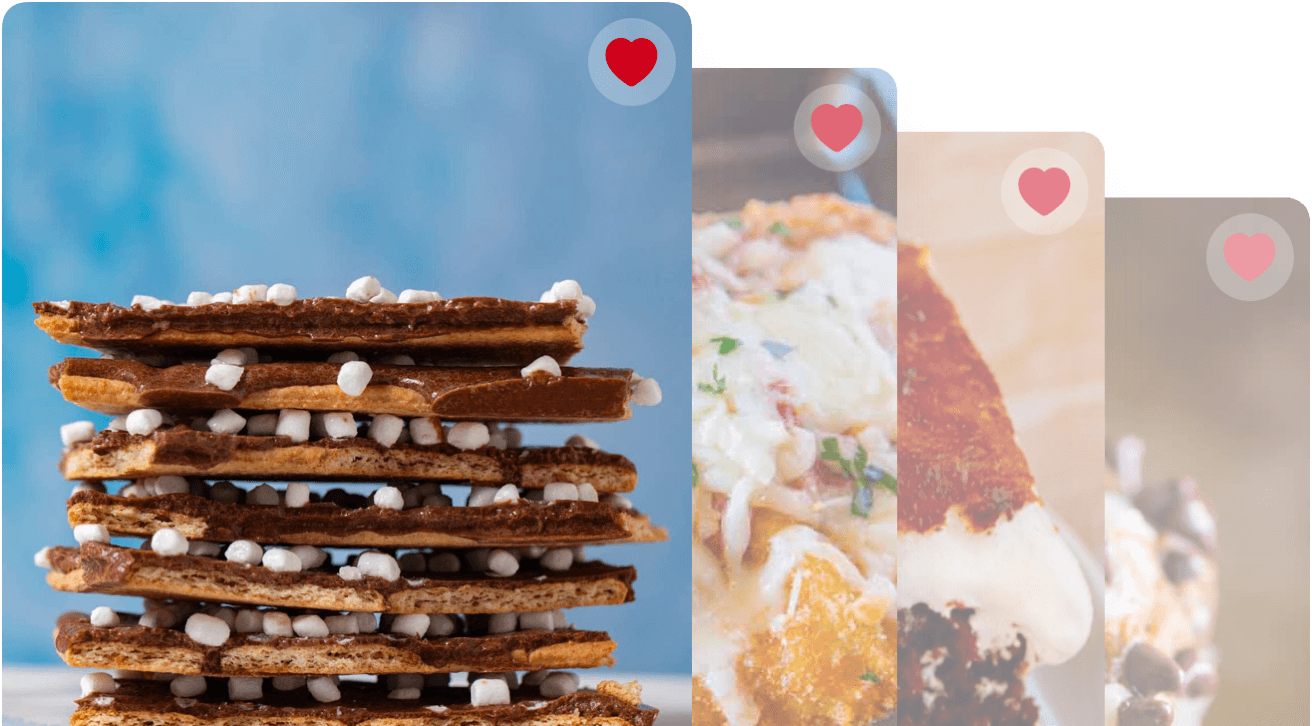 VARIATIONS ON TACO BELL BEAN BURRITO
Meat: Try adding in some ground beef or chicken to to your tortilla along with the beans and cheese. If you use ground beef add some taco seasoning or other spices while you cook it up for seasoned beef.
Black Bean Burrito: Try adding black beans to the to the ingredients. You can mix black beans along with the refried beans, or use black beans in place of refried beans. You could also use pinto beans or kidney beans just depending on what you have in your pantry.
Rice Burrito: Feel free to add in some white rice or brown rice to the burrito recipe. Slightly reduce the amount of beans in each burrito to make it so the tortillas aren't too full.
Cheese: Instead of cheddar cheese try using a pepper jack cheese, cotija, Swiss cheese, or mozzarella.
Add-ins: There are plenty of easy and delicious add-ins you can put in your burrito. Try adding some crispy lettuce, tomato, or green onion. There are also lots of sauces you can try in place of the red sauce like guacamole, sour cream, enchilada sauce, nacho cheese sauce, or salsa.
MORE TACO BELL BURRITO RECIPE
Burrito Supreme: Another popular menu item at Taco Bell is their Burrito Supreme. To make this recipe into a burrito supreme layer seasoned ground beef mixed with tomato paste, refried beans, sour cream, diced tomatoes, lettuce, and cheddar cheese in your tortilla.
7-Layer Burrito: For Taco Bell's 7-Layer Burrito combine refried beans, guacamole, Mexican rice, shredded lettuce, pepper jack cheese, and diced tomatoes. Be careful not to add too much of the extra toppings, since there are a lot of ingredients the tortilla can easily become too full.
MORE FAST FOOD COPYCAT RECIPES
HOW TO STORE TACO BELL BEAN BURRITO (COPYCAT)
Serve: You shouldn't leave this dish at room temperature for more than 2 hours.
Store: If you want to keep leftover Bean Burritos put them in a ziplock bag or airtight container in the fridge. They'll keep for 3-4 days, and make an easy packed lunch. Reheat them in the microwave or in a skillet.
Freeze: You can also keep Bean Burritos in the freezer for up to 3 months. Wrap each burrito in wax paper and tin foil to keep them for a make-ahead meal.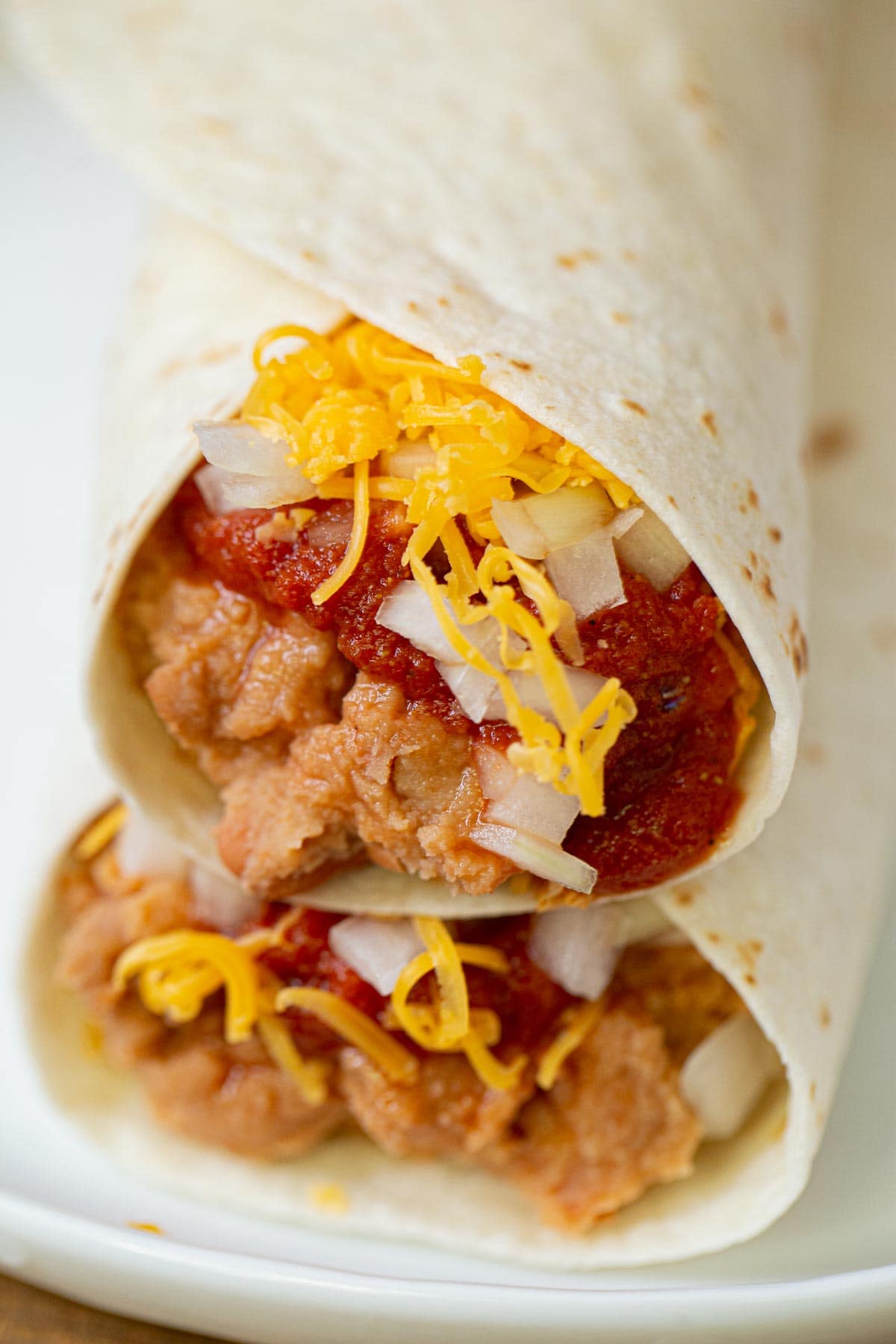 Ingredients
6

burrito-sized

flour tortillas

3

cups

refried beans

1

cup

Taco Bell Red Sauce

1/4

yellow onion

1

cup

cheddar cheese

, finely shredded
Instructions
Wrap tortillas in damp paper towels and microwave for

20 seconds

on 50% power.

Top each tortilla with refried beans, Taco Bell red sauce, onions and cheese.

Fold in the top and bottom and wrap tightly before serving.
Nutrition
Calories:
166
kcal
|
Carbohydrates:
15
g
|
Protein:
10
g
|
Fat:
6
g
|
Saturated Fat:
4
g
|
Cholesterol:
20
mg
|
Sodium:
1871
mg
|
Potassium:
83
mg
|
Fiber:
5
g
|
Sugar:
4
g
|
Vitamin A:
353
IU
|
Vitamin C:
30
mg
|
Calcium:
179
mg
|
Iron:
1
mg