Taco Bell Red Sauce (Copycat) is your favorite fast food mild hot sauce perfect to top any Mexican food. Made with chili powder, cumin, and cayenne pepper.
This Taco Bell Sauce is the easy condiment recipe you absolutely need for your next Mexican Dinner night. Use it to top Baked Chicken Tacos, Beef Burritos, and any other Mexican recipes your family loves.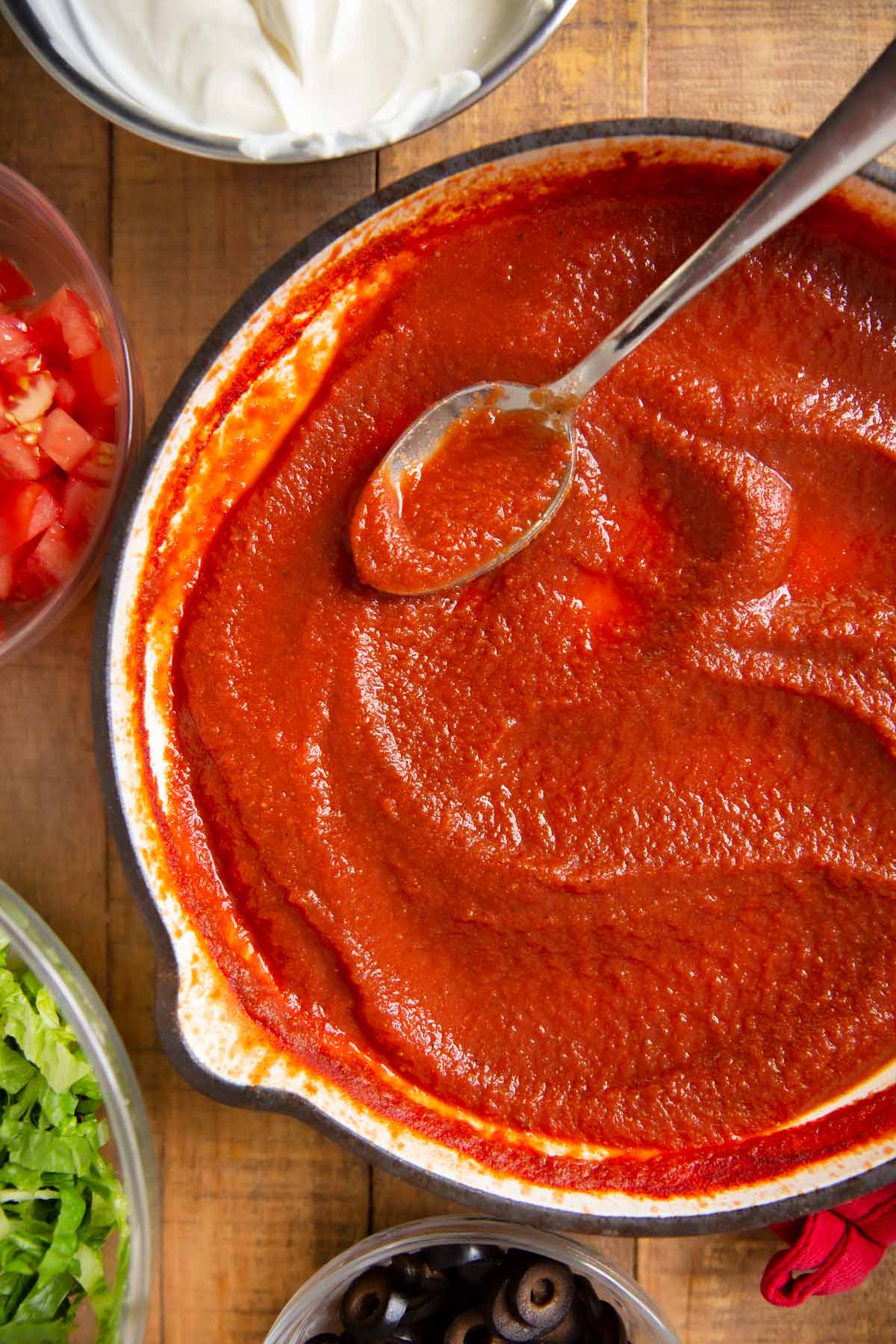 TACO BELL RED SAUCE (COPYCAT)
If you're a fan of Taco Bell, then you're sure to know the iconic flavor of Taco Bell Red Sauce. The classic Taco Bell flavor hot sauce has some spice, but is not too hot. It adds a nice zing to your taco dinner without being too spicy. Thanks to this recipe, there's no need to wait in a drive-thru or smuggle extra sauce packets out of your local Taco Bell. You can make the perfect Taco Bell Red Sauce right from your home.
This sauce goes great on tacos, quesadillas, burritos, or even nachos. For the perfect Mexican dinner try serving this taco sauce with Oven Baked Beef Tacos, Carne Asada Tacos, or any easy taco dinners. With ingredients as simple as tortillas, ground beef, lettuce, tomato, sour cream, and this easy taco sauce you'll have the perfect Taco Bell style dinner from your own home in no time.
The great thing about copycat recipes like this Taco Bell sauce are that you get restaurant-quality flavor without actually having to go to a restaurant. This easy recipe is great to keep in your pantry or refrigerate. Because the hot sauce stores well, you can make a big batch and keep it for the next time you make a Mexican dinner. It's so much better to have a big homemade bottle in your fridge than keeping leftover Taco Bell sauce packets in your drawers.
MEXICAN DINNERS
MAKE YOUR OWN TOMATO SAUCE
e, sugar, spices, and water in a sauce pan. Once you've mixed together the ingredients and brought it to a boil, you can serve the hot sauce or store it for later. If you have fresh tomatoes, try making your own tomato sauce instead of using one from a can.
Wash the tomatoes. Peel the skin off the tomatoes, then cut them in half and core them and remove any seeds.
Coarsely chop the tomatoes then heat them in a pot over medium-high heat.
Put the tomatoes in a food processor or use an immersion blender to make tomato puree. They should have a similar consistency to salsa.
Put the tomato sauce in a jar or other airtight container to store until using.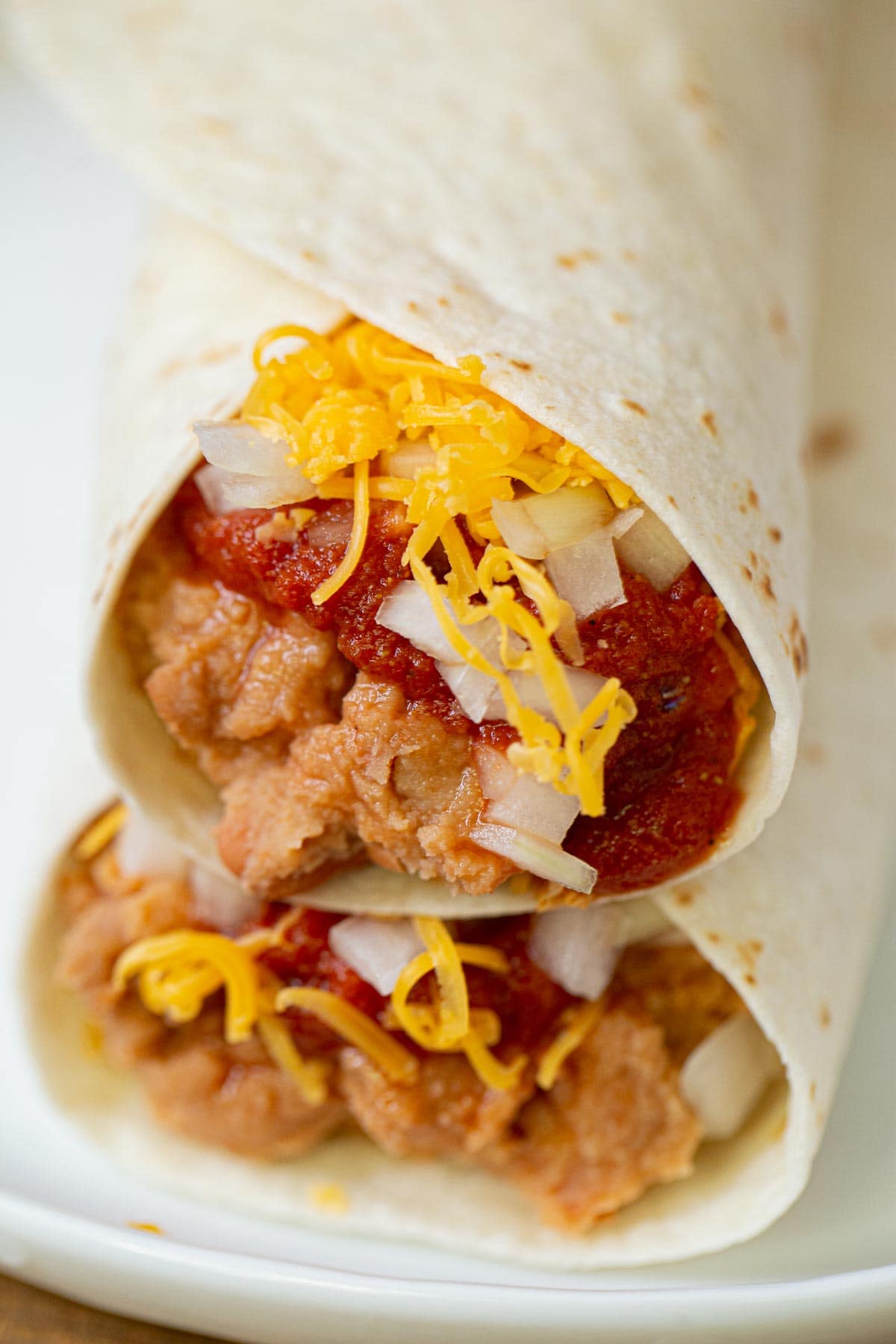 Create a free account to

Save Recipes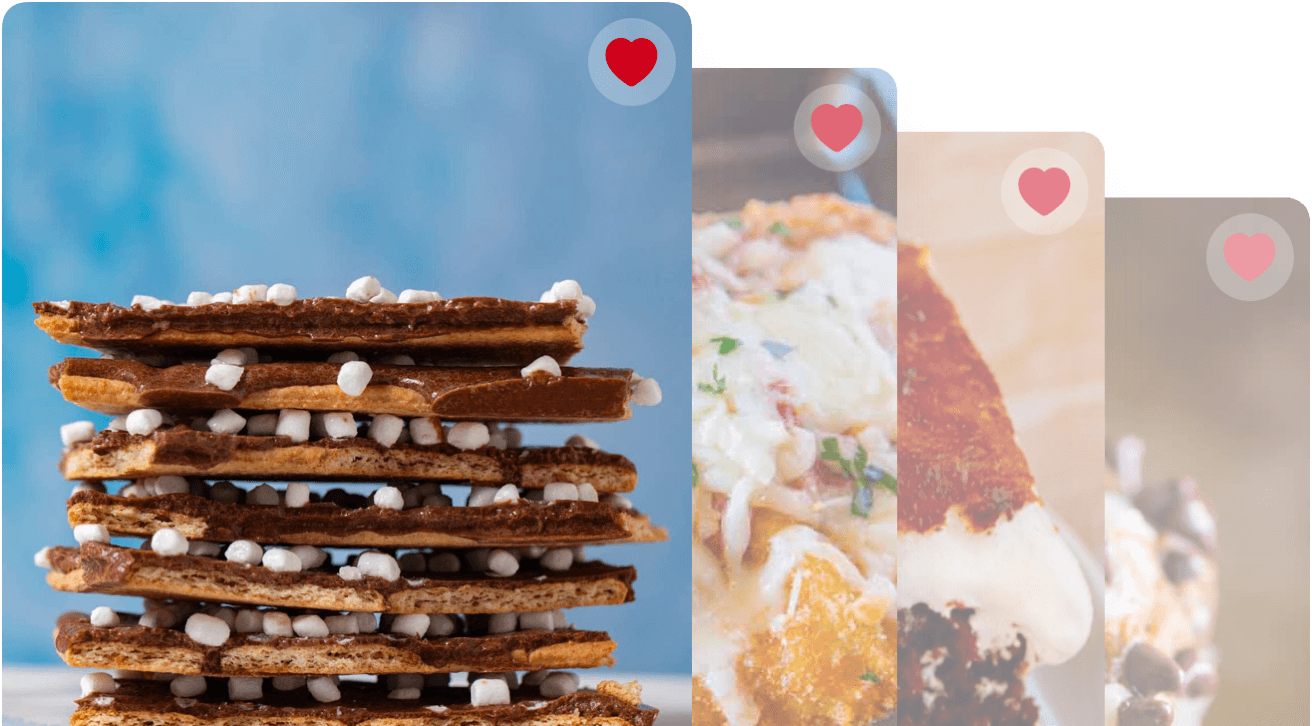 VARIATIONS ON TACO BELL RED SAUCE (COPYCAT)
Mild Sauce: If you'd like a more mild red sauce simply take out some of the hot ingredients. Adjust the cayenne pepper and other ingredients according to taste.
Extra Spicy Sauce: On the other hand, you can make this mild sauce a lot more hot. Try adding in some habanero peppers, chili pepper or jalapeño to make it more similar to a sriracha sauce.
Fire Sauce: Another classic Taco Bell Hot Sauce is their Fire Sauce. This one is much more hot, so we'd only recommend it if you want a lot of spice. Combine 1 can tomato paste, 3 cups Water, 3 tablespoons Vinegar, 3 tablespoons finely minced Jalapeno slices, 1 tablespoon Chili Powder, 1 tablespoon dried Onion flakes, 2 teaspoons Salt, 2 teaspoons Cornstarch, 1 teaspoon Cayenne Pepper, 1 teaspoon Sugar, ¼ teaspoon Onion powder, 1 dash Garlic powder. Mix these ingredients together and prepare them in a sauce pan just like the Red Sauce recipe.
MORE COPYCAT SAUCE RECIPES
HOW TO STORE TACO BELL RED SAUCE (COPYCAT)
Serve: You can keep Taco Bell Sauce at room temperature for up to a week. Be sure to seal it in an airtight container and store it in a dry cool place.
Store: To keep Taco Bell Red Sauce store it in a bottle or canning jar. It will stay good in the fridge for up to 2 months.
Freeze: You can even freeze the hot sauce for 6 months. Let the sauce defrost in the fridge before serving it on your next Mexican-style dinner.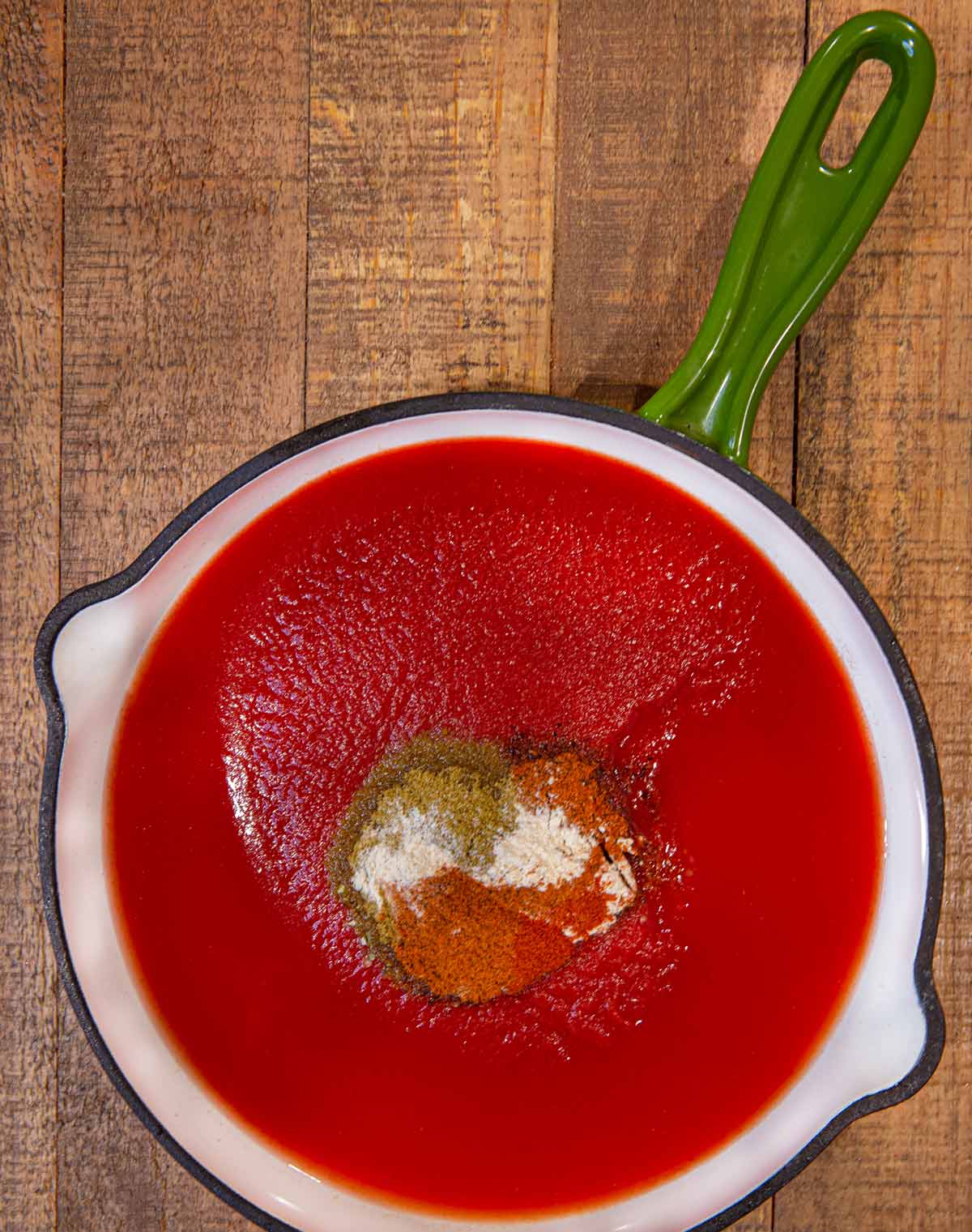 Ingredients
8

ounces

tomato sauce

1/2

cup

water

1/4

teaspoon

chili powder

2

teaspoons

cumin

2

teaspoons

onion powder

1

tablespoon

white vinegar

1

teaspoon

garlic powder

1/2

teaspoon

garlic salt

1/4

teaspoon

paprika

1/4

teaspoon

sugar

1/4

teaspoon

cayenne pepper
Instructions
Add all the ingredients to a large saucepan and stir well.

Bring to a boil, then reduce to a simmer and cook for

10 minutes

.
Nutrition
Calories:
21
kcal
|
Carbohydrates:
4
g
|
Protein:
1
g
|
Fat:
1
g
|
Saturated Fat:
1
g
|
Sodium:
476
mg
|
Potassium:
179
mg
|
Fiber:
1
g
|
Sugar:
2
g
|
Vitamin A:
327
IU
|
Vitamin C:
3
mg
|
Calcium:
16
mg
|
Iron:
1
mg