Carne Asada Tacos take your classic beef taco flavors to the next level and it takes just five minutes of prep work with a spicy citrus marinade.
We just posted our Easy Carne Asada recipe that is the base for these tacos that you can serve with Mexican Rice, Easy Refried Beans, and Chipotle Guacamole (Copycat).
 Carne Asada Tacos
When the post for Carne Asada went live yesterday I immediately started getting emails for tacos! So lets take an easy Friday break and discuss some tacos.
Easy Carne Asada Tacos
Carne Asada Tacos can be served in either corn tortillas or flour tortillas but they're best served in thin corn tortillas (I personally double them up).
Best Way to Heat Tortillas
There are two schools of thought for heating tortillas, direct heat and indirect heat.
Direct Heat: Add your tortillas directly to a flame, a grill or a grill pan. This will result in a crispier tortilla that may even have some char marks.
Indirect Heat: Place your tortillas in a piece of foil and wrap the foil tightly then add the foil to a heating surface. The foil pack allows your tortillas to heat gently, maintain their moisture and avoid getting a crispy texture.
We find for the purposes of tacos, using indirect heat is the best method for heating tortillas.
Why heat tortillas?
If you try to use a room temperature or cold tortilla in making a taco you're going to find that your tortillas are less pliable (bendy) than they would be when warmed. If you're in a time crunch, you can wrap your tortillas in a moistened wet paper towel and microwave them for 5-10 seconds to warm them.
Want a quick and easy taco serving idea? Serve this in corn tortillas topped with some cotija cheese, cilantro, salsa and avocado for the perfect easy taco!
Carne asada marinade
Don't skip the time for the marinade to do its job! If your cut of meat will fit in a heavy duty freezer bag, put the meat in the bag then pour the marinade on top, setting aside one cup of the marinade to use as a sauce later on. Tightly seal the bag and massage the marinade into the meat.
If your cut of flank steak is too large for a Ziploc bag, use a 9 by 13 dish or disposable pan. Pour all but one cup of the marinade over the meat. Use tongs to turn the meat a few times to generously coat the entire flank steak. Cover the dish with plastic wrap and place in the refrigerator to let the marinade work its magic.
What is the meaning of Carne Asada?
Carne asada translates to "grilled meat".  Beef is the traditional choice of meat although you could also make pollo asado which is "grilled chicken" or pork asada using the same cooking technique. The best carne asada is grilled and is often offered as street tacos in Mexico.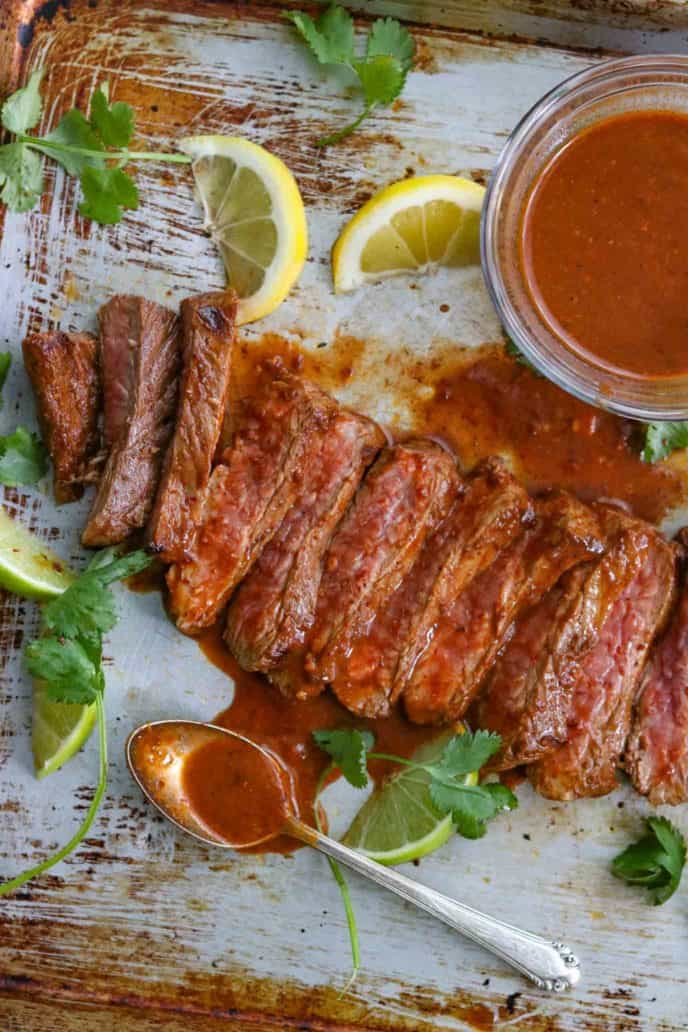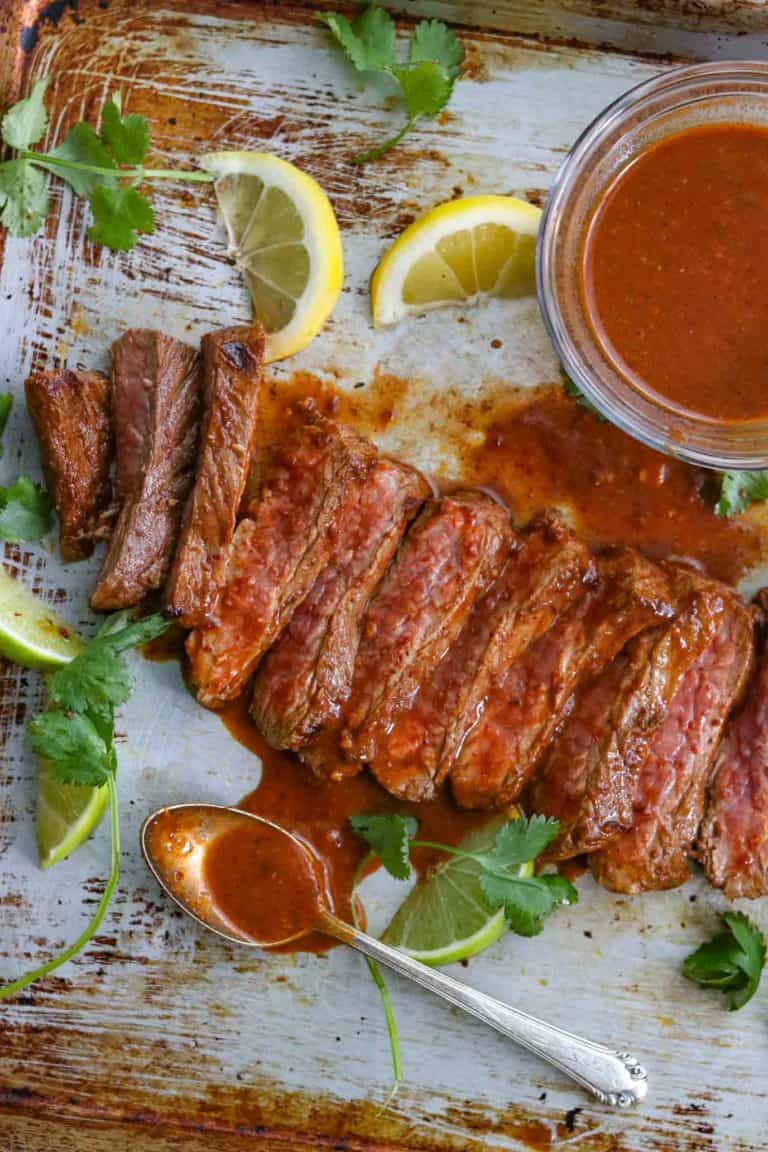 Create a free account to

Save Recipes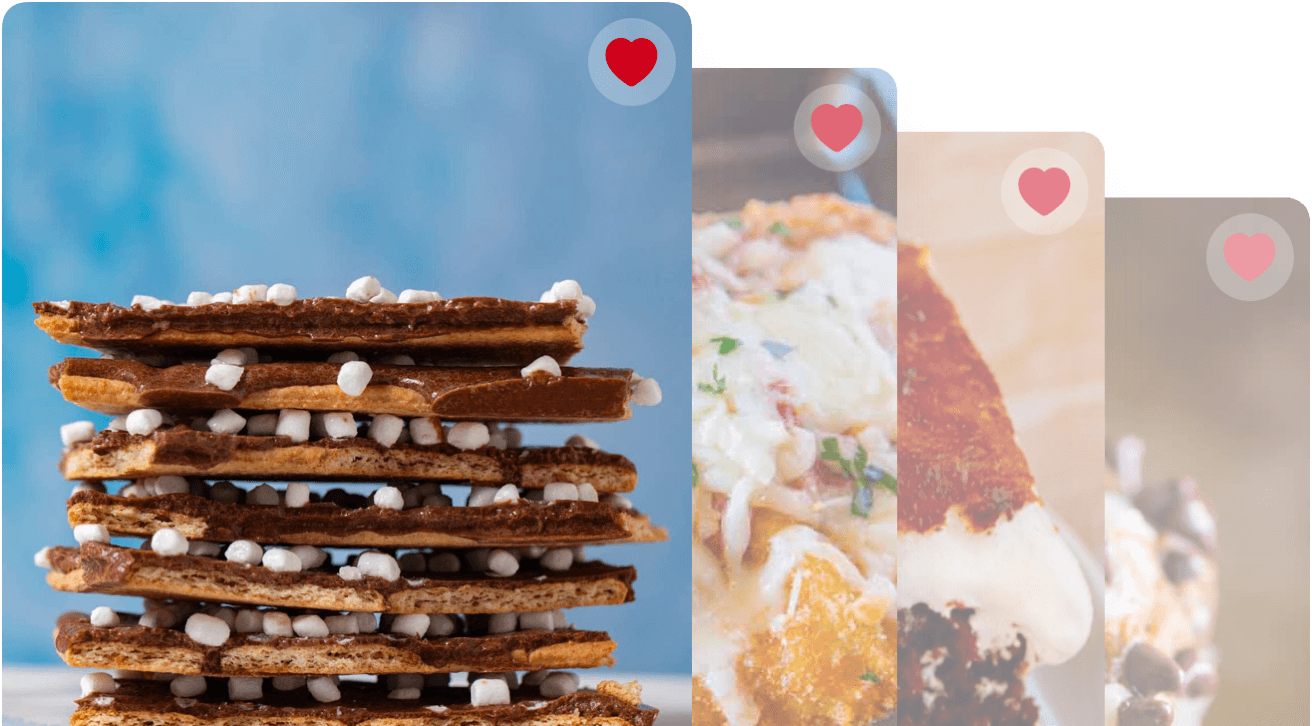 What cut of beef is used for an Authentic Carne Asada Recipe?
If you refer to the recipe for Carne Asada I discuss this in much further detail but the shorter answer here is that flank steak is the best option for Carne Asada Tacos.
Flank Steak is easy to cook, it's lean, tender and can hold up to the high heat cooking better than a skirt steak which is too thin to allow for a good sear before it overcooks.
If you find you are cooking for 1-2 people and want a smaller cut I highly recommend a flat iron cut because it's similar to a flank steak but more tender.
Toppings for Carne Asada Tacos:
Cheese: Cotija, Cheddar, Queso
Creamy: Crema (recipe below and I also use it on my Crispy Fish Tacos!), Sour Cream, avocado, guacamole
Citrus: Lime wedges, lime juice, sour orange, lemon wedges
Spice: Jalapenos, adobo sauce, hot sauce,
Crunchy: radish, jicama, pico de gallo, cilantro, white onion
HOMEMADE CREMA RECIPE
¼ cup mayonnaise
¼ cup sour cream
1 teaspoon lime zest
1 tablespoon lime juice
½ teaspoon kosher salt
Mix ingredients well and refrigerate for at least one hour.
How to cut steak for Tacos:
When cutting steak for tacos you have to remember to cut against the grain of your meat.
You should cut them into small bite sized pieces, no more than 1/2″ cubes.
Allow the meat to rest ten minutes before slicing, if you don't the meat will lose all moisture.
How do you cook carne asada?
Grilled: On an outdoor grill on medium heat, gas or charcoal for 5-7 minutes on each side.
Stove top: Using a heavy cast iron skillet on medium high heat for 4-6 minutes per side.
Oven Roasted: 400 degrees until it reaches 130 degrees internal temperature.
Broiled: 8 inches away from the broiler 5-6 minutes on each side.
Do you love Mexican food? You will also enjoy our recipes that will turn your Mexican buffet into a fiesta!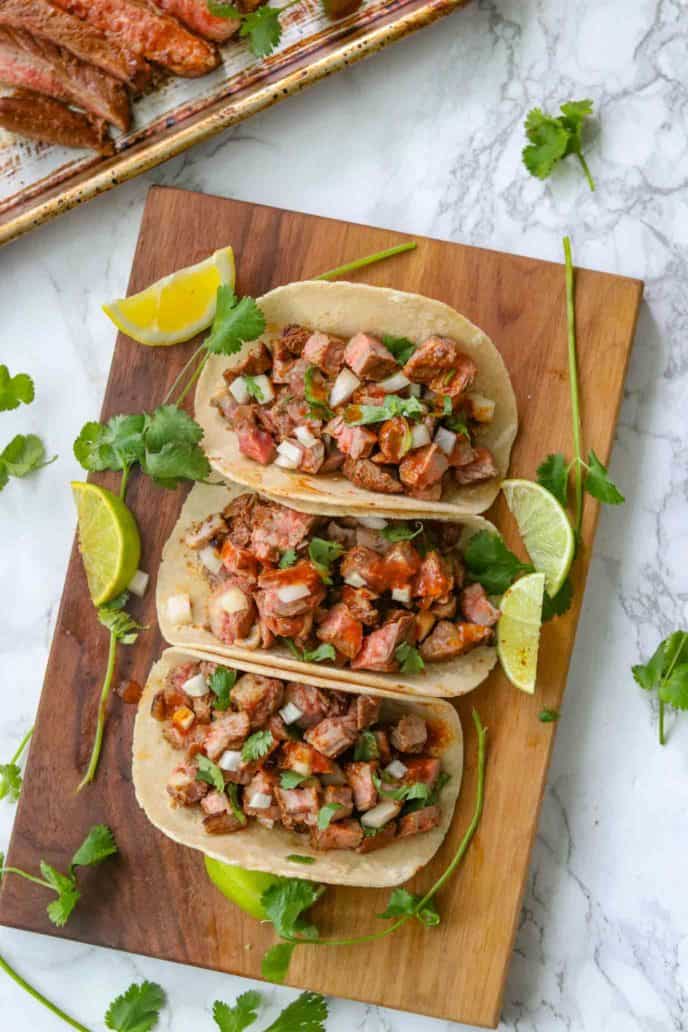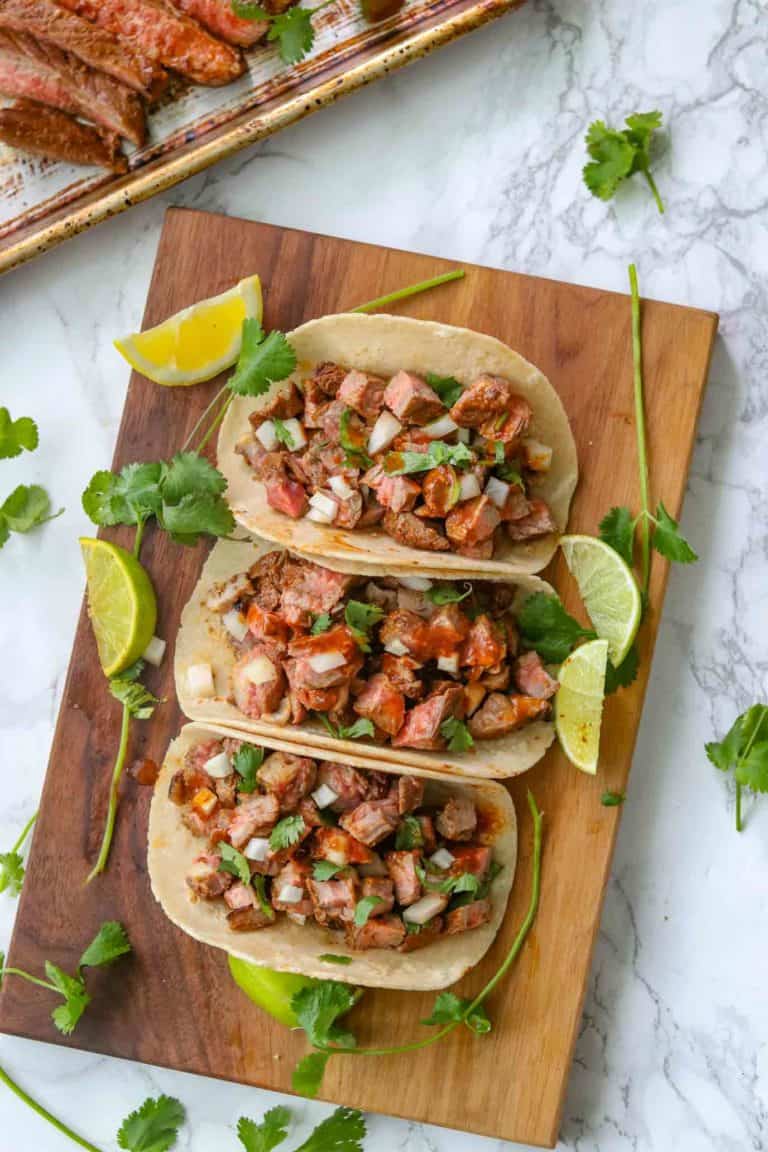 Ingredients
1/2

cup

olive oil

1/2

cup

orange juice

1/2

cup

lemon juice

1/2

cup

lime juice

1/2

cup

soy sauce

4

cloves

garlic

, minced

1

canned adobo chipotle pepper

1

tablespoon

chili powder

1

tablespoon

ground cumin

1

tablespoon

paprika

1

teaspoon

dried oregano

1

tablespoon

black pepper

4

pounds

flank steak

24

small corn tortillas

1

white onion

, chopped finely

1/4

cup

cilantro

, chopped
Instructions
Add all the ingredients except for the steak into a blender and blend until emulsified, then keep 1 cup of it reserved in the fridge for serving when cooked.

Add the rest to a resealable container and place your steak on a cutting board and poke with a meat tenderizer then place in bag and marinate for 48 hours.

Grill on medium heat for 5-6 minutes on each side for medium doneness, let sit for 10 minutes then chop into ½ inch cubes, serve in warmed corn tortillas with onions, cilantro, and remaining marinade.
Nutrition
Calories:
472
kcal
|
Carbohydrates:
8
g
|
Protein:
51
g
|
Fat:
25
g
|
Saturated Fat:
6
g
|
Cholesterol:
136
mg
|
Sodium:
974
mg
|
Potassium:
957
mg
|
Fiber:
1
g
|
Sugar:
3
g
|
Vitamin A:
905
IU
|
Vitamin C:
19.8
mg
|
Calcium:
80
mg
|
Iron:
5.1
mg