Authentic Carne Asada marinaded in a spicy citrus marinaded and grilled to perfection, this is the perfect Mexican steak recipe you'll keep forever!
We love entertaining a large group and a Mexican buffet offers a great solution to feeding a crowd. Start with warm flour tortillas and crisp corn tacos. Then serve this carne asada recipe with Easy Queso, Mexican Rice, Easy Refried Beans, and Chipotle Guacamole (Copycat).
 Carne Asada Recipe
Carne asada simply means "grilled meat" but don't let the basic name fool you! This easy flank steak recipe develops authentic Mexican flavor in a spicy citrus marinade just like you'd find in your favorite Mexican restaurant. Carne asada satisfies a crowd and makes quick tacos, fajitas, burritos and more Mexican favorites.
Carne Asada Tacos
Serve in corn tortillas topped with some cotija cheese, cilantro, salsa and avocado for the perfect easy taco!
Carne Asada is a method of preparing meat that we turn to often during outdoor grilling season. The hands-on time for preparing the carne asada marinade is brief then the meat sits overnight and waits until it is time to fire up the grill! Actual grilling time is only 5-7 minutes per side. The final temperature of this lean flank steak is medium to medium rare.
Carne Asada Marinade
Don't skip the time for the marinade to do its job! If your cut of meat will fit in a heavy duty freezer bag, put the meat in the bag then pour the marinade on top, setting aside one cup of the marinade to use as a sauce later on. Tightly seal the bag and massage the marinade into the meat.
If your cut of flank steak is too large for a Ziplock bag, use a 9 by 13 dish or disposable pan. Pour all but one cup of the marinade over the meat. Use tongs to turn the meat a few times to generously coat the entire flank steak. Cover the dish with plastic wrap and place in the refrigerator to let the marinade work its magic.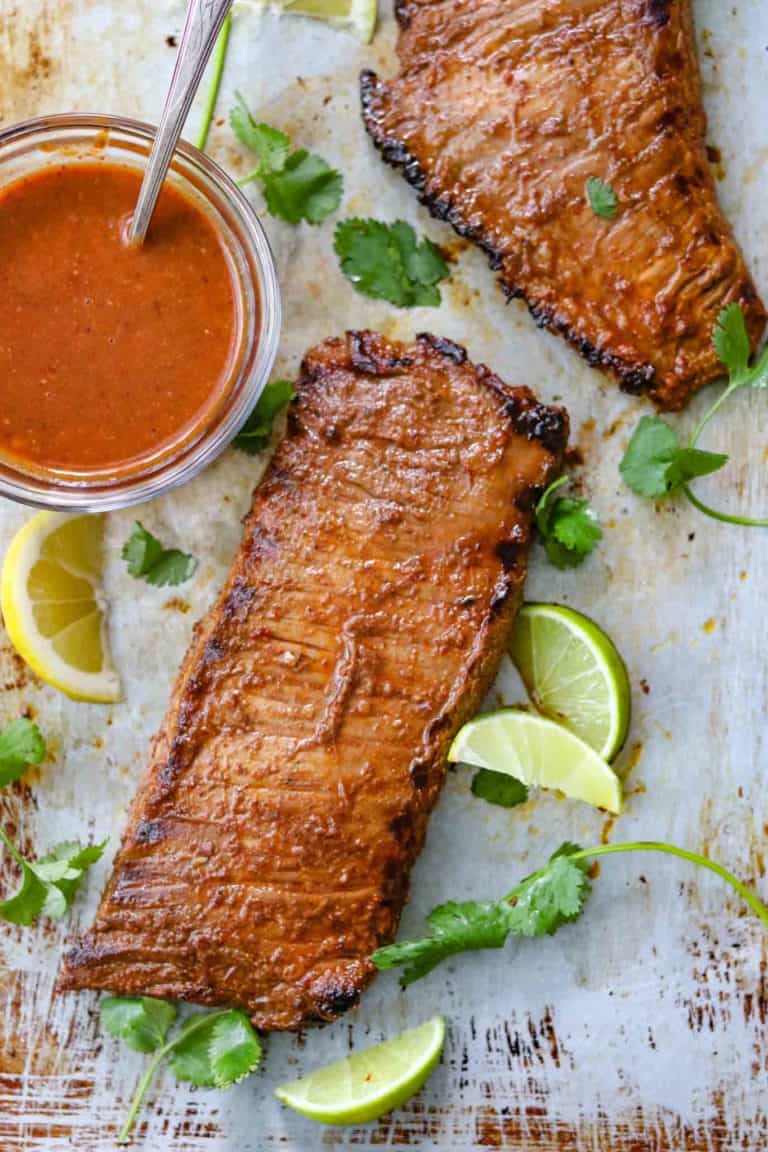 What is the meaning of Carne Asada?
Carne asada translates to "grilled meat".  Beef is the traditional choice of meat although you could also make pollo asado which is "grilled chicken" or pork asada using the same cooking technique. The best carne asada is grilled and is often offered as street tacos in Mexico.
What cut of beef is used for an Authentic Carne Asada Recipe?
Carne asada can be made with many cuts of meat from sirloin to tenderloin, but skirt steak, flank steak and flat iron steaks are the most popular choices. We use flank steak because it is a lean cut of meat that benefits from tenderizing and a flavorful marinade. Another plus is that flank steak cooks quickly on the grill. Skirt steak is an option but it has more tough fibers which means tenderizing is very important.
The third option, the flat iron steak is similar to the flank but it is is smaller and more tender, so if you find that option and you're cooking for two I would recommend giving it a try too.
If you are choosing to use skirt steak in addition to tenderizing the meat you have to remember that a skirt steak is significantly thinner than most cuts of beef. This means that you have to be very cautious in how long you cook a skirt steak for, I recommend a very high heat cooking surface and no more than two to three minutes on each side.
How do you make meat tender?
Pierce the meat with a meat tenderizer: The goal is to break down the muscle fibers in the meat. If you don't have a tenderizer, use a fork and poke holes all over the meat.
Use a marinade: A marinade combines acidic ingredients with seasonings which allows the marinade to melt into the meat.
Cut across the grain of the meat: Grain is the direction that the lines (or muscle fibers) run through the meat.Against the grain means to cut in the opposite direction.
As you marinade the meat make a mental note of the grain, then later when you slice the meat, cut thin strips against the grain for tender results.  For example, if the grain runs from top to bottom of a cut of meat (north to south, say), then cut across the meat (west to east).
We aim for authentic carne asada flavor with a combination of orange, lemon, and lime juices along with soy sauce then pump up the spice with garlic, adobo chipotle pepper, ground chili pepper, ground cumin, paprika, oregano and black pepper.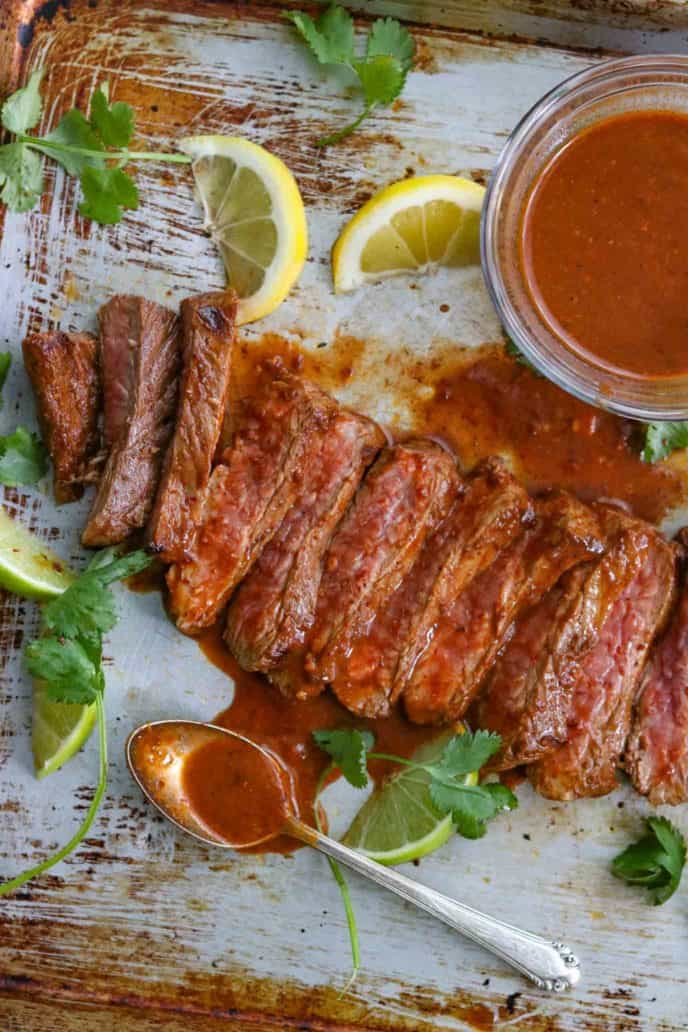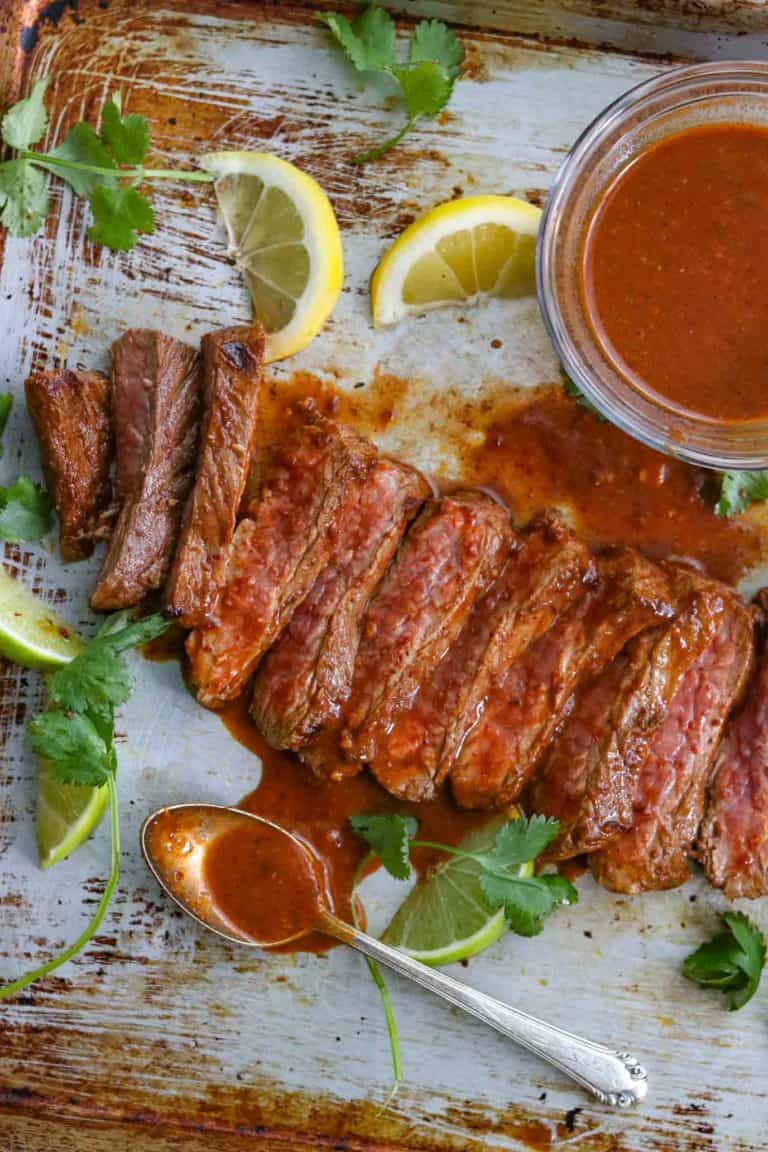 Create a free account to Save Recipes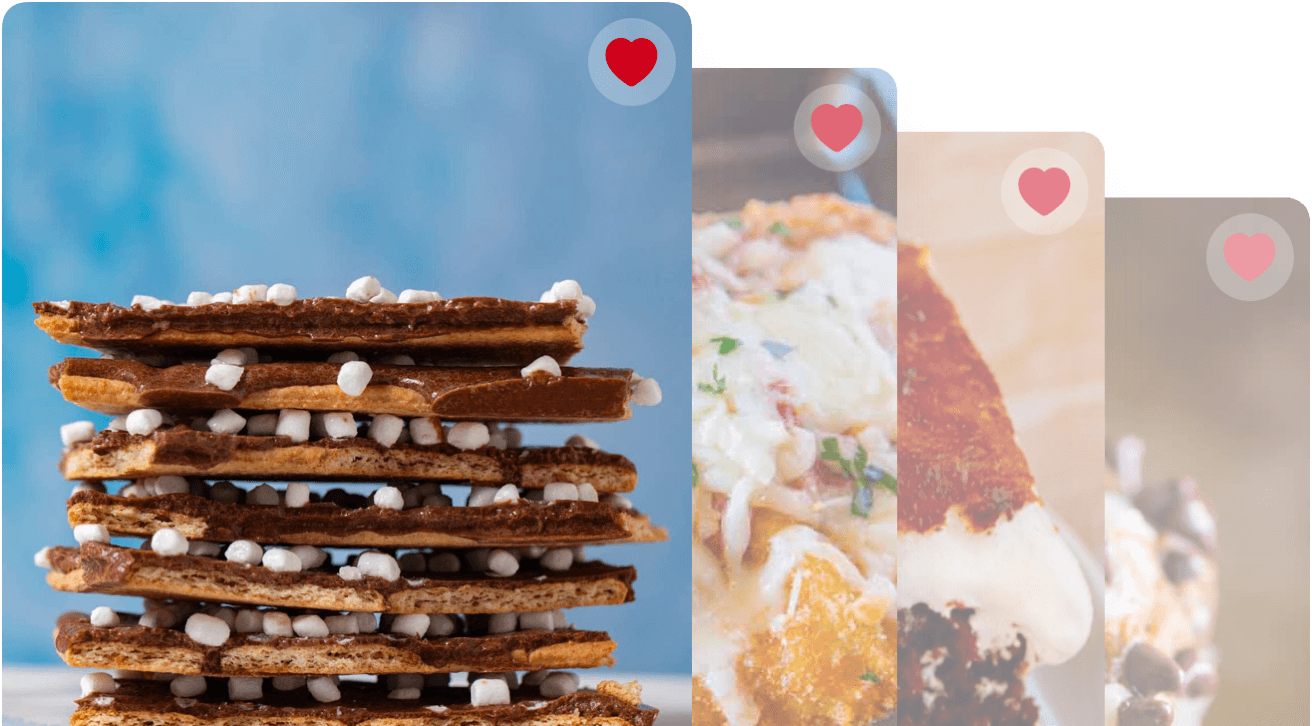 How do you cook carne asada?
Grilled: We think the best carne asada is grilled. Use your outdoor grill when the weather permits, although an indoor grill is a good option too.
Stove top: You could also cook marinated flank steak on the stove top in a skillet for 4-6 minutes per side.
Oven Roasted: Roast the beef until an internal temperature of 130° is reached.
Broiled: Broil on high heat for 4-6 minutes per side to medium rare (or medium if preferred).
How long do you grill carne asada?
Grill flank steak for 5-7 minutes per side on a medium heated gas grill or charcoal grill.
What goes well with carne asada?
Carne asada is perfect to share as the main dish but it also has variations that make it an ideal dish to cook once and then to make multiple meals with the leftovers.
Carne Asada Fries is a dish where the grilled beef is laid on top of freshly made French fries. This Southwestern specialty is served topped with sour cream and guacamole.
Carne Asada Breakfast Burritos is the perfect way to use leftover grilled steak. Layer the grilled meat with scrambled eggs, onions, and peppers on a tortilla. Top with shredded cheese and wrap into a burrito.
Carne Asada Nachos are a lot like carne asada fries. Load your grilled carne asada nachos with jalapenos, pico de gallo and guacamole.
Carne Asada Taco Salad is another way to turn this dish into another meal. Layer steak over lettuce, chopped tomatoes, corn, and nacho chips and top with salsa and ranch dressing to make an easy taco salad.
Do you love Mexican food? You will also enjoy our recipes that will turn your Mexican buffet into a fiesta!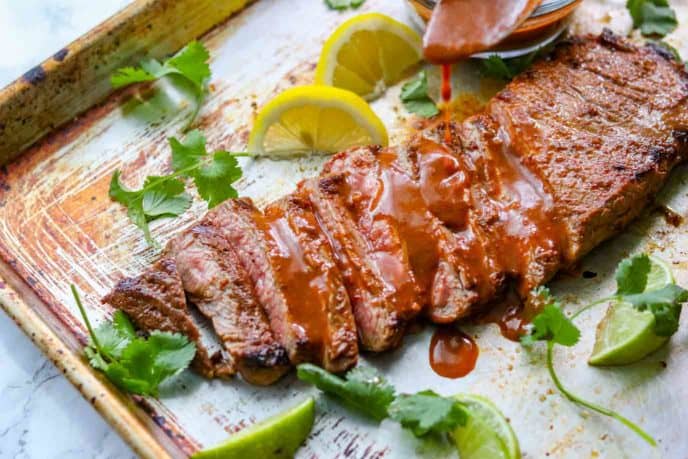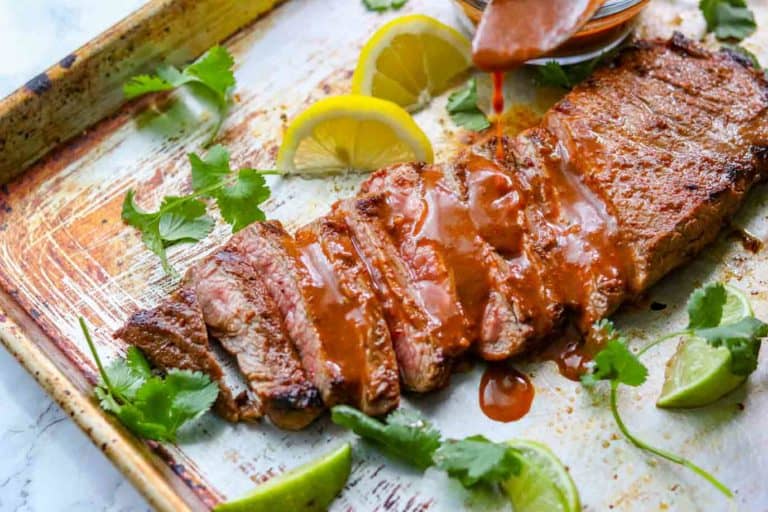 Ingredients
1/2

cup

olive oil

1/2

cup

orange juice

1/2

cup

lemon juice

1/2

cup

lime juice

1/2

cup

soy sauce

4

cloves

garlic

minced

1

canned adobo chipotle pepper

1

tablespoon

chili powder

1

tablespoon

ground cumin

1

tablespoon

paprika

1

teaspoon

dried oregano

1

tablespoon

black pepper

4

pounds

flank steak
Instructions
Add all the ingredients except for the steak into a blender and blend until emulsified, then keep 1 cup of it reserved in the fridge for serving when cooked.

Add the rest to a resealable container and place your steak on a cutting board.

Using a meat tenderizer or fork pierce the steak(ALL OVER) then using a mallet get it to a 1/2" even thickness before adding it to the marinade and letting it marinade at least 24 hours but preferably 48 hours).

Grill on medium heat for

5-6 minutes

on each side for medium doneness and while cooking warm your remaining marinade to serve with your cooked carne asada which is served cut against the grain of the meat (do not cook this cut of meat more than a medium doneness).
Nutrition
Calories:
466
kcal
|
Carbohydrates:
7
g
|
Protein:
50
g
|
Fat:
25
g
|
Saturated Fat:
6
g
|
Cholesterol:
136
mg
|
Sodium:
973
mg
|
Potassium:
937
mg
|
Fiber:
1
g
|
Sugar:
2
g
|
Vitamin A:
870
IU
|
Vitamin C:
18.6
mg
|
Calcium:
77
mg
|
Iron:
5
mg