Taco Salad is the perfect weeknight meal or lunch made with ground beef, nacho chips, beans, corn, salsa and ranch dressing your kids will love and its perfect for taco night leftovers!
If you're looking for fun and easy weeknight meals your kids will love you should also try Ultimate Sloppy Joes, Slow Cooker Chili and my super popular Slow Cooker Pot Roast which reviewers email me daily that their kids love!
 Taco Salad Recipe
Taco Salad isn't your traditional salad but it is an incredibly delicious and fun Tex-Mex way to enjoy taco leftovers in a whole new way and a delicious and easy lunch option!
Taco salad is traditionally made with tortilla chips, sour cream, ground beef (cooked with taco seasoning), tomato, lettuce, salsa, cheddar cheese and black olives. I've changed out the tortilla chips to make this into a Doritos Taco Salad because that is the way I was originally introduced to this recipe through a friend of mine.
Her version of this was a Doritos Taco Salad made with Taco flavored Doritos (at the time I didn't even know Doritos made a Taco flavor). She also served hers with Ranch (I know there are three camps here, Ranch Dressing, French Dressing and Catalina Dressing) which was a fun option, I normally eat Tex-Mex salads with a creamy cilantro dressing. She also added black beans to her salad, this seems to be a non-traditional ingredient for Taco Salad as well.
When it comes to taco salad I try to use a firm lettuce like romaine lettuce instead of green leaf lettuce, red leaf lettuce or butter lettuce because of the weight of the rest of the ingredients. Since romaine has such a firm structure to it, it holds up well to the salsa, meat and beans. Romaine lettuce also resists sogginess longer than other varieties so it makes it a better choice overall for salad recipes.
Ways to make a Healthy Taco Salad:
Skip the Ranch Dressing: Mix low-fat sour cream and salsa to use as a dressing instead.
Top with Guacamole and Salsa instead of ranch or Catalina dressing, even though avocados have fat they're significantly healthier than dressings.
Use lean ground beef, ground chicken or ground turkey in place of the 80/20 ground beef I use in this recipe.
Use less cheddar cheese or a light cheese. I also find using a sharper cheese allows you to naturally use less overall.
Shred your cheese instead of chopping it so you can spread it around more sparingly.
Top with more bold flavors like jalapeño, chili powder, lime juice or a zesty fun flavored salsa.
Add kidney beans or additional beans in place of the meat in the recipe.
Brush a tortilla with a teaspoon of olive oil and bake at 400 degrees until crisp and break apart in place of the Doritos.
Keep your sodium levels down using tomato in place of salsa.
What to serve with Taco Salad
Taco Salad is mostly a self contained meal, but a homemade ranch dressing is a natural recipe companion, Cheese Quesadillas, Chicken Enchiladas, Chicken Fajitas, Mexican Rice or Homemade Tortilla Chips and Guacamole are all great pairings as well.
If you are like me and you love making dressings at home instead of the store-bought variety you will love this ranch dressing too. The recipe may seem daunting but I keep it easier by using my homemade Ranch Dressing mix on hand for a quick recipe and by keeping Buttermilk powder on hand so I don't have to run to the store for just ½ cup of buttermilk. And if you would prefer to make your own French Dressing you can find that recipe here.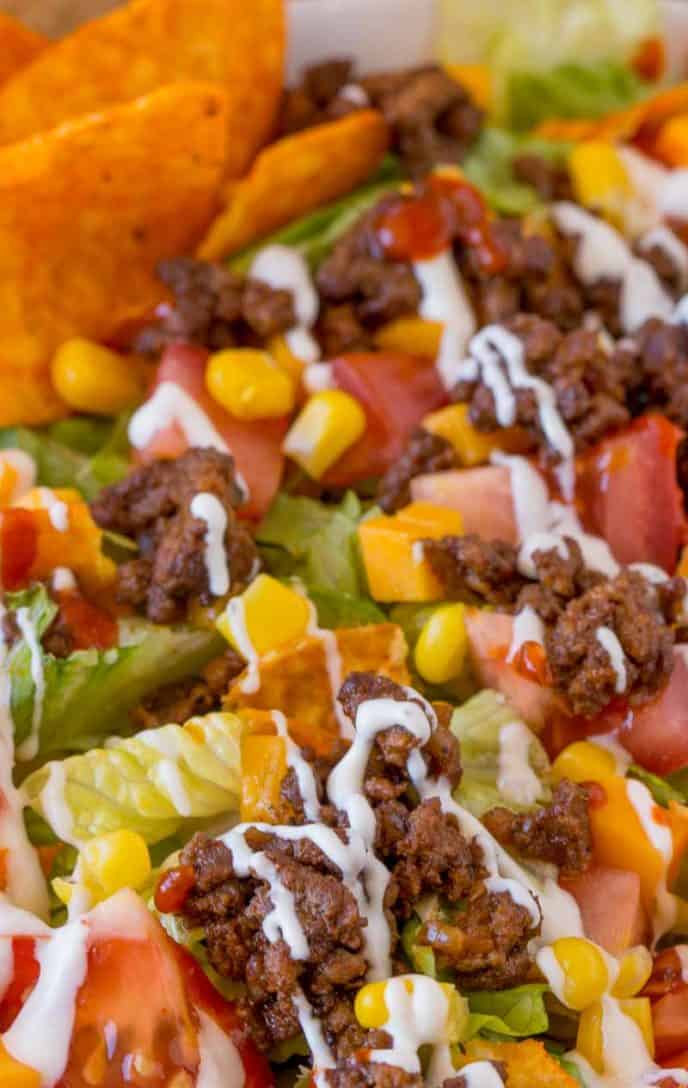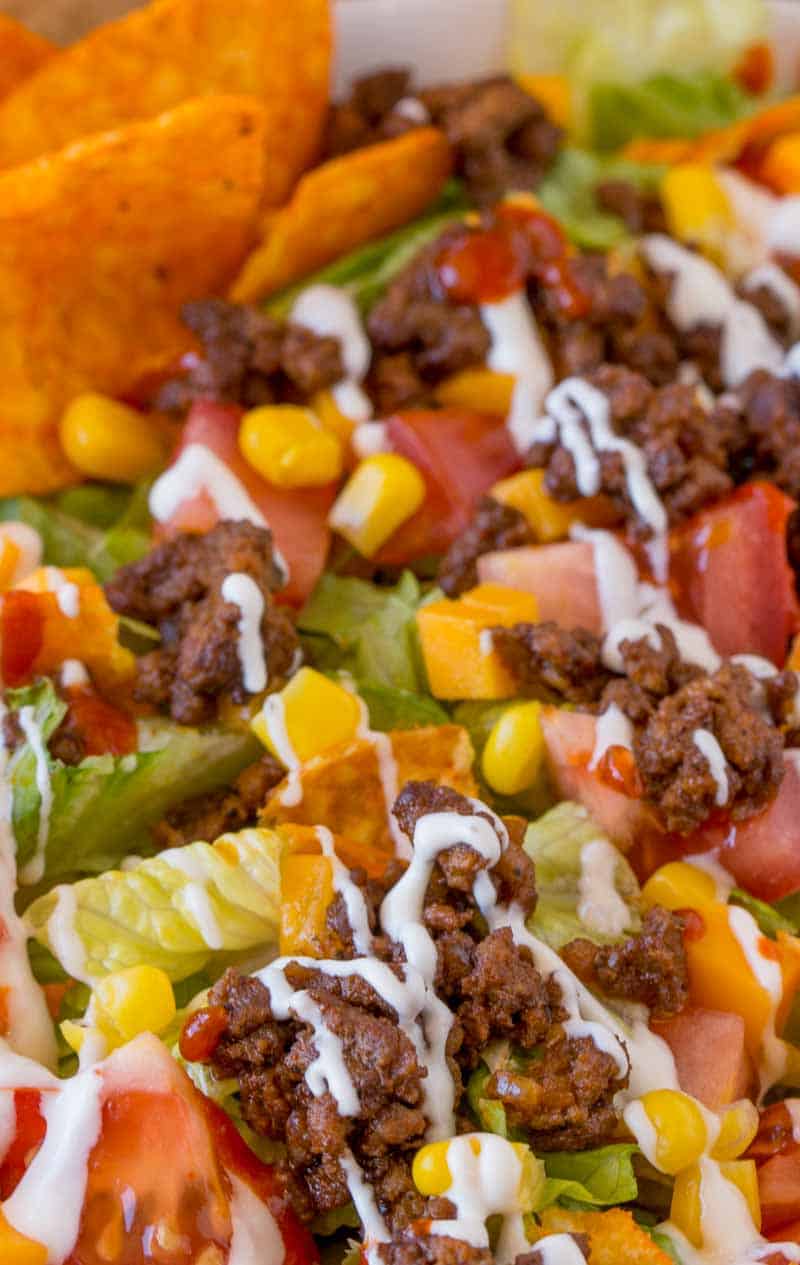 Create a free account to Save Recipes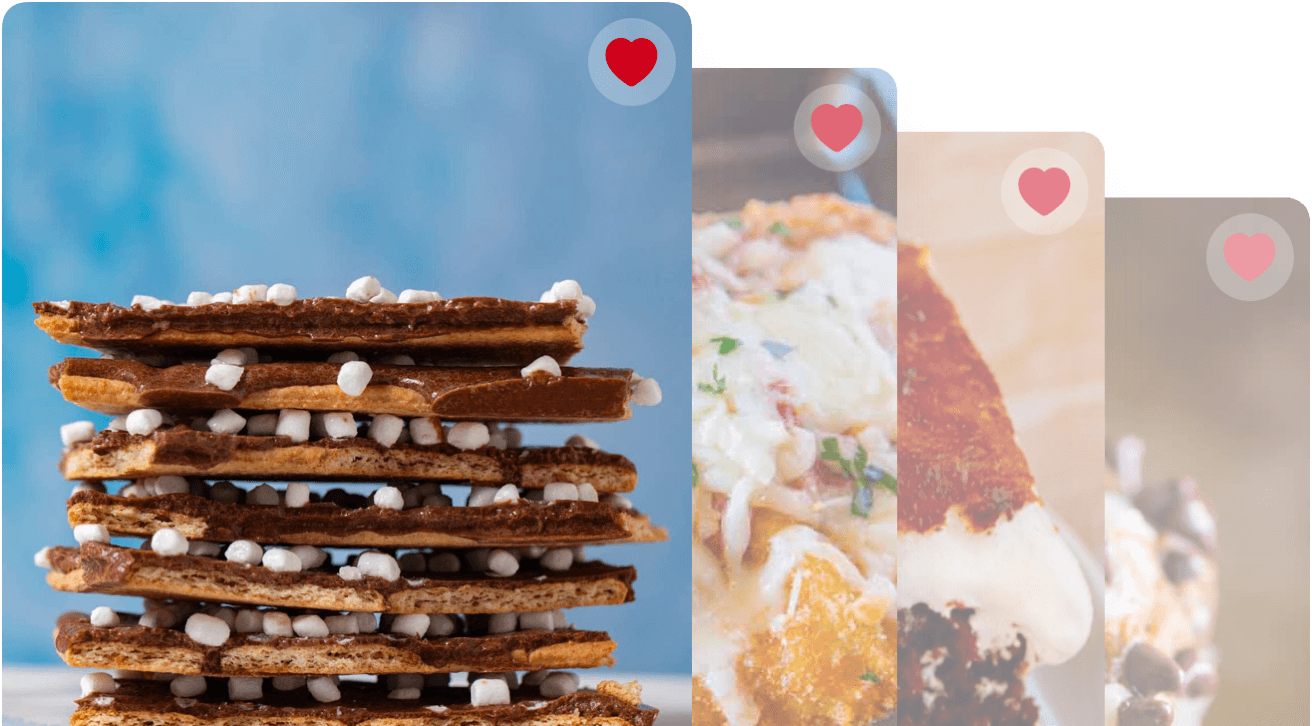 Homemade Ranch Dressing Recipe:
½ cup mayonnaise
½ cup sour cream
½ cup buttermilk
1 teaspoon vegetable oil
½ teaspoon dried dill weed
½ teaspoon garlic powder
½ teaspoon dried parsley
½ teaspoon dried chives
¼ teaspoon onion powder
⅛ teaspoon kosher salt
⅛ teaspoon coarse ground black pepper
Whisk well together and refrigerate for at least one hour.
Taco Salad Mix-In Ideas:
Pasta: Make this a Taco Pasta Salad for an even more filling and easy lunch option.
Bell Pepper: With all the colors going on in the bowl, some chopped bell peppers will sneak right past kids.
Red Onion: If this flavor is too strong you can soak them in ice water for 10 mins then pat dry before adding.
Cilantro: Mixed in with the salad or even the dressing cilantro is an easy addition to the recipe.
Green Onions: A milder onion flavor than red onions if you're too averse to strong onion flavors.
Fritos: Similar to a Frito Pie, these Fritos would add a fantastic flavor if you aren't all about the Nacho Cheese flavor.
More Salad Recipes
Tips for the Perfect Taco Salad:
Make sure you dry your ingredients well, any additional moisture will make this salad recipe very soggy.
Use a less chunky salsa if possible, especially if you're mixing it with the sour cream to make a healthier salad dressing.
Chicken is a great alternative to ground beef, whether ground or grilled.
Leftover fajitas are also a great option in place of the meat in this taco salad recipe.
If you are adding avocado to the recipe add some lime juice to the chopped avocado pieces to prevent browning before adding them to the taco salad.
When/If using tomato, using a grape tomato can keep the additional liquids in the salad to a minimum as it tends to hold onto it's seeds better.
When browning your seasoned ground beef in a skillet make sure you don't skip adding a cup of water, this allows the flavors in the taco seasoning to bloom.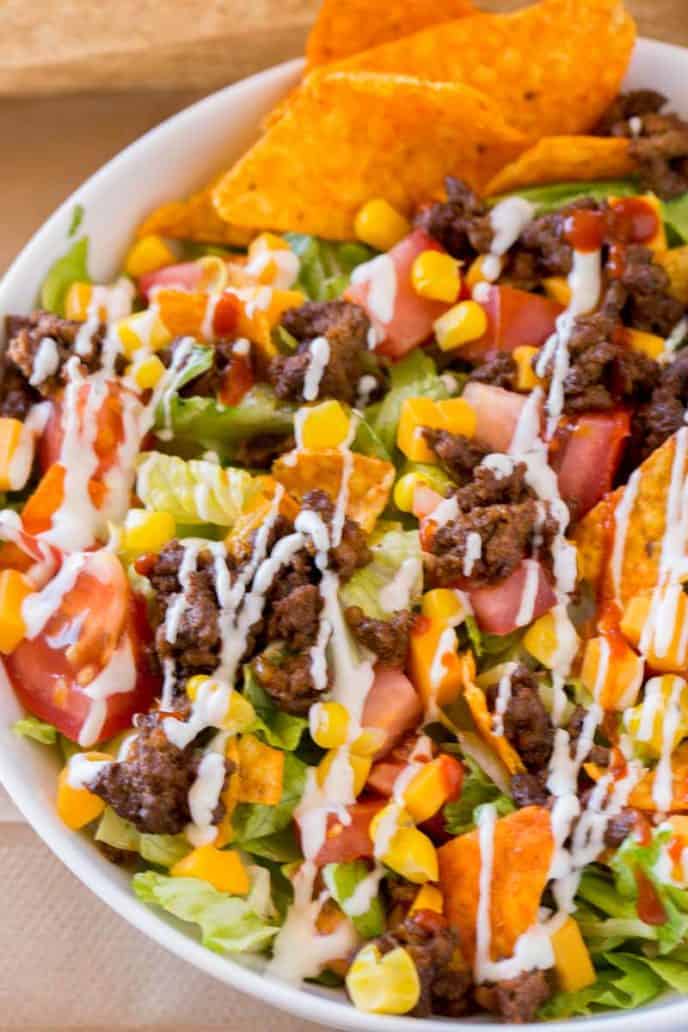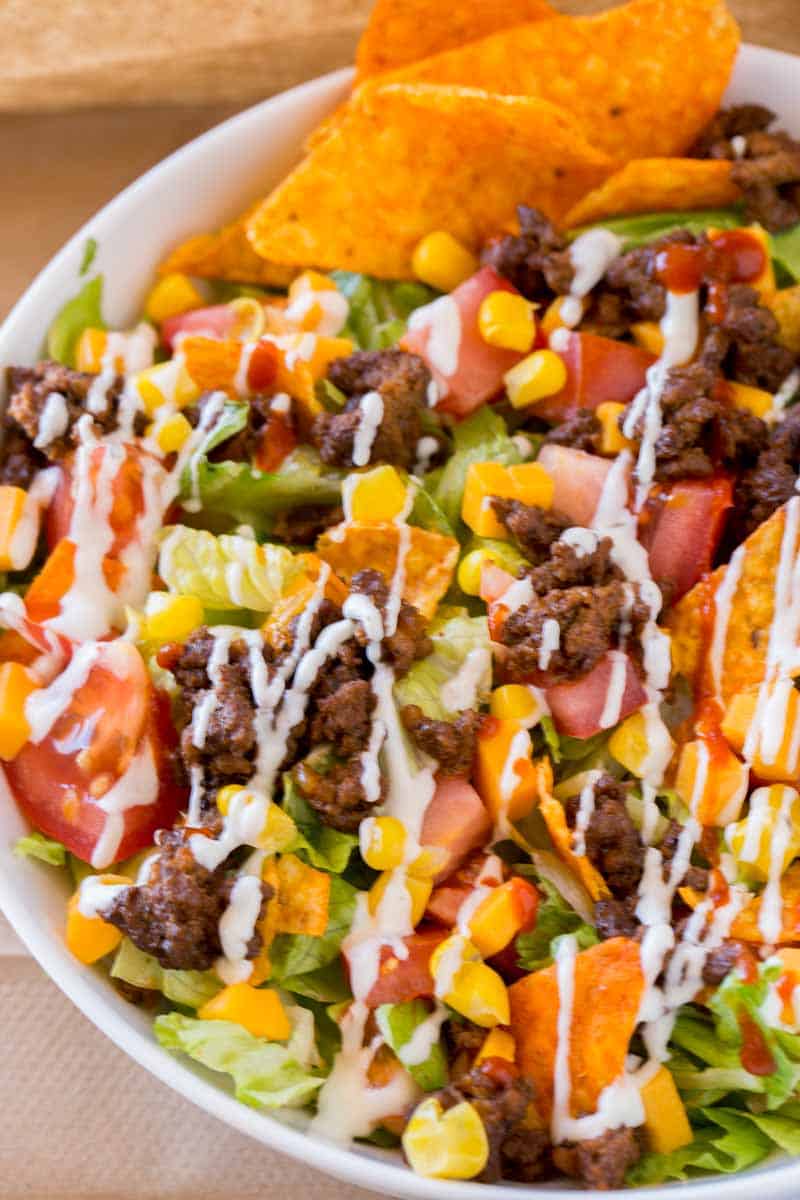 Ingredients
1

pound

ground beef

(80/20)

1

packet

taco seasoning

(1 ounce)

1

cup

water

8

cups

romaine lettuce

, chopped

1

cup

corn

1

medium

tomato

, chopped

1/2

cup

cheddar cheese

, chopped

1/2

cup

ranch dressing

(recipe above)

1

cup

Nacho Cheese Doritos

, lightly crushed

1/2

cup

salsa

, optional

1/2

cup

sour cream

, optional
Instructions
Add the beef to a large skillet on medium high heat and brown well for

5-6 minutes

until cooked through then add in the water and taco seasoning, stir well, and cook an additional

3-4 minutes

until the water is gone.

Layer all the ingredients together and serve.
Nutrition
Calories:
527
kcal
|
Carbohydrates:
56
g
|
Protein:
16
g
|
Fat:
27
g
|
Saturated Fat:
7
g
|
Cholesterol:
36
mg
|
Sodium:
1435
mg
|
Potassium:
712
mg
|
Fiber:
8
g
|
Sugar:
8
g
|
Vitamin A:
9665
IU
|
Vitamin C:
14.7
mg
|
Calcium:
238
mg
|
Iron:
3.2
mg