Crispy Fish Tacos with cod fried with a light and crispy beer batter topped with slaw, crema and salsa is the perfect handheld summer meal.
Beer Battered Fish is a favorite for family dinners, and this recipe uses the same method to create the crispiest fish tacos. In fact, a batter like this can be used for so many recipes including Fried Pickles, Cheese Curds, Fried Okra, Shrimp Tempura and Dynamite Shrimp.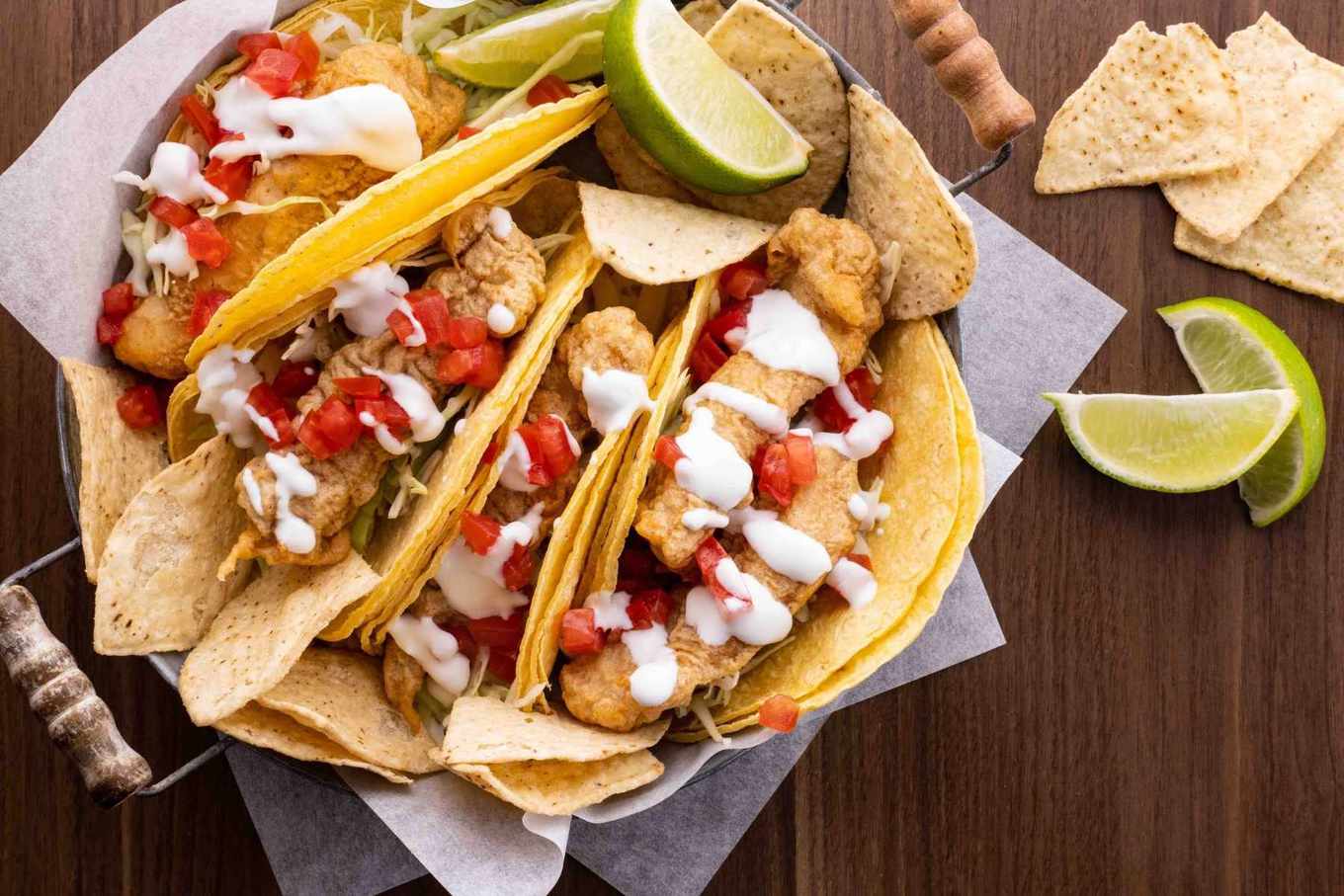 Beer Battered Crispy Fish Tacos are basically Baja fish tacos (Baja-style means cabbage, crema and limes) and are a breeze to make, but have that extra something because of the flavorful beer batter. Plan on fish tacos for your next summer get-together, and you'll have guests thinking they're on a beach in Mexico.
This recipe uses cod because it's a classic favorite. You'll I love the way it flakes perfectly with each bite. Either way, stick with a white fish for your fried fish fillets for the best results. You'll have tender, flaky fish with a crispy exterior, which goes perfectly with the slaw, crema, and tortillas. If you'd like to grill your fish tacos you can pick almost any fish you'd like the flavor of. Grilling fish tacos lends itself to a more flavorful fish like salmon.
If you take deep frying as seriously as we do around here, you're familiar our love letter to fried chicken. There is KFC Fried Chicken, Pioneer Fried Chicken and the hands-down Crispiest Fried Chicken you'll Ever eat.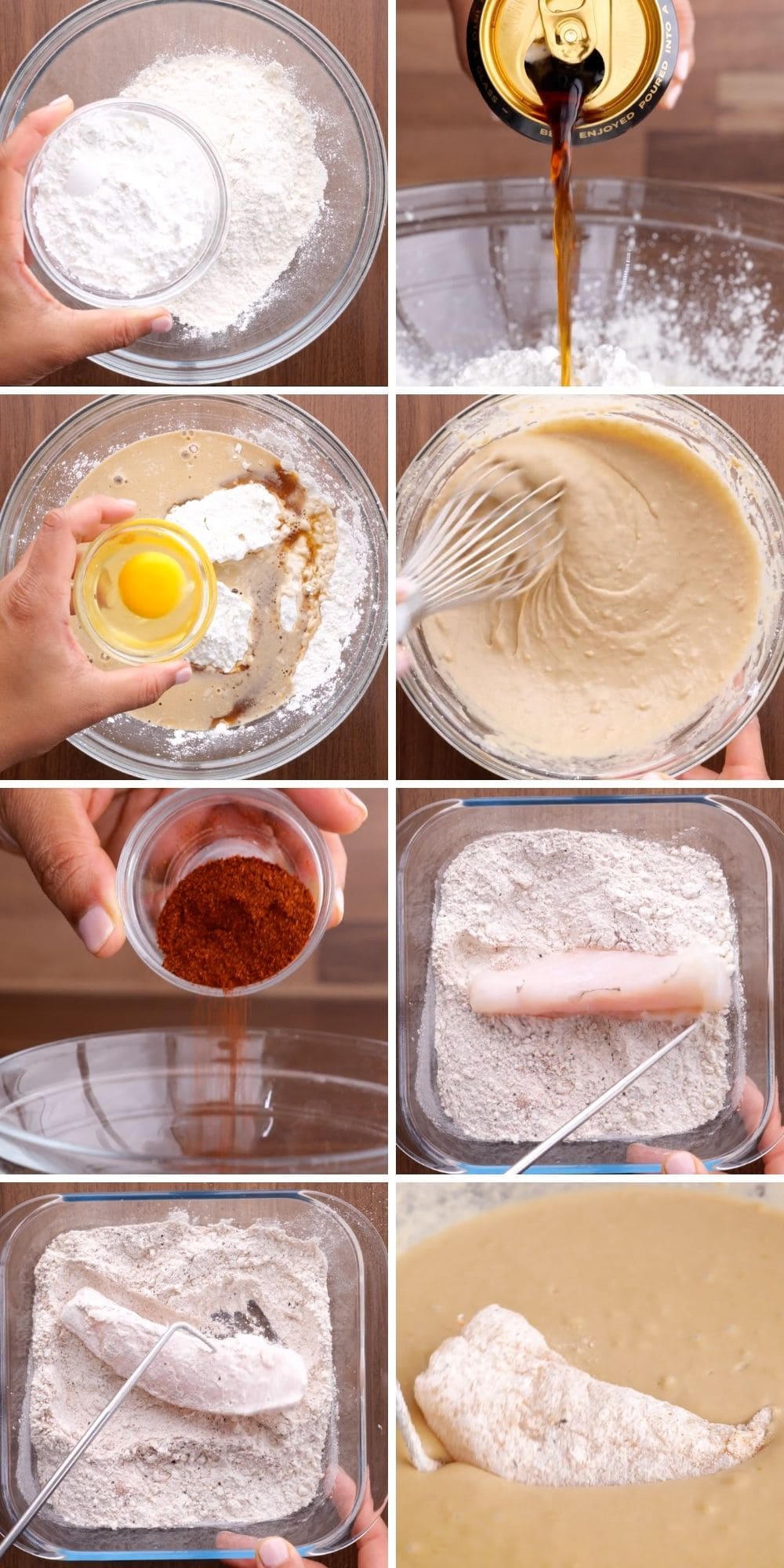 Kids are notoriously picky when it comes to seafood and when it comes to getting them to try fish, so try using this recipe instead of the standard fried and frozen fish stick. Beer Battered Crispy Fish Tacos are the no-fail way to get people who are on the seafood fence to eat fish. These fish tacos are covered in a super flavorful, and crispy light batter that isn't bread-y or heavy.
On the inside, the fish is flaky, mild and moist. Plus a toppings bar is always going to be a winner. Give the kids a bowl of cheese to top their food with and you know they're going to eat it. You'll love serving Mexican Rice, Shrimp Ceviche, Bean Dip, Queso and Homemade Lime Chips to make a fun party meal.
Frequently Asked Questions
What is the best fish for Fish Tacos?
This Fish Tacos Recipe starts with Cod. You don't have to use cod but it is great for fish tacos because it is a flaky white fish, it is a very pleasant mild tasting fish and kids love it. Some people love to use mahi-mahi, halibut or even tilapia.
How do you make Grilled Fish Tacos?
If you're grilling you are going to need a seasoning for the fish as the seasoning in this batter is most of the flavor of this taco. I recommend chili powder, lime zest, lime juice, cumin, garlic powder, kosher salt and black pepper to taste. You can't go wrong starting with ¼ tsp of each on 2 pounds of fish then adjusting as you'd like.
What toppings go on Fish Tacos?
You can serve Fish Tacos with lime Wedges, cabbage slaw, red onion, jicama, cotija cheese, cilantro, avocado, jalapeno slices, hot sauce, guacamole, or chopped mangos.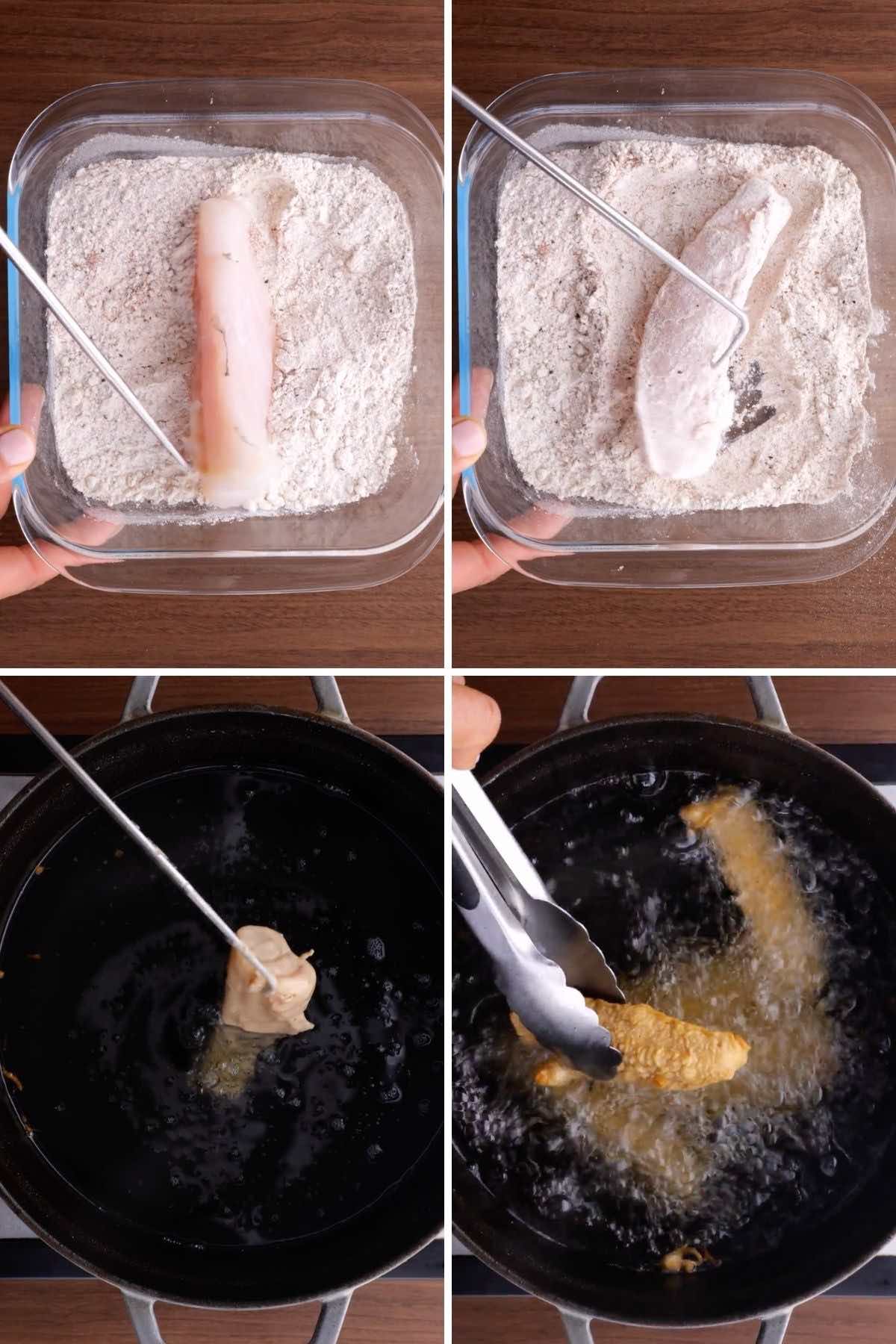 Create a free account to

Save Recipes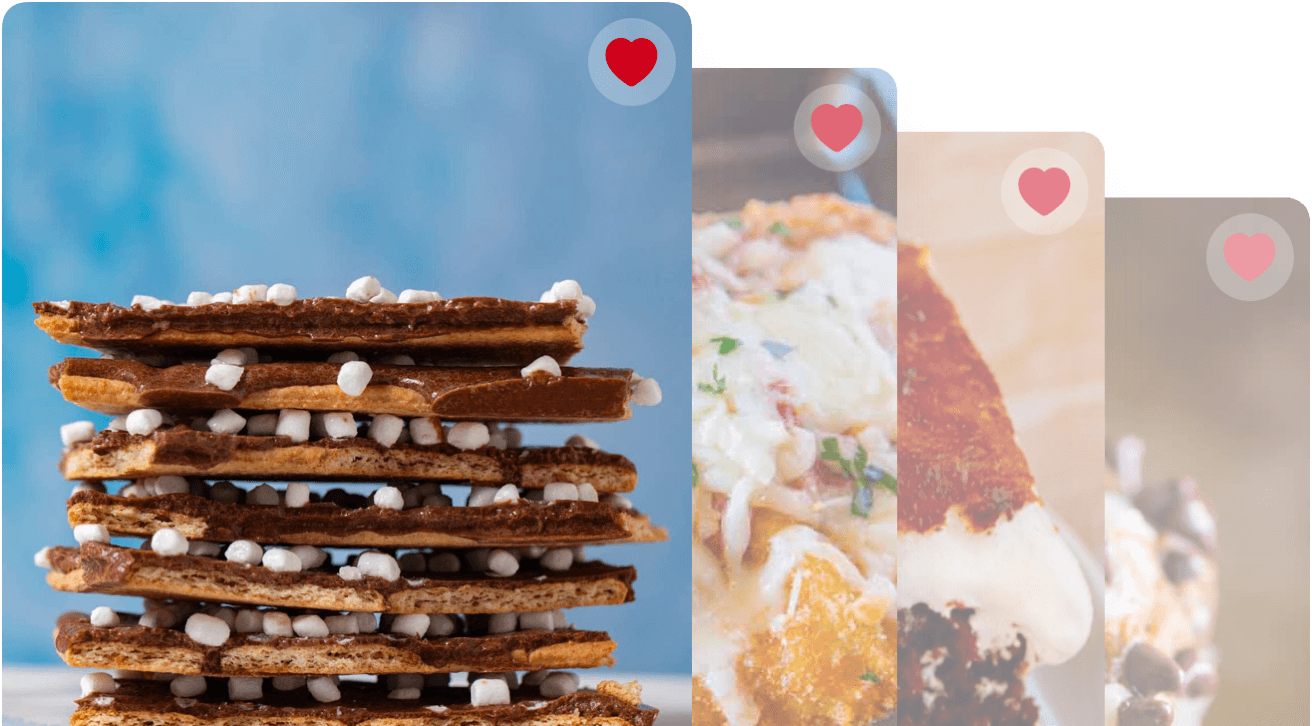 Homemade Crema Recipe
The perfect taco wouldn't be complete without an amazing crema recipe. You could of course use sour cream. You could even just thin out a bit of sour cream with a little bit of milk or some lime juice and call it a day. But making an authentic crema is just a few extra ingredients and it tastes amazing. If you want to spice it up a bit, add a hit of hot sauce or cayenne pepper.
¼ cup mayonnaise
¼ cup sour cream
1 teaspoon lime zest
1 tablespoon lime juice
½ teaspoon kosher salt
Mix ingredients well and refrigerate for at least one hour.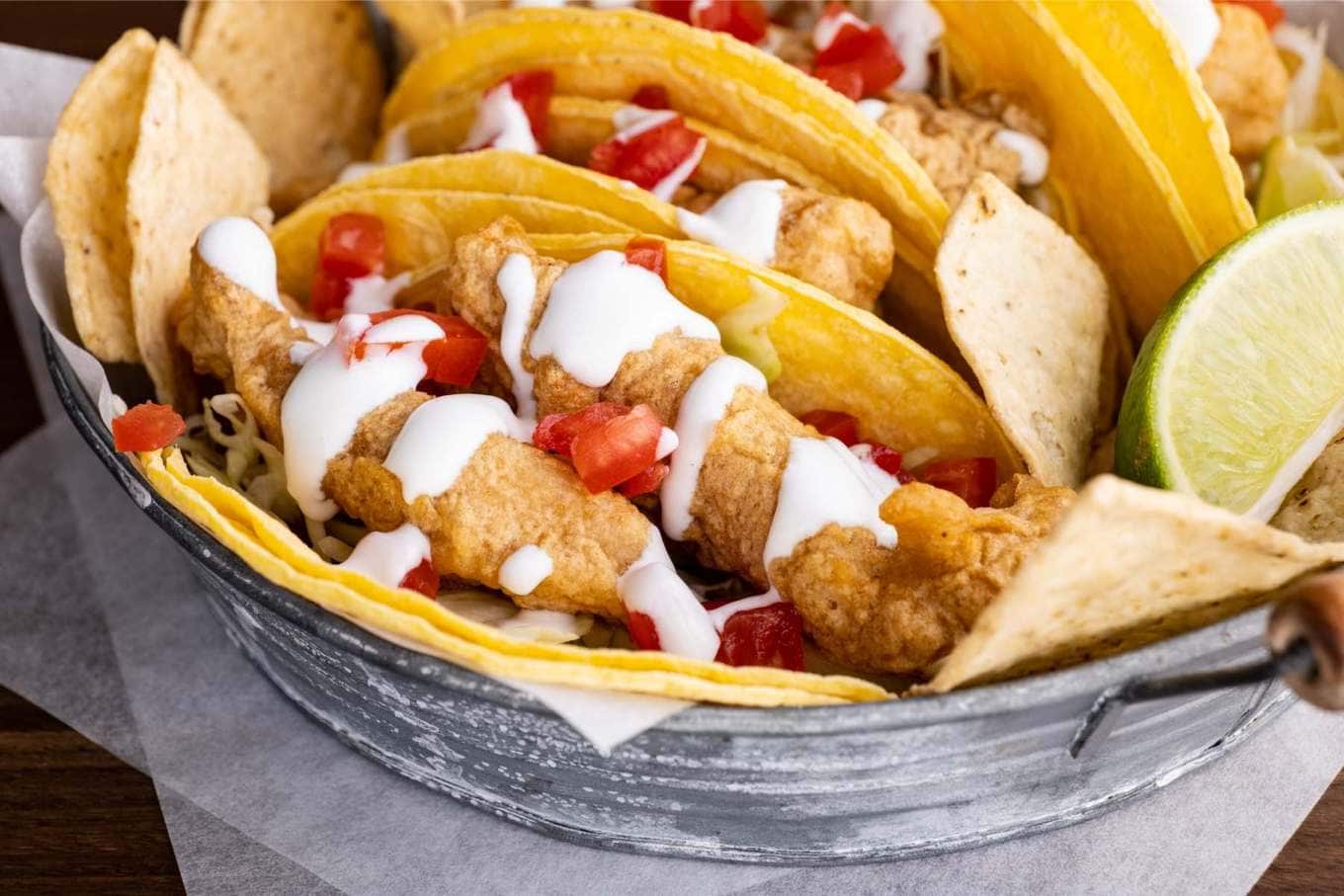 Tips for Making Beer Battered Crispy Fish Tacos
Some things to be careful of when making these Beer Battered Crispy Fish Tacos:
Go for a nice dark beer. The flavor and color it gives the beer is distinct. If you use what you have on hand it will of course "work" but it won't be the same.
Don't overcrowd your pan, the oil temperature is important. If it gets too high or too low you risk having soggy heavy breading or burnt breading and raw fish. Use a thermometer!
Careful you don't break the breading using tongs or something else that smashes the fish, I use these to flip the food.
Keep your batter on ice! I know it sounds weird and you probably feel like you can work quickly enough, but any light batter that is going to have an awesome crispy non bread-y texture like this batter or tempura is kept on ice.
Don't drain on paper towels, the breading will get soft in a matter of minutes.
Most people like to warm the tortillas, but you don't have to warm them or you can even warm in the microwave. It's also easy just brown them for a couple of seconds on a hot griddle, or you can go with the easy damp paper towel in the microwave trick instead.
Corn tortillas are suggested because they avoid sogginess, but if you prefer flour you can certainly use flour tortillas too.
How to Store Beer Battered Crispy Fish Tacos
Serve: These tacos are best eaten fresh when the fish is crispy and hot. Don't leave any of the components at room temperature for longer than 2 hours.
Store: If you have leftovers, store the unassembled taco components in separate containers in the refrigerator. Reheat the fried fish on a wire rack in the oven at 400 degrees for 8-10 minutes until crispy.
Freeze: Once completely cooled, seal the fish pieces in an airtight container up to 2 months. Reheat in the oven at 400 degrees until hot and crispy and assemble with fresh taco ingredients.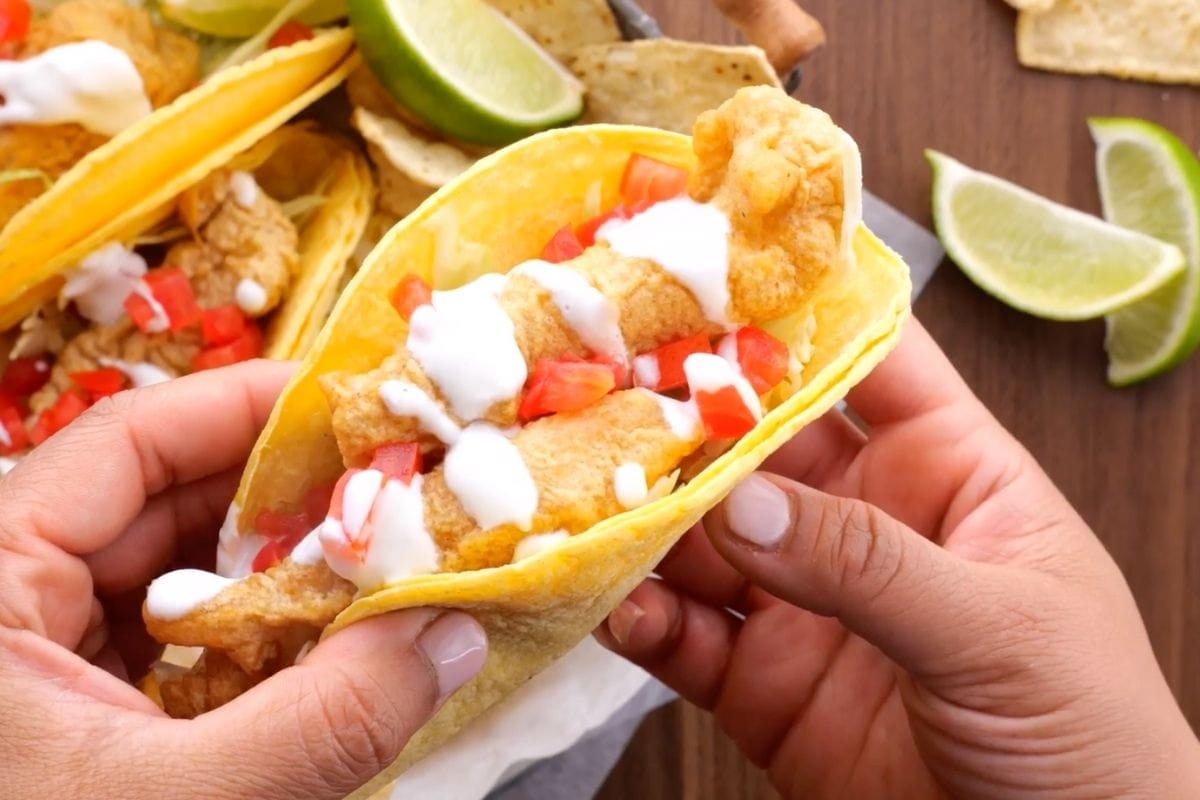 Ingredients
1

tablespoon

Kosher salt

1 1/2

cups

flour

1/2

cup

cornstarch

12

ounces

dark beer

1

large

egg

6

cups

ice

, in a large bowl

1

pound

Cod Fish

, cut into 1½ inch strips

2

teaspoons

chili powder

1/2

teaspoon

coarse ground black pepper

16

small

corn tortillas

1

cup

green cabbage

, finely shredded

2

tablespoons

lime juice

La Victoria Salsa

Crema

, (recipe above)

Canola oil

, for frying
Instructions
In a large bowl add ½ tablespoon Kosher salt, 1 cup flour, cornstarch, beer, and egg to make the batter and sit the bowl over the bowl of ice to stay cold.

In a second bowl add the chili powder, coarsely ground black pepper and remaining ½ tablespoon of kosher salt to the remaining ½ cup of flour.

Pour canola oil into a dutch oven or cast iron skillet to a depth of 3 inches and heat to 375 degrees on a thermometer.

Dredge the pieces of cod in the flour mixture, then into the batter (let excess drip off) and carefully drop 4-5 pieces per batch into the oil and fry for

3-4 minutes

or until browned and crisp then remove to a baking sheet with a cooling rack.

Wrap your corn tortillas in a damp paper towel and microwave for

15-20 seconds

and add the cabbage and the juice of one lime in a small bowl and toss then assemble with crema and salsa.
Nutrition
Calories:
411
kcal
|
Carbohydrates:
68
g
|
Protein:
22
g
|
Fat:
3
g
|
Cholesterol:
67
mg
|
Sodium:
1265
mg
|
Potassium:
535
mg
|
Fiber:
5
g
|
Sugar:
1
g
|
Vitamin A:
290
IU
|
Vitamin C:
6.5
mg
|
Calcium:
87
mg
|
Iron:
3
mg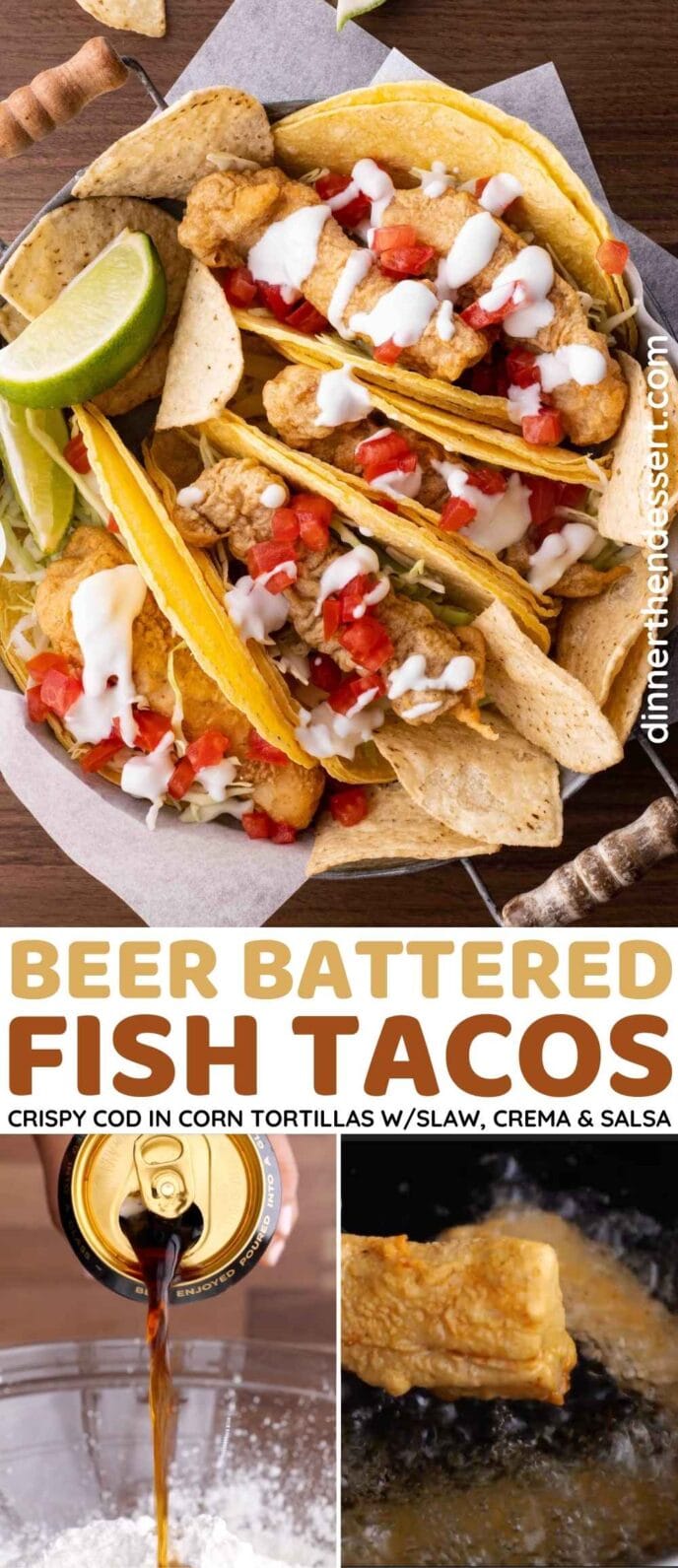 Photos used in a previous version of this post.