Shrimp Tempura is the perfect Japanese appetizer made with a light batter and fried super crisp in just 15 minutes.
Easy quick Asian appetizers are a fun addition to your favorite takeout copycat meals including Crab Rangoon and Panda Express Cream Cheese Rangoon. Don't forget to dip them in Sweet and Sour Sauce!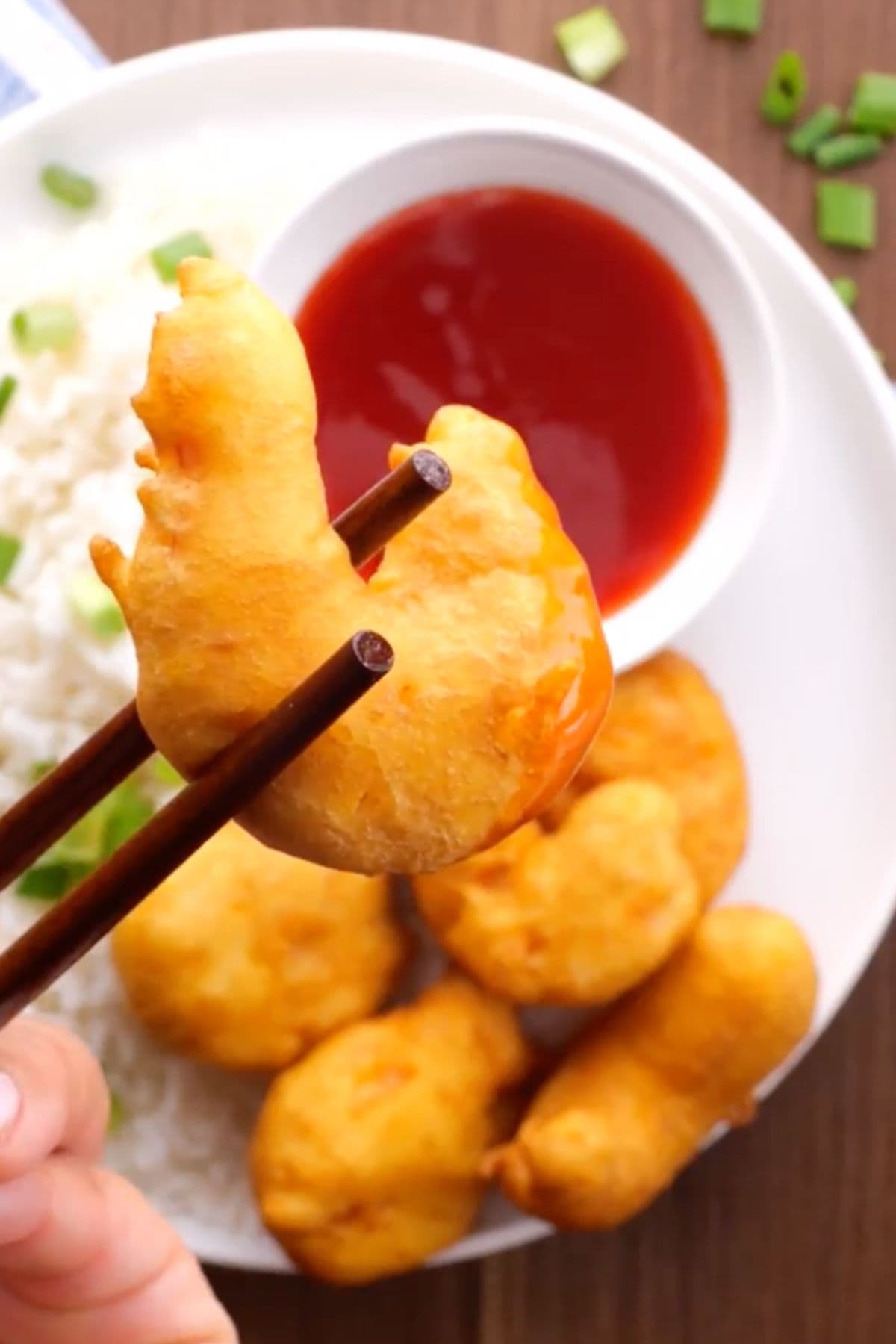 Shrimp Tempura is one of the Japanese recipes that can seem really intimidating because it needs to be so light and crispy to be enjoyed. The idea of frying food in generally can be scary, but this recipe uses a cold batter that isn't heavy and is really easy to make.
YES, this tempura recipe is so easy it won't scare you away. You'll use regular flour in addition to corn starch to make the tempura batter. Some people add ice water to the mixture, but here we use club soda to create a lighter texture.
Looking for a good dipping sauce for your tempura? Find an authentic tempura sauce recipe in the FAQ below, or enjoy this recipe with Spicy Mayo, Honey Mustard, or any of your favorite Asian sauces. Enjoy Shrimp Tempura as an appetizer, or serve it over Steamed Rice for a delicious dinner.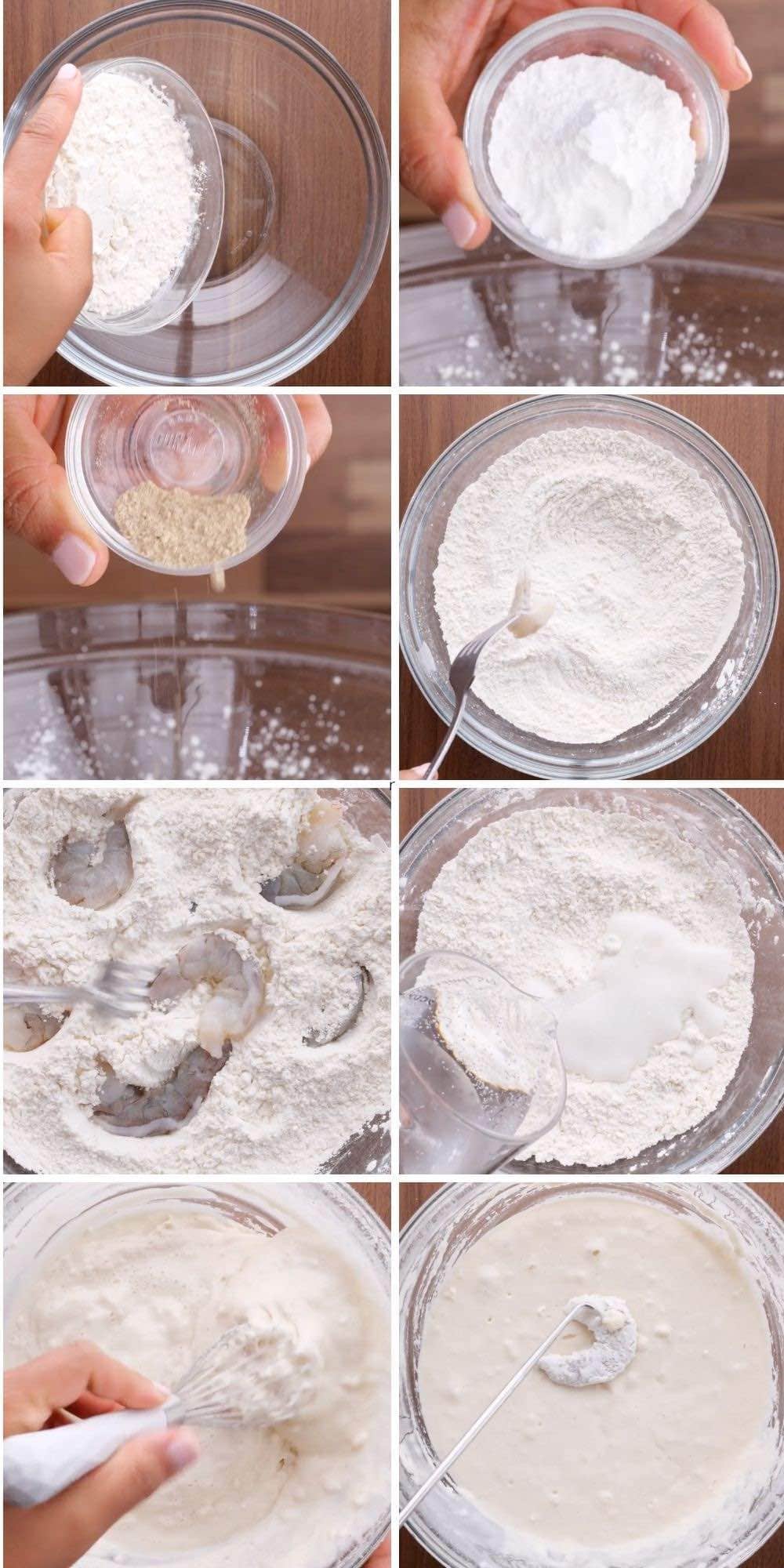 How to Make Shrimp Tempura
The process for making this recipe is easy, but involves a very specific technique to achieve that perfect crispy texture. It is extremely important to note that the shrimp gets a dry-batter coating before getting a cold wet-batter coating.
Heat Oil: Get the oil heated up first so it's ready when the shrimp is battered. You're going to deep fry the shrimp so use at least 3 inches of oil in your pot.
Dry Batter: Combine all the dry batter ingredients in a medium bowl and mix until the batter is fully blended. Do not mix the batter a lot, just until the dry ingredients are combined.
Wet Batter: After the dry batter is complete, mix the club soda into the dry batter to make it a wet batter. Then dredge the dry-battered shrimp through the wet batter. Also, make sure the club soda is VERY cold (or even put the mixture over a bowl of ice). This is key.
Fry: Then fry the shrimp until crispy. Do NOT remove the shrimp to a plate with paper towels. The paper towels will create steam which will lose the crispy texture you've worked so hard for.
More Asian Shrimp Recipes
Frequently Asked Questions
How do you make Homemade Tempura Dipping Sauce?
Combine 1 cup dashi soup stock, ¼ cup mirin, and ¼ cup soy sauce in a saucepan. Bring the ingredients to a boil then allow to cool.
Should I use raw or cooked shrimp for making Shrimp Tempura?
Start with raw, peeled and deveined shrimp. Because shrimp cooks so quickly, they will be pink throughout by the time your tempura batter is golden and crispy. If you begin with cooked shrimp, the result will be rubbery inside.
How long do you fry Tempura Shrimp?
Make sure the oil temperature is right even if you have to use a thermometer. You're looking for 375 degrees for just 2-3 minutes
How do I make Shrimp Tempura Batter?
Use an easy mixture of regular flour, corn starch and baking powder mixed with club soda, salt and pepper. Not a single ingredient that is difficult to find.
What's the difference between baking soda and baking powder?
Well, in culinary use, baking soda is another name for sodium bicarbonate which is one of the ingredients used in baking powder. To get more scientific, baking powder contains an additional acidic ingredient to make more bubbles and is used in recipes that don't contain an acidic ingredient which helps produce more leavening bubbles. Both are used as leavening agents due to the little bubbles of carbon dioxide produced from the baking soda.

Additionally, it's different from yeast which is a living organism that yields a distinct flavor and smell versus the chemical-based baking soda.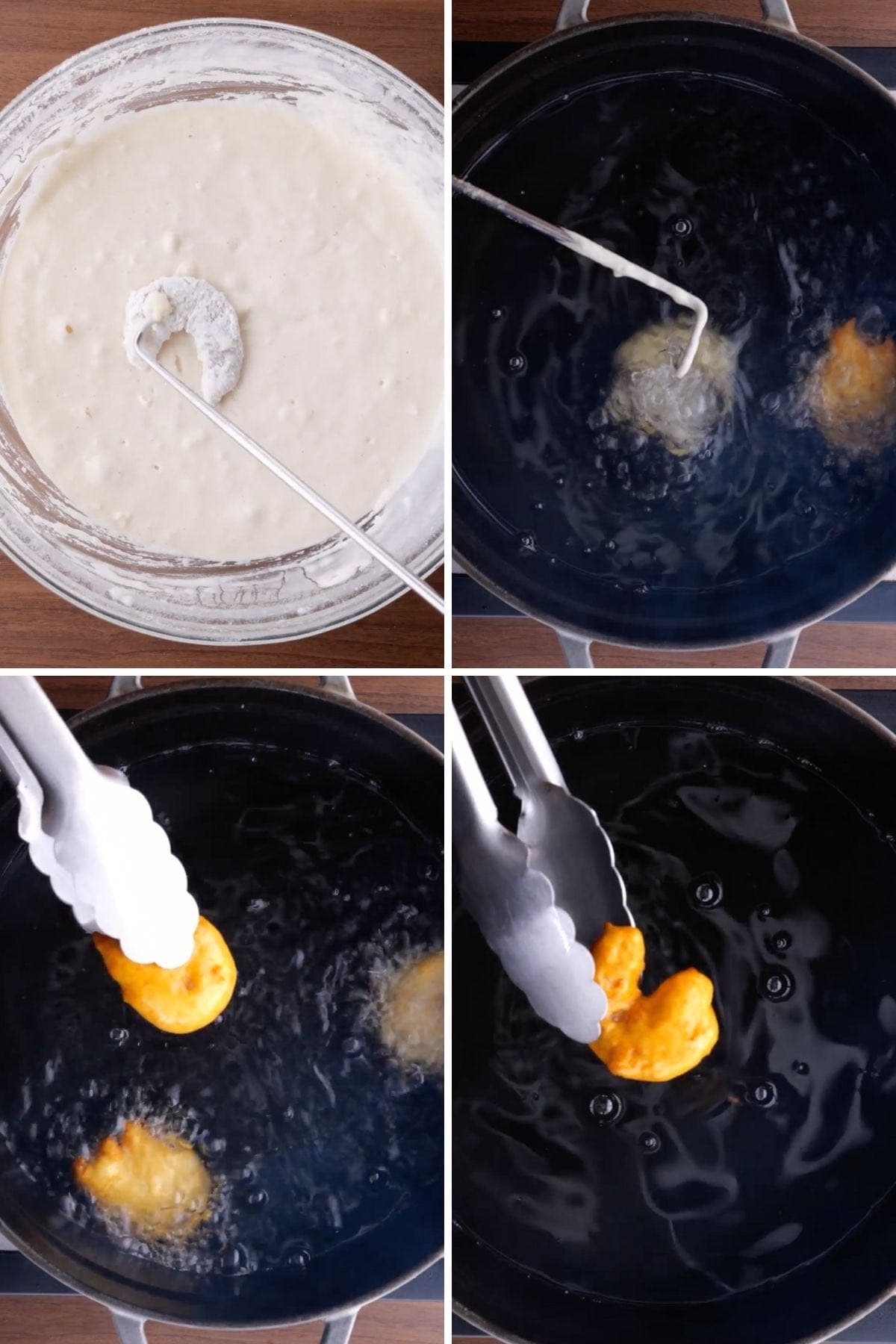 Create a free account to

Save Recipes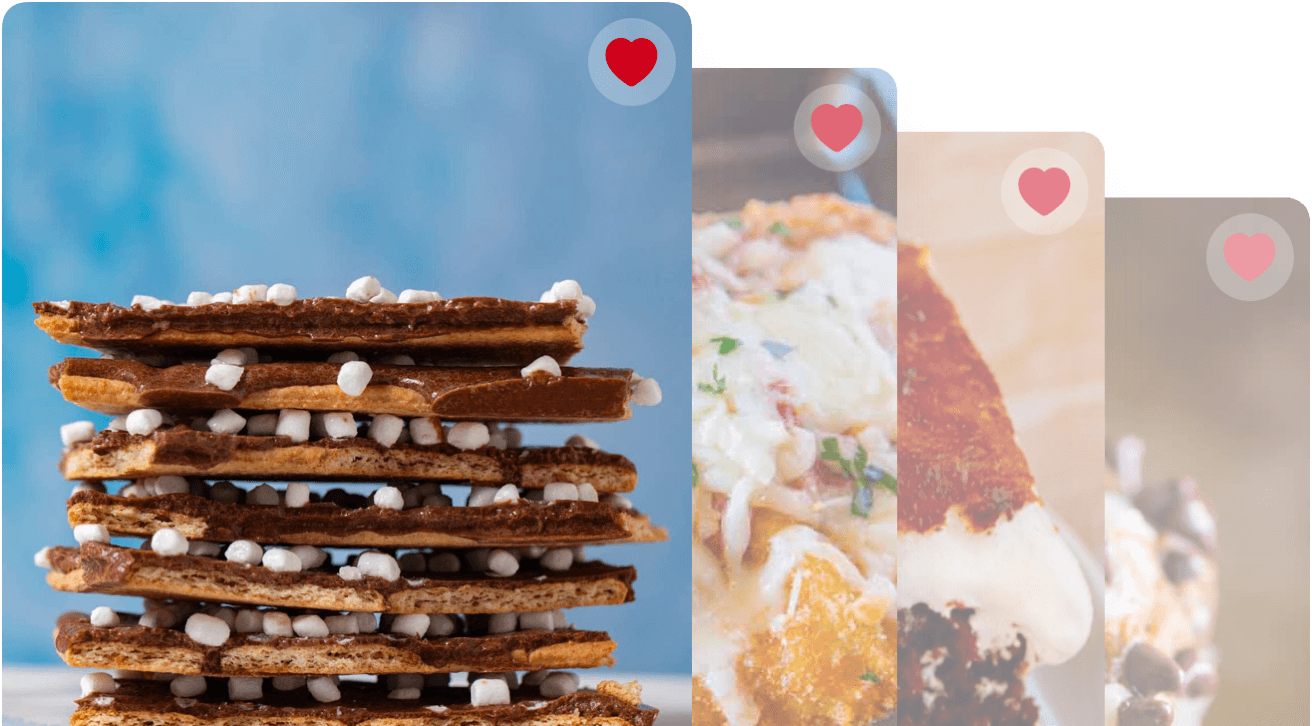 Key Ingredients for making Shrimp Tempura
Shrimp: Shrimp can be found in any grocery store. You can get the frozen kind in the bag, or the fresh one's on ice at the fish market. Shrimp comes in various sizes. It's recommended to get the largest shrimp you can just for fun. Sustainably farmed fish is fine, but wild caught tastes better. Bonus points if you can get them from your local farmer's market fish seller.
Baking Powder: This is what helps give your fried batter the light and crispy breaded consistency on the shrimp. Although baking powder is easy to source from your local grocery store, it is important to note that baking powder is NOT baking soda; even though your baking powder does contain baking soda.
Corn Starch: Used as a thickener, corn starch can easily be found in the baking section of any grocery store, along with baking powder. They're usually all stacked next to each other.
White Pepper: This special ingredient is more mild in flavor than its black pepper relative. It also boasts a more earthy flavor as compared to the more spicy flavor of black pepper. If you have whole white pepper corns, use a spice grinder to get closer to the powdered grind needed in this recipe, or just buy pre-ground white pepper.
Club Soda: Club soda is water carbonated artificially and contains added minerals for taste. You can find the budget friendly version in any grocery store. You'll want it to be extra cold when making the wet batter. It helps give a boost to the workings of the baking powder in the batter. You can substitute with plain seltzer water (artificially carbonated and contains no added minerals) or the naturally bubbly sparkling mineral water.
Variations on Shrimp Tempura
How to Make Vegetable Tempura
Since vegetables won't cook as quickly as shrimp, the time you spend frying vegetables once covered in batter is only to cook the batter, not the vegetables. Depending on the vegetable, you will need to cook it before frying.
Broccoli Florets: Steam for 2 minutes.
Carrot Slices: Steam for 3-4 minutes.
Sweet Potato slices: boil until fork tender but not falling apart.
Onions: Can be used raw, or for 20 seconds.
Acorn Squash: Steam until fork tender.
Mushrooms: Can be fried raw.
Zucchini: Steam for 2 minutes.
Once you've cooked and cooled your vegetables, dredge them in the dry tempura mixture. Add in the club soda, dip the vegetables in the batter and let excess batter drip away before frying until golden brown.
How to Serve Shrimp Tempura
Serve as a snack with a side of Jasmine rice topped with fresh cut green onion.
You can add them to tacos for a yummy and crispy fusion fusion taco flavored with teriyaki sauce.
Make fun feast of Asian snacks and serve them alongside homemade Dragon Rolls, Potstickers, or Spring Rolls!
How to Store Shrimp Tempura
Serve: Do not leave Tempura Shrimp at room temperature longer than 2 hours.
Store: Sealed in an airtight container, Shrimp Tempura will last in the refrigerator up to 3 days.
Freeze: Freeze in a single layer on a baking sheet, then transfer to a plastic freezer bag up to 2 months. Reheat in a 375 degree oven for 15-20 minutes.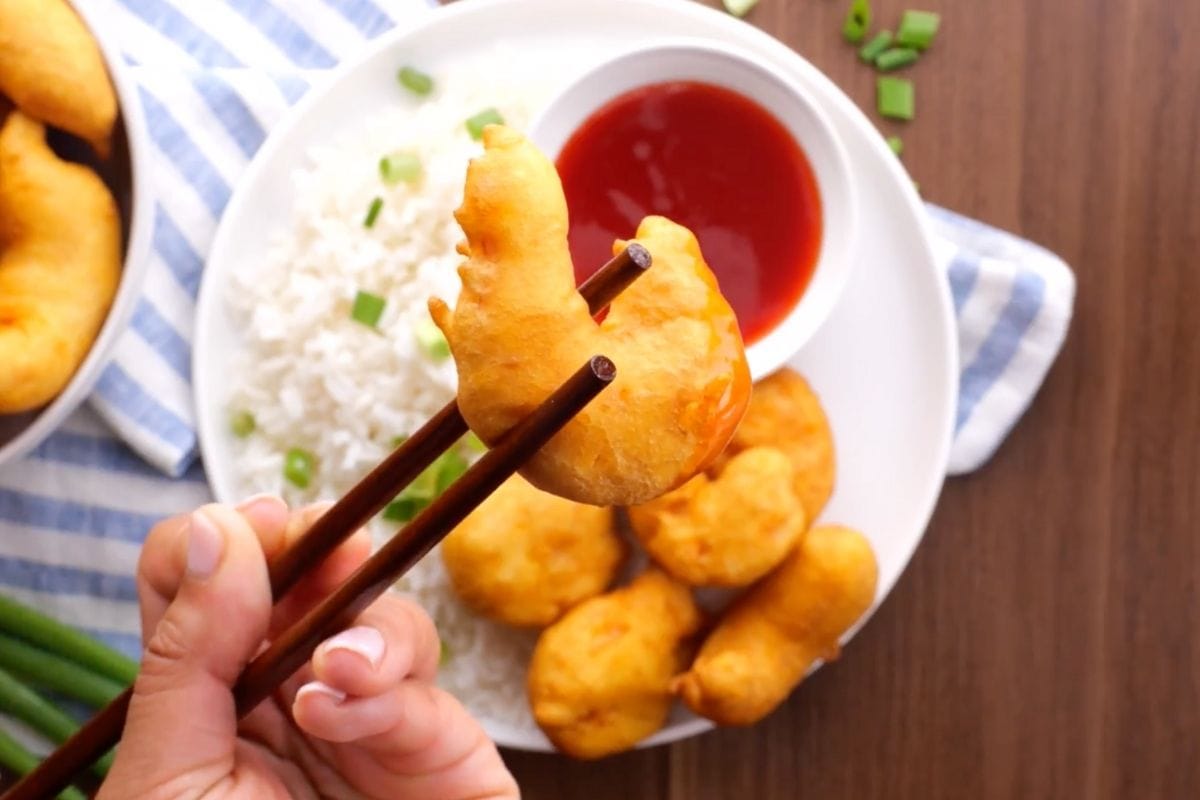 Ingredients
1 1/2

cups

flour

3/4

cup

cornstarch

1 1/2

tablespoons

baking powder

1 1/2

cups

club soda

, cold

1/2

teaspoon

kosher salt

1/4

teaspoon

white pepper

vegetable oil

, for frying

1

pound

shrimp

, deveined and shells removed (21-25 count)
Instructions
Set a pot of oil (3 inches deep) on medium high until it reaches 375 degrees.

Whisk the flour, cornstarch, baking powder, kosher salt, and white pepper in a bowl together.

Dredge the shrimp lightly in the mixture and set aside.

Add in the club soda and whisk, then dip the shrimp in the batter before carefully frying in the oil for

2-3 minutes

or until golden brown.
Nutrition
Calories:
315
kcal
|
Carbohydrates:
39
g
|
Protein:
18
g
|
Fat:
8
g
|
Cholesterol:
190
mg
|
Sodium:
785
mg
|
Potassium:
396
mg
|
Fiber:
1
g
|
Vitamin C:
3.1
mg
|
Calcium:
244
mg
|
Iron:
3.4
mg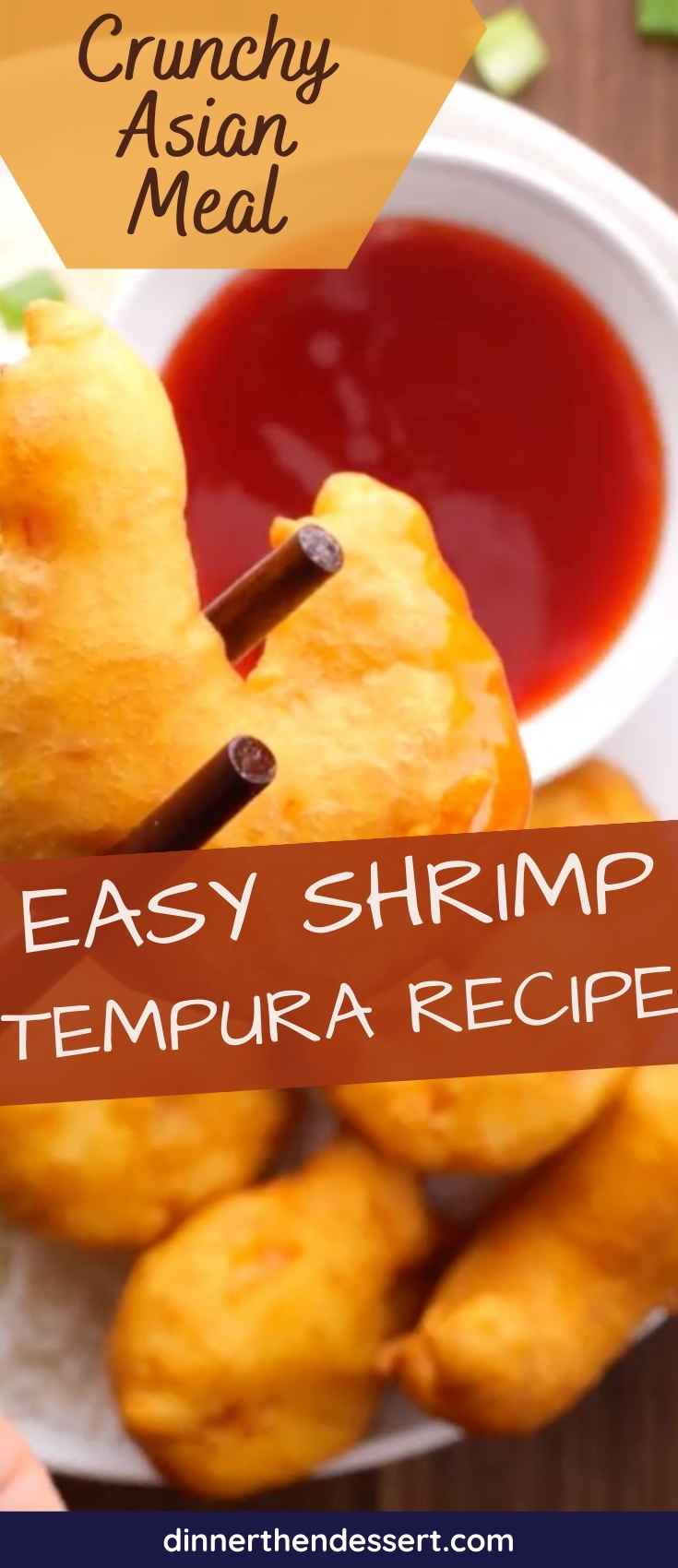 Photos used in a previous version of this post.