Easy Honey Walnut Shrimp recipe for a favorite Chinese takeout dish of wok fried crispy shrimp and crunchy walnuts in a creamy honey sauce.
Whether it's Panda Express Honey Walnut Shrimp or a more authentic walnut shrimp recipe, the sweet flavor and delightful crunch of this Chinese Dish is addicting! No need to splurge on takeout, you can make this tasty Dinner at home!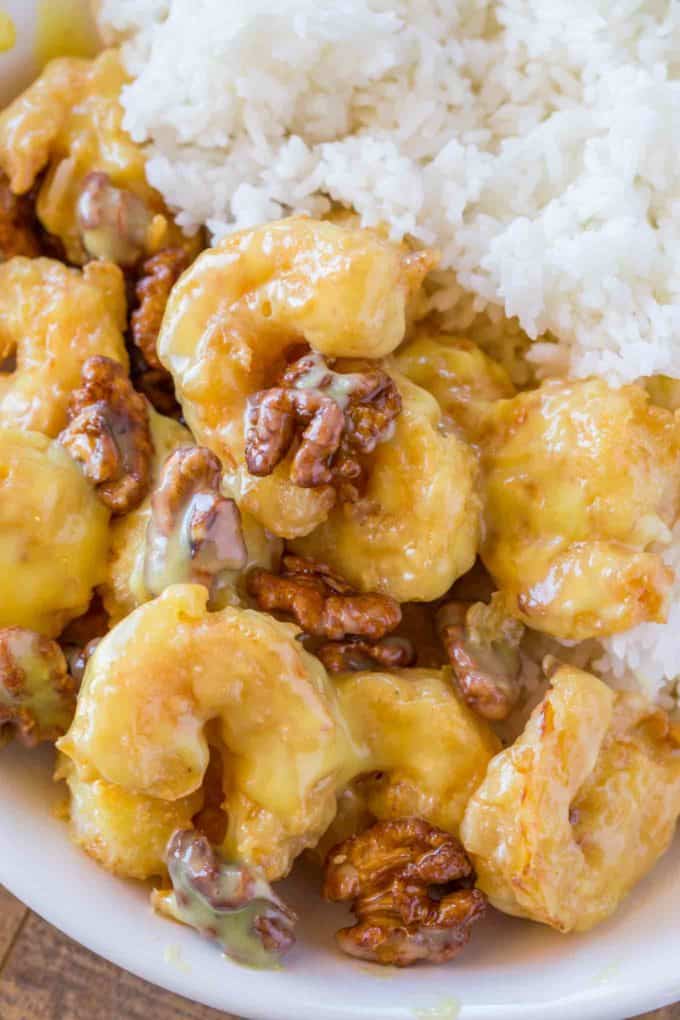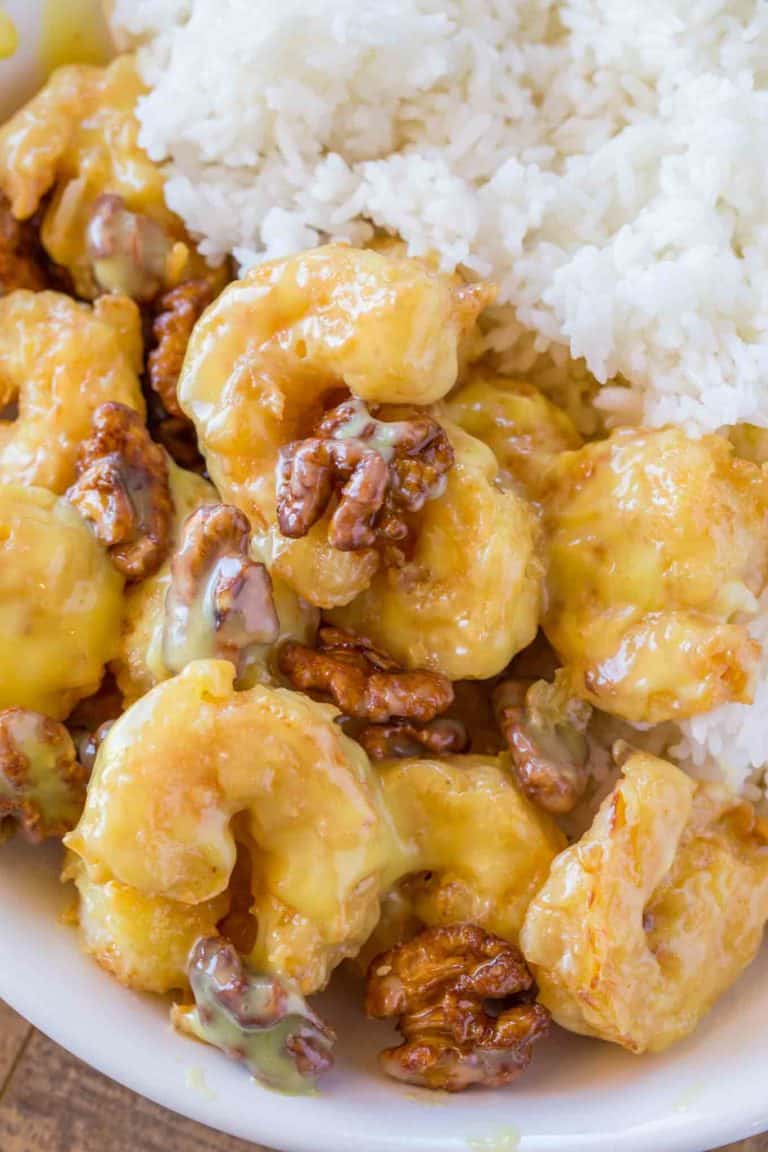 This delicious easy Honey Walnut Shrimp recipe is made just like your favorite local Chinese restaurant with the sweet honey sauce, sugar glazed walnuts and crispy fried shrimp! It is similar to the popular dish from Panda Express Honey Walnut Shrimp, there are subtle differences like more condensed milk, less honey and a hint of acidity. These creamy honey glazed shrimp with a crispy exterior are sure to be a family favorite dinner idea.
The key to the lip-smackingly delicious, golden honey walnut shrimp sauce is mayonnaise. Yup, just some regular mayo, although if you can find it, Japanese mayonnaise works great too! In addition to the mayonnaise, the other secret ingredient is sweetened condensed milk. The mixture of mayonnaise, condensed milk and honey is what makes the sauce of this tasty dinner so creamy, sweet and addicting.
Another key to making Walnut Honey Shrimp is the tempura batter, which thanks to the rice flour has the perfect balance of lightness and crunch. A word to the wise on how to make the ultimate Honey Walnut Shrimp: it's crucial to toss the shrimp and walnuts with the sauce just before serving. Allowing the shrimp to linger too long will cause the sauce to melt and you'll lose that delicious crunch.
You can serve this Easy Honey Walnut Shrimp recipe with other classic restaurant favorites like Lo Mein and Chinese Chow Mein. Even some simple Steamed White rice is perfect for the crispy shrimp and crunchy walnuts, plus it will soak up every bit of that sweet, creamy sauce. Add Crab Rangoon as an appetizer with this budget-friendly crispy shrimp and steamed rice for the ultimate Chinese takeout meal at home for a fraction of the price!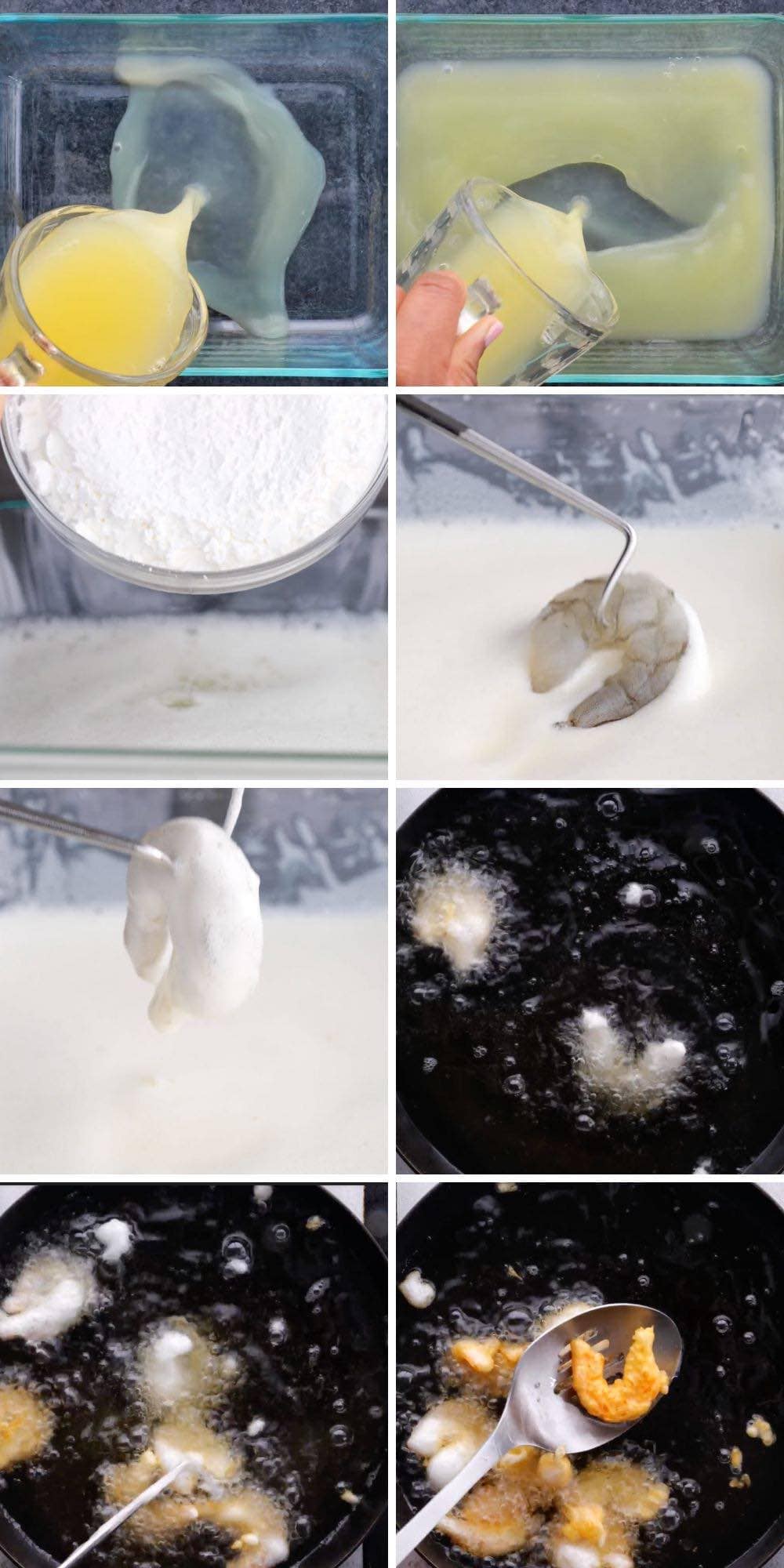 What is Honey Walnut Shrimp?
Honey Walnut Shrimp is a popular Chinese-American dish that features crispy, deep-fried shrimp and crunchy candied walnuts coated in a creamy honey-based sauce. The shrimp is typically coated in a light batter before frying to achieve a crispy texture, while the walnuts are boiled in a sugar syrup to caramelize and sweeten them. The final dish combines the contrasting elements of crispy shrimp, candied walnuts, and a rich honey sauce, creating a delightful blend of flavors and textures.
Why should you make Honey Walnut Shrimp at home?
You could just order this sweet shrimp dish, but there are a couple reasons you should definitely recreate this takeout favorite at home. First off is having it freshly made! Unless you dine-in, you simply aren't going to get the hottest, crispiest wok-fried shrimp. Secondly, making Chinese cuisine at home turns an extravagant meal into a budget-friendly dinner. Finally, when you make this classic dish yourself, you are in charge of the list of ingredients.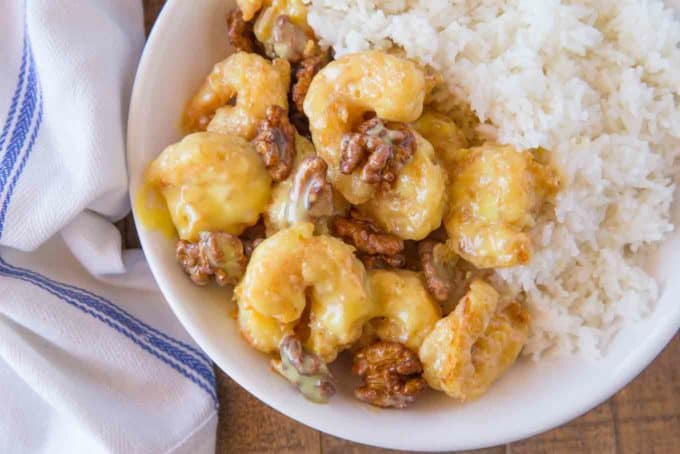 How to Make Honey Walnut Shrimp
Walnuts: Bring water and sugar to a boil in a saucepan. Stir in the walnuts and boil for a couple minutes. Strain and spread on a cookie sheet to cool and dry.
Sauce: In a small bowl, combine the mayonnaise, condensed milk, rice vinegar and honey. Set aside.
Prep: Beat the egg whites in a separate bowl with a hand mixer until foamy. Heat the oil in a large dutch oven or wok to 350 degrees.
Fry: Whisk the rice flour into the egg whites. Begin dipping the shrimp in batches into the batter and adding to the hot oil. Do not overcrowd the pan. Cook for a few minutes until golden brown.
Finish: Place shrimp on a cookie sheet or wire rack (do not use paper towels or they will be greasy) to cool slightly. Toss shrimp and candied walnuts in the honey mayo sauce then serve immediately.
Classic Chinese Side Dishes
FAQS for Honey Walnut Shrimp
Can you reheat honey walnut shrimp?
Reheating Honey Walnut Shrimp is not recommended as it may result in the loss of its crispy texture and overall quality. It is best enjoyed immediately after cooking for that signature delightful crunch and juicy, tender shrimp.
Is Honey Walnut Shrimp authentic Chinese food?
No, Honey Walnut Shrimp is not considered authentic Chinese cuisine. It is a popular Chinese-American dish that was likely created in the United States to cater to American tastes, combining elements of Chinese cuisine with Western influences like honey and mayonnaise.
Is honey walnut shrimp gluten-free?
Since it uses rice flour, this is a gluten-free Honey Walnut Shrimp recipe. Just make sure to double check the labels of the other ingredients (they should also be gluten-free) and you are good to go!
What side dishes go well with Walnut Honey Shrimp?
You want to serve this creamy delicious shrimp dish with sides like chow mein, steamed veggies, or plain rice so that the flavors don't compete with the tasty honey sauce. Plus, noodle and rice dishes let you soak up every drop of the addicting sauce.
Do I have to use walnut halves?
You don't have to use walnut halves for this recipe. You can swap in crushed walnuts pieces or try a different nut like pecans or almonds.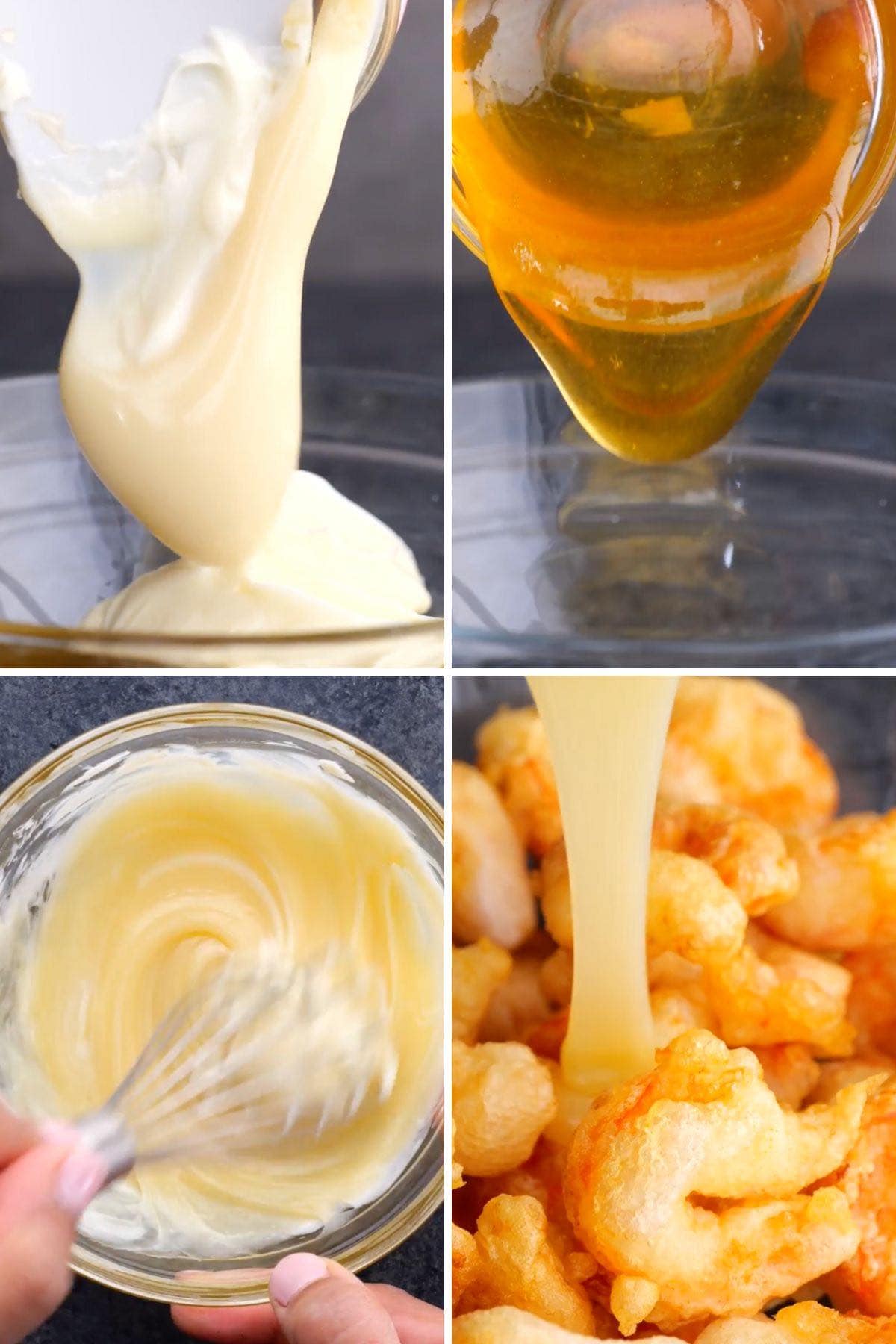 Create a free account to

Save Recipes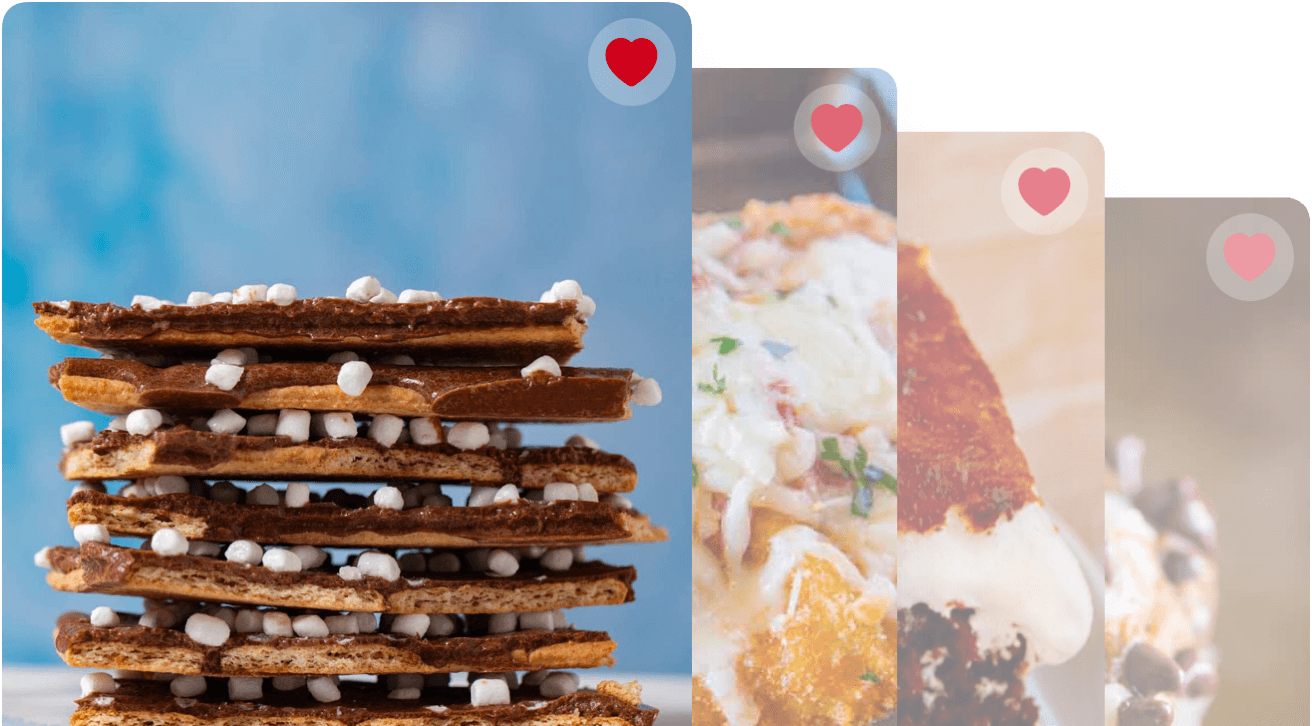 Key Ingredients
Walnuts: Big, sweet glazed walnuts add a delightful crunchy contrast to the tender shrimp and sticky, creamy sauce. You boil them in a sugar syrup then let them cool so the glaze hardens for extra crunch.
Mayonnaise: The mayonnaise serves as the base for the creamy honey sauce. Its rich and smooth consistency binds all the flavors together and provides a luscious mouthfeel to the dish.
Condensed Milk: Adding sweetened condensed milk to the sauce contributes to its sweetness, while making it extra thick and creamy.
Rice Vinegar: Rice vinegar provides a tangy and slightly acidic note to balance the sweetness of the honey and condensed milk. It helps to brighten the flavors and adds a mild tang to the sauce.
Honey: Honey is a natural sweetener that not only enhances the overall sweetness of the dish but also provides a distinctive earthy floral flavor to balance the sugary walnuts and syrupy milk.
Batter: Rice flour together with the whipped egg whites, for makes a light and airy batter perfect for coating and frying shrimp. This gluten-free tempura batter puffs up slightly in the oil for a crispy coating that doesn't feel heavy or too thick.
Shrimp: Jumbo shrimp are succulent and juicy when fried with the tempura coating and the sweet sauce is perfect for the delicate flavor of the meat. There are instructions for how to peel and devein shrimp included in this post.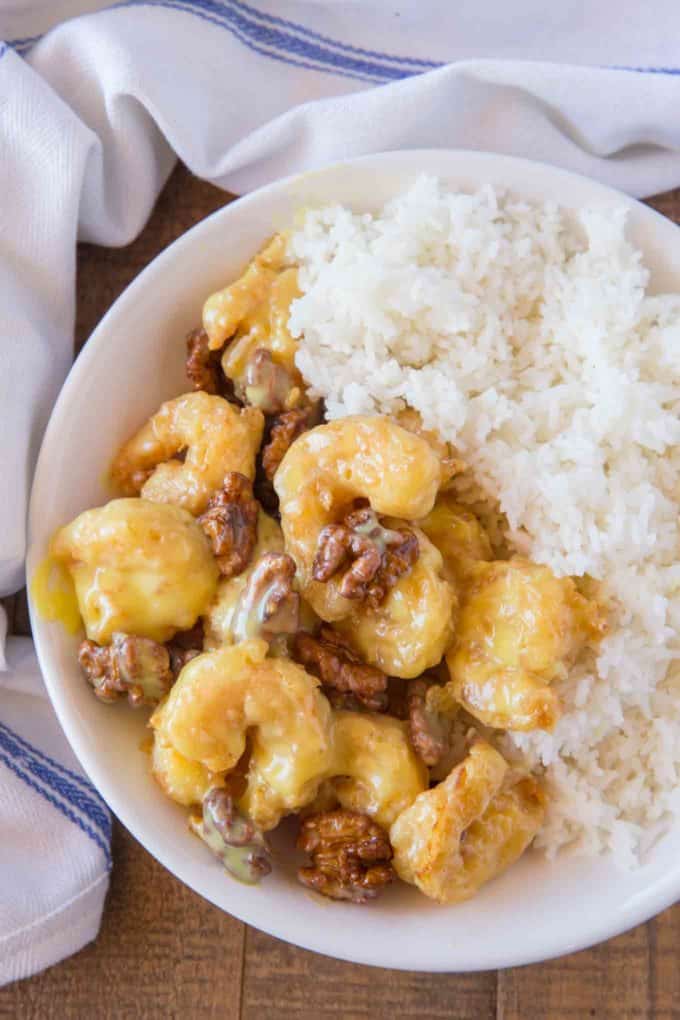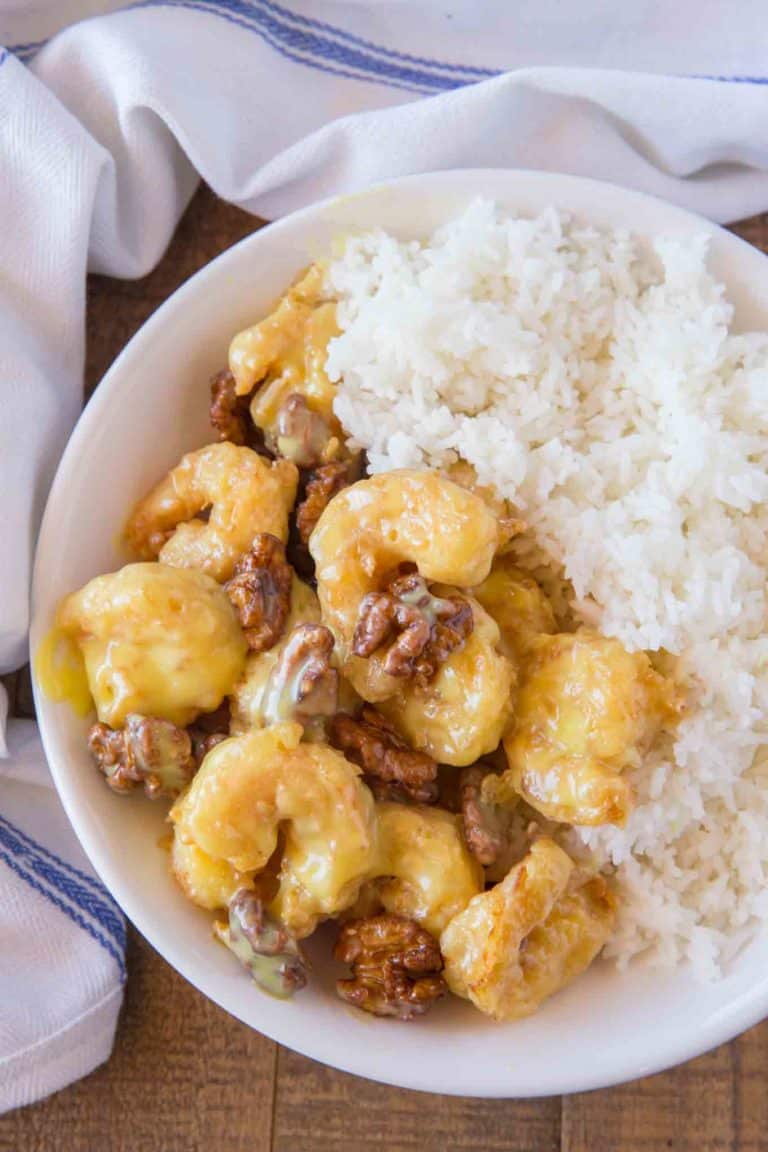 Can you make this Honey Walnut Shrimp ahead of time?
This dish is best made fresh so your shrimp is perfectly crispy and tender, and your sauce has the best consistency. However you can candy the walnuts up to 2 weeks ahead of time and keep in the fridge or freezer. You can fry the battered shrimp then freeze without the sauce ahead of time and reheat from frozen, just keep in mind they won't be as tender and juicy.
Variations
Chicken: Another amazing dinner idea would be Honey Walnut Chicken! Simply make the sauce and walnuts like usual but swap in Crispy Chicken Bites instead of shrimp.
Coconut: Add shredded coconut to the honey mayonnaise sauce for a tropical twist, and coat the shrimp in a mixture of rice flour and coconut flour before frying. You can also toss the candied walnuts in shredded coconut before they dry.
Orange: Make this similar to Orange Shrimp by swapping the honey with orange marmalade, use orange juice instead of vinegar and add orange zest.
How to peel and devein shrimp:
To peel raw shrimp, tear away at the shell above the first segment of the shell (the tail segment).
Take a paring knife and make a shallow cut along the spine of the shrimp (the back of it).
Using the paring knife or a fork, gently remove the black strip of intestines.
To remove tails just squeeze the shrimp out from the bottom of the tail segment.
More Popular Chinese Dinner Dishes
How to Store
Store: Store leftover Honey Walnut Shrimp in an airtight container in the refrigerator. Separate the shrimp from the candied walnuts and sauce if possible to preserve the crispiness of the shrimp. Eat within 2-3 days.
Reheat: To reheat, use an oven on a low temperature to maintain the crispy texture of the shrimp. Avoid using the microwave, as it can make the shrimp soggy.
Freeze: It's not recommended to freeze this dish because it won't thaw and reheat with the same. However, it can be kept for about a month if you need to freeze it.


Ingredients
1

cup

water

2/3

cup

white sugar

1

cup

walnut halves

1/4

cup

mayonnaise

3

tablespoons

sweetened condensed milk

1/2

teaspoon

rice vinegar

1

tablespoon

honey

4

large

egg whites

2/3

cup

rice flour

1

pound

shrimp

, 13-15 count, peeled and deveined

canola oil

, for frying
Instructions
In a large saucepan add the water and sugar and bring it to a boil.

Add in the walnuts and boil for

2-3 minutes

.

Remove with a strainer and put onto a cookie sheet.

In a small bowl mix the mayonnaise, condensed milk, rice vinegar and honey together.

In a separate bowl, using a hand mixer whip the egg whites to a foamy consistency (this is before it all turns white and has soft peaks).

Heat oil (three inches deep) in a large dutch oven to 350 degrees.

Add in the rice flour to the egg whites and mix.

Dip the shrimp into the rice flour mixture and add it to the canola oil.

Cook for

3-4 minutes

or until golden brown.

Remove from the oil and cool on a cookie sheet.

Toss the shrimp and walnuts with the honey mayonnaise mixture.
Nutrition
Serving:
1
g
|
Calories:
628
kcal
|
Carbohydrates:
73
g
|
Protein:
34
g
|
Fat:
25
g
|
Saturated Fat:
3
g
|
Polyunsaturated Fat:
16
g
|
Monounsaturated Fat:
4
g
|
Trans Fat:
0.01
g
|
Cholesterol:
190
mg
|
Sodium:
329
mg
|
Potassium:
566
mg
|
Fiber:
3
g
|
Sugar:
47
g
|
Vitamin A:
56
IU
|
Vitamin C:
1
mg
|
Calcium:
152
mg
|
Iron:
2
mg