Coconut Shrimp with Mango Habanero Sauce
This post may contain affiliate links. Read my disclosure policy here.
Coconut Shrimp are the perfect appetizer for your summer get-together!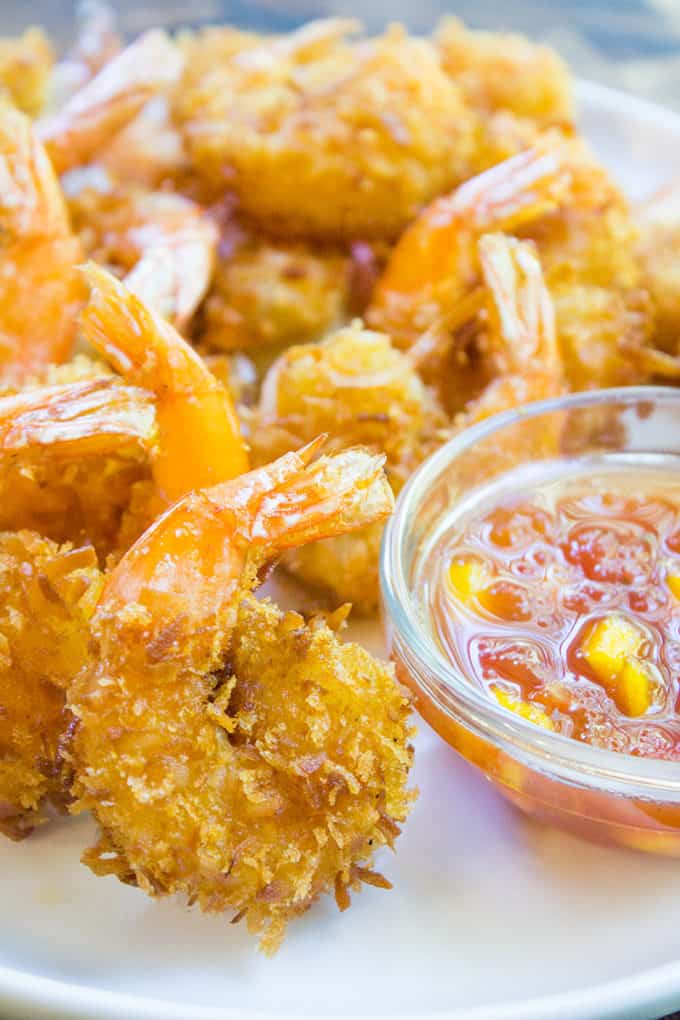 Coconut Shrimp has always been a fun summer time dish in our house. It reminds me of trips to tropical locations where you feel extra touristy ordering everything you can with coconut and mango and spicy habanero peppers. So when I'm looking for a bit of escape from the day to day grind here at home, I love bringing back all those familiar flavors (no lie, I may or may not have enjoyed a tropical drink with these shrimp as well… I go all out 😉 ).
The Coconut Shrimp come together with just a few ingredients and the delicious Mango Habanero dipping sauce is made in just seconds thanks to La Victoria who is awesome enough to be sponsoring this post (oh and they are giving away and awesome $500 Grill!).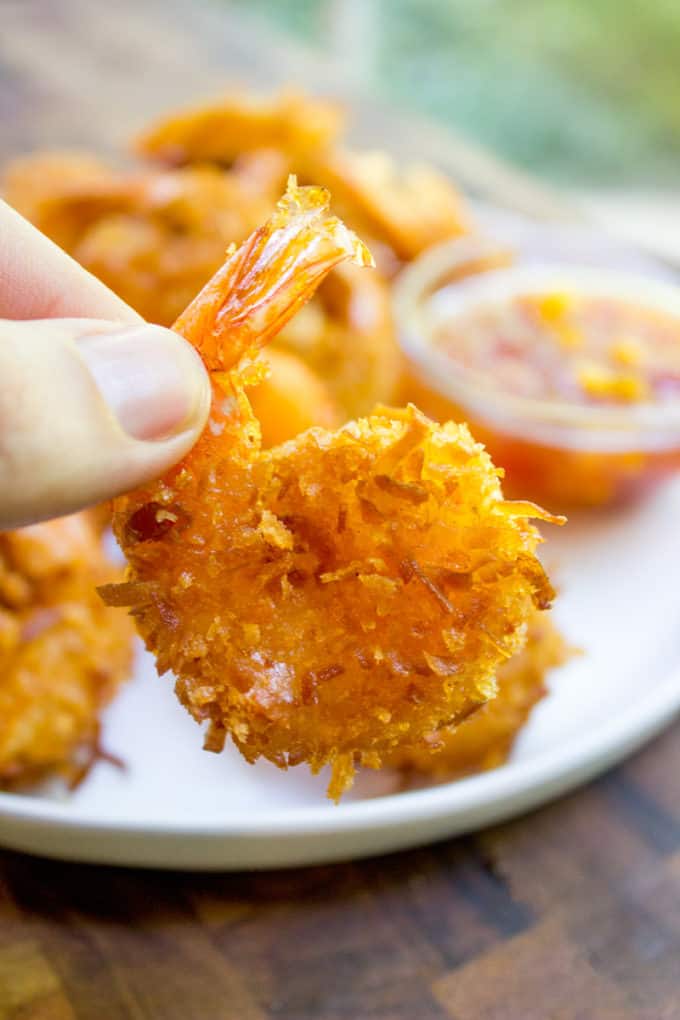 With just a mixture of their LA VICTORIA® Mango Habanero salsa, some honey and a few extra chopped mangos you'll have an awesome spicy and sweet dipping sauce.
PS, you should totally enter to win the giveaway, a $500 grill would make an awesome prize for the summer grilling season!
I mean, c'mon, don't you just want to eat a plateful of these Coconut Shrimp?  I can't promise you'll immediately feel transported to your favorite tropical destination like I was (I'm not too exotic, I had pictures in my head of being on my favorite cruise ship enjoying a layered mixed drink in my room on the balcony <— read: pure heaven), but I can promise you and any lucky guests you have over will totally enjoy them!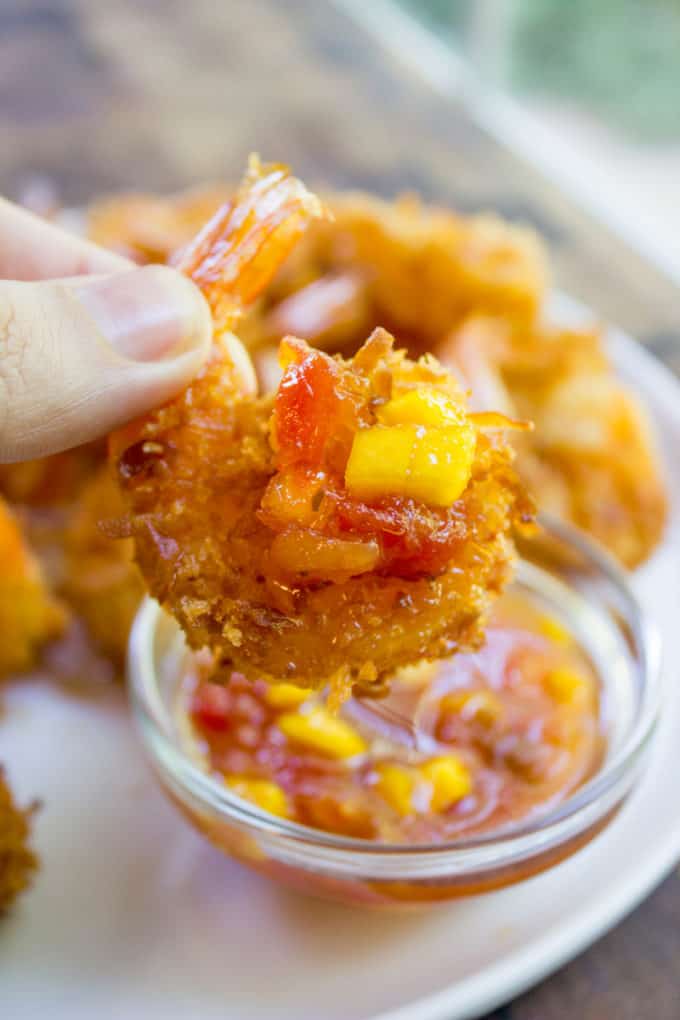 If you want to make these shrimp ahead of time, go ahead and follow the recipe through step 3, then freeze them on a baking sheet. Once frozen you can keep them in a freezer safe bag or container so you can enjoy them any time a craving hits.
MY OTHER RECIPES
Sometimes, when breading items I will make a double or triple batch since I'm already going to end up with eggy/breadcrumb fingers and then I freeze the rest so I cut down on prep time the next time we want to enjoy them. Plus, for this recipe I was working with a two pound bag of 18-21 shrimp, so I froze the second half since there were only a couple of us eating.
Tools used in this recipe:
Lodge Cast Iron Skillet – I use this pan for SO much it lives on my stovetop (hey, it isn't laziness…the pan is HEAVY!).
Pig Tail Flipper – I use this *almost* more than I use tongs in the kitchen. Flipping is so quick and doesn't smash foods.
Panko Breadcrumbs
Breading Station – I use this because the pans are wide with a flat bottom. If you have small rectangular plates use those, I wouldn't use curved bowls for breading stations as it could knock some breading off.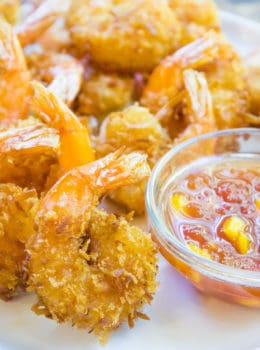 Coconut Shrimp with Sweet Mango Habanero Dipping Sauce
Coconut Shrimp with Sweet Mango Habanero Dipping Sauce makes the perfect appetizer for your summer get-together and it's quick and easy!
Prep Time 20 minutes
Cook Time 10 minutes
Total Time 30 minutes
Ingredients
1 pound shrimp , deveined and peeled to the tail (I used 18-21 count, I'd use anything up to 30 count)
1/2 teaspoon salt
1/2 cup flour
2 eggs , beaten
1/2 cup panko breadcrumbs
1/2 cup shredded coconut
Canola oil for frying
1/2 cup LA VICTORIA® Mango Habanero salsa
1/4 cup honey
1/2 mango , diced finely
Instructions
Note: You can also peel off the tail if you would like, but it makes for a cute and easy handle.

In a small bowl add the salt and flour and stir to mix.

Set up a small line of bowls, the first being the flour mixture, the second is the eggs and finally a bowl of the panko breadcrumbs mixed with the coconut.

Dredge the shrimp in the flour mixture, then in the egg and finally in the breadcrumb/coconut bowl until well coated.

In a sauté pan or small saucepan heat enough oil to have 2 inches of oil on medium-high heat and cook 1-2 minutes on each side, until they are browned and crispy.

Shrimp cook quickly so don't let them cook too long.

To make the dipping sauce, add the LA VICTORIA® Mango Habanero salsa, honey and diced mango to a small bowl and mix.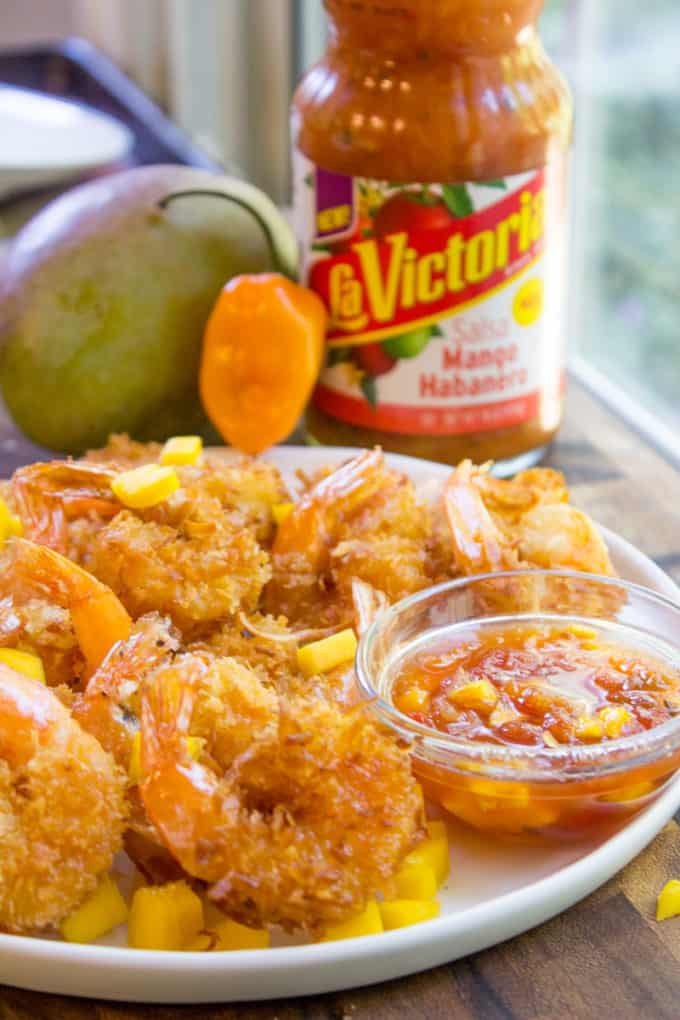 Dinner, then Dessert, Inc. owns the copyright on all images and text and does not allow for its original recipes and pictures to be reproduced anywhere other than at this site unless authorization is given. If you enjoyed the recipe and would like to publish it on your own site, please re-write it in your own words, and link back to my site and recipe page. Read my disclosure and copyright policy. This post may contain affiliate links.