Kung Pao Shrimp is a Chinese food restaurant classic spicy garlic stir fry that's healthy, easy and ready in less than 15 minutes!
Just like other Chinese dishes like Panda Express Kung Pao Chicken and Kung Pao Chicken Spaghetti, you'll love this classic Chinese favorite. The sweet and yummy flavors of Chinese Honey Chicken are also loved by the whole family!

Kung Pao recipes have always been a go-to when picking out Asian entrees. The name means something that is stir-fried and served with a spicy sauce. For the ultimate meal, if you start with Orange Chicken and Mongolian Beef, because they're fan favorites, add in Lo Mein and you're left looking for a shrimp dish. As a kid, one of the best meals from Panda Inn (Yes, Panda Inn as in the original restaurant before the whole Panda Express empire even existed!) was the super vague Spicy Garlic Shrimp. 
This Kung Pao Shrimp is a savory dish that has been inspired by that dish. It features juicy shrimp coated in a mild and earthy base with hints of garlic and ginger that just pop out with the crunchy peanuts. The crisp bell peppers lend color and a vibrant flare to the dish. The signatory Szechuan chilis bring it all together with a deeper sweet and nutty flavor that makes the mouth water just at the very mention here! 
Szechuan chilis are from the Sichuan province in southwest China. This area is also known for the famous giant pandas! They are similar to the Mexican style chili árbol found in many USA grocery stores. While the dish is made with the more mild in flavor of the Szechuan chilis. Thankfully, they don't make a spicy sauce when they are closed since the pepper flakes don't come out. This makes this a kid-friendly dish. Just pick out the spicy peppers if need be.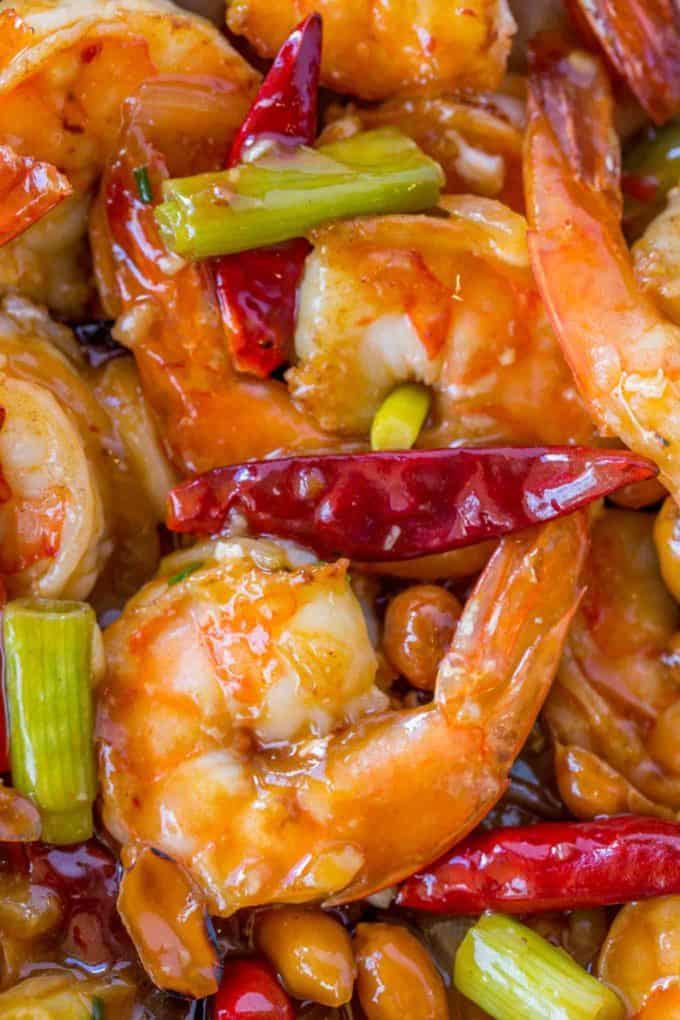 How to peel and devein shrimp
This recipe calls for juicy shrimp. If the shrimp is raw and unprocessed, you'll need to clean them up a bit before cooking. Be sure to thaw frozen shrimp before peeling and de-veining. Here's how to do it:
Step One – To peel raw shrimp, tear away at the shell above the first segment of the shell (the tail segment).
Step Two – Take a paring knife and make a shallow cut along the spine of the shrimp (the back of it).
Step Three – Using the paring knife or a fork, gently remove the black strip of intestines.
Step Four – To remove tails just squeeze the shrimp out from the bottom of the tail segment.
How to make Kung Pao Shrimp
Like Kung Pao Chicken, making Kung Pao Shrimp is easy. Have all your ingredients prepared before heating up the wok. The entire dish is done cooking in less than 5 minutes. The secret to the perfect dish is knowing when to add the ingredients into the pan. There's four main ingredient introduction points:
First – Cook the shrimp. Because shrimp cooks very quickly do not do any prep work while cooking.
Second – After removing the shrimp, add in the garlic and ginger along with the other aromatics in rapid succession.
Third – Next, add in the sauce ingredients.
Fourth – Finally, drop the peanuts and onions for a minute before adding back in the shrimp and serving.
Frequently Asked Questions
Is Kung Pao Shrimp Healthy?
Yes! The only things to rein in is how much oil you're using in the wok. Keeping the oil to a minimum you can enjoy this dish as much as you'd like. There isn't too much sugar or added salt in the dish. Plus, it's a low carb meal.
What chili should I use for Kung Pao Shrimp?
This recipe utilizes the flavorful red Chinese Szechuan (Sichuan) chilis which give the Kung Pao Sauce a distinct flavor. If you don't have these on hand, chili árbol is a similar variety used in Mexican cuisine, although a bit more spicy.
Should I toast the chilis first?
In many recipes, the familiar red chili is blackened on the outside before being cooked into the dish. Doing so gives a smokey, earthy flavor to the dish that many people absolutely love. You can do so by searing the chilis separately in a touch of oil, stirring frequently once they begin to cook. Note, they will start to smoke terribly if overcooked so watch them carefully. 
Do I have to use a Wok?
A wok is great for high heat and quick cooking. This wok is a great addition to your kitchen if you love cooking Chinese food or stir-frys in general. 
Alternatively, the large frying pan is an excellent choice as well. I use this Cuisinart pan for most of my non cast iron cooking, unless going with a stainless steel option, then I choose All Clad.
Why use whole chili peppers in a stir fry?
The use of the entire chili pepper is meant to add a bit of spicy heat to the dish without overpowering it. As the dish cooks it gets a small punch of heat from the exterior of the pepper cooking in the sauce without overwhelming the dish. It is critical to cook with them to ensure a proper flavor. Please don't eat these peppers by themselves since the pepper flakes are super spicy!


Create a free account to

Save Recipes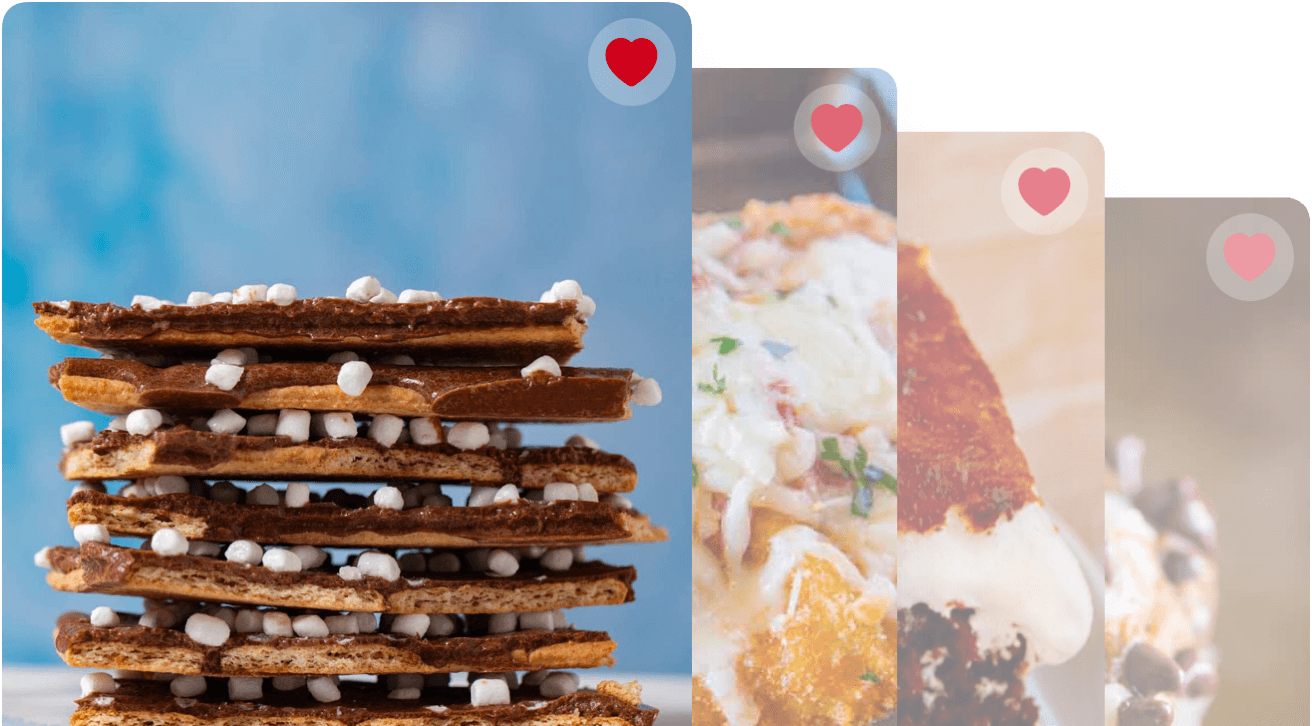 Key Ingredients in Kung Pao Shrimp
Key Ingredients in Kung Pao Shrimp
Shrimp – Use medium to large size shrimp for this recipe. Make sure they are thawed if frozen. 
Bell Peppers – This recipe uses green bell peppers, also called capsicum. You can use red, yellow, and orange bell peppers if you don't have the green peppers. 
Szechuan chili – These chilis are prized for their depth of flavor in many global cuisines. They are a bit spicy on the inside which is why we don't open them while cooking. You can find them at a local Asian market or international section in your local grocery store. 
Peanuts – Dry roasted peanuts can be salty or non-salty since this recipe doesn't add salt. 
Wine – Using a white wine will give a light tanginess that amps up the recipe. If you don't have wine or prefer to not use wine, you can easily substitute for equal parts rice vinegar. 
Variations on Kung Pao Shrimp
Since anything Kung Pao is going to be a stir-fry with a spicy sauce, there's plenty of variety to make this dish uniquely your own.
Add-ins – Many Asian dishes go well with water chestnuts which add a lot more crunch to the dish.
Sweetener – This is a savory dish with a savory sauce, but you can make it sweet by adding a couple tablespoons brown sugar while frying to give it a fun sweetness. 
Soy Sauce – You can use a low sodium soy sauce or other light soy sauce if you want to easily lower the sodium content. 
What to serve with Kung Pao Shrimp
Rice – Serve with steamed rice or fried rice. Brown rice is another popular option as well. The Kung Pao sauce will seep into the rice giving it a really nice flavor.
Noodles

– Add a quick

Classic Chinese Chow Mein

to the menu and you'll have a complete Chinese meal!

Vegetables

– Serve it over your favorite steamed vegetables, or even cauliflower rice.
How to Store Kung Pao Shrimp
Serve: Plate your Kung Pao Shrimp immediately. Careful it will be hot and should be covered if being served buffet style. 
Store: You can keep Kung Pao Shrimp for a day or two in the refrigerator in a sealed, airtight container. Just make sure to reheat leftovers fully so that the shrimp cooks to an internal temperature of 145º F to kill any harmful bacteria. 
Freeze: Meal prepping has never been so delicious. This is the perfect way to portion out your meals for the week. Kung Pao Shrimp will keep fresh in an airtight container in the freezer for up to 6 months. 


Ingredients
2

tablespoons

vegetable oil

1

pound

shrimp

, (16-20 count) peeled and deveined

1

teaspoon

sesame oil

2

cloves

minced garlic

2

teaspoons

ginger

, minced

10

Chinese szechuan chilis

1/2

green bell pepper

, thinly sliced

1

teaspoon

cooking wine

, or white wine

2 1/2

tablespoons

soy sauce

1

tablespoon

cornstarch

, mixed with 4 tablespoons water

1/2

cup

green onions

, cut into 1" segments

1/4

cup

dry roasted peanuts
Instructions
Add the vegetable oil to a heavy skillet on medium-high heat.

Add the shrimp and cook

1-2 minutes

on each side, or until cooked through.

Remove the shrimp from the pan.

Add in the sesame oil, garlic, ginger, red chili peppers and green bell peppers and cook for

30 seconds

, stirring frequently.

Add in the cooking wine, soy sauce and cornstarch slurry.

Cook for

1 minute

, stirring frequently until slightly thickened.

Add in the peanuts and green onions and stir.

Add in the shrimp and stir together before serving.
Nutrition
Calories:
249
kcal
|
Carbohydrates:
7
g
|
Protein:
27
g
|
Fat:
13
g
|
Saturated Fat:
2
g
|
Polyunsaturated Fat:
5
g
|
Monounsaturated Fat:
5
g
|
Trans Fat:
0.05
g
|
Cholesterol:
183
mg
|
Sodium:
805
mg
|
Potassium:
480
mg
|
Fiber:
2
g
|
Sugar:
2
g
|
Vitamin A:
268
IU
|
Vitamin C:
33
mg
|
Calcium:
95
mg
|
Iron:
1
mg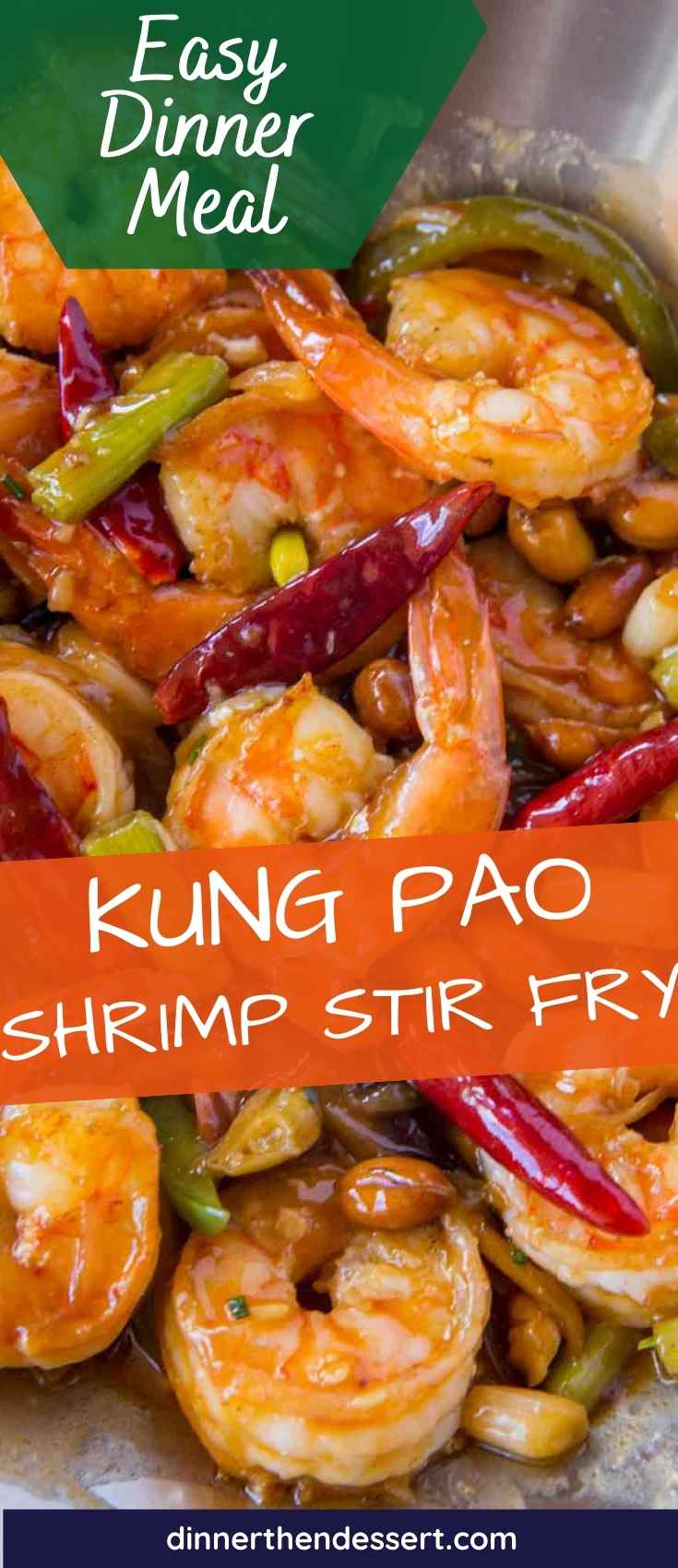 Images used in a previous version of this post.