The best In-N-Out Burger Spread copycat recipe for the famous creamy, tangy burger secret sauce. Perfect topping for burgers, fries, and more.
Whether you want to recreate the infamous In-N-Out Double Cheeseburgers and Animal Style Fries, or you just want to take Burgers and Sandwiches to the next level, this Copycat burger Sauce Recipe is sure to be a favorite!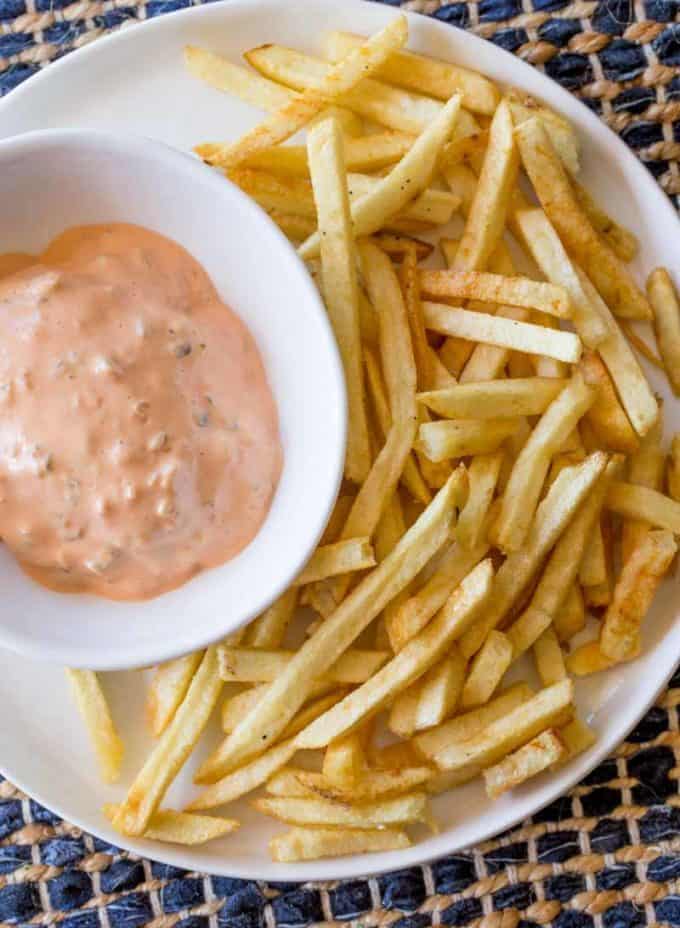 If you've ever had the pleasure of sinking your teeth into a juicy In-N-Out burger, then you know that one of the keys to its irresistible flavor lies in the iconic In-N-Out Burger Spread. This creamy, tangy secret sauce adds a burst of flavor that takes their burgers, fries, and other menu items to a whole new level. Since they don't sell their special sauce like other popular fast food chains, if you want to enjoy it without the long line, you need a copycat sauce recipe like this one.
While In-N-Out Burger may not disclose the exact recipe for their famous spread, fear not! This is a perfect copycat recipe that captures all the goodness of the tangy, signature sauce. The best part of making it at home means you can use that iconic spread on your favorite recipes! From slathering it on burgers to using it as a dip for Onion Rings and Chicken Fingers, to making insanely good Animal Style Sloppy Joes, this homemade In-N-Out sauce is exactly what your dinner dishes need.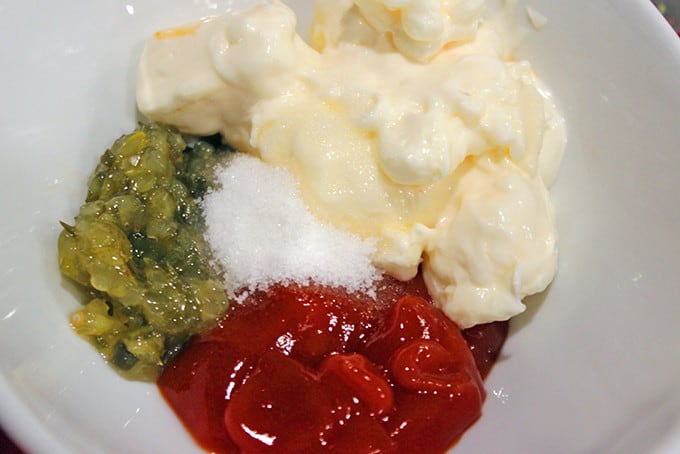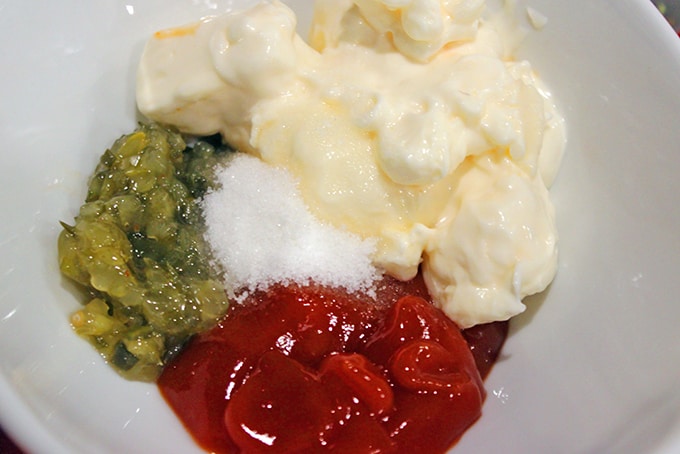 The best part about this classic burger sauce recipe, besides the amazing flavor of course, is how easy it is to make with simple ingredients you already have in your pantry right now. All you need to recreate this Copycat In-N-Out Sauce is mayonnaise, ketchup, sugar, sweet relish, and white vinegar. It all gets whipped together, then you let it chill for a bit to really develop all that yummy flavor, then it's ready to serve on all your burgers, sandwiches, fries, and more.
What is In-N-Out Burger Spread?
In-N-Out Burger Spread is a creamy and tangy sauce that brings a signature flavor to In-N-Out's burgers. It's a blend of mayonnaise, ketchup, and sweet pickle relish, with a hint of sugar to balance the flavors. This secret sauce is what sets In-N-Out burgers apart and keeps fans coming back for more.
What is the difference between In-N-Out Sauce and Thousand Island Dressing?
While In-N-Out Spread and Thousand Island Dressing share some similarities, there are notable differences. In-N-Out Spread has a creamier texture, with the tanginess of ketchup and the sweetness of sweet pickle relish shining through. In contrast, Thousand Island dressing often contains additional ingredients like finely chopped onions, garlic, and Worcestershire sauce, resulting in a more complex savory taste.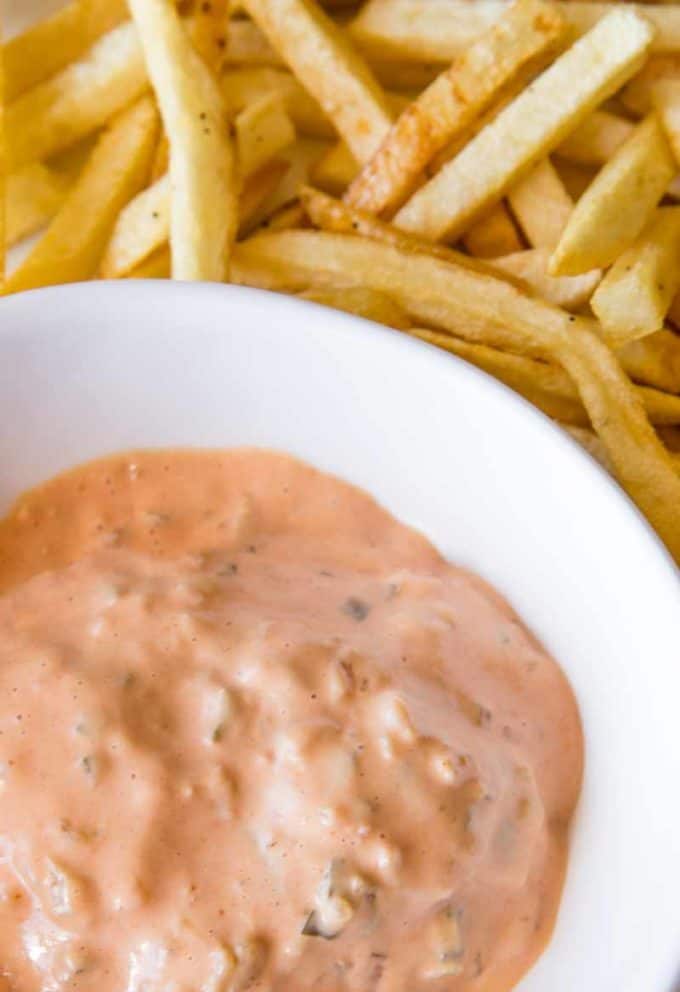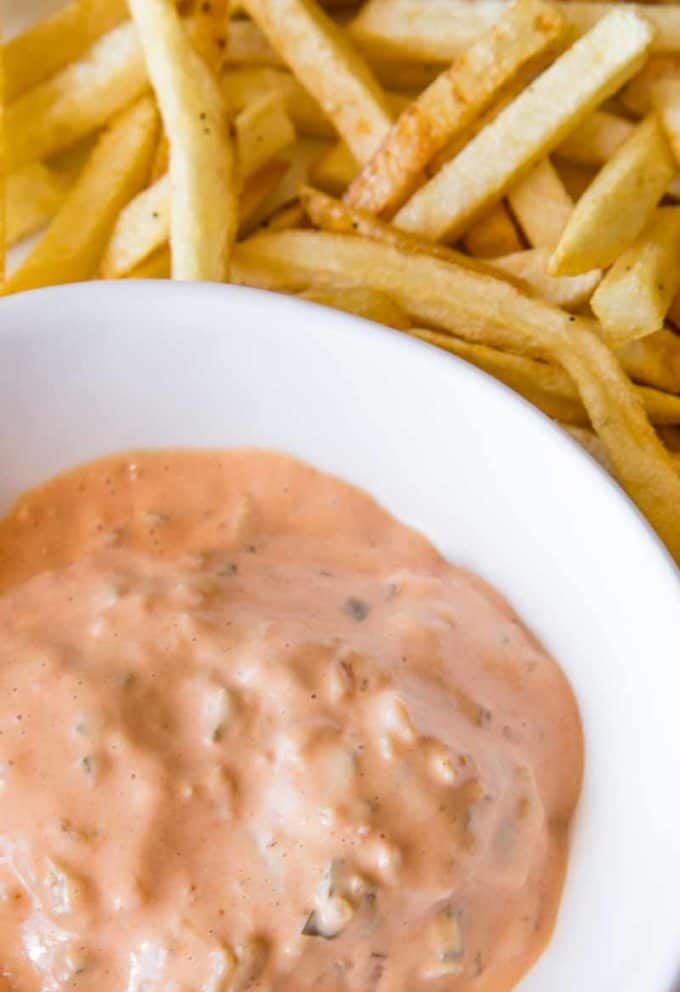 How to Make In-N-Out Burger Spread
Mix: In a medium bowl, combine the mayonnaise, sugar, sweet pickle relish, ketchup and vinegar by hand until well mixed.
Chill: Cover the bowl and let the secret sauce mixture chill in the refrigerator for at least an hour before serving.
FAQs for In-N-Out Burger Spread
Why is it called In-N-Out?
The name "In-N-Out" reflects the fast-food chain's commitment to providing quick service and fresh food. The term "In-N-Out" signifies the efficiency of their drive-thru system, where customers can order, receive their food, and be on their way in a short amount of time. Additionally, it reflects their emphasis on using fresh ingredients and preparing food made-to-order, which is what made them stand out and become a household name.
Can you freeze copycat In-N-Out sauce?
It is not recommended to freeze mayo-based sauces like this In-N-Out Spread as the texture and consistency may change upon thawing, resulting in a separation or grainy texture. It is best to store the sauce in the refrigerator for up to two weeks, or make it fresh.
Does In-N-Out Sauce have mustard?
No, the traditional In-N-Out Burger Spread does not contain mustard as an ingredient. The secret sauce recipe is of course secret, but the signature tangy flavor does not come from mustard, instead it's from pickle and vinegar.
Are there pickles in the In-N-Out spread?
Yes, there are pickles in the In-N-Out spread. Sweet pickle relish, which is made from finely chopped sweet pickles, is one of the key ingredients in the sauce, providing a sweet and tangy flavor to enhance the taste.
Is there a substitute for sweet pickle relish?
If you don't have sweet pickle relish on hand, you can substitute it with finely chopped sweet pickles or bread and butter pickles to achieve a similar sweet and tangy flavor in your In-N-Out Burger Spread.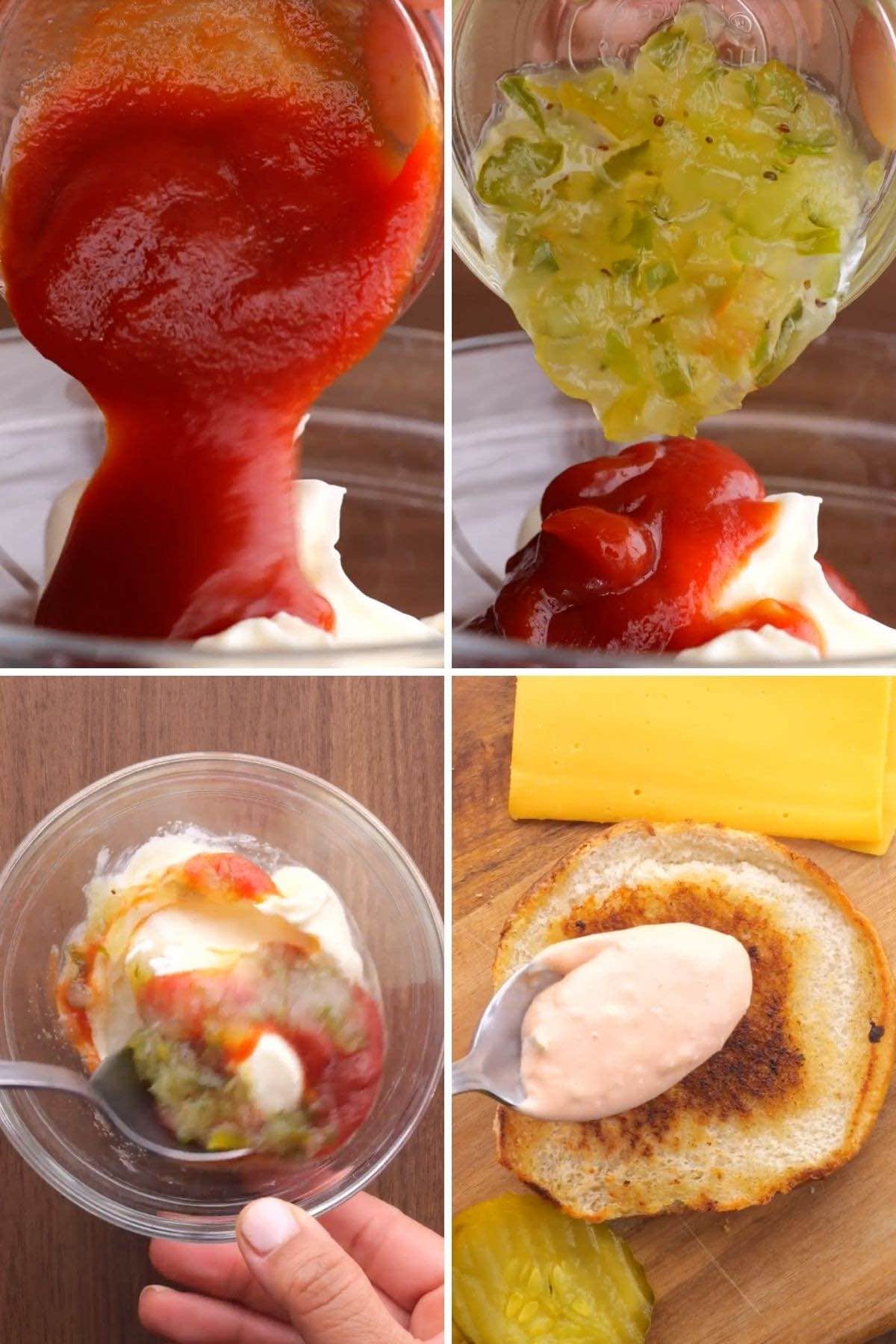 Create a free account to Save Recipes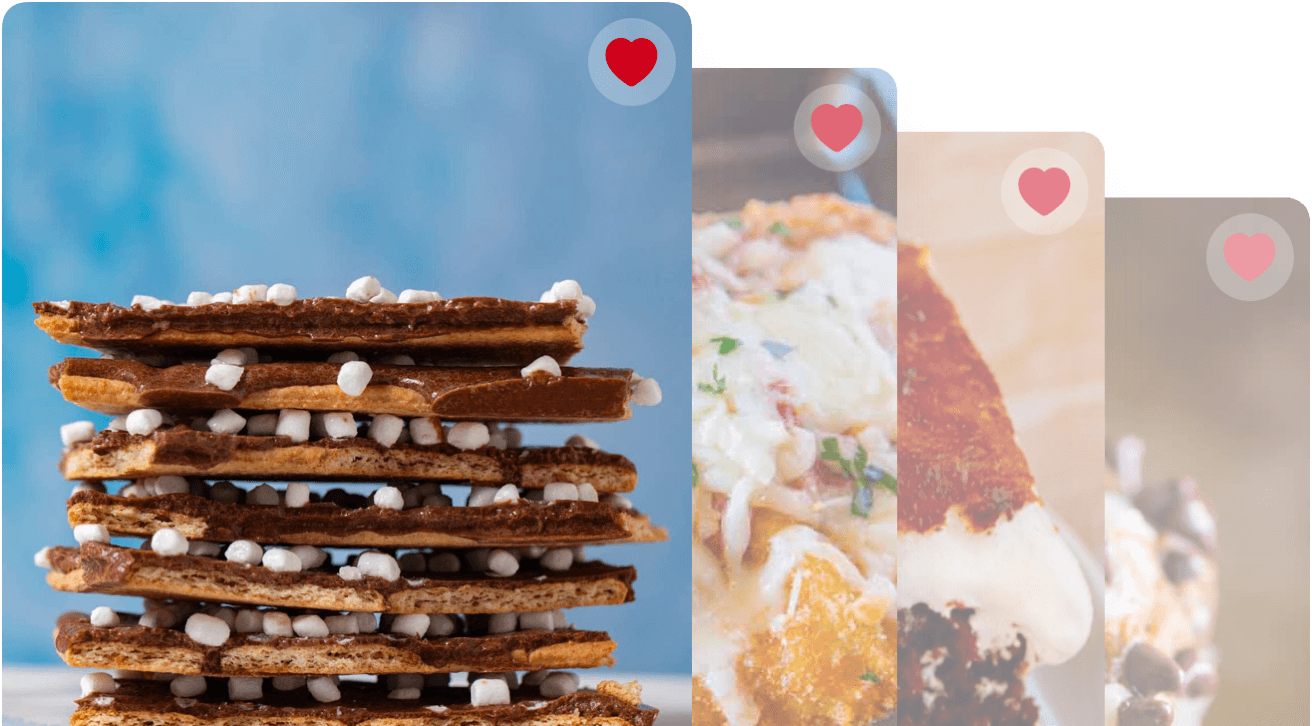 Key Ingredients
Mayonnaise: Mayonnaise serves as the creamy base of the spread, lending richness and a smooth texture. It adds a luxurious mouthfeel to the sauce and helps bind the flavors together.
Ketchup: The tangy tomato base and subtle sweetness of ketchup contribute to the signature flavor profile of In-N-Out Burger Spread. The tomato flavor also adds depth to the sauce without overpowering it.
Sweet Pickle Relish: Sweet pickle relish brings another unique and delightful combination of sweetness and tang to the sauce. It consists of finely chopped sweet pickles that have been preserved in vinegar, and adds a fresh, sour note.
Sugar: A little bit of whie sugar is added to balance the tanginess of the ketchup, pickle relish, and vinegar. It helps round out the flavors for a delicious, burger spread with lots of depth.
White Vinegar: The extra white vinegar really brings home the tangy, tartness of this delicious hamburger sauce recipe. You could also use apple cider vinegar to add some more sweet, floral notes, but stick to light vinegar so you don't drown out the other flavors.
Can you make In-N-Out Burger Spread ahead of time?
Yes, you can make In-N-Out Burger Spread ahead of time! In fact, it's even better when the flavors have had time to develop. Prepare the spread as instructed, cover it tightly, and refrigerate it for a few hours or overnight. This will allow the ingredients to meld together, enhancing the taste and ensuring a consistent texture. Making it ahead of time also saves you valuable minutes when you're ready to assemble your burgers or enjoy it with fries.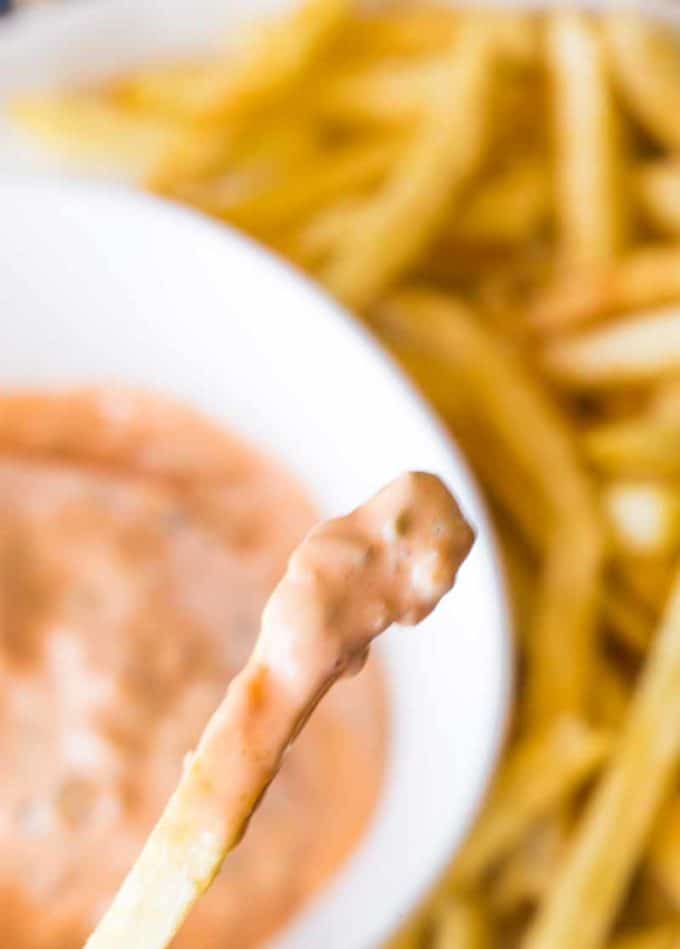 Variations
Spicy Kick: Add a dash of hot sauce, pinch of cayenne pepper, or some red pepper flakes to the special sauce recipe to give this burger spread a fiery kick.
Smoky: Incorporate a teaspoon of liquid smoke to infuse the sauce with a delightful smoky flavor, reminiscent of grilled burgers. You could also add some paprika to add a sweeter smoky flavor.
Garlic: Enhance the flavor of this creamy, tangy sauce with the boldness of garlic by adding a clove of finely minced garlic or a teaspoon of garlic powder.
Savory: Make this sauce more like thousand island dressing by adding some Worcestershire sauce to the mix and replacing the sweet pickle relish with regular relish or chopped up pickles. Mustard would taste yummy too!
How to Serve In-N-Out Burger Spread
Dipping: This burger spread can (and should!) be used as a dipping sauce for French Fries, onion rings, veggies, Chicken Tenders and more!
Kebabs: During the summer, use this sauce as a marinade and glaze for chicken kebabs. Marinate the chicken pieces in the sauce for an hour or two. Make skewers with chicken, red bell peppers, tomatoes and onions. Brush more sauce over the kebabs during the last minutes of cooking and serve with even more sauce.
Beef Dishes: Stir some of this delicious sauce into your favorite Sloppy Joe mixture or smother your Meatloaf with it instead of the normal tomato sauce mixture.
Topping: Of course you can slather this on your burgers, but what about hot dogs?! YUM! Or try this sauce on a Reuben Sandwich instead of 1000 Island Dressing.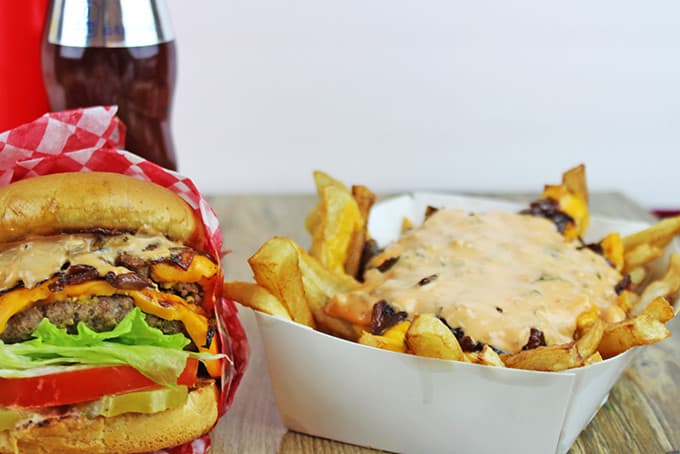 More Copycat Sauce Recipes
How to Store
Serve: You want to let the sauce chill for at least an hour in the fridge, but ideally 3-4 hours (or overnight) so that it has time to blend all the flavors. Don't leave it at room temperature for more than 2 hours though.
Store: To store In-N-Out Burger Spread, transfer it to an airtight container and refrigerate. It can be kept in the refrigerator for up to 2 weeks.
Freeze: Since this sauce has mayonnaise in it, you do not want to freeze it. The mayo will separate and the texture won't be creamy when thawed.


Ingredients
1/2

cup

mayonnaise

3

tablespoons

ketchup

2

tablespoons

sweet pickle relish

1 1/2

teaspoons

sugar

1 1/2

teaspoons

distilled white vinegar
Instructions
Combine all the ingredients into a bowl and stir.

Let cool in a refrigerator (covered) for an

hour

before serving for best flavor.
Nutrition
Calories:
145
kcal
|
Carbohydrates:
4
g
|
Fat:
14
g
|
Saturated Fat:
2
g
|
Cholesterol:
7
mg
|
Sodium:
227
mg
|
Potassium:
23
mg
|
Sugar:
4
g
|
Vitamin A:
110
IU
|
Vitamin C:
0.3
mg
|
Iron:
0.1
mg