Beer Battered Onion Rings are the perfect combination of crispy, light and fluffy with a hint of sweetness from the beer. A great side for your summer bbq!
Just like with the immediately popular BBQ Pulled Chicken, you can serve this summer favorite with your favorite burgers like Philly Cheese Steak Burgers or Carl's Jr. Breakfast Burger along side some Loaded Garlic French Fries.
 Beer Battered Onion Rings
Beer Battered Onion Rings aren't a side dish many people feel like they can make or even order as often as they'd like. Any restaurant you go to always has a huge upcharge on them as sides, some even charging ten or more dollars for them as an appetizer!
It's an onion and some beer and flour folks, don't go spending all your money on side orders of onion rings. Just a single onion will make you a mountain of onion rings!
It must be complicated right? Nope!
There's only a couple of decisions to make, sweet or regular onions? Beer batter or panko crust?
The most important thing to pay close attention to is slicing the onions evenly. If you slice some thicker than the others you'll be cooking them for different times which will mean you'll probably end up with raw onions inside some. I find 1/4″ is the sweet spot for the onions softening during the time it takes them to brown and cook in the oil.
How do you make Beer Batter for Onion Rings:
Onions – I use yellow or Maui sweet depending on which flavor I prefer. In this recipe we will stick with the yellow (or sometimes called brown) onion.
Buttermilk – a nice soak in the buttermilk will tame the onion-y flavor.
Flour – All purpose flour, nothing fancy to see here.
Kosher salt – use regular table salt if you prefer, I always defer to kosher salt.
Black Pepper – balancing our seasonings here.
Garlic Powder – optional, but you won't taste the garlic I promise.
Beer – What's your favorite? I love using a Heineken or Hefeweizen.
Canola Oil – My go to for frying.
How do you get the batter to stick to onion rings?
Once you've soaked the onions in the buttermilk remove them with tongs and allow them to drip dry for a second before dredging in flour. Shake off the excess flour before dipping in the beer batter and frying.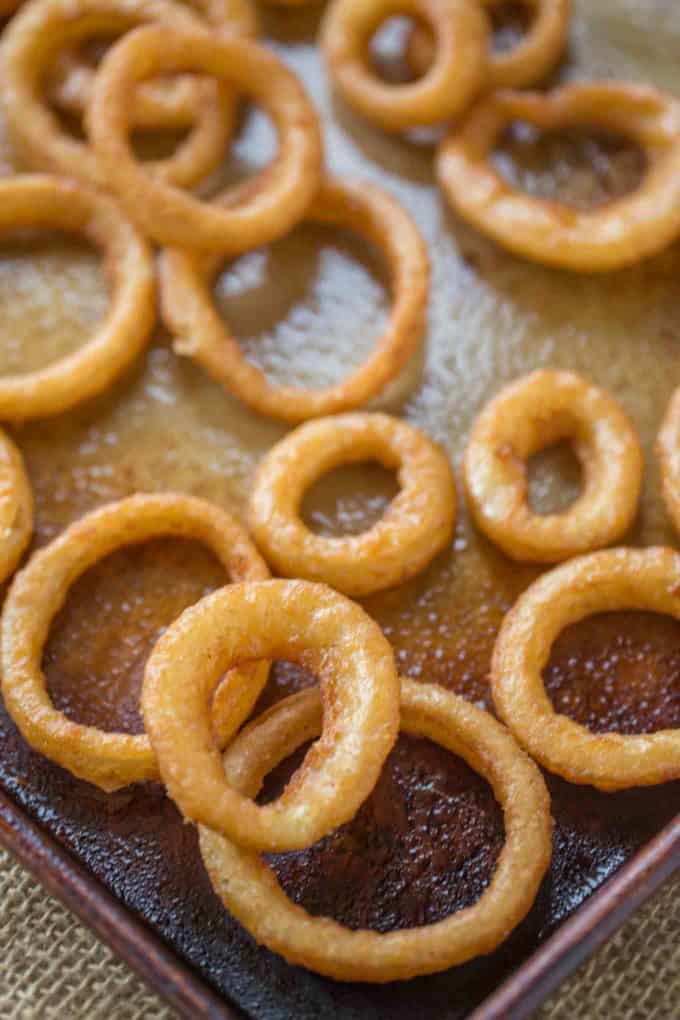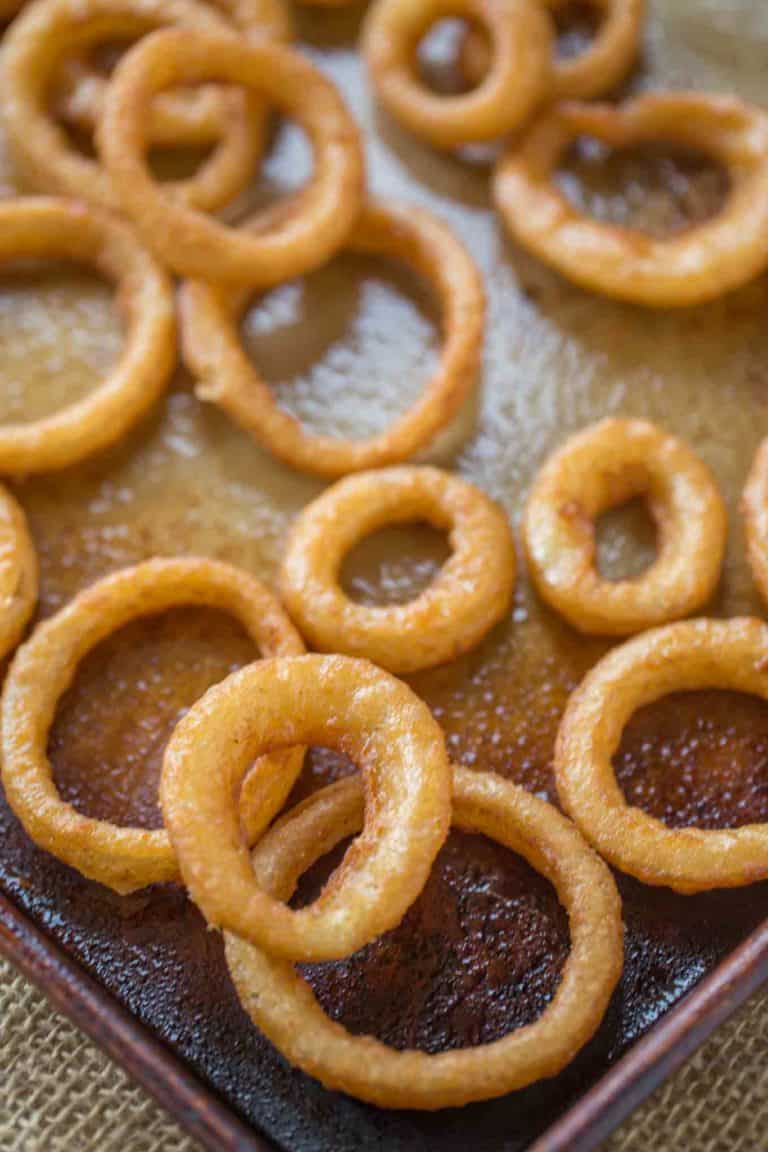 What is the batter for onion rings?
Onion Rings can be fried with a number of different batters. The most popular and loved is the beer battered variety but we also love Crispy Thin Onion Rings that have a super light batter or a panko breaded onion ring which have a chicken nugget breading consistency.
Can you make beer battered onion rings in the air fryer? No, as a general rule I avoid all wet batter frying in the air fryer. The liquid in the batter would drip off the onion pieces and make a mess in the air fryer.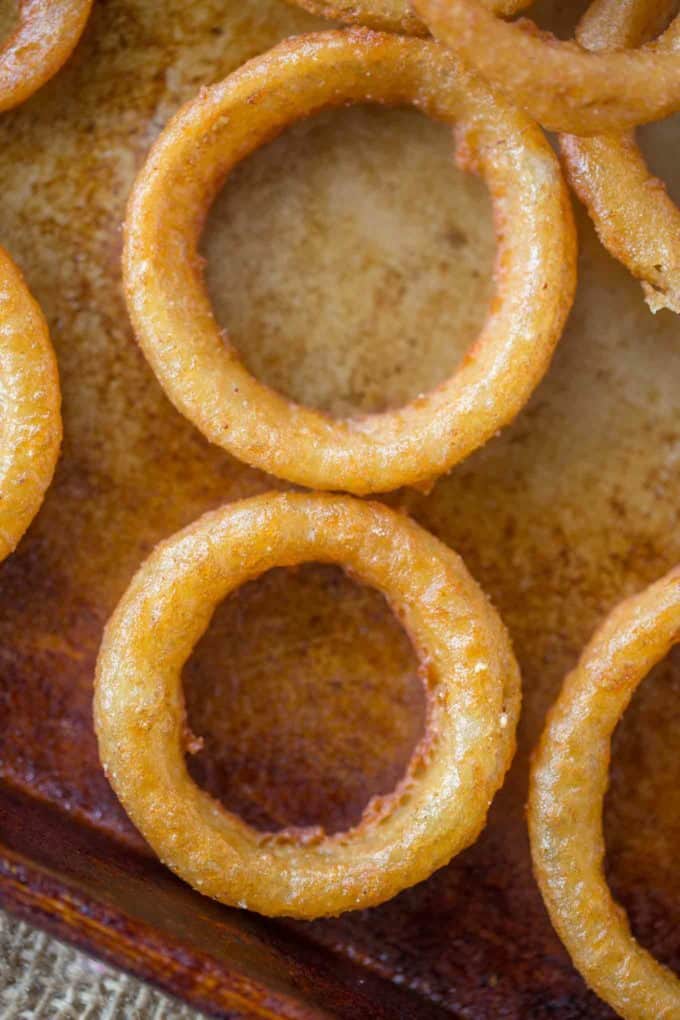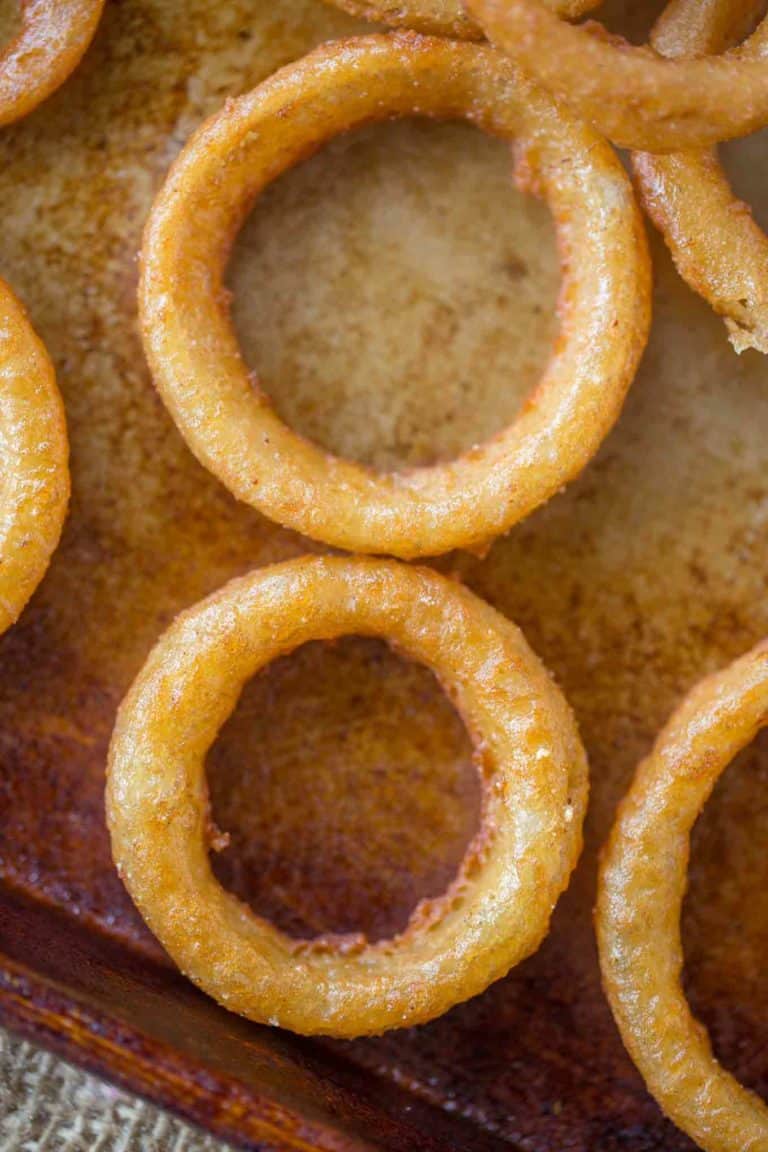 Tools Used in the making of these Beer Battered Onion Rings:
Lodge Cast Dutch Oven: – I use this dutch oven for a lot of frying and braising.
Spider Strainer: Love these strainers for quickly draining oil away and scooping out fried food.
Breading Station: I use this because the pans are wide with a flat bottom.


Ingredients
1

yellow onion

, peeled and sliced into ¼ thick slices

1

cup

buttermilk

canola oil for frying

, 3 inches deep

1

cups

flour

, divided

1/4

teaspoon

kosher salt

1/8

teaspoon

black pepper

1/4

teaspoon

garlic powder

3/4

cup

beer

(I used Heineken)
Instructions
In a large bowl add the onion slices and buttermilk together and let soak for

ten minutes

while you make the batter.

In a second large bowl add a half a cup of the flour, salt, black pepper and garlic powder and whisk them together.

Add the beer and whisk until just combined.

In a third bowl add the remaining flour.

Add canola oil to a dutch oven (about 3" deep) and heat on medium high heat to 350 degrees.

Using tongs remove the onions from the buttermilk and let drip dry.

Dredge in the flour then through the beer batter one at a time.

Add to the oil and cook for

2-3 minutes

or until golden brown.

Cool on a cookie sheet or cooling rack, do not place onto paper towels.
Nutrition
Serving:
8
g
|
Calories:
286
kcal
|
Carbohydrates:
21
g
|
Protein:
4
g
|
Fat:
20
g
|
Saturated Fat:
2
g
|
Cholesterol:
4
mg
|
Sodium:
141
mg
|
Potassium:
111
mg
|
Fiber:
1
g
|
Sugar:
3
g
|
Vitamin A:
66
IU
|
Vitamin C:
1
mg
|
Calcium:
53
mg
|
Iron:
1
mg