Reuben Sandwiches are the ultimate grilled sandwich. They're filling and flavorful with corned beef, dressing, Swiss cheese and sauerkraut all on rye bread.
Reubens are a classic American Sandwich Recipe. The combination of savory meat, tangy sauce, and salty-sweet sauerkraut make it completely unique and delicious. We already have a recipe for a Slow Cooker Version of this on the blog, but this is one you can make in a few minutes in a cast-iron skillet for a lunch or easy dinner.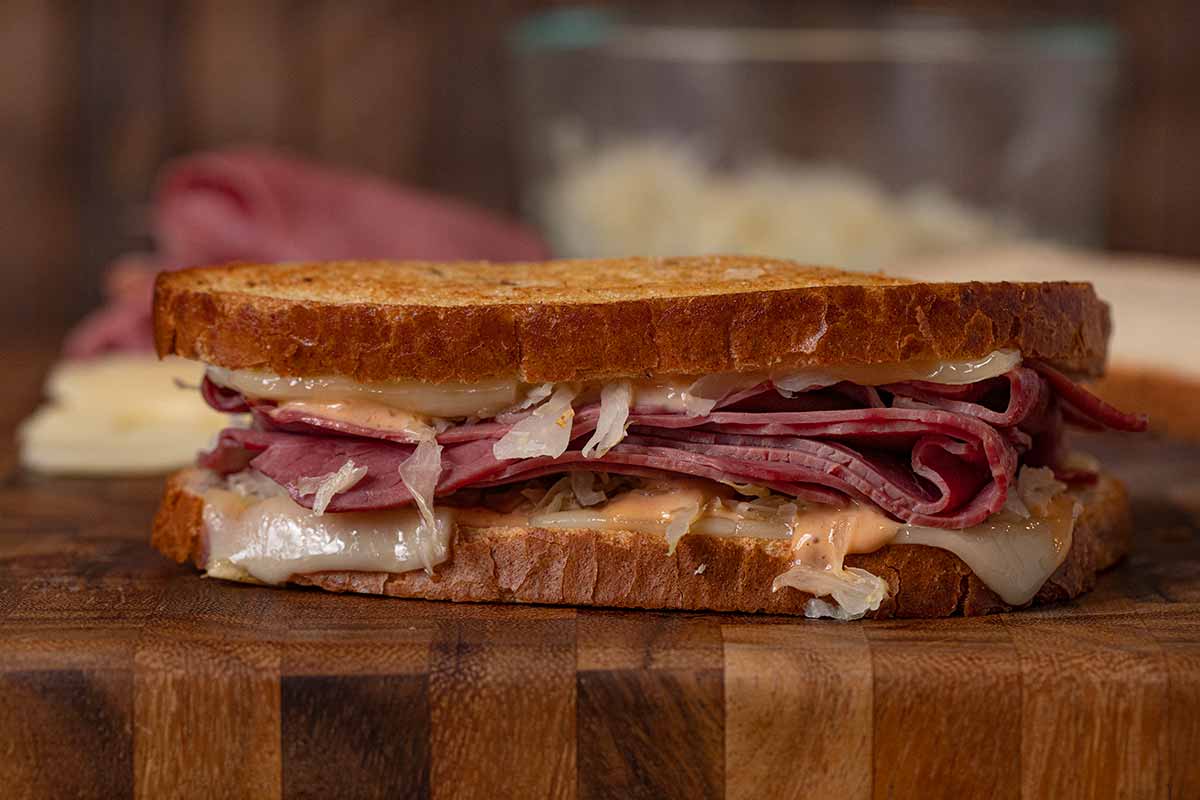 REUBEN SANDWICH
It's hard to think of a more mouthwatering, delicious lunch than a hearty, juicy Reuben Sandwich. You can make this simple sandwich dish in less than 15 minutes with easy ingredients like corned beef, swiss cheese, and marbled rye bread. The flavorful filling is the perfect complement to the buttery, toasted bread!
Try this Reuben Sandwich recipe the day after you have Homemade Corned Beef for dinner to use up any leftovers. It's the perfect way to give the meat new life, instead of just reheating it in the microwave. If you don't want to make corned beef, you can always just get a cut of it from your grocery store deli.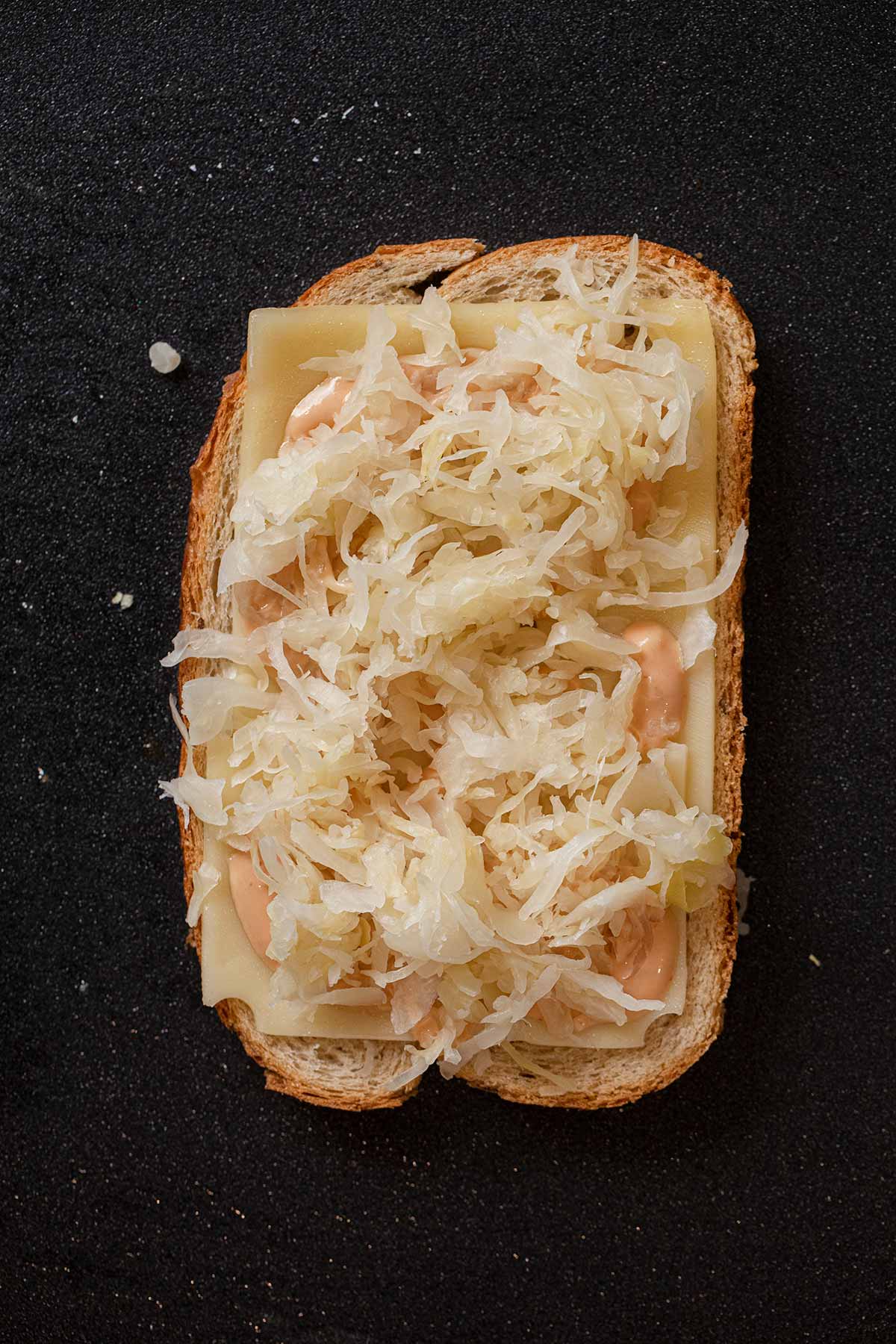 WHERE DOES THE REUBEN SANDWICH COME FROM?
There are a couple of competing origin stories for the Reuben Sandwich we know and love today. One account claims that it comes from Omaha, Nebraska where it was developed by Reuben Kulakofsky at the Blackstone Hotel. As the story goes he asked for a sandwich to be made with the typical Reuben ingredients at a weekly poker game.
Another story claims that the Reuben was developed at Reuben's Delicatessen in New York City. But, no matter who came up with the sandwich, I think we can all agree we're happy they did!
MORE SANDWICH RECIPES
TIPS FOR MAKING THE BEST REUBEN SANDWICH
Lightly butter each of your bread slices on one side. This will make sure they don't stick to the griddle and add a tasty layer of melted butter to the toasty bread.
If you're using a griddle, place 4 slices of bread on it butter side down. If you're using a skillet, you may need to do this in batches.
Drizzle the Thousand Island dressing over the bread, then add the sauerkraut and corned beef. Top it off with a slice of cheese and the top bread. Make sure that the butter side of the bread is facing out again.
Cook for another 2 minutes while the cheese melts and bread toasts.
Flip each sandwich over and cook for another 4 minutes. Or until toasted to your preference.
Press down on each sandwich gently to bring the filling together before serving warm.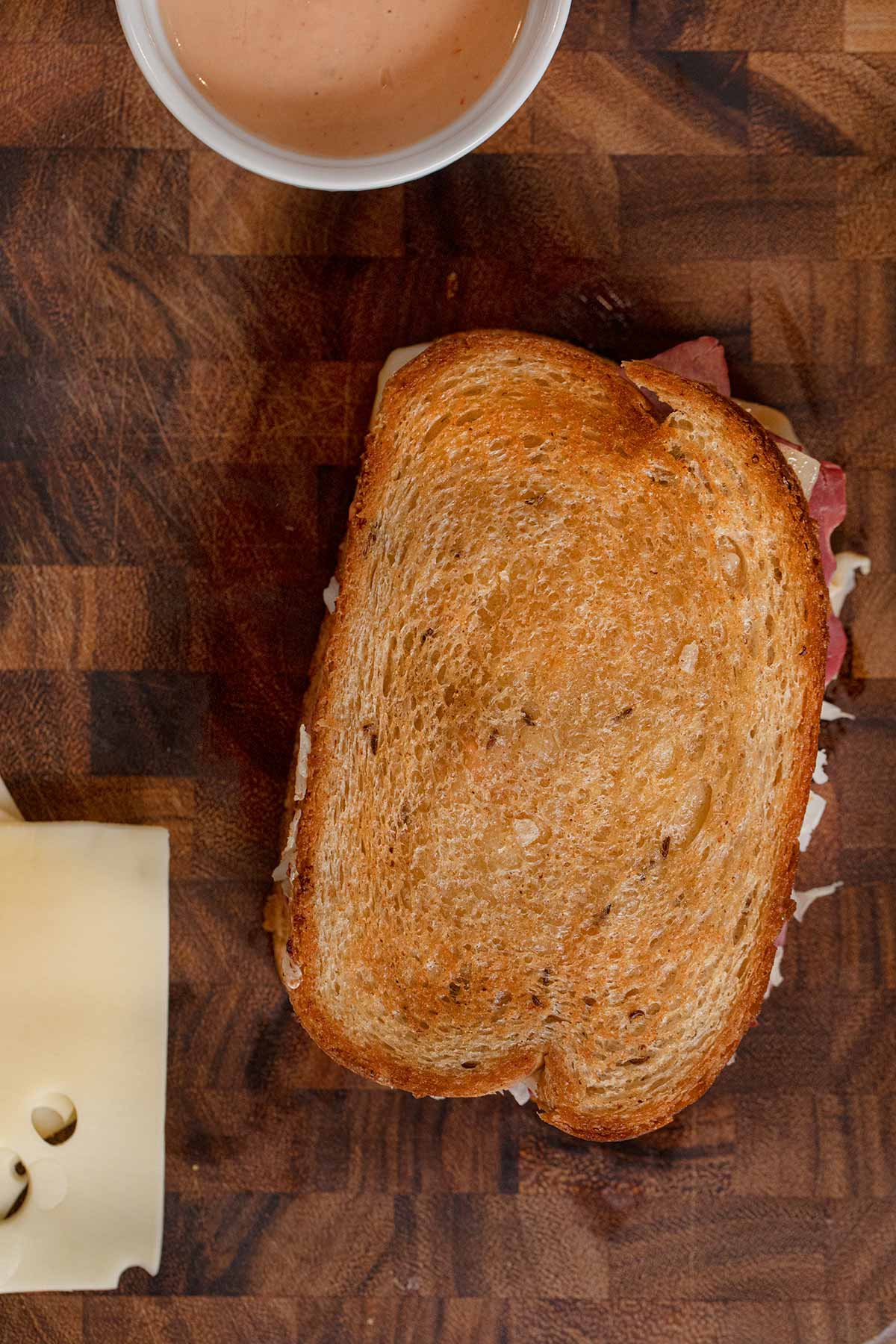 Create a free account to Save Recipes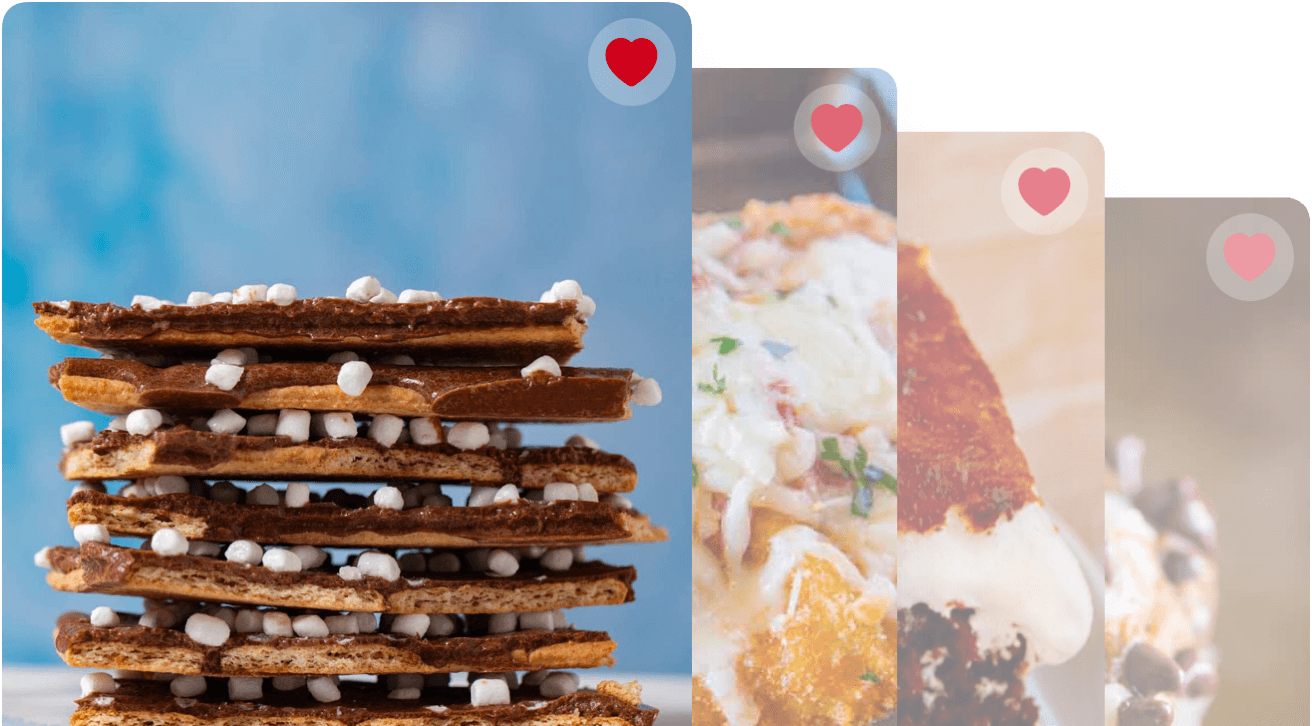 VARIATIONS ON REUBEN SANDWICH
Russian Dressing: Instead of using Thousand Island Dressing, some people prefer Russian dressing in their Reuben Sandwiches. To make your own Russian dressing combine 1 tablespoon minced onion, 1 cup mayonnaise, ¼ cup chili sauce, 4 teaspoons horseradish, 1 teaspoon hot sauce, 1 teaspoon Worcestershire sauce, and ¼ teaspoon sweet paprika.
Sauerkraut replacements: If you're not a fan of sauerkraut, you can try other ingredients like sweet pickle relish or Coleslaw.
Bread: Instead of marble rye bread, you could make the same sandwich with pumpernickel bread, sourdough, or ciabatta.
Cheese: Instead of Swiss cheese try a slice of mozzarella, provolone, muenster, or gouda.
Reuben Sliders: To make this recipe into a fun party appetizer, toast slider rolls and then add the same ingredients to them. Stick a toothpick through the roll to keep the mini Reubens from falling apart.
MORE FUN SANDWICH RECIPES
HOW TO STORE A REUBEN SANDWICH
Serve: Don't leave your Reuben Sandwich at room temperature for more than 2 hours.
Store: Sandwiches are best served fresh, but if you don't finish you can store them in the fridge for a day. Wrap it tightly in tin foil or plastic wrap to keep the moisture out.
Freeze: You can also freeze a Reuben for up to 2 months. Just take the sauerkraut off of the sandwich before freezing it.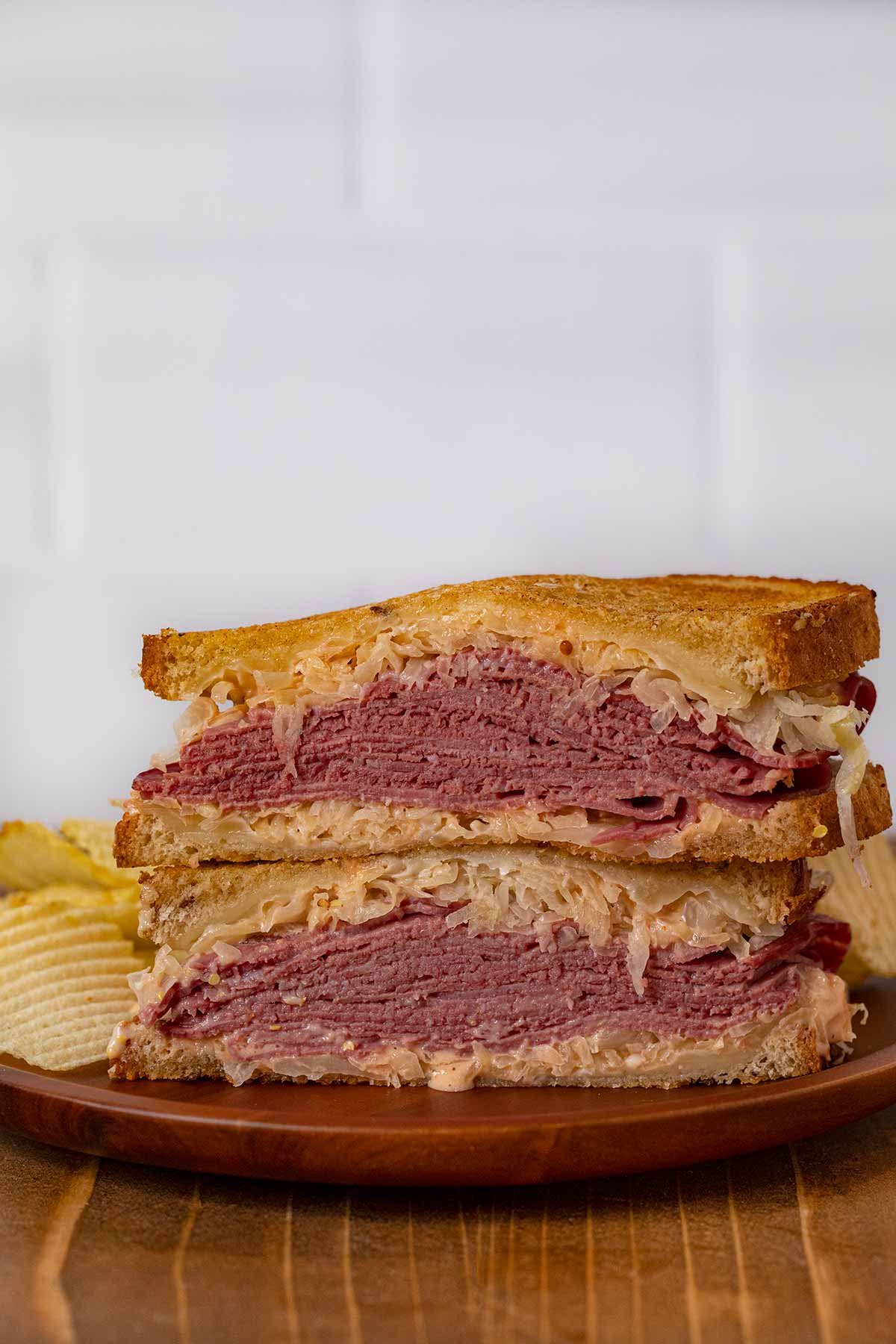 Ingredients
3

tablespoons

unsalted butter

, softened

8

slices

Rye Bread

1

cup

Thousand Island Dressing

3/4

cup

sauerkraut

, drained

4

slices

Swiss cheese

1

pound

corned beef

, sliced
Instructions
Spread butter on one side of each slice of bread.

Add 4 slices buttered side down to a griddle or large skillet on medium heat.

Add 2 tablespoons of Thousand Island dressing.

Add 3 tablespoons sauerkraut, then 4 ounces of corned beef.

Add 2 tablespoons of thousand island dressing, a slice of Swiss cheese, and the remaining bread slices, butter side up (away from the rest of the sandwich).

Cook for 2 additional minutes, then flip and cook the second side for

4 minutes

, pressing down gently.
Nutrition
Calories:
766
kcal
|
Carbohydrates:
42
g
|
Protein:
28
g
|
Fat:
54
g
|
Saturated Fat:
17
g
|
Cholesterol:
116
mg
|
Sodium:
2515
mg
|
Potassium:
568
mg
|
Fiber:
5
g
|
Sugar:
13
g
|
Vitamin A:
535
IU
|
Vitamin C:
35
mg
|
Calcium:
210
mg
|
Iron:
5
mg