Triple Decker Club Sandwich is the ultimate lunch or easy dinner made with crisp bacon, tomatoes, lettuce, cheddar cheese, turkey, and ham.
Club Sandwiches are a classic menu item that you can get at most diners. This easy Sandwich Recipe will help you make one that tastes just as good as the restaurant in your own kitchen. Serve it up with potato chips, Potato Salad, or Wedge Salad for the perfect lunch.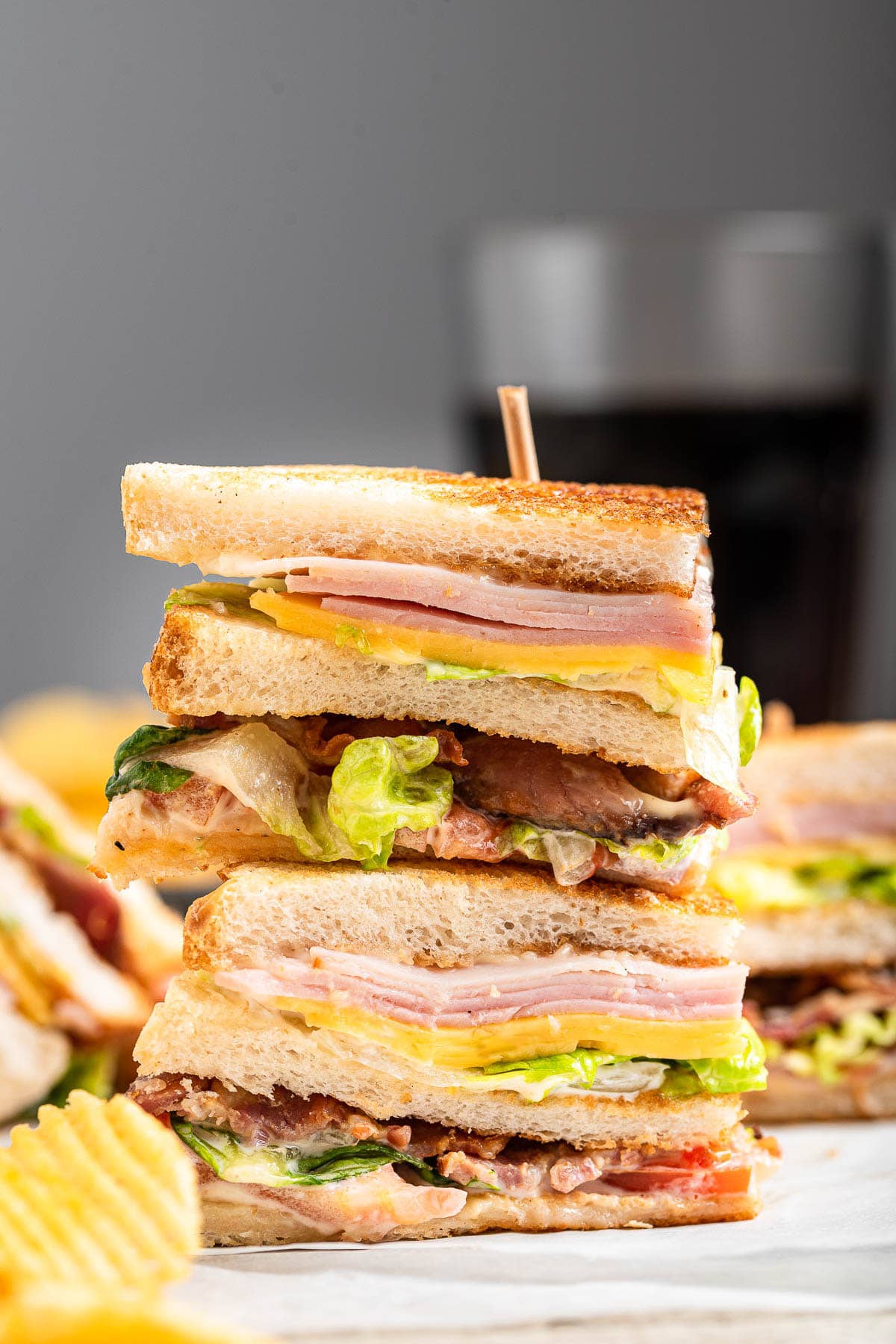 This Triple Decker Turkey Club Sandwich is made with 3 slices of bread in each sandwich, which is why it's called a triple-decker. The extra slice of bread makes the sandwich even more satisfying and goes great with all the different filling ingredients. There are three different kinds of meat in this sandwich – turkey, ham, and bacon. Then there are the tomato slices, lettuce, and cheese. So, it's great to have the extra slice of lightly toasted white bread to hold everything together and balance out the taste for the perfect, delicious sandwich.
Club Sandwiches are similar to a classic BLT (Bacon Lettuce and Tomato), but they have the addition of ham and turkey. The flavorful and tender meat pairs perfectly with the fresh tomato and crisp lettuce in each bite. The refreshing taste of Club Sandwiches is great to enjoy for lunch, or divided into quarters and served on a party tray. Make sure to stick toothpicks through the center of your sandwich so they don't fall apart.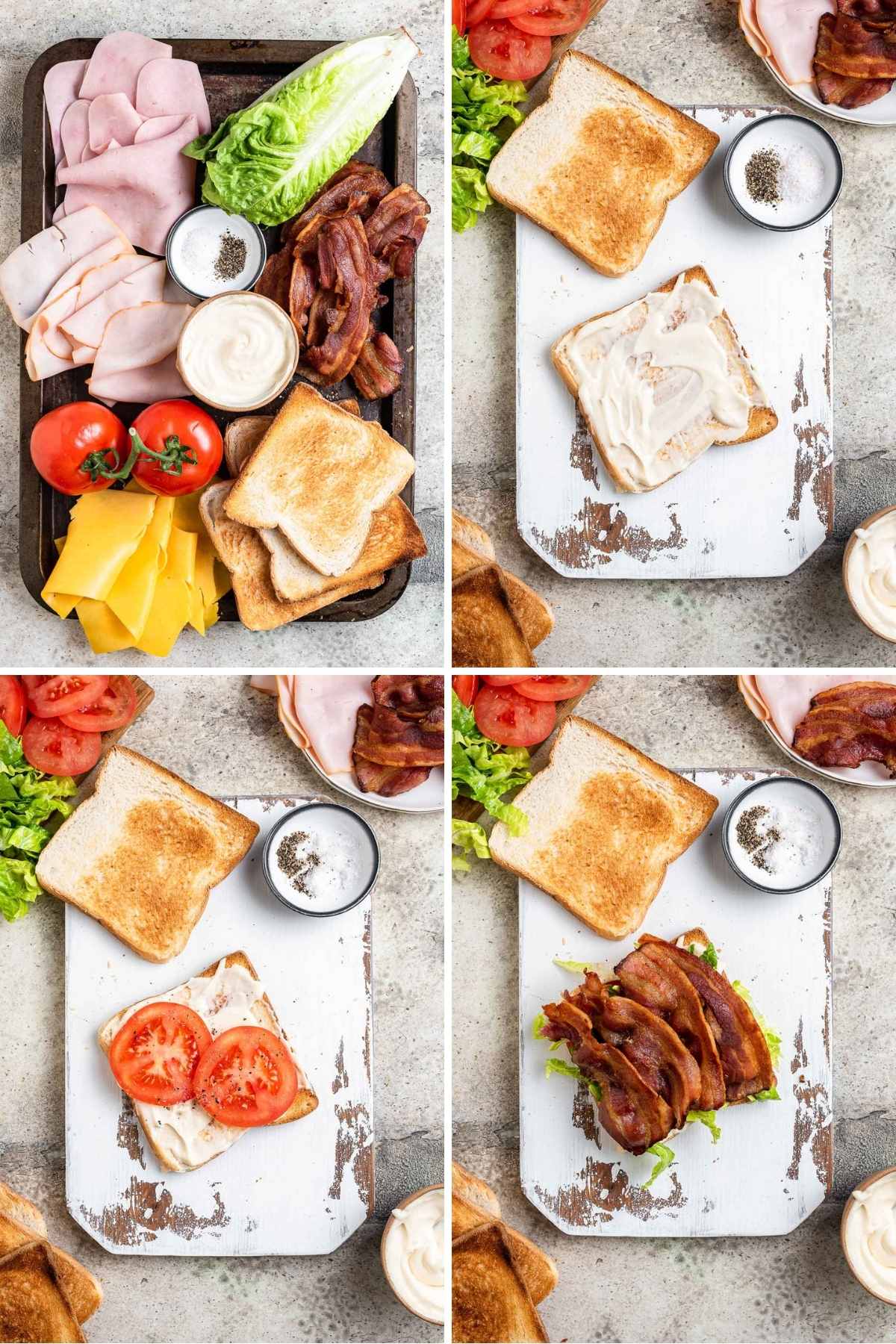 This is the perfect recipe to make after Thanksgiving to use any leftover Roasted Turkey. It's a great way to reuse the extra meat without just reheating the same meal. Of course, you can also make a Club Sandwich any time of year with meat from the deli. Either way, it's a delightful sandwich that's sure to satisfy!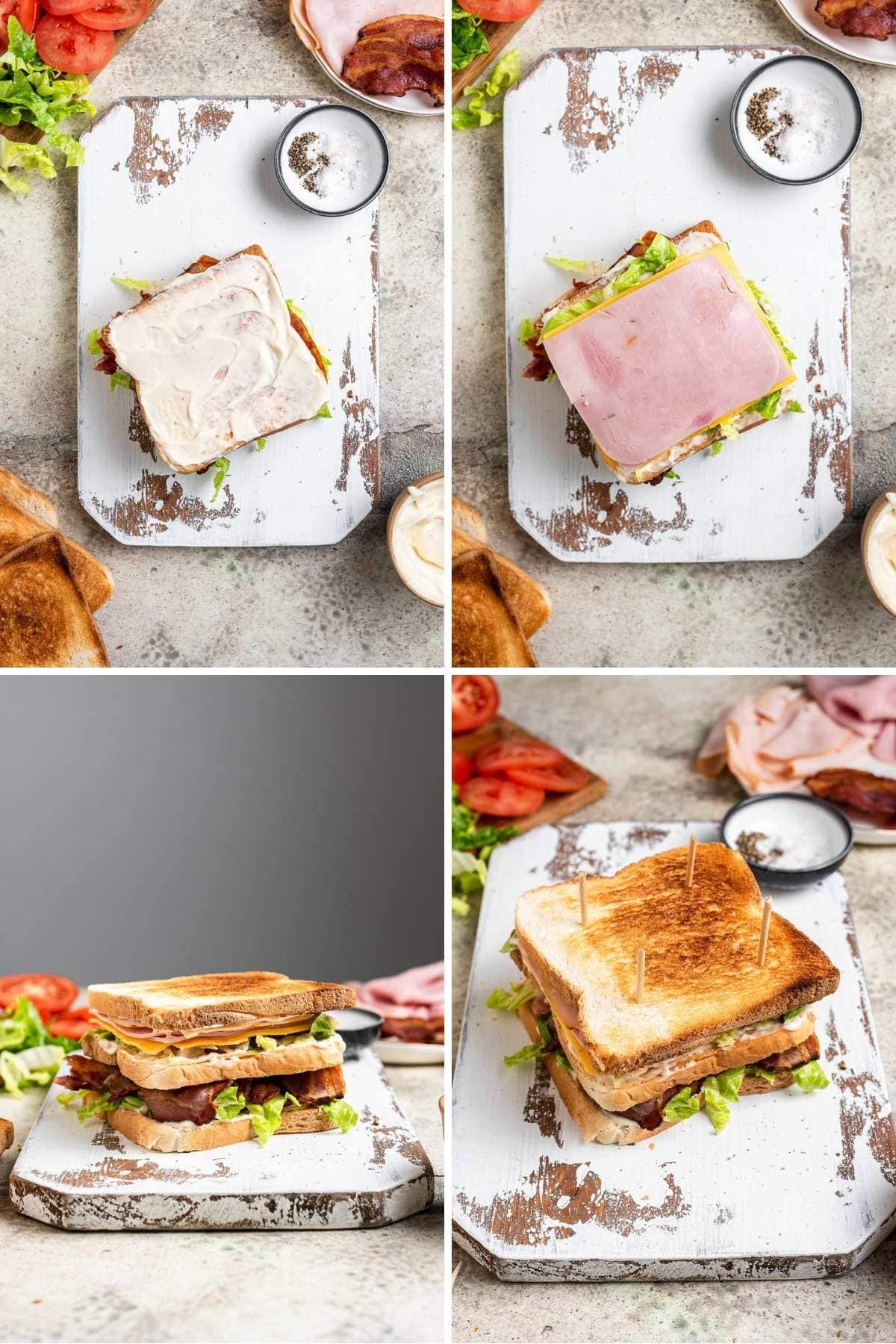 MORE SANDWICH RECIPES
HOW TO MAKE THE PERFECT CLUB SANDWICH
Bacon: Put your skillet over medium-high heat. Cook up the slices of bacon in batches. It should take 4-5 minutes to cook them through.
Bread: While the bacon is cooking you can also cook the slices of bread. Once they're done toasting spread mayonnaise over one side of each slice of bread.
Assemble: Put a slice of bread mayo side up. Layer it with sliced tomatoes, salt, pepper, lettuce leaf, and 4 slices of bacon. Repeat this with the other 3 sandwiches. Top the beginning of all 4 sandwiches off with the next slice of bread with the mayo facing down. Before adding the other ingredients spread mayonnaise over the top of that slice of bread. Add more lettuce, a slice of cheese, 2 slices of ham, and 2 slices of turkey. Finish the sandwich by topping the turkey off with the last slices of bread.
Serve: Press down gently on each sandwich, then stick 4 toothpicks in each sandwich (1 toothpick in every corner.) Without the toothpicks, the sandwich will fall apart before you get to serve it. Use a serrated knife to cut each sandwich into quarters and serve.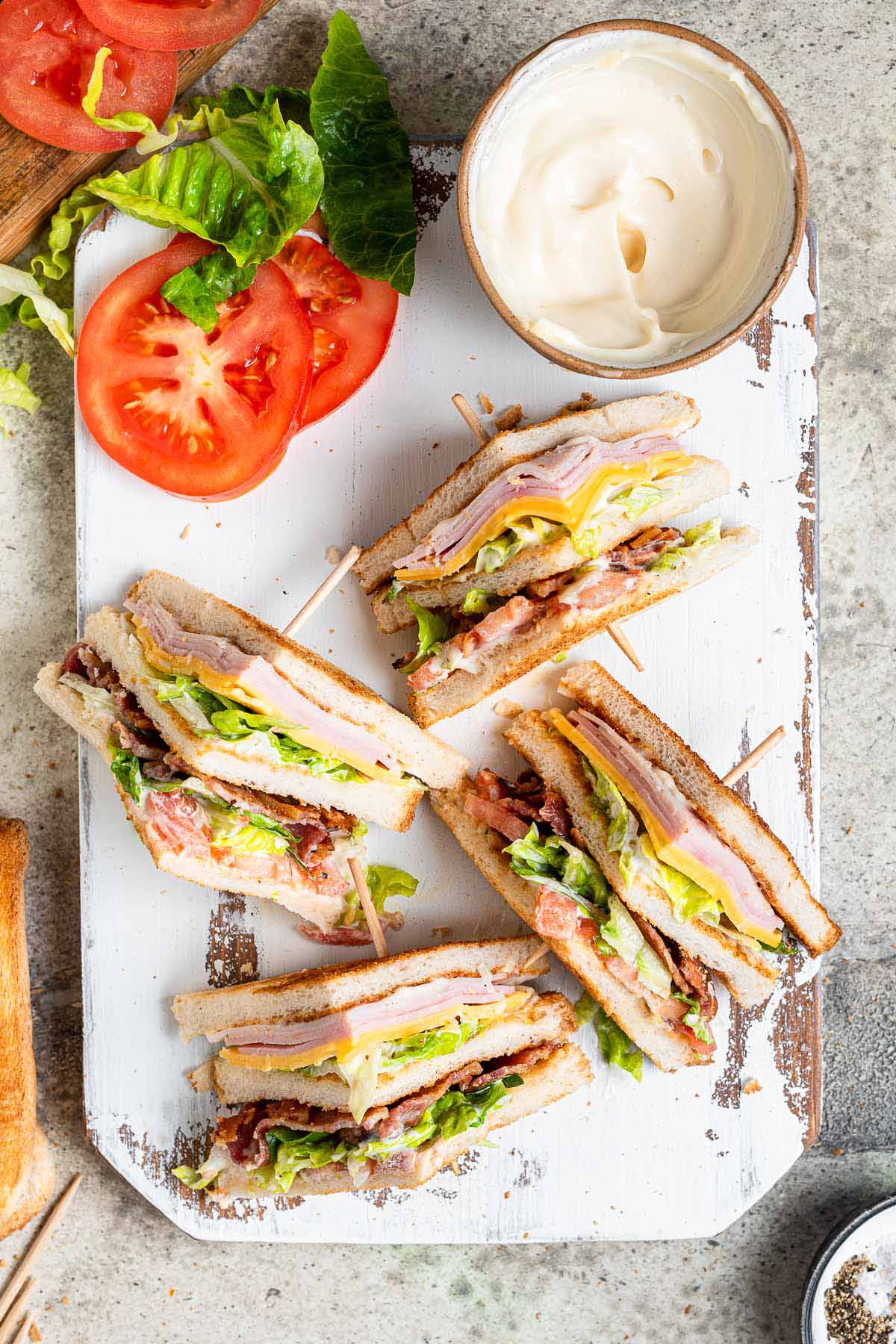 Create a free account to

Save Recipes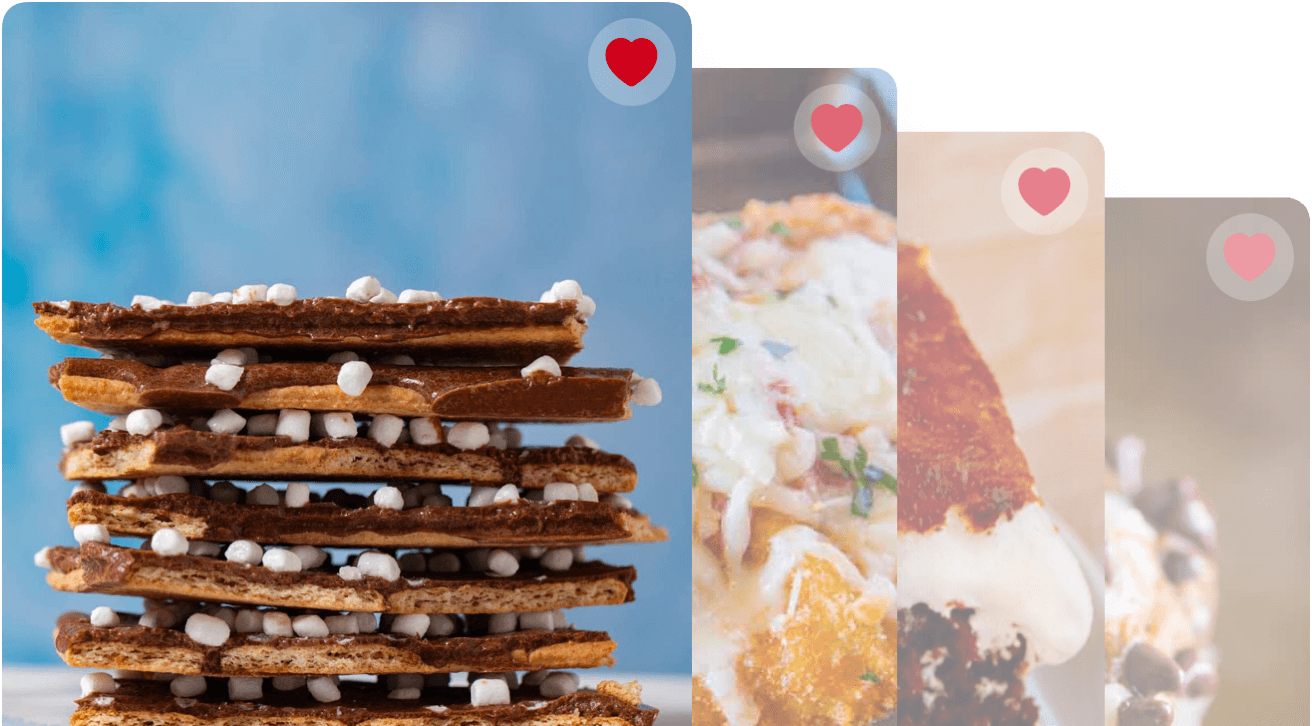 VARIATIONS ON TRIPLE DECKER CLUB SANDWICH
Bread: Instead of the regular slices of white sandwich bread, you can use all different kinds of bread for this sandwich. Try sourdough, wheat bread, challah, French bread, or sub rolls.
Dressings: You can spread different condiments over the bread instead of just mayo. Ranch, mustard, relish, or thousand island dressing could all taste amazing in this sandwich.
Add-ins: Try different vegetables in your Triple Decker Club Sandwich like pickles, bell peppers, spinach, onions, or cucumbers.
Cheese: Instead of cheddar cheese you could use sliced provolone, mozzarella, gouda, Pepper Jack, or Swiss cheese.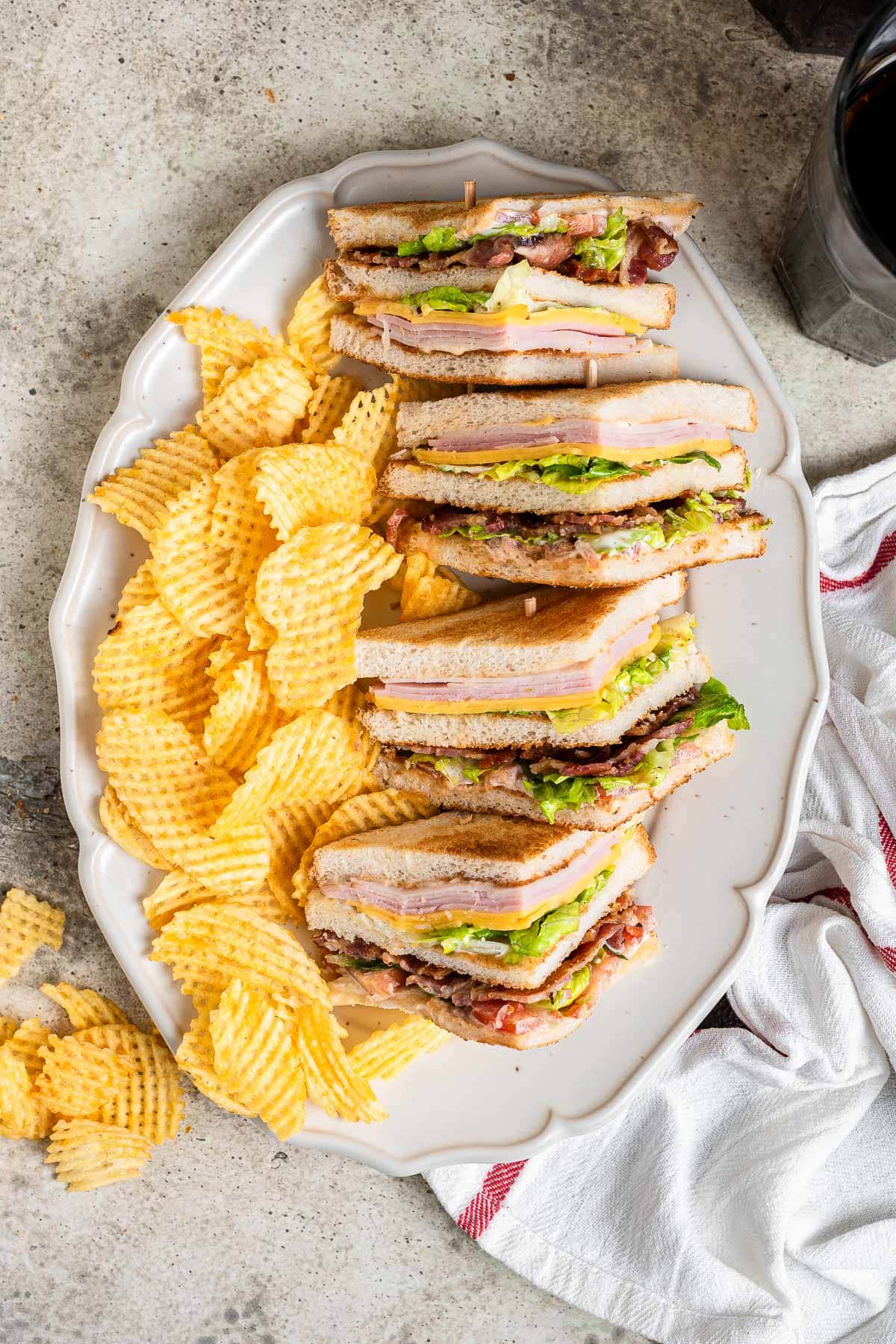 SIDE DISHES TO SERVE WITH YOUR SANDWICH
HOW TO STORE TRIPLE DECKER CLUB SANDWICH
Serve: Don't leave the Club Sandwich at room temperature for longer than 2 hours.
Store: Store any leftover sandwiches wrapped tightly in plastic wrap to store in the fridge for up to 3 days. If you're worried about the bread getting soggy, take the bread off. Store the sandwich filling in an airtight container and put it in fresh bread before serving.
Freeze: Some of the sandwich fillings like lettuce and tomato won't freeze well, but you can freeze the meat to assemble it in a sandwich later. It will keep well for up to 3 months.


Ingredients
16

ounces

thick-cut bacon

12

slices

thick sandwich bread

3/4

cup

mayonnaise

1/2

teaspoon

salt

1/4

teaspoon

black pepper

2

vine tomatoes

, sliced

1

head

romaine lettuce

, thinly sliced

8

slices

cheddar cheese

8

slices

ham

8

slices

turkey
Instructions
Cook bacon in batches in a large skillet on medium-high until chewy and crispy, about

4-5 minutes

.

Toast sandwich bread.

Spread mayonnaise on one side of bread slices.

Layer with sliced tomatoes, salt, pepper, lettuce, and four slices of bacon.

Top with the second slice of toasted bread.

Spread mayonnaise on the second side of this middle slice of bread.

Add additional lettuce, a slice of cheddar, 2 slices of ham, and 2 slices of turkey.

Top with remaining slices of bread.

Press down gently, and place 4 toothpicks into the sandwich, one in each corner.

Cut into 4 triangles and serve.
Nutrition
Calories:
1090
kcal
|
Carbohydrates:
51
g
|
Protein:
44
g
|
Fat:
79
g
|
Saturated Fat:
27
g
|
Polyunsaturated Fat:
16
g
|
Monounsaturated Fat:
29
g
|
Trans Fat:
1
g
|
Cholesterol:
151
mg
|
Sodium:
2653
mg
|
Potassium:
1051
mg
|
Fiber:
6
g
|
Sugar:
9
g
|
Vitamin A:
14557
IU
|
Vitamin C:
15
mg
|
Calcium:
470
mg
|
Iron:
5
mg