Slow Cooker French Dip Sandwiches are the ultimate sandwich made with your favorite beer with thick tender slices and an amazing crust!
If you love this Slow Cooker Recipe, you'll love these other incredibly flavorful slow cooker dishes, like Slow Cooker Shredded Beef, the irresistible Slow Cooker Pork Carnitas, and the incredible Slow Cooker Brown Sugar Sriracha Chicken.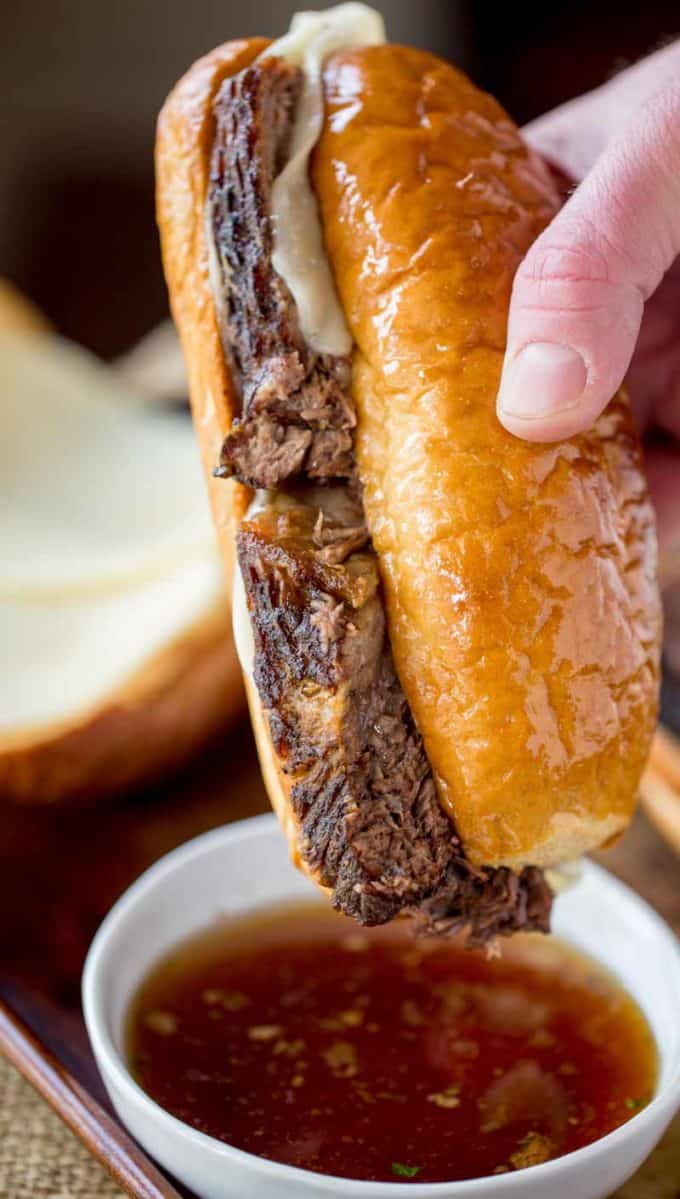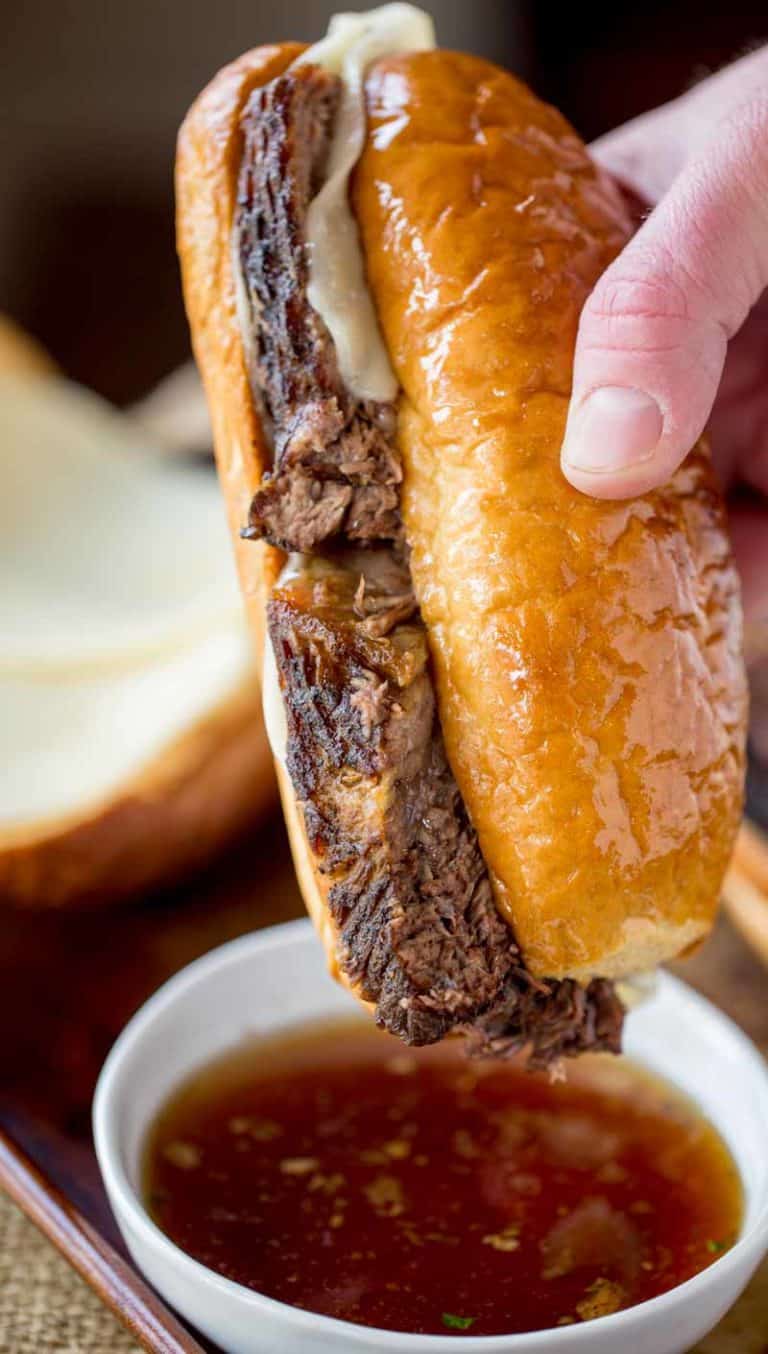 Slow Cooker French Dip Sandwiches are an incredibly delicious way to cook your meat to a tender perfection! Of all the flavorful beef dips out there, once you try this recipe, you'll no longer be impressed by the corporately made beef dip sandwiches. The tender meat just melts in your mouth. 
Here's a little secret: the recipe for Slow Cooker Philly Cheese Steak Sandwiches is actually based on our recipe from this post as well as the grilled cheese sandwiches! The beer in this Slow Cooker French Dip Sandwiches recipe is the secret weapon to this sandwich.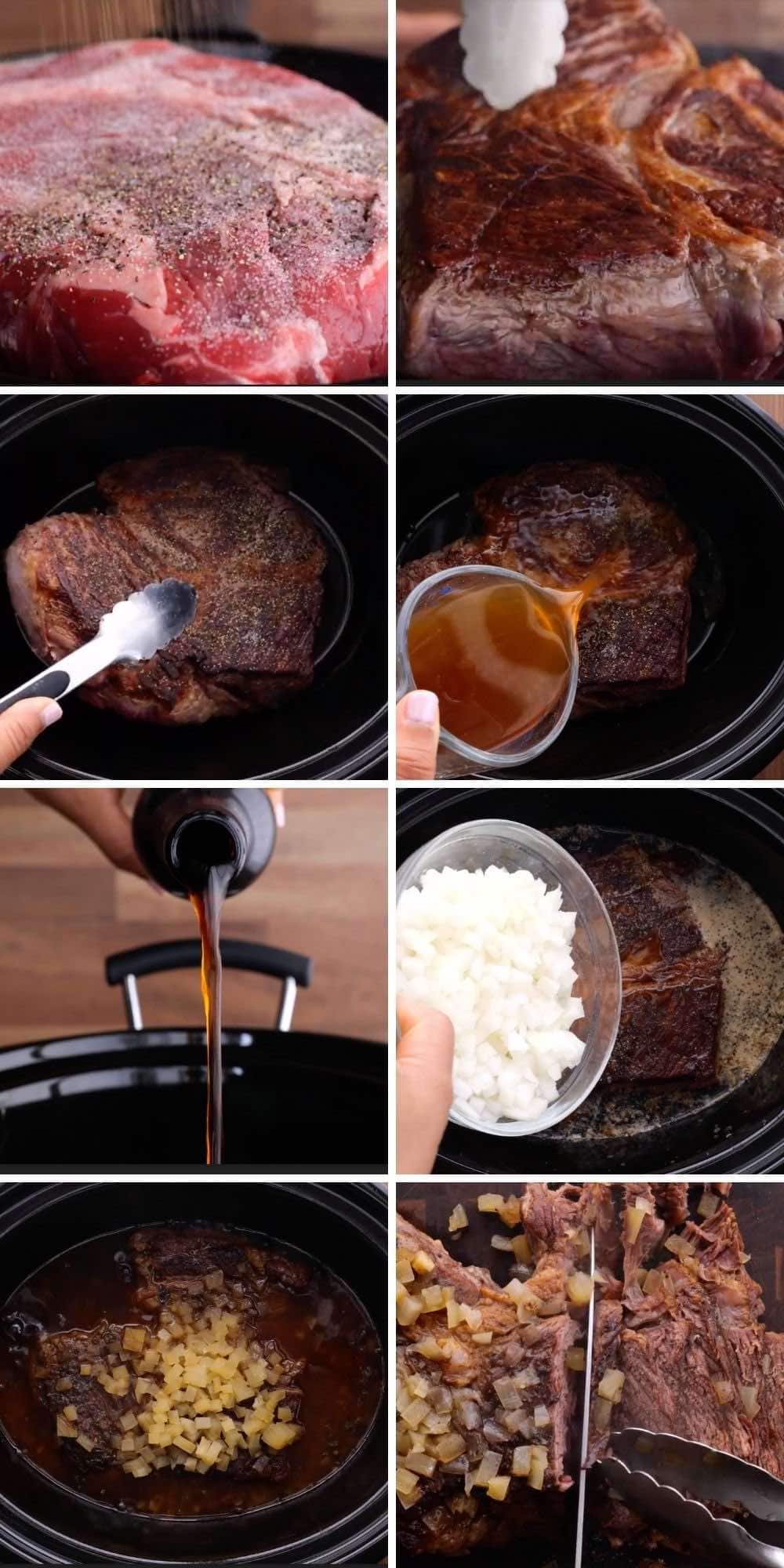 How to Make Slow Cooker French Dip Sandwiches
Thanks to a trusty kitchen appliance, the heavy lifting of cooking the beef is done in the tender hands of your slow cooker. A bit of browning in the pan first gives it a crispy and flavorful edge which adds a lot to the sandwich. Check it out!
Step One: In a pan, sear the meat on medium-high heat on both sides to give it a nice dark browning crust and season aggressively. Don't move the meat while it's in the pan to help it crust. Pro tip: for extra flavor, sear the meat in a cast iron skillet!
Step Two: Transfer the beef along with the meat drippings to the slow cooker. Add in the rest of the ingredients, and let it slow cook on low for 6 hours, or high for 4 hours.
Step Three: Once it's done cooking, let the meat cool for ten minutes before slicing, this helps it stay together more. Then remove the beef from cooker, slice the piece of beef thick, and cut the beef across grain. Portion the cooking liquid in the slow cooker into bowls for each person. This is the broth for dipping. 
Step Four: Prepare the hoagie rolls with butter and then toast them. Butter the rolls before toasting, they taste amazing buttery and toasted.
Step Five: Assemble everything, including the cheese, and enjoy each dipped bite!
Frequently Asked Questions
It's for the kids, so do I have to use beer?
The alcohol will cook completely out of it because of the high heat and long cook time. According to the USDA, cooking with alcohol over 3 hours completely burns it off leaving you with the flavors of the beer itself.

If you want to avoid beer altogether simply use additional beef broth.
What if I don't want to dip the sandwich?
Dip the meat slices in the slow cooker liquid before adding to the sandwich if you don't want to dip the sandwiches.
What is the best beef to use in this recipe?
Make sure you're using a chuck roast (also known as: chuck shoulder roast) for this recipe, using cuts that are leaner will result in tougher meat. Chuck roast can be a bit tough to chew if cooked regularly on the stove top. But once you let it cook in the slow cooker, it becomes juicy and tender!
What's the best beer to use?
Use a darker beer of any kind for more flavor if you've got it. Anything that says dark on the label is good.

For the best results, use something that is a Dark Lager, Dark Ale, Stout, or Porter; or even one of the lesser known Dunkel and Schwarzbier styles. If all you've got is an IPA Bock or Amber Lager, that's fine too.
How does 6 hoagie rolls equal 12 servings?
Each hoagie roll is technically worth two servings. Doubled it's 12!
If I have a smaller portion of meat, do I still cook it for 6 hours?
This recipe calls for a 4-5 pound slab of meat. If you have a smaller slab of meat, say 2-3 pound beef chuck roast, then you don't have to cook for 6 hours. Four (4) hours would be just fine for a 2 pound roast.
Can this be made ahead of time?
Yes it can! Cool the beef in a separate container in the fridge and then reheat in the slow cooker or on stove top. This will ensure that it is brought to the safe storage temperature. Don't store in the crockpot as the crockpot can keep residual heat for a long while.
What flavor does the dark beer give?
Tasting the beer straight gives you intense coffee and chocolate flavors. Once it's cooked down in this dish, it lends more of a deep earthy and subtle molasses flavor which compliments incredibly well with the beef itself.
What kind of slow cooker do you use? 
Slow Cooker under $100: We love this Crock-Pot Slow Cooker and how programmable it is, it has been a workhorse!

Slow Cooker under $200: Cuisinart Slow Cooker This recipe was made in this slow cooker. For larger roasts you can also brown the meat in the insert and not lose a bunch of the flavor by transferring the meat and leaving the browned bits behind. If you're thinking of a new slow cooker, consider it if your budget is open.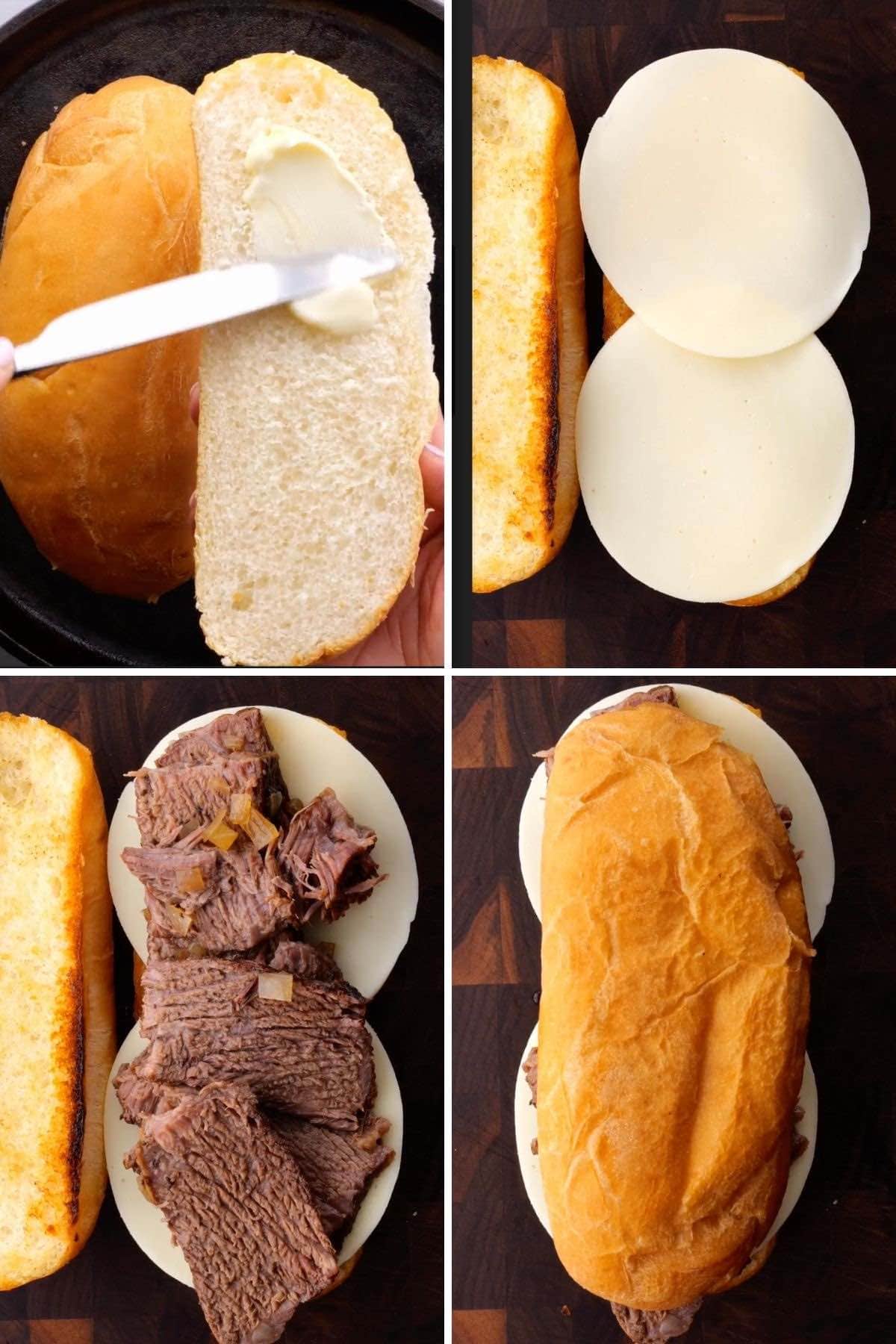 Create a free account to

Save Recipes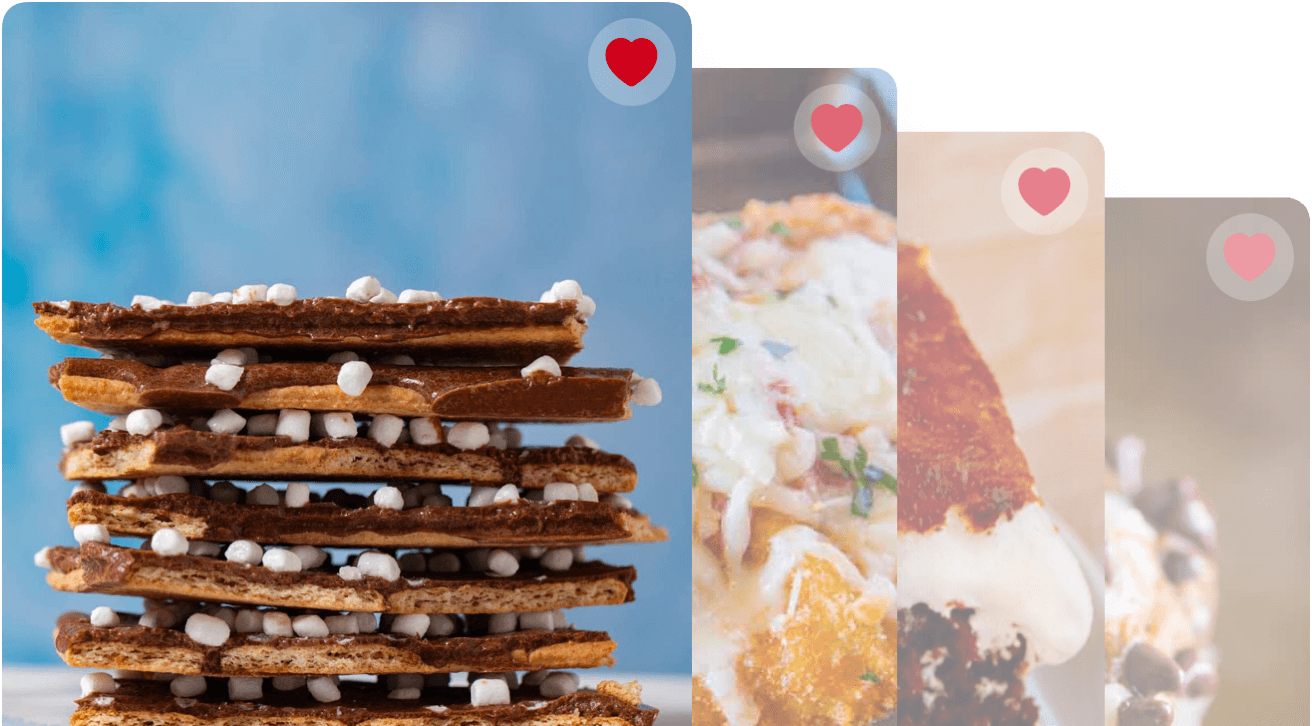 Key Ingredients for Slow Cooker French Dip Sandwiches
Beer: Dark beer is a must. Popular styles to look for are porters, stouts, and dark lagers. Anything that says it's dark will work great!
Beef: Chuck roast is flavorful and juicy. Slow cooking it helps to tenderize its often tough cut.
Rolls: Hoagie rolls are sub-style rolls. The crusty outer bread, when toasted, will soak up the au jus very nicely.
Worcestershire Sauce: Stick with the original. There's a reason it's a classic.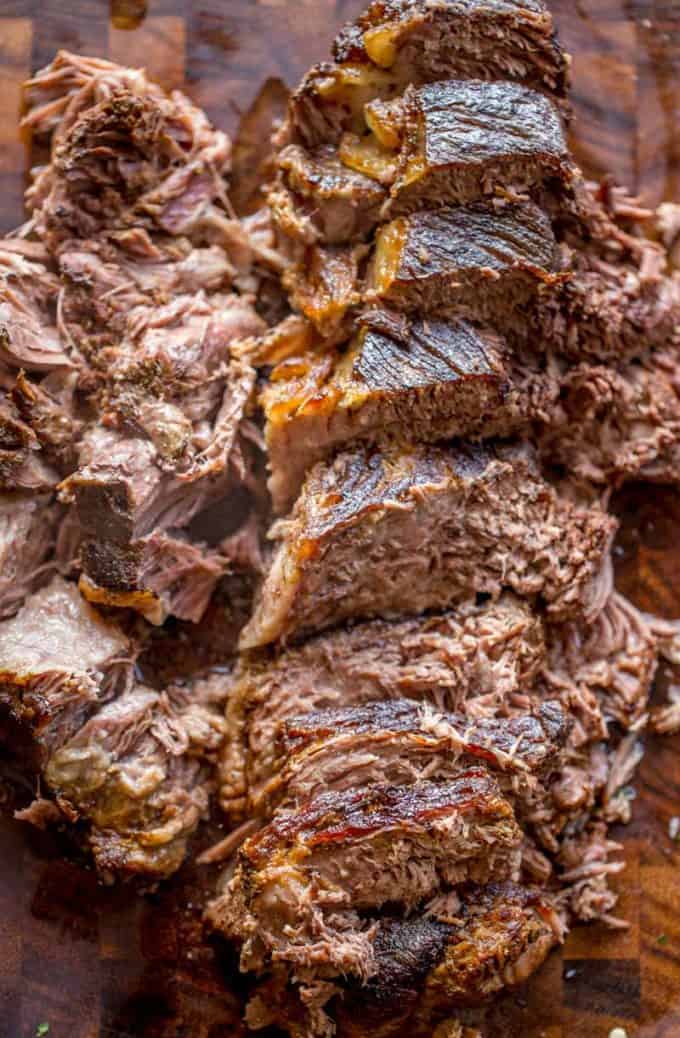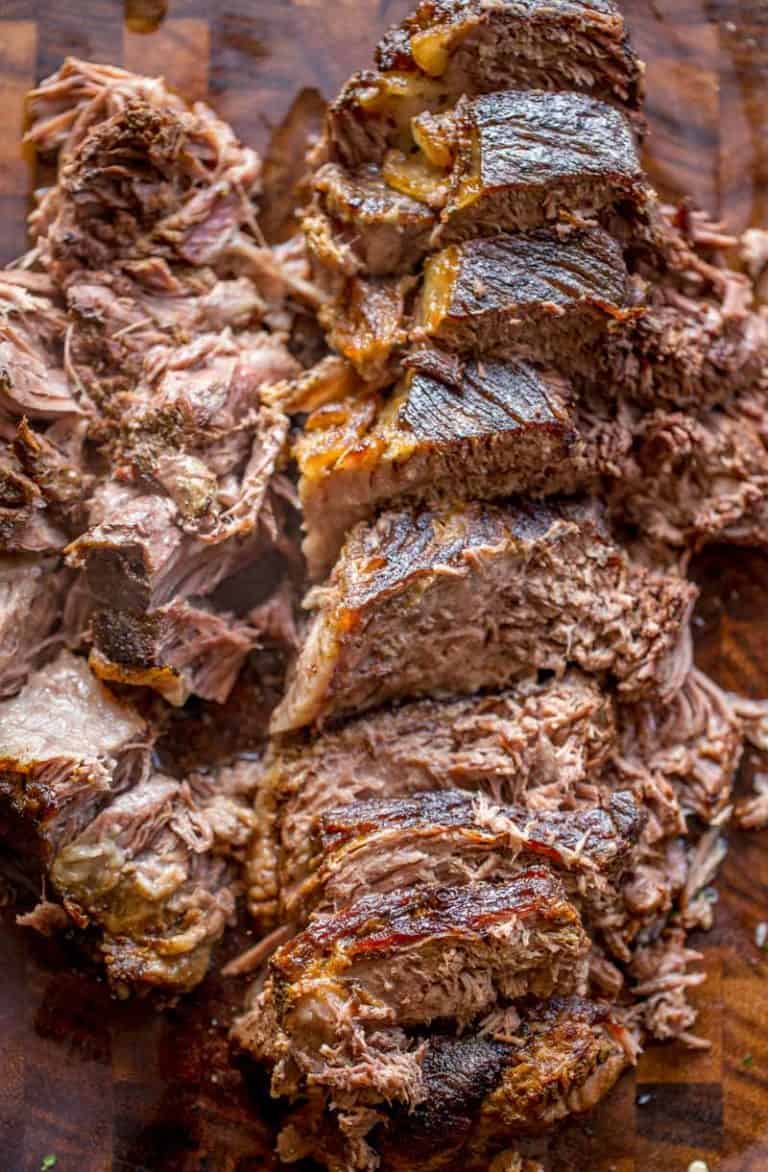 Substitutions for Slow Cooker French Dip Sandwiches
There's a lot of variety you can do with the ingredients for this dish. Feel free to experiment and make it your own!
Broth: There are some recipes that use beef consommé or onion soup mix. Those are totally fine to use, you can swap out the beef consommé for half the broth or add the onion soup instead of the fresh onion, but this way is going to make an amazing sandwich.
Beer: You don't have to use a super expensive beer for this. You can use the bottom shelf brands of dark beers and still get incredible results!
Beef: This recipe calls for chuck roast for good reason, but you can also use rump roast without losing flavor.
Rolls: If you don't have hoagie rolls, any type of sub-style or french style of bread will work great. Ciabatta or brioche slider buns work great too! The key is to butter the inside and toast the outside. The crusty bread will soak up the dipping sauce for more juicy flavor!
Alternative Cooking Methods for French Dip Sandwiches
Dutch Oven: A Dutch oven will work great. Prepare the recipe according to the instructions and place it into the Dutch oven. Preheat the oven to 350º and place the Dutch oven inside. Cook for about 6 hours, check in at the 4-5 hour mark.
Pressure Cooker: Prepare the ingredients for the chuck roast according to the instructions. Place everything as you would into the slow cooker into the pressure cooker/Instant Pot. Pressure cook on high for 15 minutes. Steam release and serve the baguettes with beef!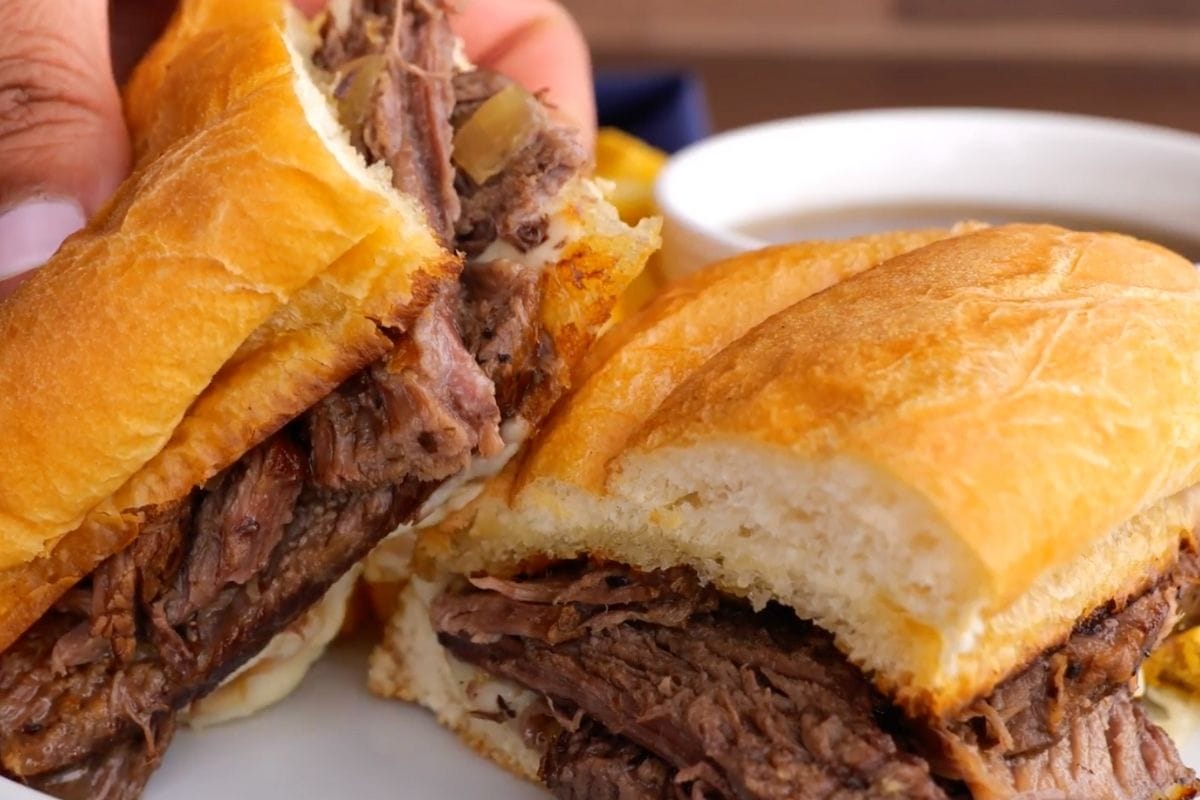 Variations on French Dip Sandwiches
The Italian: Add some garlic, Italian seasonings – a blend or just basil – and a dash or two of crushed red pepper. Your tastebuds will thank you!
The BBQ: Add a teaspoon of liquid smoke to the crockpot before cooking and give it a deep and mouthwatering smokey BBQ flavor.
The Big One: Sauté some mushrooms and onions in garlic and butter in a hot pan. Top the caramelized onions and mushrooms on the cheese for an incredibly delicious flavor!
More Yummy Slow Cooker Sandwiches
How to Store Slow Cooker French Dip Sandwiches
Serve: Serve the sandwiches hot and ready. Be sure to eat or store the beef within 2 hours.
Store: You can store the beef in the refrigerator for 3-5 days in an airtight container. Reheat to an internal temperature of 145º before serving. 
Freeze: Once cooled, place together in freezer-safe container and freeze for up to 2 months. Allow to defrost in fridge overnight and then reheat on stove.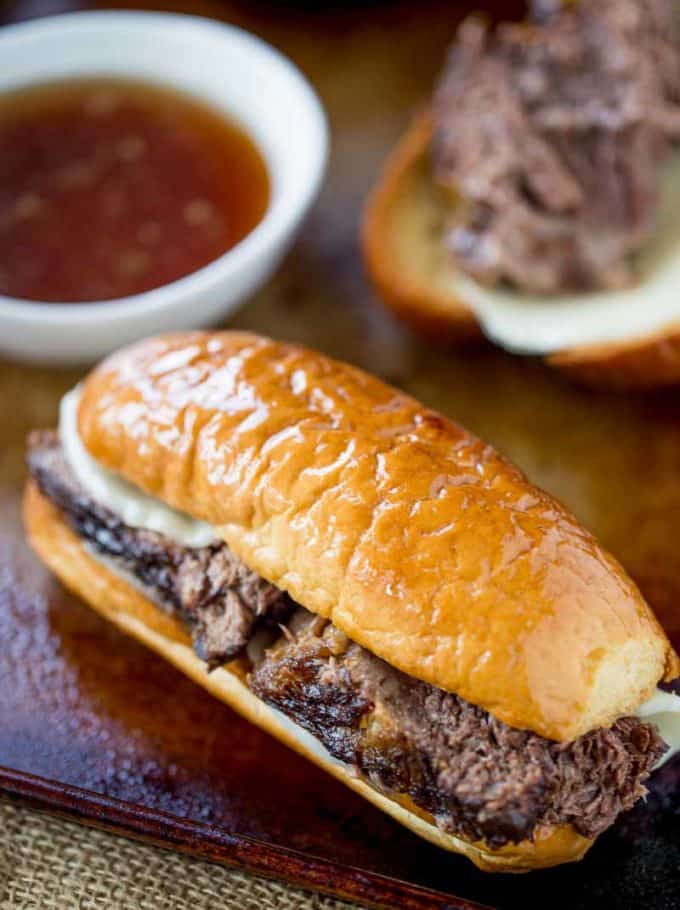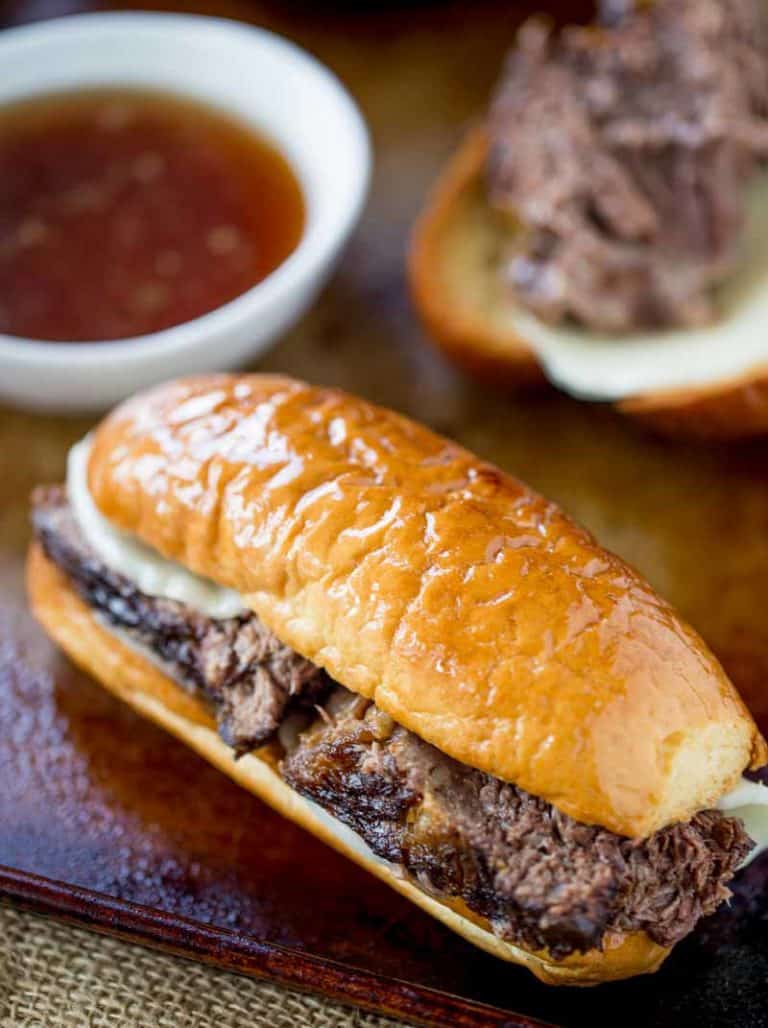 Ingredients
4-5

pounds

beef chuck roast

2

tablespoons

vegetable oil

1

teaspoon

kosher salt

1/2

teaspoon

coarse ground black pepper

1

cup

beef broth

1

tablespoon

Worcestershire Sauce

1

can

dark beer

1

yellow onion

, diced

6

hoagie rolls

2

tablespoons

unsalted butter

12

slices

Provolone Cheese
Instructions
In a large Dutch oven, or if you have an aluminum insert for your slow cooker add the vegetable oil and heat on high.

Add the kosher salt and pepper to your beef chuck roast.

Brown on both sides aggressively (

3-5 minutes

on each side).

Don't move the beef before flipping (this lets the meat get a deep crust).

To the slow cooker add the meat, any meat juices from the pan, beef broth, Worcestershire sauce, beer, and onions.

Remove the meat and slice thickly.

To assemble, butter your hoagie rolls and toast.

Top with provolone cheese.

In a small bowl add a cup of the liquid from the slow cooker and dip the sandwich in the bowl.
Nutrition
Calories:
481
kcal
|
Carbohydrates:
19
g
|
Protein:
37
g
|
Fat:
28
g
|
Saturated Fat:
12
g
|
Polyunsaturated Fat:
3
g
|
Monounsaturated Fat:
11
g
|
Trans Fat:
1
g
|
Cholesterol:
122
mg
|
Sodium:
695
mg
|
Potassium:
573
mg
|
Fiber:
1
g
|
Sugar:
3
g
|
Vitamin A:
247
IU
|
Vitamin C:
1
mg
|
Calcium:
180
mg
|
Iron:
9
mg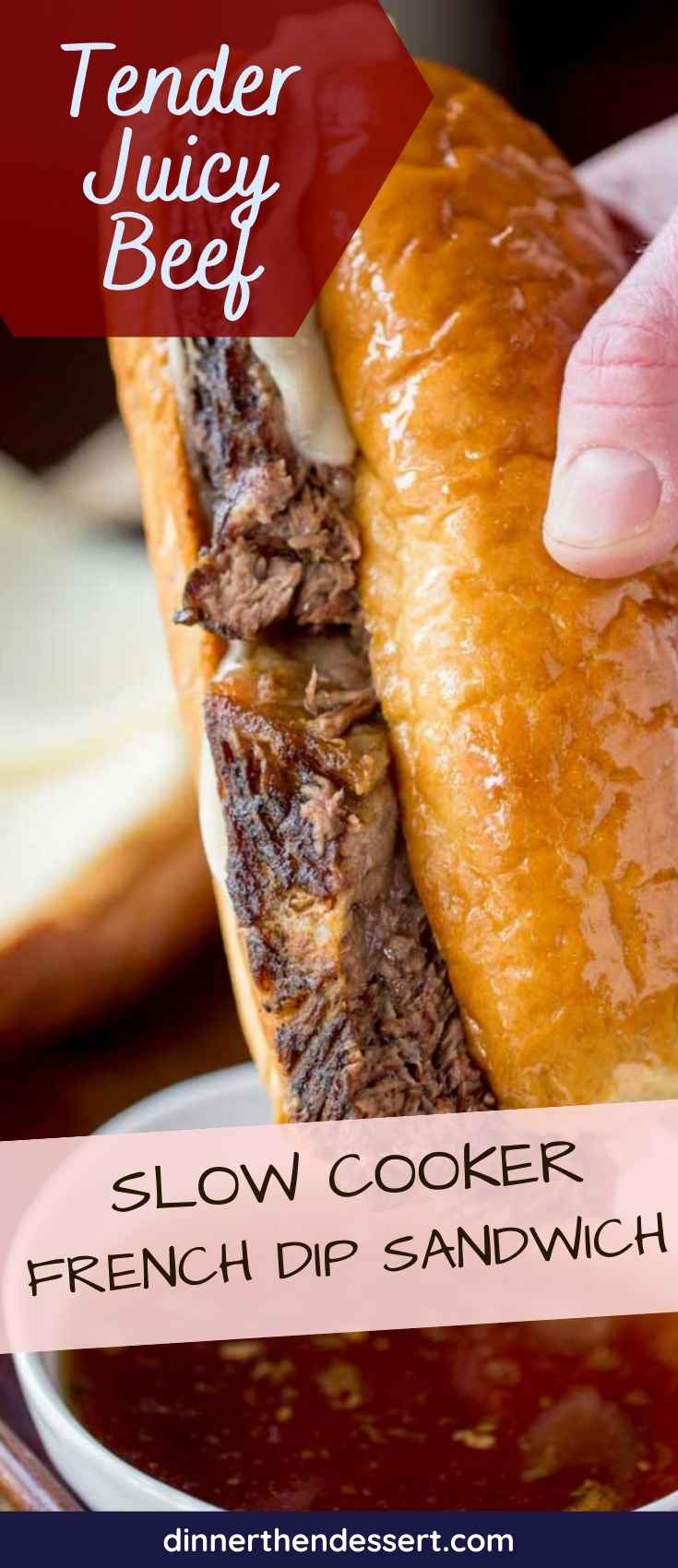 Photos used in a previous version of this post: