Ultimate Beef Tenderloin is a flavorful, rich beef recipe. Prep the roast with salt, pepper, and butter then just cook in the oven. It's the easiest tenderloin ever!
Just like our holiday favorite Prime Rib, this tenderloin steak recipe comes out with wonderfully tender, melt-in-your-mouth meat. It's the perfect Dinner Recipe for a special occasion or holiday.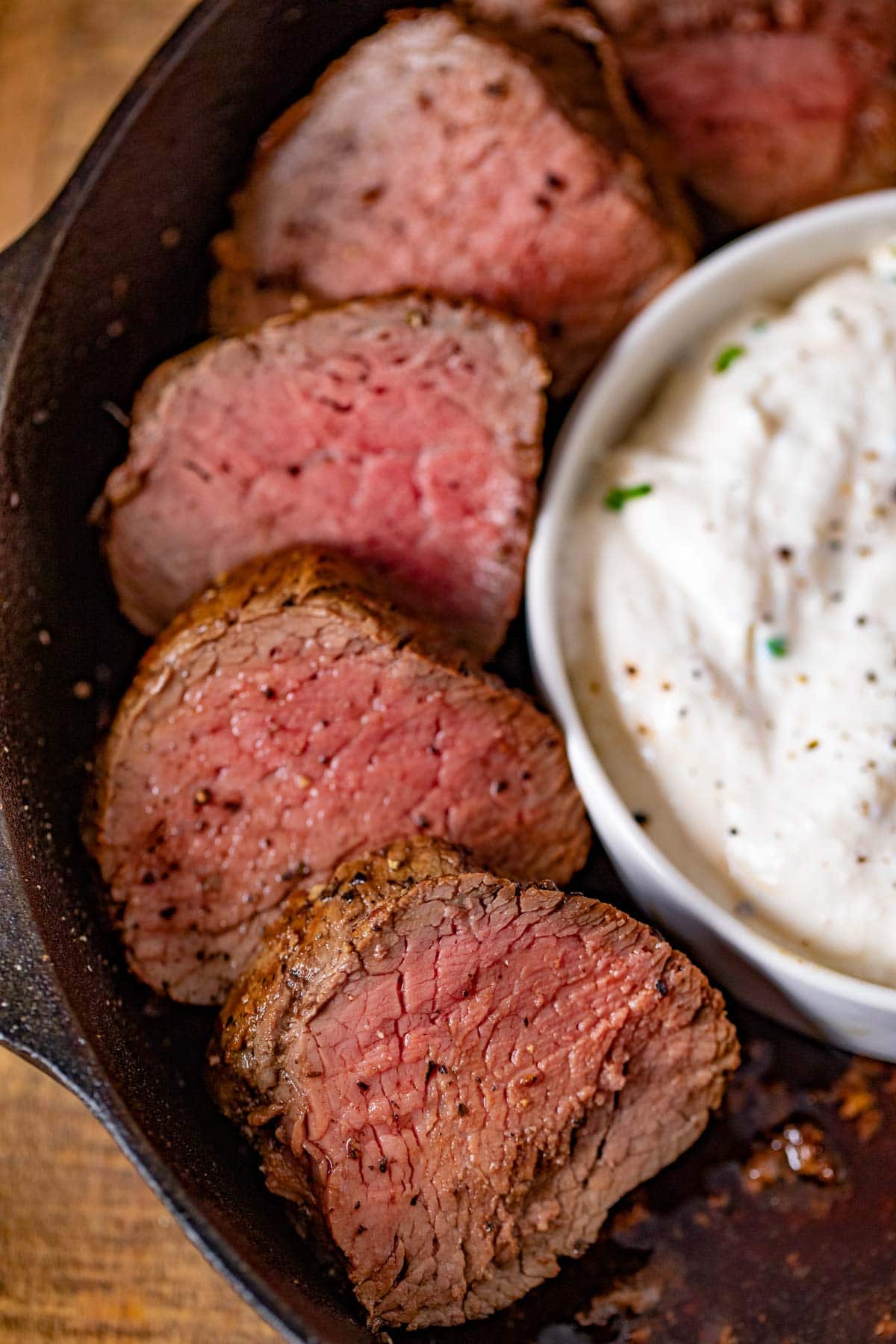 ULTIMATE BEEF TENDERLOIN
This Roast comes out perfect with just a 25 minute cook time. It's such an easy way to cook up tenderloin for a simple, yet elegant holiday meal. The tenderloin turns out wonderfully buttery, delicate, and bursting with delicious flavor. Plus, the total time for this Beef Tenderloin is just 30 minutes. It's one of the easiest Beef Recipes ever, but the results are truly delicious.
If you love steak but have never made it yourself then this fool-proof recipe is the perfect place to start. Just prep the beef with kitchen twine then pop it in the oven for roasting. As long as you use a meat thermometer to make sure it's cooked to at least 135 degrees F, then let it sit before slicing, it should be perfect. Beef Tenderloin is great to serve to a crowd around the holidays because the roast turns out looking impressive and restaurant-worthy, but it doesn't take that much work.
Serve the tenderloin with horseradish, Blue Cheese Sauce, or find directions for red wine sauce later in this post. The tender beef will soak up whatever sauce you pair with it for a delicious, juicy taste in every bite.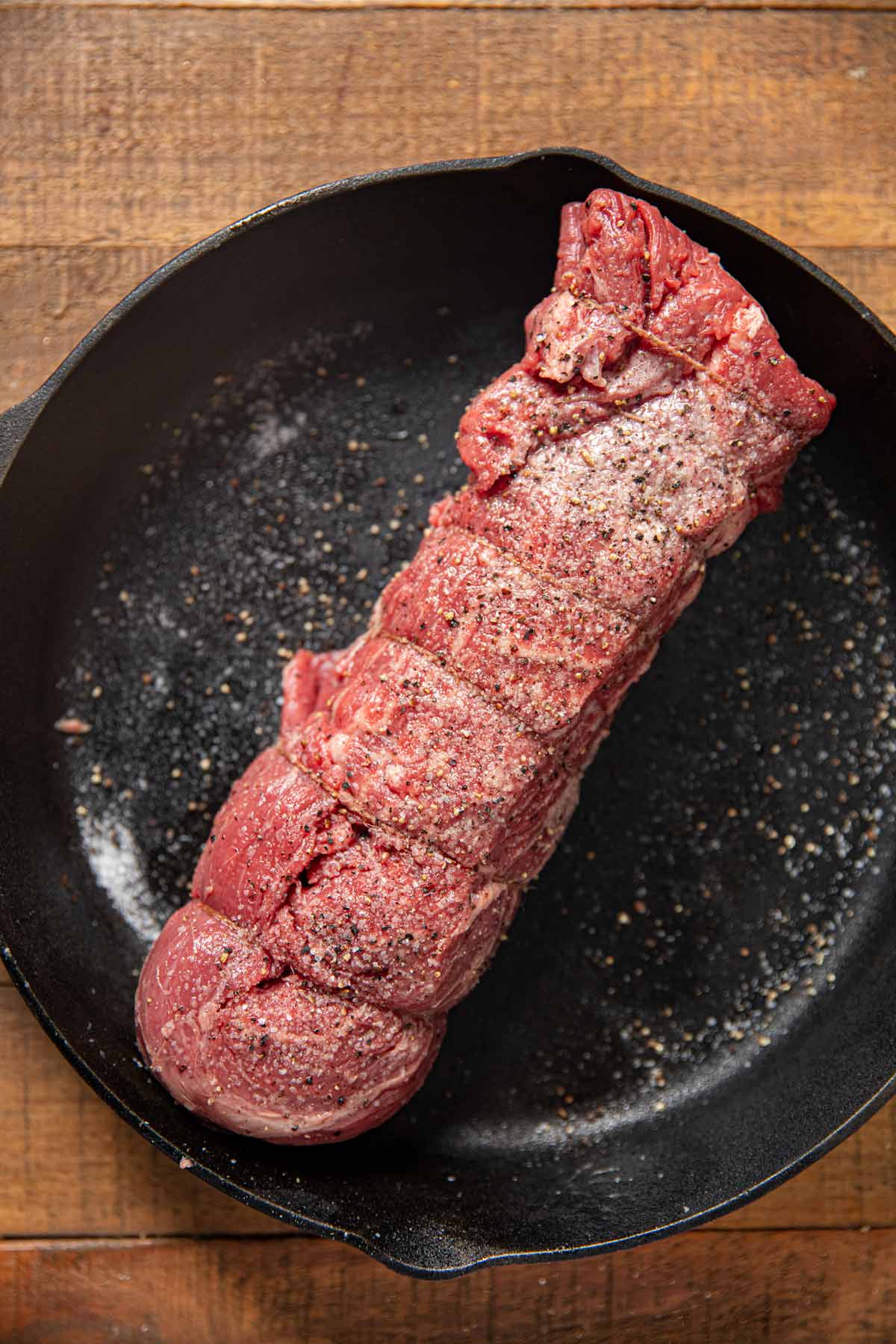 HOW TO PICK BEEF TENDERLOIN
Selecting a nice cut of beef for your Beef Tenderloin recipe can make a big difference. Beef Tenderloin is more expensive than other cuts of meat so you want to make sure you're getting a good steak for your money. Here are some tips to help you out:
How much tenderloin to buy: This recipe is for a 5-pound tenderloin, but you can adjust how big of a roast you prepare depending on how many people you're serving. In general, you want to have about ½ pound of meat per person. So unless you're serving more than 10 people 5 pounds should be plenty.
What cut? If you're serving a smaller crowd a center-cut of the tenderloin will do nicely. However, for a larger group, the tail-end is great. Just remember to tie up the steak before roasting.
Trimmed or Untrimmed? If you want to get a cheaper steak, you can get an untrimmed tenderloin. It will come with the fat and silver skin still on it. As long as you're confident cutting off the fat and skin yourself the untrimmed meat is a better deal. If not, you can pay a little extra for meat the butcher has already trimmed.
MORE BEEF RECIPES
HOW TO MAKE ULTIMATE BEEF TENDERLOIN
Prep: Preheat your oven to 500 degrees F. Use kitchen twine to tie the tenderloin to ensure the meat is the same thickness all the way across. Once the meat is tied up rub the beef tenderloin with softened butter and season it with salt and pepper.
Roast: Place the tenderloin in a large oven-proof skillet or baking pan. Bake for 22-25 minutes. This will make a medium-rare loin. Use an instant-read meat thermometer to check that the internal temperature is 135 degrees. You can up the cooking time depending on the doneness you want the meat.
Serve: Once the meat has been oven-roasted let it sit for 10 minutes with aluminum foil tented over the it. Then slice the meat and serve.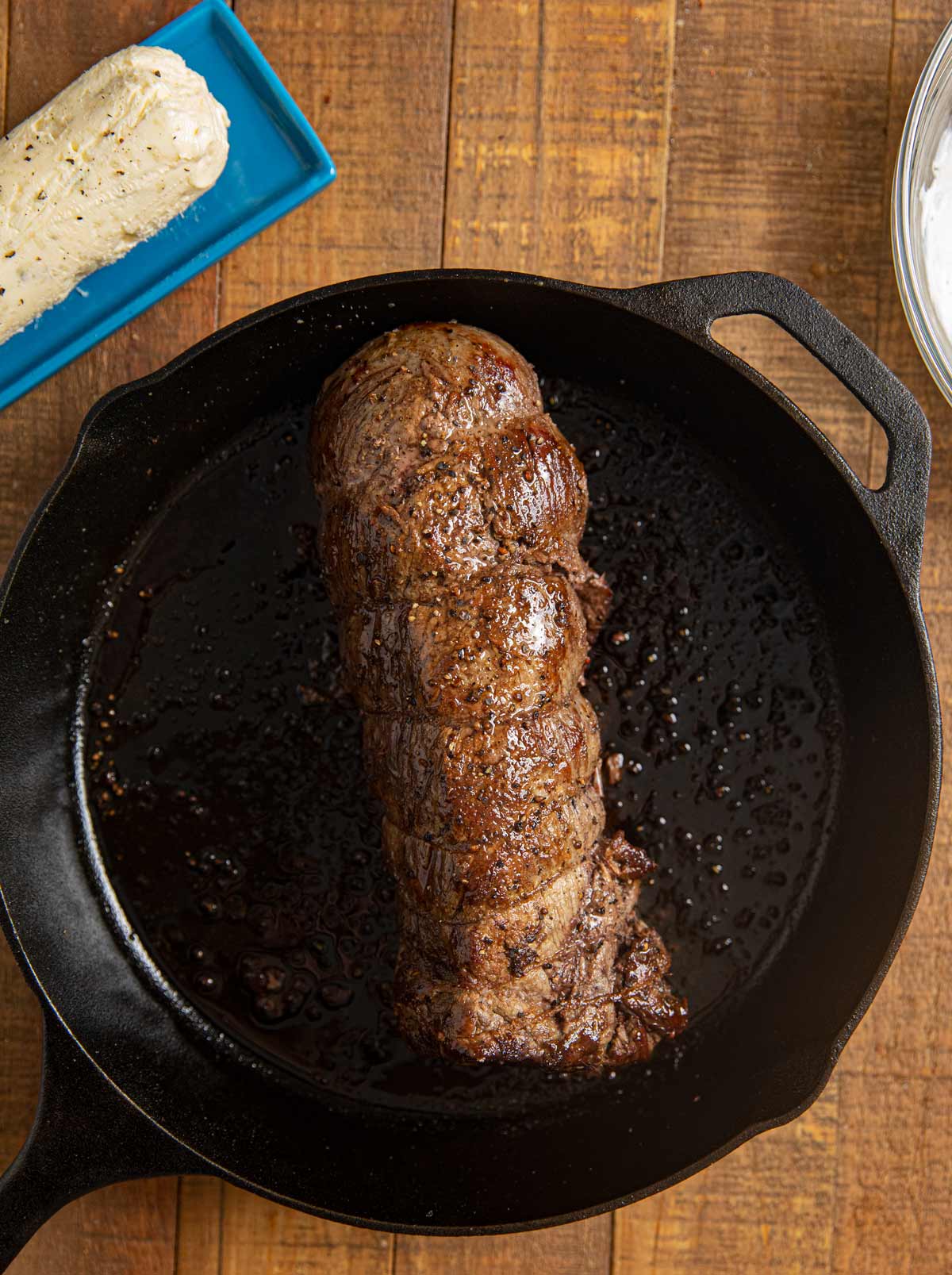 Create a free account to

Save Recipes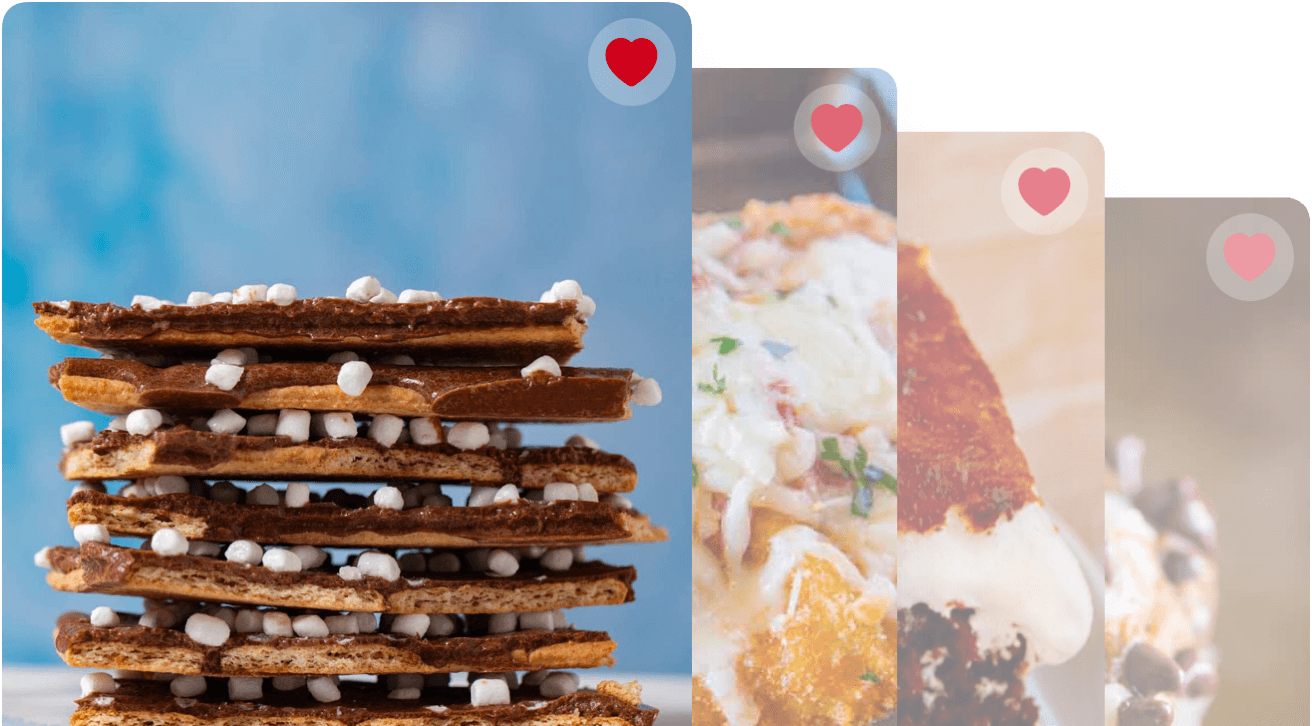 VARIATIONS ON ULTIMATE BEEF TENDERLOIN
Seasoning: There are plenty of seasonings you can add to the meat along with the salt and pepper before roasting the tenderloin. Try adding minced garlic, rosemary, thyme, and basil.
Seared: If you'd like the tenderloin medium-well or more well done you can first sear the meat in a skillet on a stovetop until browned, then put it in the oven.
Red wine sauce: For a delicious sauce to serve with Roasted Beef Tenderloin whisk together an easy wine sauce. Here's a step-by-step guide for making a rich red sauce. Melt 5 tablespoons of butter in a saucepan and add ¾ cup sliced shallots to cook on medium-low heat. Continue to cook until translucent then add 1-¼ cups red wine, 3 cups beef broth, 6 fresh thyme sprigs, ¼ teaspoon kosher salt, ⅛ teaspoon pepper, and 1 teaspoon sugar. Bring the mixture to a boil and cook for 30 minutes to reduce the liquid by half. Combine 3 tablespoons of melted butter and 2 tablespoons flour. Mix in the flour mixture and serve the red wine sauce over the tenderloin and enjoy!
WHAT TO SERVE WITH BEEF TENDERLOIN ROAST
HOW TO STORE ULTIMATE BEEF TENDERLOIN
Serve: Don't leave Tenderloin Roast at room temperature for more than 2 hours.
Store: Roast Beef Tenderloin will keep well in the fridge for 3-4 days. Once the beef has cooled put it in a ziplock bag or other airtight container to store.
Freeze: You can also keep the Beef Tenderloin in the freezer for 2-3 months. Let the roast thaw in the fridge before reheating it in the oven and serving the leftovers.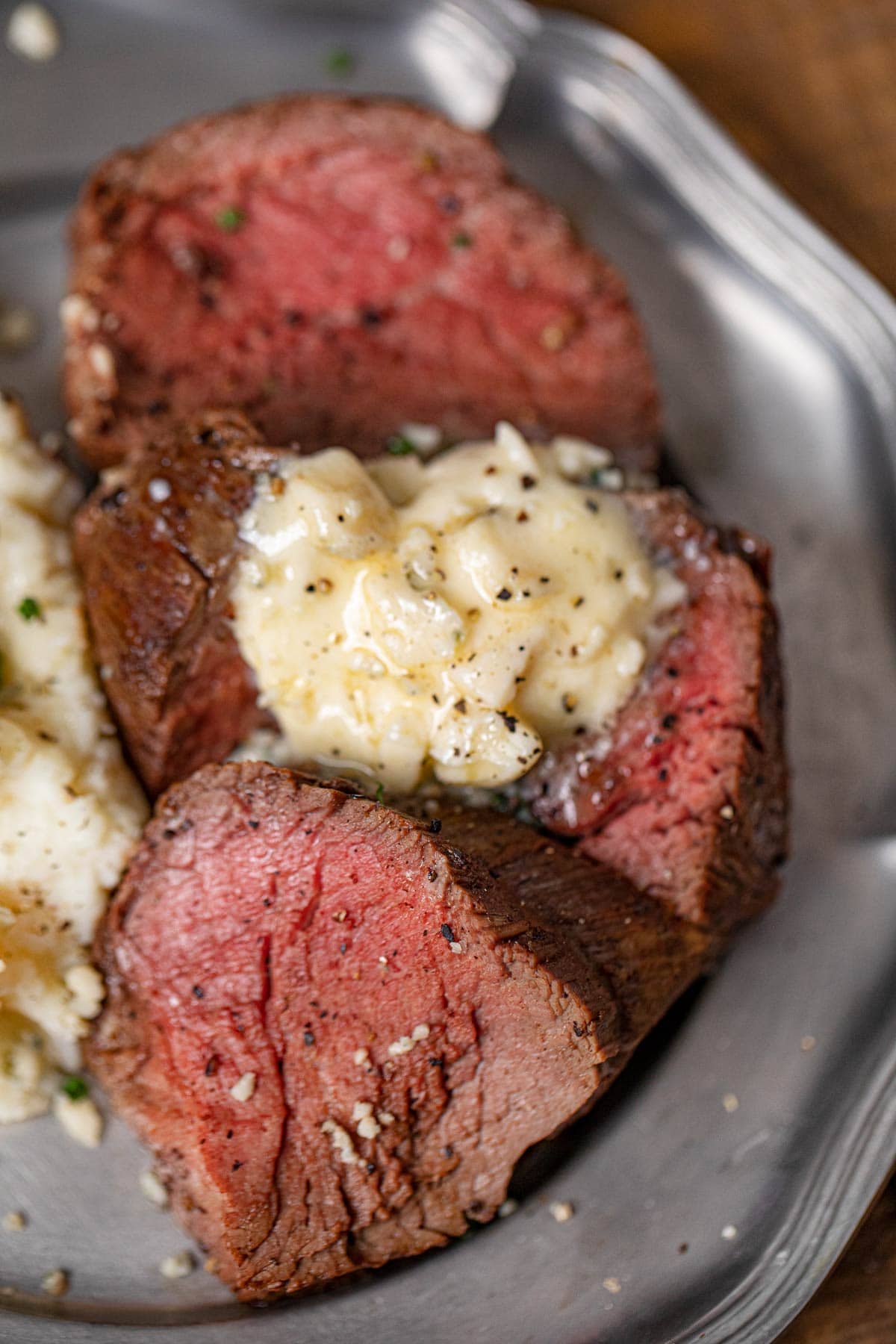 Ingredients
5

pounds

beef tenderloin

, trimmed

4

tablespoons

unsalted butter

, softened

2

tablespoons

kosher salt

1

tablespoon

coarse ground black pepper
Instructions
Preheat oven to 500 degrees.

Tie tenderloin with kitchen twine so it is an even thickness all the way across.

Rub the tenderloin with softened butter and season with kosher salt and pepper.

Place into a large oven-safe skillet or baking pan (a cast iron skillet works great for this).

Roast for

22-25 minutes

for medium-rare (135 degrees), then let rest for 10 minutes (tented with a sheet of foil) before cutting slices against the grain to serve.
Nutrition
Calories:
377
kcal
|
Carbohydrates:
1
g
|
Protein:
50
g
|
Fat:
18
g
|
Saturated Fat:
8
g
|
Cholesterol:
157
mg
|
Sodium:
1521
mg
|
Potassium:
811
mg
|
Fiber:
1
g
|
Sugar:
1
g
|
Vitamin A:
140
IU
|
Calcium:
54
mg
|
Iron:
4
mg