Blue Cheese Crusted Filet Mignon is an easy upgrade to classic Filet Mignon with blue cheese, breadcrumbs, and butter. It's the perfect dish to impress!
Filet Mignon is a wonderful, fork-tender steak dish and this blue cheese topping makes it even more delicious. It's a wonderful Beef Recipe, that's surprisingly easy to make even though it turns out quite elegant.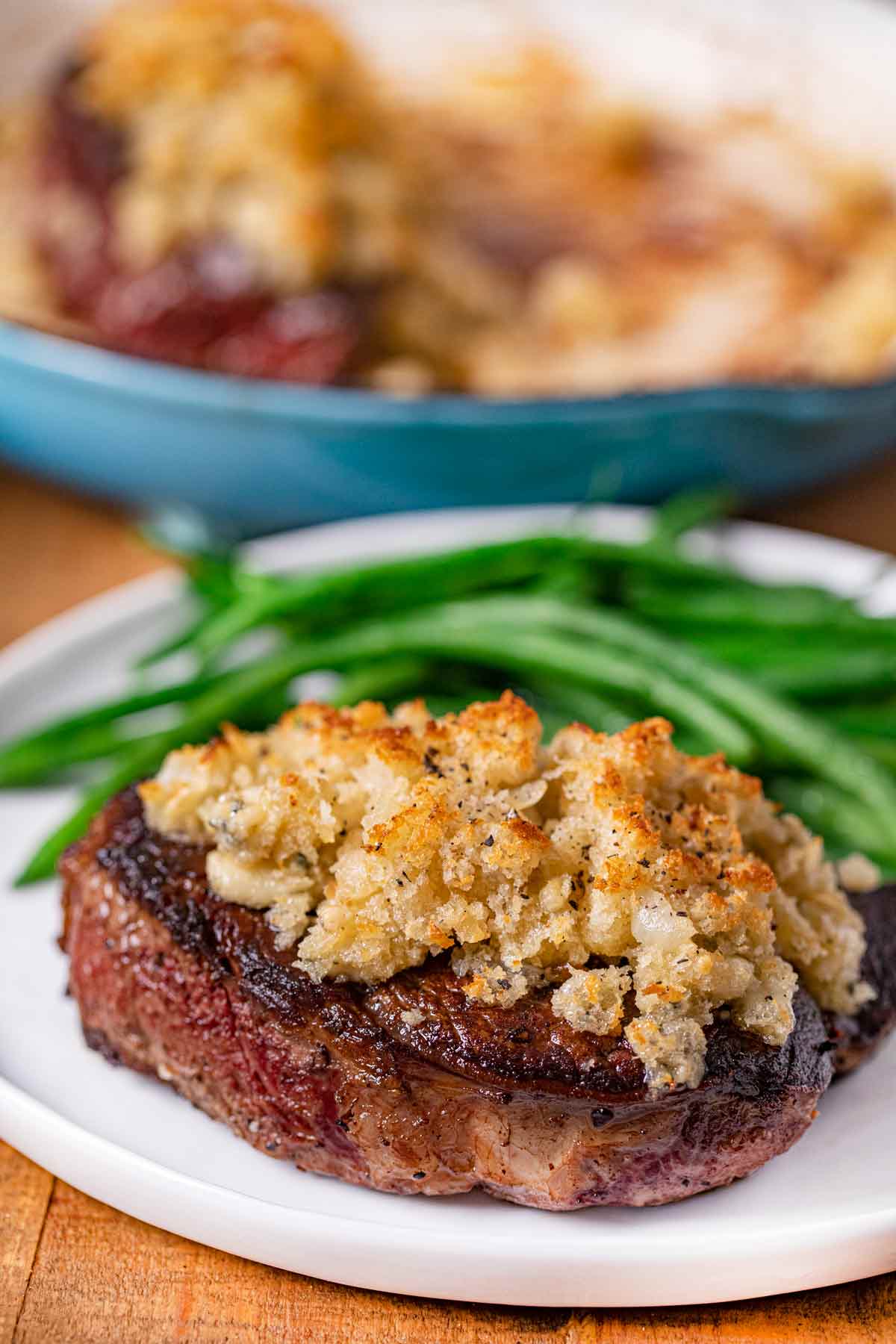 BLUE CHEESE CRUSTED FILET MIGNON
A crusty blue cheese topping is something they add to the top of Filet Mignon at many restaurants. However, this classic dish is surprisingly easy to recreate at home. All it takes is some butter, onion, blue cheese, breadcrumbs, and some salt and pepper mixed together. The beef flavor goes perfectly with the creamy blue cheese topping. Create this delicious dish as the centerpiece of your next dinner party, for a romantic dinner for two, or it's even easy enough to make for a family dinner.
Pair your Blue Cheese Crusted Filet Mignon with side dish recipes like Mashed Potatoes, Roasted Green Beans, Dinner Rolls, and other classics for the perfect dinner that's worthy of any special occasion.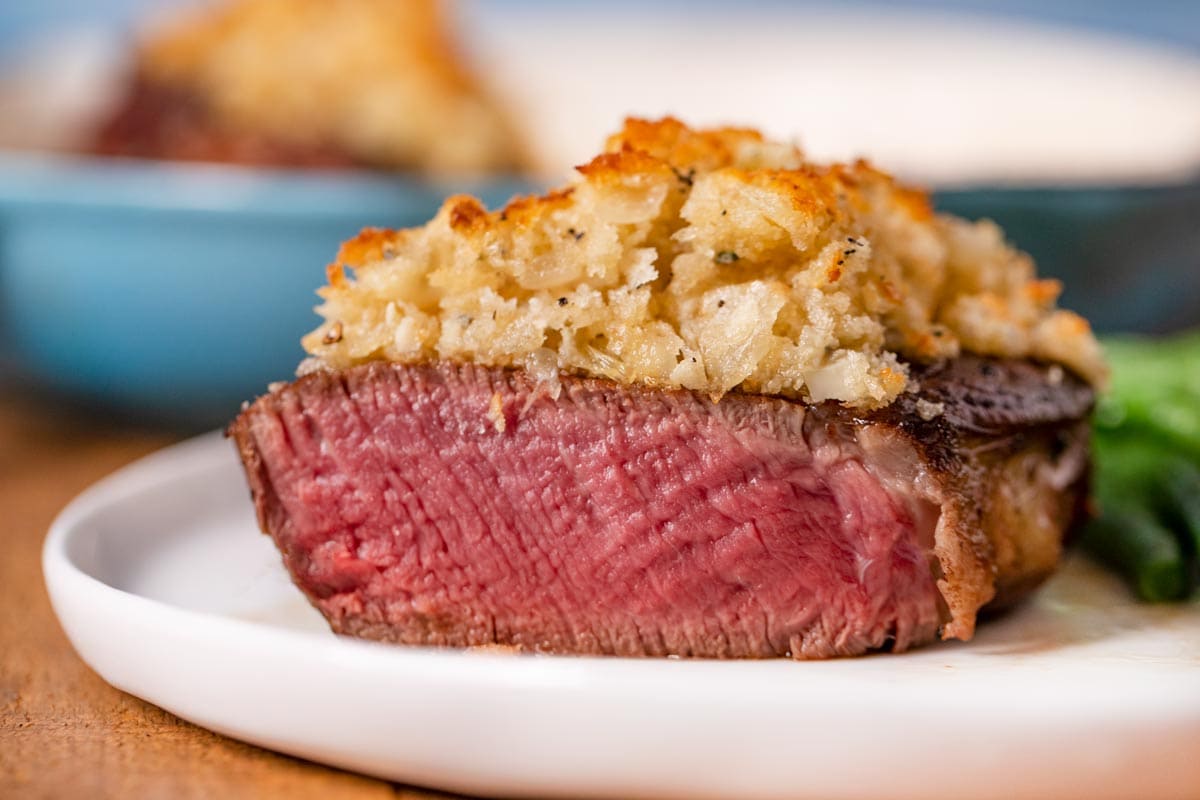 WHAT IS FILET MIGNON?
Filet Mignon comes from a wonderfully tender and delicate cut of meat. It's a boneless, lean steak with a delicious and buttery texture. The French translation of Filet Mignon actually means "tender filet." The cut of beef comes from the small end of the tenderloin, and it's surprisingly easy to cook to perfection.
MORE MAIN DISH BEEF RECIPES
HOW TO MAKE BLUE CHEESE CRUSTED FILET MIGNON
Prep: Preheat your oven to 450 degrees F.
Blue cheese topping: Add 2 tablespoons of butter to a large skillet put over medium heat. Chop the yellow onion and add it to the skillet. Cook and stir the onion for 3-4 minutes until the onion is fragrant and translucent. Add the cooked onions into a large bowl, and let them cool for 2-3 minutes. Crumble in blue cheese, panko breadcrumbs, salt, and pepper. Use a fork to mash the ingredients together with the onions.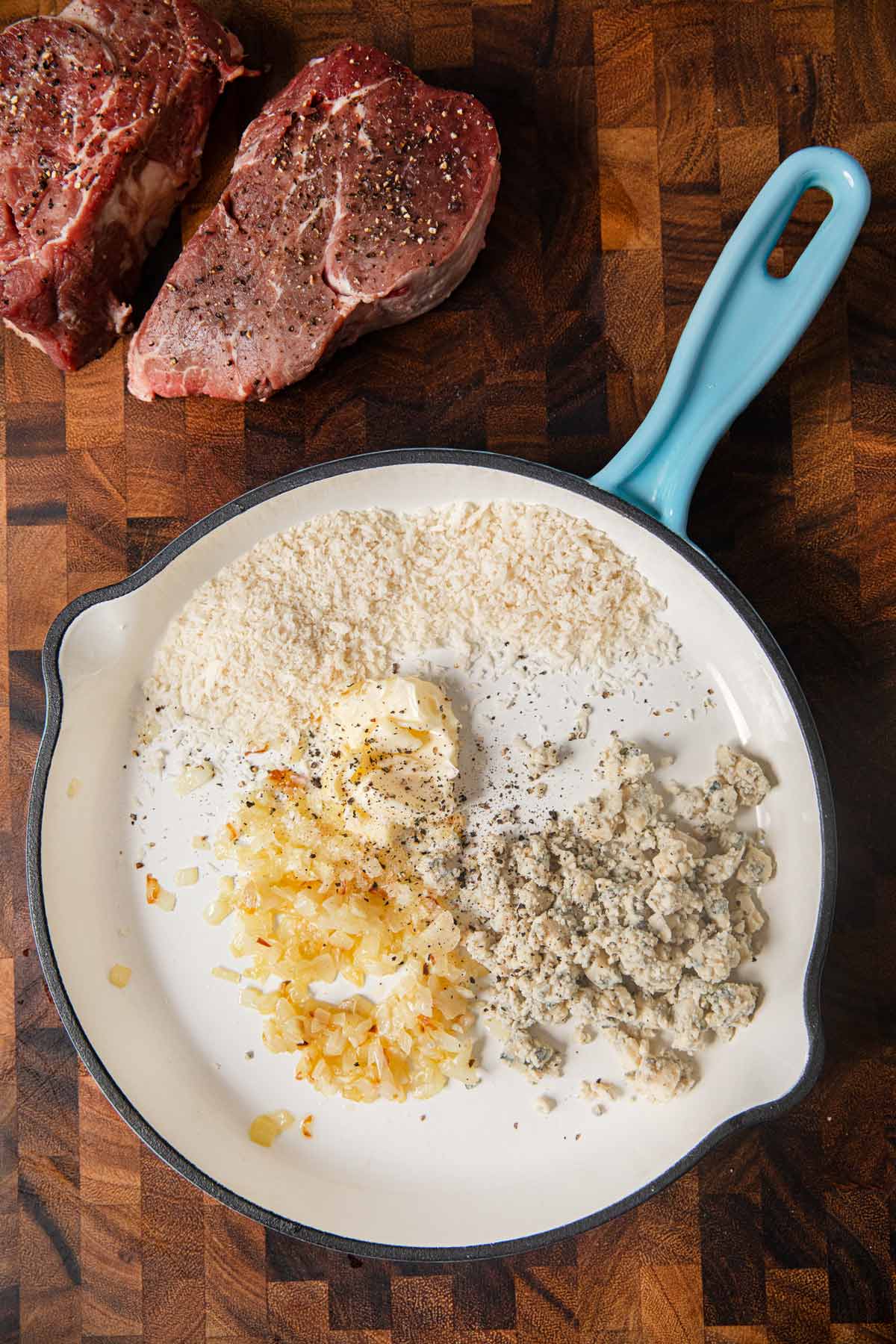 Steak: Put another 2 tablespoons of butter into the same skillet over high heat. Season the steaks with salt and pepper, then sear the steaks on each side for 3 minutes, so they're browned on each side. You'll have to do the tenderloins in batches and then set them on a baking sheet after they're seared.
Cook: Sprinkle the blue cheese mixture evenly over each steak. Put the steaks in the oven and cook for 4 minutes if you want them rare, or 5-6 for medium, or a couple more minutes for well done.
Serve: Cover the Blue Cheese Crusted Filet Mignon in tin foil while still on a baking sheet. Let them sit for 10 minutes before serving.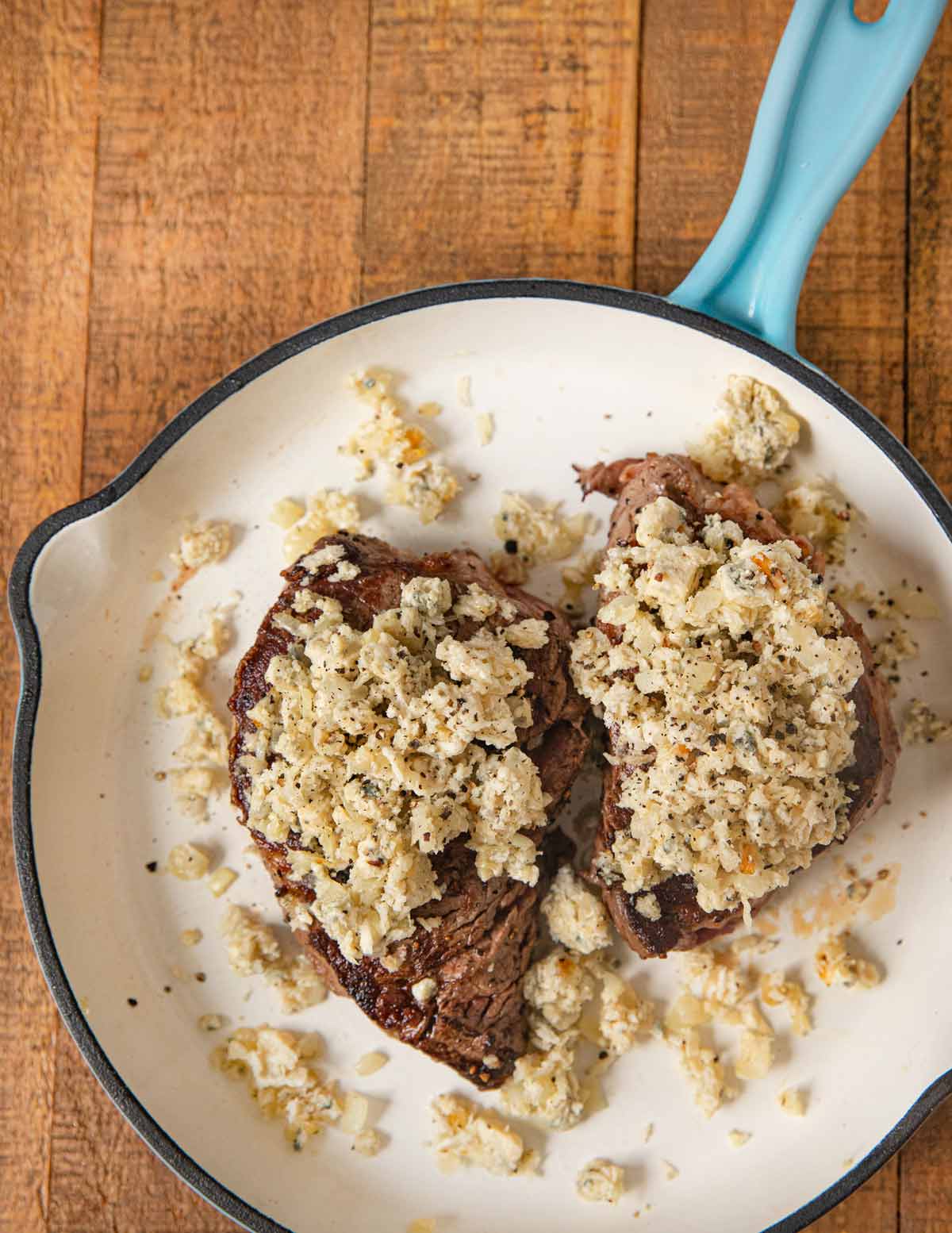 Create a free account to

Save Recipes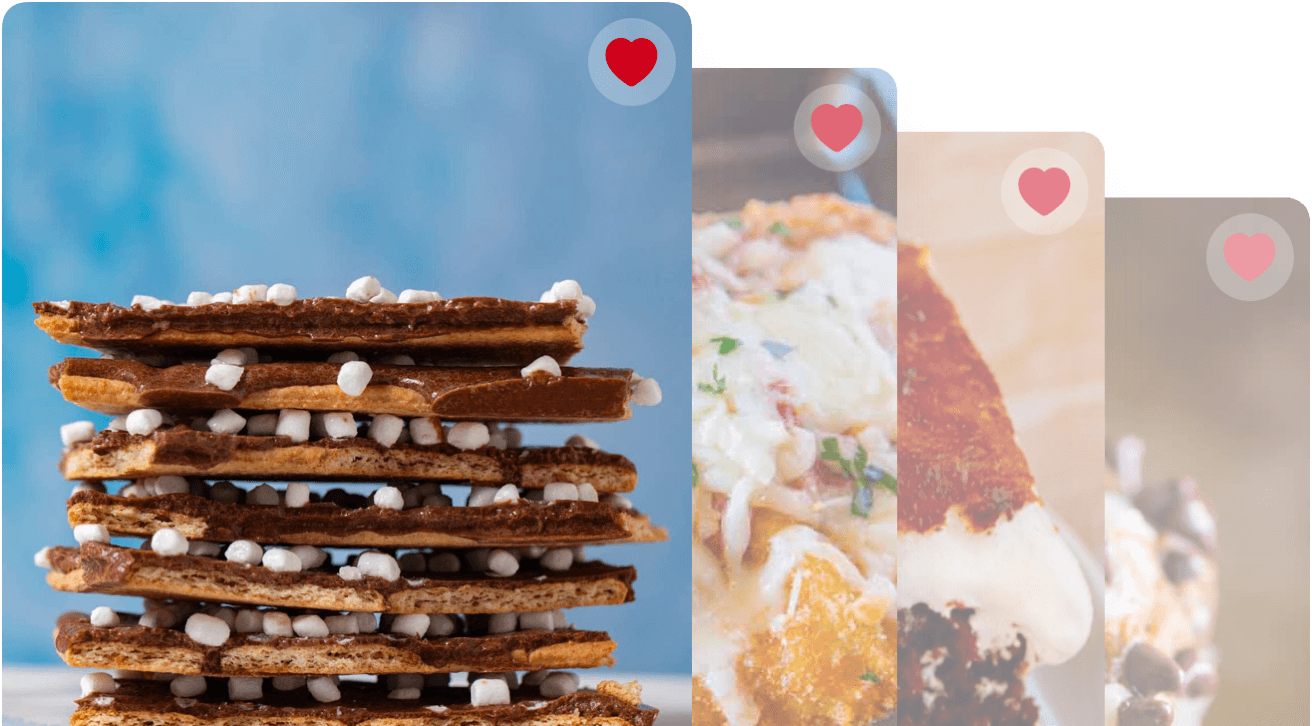 VARIATIONS ON BLUE CHEESE FILET MIGNON
Seasoning: There are lots of different seasonings you can add to your Filet Mignon topping like rosemary, garlic salt, chili powder, cumin, and thyme.
Marinade: Try making a marinade for the Filet Mignon to make the meat even juicier. For an easy marinade try whisking together ½ cup extra virgin olive oil, ¼ cup balsamic vinegar, ¼ cup red wine, 1 tablespoon mustard, 2 cloves minced garlic, and 1 tablespoon fresh rosemary. Put the marinade in gallon bags with the steaks and store them in the fridge. The next day you can prep the recipe according to the recipe.
Gluten-free: You can make your Filet Mignon gluten-free by replacing the breadcrumbs in the toppings. Try using store-bought gluten-free bread, and leaving it out for a little while so it becomes a bit stale. Then you can break it into crumbs.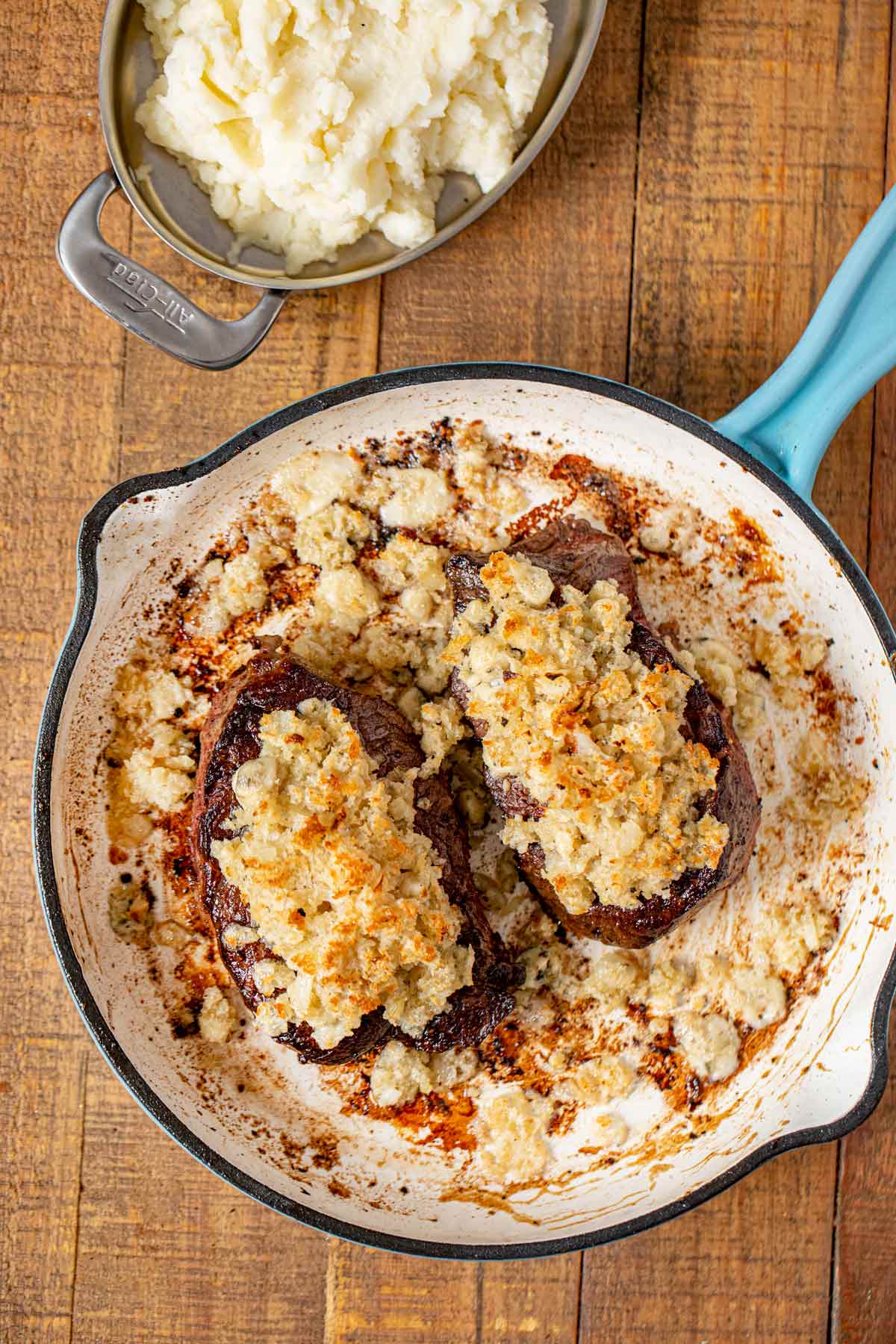 HOW TO STORE BLUE CHEESE CRUSTED FILET MIGNON
Serve: Don't leave Blue Cheese Crusted Filet Mignon at room temperature for more than 2 hours.
Store: After the beef has cooled down, you can store them in the fridge for 3-4 days. Seal the steaks in a freezer bag or other airtight container.
Freeze: You can freeze steaks for 2-3 months. However the Blue cheese crust won't freeze well, so you'll want to remove the toppings and make a fresh topping before serving.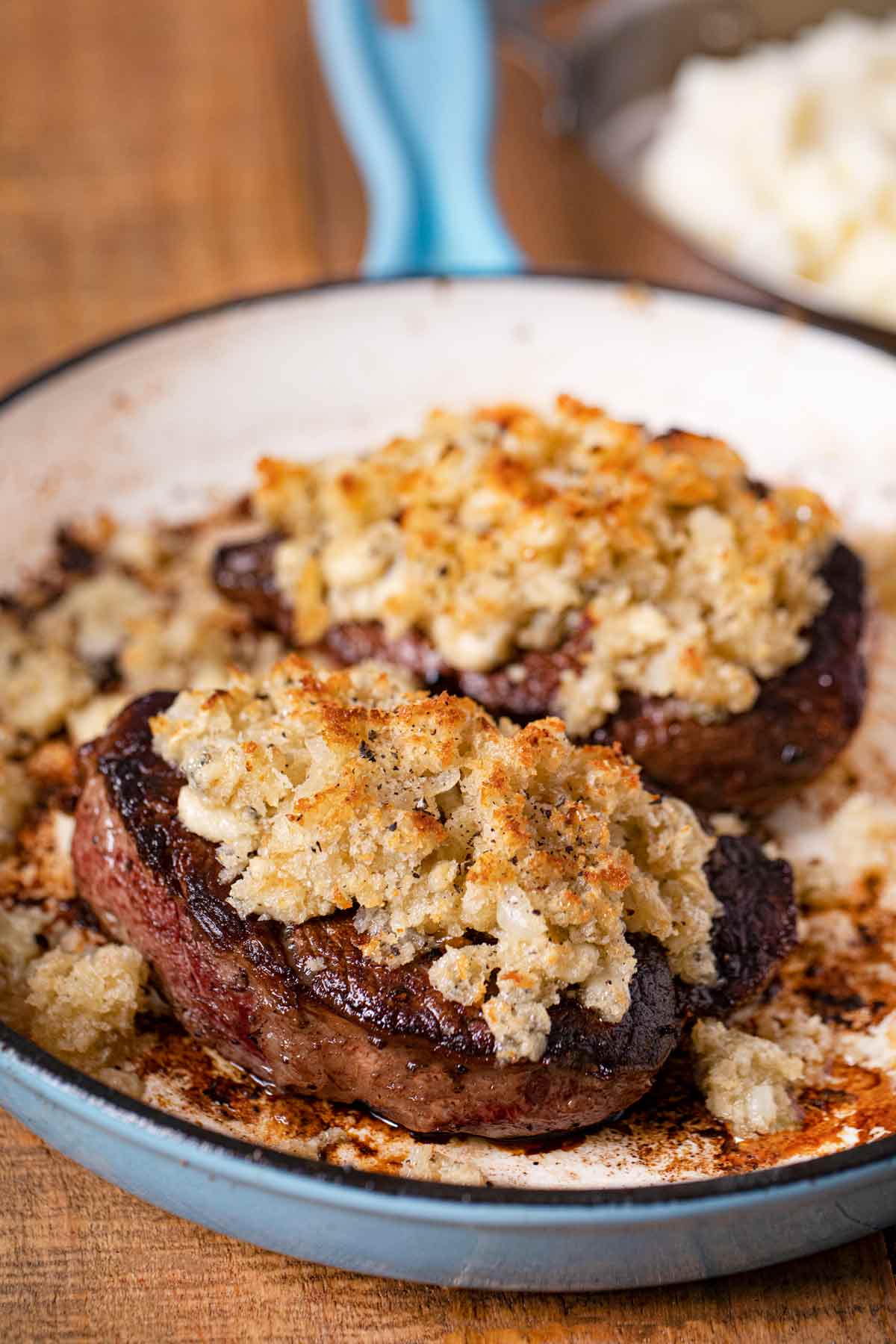 Ingredients
Blue Cheese Topping:
2

tablespoons

butter

1

yellow onion

, chopped

1/3

cup

crumbled blue cheese

1/4

cup

panko breadcrumbs

1/4

teaspoon

kosher salt

1/4

teaspoon

coarse ground black pepper
Filet Mignon:
2

tablespoons

unsalted butter

4

beef tenderloin

, filet mignon steaks, (~8 ounces each)

1

teaspoon

Kosher salt

1/2

teaspoon

coarse ground black pepper
Instructions
Pre-heat oven to 450 degrees.

Add 2 tablespoons butter to a large skillet on medium heat.

Add in onions and cook, stirring occasionally for

3-4 minutes

until translucent.

Add the onions to a large mixing bowl and let cool for

2-3 minutes

.

Add in blue cheese, panko breadcrumbs, salt, and pepper.

Mash the ingredients together gently with a fork.

Add remaining 2 tablespoons unsalted butter to your skillet (just bigger than your steaks) on high heat.

Season steaks all over with salt and pepper

Sear the steaks on each side for

3 minutes

until browned.

Top the steaks with the blue cheese mixture, then place in the oven for

4 minutes

(for rare, 5-6 for medium or more for well done).

Let rest for

10 minutes

, covered with a sheet of foil, before serving.
Nutrition
Calories:
170
kcal
|
Carbohydrates:
6
g
|
Protein:
4
g
|
Fat:
15
g
|
Saturated Fat:
9
g
|
Cholesterol:
39
mg
|
Sodium:
964
mg
|
Potassium:
69
mg
|
Fiber:
1
g
|
Sugar:
1
g
|
Vitamin A:
436
IU
|
Vitamin C:
2
mg
|
Calcium:
73
mg
|
Iron:
1
mg