The easiest recipe for juicy, flavorful Tri-Tip made on the grill or oven-roasted! Marinated overnight in seasonings and olive oil rub.
Classic Prime Rib is a great classic Dinner Recipe for special occasions during the winter and fall, just like the Oven-Baked Salmon or BBQ Beef Short Ribs. These are the only easy summer crowd pleasing meals you'll need!
Tri-Tip Steak is an easy to prepare cut of meat with no need to trim or cut it down. You want to leave the fat as-is to lock in the natural juices and flavor while it slow roasts. The marinade also keeps this roast tender and allows the seasoning and oil to absorb in the the fat. Along with flavor, the fat from the olive oil melds with the natural fat to give you extra juicy, melt-in-your-mouth steak.
If this is your first time making Tri-Tip, the most important thing to know is where and how to buy Tri-Tip. You aren't likely to find a whole Tri-Tip sirloin on a grocery store case. Some grocery butchers will have it in the back, but your best bet is to go to a local butcher. We included a buying guide in this post so you can buy Tri-Tip with confidence!
Another popular way to cook Beef Tri-Tip Roast is to use a dry rub, like they do in Santa Maria, CA. Santa Maria style Tri-Tip is what really brought this steak to the mainstream and its a great way to prepare Tri-Tip if you don't have time to marinate it overnight. Check out our Santa Maria dry rub in FAQ.
No matter how you prepare this Tri-Tip steak, it's sure to be juicy and tender, the perfect summer barbecue dinner. Serve sliced Tri-Tip with your favorite BBQ sides like Baked Beans and Mac and Cheese. Leftovers make great sandwiches, especially smothered with Homemade BBQ Sauce and topped with Coleslaw!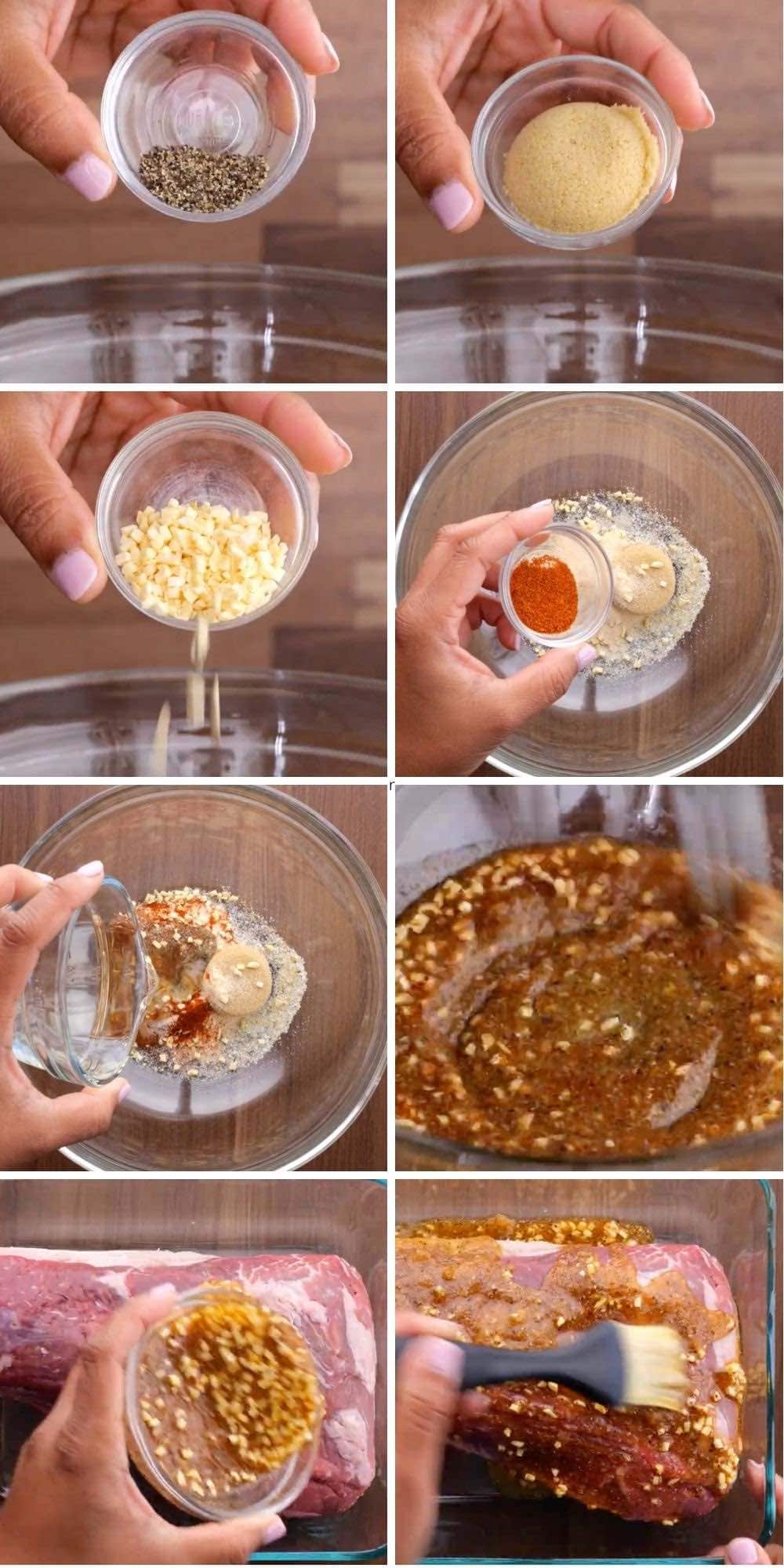 How to Make Tri-Tip Roast
From how to buy Tri-Tip to how to carve Tri-Tip, we have all the tips and tricks you need to easily make the most flavorful Tri-Tip Roast you've ever had. The best news it that Tri-Tip is a very forgiving cut of meat. Rest easy (while your steak is resting) knowing your roast will be crowd pleasing perfection whether it's oven-roasted or grilled, even if you missed a tip or two.
Step One: Marinade the meat with your steak seasoning and oil, overnight is best to really get the flavor into the meat.
Step Two: Sear the room temperature meat on both sides to lock in the juices and flavors. Flip meat every 4 minutes or so.
Step Three: Cook covered in the oven in the amount of 10 minutes per pound of meat (e.g. 2lbs=20 minutes). If it's on the gas grill, keep one half on medium-high heat and let the tri-tip cook on the other half where there are not flames. Let it cook with the lid on. Give it 10 minutes of cooking time for each pound of meat.
Step Four: Give it a good dusting of kosher salt (optional) and let the meat sit for about 10-15 minutes without any heat. This lets it relax and you'll be eating juicy steak in no time!
Side Dish Recipes for Easy Tri-Tip
Frequently Asked Questions
How do you make Santa Maria Tri-Tip Rub?
Use the spices and brown sugar in this recipe along with dried rosemary and oregano to make a Santa Maria dry rub. Leave out the oil and rub the dry mixture all over the roast before allowing to rest for 30 minutes.
Does Chimichurri sauce go well with Tri-Tip?
Absolutely! Serve Tri-Tip with Chimichurri Sauce or use it as a marinade! This garlicky cilantro-parsley sauce is a staple in South and Central America, and one bite of it on any steak will make you a true believer in it.
What cuts of meat can be used in place of Tri-Tip?
If you are having trouble finding Tri-Tip Roast, you can use London broil or a thick, well-marbled sirloin steak. The cooking times will be similar, just be sure to check for the internal temperature of 145 degrees.
What is silver skin? 
Some cuts of meat have a thin layer of connective tissue that is incredibly tough to chew and doesn't cook down, even with high heat. It's not pleasant to try to eat and should be removed before eating. Some untrimmed tri-tip will have this silver skin and a nice layer of fat around one edge. We recommend trimming the silver skin and proceed cooking with the fat to help it stay nice and juicy!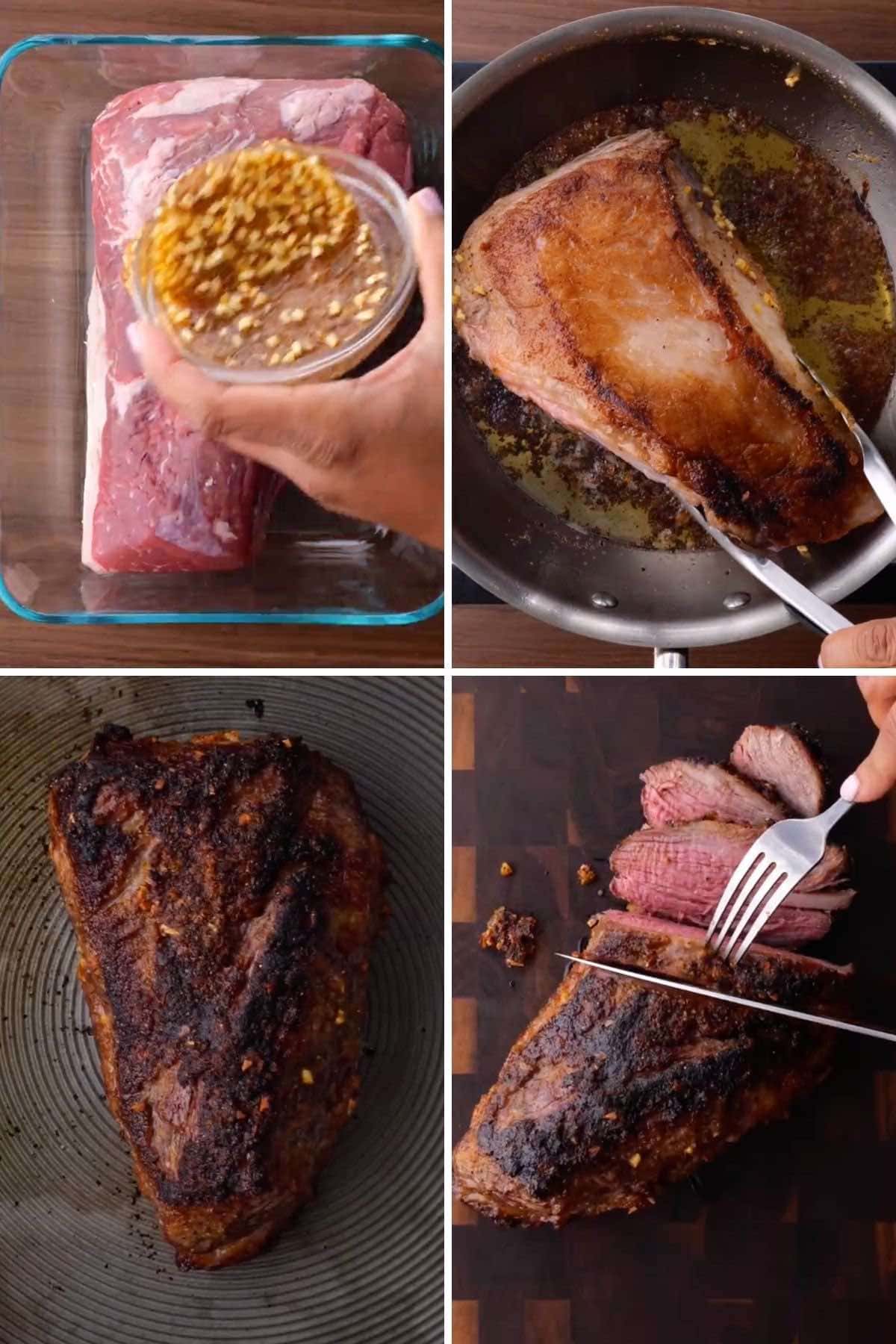 Create a free account to

Save Recipes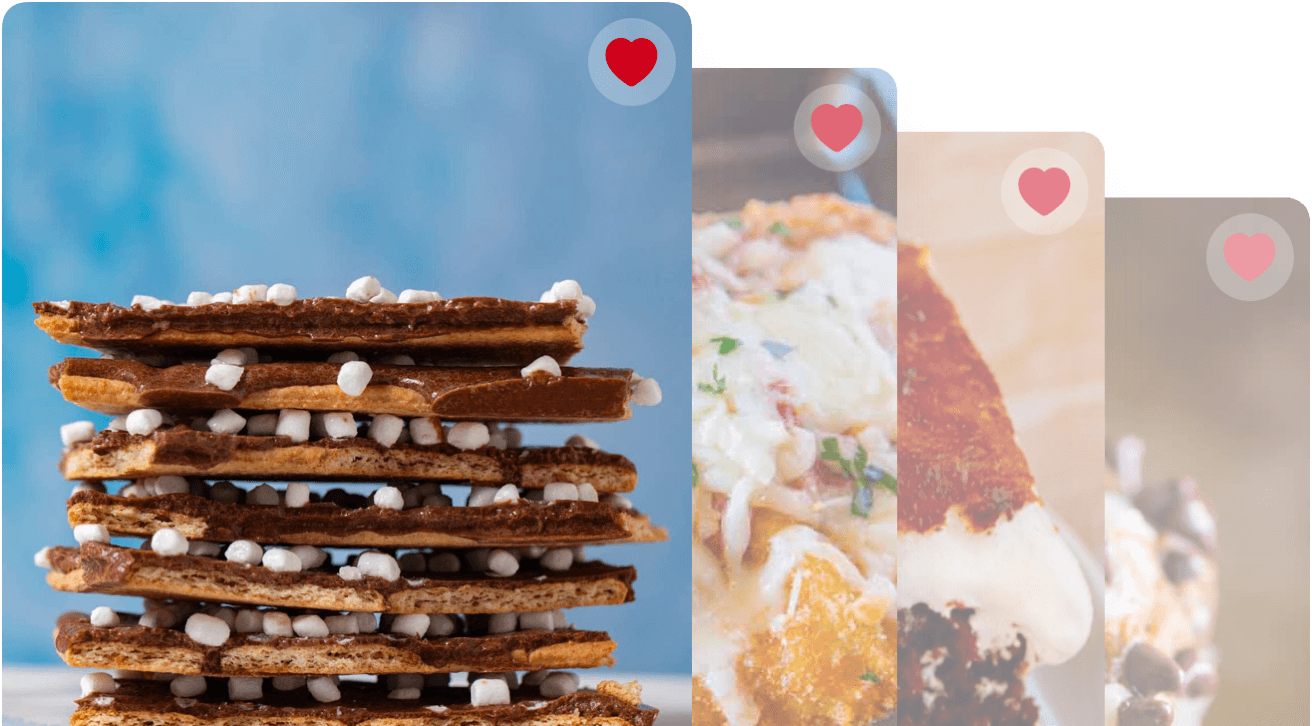 Key Ingredients in Tri-Tip
Tri-Tip: This prized cut of meat comes from the bottom sirloin section of a cow, which is located towards the rump and just off the back leg.
Seasoning: We are using both garlic powder and minced dried garlic along with brown sugar and other seasonings to bring a lot of flavor to our steak. If you have a premade steak seasoning, feel free to use that too!
Oil: The type of vegetable oil we are using olive oil for our meat here is olive oil as it gives a nice flavor.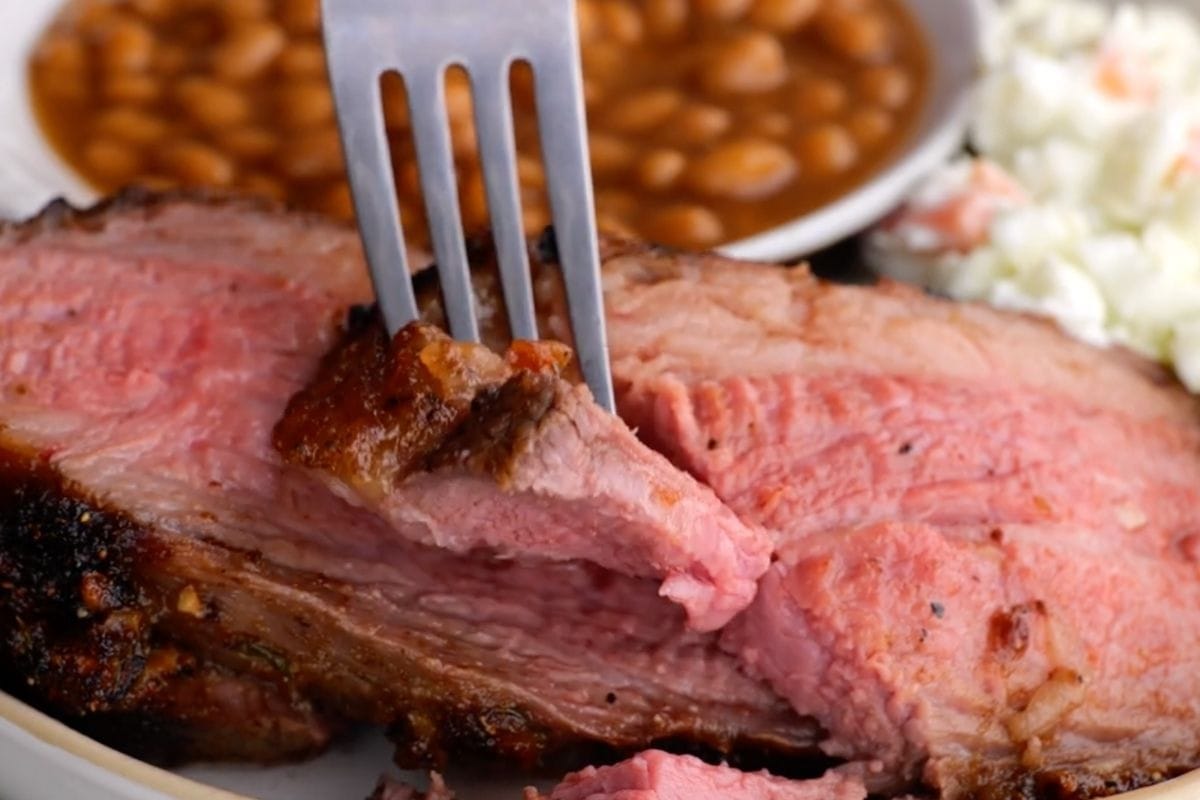 How To Carve a Tri-Tip Roast
You want to slice Tri-Tip against the grain. The easiest way to determine the "grain" of the meat is the direction the fat and cut opposite to the fat. Your roast may have fat that changes direction near the middle. To make slicing easier, cut roast in half where fat changes direction and cut each half in thin slices against the grain.
How To Buy Tri-Tip Roast
Ask For It – The most important thing in buying a Tri-Tip Roast is to ask for it! Ask the butcher for a "well-marbled Tri-Tip Roast." They may also call it bottom sirloin, triangle roast, triangle tip roast, triangle steak, or California cut.
Inspect It – The roast should be triangle-shaped, and about the same thickness end to end. A prime cut will have a thick fat membrane on one end and fat ribboned through both sides.
Shop Local – Visit a local butcher, if possible, for a "prime cut" of beef. Local butcher cuts of meat have more fat and are well-marbled, meaning your roast is going to be packed with natural flavor.
Grocery Stores – The better the grocery store, the better the cut of Tri-Tip you are going to get. Discount grocery stores, if they have it, are going to have lean cut Tri-Tip that will cook much faster and shrink. Stick to the high end grocery stores for a better marbled roast.
More Mouthwatering Main Dishes
How to Store Easy Tri-Tip
Serve: Allow Tri-Tip to rest at least 10 minutes before slicing. Cooked Tri-Tip Roast can be at room temperature for up to 2 hours before it should be cooled and stored.
Store: Place sliced Tri-Tip in a plastic storage bag or airtight container and refrigerate up to 3 days. Enjoy leftovers cold or reheat in the microwave in 30 seconds bursts so it doesn't overcook.
Freeze: Once cooled, place Tri-Tip slices in a sealed container or freezer safe bag and freeze for up to 3 months. Thaw overnight in the refrigerator before reheating in the microwave or serving cold.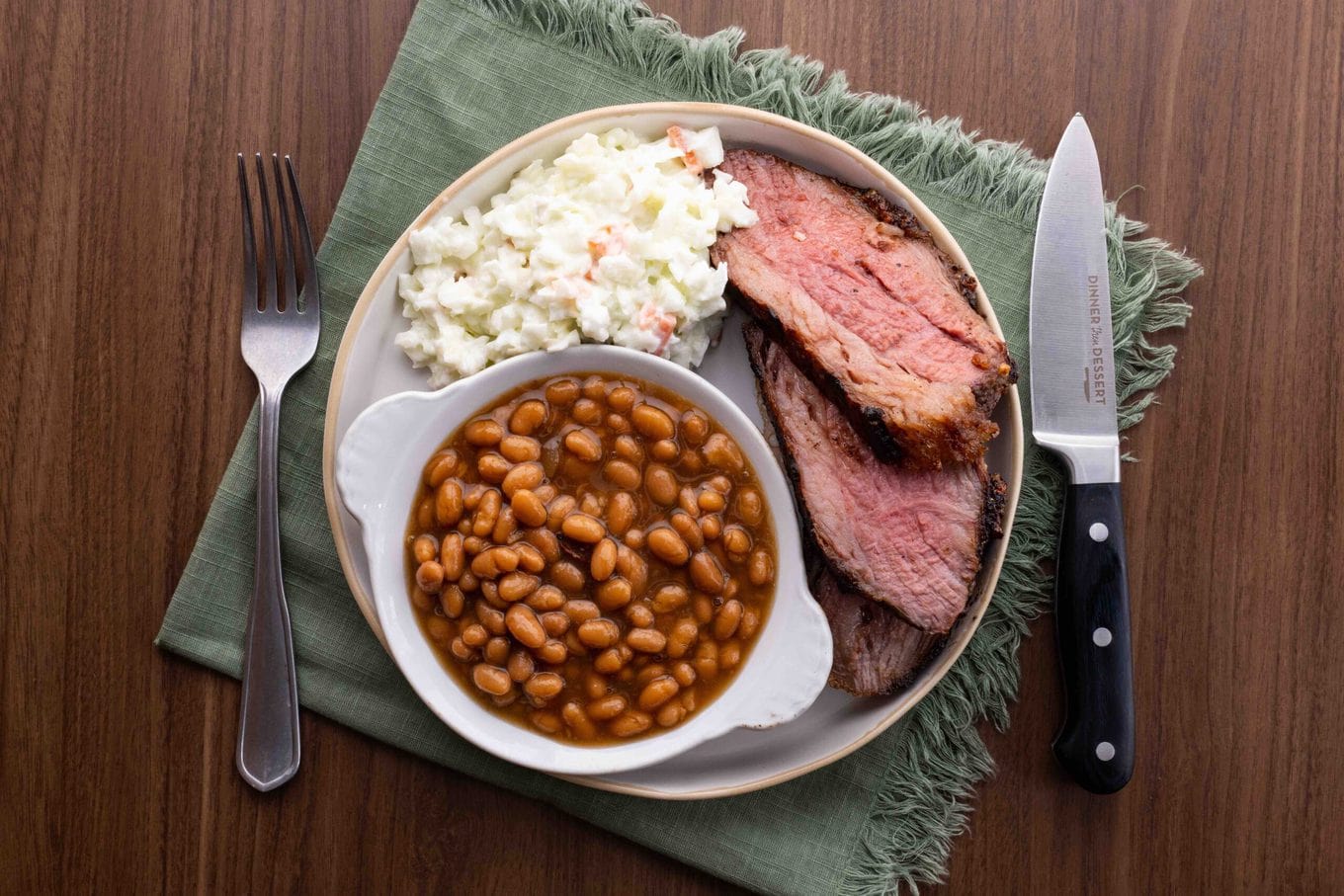 Ingredients
1

tablespoon

garlic salt

1

teaspoon

coarse ground black pepper

1

tablespoon

brown sugar

2

teaspoons

garlic

, dried, minced

2

teaspoons

onion powder

1/2

teaspoon

cayenne pepper

1/4

cup

vegetable oil

3

pounds

tri-tip roast
Instructions
Marinade:
In a large bowl mix together the garlic salt, black pepper, brown sugar, dried minced garlic, onion powder, cayenne pepper and vegetable oil.

Add the tri-tip roast, coat well and cover with saran wrap.

Marinate for a minimum of

2 hours

, or up to overnight.
Oven-Roasted Tri-Tip
Remove from refrigerator

30 minutes

before cooking.

Preheat oven to 400 degrees and add tri-tip to a large skillet on high heat.

Sear the tri-tip on both sides until browned.

Move tri-tip to roasting pan.

Cook in the oven for

10 minutes

per pound.

Remove and tent roast with foil.

Let meat rest

10 minutes

(covered with foil), before slicing against the grain to serve.
Grilled Tri-Tip
Remove from refrigerator

30 minutes

before cooking.

Preheat grill to high heat and season with an oiled brush.

Sear well on each side for

3-4 minutes

.

Turn off heat on half the grill and leave meat on the side the heat is off (you'll be cooking on indirect heat).

Cook, covered, for

10 minutes

per pound.

Transfer meat to a large foil pan, cover with foil and let rest for

10 minutes

before slicing against the grain.
Nutrition
Calories:
447
kcal
|
Carbohydrates:
3
g
|
Protein:
47
g
|
Fat:
27
g
|
Saturated Fat:
14
g
|
Cholesterol:
147
mg
|
Sodium:
1284
mg
|
Potassium:
735
mg
|
Fiber:
1
g
|
Sugar:
2
g
|
Vitamin A:
69
IU
|
Vitamin C:
1
mg
|
Calcium:
59
mg
|
Iron:
3
mg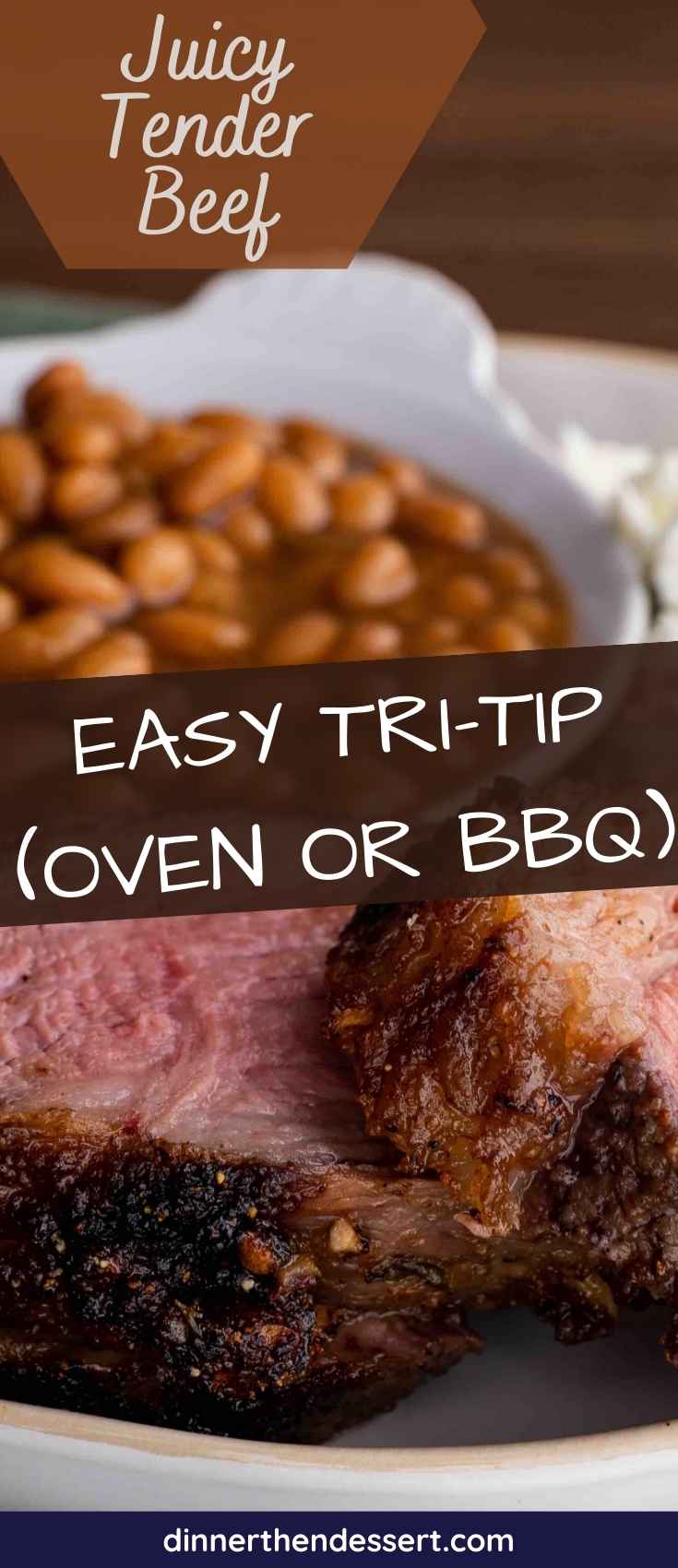 Photos used in a previous version of this post.