Peri-Peri Chicken is a delicious, spicy weeknight dinner. Tender chicken smothered in thick, flavorful peri-peri sauce with chili peppers, paprika, and garlic.
This delicious and impressive dish is perfect for a family Dinner Recipe. Serve it up with Peri Peri Sauce and your favorite vegetable Side Dishes for a filling, wonderful meal.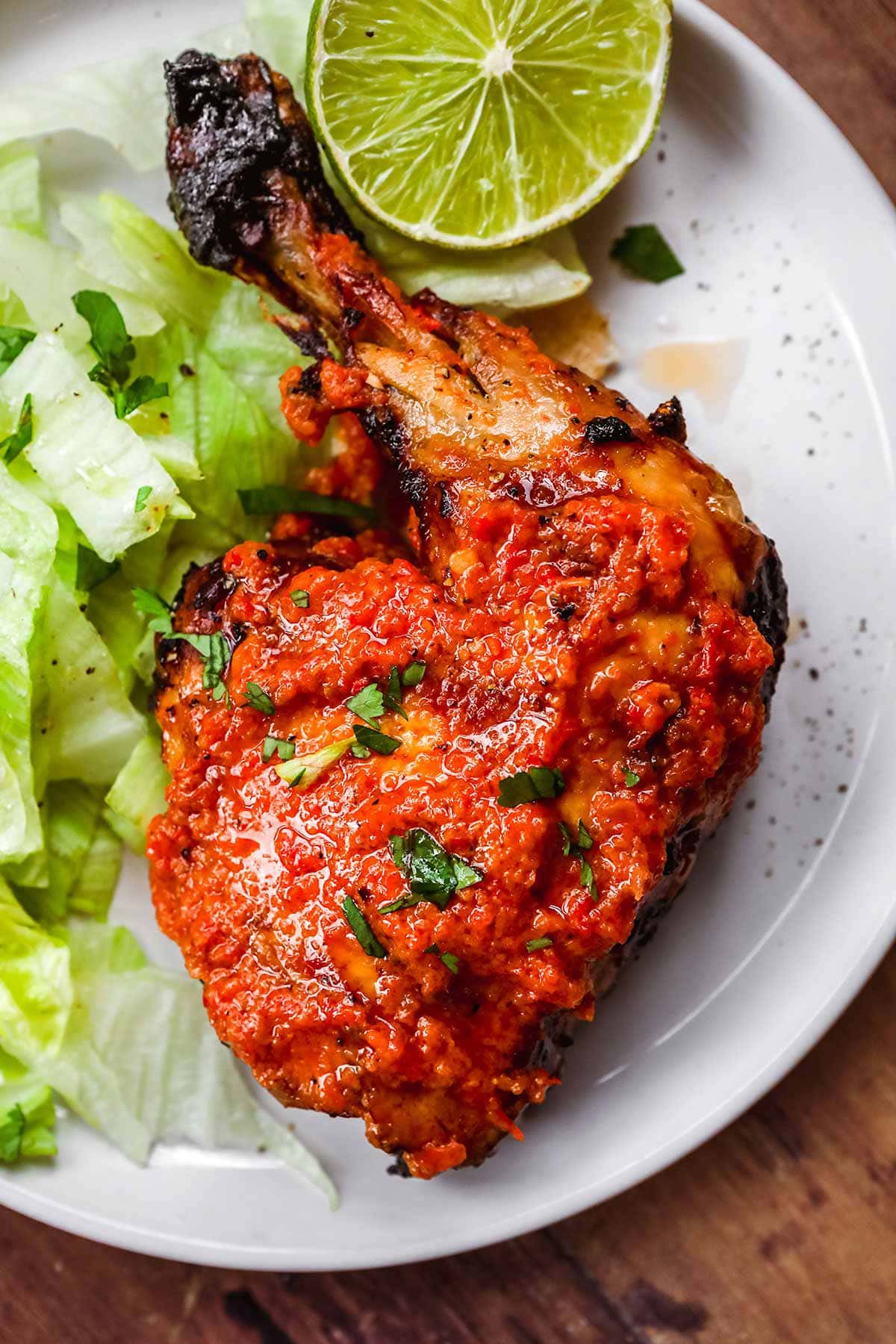 Peri Chicken is a fabulous dish that originated in South Africa. It's characterized by its signature sauce, peri peri or piri piri sauce, which is made with spicy bird-eye chili, or Thai chili.
The chilies add a nice amount of spice to the fabulous dish, but it's not an overpowering heat. You should still be able to taste the other amazing flavors from the paprika, garlic, oregano, and lemon juice in the recipe. However, if you're not a huge fan of spicy foods, you may want to lessen the number of chilies. You can always add a few to the sauce at a time and taste test it to make sure it's a good heat for you.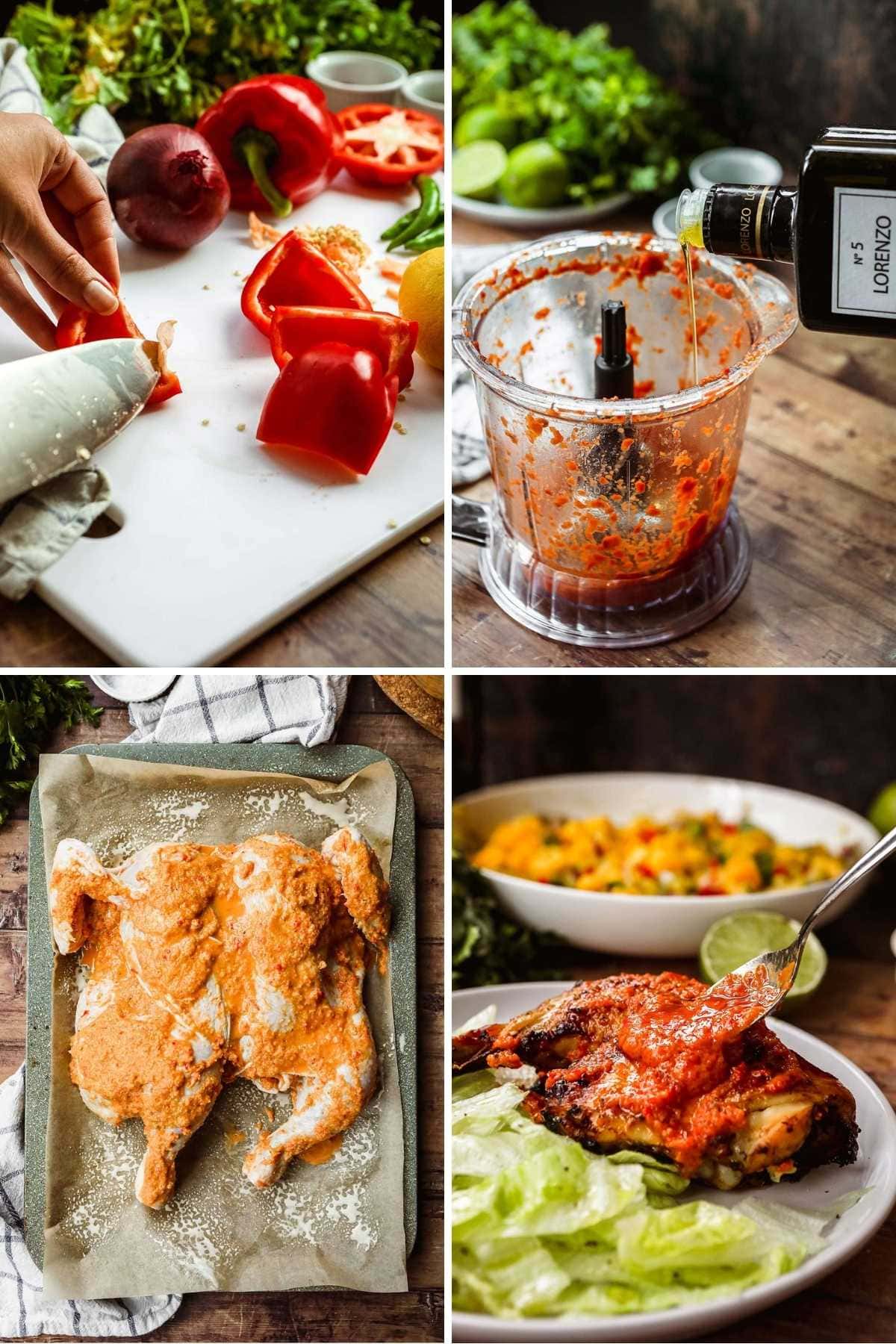 Flavorful Peri Peri Chicken is often served up with fresh juicy corn cobs. The naturally sweet flavor of the corn pairs perfectly with the hot pepper sauce. Try making some Milk Boiled Corn or a Corn Salad to go with your chicken dish.
Easy chicken recipes are great for weeknight dinners that the whole family can enjoy. This recipe does take a while to prepare because the chicken needs time to soak in the marinade. You want to give it at least 4 hours in the fridge to get enough of the flavor soaked in. However, all the hands-on cooking is super easy. So, as long as you remember to get started in advance, it's a fool-proof recipe for amazing chicken!
MORE DELICIOUS CHICKEN DISHES
TIPS FOR MAKING PERI PERI CHICKEN
Peri-peri marinade: Add the olive oil, white vinegar, lemon juice, lemon zest, onion, chilies, garlic, salt, oregano, paprika, sugar, black pepper, and bell peppers to your food processor. Blend the mixture until the sauce is smooth.
Flatten chicken: Slice the spine out of the back of the chicken and then press down on the chicken until it's flattened into a spatchcock style.
Marinate: Then add the chicken to a zip lock bag and pour the sauce into the bag as marinade for the meat. Once the chicken is coated in the hot marinade, put it in the fridge for at least 4 hours. You can also leave it overnight for a more developed flavor.
Cooking time: While the marinated chicken is almost done with its time in the fridge, bring the oven heat to 400 degrees. Then spray a baking sheet with vegetable oil spray. Put the chicken on the sheet skin side down. Then rub extra marinade over the chicken. Cook for 60-75 minutes. Use an internal meat thermometer at the thickest part. If it's reached 165 degrees the chicken is safe to eat. If not give it a few more minutes. Serve with extra sauce and enjoy.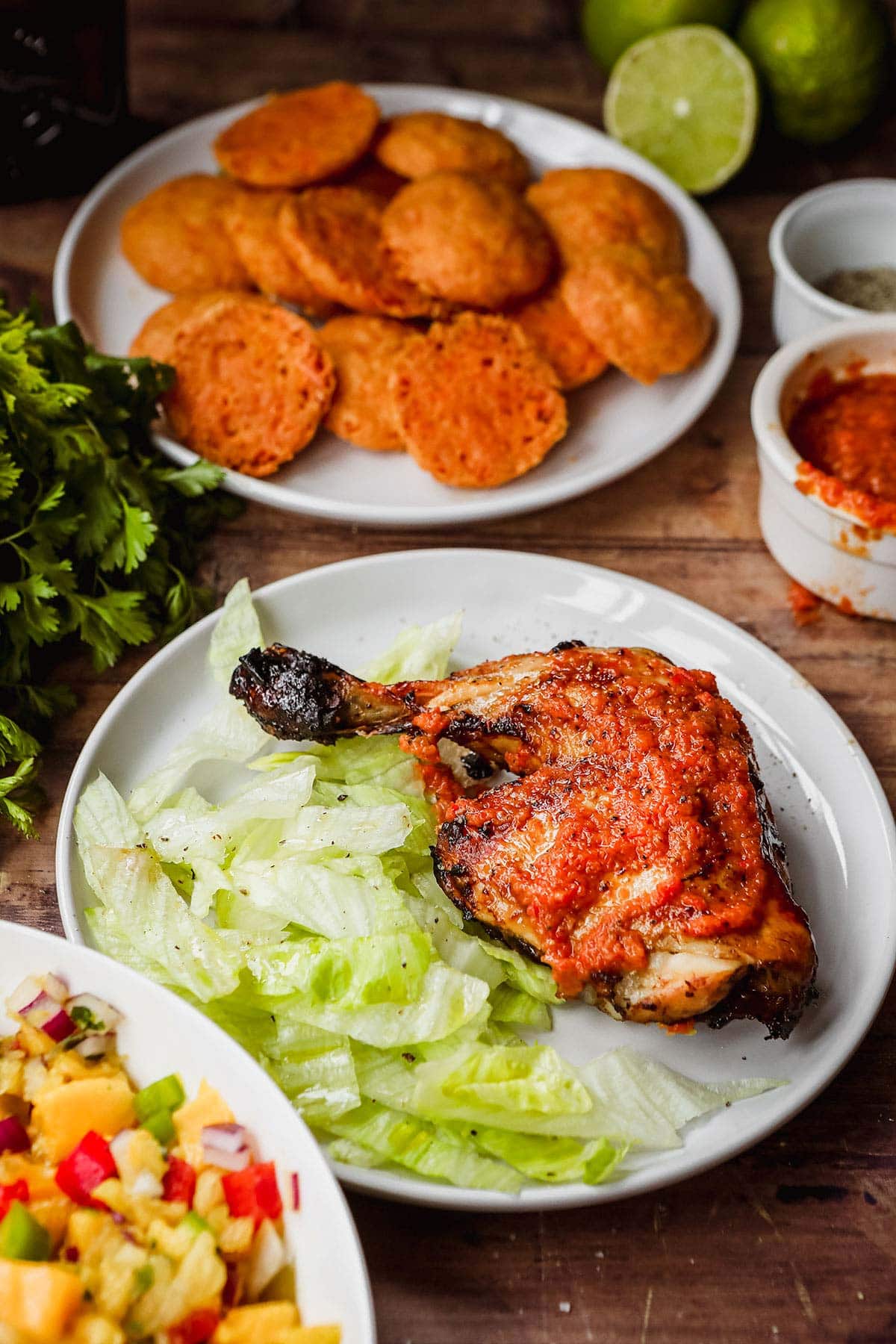 Create a free account to

Save Recipes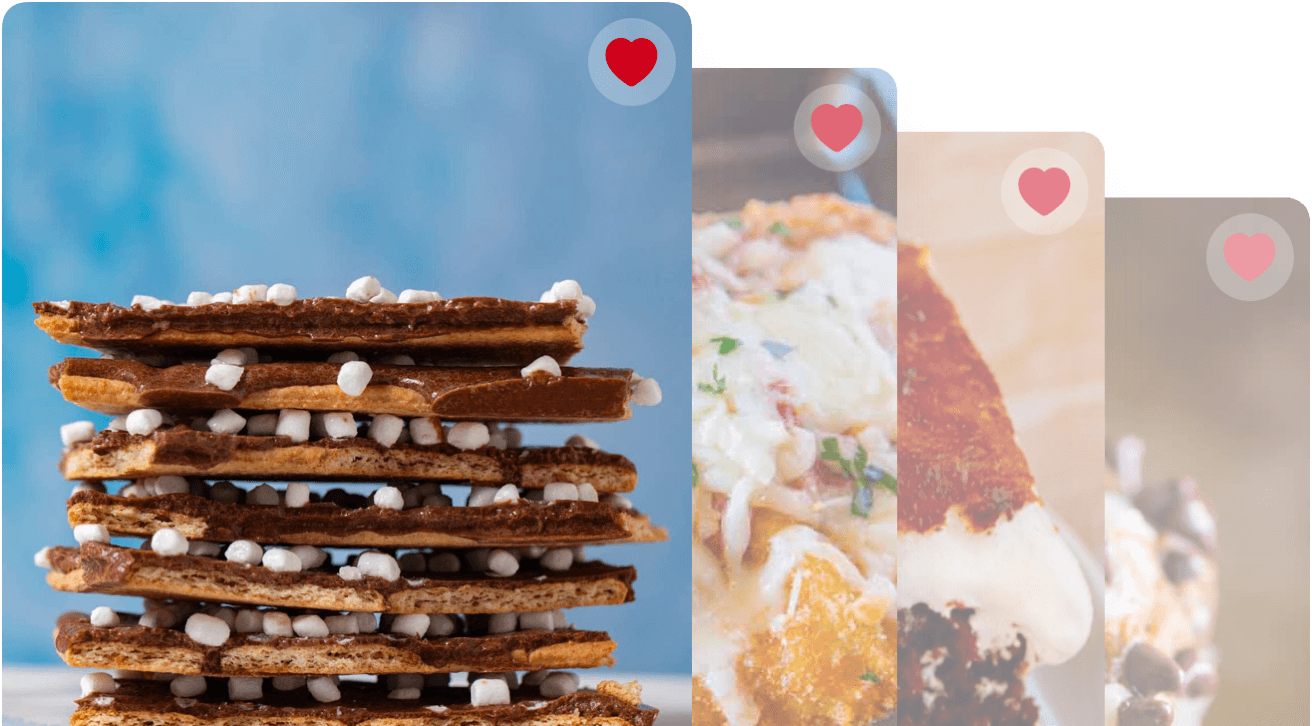 VARIATIONS ON PERI PERI CHICKEN
Extra spicy: The chilies already give this recipe a kick of heat. However, if you just can't get enough spice and want to raise the heat level even more you can add in a dash of hot sauce, hot chili powder, or spicy chili flakes. Add in a little bit at a time so that you don't accidentally make it too spicy.
Smoky flavor: To give this recipe a more smoky flavor, you can add a little bit of barbecue sauce, Worcestershire sauce, or liquid smoke to the peri-peri marinade.
Garnishes: If you're serving Peri Peri Chicken for a more special occasion you may want to add some garnishes. Try putting some lemon slices, and cilantro leaves on the side of your plate. You can also add a crunchy topping with crushed pecans, or peanuts over the chicken.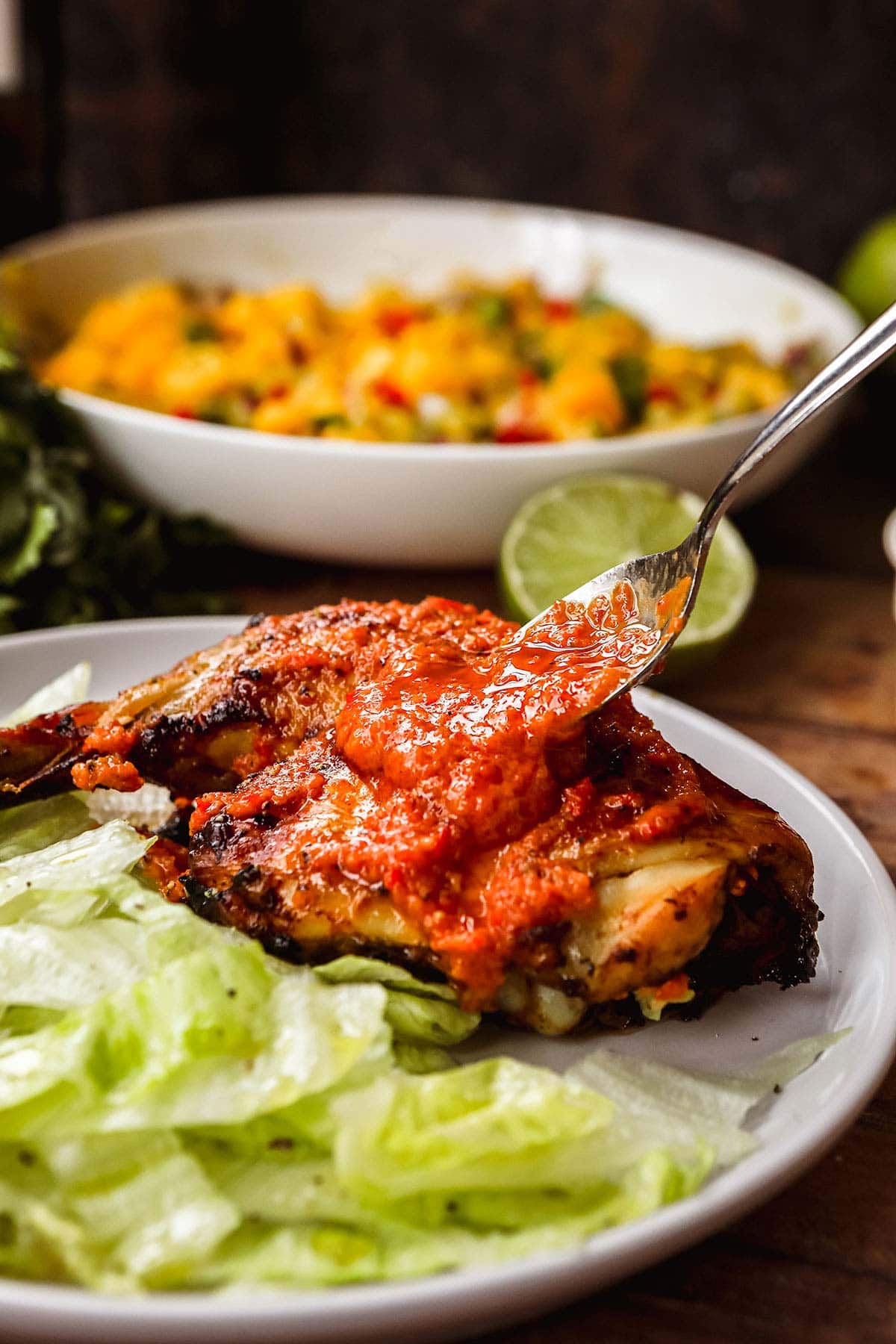 MORE EASY WEEKNIGHT DINNERS
HOW TO STORE PERI PERI CHICKEN
Serve: After baking, don't leave Peri Peri Chicken at room temperature for more than 2 hours.
Store: Let the chicken cool down, and then put it in an airtight container to store in the fridge for 3-5 days.
Freeze: You can also seal and freeze the chicken for up to 6 months. Let it thaw in the fridge, and then reheat it on the stovetop or in the oven before serving.


Ingredients
1/2

cup

olive oil

1/4

cup

white vinegar

1

lemon

, juiced and zested

1

yellow onion

4

bird's eye chili peppers

, use serrano as replacement

12

cloves

garlic

1

tablespoon

kosher salt

1

tablespoon

dried oregano

1

tablespoon

paprika

1

teaspoon

sugar

1

teaspoons

coarse ground black pepper

1/2

cup

roasted bell pepper strips

, drained well

1 5-6

pound

chicken
Instructions
To a large food processor or blender add olive oil, white vinegar, lemon juice and zest, onion, serrano peppers, garlic, salt, oregano, paprika, sugar, black pepper, and bell pepper strips and process until smooth.

Flatten the chicken into a spatchcock style by cutting the spine out of the back of the chicken and pressing down on the chicken until flattened.

Add chicken to a large ziplock bag or covered container and coat with sauce.

Refrigerate a minimum of

4 hours

or overnight.

Preheat oven to 400 degrees and spray a baking sheet with vegetable oil spray.

Add the chicken to the baking sheet, skin side up.

Rub remaining marinade over the chicken.

Cook for

60-75 minutes

until chicken is cooked through to 165 degrees at its thickest part.

Serve with Peri Peri Sauce.
Nutrition
Calories:
330
kcal
|
Carbohydrates:
4
g
|
Protein:
21
g
|
Fat:
26
g
|
Saturated Fat:
6
g
|
Trans Fat:
1
g
|
Cholesterol:
82
mg
|
Sodium:
660
mg
|
Potassium:
271
mg
|
Fiber:
1
g
|
Sugar:
1
g
|
Vitamin A:
654
IU
|
Vitamin C:
15
mg
|
Calcium:
30
mg
|
Iron:
1
mg