Chicken Saag
This post may contain affiliate links. Read my disclosure policy here.
Chicken Saag is a classic Indian curry Chicken recipe with Spinach and cream that is stewed together until thick and creamy in under an hour.
Indian Food is one of my favorite new sections on the blog, including favorite recipes like Chicken Tikka Masala and Easy Tandoori Chicken.
 Chicken Saag Recipe
I recently made Saag Paneer on the blog a few weeks ago and since then I've gotten a lot of requests for a chicken version. Good news was that I already had one ready to share and it's absolutely delicious!
What to serve with Chicken Saag? We love to serve Chicken Saag over cilantro basmati rice with naan bread. If we add a bit of heat from chilis then a cool raita also helps round out the dish.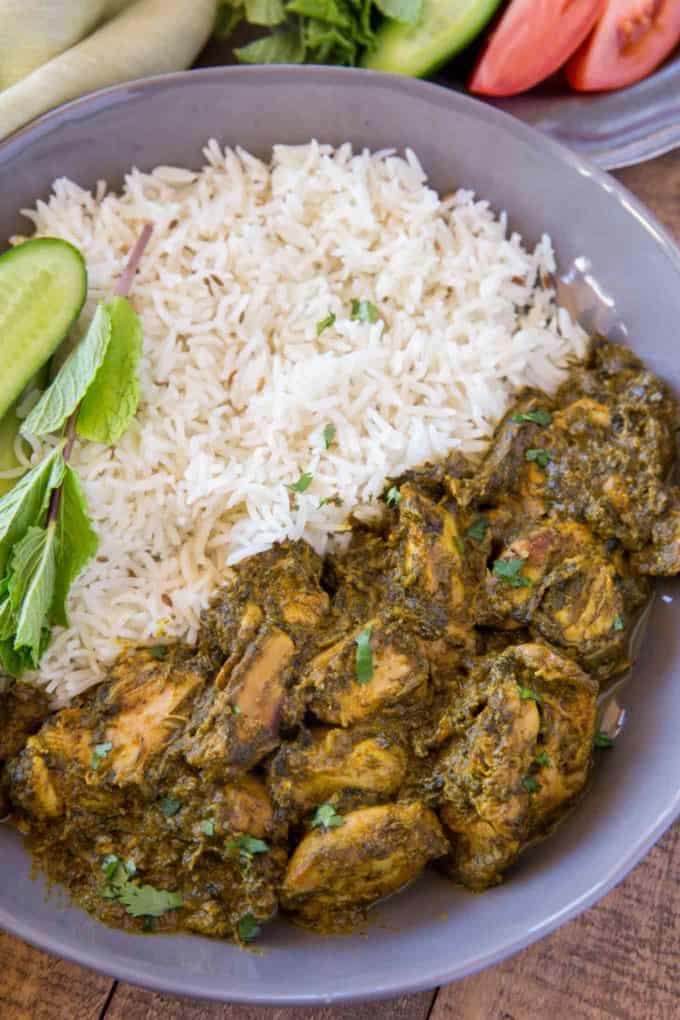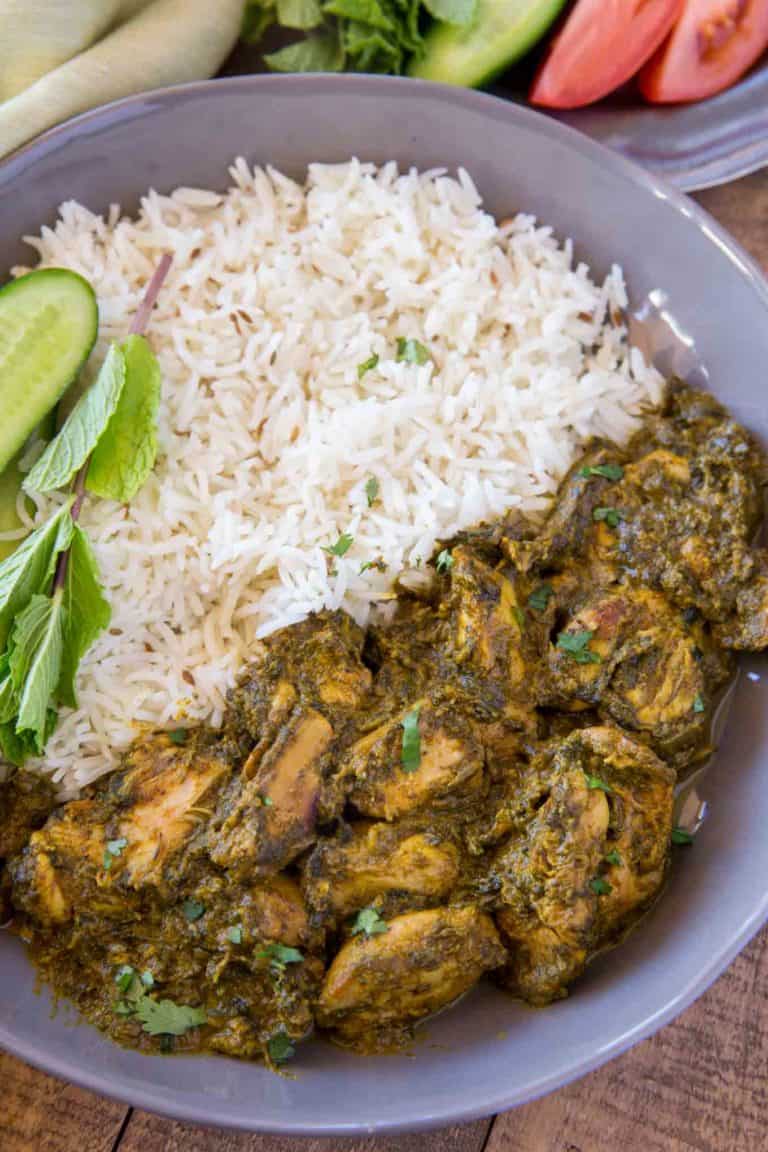 Can you make Chicken Saag in the slow cooker?
Yes, once you've browned the chicken and onions, add all the ingredients (except the sour cream) into the slow cooker and cook on low for 5-6 hours. In the last half hour add in the sour cream, stir well and serve once the mixture comes up to a simmering temperature.
What is in a Saag?
Saag is a classic Indian dish classically made with paneer or chicken covered in spinach, mustard leaves, kale or turnip greens and spices.
MY OTHER RECIPES
Because of these delicious greens that are used in making saag, many people feel that saag is a healthy dish. Just remember we are also using butter and heavy cream, so there are still calories and fat in the dish. The greens are anti-inflammatory and full of fiber so this dish is an easy way to get veggies into the diet of someone who normally doesn't like to eat vegetables.
What kind of chicken is best in Chicken Saag?
We use chicken thigh chunks in this recipe because the meat is sautéed then simmered along with other vegetables and spices and liquids. As chicken thighs simmer for 15-20 minutes they become more tender. If we used white meat chicken the chicken would become very tough and dry.
Can you make this Chicken Saag vegetarian? Yes, make my Saag Paneer instead!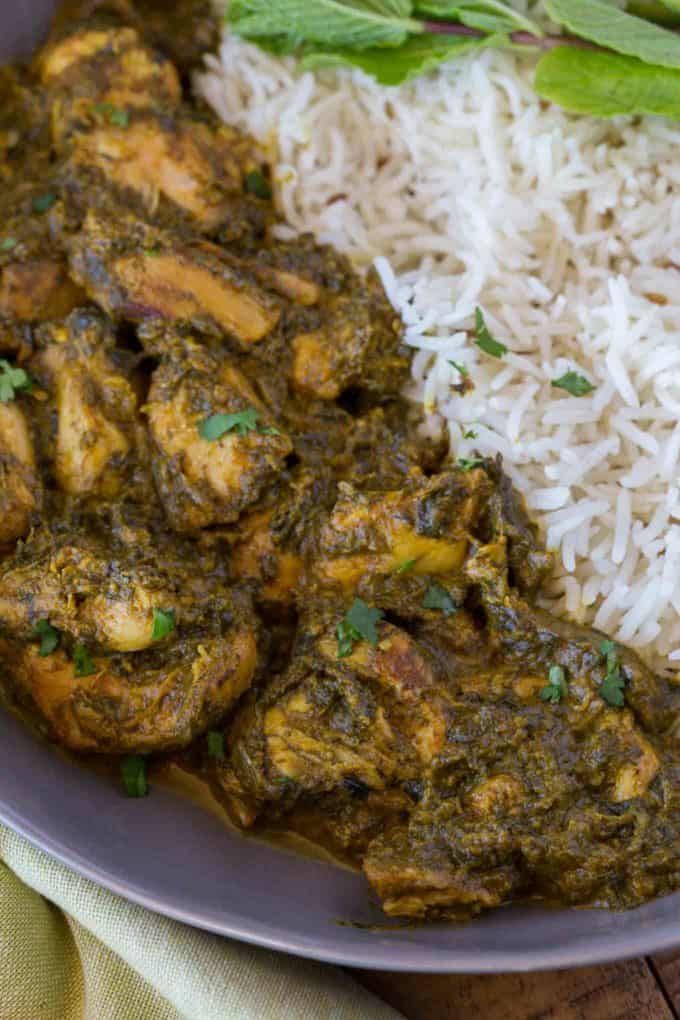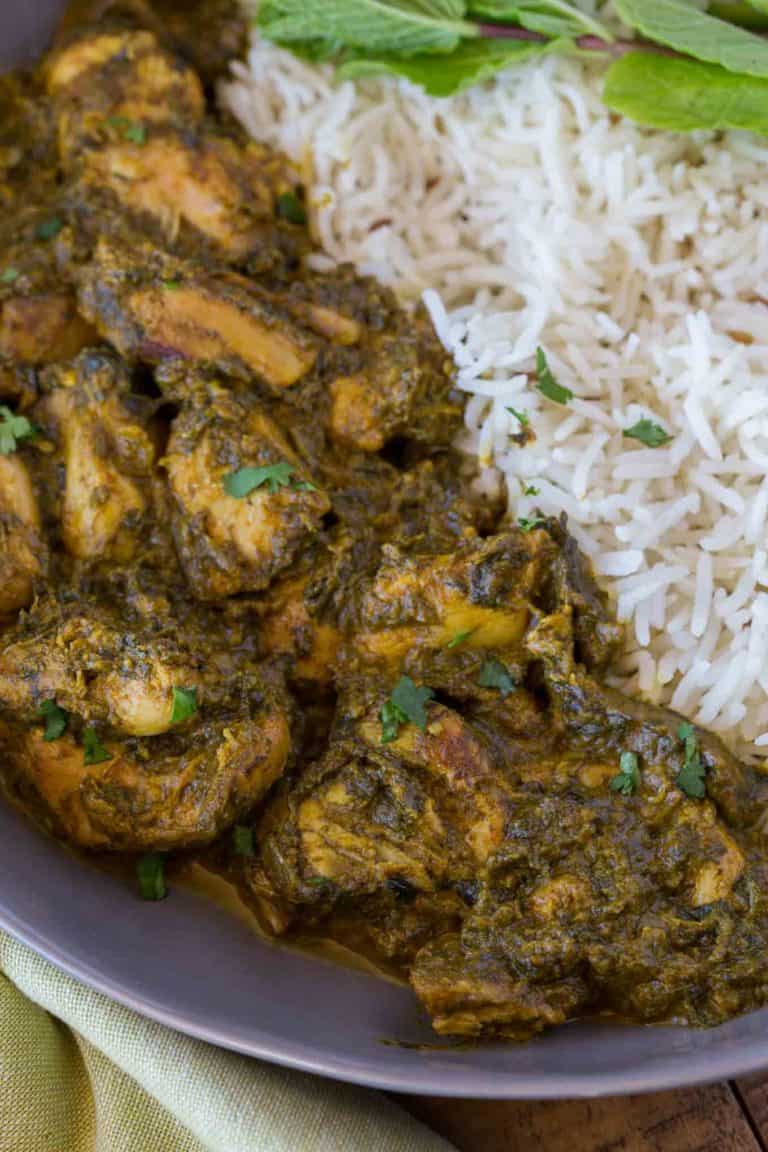 Looking for more delicious Indian Recipes?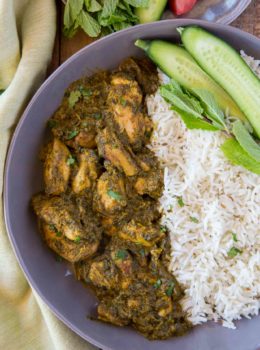 Chicken Saag Recipe
Chicken Saag is a classic Indian curry Chicken recipe with Spinach and cream that is stewed together until thick and creamy in under an hour.
Ingredients:
1 pound spinach, chopped
2 teaspoons dried fenugreek
8 tablespoons ghee (if not available use butter)
1 pound chicken thighs, boneless and skinless and cut into small 1 inch chunks
1 yellow onion, chopped
2 cloves garlic, minced
1 teaspoon fresh ginger, minced
1 tablespoon cumin
1 tablespoon garam masala
1/2 teaspoon turmeric
1/4 teaspoon cayenne pepper
1/2 teaspoon kosher salt
1 cup heavy cream
1/2 cup sour cream
Directions:
Add the spinach and fenugreek to boiling water and cook for 2-3 minutes.
Drain well, squeezing out as much liquid as possible before chopping the spinach finely.
Add the ghee to a pan and sauté the chicken until lightly browned (no need to remove the chicken).
Add in the onions, garlic and ginger to the ghee and cook on medium heat, stirring and cooking until wilted and translucent.
Add in the cumin, garam masala, turmeric, cayenne pepper, kosher salt and heavy cream.
Cook uncovered for 10-15 minutes or until the mixture has cooked down resulting in a thick green spinach sauce.
Add in the sour cream, mix well together and just bring to a boil before removing from the heat.
Nutrition Information
Yield: 4 servings, Serving Size: 1/4th recipe
Amount Per Serving:
Calories: 410 Calories
All images and text ©
Made this recipe?
Show me what you made on Instagram or Facebook and tag me at @DinnerthenDessert or hashtag it at #dinnerthendessert.
Dinner, then Dessert, Inc. owns the copyright on all images and text and does not allow for its original recipes and pictures to be reproduced anywhere other than at this site unless authorization is given. If you enjoyed the recipe and would like to publish it on your own site, please re-write it in your own words, and link back to my site and recipe page. Read my disclosure and copyright policy. This post may contain affiliate links.