Homemade Pav Bhaji recipe for a spiced vegetable curry served with buttery rolls. Delicious, flavorful easy Indian street food made at home!
Delicious curries made from roasted spices and hardy vegetables like Aloo Gobi, Chana Masala, and Pav Bhaji are staples in Indian Cuisine. All you need is a side of Rice or Bread and you have a complete meal!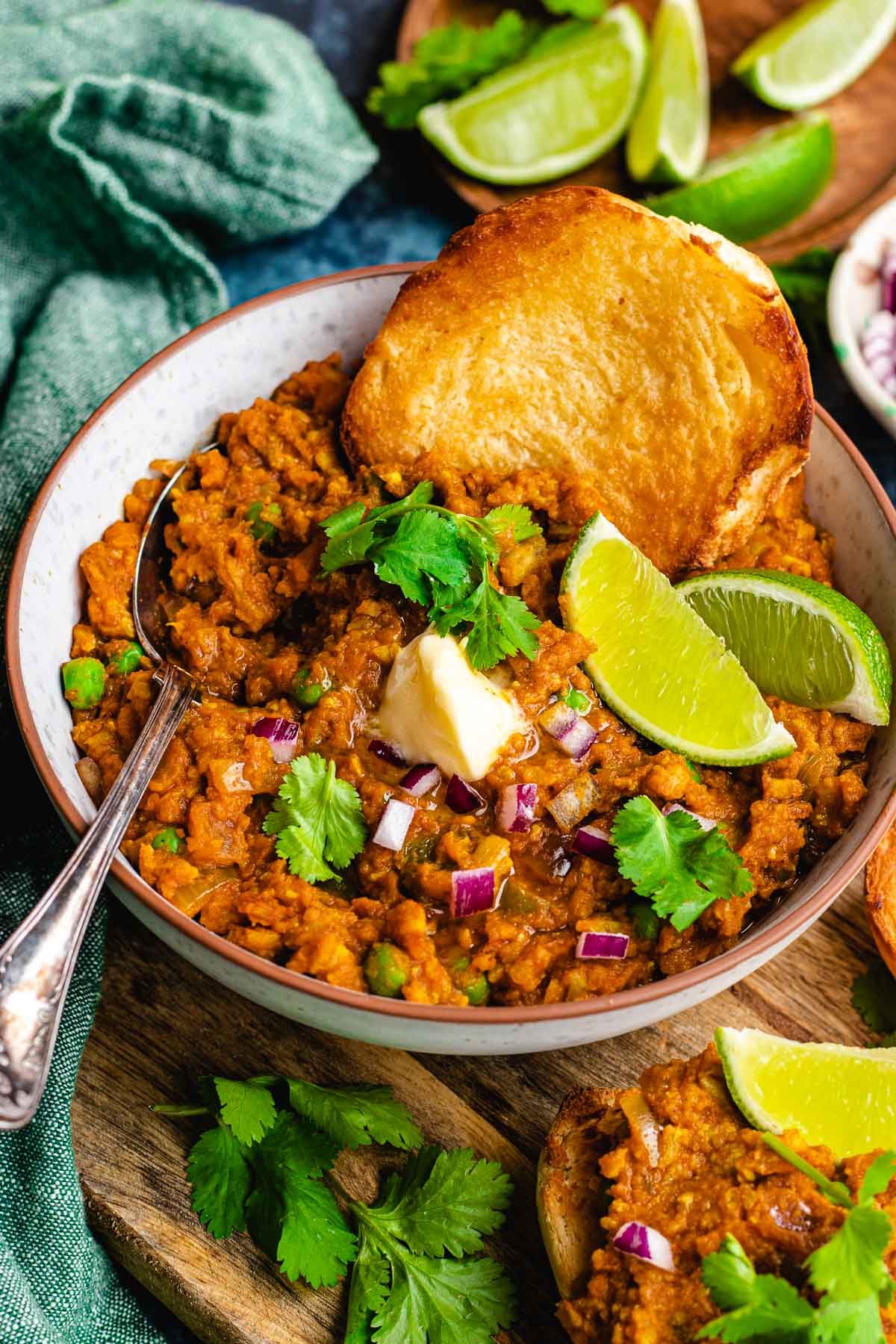 Pav Bhaji Masala is not only mouthwatering and delicious, it's also incredibly easy to prepare at home. Besides the garam masala, this homemade Pav Bhaji is made with ingredients you cook with all the time, just combined in a flavorful, unique way. Even the special spice blend of garam masala can be made with pantry seasonings you probably have on hand. There is a recipe for homemade garam masala blend in the bottom section of this post.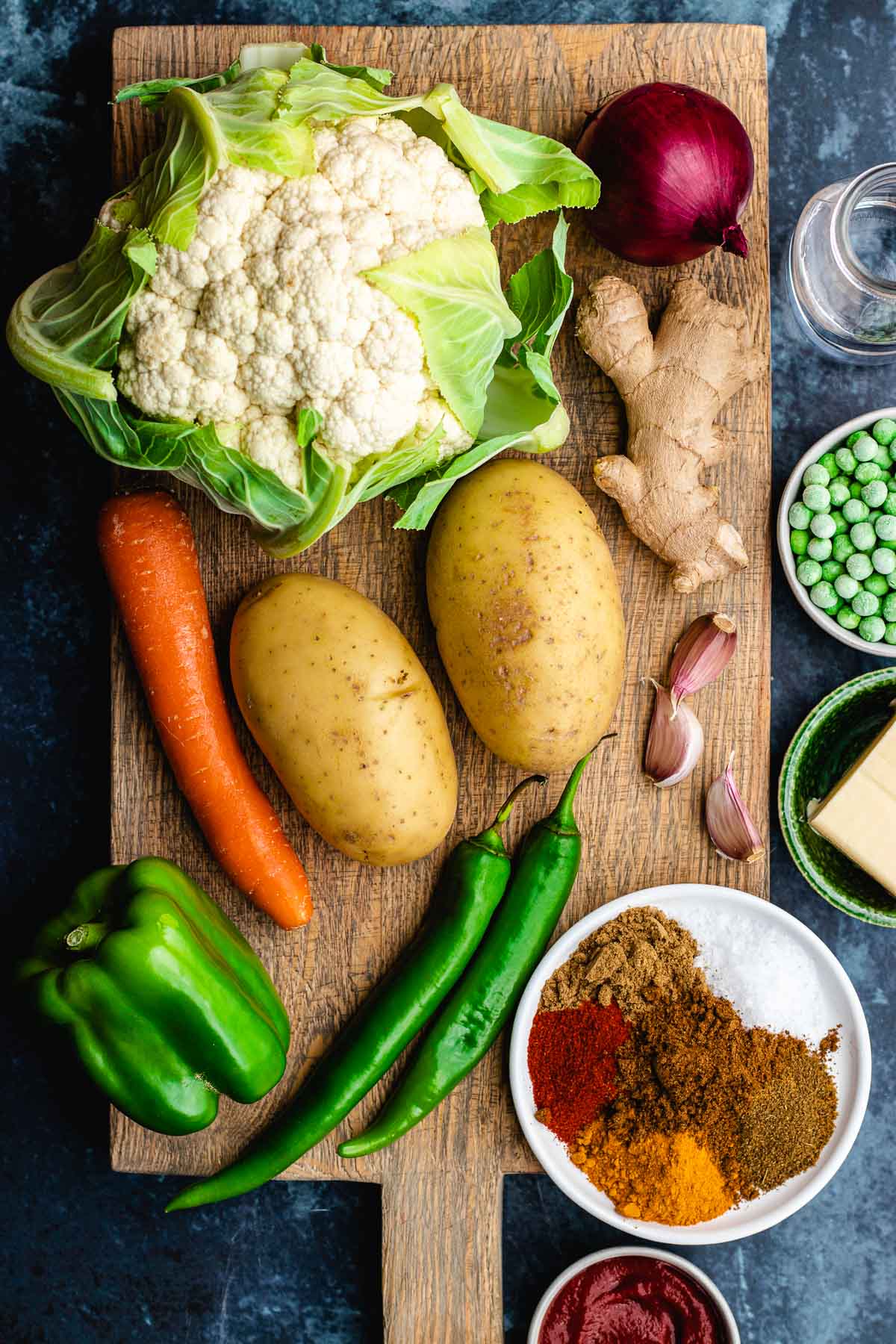 Unlike a lot of Indian street food, Pav Bhaji has a pretty mild spice level making it a family-friendly dish. It is served with delicious Dinner Rolls that are toasted in melted butter plus more butter is added on top so it is extra creamy. A squeeze of fresh lime, plus cilantro and onions add some freshness to break up all the heavy, rich, spiced flavors. If you want a more traditional dinner versus serving it like street food, serve it over some White Rice or Coconut Rice.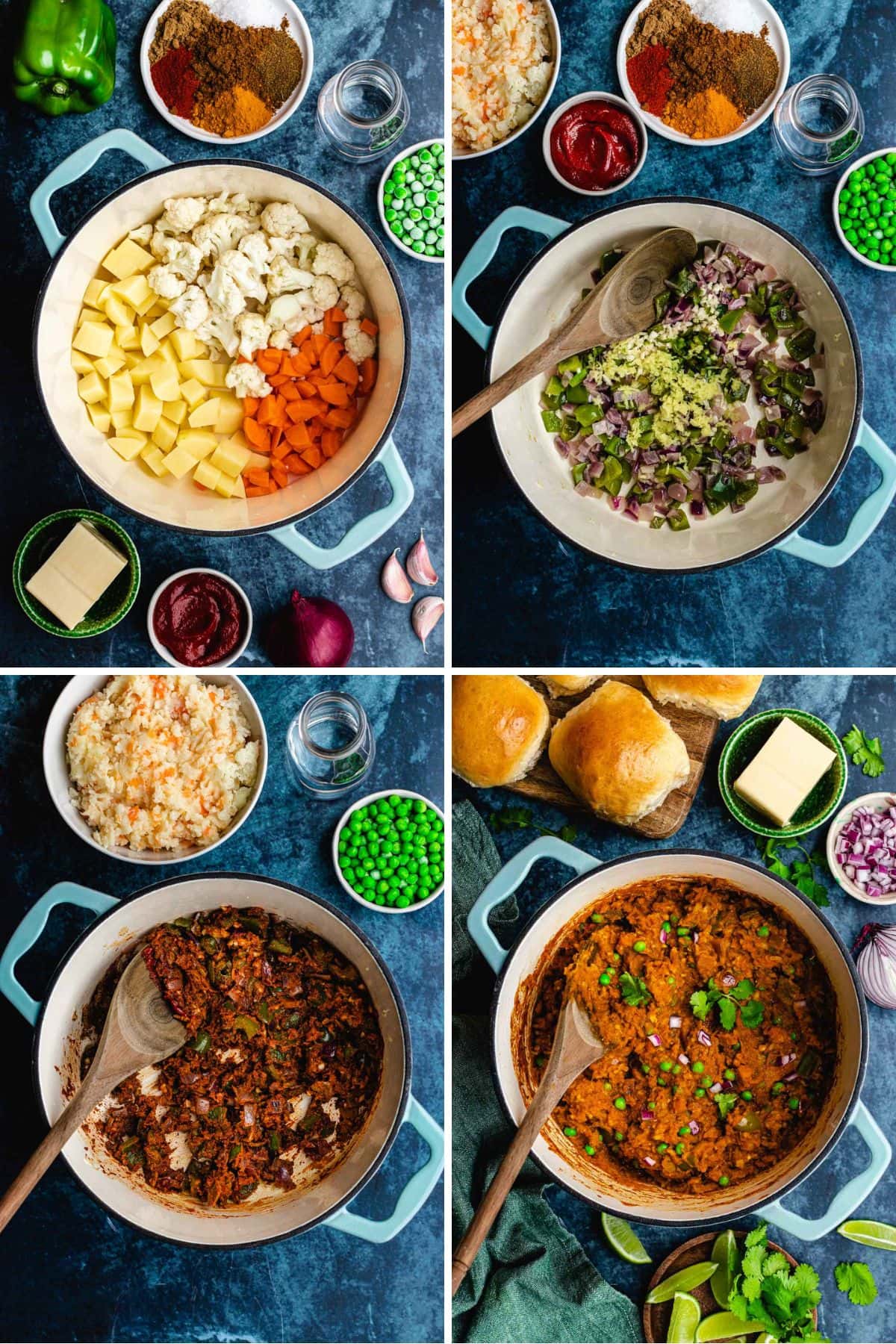 What is Pav Bhaji?
Pav Bhaji is a popular, "King of street food" that originated in Mumbai, the capital of Maharashtra. It is a heavily spiced, hearty vegetable curry made of mashed up potatoes and cauliflower. Other veggies like carrots, peas, onions and bell peppers are also added. Everything is flavored with a special Pav Bhaji masala blend plus aromatics like ginger and garlic, and most importantly, butter! The veggies and spices are cooked in butter, then the dish is served with butter on top and a side of rolls toasted in lots of butter.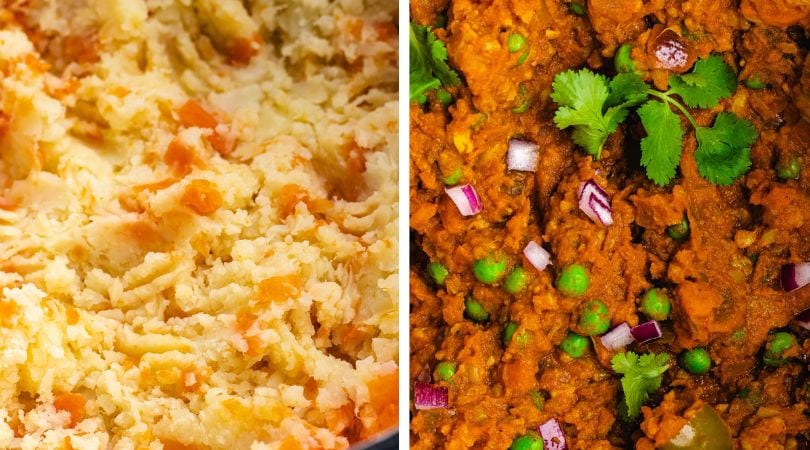 How to Make Pav Bhaji
Mashed Veggies: Prep the potatoes then add to a large pot with the carrot and cauliflower. Cover with water. Simmer over high heat until the veggies are tender. Drain and mash well with a potato masher. Transfer the potato-cauliflower mixture to a bowl.
Curry: Saute the onion and green pepper in the butter over medium heat until soft and translucent. Stir in the ginger, garlic, and chilies, cooking until fragrant. Add the tomato paste, salt, and all the spices, stirring until well mixed. Cook another couple minutes.
Cook: Stir in the mashed vegetable mixture and the water. Cook until warmed through then reduce to low heat and simmer until it has thickened.
Toast: Cut the bread rolls in half. Melt half the butter on a flat griddle or large skillet. Working in batches, place the cut side of the rolls into the melted butter and cook until golden brown.
Serve: Add ladles of bhaji masala to bowls and top each bowl with cubes of butter, fresh cilantro, and onions. Serve with the toasted buttery rolls and fresh lime wedges.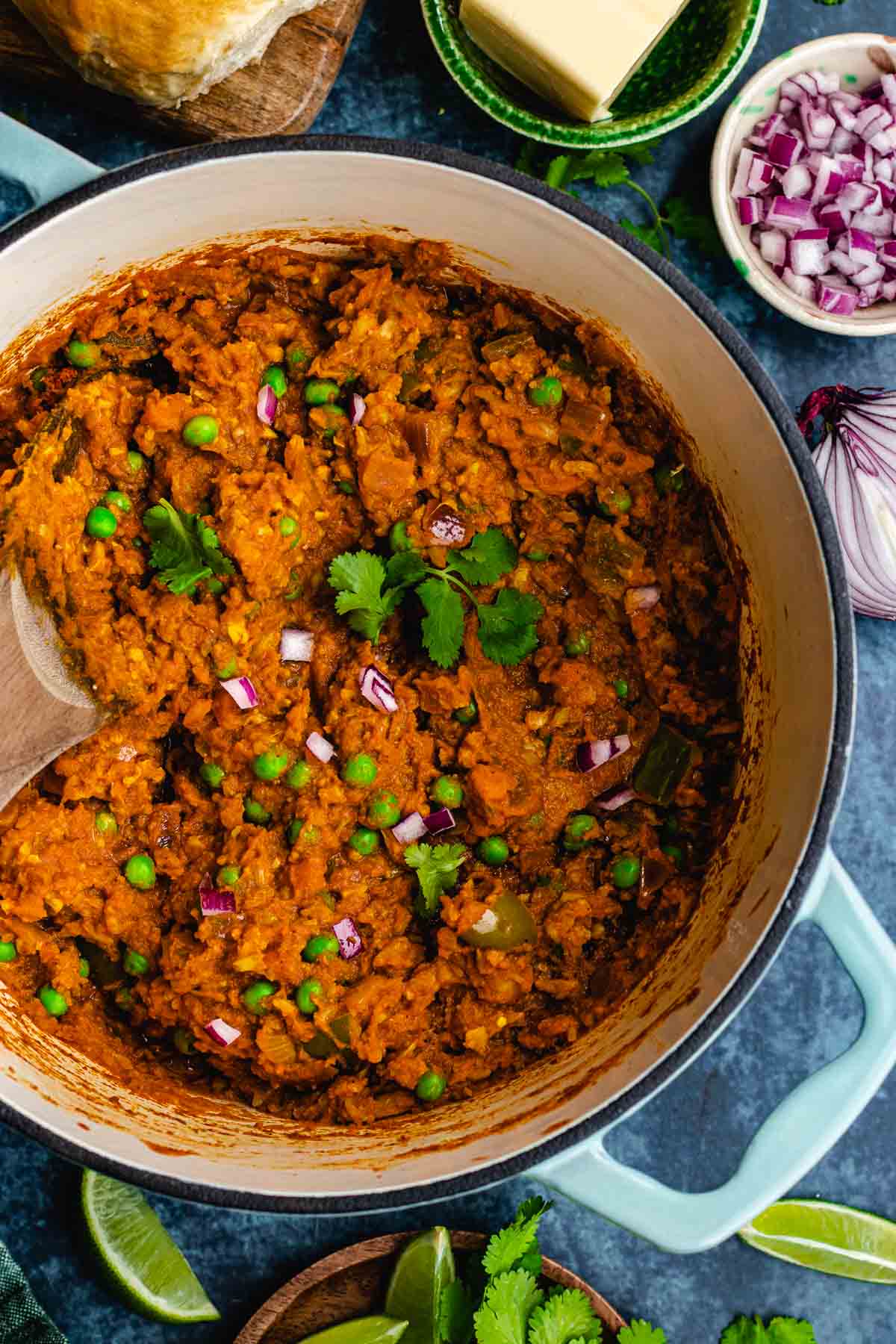 Sides for Indian Curry Dishes
FAQs for Pav Bhaji
What do you call Pav Bhaji in English?
There isn't a direct translation but Pav means bread and Bhaji means vegetable dish. The dish is also called Pav Bhaji Masala, because of the blend of spices known for making masala curries, so that implies a curry sauce. So basically in English, Pav Bhaji Masala roughly translates to a spiced vegetable curry served with bread rolls.
What is Pav Bhaji made of?
Pav Bhaji is a flavorful mixed vegetable curry, typically containing potatoes, cauliflower that are mashed together then cooked with a blend of aromatic masala spices and more veggies like carrots, tomatoes, and peas. It is served with toasted buttery dinner rolls, and an array of toppings like lemon and lime wedges, fresh cilantro leaves, and chopped raw onions.
What veggies go in Pav Bhaji?
Pav Bhaji typically includes a mix of vegetables such as potatoes, cauliflower, carrots, onions, bell peppers, and green peas. However some recipes include other root veggies like beets or parsnips, or green veggies like spinach, kale, or cabbage.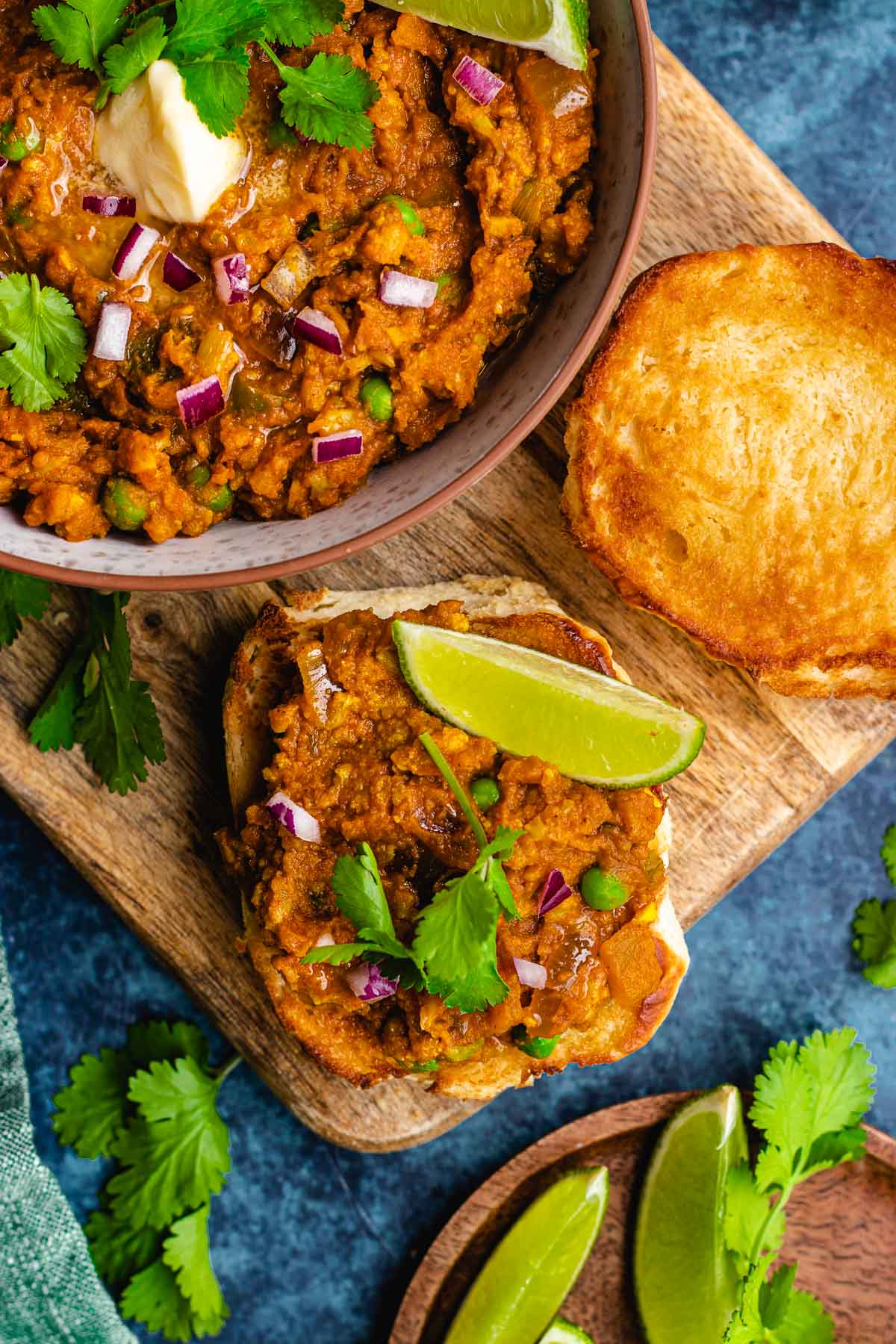 Create a free account to

Save Recipes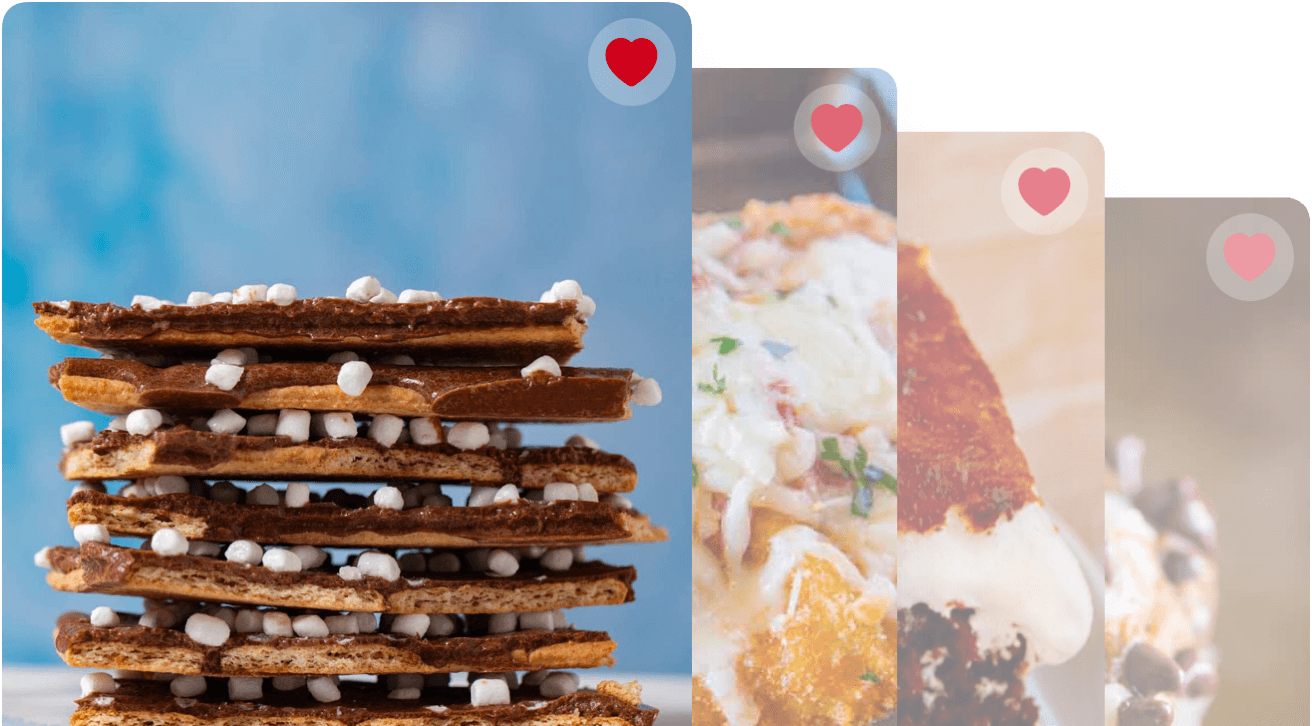 Key Ingredients
Potatoes and Cauliflower: The base of Pav Bhaji is mashed potatoes and cauliflower florets which make it a hardy vegetable curry that is both filling and healthy. You can use gold potatoes or red potatoes for the russet potatoes if you prefer.
Veggies: This dish gets even more healthy vegetables with some carrots and frozen peas added. The peas added at the end add a bright, freshness while the carrots with the cauliflower mixture add a sweet earthiness.
Butter: Butter is an essential ingredient in both the vegetable curry and the buttery rolls, infusing richness and making it a slightly creamy bhaji curry. If you want to make this vegan, use a vegan butter or neutral vegetable oil.
Tomato Paste: Tomato paste adds a delicious tangy flavor while giving the curry a vibrant, brighter color. It also adds a bit of zesty freshness to balance out the warm spices.
Aromatics: This curry starts with an aromatic blend of onions, bell peppers, garlic, ginger, and green chilies. The fresh ginger and green chilies add freshness with a kick, while the peppers and onion add a natural sweet and savory flavor.
Spice Mix: Paprika adds a smoky, slightly sweet flavor while the ground turmeric powder adds to the flavor and gives it a brighter color. These extra spices, along with cumin and coriander powder, add to the special taste of Pav Bhaji.
Garam Masala: Garam masala is a distinct blend of spices known for aromatic woody, earthy flavors with a slight sweetness thanks to the cinnamon and nutmeg. It is used in curries and other Indian cuisine, as well as other southeast Asian cuisine.
Dinner Rolls: The "Pav" part of Pav Bhaji, the toasted buttery soft rolls are what turn this curry dish into delicious Indian street food. You can dip the bread into the creamy bhaji masala or serve it up on the rolls like vegetarian Indian sloppy joes!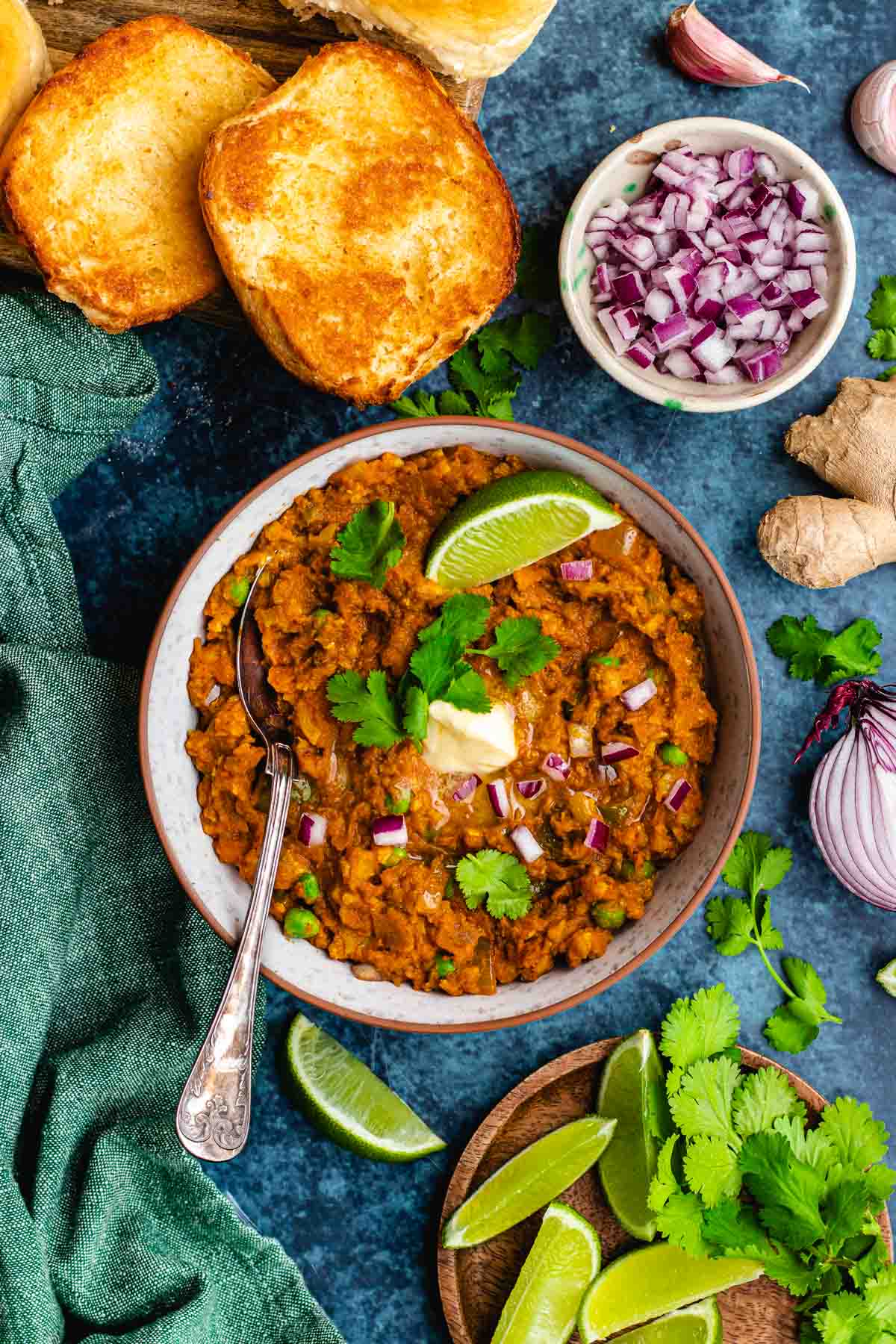 Can Pav Bhaji be made ahead of time?
You can make this Homemade Pav Bhaji Masala ahead of time or just prepare some steps in advance. All of the dry spices can be combined beforehand and kept at room temp for weeks. The mashed potato cauliflower mixture can be prepared up to 2 days ahead. You could even saute the garlic, ginger and green chilies separately, then blend up and refrigerate or freeze. Add the ginger-garlic paste to your curry with the tomato paste.
Variations
Veggies: Change up your mixed vegetables with fresh tomatoes, green beans, or carrots. Serve with some Sauteed Mushrooms for another layer of buttery, earthy flavors. Some blanched, pureed spinach is a great way to sneak in more healthy vegetables and gives it a brighter color.
Mango Powder: If you can find it (usually at Asian or Indian grocery stores), add some amchur, dry mango powder, to a homemade garam masala for an authentic Mumbai Pav Bhaji taste. The powder is made from dried raw mango and adds a whole other delicious layer of flavor when added to the other roasted spices.
Spices: Add chili powder, simmer with a cinnamon stick, fennel seeds, or fenugreek leaves. Swap in dried cumin seeds and coriander seeds for a bolder flavor, just blend them in a spice grinder until fine. If you have an Indian grocery store nearby, hit up their spice aisle for specialty seasonings like pav bhaji masala powder, dry mango powder, or dried curry leaves.
Spicy: For a spicier Bhaji masala, add crushed red pepper flakes or hot chili powder to a homemade garam masala mix, or add spicy ground chili paste with the tomato paste.
Cheese Pav Bhaji: Add some cottage cheese to make a creamy bhaji masala curry, or just serve with crumbled soft cheese. Try some paneer, found at Indian stores, which is a deliciously soft cheese used in Indian food.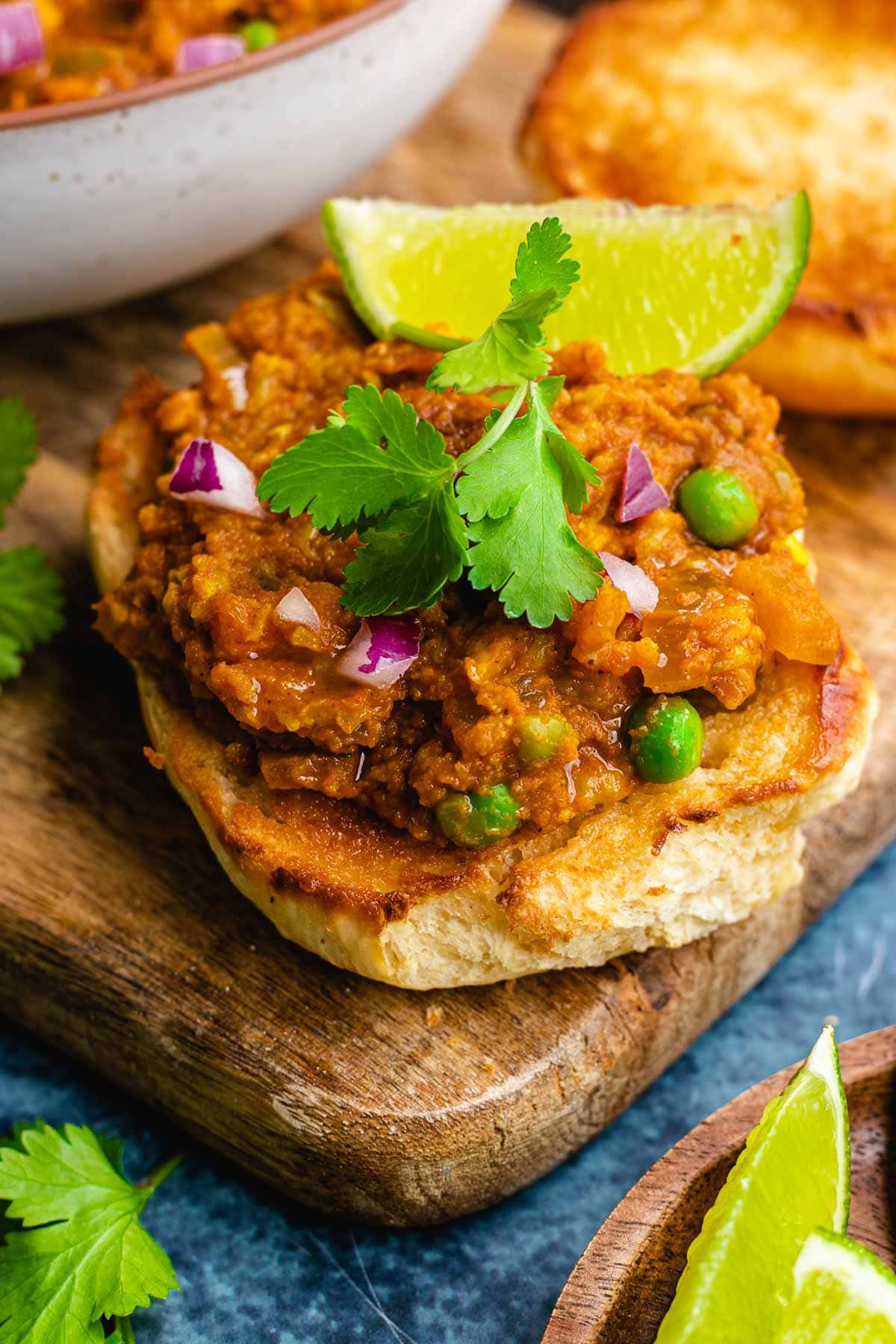 Homemade Garam Masala
3 ½ tablespoons ground cardamom
2 ½ tablespoons cinnamon
½ teaspoon grated nutmeg
3 tablespoons ground cloves
3 tablespoons coarse ground black pepper
1 tablespoon ground cumin
1 ½ teaspoons ground coriander
Add all the spices to a dry skillet. Cook over medium heat, stirring frequently until the spices are fragrant. Remove from heat and cool. Store in an airtight container to use within 2 months.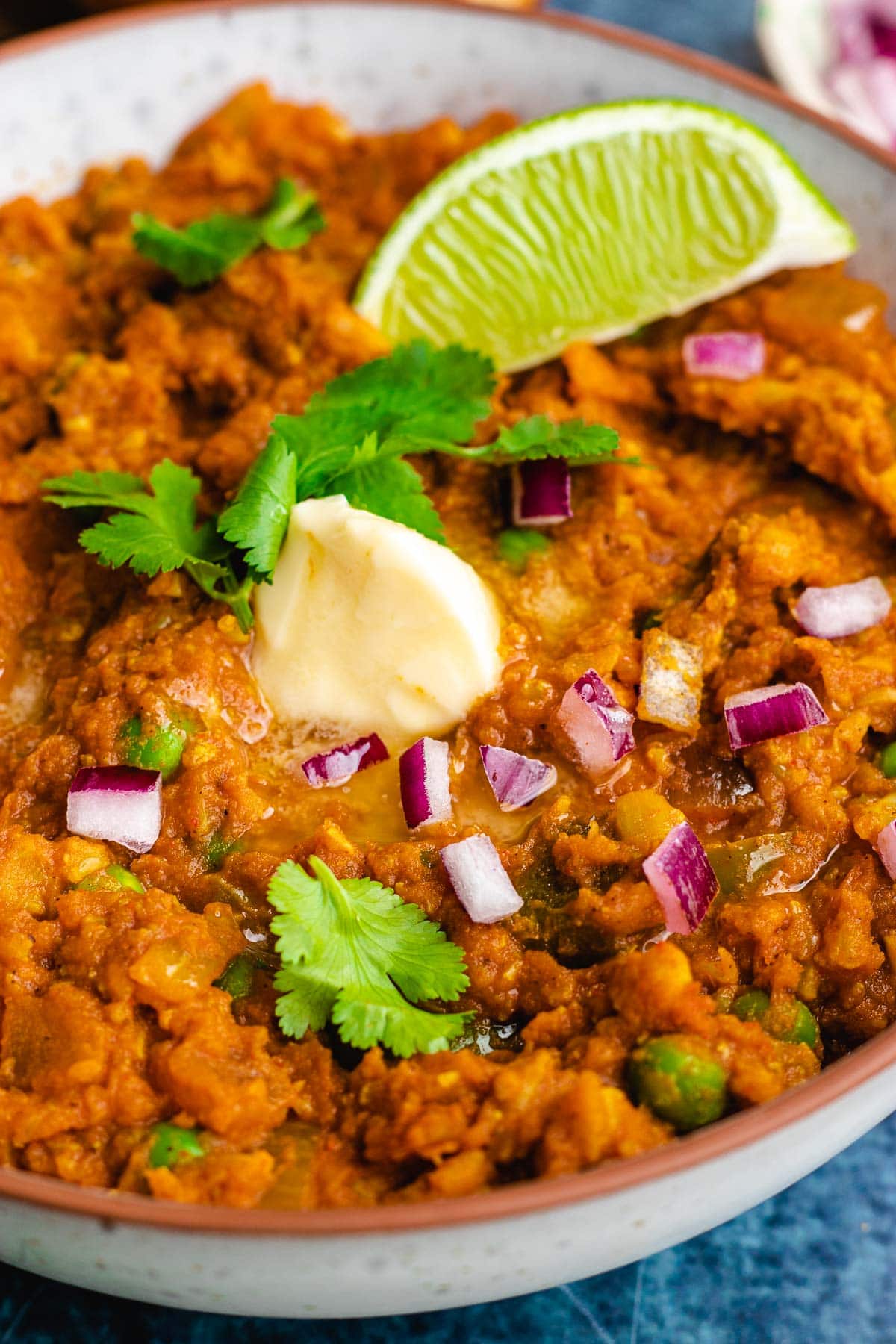 More Vegetarian Indian Dinners
How to Store
Store: Allow any leftover Pav Bhaji cool down to room temperature before storing, but don't leave out more than 2 hours. Keep in an airtight container in the refrigerator for up to 3 days.
Reheat: Reheat the leftover Bhaji Masala on the stovetop over low heat, stirring occasionally to avoid sticking. Add a splash of water if it's too thick.
Freeze: To freeze leftover Pav Bhaji Masala, let it cool completely, and store it in a freezer-safe container. It can be frozen for up to 2 months. Thaw in the refrigerator overnight before reheating.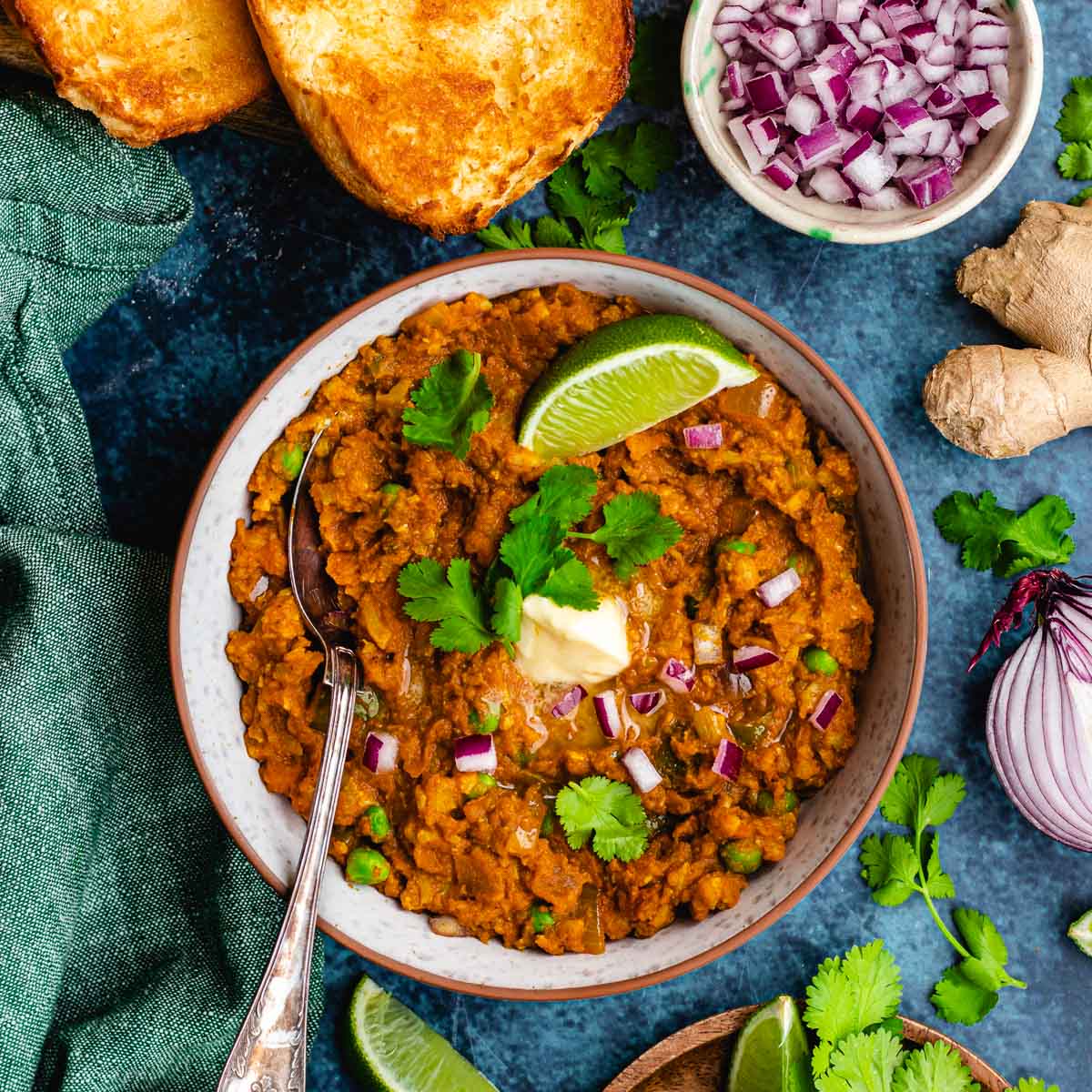 Ingredients
2

russet potatoes

, about 12 ounces

1

carrot

, finely diced

2

cups

cauliflower

, diced

1/2

cup

frozen green peas

1/2

cup

unsalted butter

1

red onion

, diced

1

green bell pepper

, diced

2

tablespoons

ginger

, finely minced

3

cloves

garlic

, finely minced

2

green chilis

, finely minced

3

tablespoons

tomato paste

1

tablespoon

kosher salt

1

tablespoon

ground cumin

1

tablespoon

ground coriander

1

tablespoon

paprika

1

tablespoon

garam masala

1

teaspoon

turmeric

1

cup

water
To Serve:
12

dinner rolls

1/2

cup

unsalted butter

1

lime

, cut into wedges

1/4

cup

cilantro

, finely chopped

1/4

cup

red onions

, minced (for garnish)
Instructions
Peel and chop the potatoes into 1/2″ chunks.

To a large pot add the potatoes, carrot, cauliflower and enough water to cover by 1 inch.

Bring to a simmer on high heat and cook for

10-12 minutes

until the potatoes and cauliflower are tender.

Drain the vegetables and mash them well with a potato masher.

Remove from the pot into a large bowl and set aside.

To your large pot add the butter, red onion and green bell pepper on medium heat.

Stir well and cook for

5-6 minutes

until softened and onions are translucent.

Add in the ginger, garlic and chilies, stir and cook for

1 minute

.

Add in the tomato paste, salt, cumin, coriander, paprika, garam masala and turmeric.

Stir until well mixed and cook for

2 minutes

.

Add in the potato mixture stir and water and cook for

2 minutes

until warmed through.

Let simmer and cook until the mixture has the consistency of a chili or thickened soup.
To Serve:
Cut the potato rolls in half. Add half the butter to a large skillet and place half the rolls cut side down in the pan.

Cook for

2-3 minutes

until golden brown, then repeat with remaining butter and remaining rolls.

Serve the Pav Bhaji in a bowl topped with a bit of butter, some cilantro and onions with the golden buttered rolls and lime wedges on the side. 
Nutrition
Calories:
629
kcal
|
Carbohydrates:
66
g
|
Protein:
12
g
|
Fat:
37
g
|
Saturated Fat:
21
g
|
Polyunsaturated Fat:
2
g
|
Monounsaturated Fat:
11
g
|
Trans Fat:
1
g
|
Cholesterol:
81
mg
|
Sodium:
1760
mg
|
Potassium:
817
mg
|
Fiber:
9
g
|
Sugar:
7
g
|
Vitamin A:
3590
IU
|
Vitamin C:
53
mg
|
Calcium:
220
mg
|
Iron:
6
mg