Garlic Naan is a buttery, homemade bread made with Greek yogurt, cilantro, butter, and garlic. Serve it with your favorite Indian dinners.
Warm Naan is a classic Indian flatbread that's easy to make at home. Serve it as a delicious Side Dish with Indian cuisine like Chicken Tikka Masala Bake and Butter Chicken.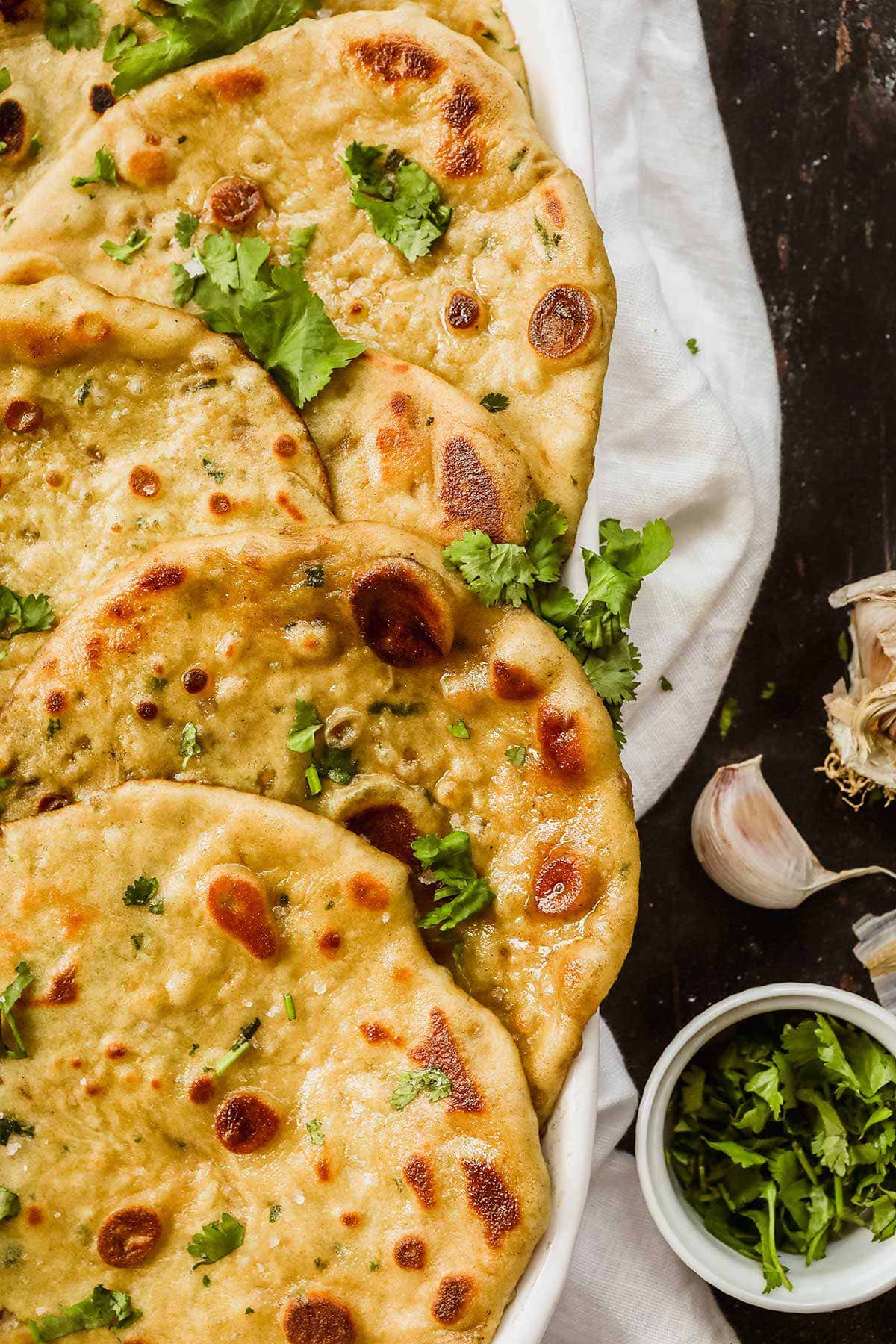 You can make a soft, savory flatbread that's just as good as what you'd get at Indian restaurants. The naan recipe uses basic pantry ingredients like flour, Greek yogurt, garlic, and cilantro. After combining the ingredients and kneading the bread, it only takes a bit of time to bake the fluffy-restaurant-style bread on a cast-iron skillet.
The Greek yogurt in this naan recipe gives it a softer texture than pita bread. Like pita bread, naan can be served cut into triangles as a side, stuffed with a filling, or as a wrap with meat and veggie fillings.
The amazing garlic flavor makes this recipe the perfect addition to any of your favorite Indian dishes. It's great to serve with classic chicken dishes or with a Curry to soak up every drop of delicious sauce. You could also use the Homemade Garlic Naan as the bread to wrap your Chicken Shawarma. It's the most amazing paring to go with so many of your favorite recipes!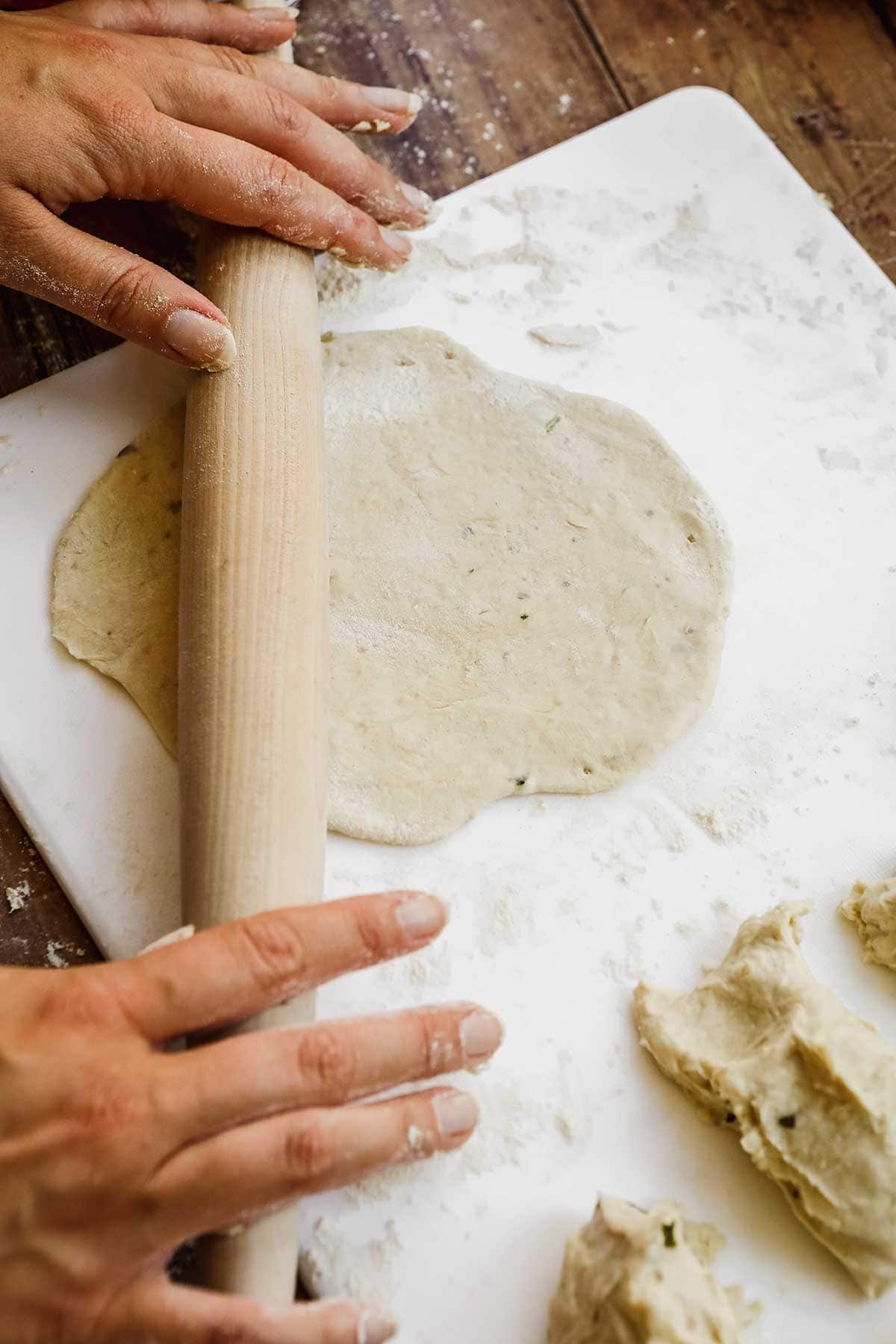 This is an easy side dish that makes the whole meal more filling, and it doesn't take that long to make. Naan bread is a staple in Indian cuisine, and adding the extra garlic-butter taste just makes the dish even more incredible.
Serve Garlic Naan alongside classic Indian dishes like Channa Masala and Tandoori Chicken, and round out the traditional feast with delicious vegetable side dishes like Indian Spiced Honey Roasted Carrots and Indian Bombay Potatoes and Peas.
What is Naan Bread?
Even though Naan appears flat, is it actually a leavened bread that is baked in a traditional tandoor (clay oven) or fried in a pan. Naan originates in central Asia and is typically made with wheat flour, yeast, and yogurt. It is flavored with salt, herbs, and often garlic. This recipe uses the quick and easy pan fry method, and no yeast which makes it even easier.
How to Make Garlic Naan
Naan dough ingredients: Add all-purpose flour, Greek yogurt, baking powder, salt, minced garlic cloves, and minced cilantro leaves to a large mixing bowl. Stir the dough until the ingredients are well blended.
Knead: Take the Naan dough from the bowl, and knead it with your hands for 3 minutes. Then divide the mixture into 24 pieces of dough. Roll each piece of dough into a ball shape. Lightly flour your countertop, then roll out each dough ball and knead for about 10 seconds. Use a floured rolling pin to flatten the dough balls into a classic naan shape.
Cooking time: Brush melted butter over the base of a large cast-iron skillet. Raise the stovetop to medium-high heat, then add the naan to the hot skillet. You should be able to fit at least 2 pieces of naan bread on the skillet at the time. Cook for a couple of minutes until the bread is cooked on both sides with light golden spots on the surface. Remove the naan from skillet, and cook the next piece of dough.
Serve: Brush additional melted butter over each piece of bread and sprinkle on some kosher salt before serving Homemade Garlic Naan.
Indian Food Recipes
Frequently Asked Questions
How do you cook Naan Bread?
The traditional way to cook naan is in a very hot tandoor oven. It is also common to fry naan in a skillet, which will cook it through and let it raise while also browning the outside.
Can I cook naan in a regular oven?
Yes, preheat your oven to 450 degrees, and line an aluminum pan with foil. Brush both sides of a rolled piece of dough with melted butter and bake for 8-12 minutes until it's cooked through and edges are golden.
How do you make Vegan Garlic Naan?
It's easy to substitute the traditional Greek yogurt in this naan recipe for your favorite non-dairy yogurt. Coconut yogurt would work great for both the texture and the flavor complementing Indian food. You'll want to also substitute a non dairy butter alternative for the butter in the recipe. Swap the butter and yogurt cup for cup and follow the rest of the recipe as written.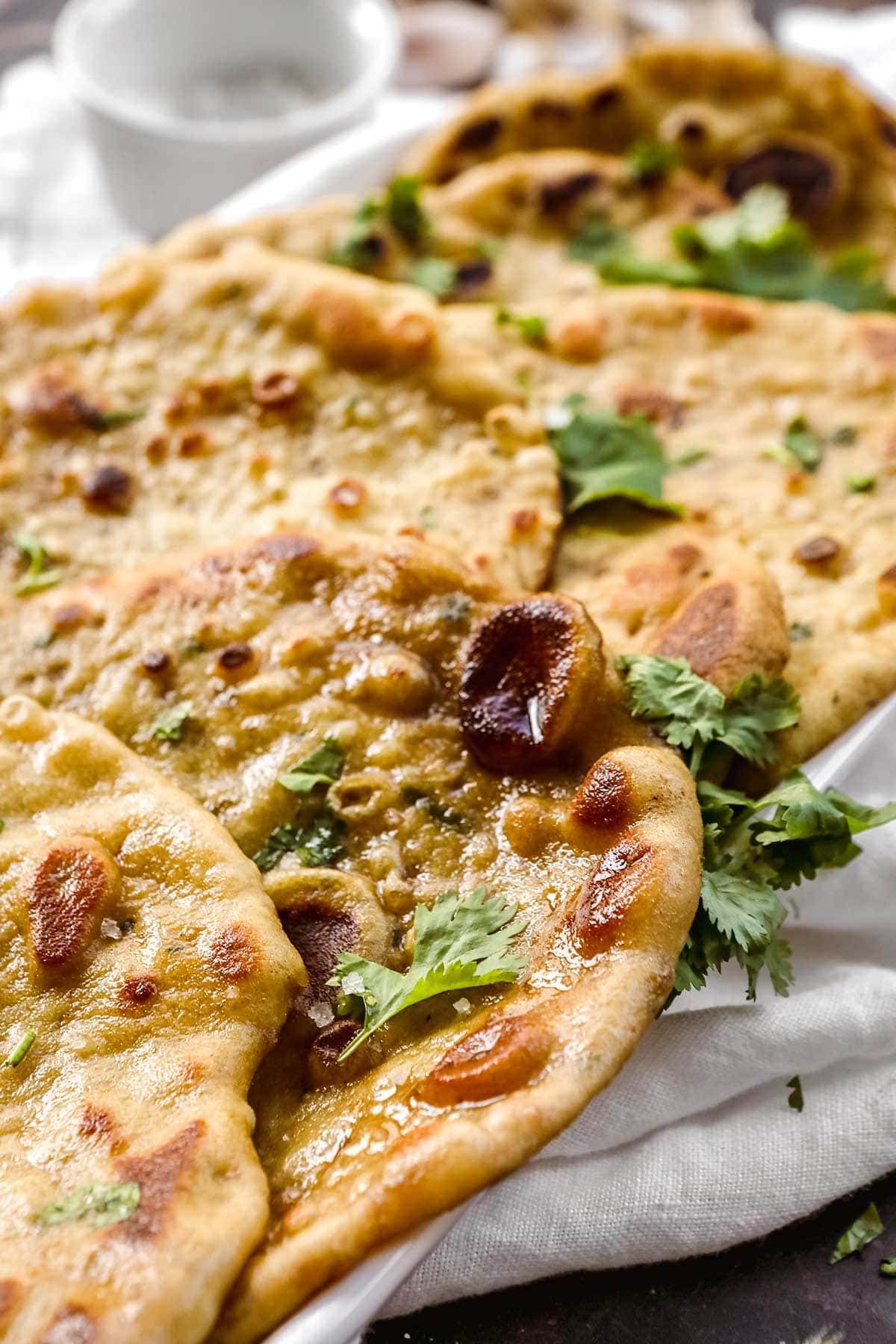 Create a free account to Save Recipes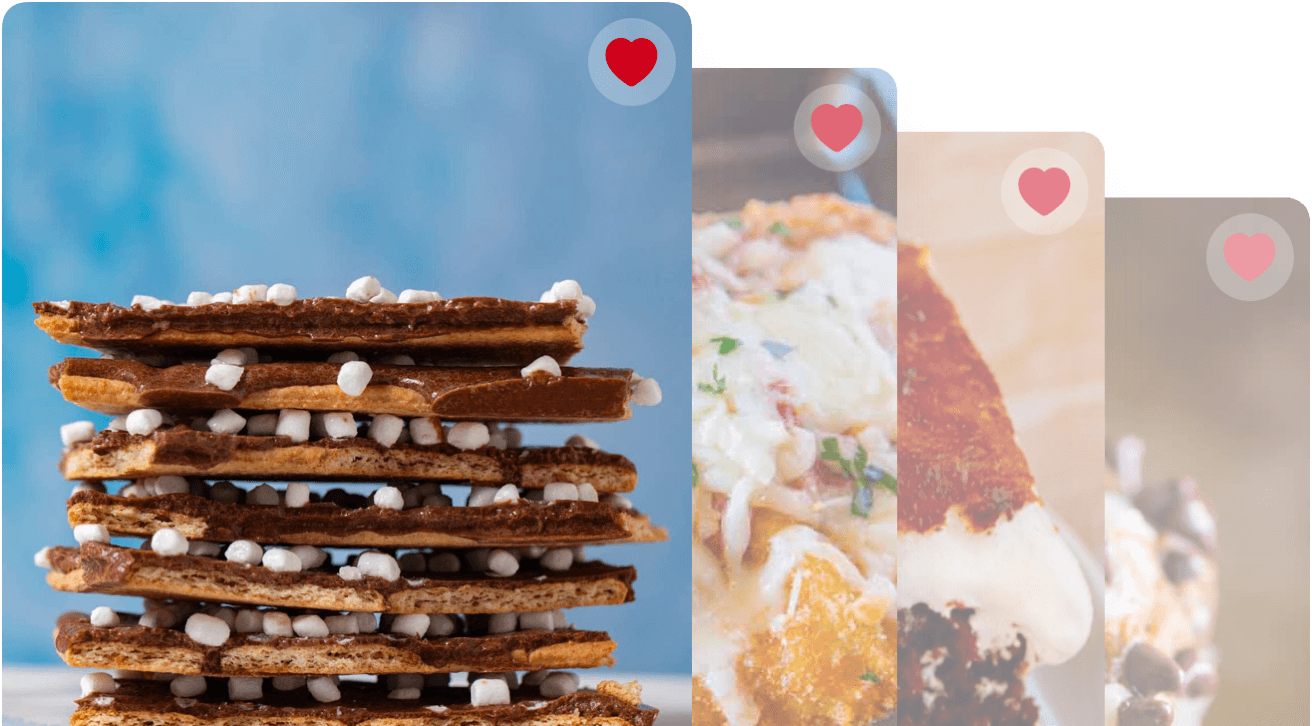 Key Ingredients for Garlic Naan
Yogurt: This homemade Garlic Naan recipe is made with easy and basic ingredients that you probably already have in the house. The plain yogurt makes the bread nice and fluffy. It also adds tangy flavor, which is similar to what yeast would bring the recipe. Thanks to the greek yogurt, you can make this bread without yeast.
Dry ingredients: Along with the yogurt the other key ingredients in this recipe are baking powder, salt, and flour.
Butter: 4 tablespoons butter are used to cook the bread and give it a rich, buttery outer layer.
Flavorings: The dough is flavored with salt, garlic cloves, and fresh cilantro for an amazingly bold, and savory flavor that goes great with classic Indian dishes.
Can Garlic Naan be Made Ahead of Time?
You can make the Garlic Naan dough balls and wrap them individually in plastic wrap up to 24 hours before cooking. Then fry the naan so that it's fresh and hot when you serve the rest of your Indian meal. If you'd like to cook the Garlic Naan in advance as well, skip brushing any additional butter after cooking. Then store it wrapped tightly at room temperature for 1-2 days and reheat it on a hot skillet before brushing butter and adding salt or fresh herbs.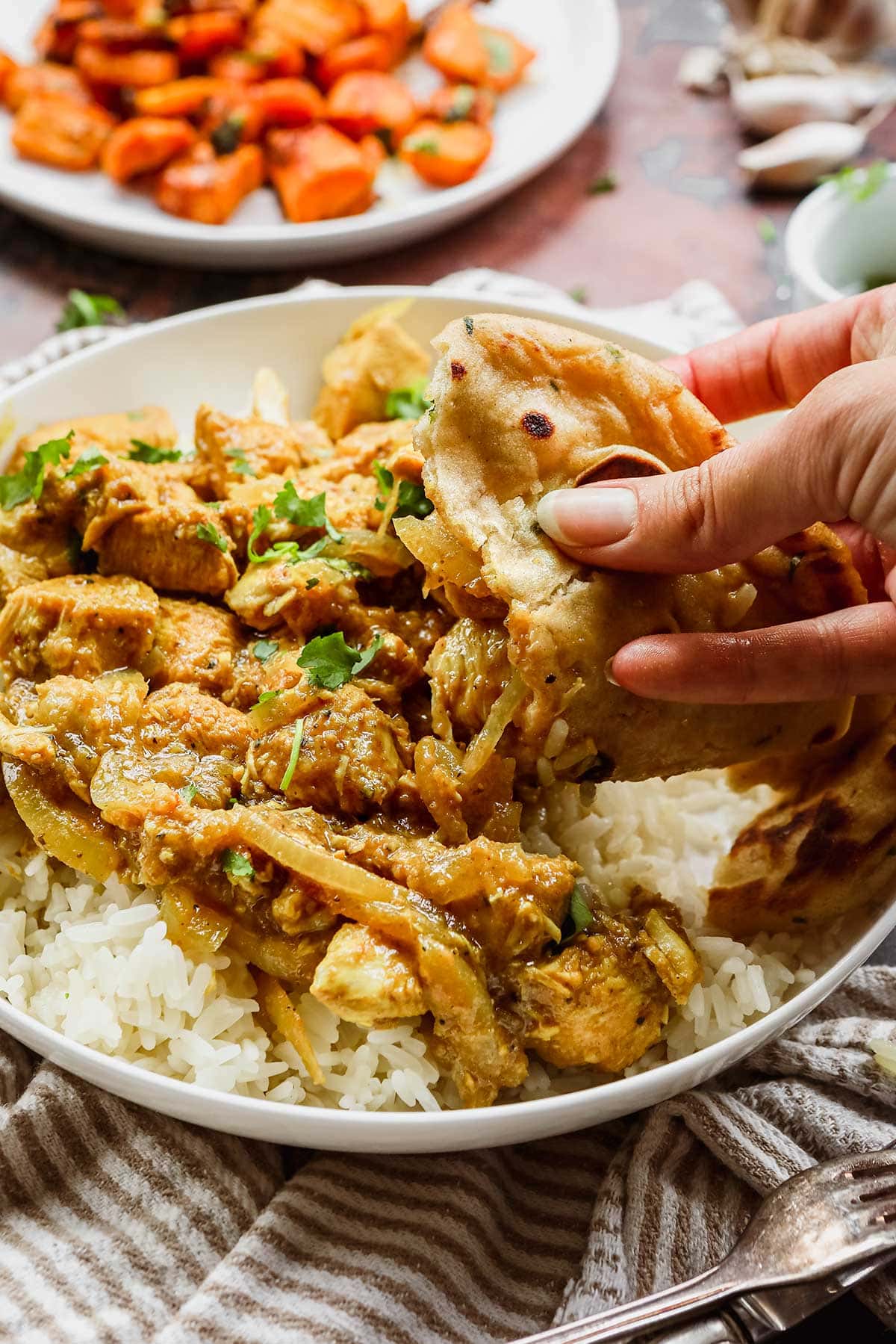 Variations on Garlic Naan
Wheat flour: Instead of regular white flour, you can add some extra nutrients to this recipe by using wheat flour. Just keep in mind that it will make denser bread.
Vegan: You can make a vegan Homemade Garlic Naan recipe. The only ingredients that aren't already vegan are butter and Greek yogurt. To replace the butter, you can use vegetable oil, olive oil, or avocado oil. Then use a dairy-free yogurt instead of regular yogurt. Coconut yogurt is a favorite to use, and the light coconut flavor goes well with Indian dishes.
Seasonings: You can add other spices and fresh herbs to your Garlic Naan Bread recipe. Try mixing in onion powder, cumin, red pepper flakes, fresh parsley, anise seeds, or coriander.
How to use Leftover Naan Bread
Naan Pizza: Garlic Naan makes a delicious base for individual pizzas. After cooking, top with pizza sauce, shredded mozzarella, and your favorite toppings and bake at 400 degrees for 5-8 minutes until melted and gooey.
Indian Pizza: Give your homemade naan pizzas more Indian flavor by using a tikka masala tomato sauce and chopped cubes of paneer cheese as your pizza toppings. This is a great way to use up leftovers after cooking an Indian meal. You can even top your Indian Naan Pizza with chunks of curry chicken or chana masala chick peas.
Naan Chips: Cut Garlic Naan into triangles and bake at 400 degrees for 6-10 minutes until crispy. Then serve with an Indian chutney or dipping sauces.
Salad Topping: Slice leftover naan into long narrow strips and toast them to make a crunchy and flavorful salad topping.
More Bread Recipes
How to Store Garlic Naan
Serve: After cooking Garlic Naan, you can keep it at room temperature. Let the bread cool to room temperature, then put it in a ziplock bag, or wrap it in plastic wrap or aluminum foil. The Garlic Naan bread recipe will stay good for about 1 week.
Store: Alternatively, you could package the bread and keep it in the fridge for 2 days.
Freeze: Frozen Naan Bread can keep well in the freezer for up to 2 months.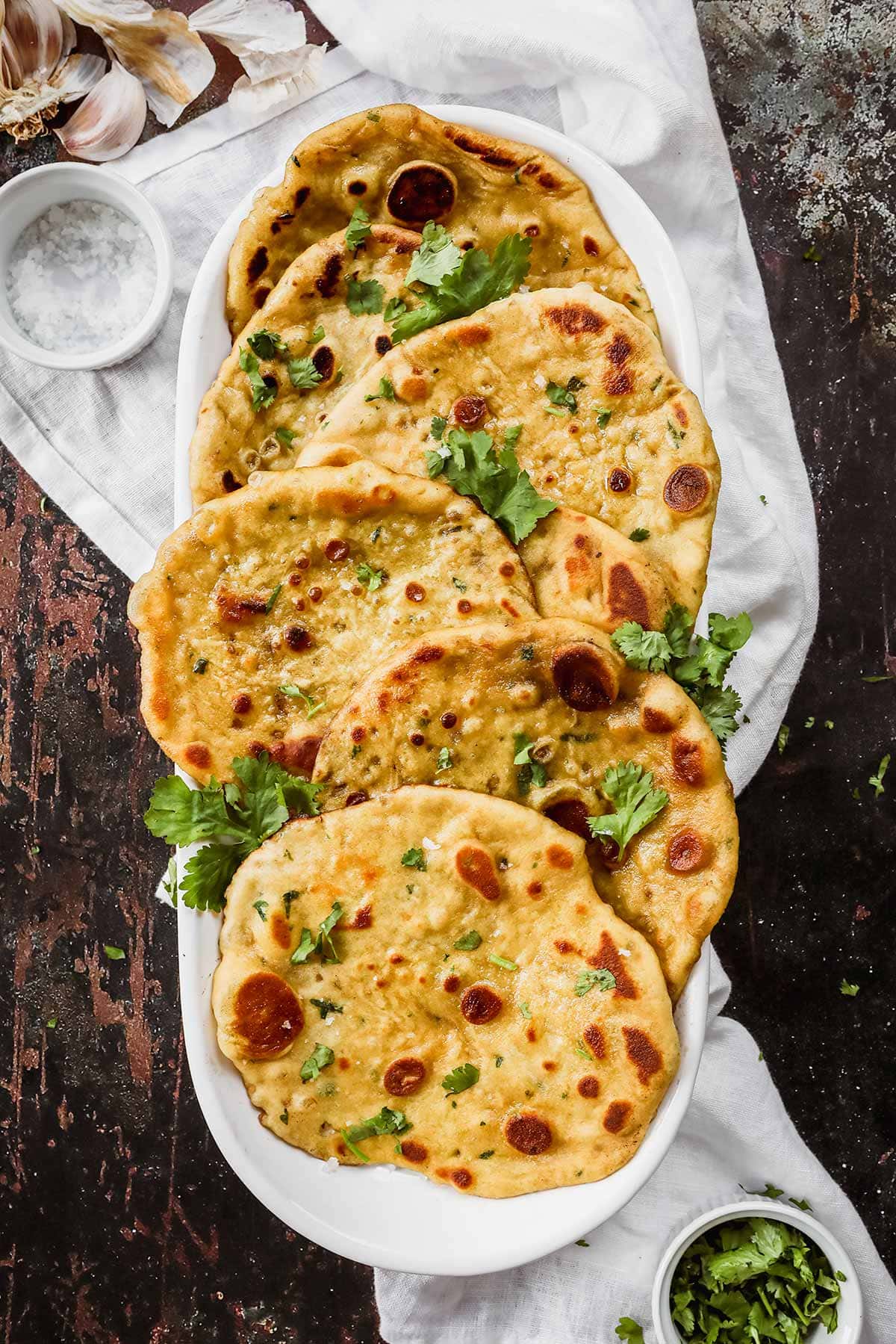 Ingredients
3 1/4

cups

flour

2

cups

greek yogurt

1

tablespoon

baking powder

1

teaspoon

kosher salt

6

cloves

garlic

, minced

1/4

cup

cilantro

, minced

1/2

cup

unsalted butter

, melted
Instructions
Add flour, greek yogurt, baking powder, salt, garlic, and cilantro to a large bowl.

Mix well, then remove from bowl and knead for

3 minutes

.

Cut into 24 balls.

Roll the balls on a lightly floured surface and knead for

10 seconds

.

Roll out with a rolling pin.

Brush butter lightly in a large heavy pan, cook naan for 1 minute on the first side and about

20 seconds

on the second side.

Brush with additional butter and top with kosher salt if desired.
Nutrition
Calories:
214
kcal
|
Carbohydrates:
28
g
|
Protein:
7
g
|
Fat:
8
g
|
Saturated Fat:
5
g
|
Trans Fat:
1
g
|
Cholesterol:
22
mg
|
Sodium:
209
mg
|
Potassium:
194
mg
|
Fiber:
1
g
|
Sugar:
1
g
|
Vitamin A:
260
IU
|
Vitamin C:
1
mg
|
Calcium:
90
mg
|
Iron:
2
mg