Classic Tandoori Chicken is an Indian recipe marinated in yogurt, garam masala and cayenne before baking, a perfect easy weeknight meal.
Readers are enjoying all of the Indian Recipes on the site including Butter Chicken, Vegetable Biryani, Chicken Tikka Masala and Raita.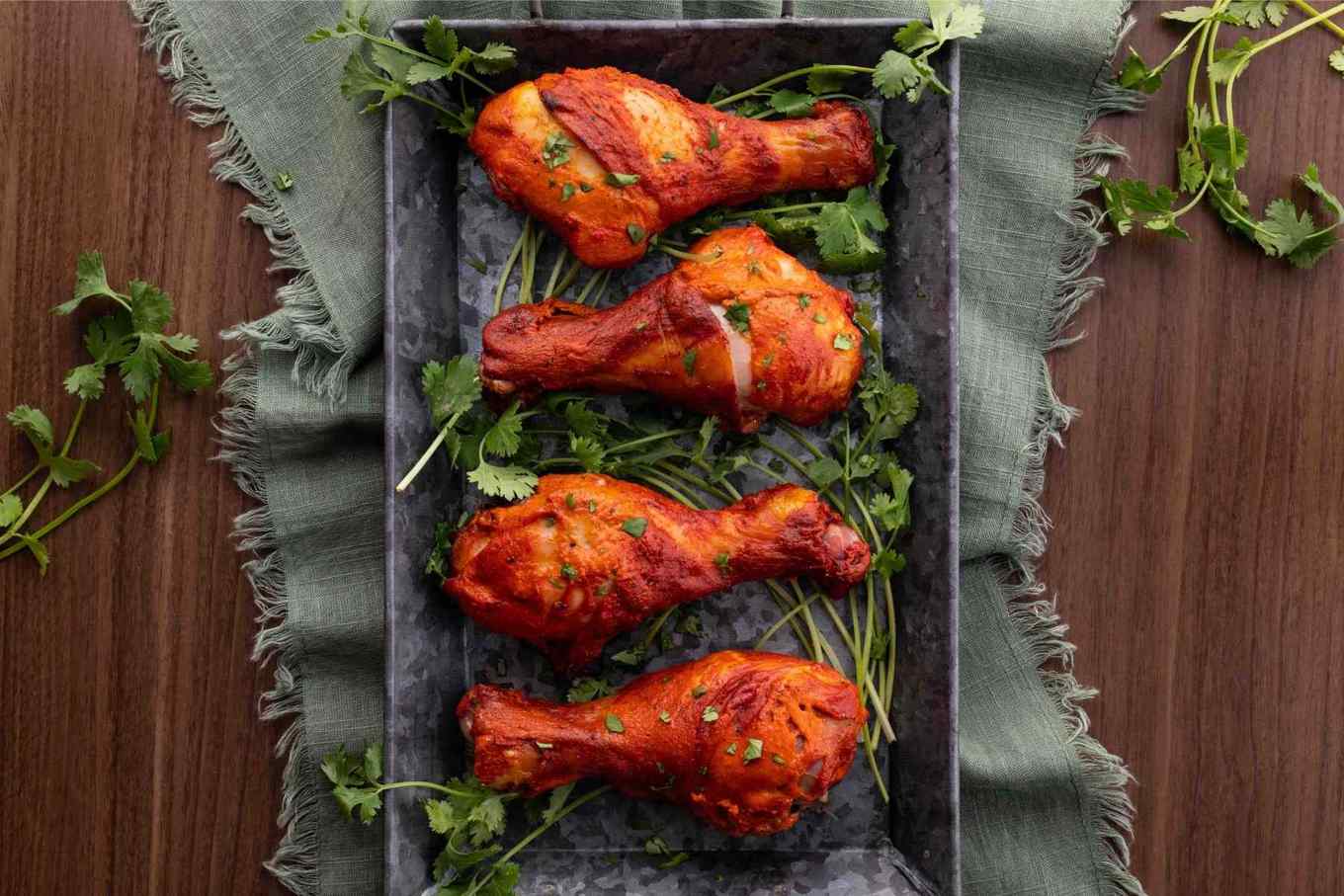 Tandoori Chicken is a classic Indian grilled meat dish known for its bright red-orange color. This recipe was actually a mix between trying to stay true to the classic restaurant favorite recipe while making an easy weeknight meal. It's also super affordable using using chicken legs. The cost savings isn't the only reason to use drumsticks, the drumstick is the most popular and favorite part of the chicken, and with this recipe everyone gets a piece!
The other great thing about using chicken legs for this recipe is that they stay tender while cooking quickly. They have just enough meat to stay tender while getting a slightly crispy exterior from the marinade. This means more of the meat is super flavorful.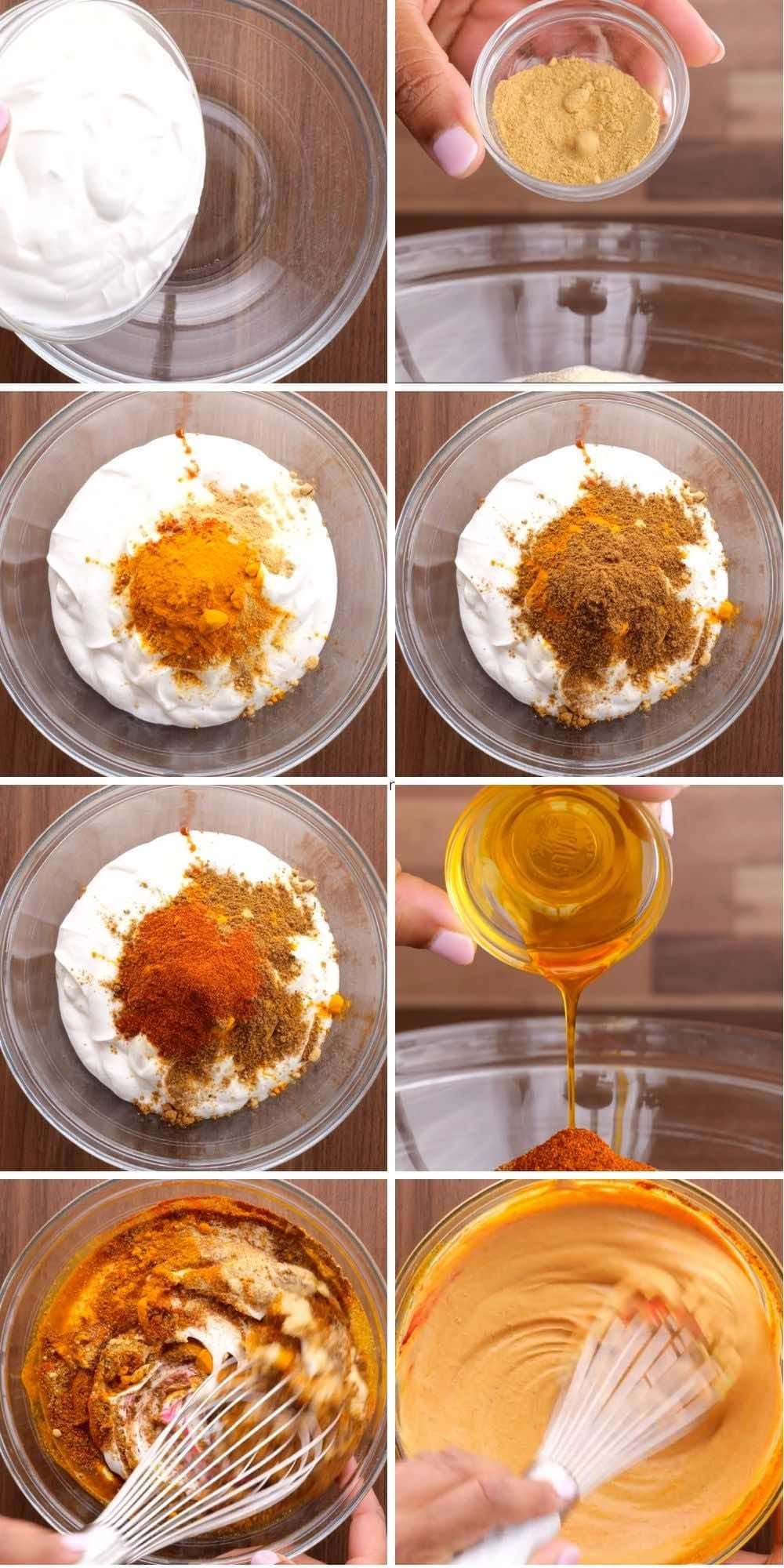 With thighs you might see people eat all the parts of the chicken covered in the marinade while leaving the extra meat on the inside. Chicken breasts can be an issue only because with the high heat of cooking to get the right char, you'll the white meat was could dry out a bit. Chicken legs are the perfect easy option here.
If you want to make this recipe with a different cut of chicken, I highly suggest cutting through the meat to allow the marinade to flavor more deeply into the chicken. This can be done once you remove the skin, you would cut deep x marks into the thighs or breasts almost to the bone.
Serve Tandoori Chicken with veggie packed sides like Chana Masala, Aloo Gobi, and Saag Paneer for a complete Indian feast at home!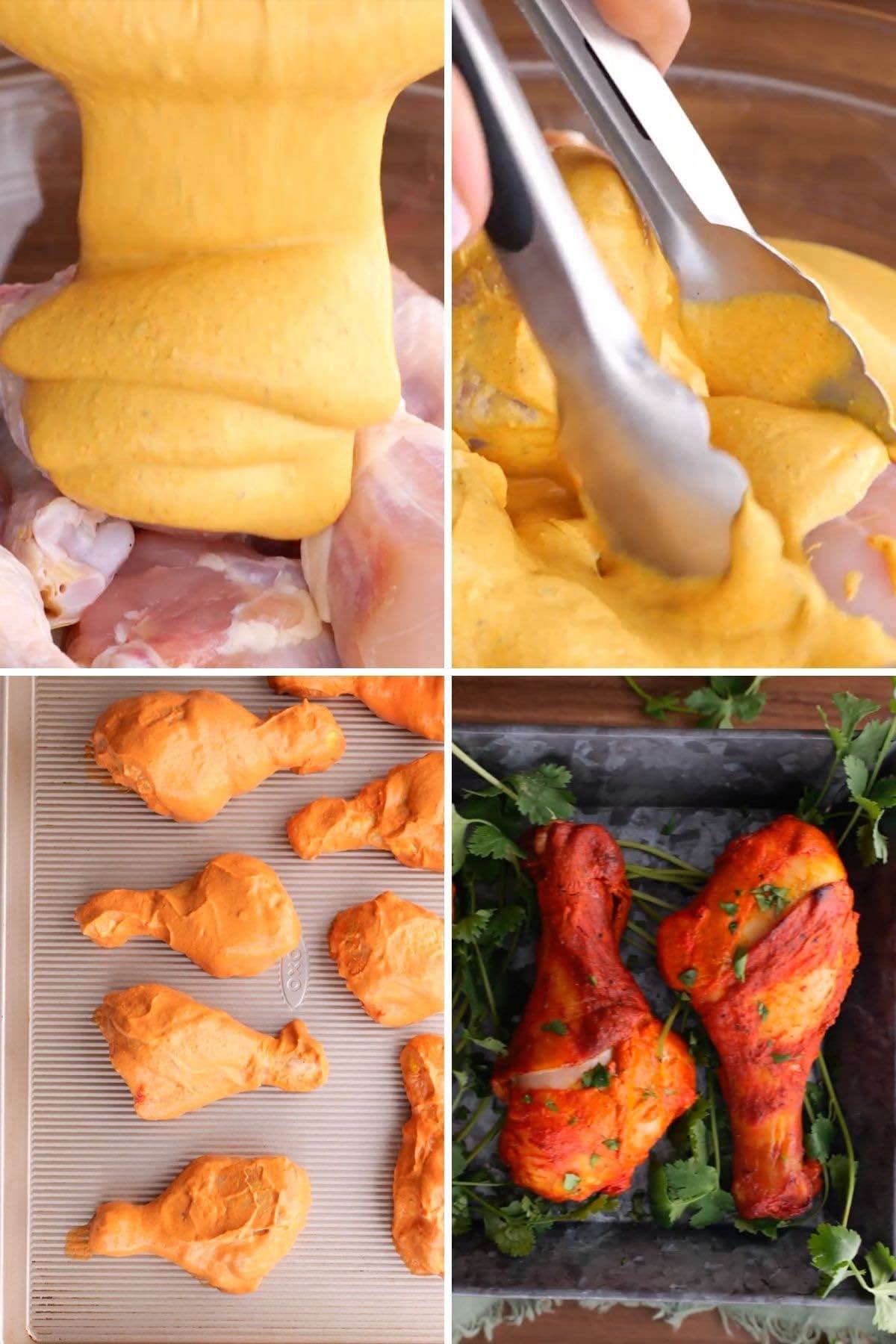 Create a free account to

Save Recipes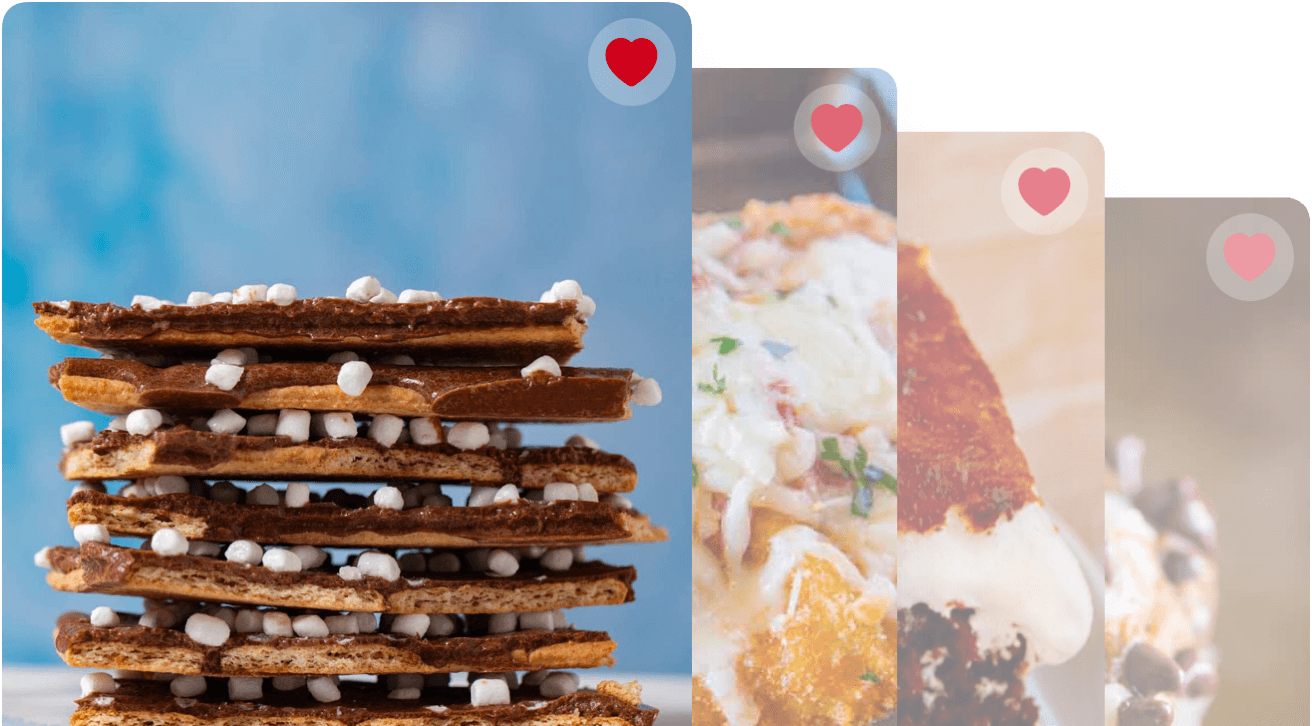 Frequently Asked Questions
How do you make Tandoori Chicken Red?
Tandoori Chicken is classically served in restaurants in a bright red hue because of the addition of a few drops of red food coloring. You can create a similar color with the addition of harissa paste and turmeric if you are averse to using the red food coloring.
What is Tandoori Spice Mix?
Combine 1 teaspoon Kosher salt, 1 teaspoon garlic powder, 1 teaspoon onion powder, 1 teaspoon ground ginger, 1 teaspoon paprika, 1 teaspoon turmeric, 1 teaspoon cayenne pepper, 1 tablespoon garam masala, and 1 teaspoon cayenne pepper.

The spice mix can be combined and stored for future use, this spice mix makes enough for two pounds of tandoori chicken when combined with 2 cups greek yogurt.
How long do you cook Tandoori Chicken in the oven?
The classic charred look of grilled tandoori chicken can be replicated in the oven. Cook the chicken at 400 degrees for 25-30 minutes, turning once halfway through cooking.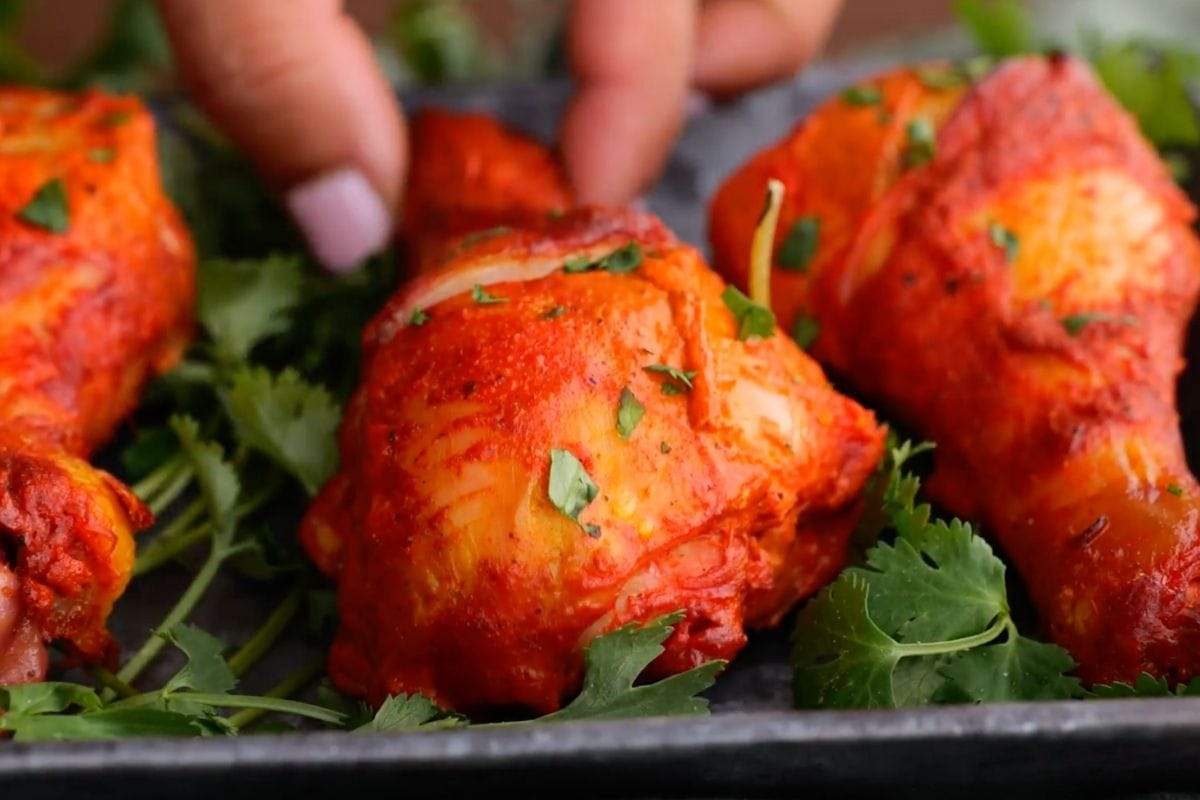 Garam Masala Spice Mix
Don't have garam masala? You can make your own garam masala spice mix at home!
2 tablespoons cumin
1 tablespoon coriander
1 tablespoon cardamom
1 tablespoon ground black pepper
2 teaspoons cinnamon
1 teaspoon ground cloves
1 teaspoon nutmeg
How to Store Tandoori Chicken
Serve: Do not leave cooked chicken at room temperature longer than 2 hours before refrigerating.
Store: Store Tandoori Chicken in an airtight container in the fridge for up to 4 days.
Freeze: Seal Tandoori Chicken in a plastic freezer bag and freeze for 1-2 months. Defrost in the refrigerator overnight and heat in the oven at 350 degrees for 20 minutes.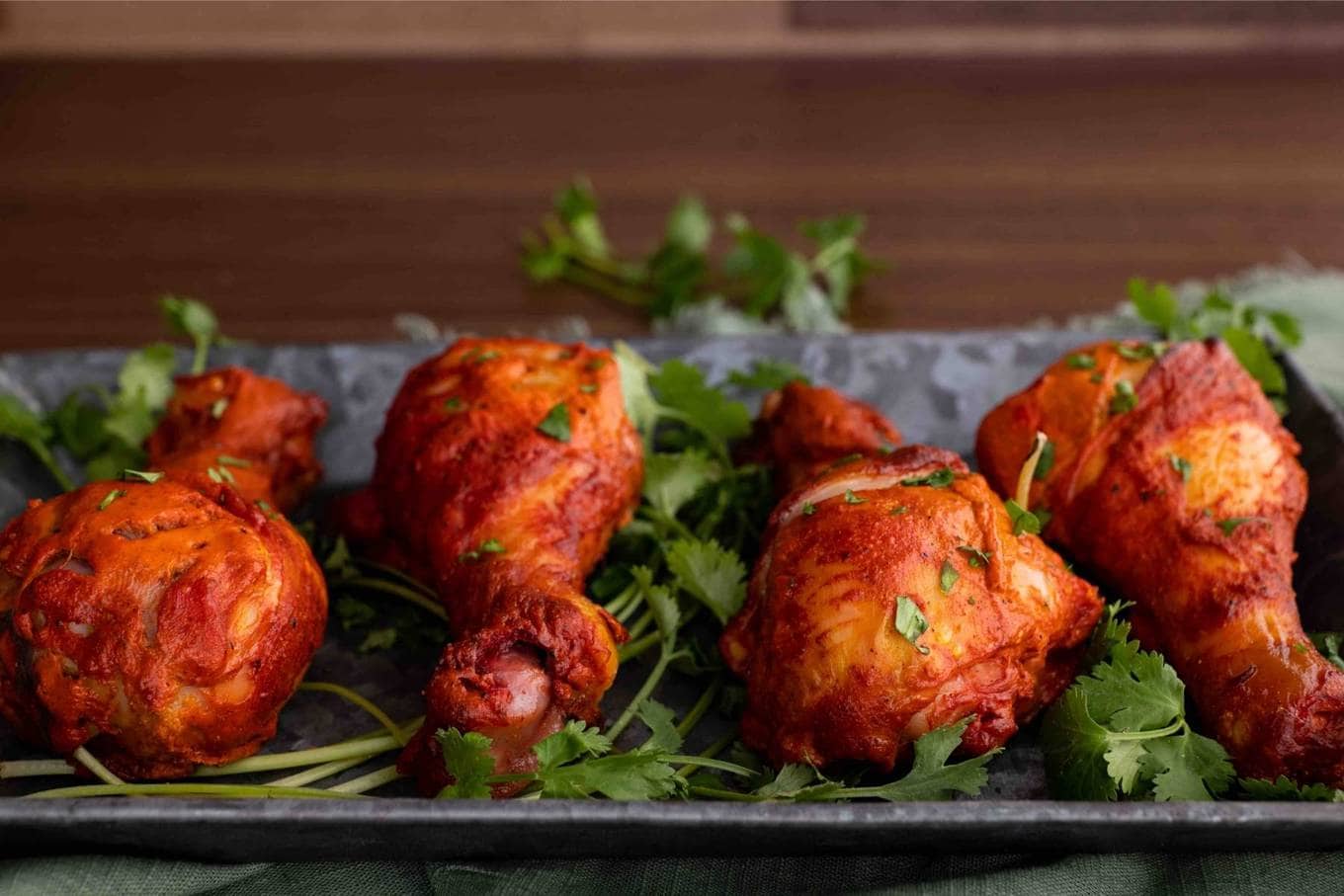 Ingredients
2

pounds

chicken legs

, no skin (8 legs)

2

cups

greek yogurt

1

teaspoon

Kosher salt

1

teaspoon

garlic powder

1

teaspoon

onion powder

1

teaspoon

ground ginger

1

teaspoon

paprika

1

teaspoon

turmeric

1

tablespoon

garam masala

1

teaspoon

cayenne pepper

1

teaspoon

yellow food coloring

1

teaspoon

red food coloring

1

lemon

, juiced
Instructions
Add all ingredients to a large bowl and mix well.

Cover the bowl with plastic wrap, then let marinade in the refrigerator for at least

8 hours

, preferably 24 hours.

Remove the majority of the marinade before cooking the chicken.

Grill Instructions: Heat the oiled grill to medium-high heat and cook the chicken until cooked through,

10-12 minutes

.

Oven Instructions: Preheat the oven to 400 degrees and cook on a sheet pan for

25-30 minutes

.
Nutrition
Serving:
2
g
|
Calories:
359
kcal
|
Carbohydrates:
9
g
|
Protein:
32
g
|
Fat:
22
g
|
Saturated Fat:
6
g
|
Cholesterol:
125
mg
|
Sodium:
728
mg
|
Potassium:
484
mg
|
Fiber:
2
g
|
Sugar:
4
g
|
Vitamin A:
575
IU
|
Vitamin C:
14.9
mg
|
Calcium:
129
mg
|
Iron:
1.5
mg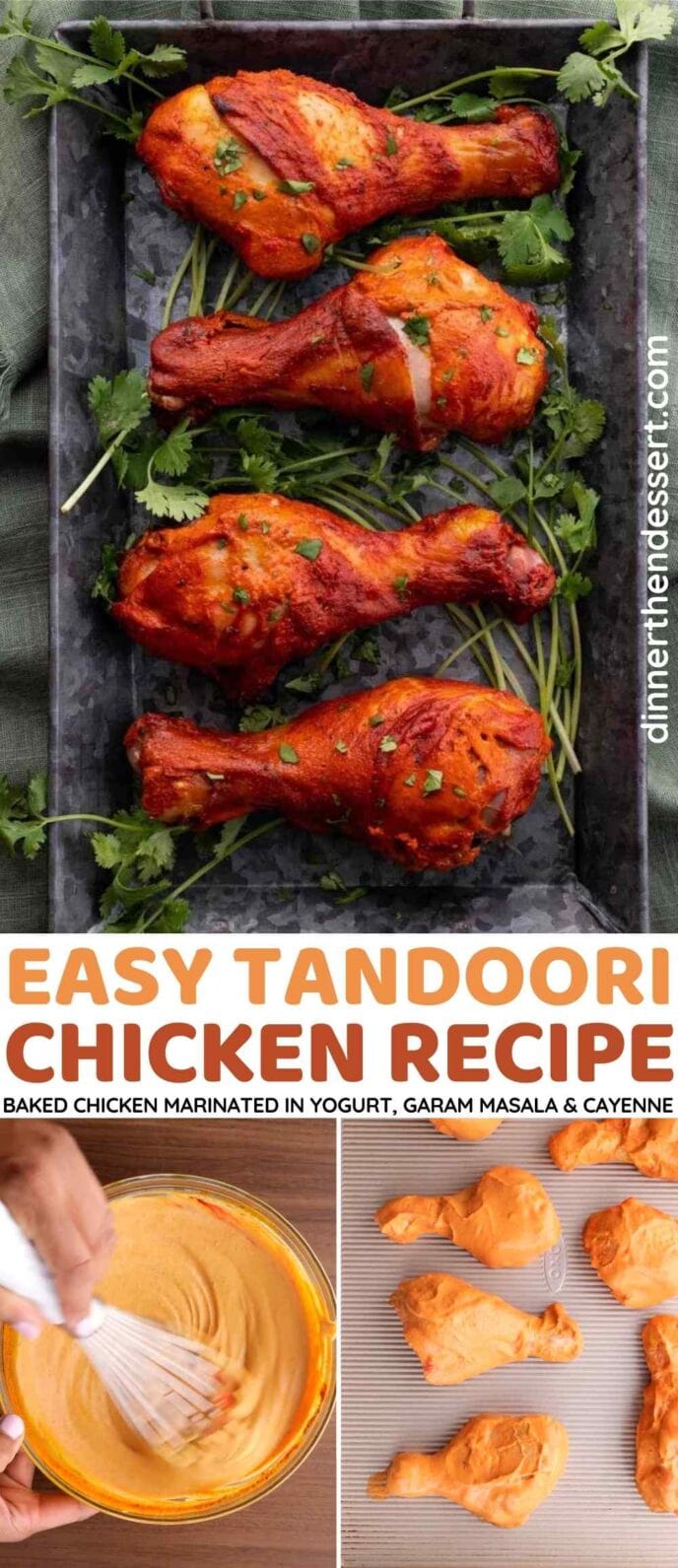 Photos used in a previous version of this post.