Indian Coconut Shrimp Curry is a flavor-packed recipe with rich, spiced curry sauce and crisp, juicy shrimp.
This simple curry recipe makes an ideal family meal that you can make quickly on the stovetop. For more Indian Food, try Slow Cooker Butter Chicken, Chana Masala, or Chicken Tikka Masala Bake.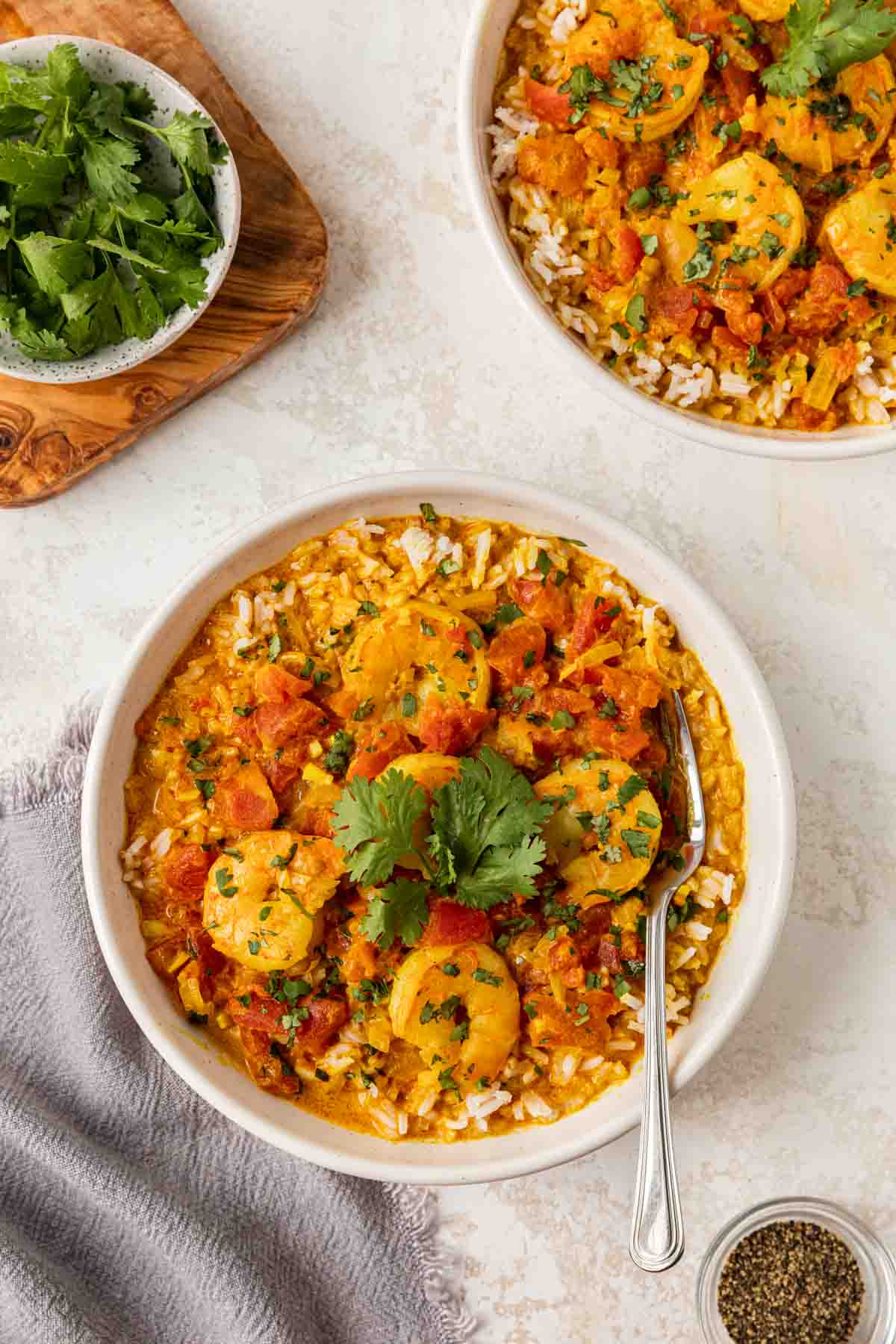 When you find yourself in a rut, feeling like you're making the same meals over and over again, its a good idea to try out different cuisines. Lately, folks can't get enough of Indian comfort food like Lamb Curry, Mulligatawny Soup, or this Shrimp Curry. This delicious dinner has made an excellent addition to so many weeknight recipe rotations, and you might find that your family can't get enough.
You'll be amazed just how quickly you can make this Coconut Shrimp Curry dish. The aromatic coconut curry sauce comes together with just onion, diced tomato, coconut milk, and a handful of spices to add bold flavors. Finish the creamy curry sauce in just a few minutes, then add the cooked shrimp and serve.
Plus, the dish is so good you can serve it at a dinner party or anytime you want to impress someone with your cooking skills. It may be simple to make, but Indian Coconut Shrimp Curry turns out so beautiful and delicious that your guests will probably think you spent hours on it. It's just that good!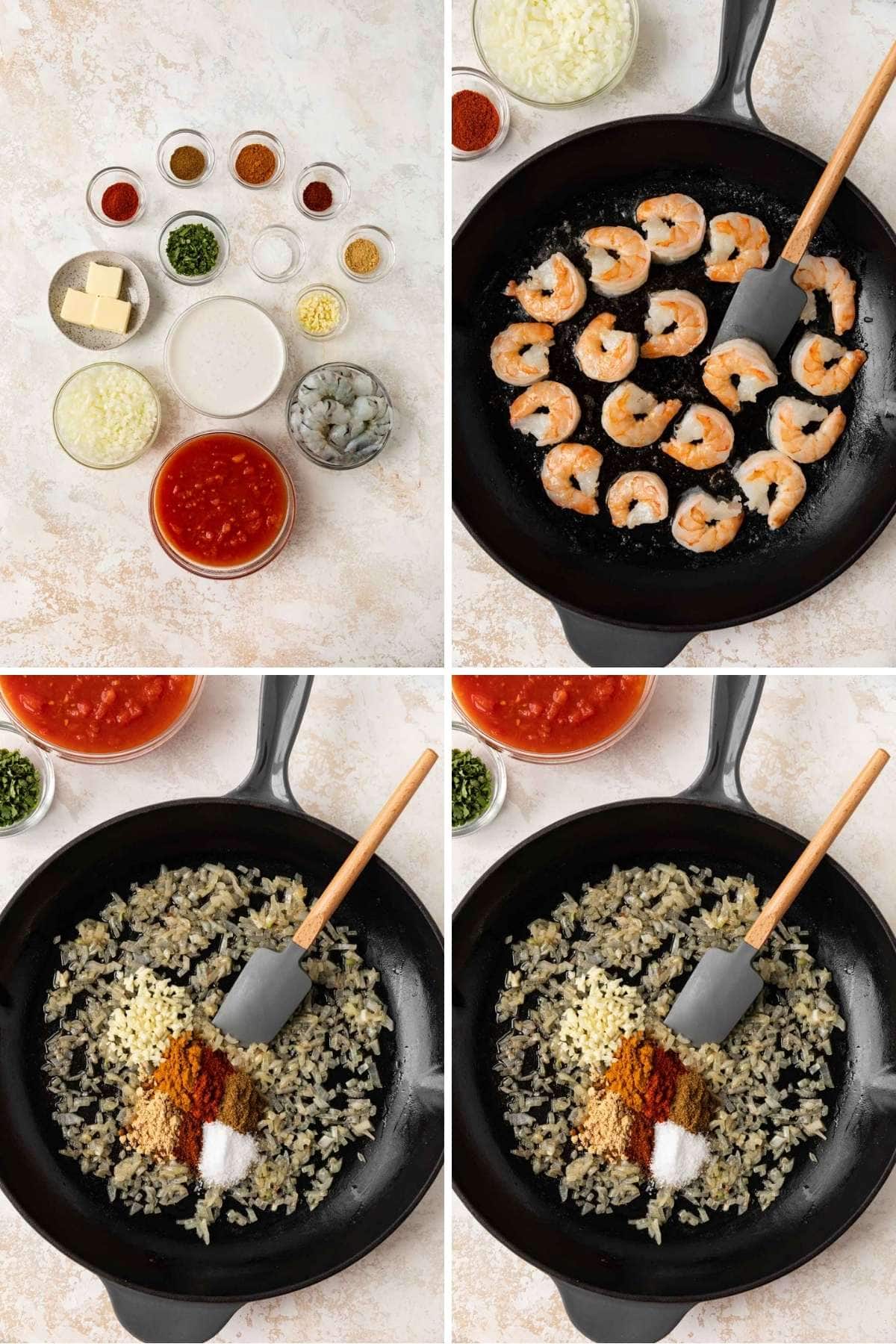 FAQs for Indian Coconut Shrimp Curry
What else can I use in curry?
Curry makes a great starting point to add a lot of ingredients and bold flavors. If you want some vegetables with your shrimp curry, try adding colorful peppers, carrots, or zucchinis. To add some more variety to the seafood, you can use scallops along with the shrimp. Or, if you aren't in the mood for seafood, make yourself some chicken or lamb to use as the meat in your coconut curry. 
What to serve with Curry Shrimp?
 
To make the perfect meal, serve Coconut Shrimp Curry with a side of naan bread and rice. Coconut rice, Steamed White Rice, or Brown Rice would all taste lovely with this Indian Shrimp Curry recipe. The rice will also soak up all that flavorful sauce into each bite. The naan will help you soak up anything left over after that.
What is Curry?
You might have heard of Curry before. There are many recipes and dishes on menus that are Curry dishes. They won't all taste the same, but you'll find they each contain a blend of spices that are used in South Asian dishes, especially ground turmeric. They carry lots of flavor and sometimes a little bit of heat.
How will I know when my shrimp is fully cooked?
Shrimp cooks very fast! You'll notice as the shrimp is cooking that it will curl up a bit. The shrimp will become more firm, and the color will change. It will become more pink and opaque. For this recipe you sear the shrimp and then it will cook for an additional minute in the sauce. This should ensure your shrimp is fully cooked throughout.
More Indian Recipes
Key Ingredients
Flavorful Spices: This curry tastes so wonderful even with pretty basic ingredients because of the rich aromatic spices. Ground turmeric, ground ginger, paprika, chili powder, and minced garlic all add complex layers of traditional Indian flavor to the shrimp dish.
Tomatoes: The diced tomatoes are tangy, savory, and add a rich red hue to the entire dish.
Coconut Milk: To give Indian Coconut Shrimp Curry its sweet coconut flavor, all you need is coconut milk. The milk acts as the cream base for the curry and mixes with the tomato sauce and spices for the perfect blend of sweet and savory.
Shrimp: Shrimp makes an excellent protein for this dish. Their naturally sweet, juicy flavor pairs perfectly with the curry. To make the recipe more manageable, you can buy a pound of precooked shrimp.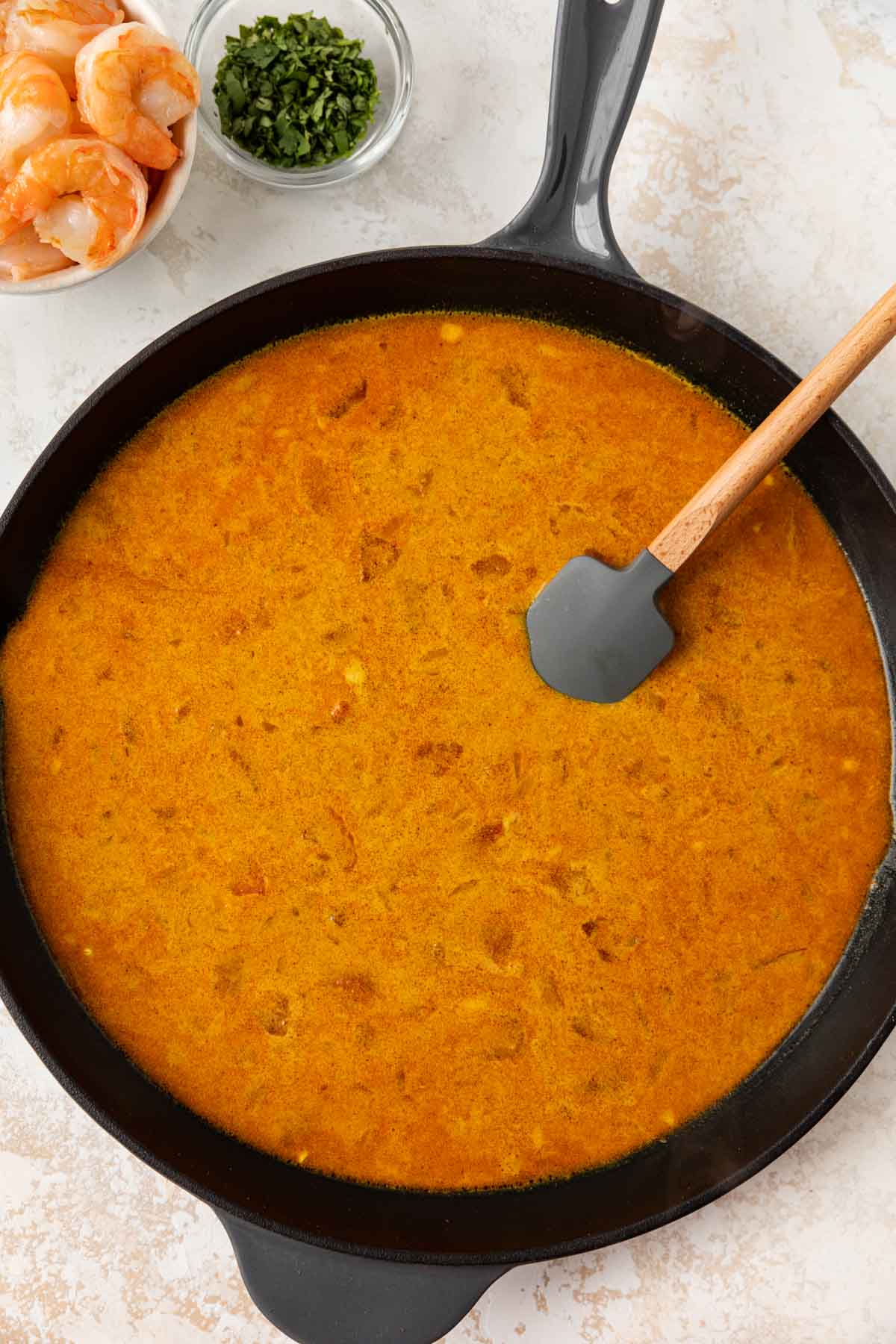 How to Make Indian Coconut Shrimp Curry
Prep Time: If you didn't buy shrimp already shelled and deveined, then make sure to prep them before the recipe. Then cook the raw shrimp until pink. After preparing the shrimp, you can mince half of a yellow onion so that it's ready to go.
Cook Shrimp: Add 3 tablespoons of unsalted butter to a large skillet over high heat. Then add the shrimp to the melted butter, and cook for about 1 minute on each side. Remove the seared shrimp from the pan, and cover them in aluminum foil to keep them warm.
Curry: Reduce the stovetop to medium-high heat. Then add the onions, and cook for 4-5 minutes. Stir occasionally throughout the cooking time until the onions are translucent and fragrant. Then add the garlic, turmeric, paprika, fresh ginger, cumin, chili powder, and salt. Stir the spice mixture to blend with the onions, and continue to cook for another minute. Then add diced tomatoes and creamy coconut milk to the skillet. Bring the mixture to a simmer.
Finish: Add the shrimp back into the coconut curry sauce. Then stir and let it all cook together for one more minute. Spoon the Indian Coconut Shrimp Curry into serving bowls over rice, and garnish with fresh cilantro if desired.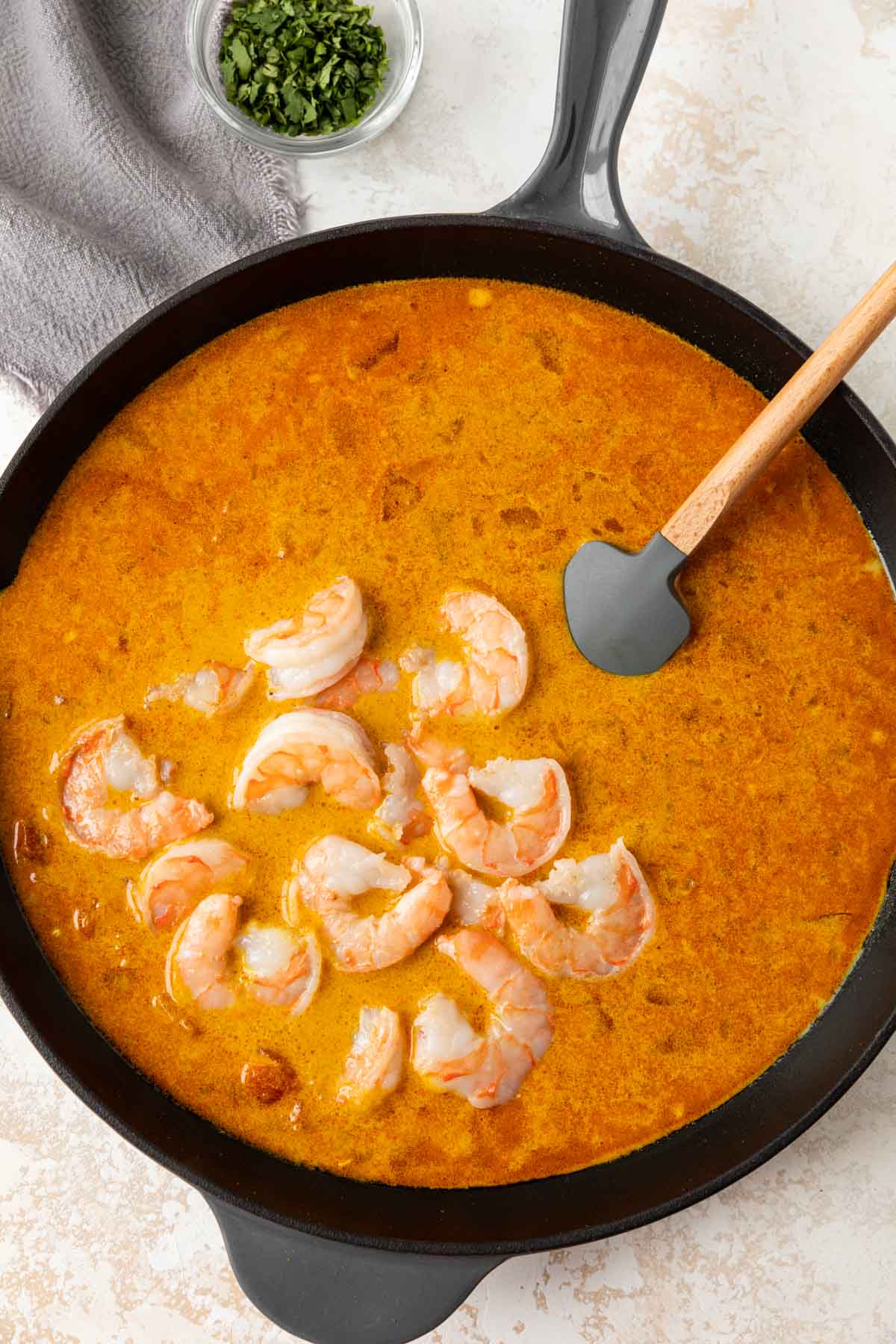 Create a free account to Save Recipes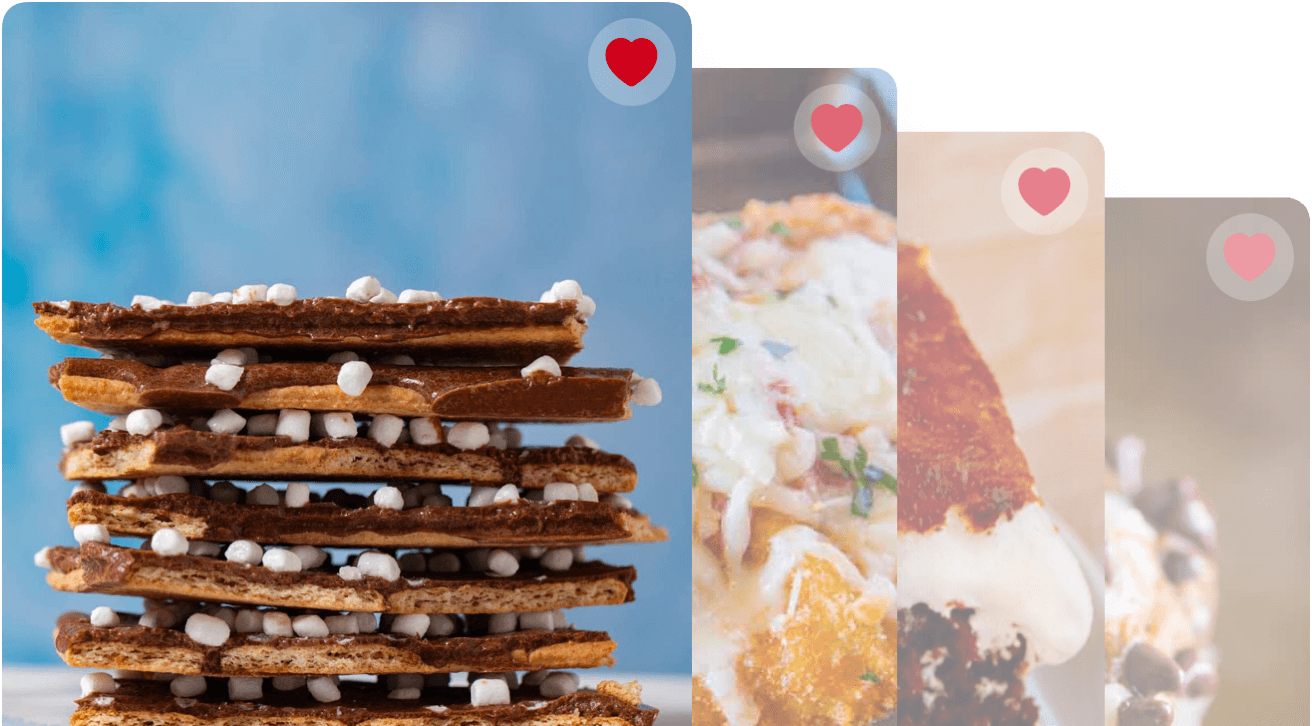 Variations on Indian Coconut Shrimp Curry
Coconut Scallop Curry: Instead of making this curry recipe with fresh shrimp, you can use scallops. To alter the recipe for scallops, start by removing the side muscle from each of the scallops. Then add butter to your skillet and cook over high heat. Just like for the shrimp, you'll only need to cook the scallops for one minute on each side. Then you can remove them from the pan and keep them covered while you prepare the coconut curry. Add the scallops back into the coconut curry a minute before serving.
Seasonings: There are many amazing flavors you can add to your Indian Coconut Shrimp Curry with spices like cayenne pepper, ground cardamom seeds, cinnamon, allspice, or red pepper flakes.
More Indian Side Dishes
Can Indian Coconut Shrimp Curry be made ahead?
In order to make things easier on the day you want to serve your Curry, you can go ahead and make it the day before. Prepare the recipe and let Coconut Shrimp Curry cool down to room temperature, then place it in a sealed container in the refrigerator. To reheat you can warm it up over the stove until it just starts to simmer, then serve the Curry over some rice if you like. Don't let it bubble and simmer for too long, otherwise you'll start to overcook the shrimp and it will get a little tough and chewy. To avoid this completely, refrigerate and store the shrimp separately from the rest of the dish. Reheat the Curry and add the shrimp once it starts to simmer. Heat it for one minute, then it is ready to serve.
How to Store
Serve: Don't leave Indian Coconut Shrimp Curry at room temperature for more than 2 hours.
Store: If you have leftovers, transfer them to an airtight container. You can store it in the fridge for 2-3 days.
Freeze: Or, keep frozen Shrimp Curry sealed in the freezer for up to 3 months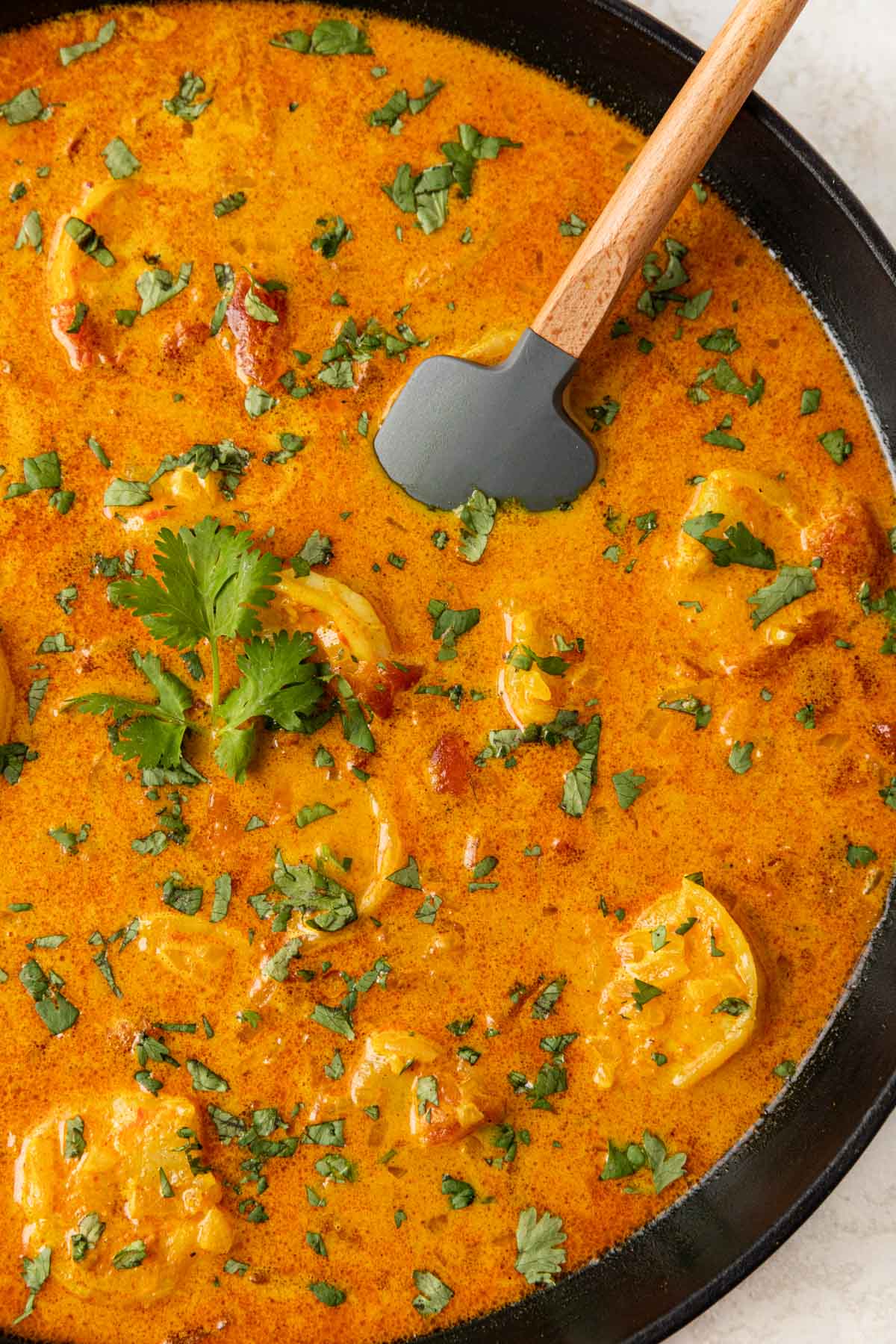 Ingredients
3

tablespoons

unsalted butter

1/2

yellow onion

, minced

2

cloves

garlic

, minced

2

teaspoons

ground turmeric

1

teaspoon

paprika

1

teaspoon

ground ginger

1

teaspoon

ground cumin

1/2

teaspoon

chili powder

1

teaspoon

kosher salt

14.5

ounces

diced tomatoes

14

ounces

coconut milk

1

pound

cooked and peeled shrimp

, 16-20 count

2

tablespoons

cilantro

, minced
Instructions
To a large heavy skillet add the butter on high heat.

Cook the shrimp for

1 minute

on each side, then remove from the pan and cover to keep warm.

Reduce heat to medium, add the onions and cook, stirring occasionally, until translucent about

4-5 minutes

.

Add in the garlic, turmeric, paprika, ginger, cumin, chili powder, and salt, stirring well. Cook until spices are fragrant, about

1 minute

.

Add in the diced tomatoes and coconut milk and bring to a simmer.

Add in the shrimp, stir and cook for

1 minute

.

Garnish with cilantro.
Nutrition
Calories:
201
kcal
|
Carbohydrates:
5
g
|
Protein:
13
g
|
Fat:
15
g
|
Saturated Fat:
12
g
|
Polyunsaturated Fat:
1
g
|
Monounsaturated Fat:
2
g
|
Trans Fat:
1
g
|
Cholesterol:
103
mg
|
Sodium:
374
mg
|
Potassium:
399
mg
|
Fiber:
1
g
|
Sugar:
2
g
|
Vitamin A:
362
IU
|
Vitamin C:
6
mg
|
Calcium:
70
mg
|
Iron:
3
mg