How to Cook Brown Rice – Brown rice is notorious for taking too long, being underdone, or overdone. Forget the rice cooker, all you need is an oven. Learn how to cook brown rice perfectly with this recipe.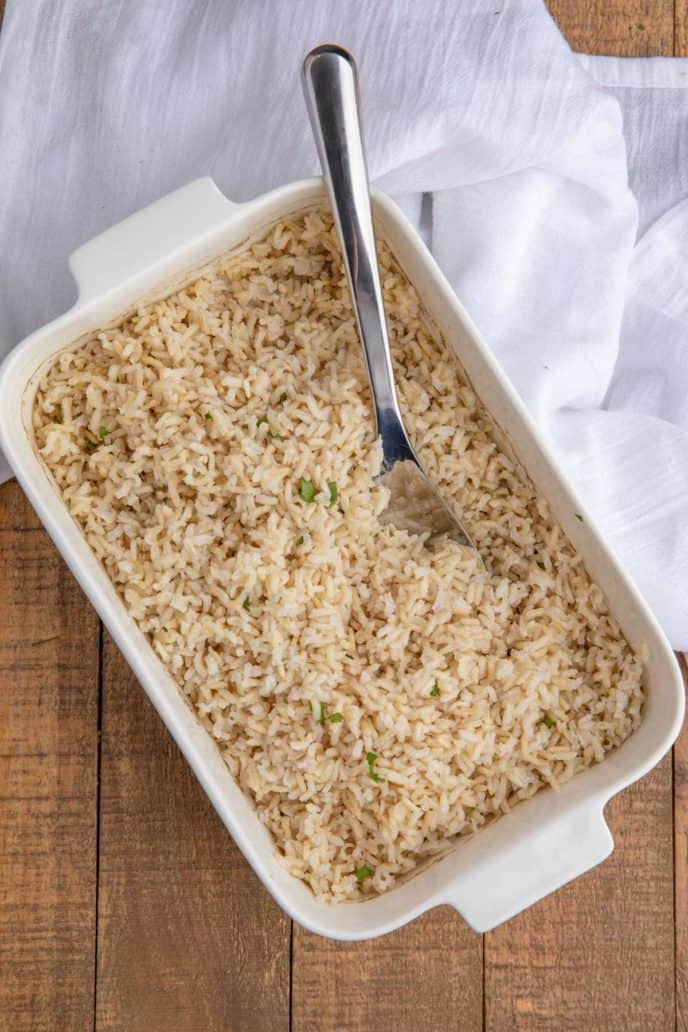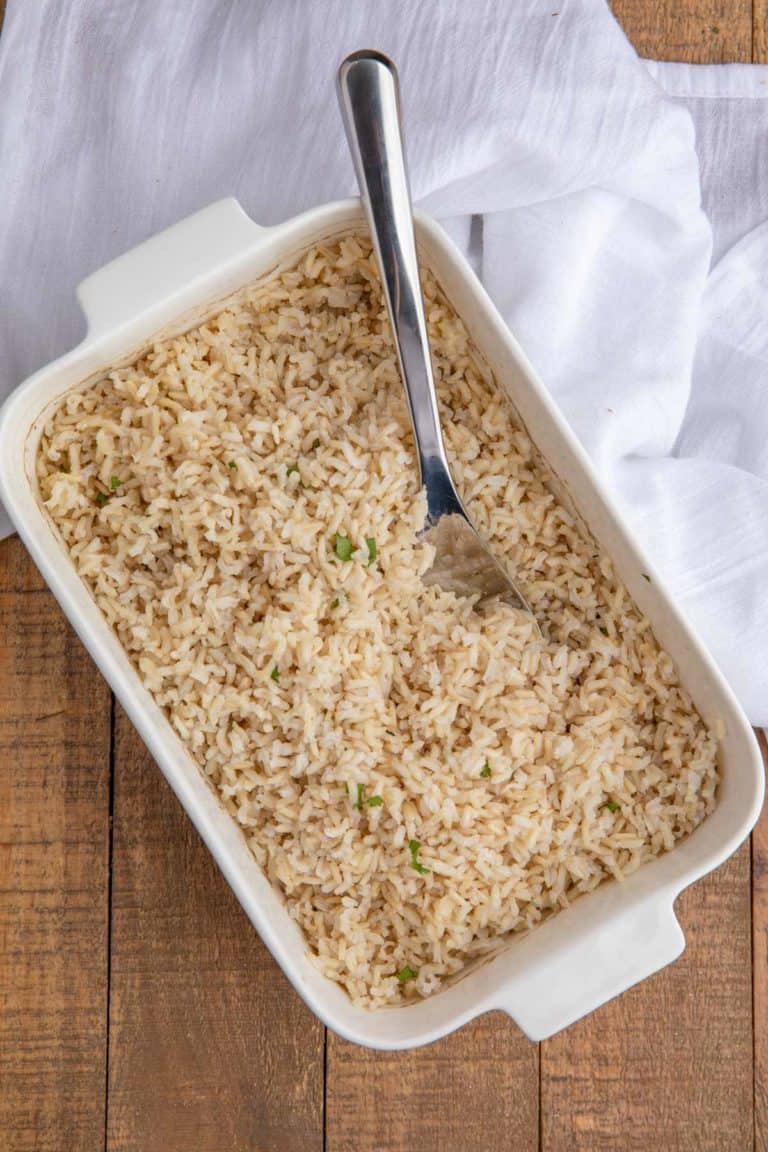 PERFECT BROWN RICE
Learning how to cook brown rice is an essential skill for a healthy household. At least once a week, I bake off a batch of brown rice since we made the switch away from white rice in our house. That's right, I said bake. This recipe is so foolproof, that I use it instead of the 200 dollar Japanese rice cooker I own.
There is only one trick to this recipe, using boiling water or broth. We use broth and butter for more flavor, but water is a great option for those looking for a classic brown rice recipe. As long as you boil your water first I promise you this method for cooking brown rice will not fail you.
How to Cook Brown Rice
Wondering how to cook brown rice perfectly every time? Brown rice is notorious for taking too long to make, being underdone and crunchy or overdone and mushy. You will never have that experience again if you follow these sage instructions from Alton Brown. Yes, Alton Brown. You ready for it?
You combine 4 ingredients, put it in a 375-degree oven for an hour and you have perfectly cooked brown rice. That's it. This is a recipe of his from a decade ago and I've been making it for almost that long.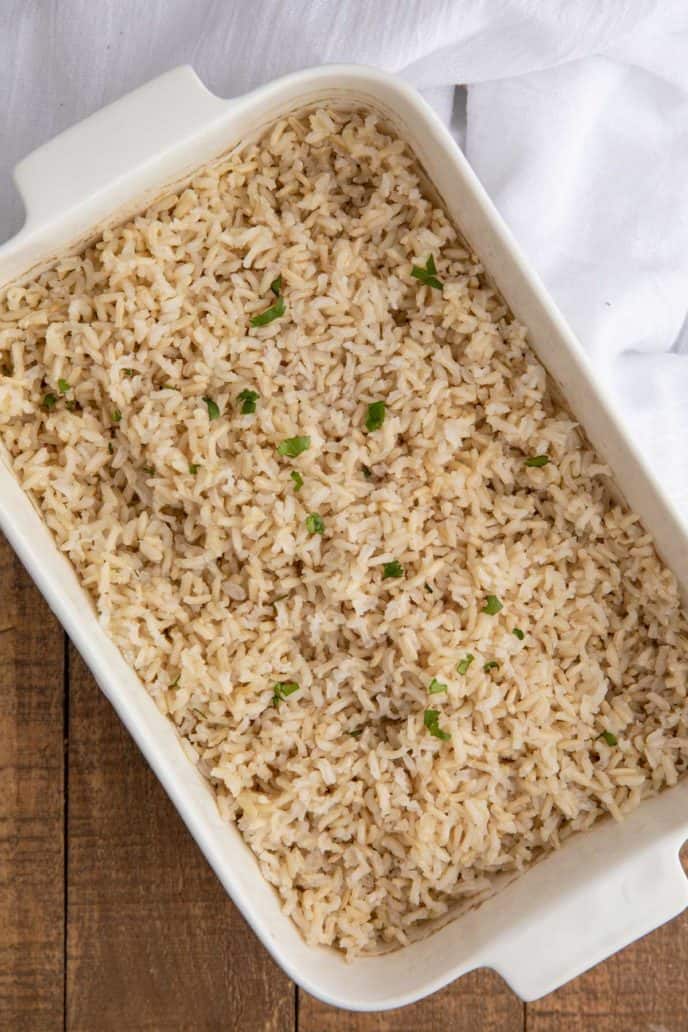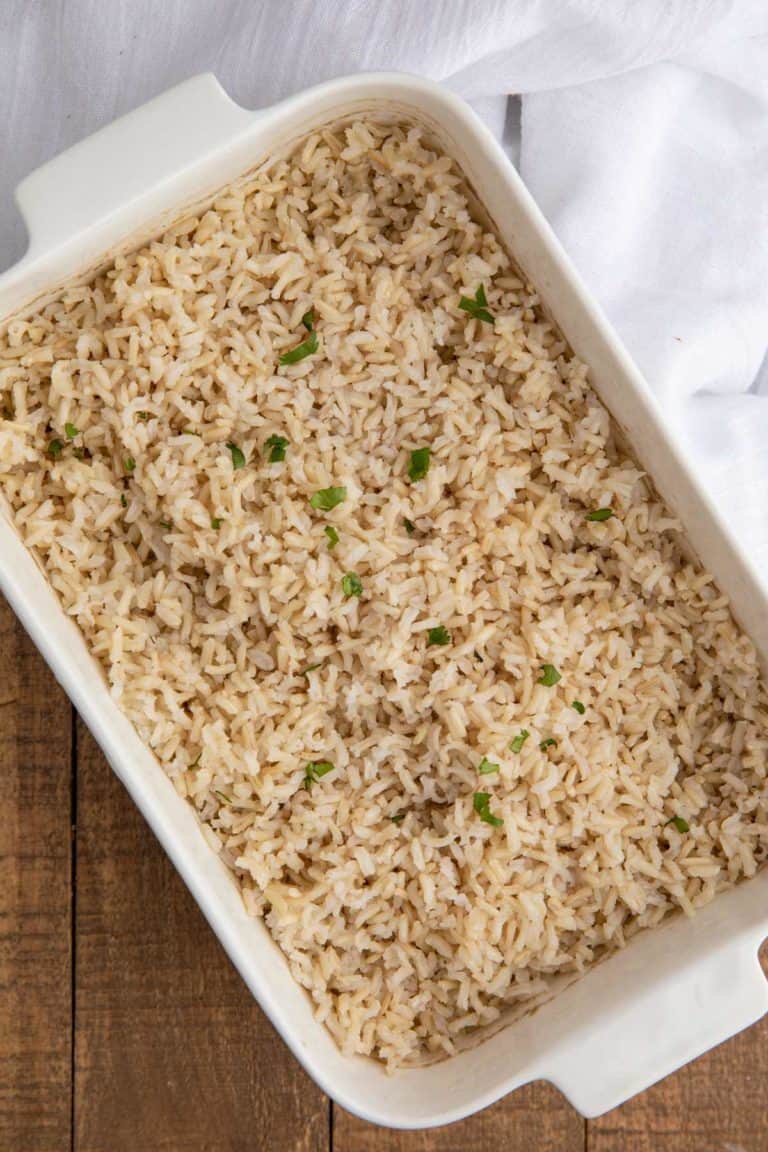 Baked Brown Rice Recipe alterations
I have changed a few things on occasion. Sometimes I use stock instead of water, sometimes no butter or with fresh herbs from my garden. But do not change the timing, temperature and the fact that you start with a boiling hot liquid.
One of my favorite variations of this rice is to boil off skinned dark meat for 30 or so minutes. Then, use that water to flavor the rice. Put the chicken in the pan with the raw rice and stock and let it cook for an hour. Let your imagination go with this dish, but when you need a simple brown rice recipe, pull this out of your recipe file.


Ingredients
1 1/2

cups

long grain brown rice

2 1/2

cups

water

1

teaspoon

unsalted butter

1 1/2

teaspoon

kosher salt
Instructions
Preheat oven to 375 degrees.

Place the rice into an 8-inch square or circle baking dish.

Bring the water to a boil, add salt and butter to the saucepan. Add the water to the rice and just jiggle the pan a bit to make sure the rice is evenly distributed.

Cover the pan and bake for

60 minutes

.

After an hour, remove from oven and let sit a couple of minutes. Take off the cover and fluff the rice with a fork.
Notes
Recipe adapted from http://www.foodnetwork.com/recipes/alton-brown/baked-brown-rice-recipe.html
Nutrition
Calories:
214
kcal
|
Carbohydrates:
43
g
|
Protein:
4
g
|
Fat:
2
g
|
Saturated Fat:
1
g
|
Cholesterol:
2
mg
|
Sodium:
706
mg
|
Potassium:
153
mg
|
Fiber:
2
g
|
Vitamin A:
25
IU
|
Calcium:
23
mg
|
Iron:
1
mg