Chicken Shawarma is perfect served with pita bread, lettuce, and sauce. It's tender chicken flavored with sumac, turmeric, cinnamon, cumin, and more.
Chicken Shawarma is a delicious and easy Middle Eastern food perfect for a lunch or Dinner Recipe. Serve the chicken up in pita bread with your favorite vegetables and Classic Falafel on the side for the perfect meal!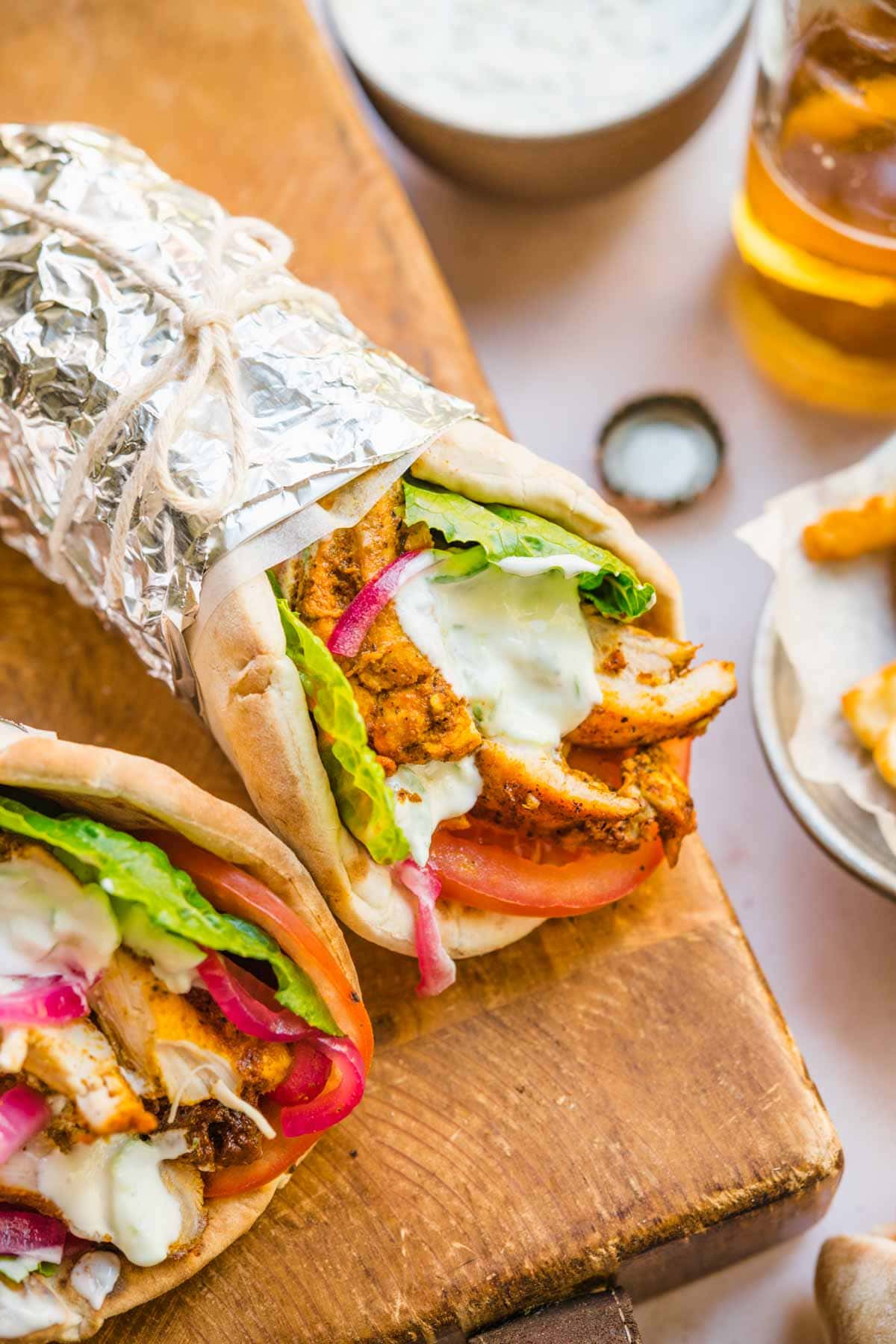 CHICKEN SHAWARMA
Although a classic Middle Eastern Shawarma Recipe is made by stacking pieces of meat up and roasting them on a spit, this version is made easy with chicken thighs in the oven. It turns out just as delicious and flavorful and is ready in an hour. The chicken is marinated in classic Middle Eastern seasonings like sumac, turmeric, cinnamon, and cumin for the most flavorful chicken ever!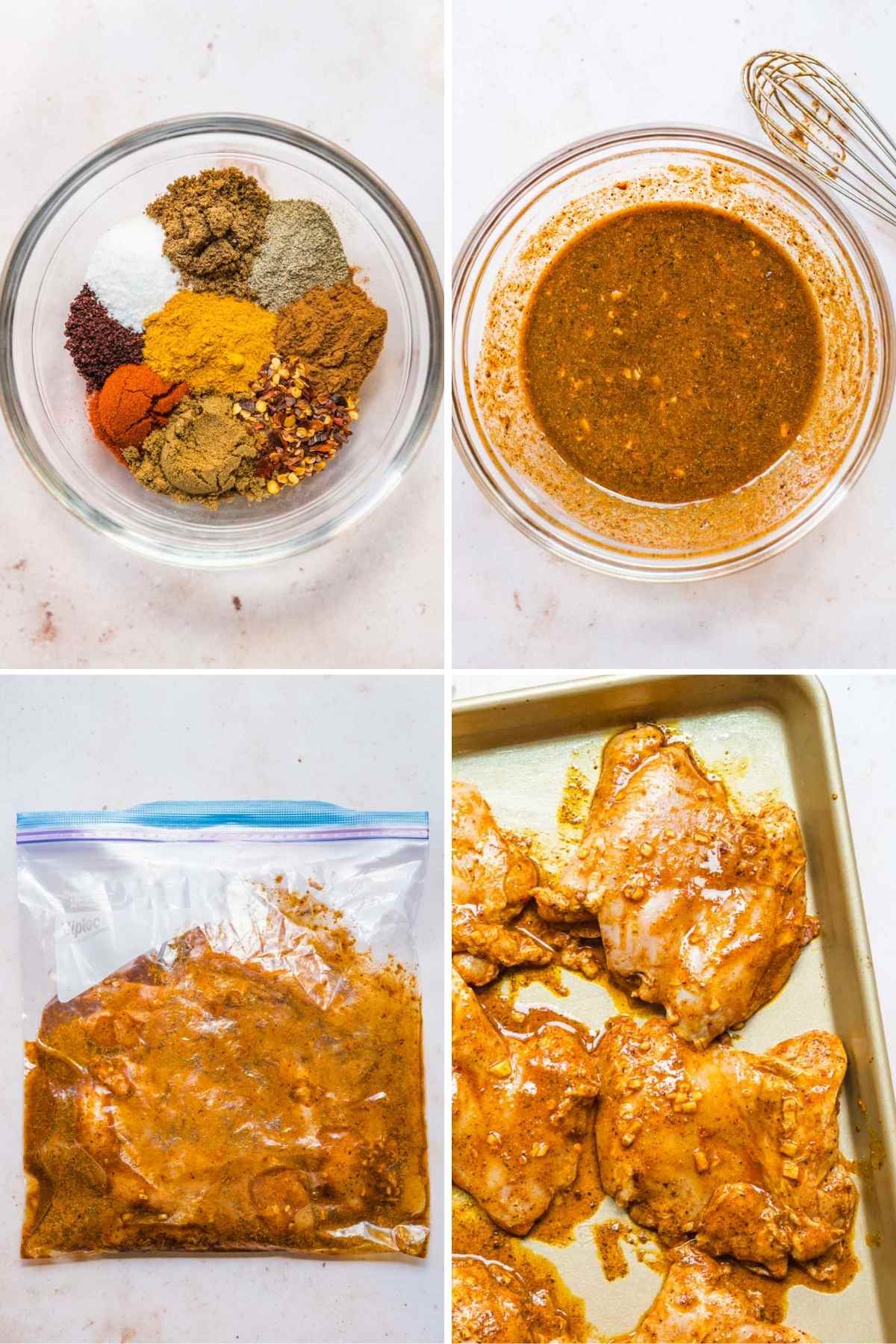 Once the meat is seasoned, marinated, and cooked you just slice it into thin chicken pieces to serve it with pita bread, your choice of veggies, and sauce. Either Tahini Sauce or yogurt sauce will taste great. It would also taste delicious with some Hummus.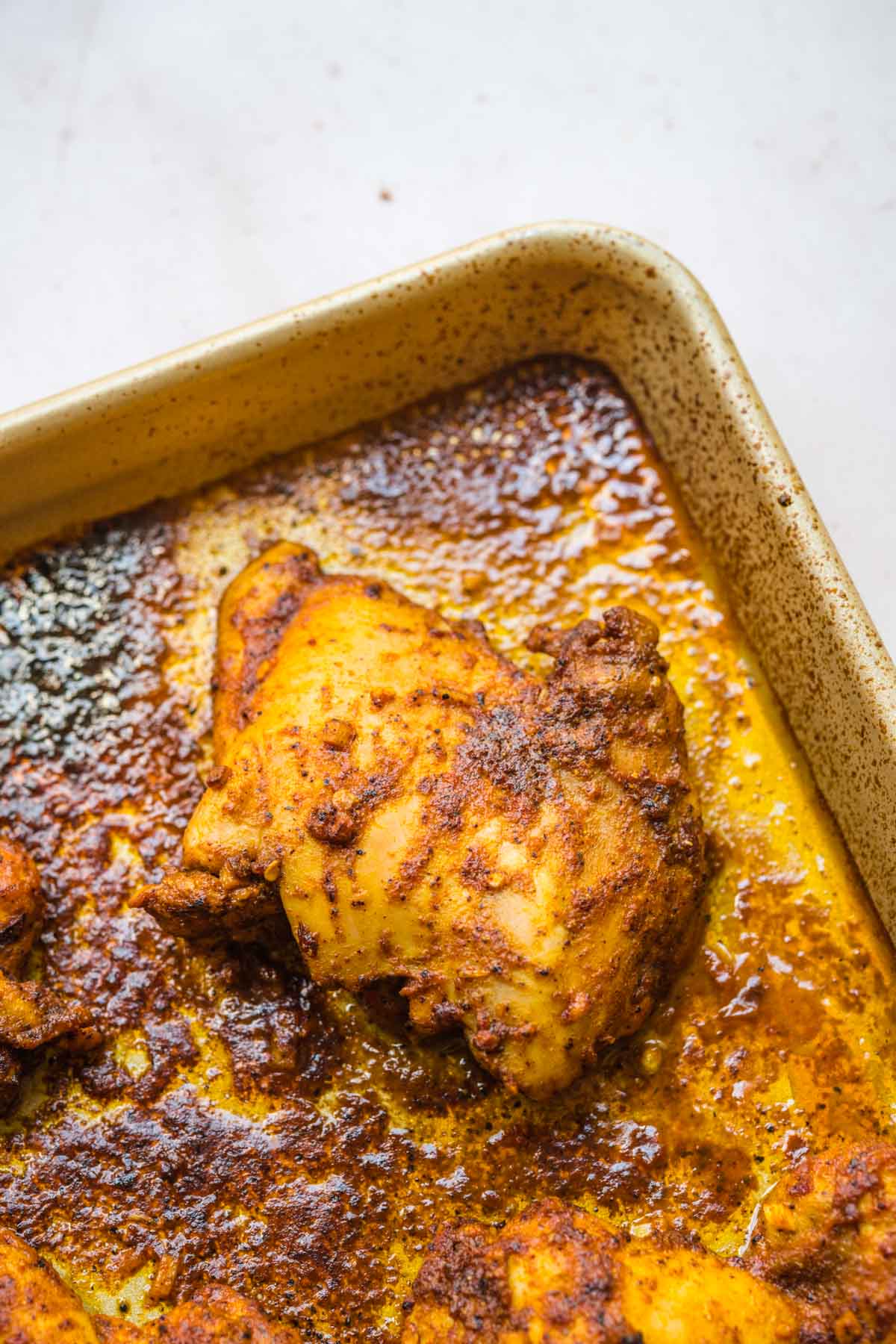 This easy Chicken Shawarma is sure to be a hit with the whole family. Plus, if there are any leftovers, the chicken is great to keep in the fridge for an easy lunch. As long as you have the chicken, pita bread, and some sauce, the Shawarma Wraps are simple to assemble so the leftovers will be gone in no time at all!
MORE CHICKEN RECIPES
TIPS FOR MAKING CHICKEN SHAWARMA
Prep time: To start the Shawarma, preheat oven to 400°F. Then line a rimmed baking sheet with aluminum foil. This will make sure the chicken doesn't stick to your pan and make for easy cleanup.
Marinate: Put the chicken thighs in a large bowl with ¼ cup extra virgin olive oil, 5 cloves garlic, lemon juice and zest, 1 ½ teaspoons ground sumac, ½ teaspoon Aleppo pepper, ½ allspice, 2 teaspoons cumin, 2 teaspoons paprika, 1 teaspoon turmeric, ¼ teaspoon cinnamon, and 1 teaspoon salt. Toss the ingredients to coat the chicken, then cover the bowl and marinate for at least 20 minutes. If you have more time, keep the chicken in longer to make it more flavorful and tender. Up to an hour would be best.
Bake: Transfer the chicken from its marinade to the prepared baking sheet. Pour the remaining marinade over the chicken. Bake for 30-35 minutes until the chicken is cooked through and crispy. For more crispy edges on the chicken pieces, increase the temperature to 425°F and cook for an additional 8-10 minutes.
Chicken Shawarma Wraps: Take the oven-roasted Chicken Shawarma from the oven and let it sit for 5 minutes before you slice it into thin pieces to make the Chicken Shawarma Wraps. Serve it with pita bread, yogurt sauce, shredded lettuce, fresh herbs, and lemon juice.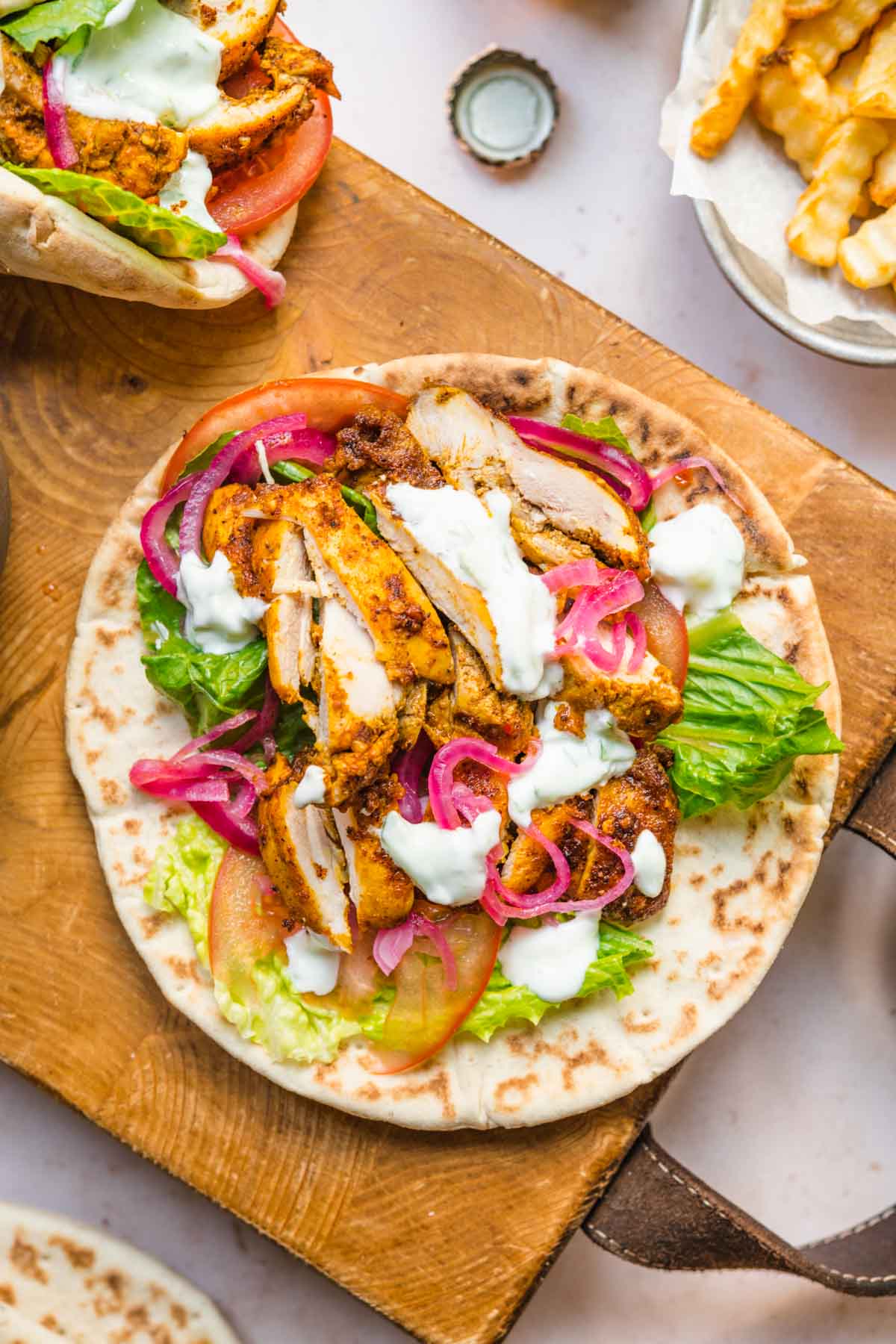 Create a free account to Save Recipes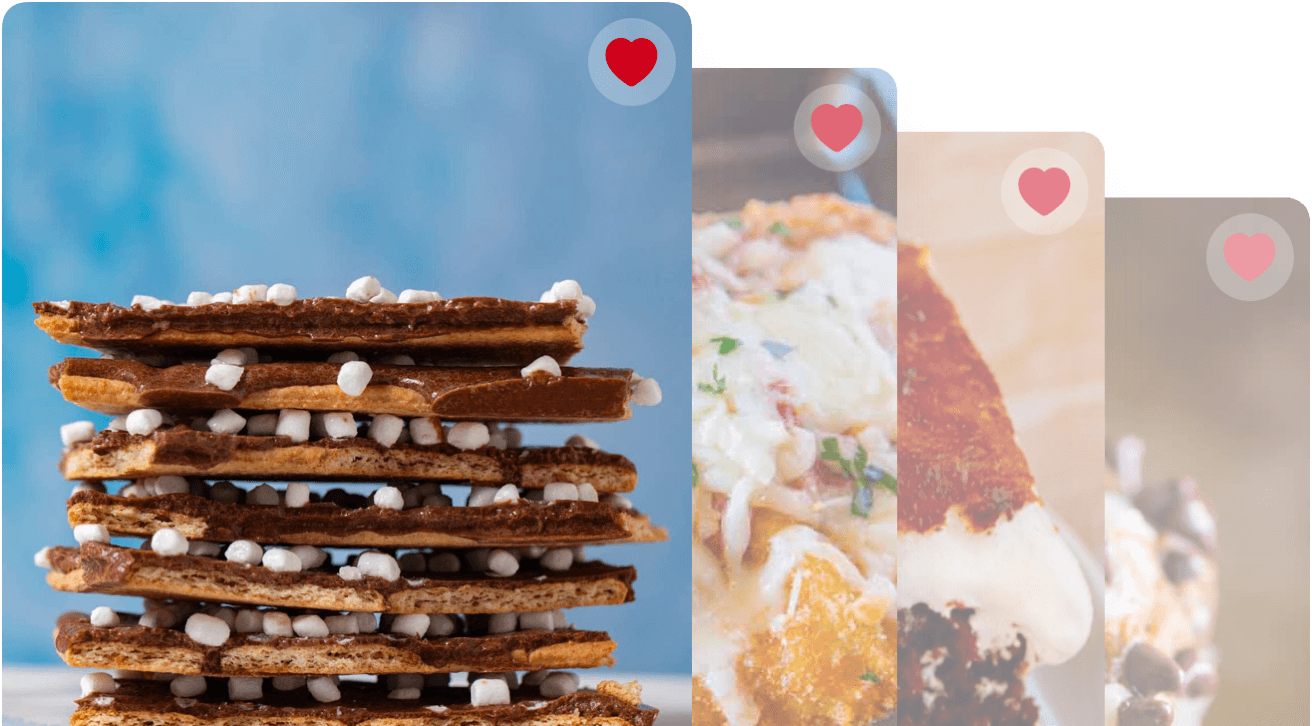 VARIATIONS ON CHICKEN SHAWARMA
Chicken Breast: If you don't have chicken thighs, try making Homemade Chicken Shawarma with chicken breasts. Just remember that chicken breasts cook faster than thighs, so you'll want to decrease the time and keep your eye on the oven while they're baking.
Seasonings: There are plenty of ways you can experiment with the flavor of the chicken by adding different spices to the recipe. Try out ground coriander, sweet paprika, onion powder, red pepper flakes, ginger, or cayenne powder.
Garlic yogurt sauce: Shawarma tastes amazing with a creamy yogurt sauce. To make a flavorful garlic sauce combine 16 ounces plain Greek yogurt, 2 minced garlic cloves, 2 tablespoons lemon juice, and a pinch of salt. Whisk the ingredients together and serve them in pita bread with the chicken.
Vegetables: There are plenty of vegetables you can serve up with your chicken and pita bread. Try out sliced cucumbers, bell peppers, turnips, carrots, red onion, or zucchini.
WHAT TO SERVE WITH CHICKEN SHAWARMA
HOW TO STORE CHICKEN SHAWARMA
Serve: Don't leave your Chicken Shawarma recipe at room temperature for more than 2 hours.
Store: To store leftovers, separate the chicken from the pita bread and fillings. You can put the chicken in an airtight container to keep in the refrigerator for up to 4 days.
Freeze: You can also seal and freeze the chicken for up to 4 months.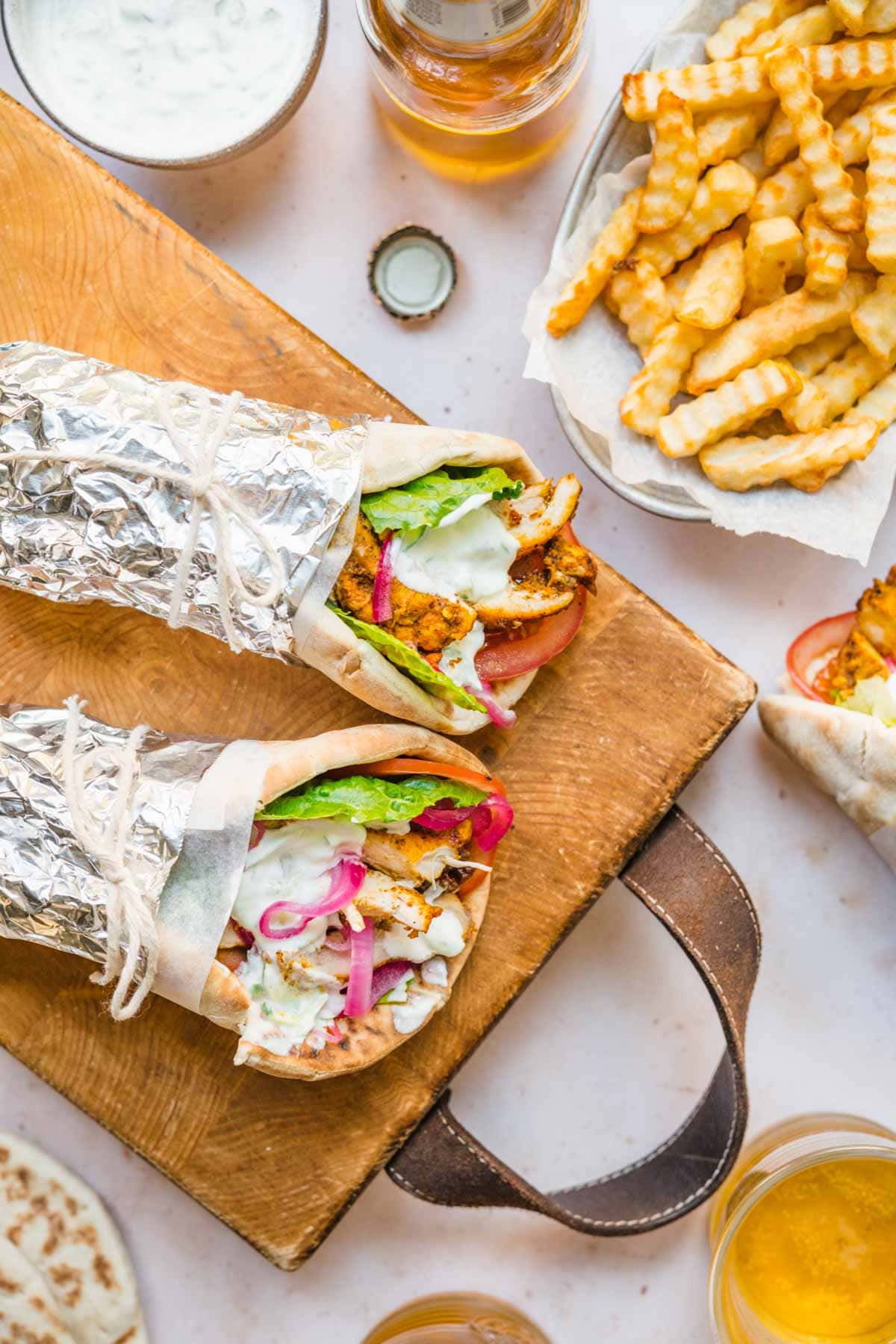 Ingredients
1/4

cup

olive oil

5

cloves

garlic

, minced

1/4

cup

lemon juice

2

teaspoons

sumac

2

teaspoons

paprika

2

teaspoons

cumin

1 1/2

teaspoons

kosher salt

1

teaspoon

turmeric

1

teaspoon

coriander

1/2

teaspoon

coarse ground black pepper

1/2

teaspoon

crushed red pepper flakes

1/2

teaspoon

cinnamon

6

chicken thighs

, boneless and skinless
Instructions
In a large bowl or ziplock bag add the olive oil, garlic, lemon juice, sumac, paprika, cumin, salt, turmeric, coriander, black pepper, crushed red pepper flakes and cinnamon and whisk well to combine.

Add the chicken into the bowl or bag and coat well.

Marinate for at least

30 minutes

to an hour, do not let it go too long as the lemon juice with begin to tenderize the chicken.

Preheat the oven to 400 degrees and spray a baking sheet with vegetable oil spray.

Add the chicken (leave the marinade behind) to your baking sheet and cook for

35 to 40 minutes

until the chicken is cooked and browned.

Cut chicken into 1/2" thick sliced and serve with pita bread, tzatziki, tomatoes, lettuce and pickled vegetables like Pickled Turnips.
Nutrition
Calories:
205
kcal
|
Carbohydrates:
4
g
|
Protein:
25
g
|
Fat:
10
g
|
Saturated Fat:
2
g
|
Cholesterol:
73
mg
|
Sodium:
427
mg
|
Potassium:
491
mg
|
Fiber:
1
g
|
Sugar:
1
g
|
Vitamin A:
324
IU
|
Vitamin C:
16
mg
|
Calcium:
21
mg
|
Iron:
1
mg