Classic Falafel recipe made with dried chickpeas and tahini, this traditional falafel is exactly what you'd have at your favorite Middle Eastern restaurant. No canned chickpeas, so no mushy texture!

Easy Falafel Recipe
A classic Falafel recipe is not a quick recipe to make, but it couldn't be much simpler. The length of time is 99% the soaking of the beans. Working with dried garbanzo beans is the magic ingredient to a great falafel recipe. It will make falafel that tastes like the ones from your favorite restaurant.
falafel ingredients
Falafel is made of chickpeas, tahini, parsley, onion, flour, and spices. Once formed into balls (I used a meatballer for volume of falafel balls in a hurry) they are fried until they are crisp on the outside while being fluffy on the inside.
Is Falafel vegan?
YES, we don't have too many vegan recipes on the site, but this falafel recipe is naturally vegan. Some falafel recipes will include eggs, but this falafel recipe binds well together thanks in part to the resting period.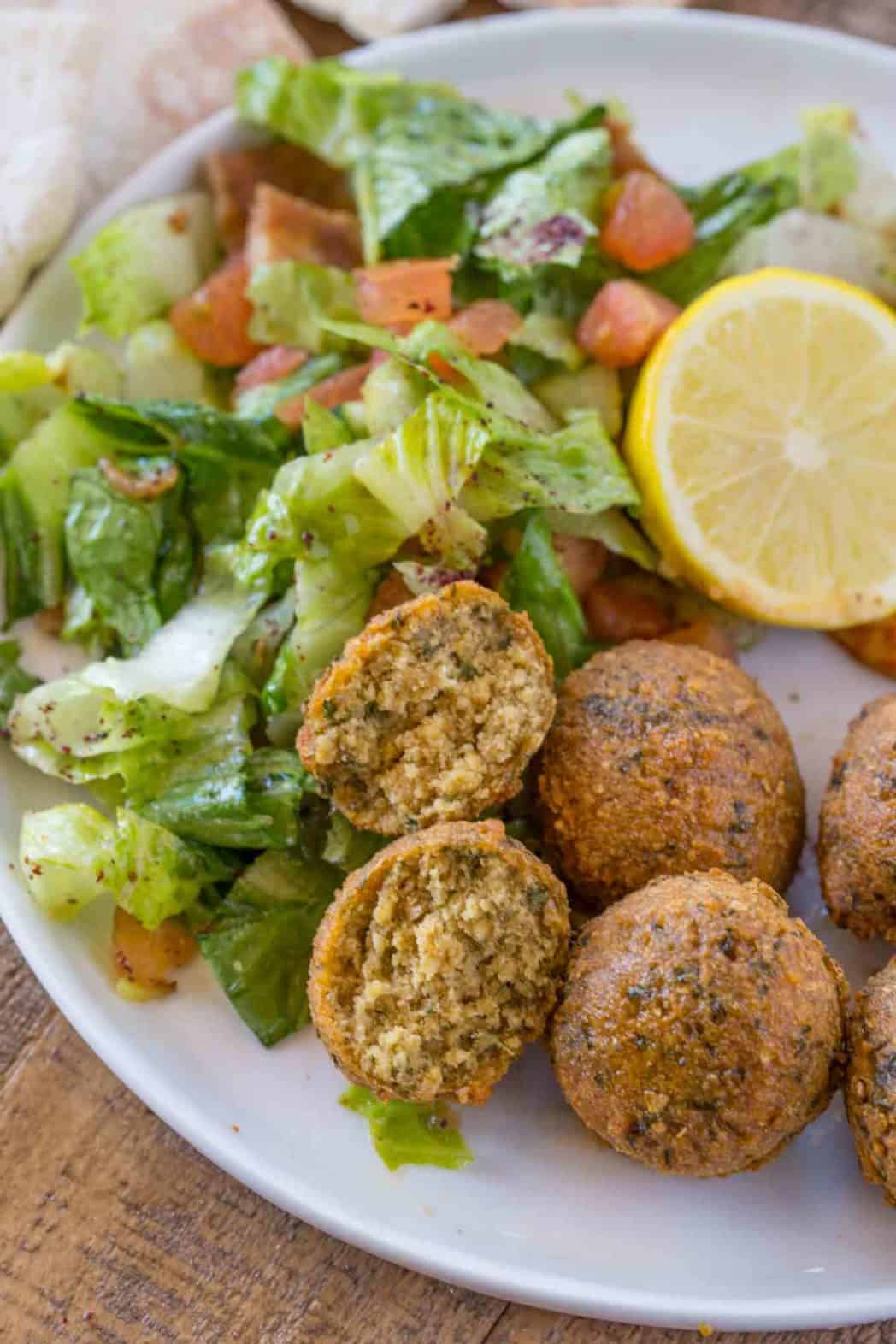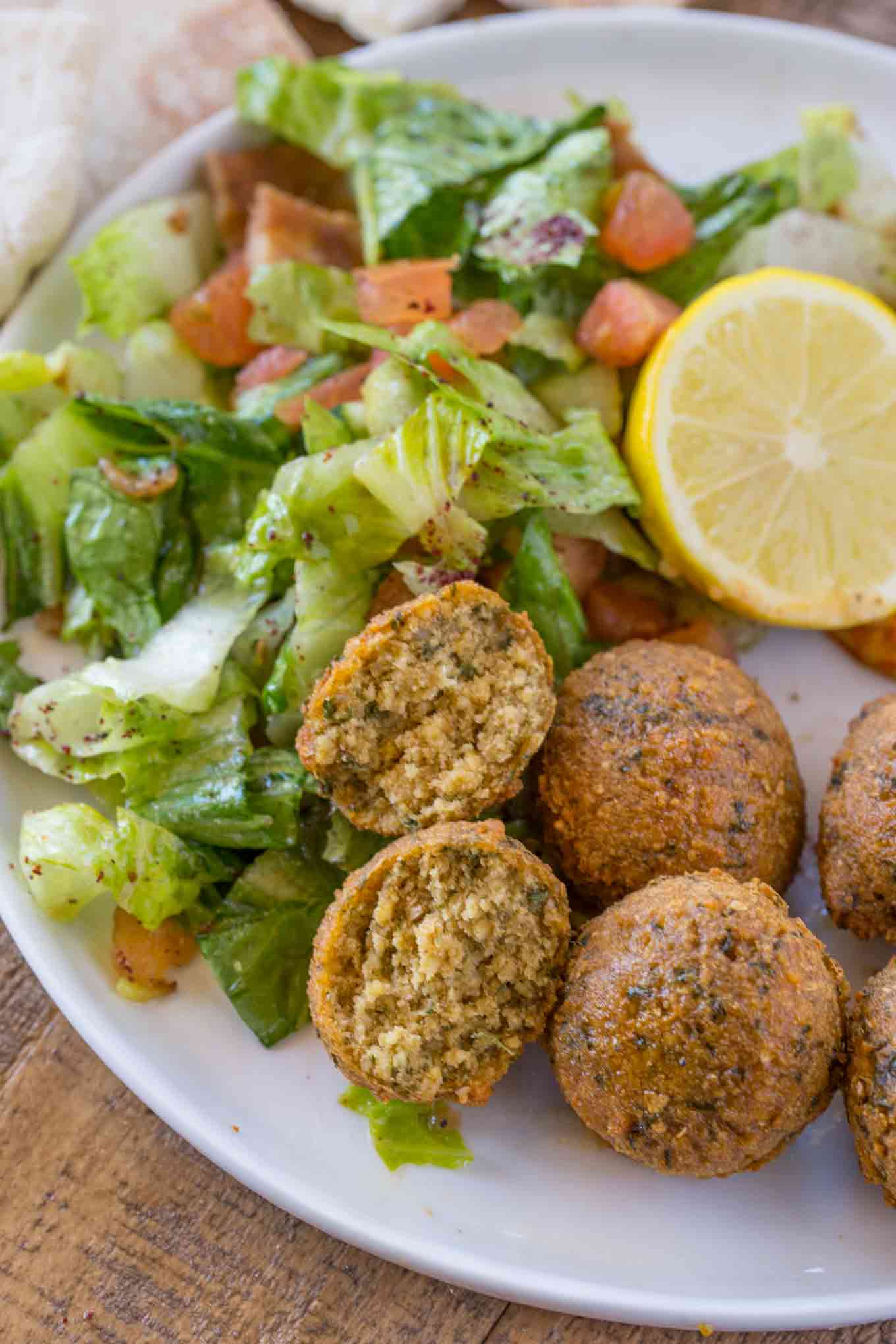 Canned Beans and this Falafel Recipe
But then there's the skipping the canned beans (this makes mushy falafel). Yes, I know what you are thinking, "I don't have time for this!" but like my favorite Jacques Torres Chocolate Chip Cookies with the 36 hour resting period, you get what you put into these delicious Classic Falafel balls.
I'm going to be honest with you here, I make this recipe maybe 50% of the time I make falafel. I know, I know I just told you how amazing they are right? But sometimes I can't help getting a craving for falafel for dinner…tonight. I've found the best quick falafel recipe to be from AllRecipes. I do make adjustments (I'll post this version soon), but even as written it is still better than your local takeout spot.
How to make Falafel your way
There are also a number of variations you can make to your falafel recipe to have it more suited to your tastes:
Add extra parsley to the mix to give it a fresher, herbier taste (I use about one bunch of parsley total for the whole recipe to do this)
Add a mixture of peas or fava beans with the chickpeas. Whatever you add in of those beans, subtract from the recipe.
Make it say "HELLOOOOO GARLIC!!" and double the garlic in this falafel recipe – this one is a family favorite.
What to serve Falafel with
Don't forget to serve this Classic Falafel recipe with Pickled Turnips and Classic Hummus for a perfect Falafel pita sandwich!
And if you want to make this Classic Falafel into the best sandwich or wrap…ever. And I do mean ever people…. make Zankou Chicken Garlic Paste recipe to go with it. It's magical. And it pretty much has a cult following in Los Angeles.
Serve Falafel with a Sauce
This Classic Falafel recipe is a great vegetarian option that meat eaters won't balk at! Give it a try and make sure to make the additional sides for it, the falafel does need some moisture to be added to it in serving, that's why you'll frequently serve it with tahini, hummus or other sauces.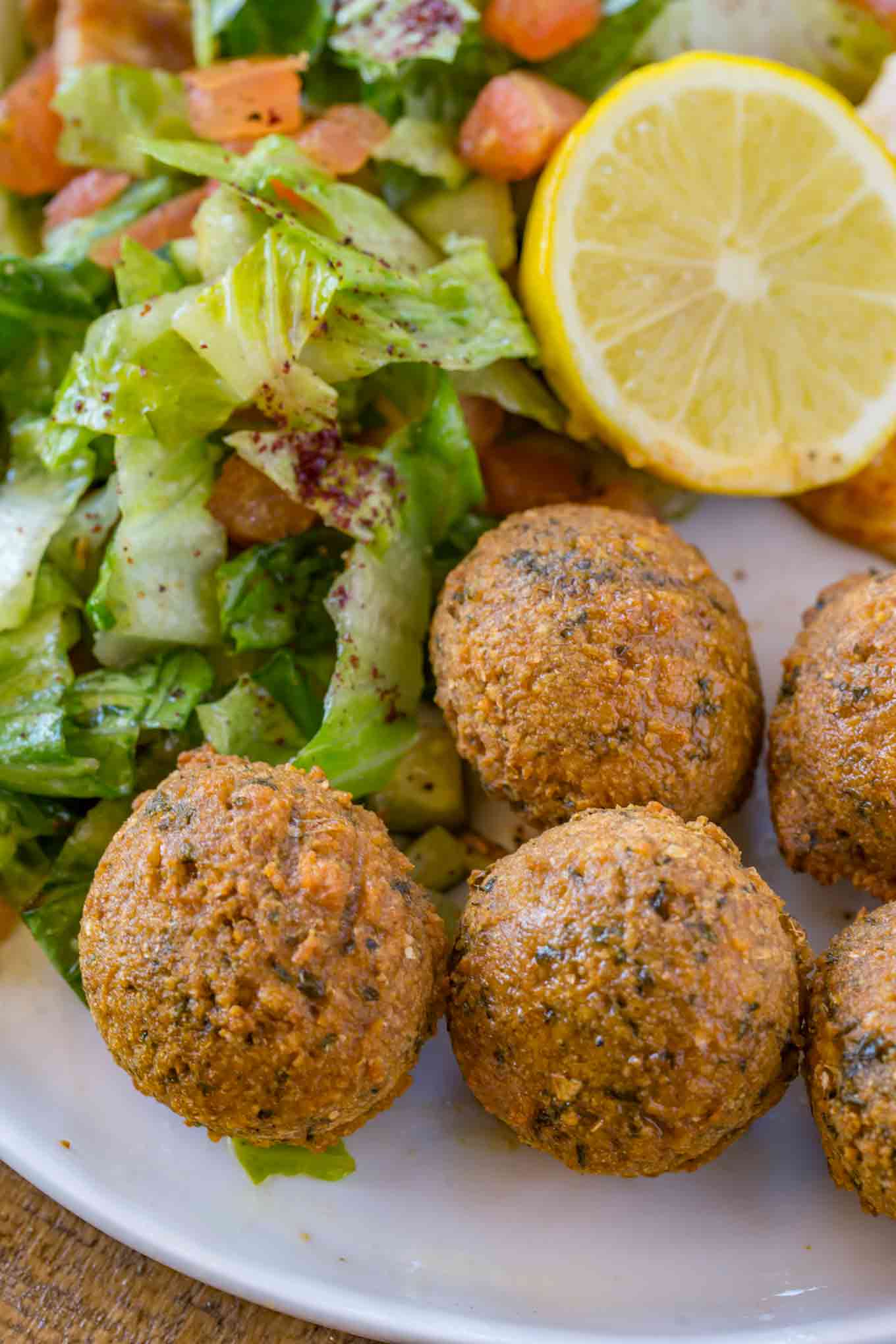 Tools used in this Falafel recipe:
Meatballer: Yes, you can totally use your one tablespoon measure twice, but I love this scoop for so many things, including cookies! It just makes everything go so much faster.
Hamilton Beach Food Processor: I know they make a newer one, and there are many fancier ones, but this this workhorse has been going for almost 10 years!
Lodge Cast Iron Skillet: My favorite pan (even though I own almost 20 pieces from All-Clad that I love!) it has a permanent spot on my stovetop because I use it almost daily (and it is heavy!).


Ingredients
2

cups

dry chickpeas (garbanzo beans)

3/4

cup

yellow onion

chopped (just under one onion)

1/4

cup

fresh parsley

chopped

2

tablespoons

garlic

minced

2

tablespoons

flour

2

teaspoons

kosher salt

1

tablespoon

cumin

2

teaspoons

ground coriander

1

teaspoon

cardamom

1/4

teaspoon

black pepper

1/4

teaspoon

cayenne pepper

vegetable oil

(for frying)
To Finish:
4

pita bread rounds

, cut in half

1

cup

hummus

1

cup

lettuce

, thinly sliced

1

tomato

, chopped

1/2

cup

pickled turnips
Instructions
Add the garbanzo beans into a large bowl and soak in water overnight (the water should be a couple inches higher than the beans, so the beans plump up).

Rinse the beans and add them to a food processor with chopped onion, minced garlic, parsley, flour, salt, cumin, ground coriander, black pepper, cayenne pepper, and cardamom.

Process the ingredients together until it looks like a coarse paste, like a super chunky peanut butter.

Be sparing with how long you process it, the chickpeas should still be visible in small chunks.

Put the mixture into a bowl and refrigerate for a couple of

hours

.

Make the paste into small balls, rolling them in your hand.

If your falafel batter is too loose to stay in a ball you can add a few more tablespoons of flour.

Make the falafel balls with 2 tablespoons of the mixture.

In a large cast iron (or other good frying skillet) add a couple of inches of oil.

Heat the oil on medium heat and cook for

2-3 minutes

on each side.
To Finish:
Cut the pita breads in half and open the pockets.

Spread with hummus, top with lettuce add in falafel broken in half.

Top with tomatoes and pickled turnips and serve immediately.
Nutrition
Calories:
35
kcal
|
Carbohydrates:
6
g
|
Protein:
1
g
|
Sodium:
235
mg
|
Potassium:
69
mg
|
Fiber:
1
g
|
Sugar:
1
g
|
Vitamin A:
80
IU
|
Vitamin C:
2
mg
|
Calcium:
15
mg
|
Iron:
0.8
mg