Roasted Butternut Squash is the perfet side dish recipe for the holidays because it's super easy to throw together and ready in only 30 minutes!
If you've tried Roasted Green Beans, Crispy Roasted Cauliflower, and Roasted Broccoli, you know oven roasting is one of the easiest and tastiest ways to make a healthy side dish that wows. This holiday season, treat your family to the best Roasted Butternut Squash recipe that will take you no time at all.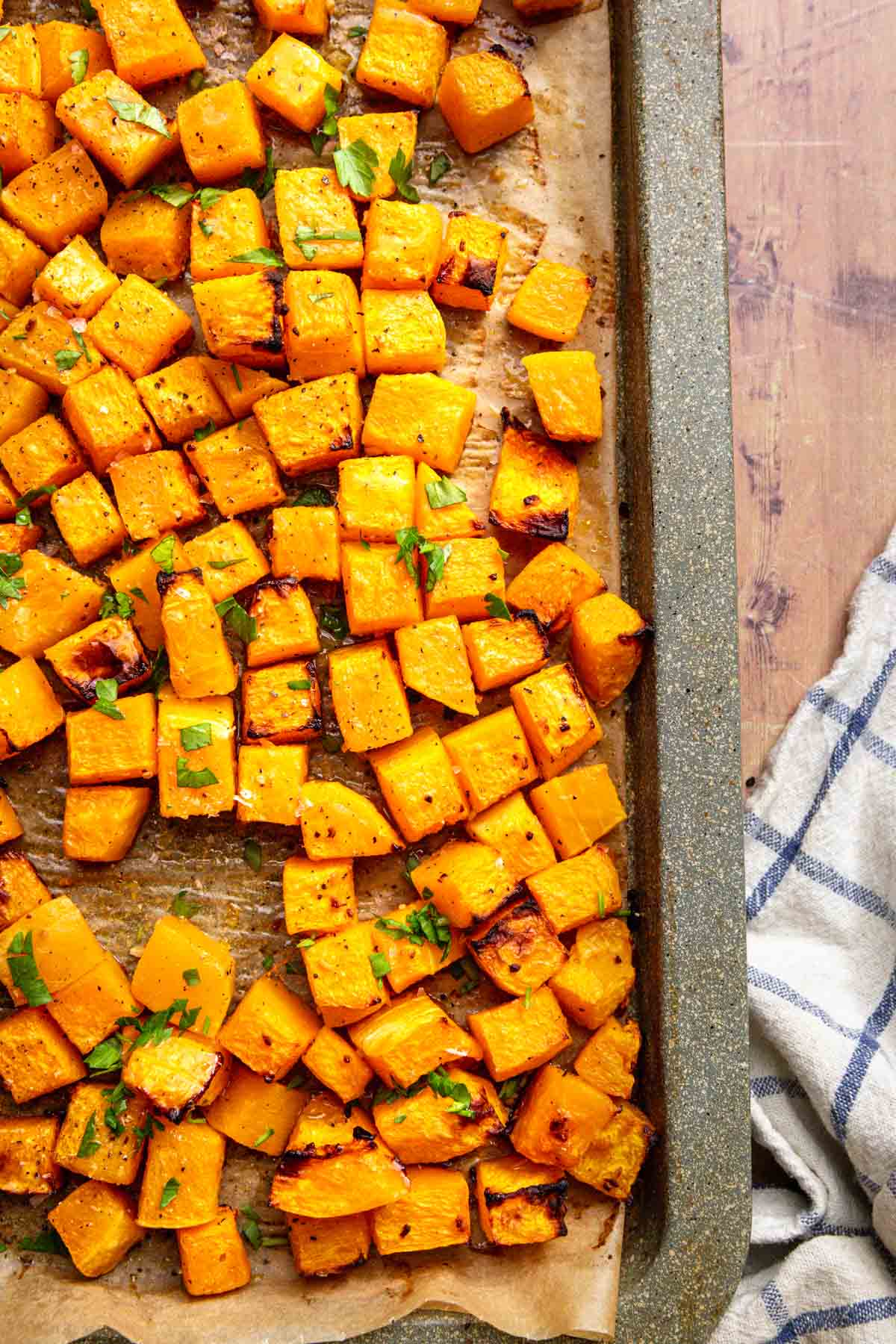 Roasted Butternut Squash is one of my all-time favorite side dishes to make. Squash is super versatile because you can use it in other recipes, or enjoy it all by itself.
It's perfect for cold fall nights or family gatherings when you want something to keep you feeling full and warm you up. Roasted Butternut Squash isn't just a cold weather side dish though. Like Roasted Root Vegetables, you can dress it up or down for any occasion.
You can use butternut squash to make soup, pies, sautés, salads, and stir fry. You can also roast the halves, stuff them with ground meat and spices, and serve them whole as a decorative holiday dish.
Super versatile, and flavorful, I love to add Roasted Butternut Squash to dishes like Brown Sugar Garlic Pork, Rainbow Roasted Vegetables, or Vegetable Beef Stew when I want a change from potatoes or carrots.
Easy Main Dishes to Serve with Roasted Butternut Squash
How to Make Roasted Butternut Squash
Prep: Preheat oven to 400 degrees.
Season: Toss the squash with the oil, garlic, salt, and pepper.
Bake: Place onto a baking sheet and bake for 28-30 minutes.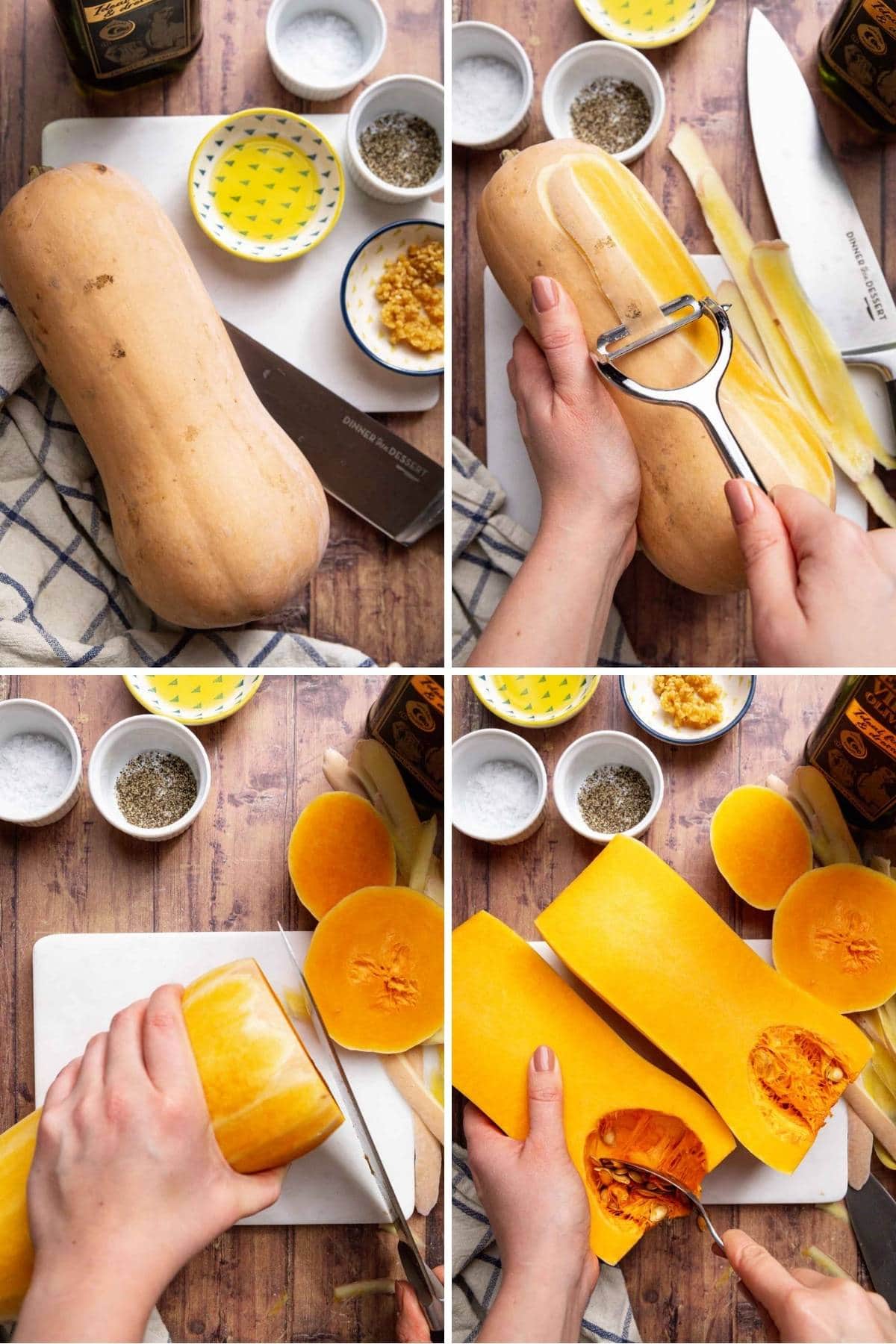 Create a free account to

Save Recipes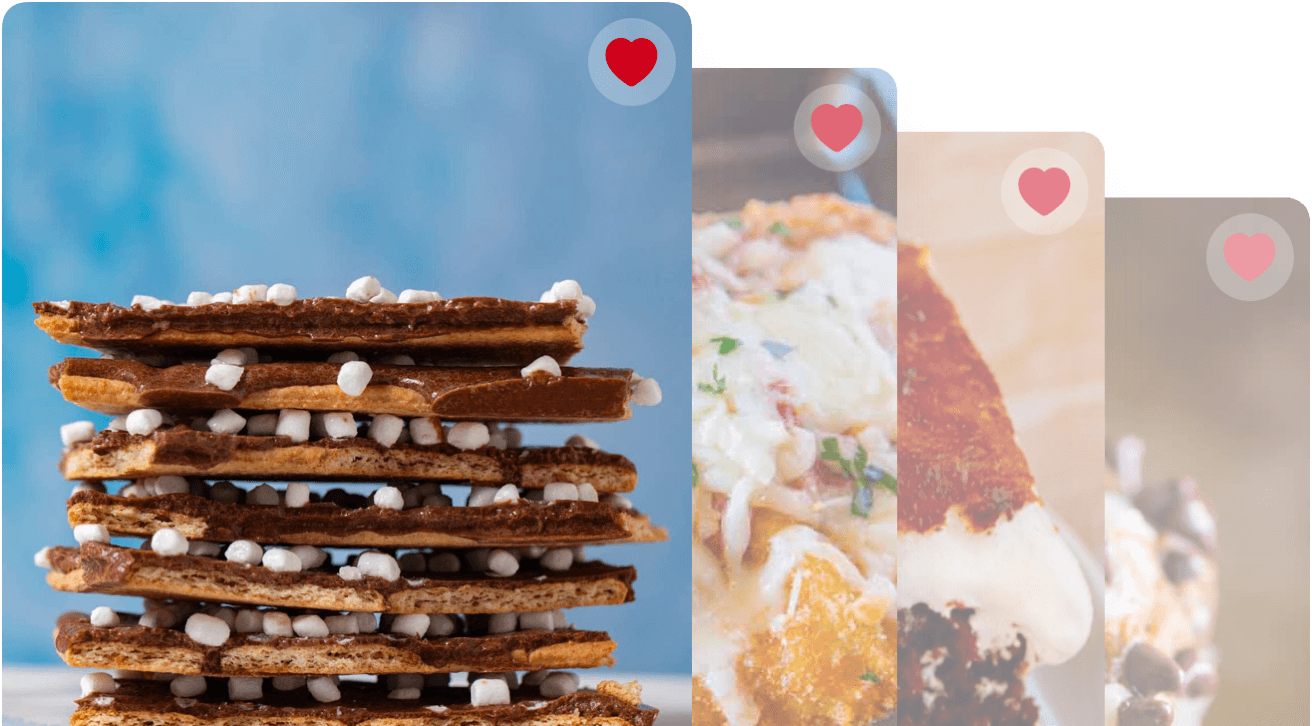 Variations on Roasted Butternut Squash
Sweet: Try Roasted Butternut Squash with brown sugar for a bit of sweetness to take the place of Thanksgiving yams. Honey, or maple syrup drizzled over the top will also make a delicious pairing.
Savory: If you are looking for a more savory, fall flavor try Roasted Butternut Squash with cinnamon and maybe even nutmeg sprinkled on top.
Soup: Throw your squash into a pot with a few cups of vegetable broth and seasonings, and blend into a creamy Roasted Butternut Squash soup. Serve with some Homemade Dinner Rolls for an easy fall dinner.
Salad: Try warm, Roasted Butternut Squash tossed in a delicious salad, coated in a sweet and tangy vinaigrette. It will make a filling meal, and add some wonderful flavor and texture to any salad.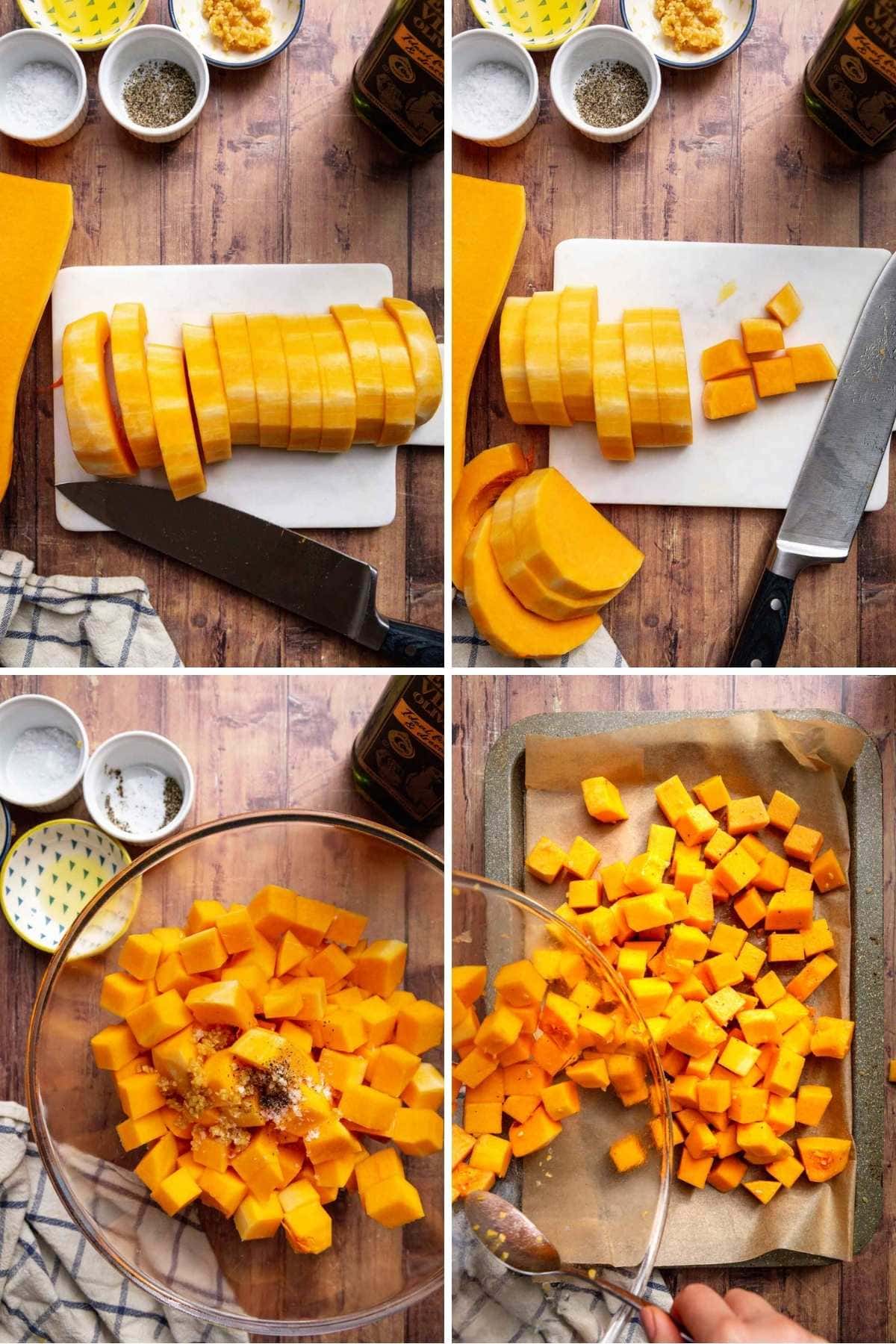 What to Pair with Roasted Butternut Squash
Roasted Butternut Squash is a great side dish for meats like pork or chicken. Serve Roasted Butternut squash with dishes like:
FAQs About Roasted Butternut Squash
Can you ear the skin of a Roasted Butternut Squash?
Technically you can eat butternut squash skin, but it's not very pleasant to eat, no matter how you cook it. The texture is chewy and tough. Squash skin won't harm you, but I wouldn't recommend it from a culinary standpoint.
Is Butternut Squash healthy?
Butternut squash is not only tasty, it is also super good for you! Packed with Vitamin A, fiber, potassium, and magnesium, butternut squash is also gluten-free, sodium-free, and low calorie.
How can you roast Butternut Squash with no oil?
Place your squash cubes in a single layer in a large baking dish with 1/4-½ cup vegetable broth on the bottom of the pan. Season and roast until golden brown.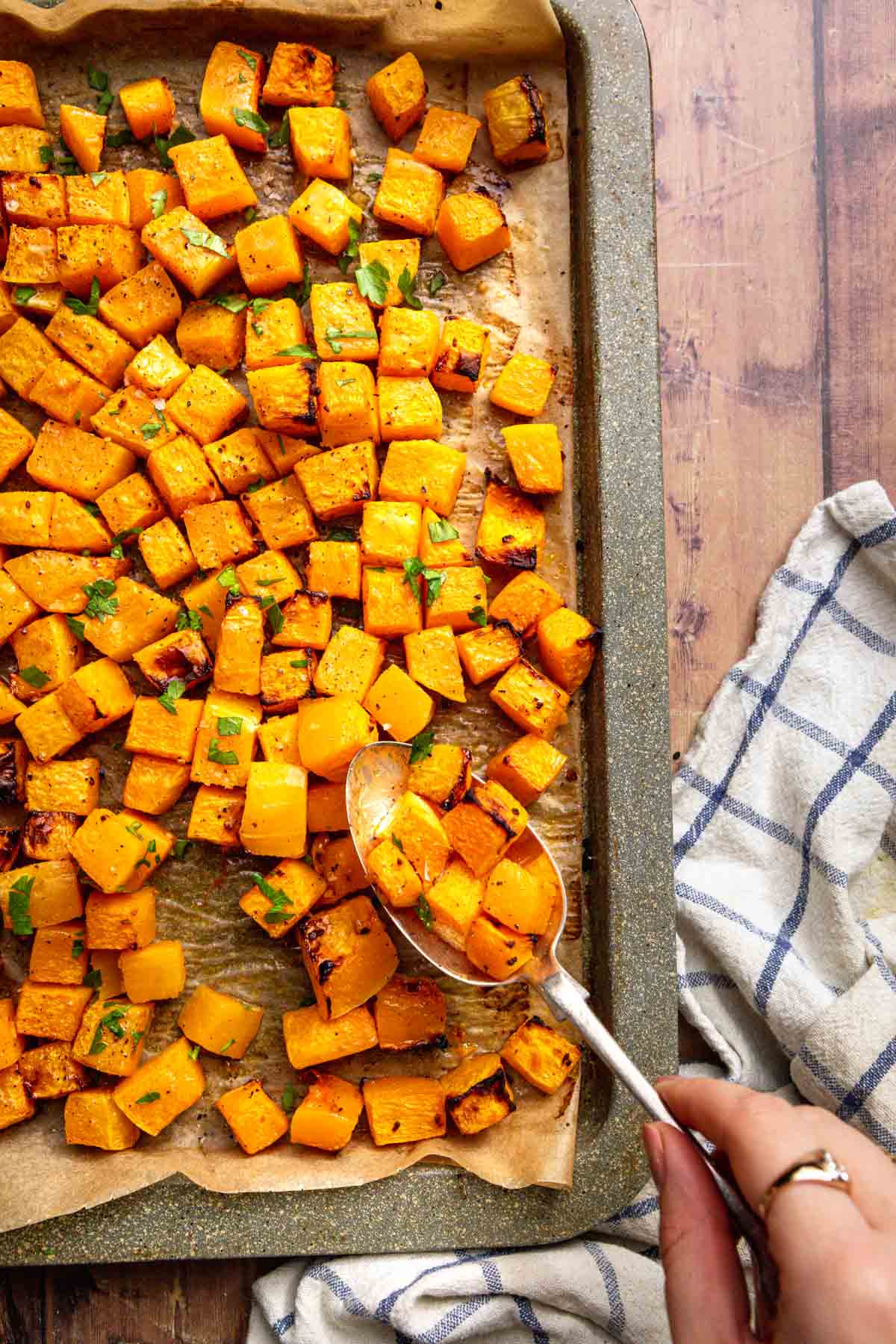 Can Roasted Butternut Squash be made ahead?
You can peel and cube your Butternut Squash ahead of time as a part of your meal prep to make dinner that much easier. Just store it in an airtight container in the refrigerator over night to keep it fresh. Take it out when you're ready to season and roast it.
How to Cut Butternut Squash for Roasting
The easiest way to cube a butternut squash is to cut the stem off of the end. Then microwave the squash for 3-4 minutes, until it's just soft. Then you should be able to use a peeler easily and cut the squash into cubes, making sure to discard the seeds and skin.
Other Holiday Side Dishes
Tips for Making Roasted Butternut Squash
Pre-cut: You can usually find cubed butternut squash already cut up in the produce section or freezer of your grocery store. That will make things even faster and easier for you come dinner time.
Cut in Half: If you're roasting the squash for another recipe, try cutting the butternut squash in half instead of cubing the entire thing. It will be soft enough to puree when it's done and keep that great roasted flavor.
Fast Cleanup: Line your baking sheet with parchment paper for easier cleanup. At the end of a long day, you'll be glad you did.
Food Allergies: This butternut squash recipe is naturally gluten free and dairy free if you're cooking for someone with allergies.
Storing Roasted Butternut Squash
Serve: You shouldn't leave Roasted Butternut Squash out at room temperature for longer than 2 hours.
Store: You can store Roasted Butternut Squash in the fridge for up to a week in a sealed container.
Freeze: You can freeze your Roasted Butternut Squash for up to 3 months. Always allow the squash to completely cool down to room temperature before freezing.


Ingredients
1

butternut squash

2

tablespoons

olive oil

2

cloves

garlic

, minced

1

teaspoon

kosher salt

1/4

teaspoon

coarse ground black pepper
Instructions
Preheat oven to 400 degrees.

Peel and de-seed the butternut squash, then cut into 1" cubes.

Toss the squash with the oil, garlic, salt, and pepper.

Place onto baking sheet and bake for

28-30 minutes

.
Notes
Note: click on times in the instructions to start a kitchen timer while cooking.
Nutrition
Calories:
149
kcal
|
Carbohydrates:
22
g
|
Protein:
2
g
|
Fat:
7
g
|
Saturated Fat:
1
g
|
Polyunsaturated Fat:
1
g
|
Monounsaturated Fat:
5
g
|
Sodium:
589
mg
|
Potassium:
668
mg
|
Fiber:
4
g
|
Sugar:
4
g
|
Vitamin A:
19932
IU
|
Vitamin C:
40
mg
|
Calcium:
94
mg
|
Iron:
1
mg