jump to recipe
Slow Cooker Creamy Lemon Chicken
This post may contain affiliate links. Read my disclosure policy here.
Slow Cooker Creamy Lemon Chicken with butter, garlic and lemon coating tender chicken breasts in a creamy sauce. Even great as a pasta topping!
Slow Cooker Creamy Lemon Chicken
Slow Cooker Creamy Lemon Chicken bucks the general rule of thumb I live by with slow cooker chicken recipes. I almost NEVER add chicken breast to a slow cooker. My Slow Cooker Thai Peanut Chicken is one of the only exceptions on the site along with Slow Cooker Indian Butter Chicken.
This recipe uses chicken breast meat but it would be completely amazing and delicious with chicken thighs. The reason I avoided chicken thighs in this dish was I didn't want all the extra fat to render because the sauce would've been too greasy.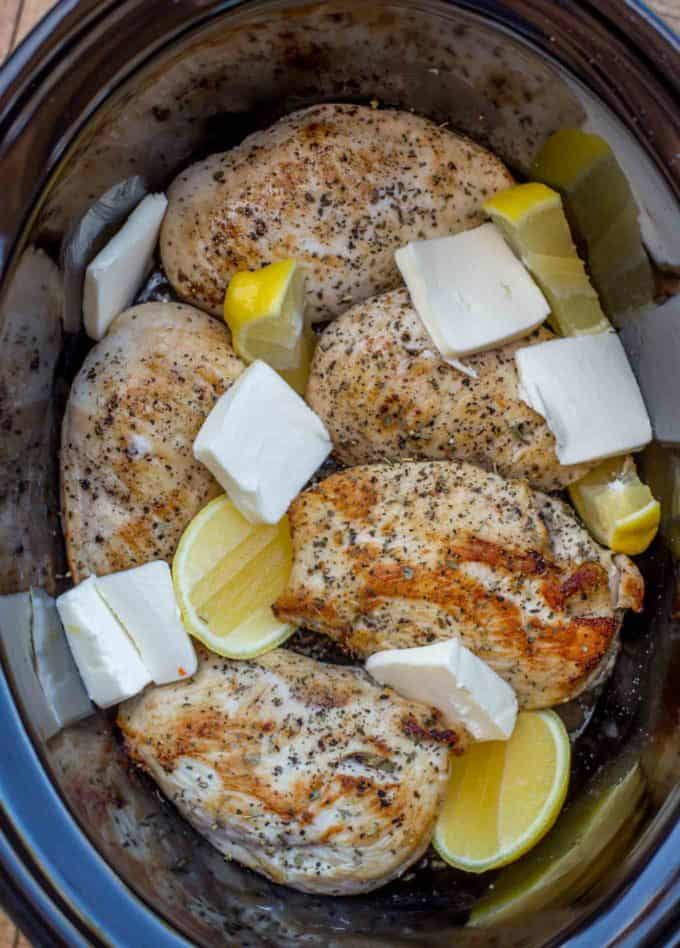 I also wanted to note that even though you see the lemon wedges in the slow cooker before pic, you only use the zest and the juice in the recipe. I just loved how pretty it looked.
Don't worry, I've lowered the cook time to account for the use of breast meat. And if you want to make this Creamy Lemon Parmesan Chicken instead, add in 1/2 cup shaved Parmesan cheese. Note: shaved Parmesan cheese is different than shredded or grated.
Some ways to use this Slow Cooker Creamy Lemon Chicken in other recipes:
MY OTHER RECIPES
Cut it up and add cooked pasta to the slow cooker to make a creamy lemon pasta.
Chop the chicken and add to the top of a baked potato with some of the sauce spooned over it.
If you have leftovers you can use the chicken in salads, it is full of flavor.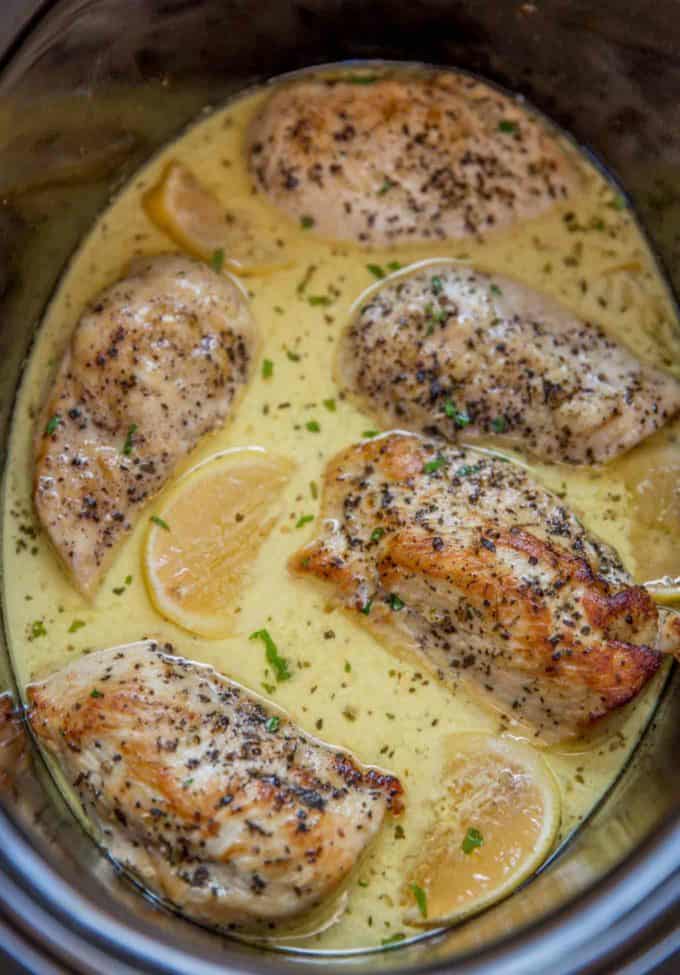 Looking for more slow cooker chicken recipes?
Tools used in the making of this Slow Cooker Creamy Lemon Chicken recipe:
Cast Iron Skillet: If you don't have a slow cooker with a stovetop friendly insert, this is my most used pan in my kitchen, heavy, keeps heat well and gives the BEST sear ever.
Slow Cooker: This recipe was made in this slow cooker. For larger roasts I also brown the meat in the insert and not lose a bunch of the flavor by transferring the meat and leaving the browned bits behind. If you're thinking of a new slow cooker, consider it if your budget is open.
Pig Tail Flipper: I use this to flip the chicken breasts easily. I use this tool EVERY time I cook something that requires flipping, it is amazing.
Chicken Base: I almost never buy boxes of broth because I keep the beef, chicken and vegetable version of this Better Than Bouillon.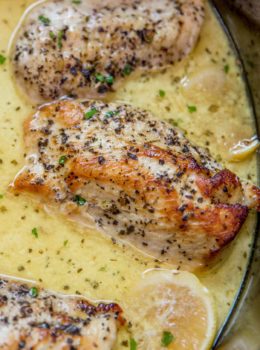 Slow Cooker Creamy Lemon Chicken
Slow Cooker Creamy Lemon Chicken with butter, garlic and lemon coating tender chicken breasts in a creamy sauce. Even great as a pasta topping!
Ingredients:
5 chicken breasts, boneless and skinless
6 tablespoons unsalted butter, divided
1/2 teaspoon seasoned salt
1/4 teaspoon coarse ground black pepper
1 teaspoon Italian seasoning
2 lemons, juiced and zested
2 garlic cloves, minced
1 cup half and half
1 tablespoon cornstarch
1 tablespoon chicken base (optional, but delicious!)
Directions:
In a large cast iron skillet add 1 tablespoon of butter to melt on medium high heat.
Add the kosher salt, black pepper and Italian seasoning to the chicken and add it to the pan.
Cook on each side for 4-6 minutes.
Add the chicken to your slow cooker.
Cover with lemon juice, lemon zest, garlic and the rest of the butter in pieces (I added the lemons in the before picture just for reference. Don't cook the lemons in the slow cooker).
Cook on low for 4 hours or on high for 2 hours.
In a large measuring cup add the half and half, cornstarch and chicken base and whisk well.
Add the liquid, mix, and cook an additional hour on high.
Nutrition Information
Yield: 5 servings, Serving Size: 1 chicken breast, 1/5th of the sauce
Amount Per Serving:
Calories: 532 Calories
All images and text ©
Made this recipe?
Show me what you made on Instagram or Facebook and tag me at @DinnerthenDessert or hashtag it at #dinnerthendessert.
Dinner, then Dessert, Inc. owns the copyright on all images and text and does not allow for its original recipes and pictures to be reproduced anywhere other than at this site unless authorization is given. If you enjoyed the recipe and would like to publish it on your own site, please re-write it in your own words, and link back to my site and recipe page. Read my disclosure and copyright policy. This post may contain affiliate links.