Slow Cooker Teriyaki Chicken
This post may contain affiliate links. Read my disclosure policy here.
Slow Cooker Teriyaki Chicken made with a handful of ingredients has amazing flavors of ginger, garlic that will make your kitchen smell amazing.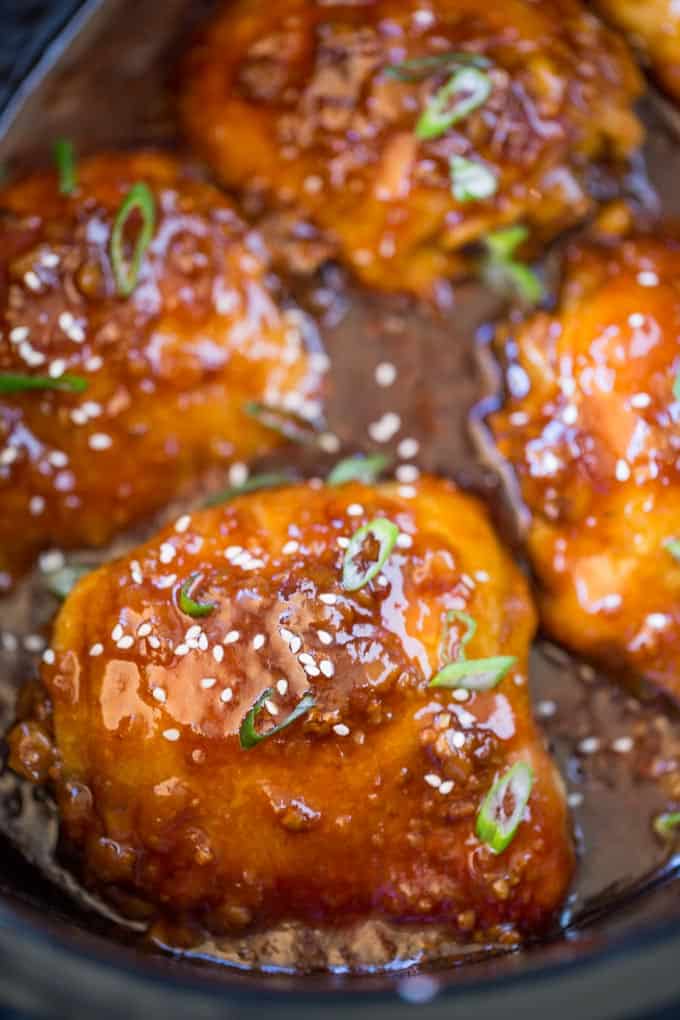 Slow Cooker Teriyaki Chicken is an easy weeknight meal you'll love, but the best part is the leftovers are amazing for lunches! Teriyaki chicken is one of our favorite dishes to order when we go out to eat, so having a quick version to make at home saves us a ton of money.
Slow cooker recipes are in regular rotation in our house because of their ease and flavors. We are running around all day long and by the time everyone is home from school and settled in I simply don't want to be cooking dinner for a long time. When we make these slow cooker chicken meals I normally just set the rice cooker to make white or brown rice and I either steam or roast some broccoli and carrots to go with the meal.
One fun thing I do sometimes with vegetables is if I make the marinade, I may siphon off a couple of tablespoons of it and use it for my vegetables. So in this case I would add all the ingredients except the chicken to the slow cooker. Then I would take a couple tablespoons of it and add a tablespoon or two of canola oil to a bowl. Tossing the vegetables in that mixture before roasting them (375 degrees for 20-25 minutes) adds an awesome flavor.
So this meal ends up being almost completely hands off, the slow cooker cooks the chicken, my rice cooker makes the rice and the vegetables would go in the oven. The meal is completely hands off, no standing at the stove top.
Slow Cooker Teriyaki Chicken is really as easy as dumping the ingredients into the slow cooker but I do want to go over a few things about this recipe: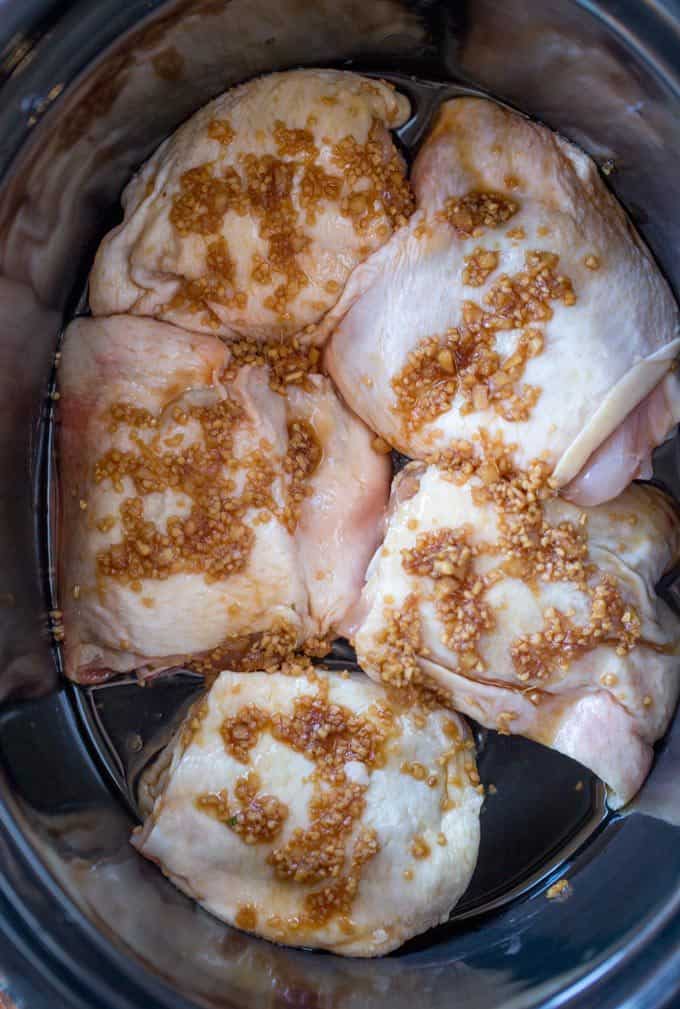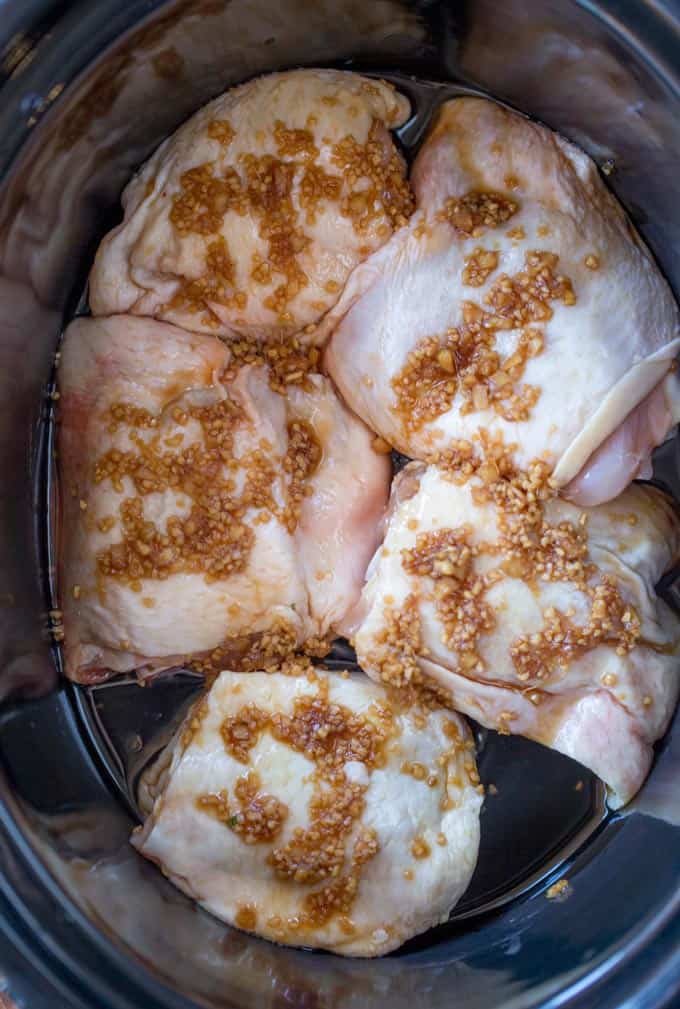 Because there are such a small number of ingredients the quality of the ingredients really matters. I wouldn't substitute fresh garlic and ginger for powdered. Stay away from inexpensive soy sauces.
Try to source mirin and sake if at all possible, I know it can be frustrating to buy ingredients you don't normally work with but this dish really will become a staple in your home and
If your chicken thighs have a large amount of fat on them, you can trim them do that the fat that's left can render and leave a thinner skin you'll want to eat. Too much fat may not render meaning you'll end up discarding the skin.
I always use low sodium soy sauce as the sodium content in regular so sauce is so high, and in cases in the slow cooker where the soy sauce will intensify in flavor and have a lot of time to cook into the meat, regular soy sauce would be too salty.
If you have leftovers, you can strain off the fat in the sauce and toss it with any leftover chicken to be used in an easy lunch bowl with rice and steamed vegetables.
Looking for more slow cooker Chicken Recipes?
MY OTHER RECIPES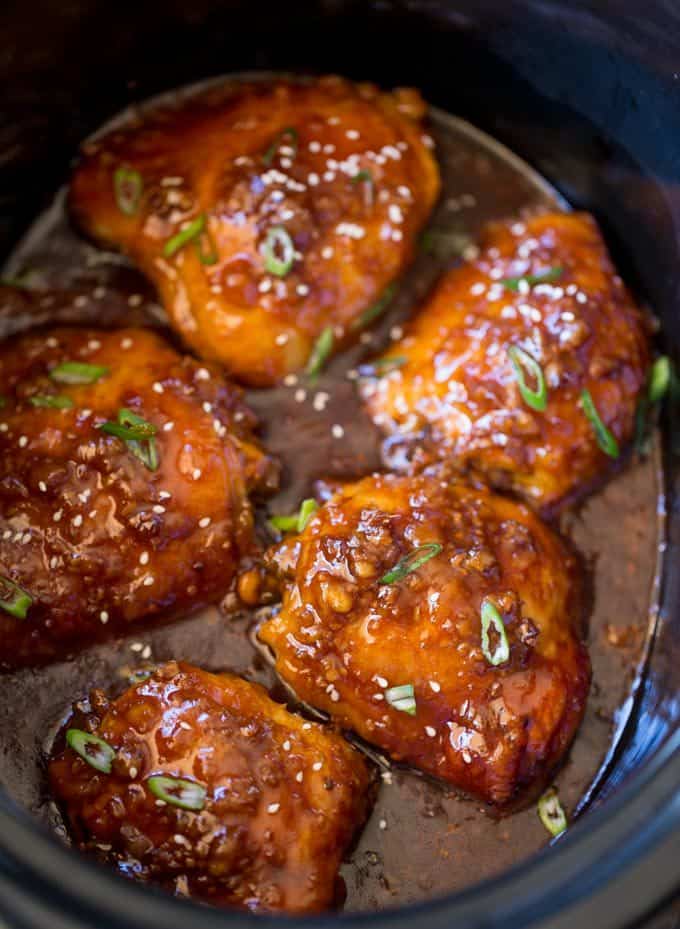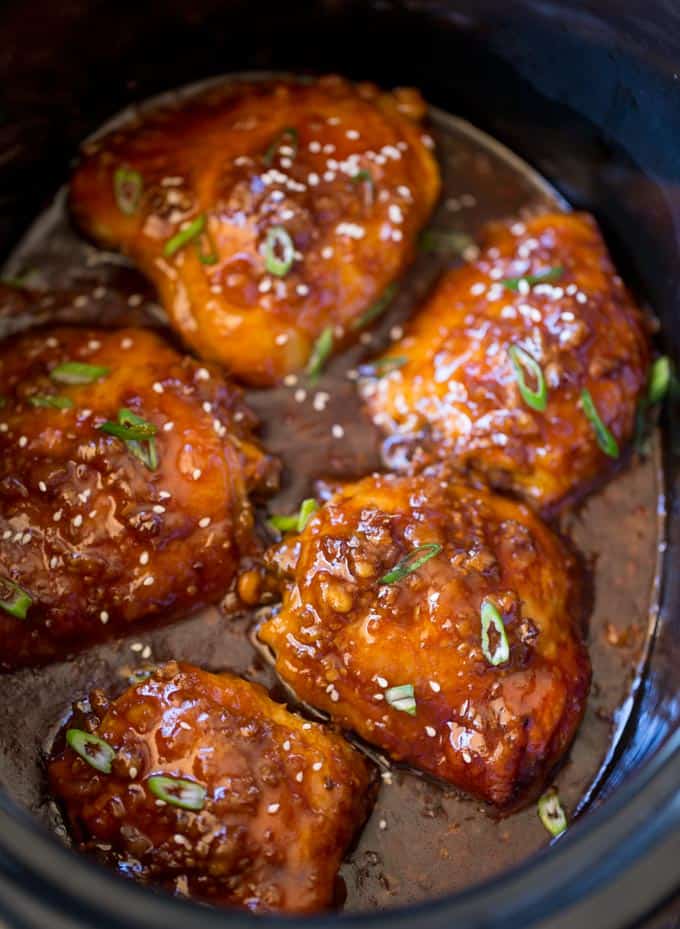 Tools Used in the making of this Slow Cooker Chicken Teriyaki:
Sake: If you absolutely can't get your hands on this sake (or really just don't want to order through Amazon) you can substitute white wine, but I would highly recommend not making the substitution as the flavors of sake add a signature flavor to the teriyaki.
Low Sodium Soy Sauce – I find regular soy sauce much too salty, remember you can always add salt but you can't subtract it. Starting with low sodium allows you to alter to your tastes if necessary.
Mirin: This is the most prominent flavor in the chicken teriyaki, I would not suggest making the recipe without it. Most Asian grocery stores will carry it for 2-3 dollars, so check local stores if you have one.
Slow Cooker: Love this slow cooker and how programmable it is, it has been a workhorse for me… until…
My New Slow Cooker: This recipe was made in this slow cooker. For larger roasts I also brown the meat in the insert and not lose a bunch of the flavor by transferring the meat and leaving the browned bits behind. If you're thinking of a new slow cooker, consider it if your budget is open.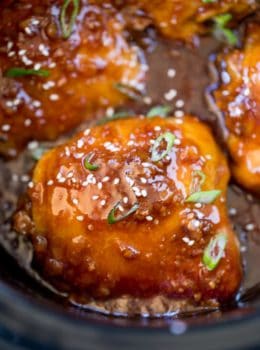 Slow Cooker Teriyaki Chicken
Slow Cooker Teriyaki Chicken made with a handful of ingredients has amazing flavors of ginger, garlic that will make your kitchen smell amazing.
Prep Time 5 minutes
Cook Time 4 hours
Total Time 4 hours 5 minutes
Ingredients
6 chicken thighs bone in and skin on
1/4 cup sake
1/4 cup sugar
1/2 cup mirin
1/2 cup lite soy sauce
2 tablespoons garlic minced
1 tablespoon ginger minced
green onions and sesame seeds for garnish, optional
Instructions
Add all the ingredients into a 6 quart slow cooker and arrange the chicken skin side up.

Cook on high for 4-5 hours or on low for 7-8 hours.

Garnish with sliced green onions and sesame seeds if desired.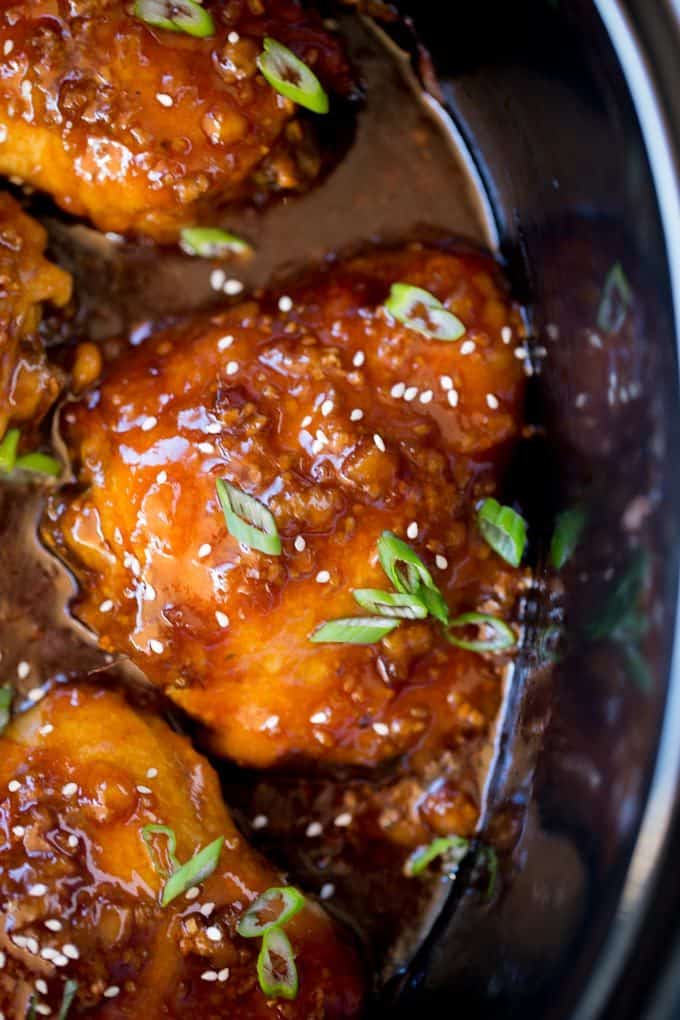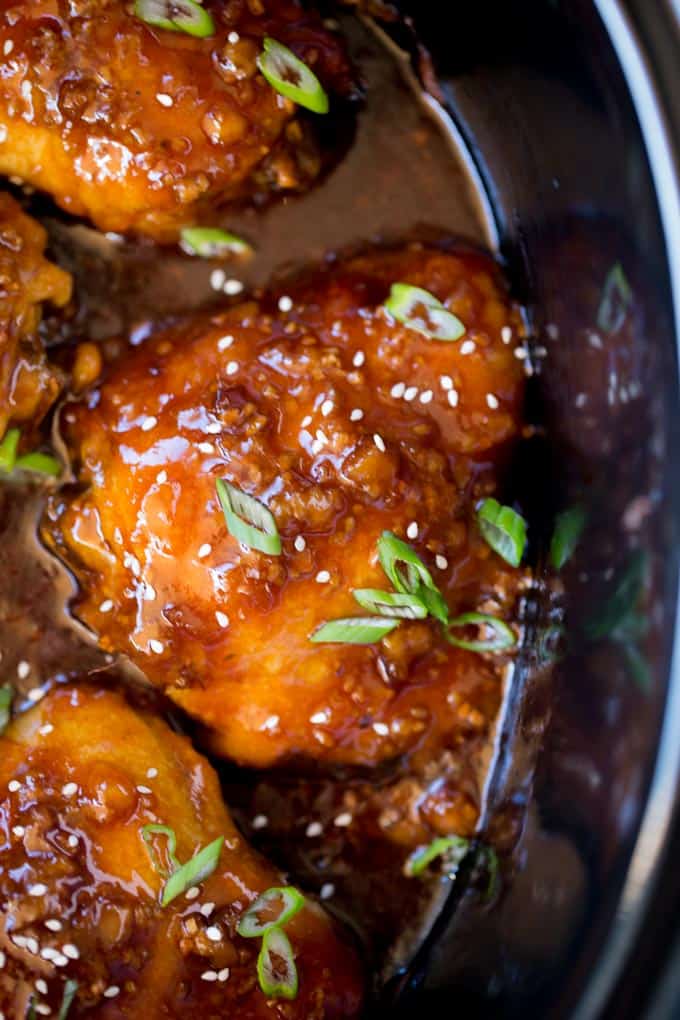 Dinner, then Dessert, Inc. owns the copyright on all images and text and does not allow for its original recipes and pictures to be reproduced anywhere other than at this site unless authorization is given. If you enjoyed the recipe and would like to publish it on your own site, please re-write it in your own words, and link back to my site and recipe page. Read my disclosure and copyright policy. This post may contain affiliate links.