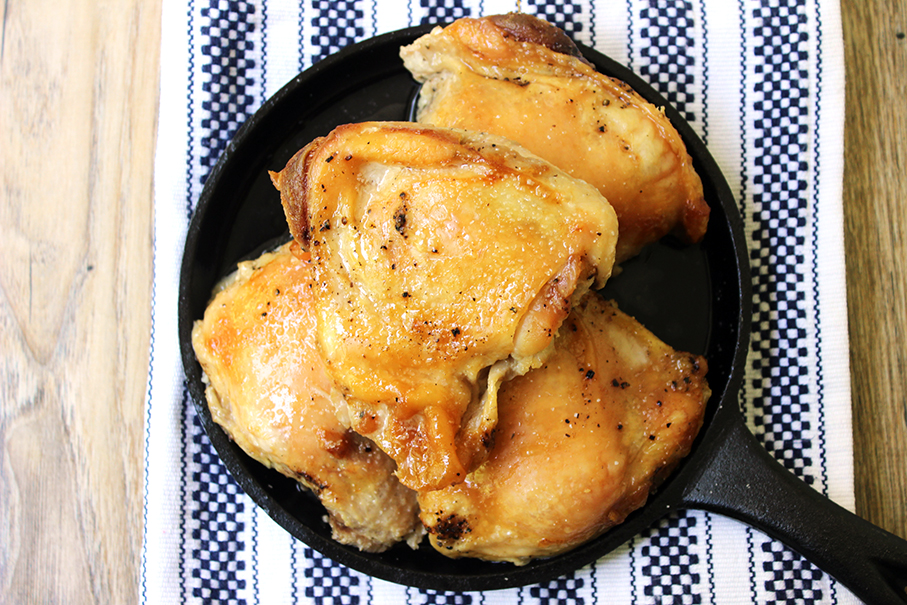 Crispy and juicy, the fat in the skin completely melts away leaving crispy chicken skin that will remind you of your favorite rotisserie chicken. Looking at the picture it would be easy to assume there is some trick to chicken that is golden brown and crispy, but still so moist! The secret? A slow cooker.
So Dinner, then Dessert is officially a month old as of this week and I've used this method for cooking chicken in two recipes already. Both times, Tony Roma's BBQ Chicken and Armenian Chicken Pita Tacos I mentioned my love for this method of cooking and both times the pictures were….well… not as enticing as they deserved to be and the focus was on the other ingredients in the dish rather than the chicken. This post is more a method than a recipe.
I love staying simple with Sunday posts, I get to share our staple food items, things that are in heavy rotation and usually always available no matter what. Just like oven baked brown rice this "recipe" is a constant in our fridge. It is one of the few things I can depend on my oldest eating without complaints.
Most people who use a slow cooker are well versed in the school of thought that says "ADD LIQUIDS!!" Well, welcome to the new world here. Two of my absolute favorite ways to use my slow cooker is this chicken and Hawaiia Luau Pork. Both recipes are 3 ingredients total and both have resulted in family members crowding around the slow cooker to pick pieces off before I can even put food on plates.
Please give this a chance, you are going to want to let your slow cooker take all the counter space it wants after you see how great these turn out.
Tools Used in the making of these Slow Cooker Brown Sugar Garlic Chicken Thighs:
Slow Cooker: Love this slow cooker and how programmable it is, it has been a workhorse for me… until…
My New Slow Cooker: For larger roasts I also brown the meat in the insert and not lose a bunch of the flavor by transferring the meat and leaving the browned bits behind. If you're thinking of a new slow cooker, consider it if your budget is open.


Ingredients
6-8

Chicken thighs

, skin and bone on! (however many you can layer in a single layer)

Kosher Salt

, to taste

Freshly crushed black pepper

, to taste
Instructions
Liberally season both sides of the chicken with salt and pepper

Put bone in, skin on chicken thighs in the slow cooker in a single layer, skin side up.

Do not add liquids of any kind.
Nutrition
Calories:
371
kcal
|
Protein:
27
g
|
Fat:
28
g
|
Saturated Fat:
7
g
|
Cholesterol:
166
mg
|
Sodium:
130
mg
|
Potassium:
347
mg
|
Vitamin A:
130
IU
|
Calcium:
14
mg
|
Iron:
1.1
mg
Don't be afraid to put chicken in the slow cooker with no additional liquid! Here is a shot of the chicken while still in the slowcooker. This chicken releases fat and juices into the slow cooker.  Make sure the skin side is up or it won't get crispy!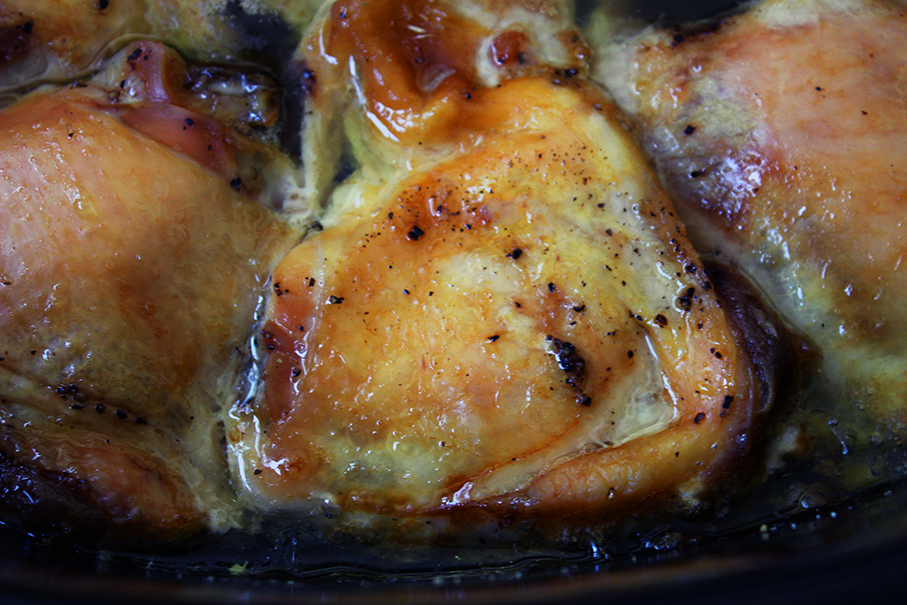 The chicken skin becomes translucent because all the fat has rendered off.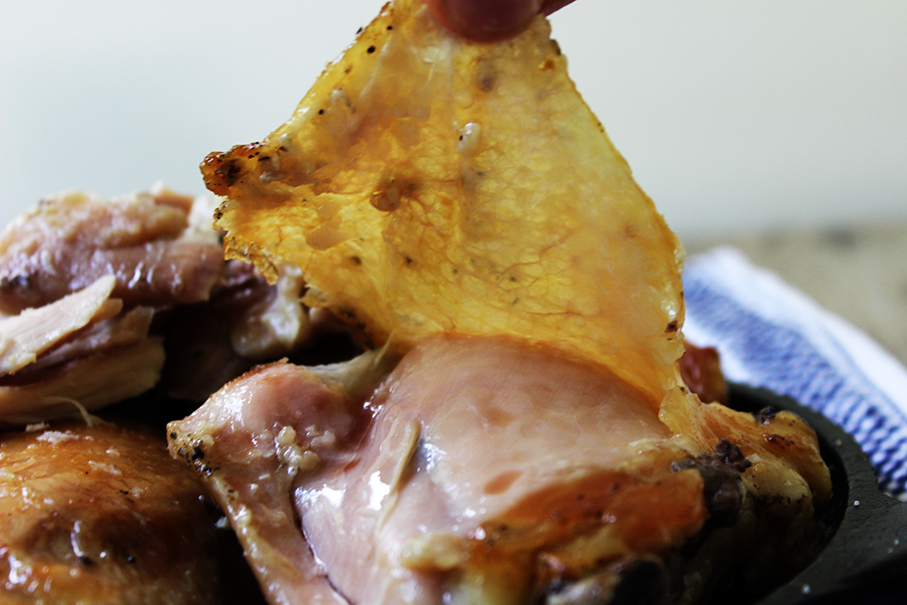 The chicken stays very moist and tender. It is perfect for using it in any other recipe that calls for spiced chicken as well. Just add the required spices to the bottom of the slow cooker, then on top as well. No need to toss it with the chicken.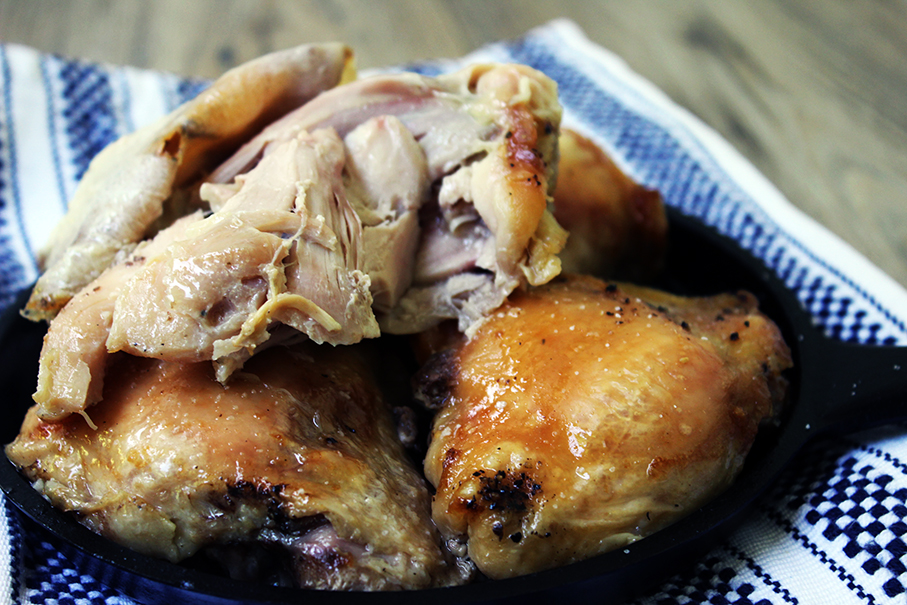 Next time you want some chicken, please consider using your slow cooker. You'll be so pleasantly surprised!