Slow Cooker Bacon Garlic Pork Loin is a take on my most popular recipe, Brown Sugar Garlic Pork made for the slow cooker and with bacon in just 5 ingredients!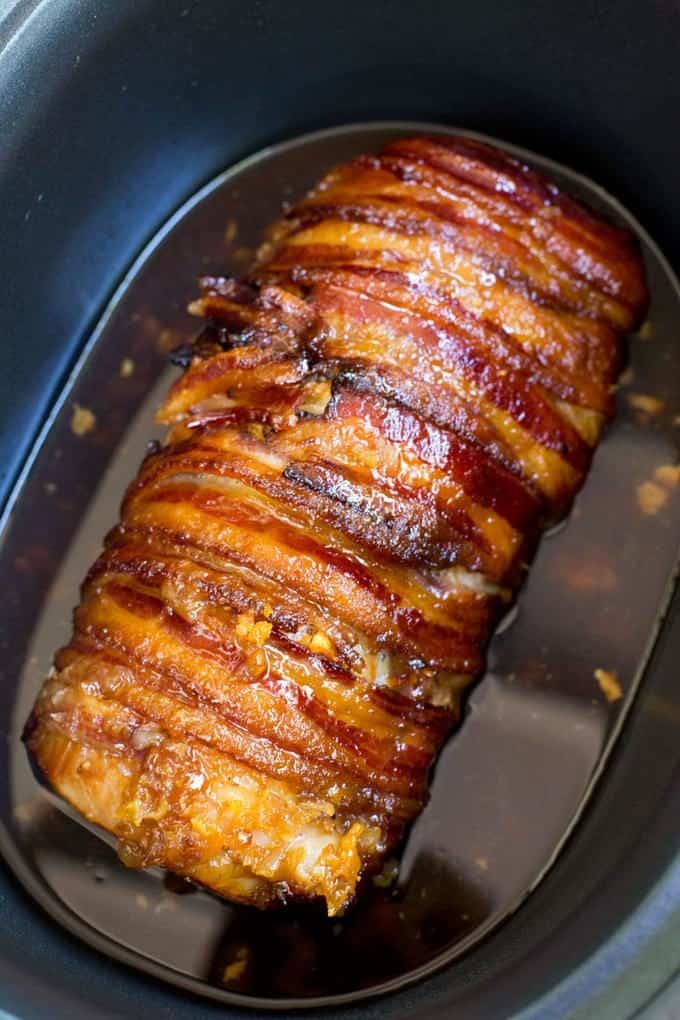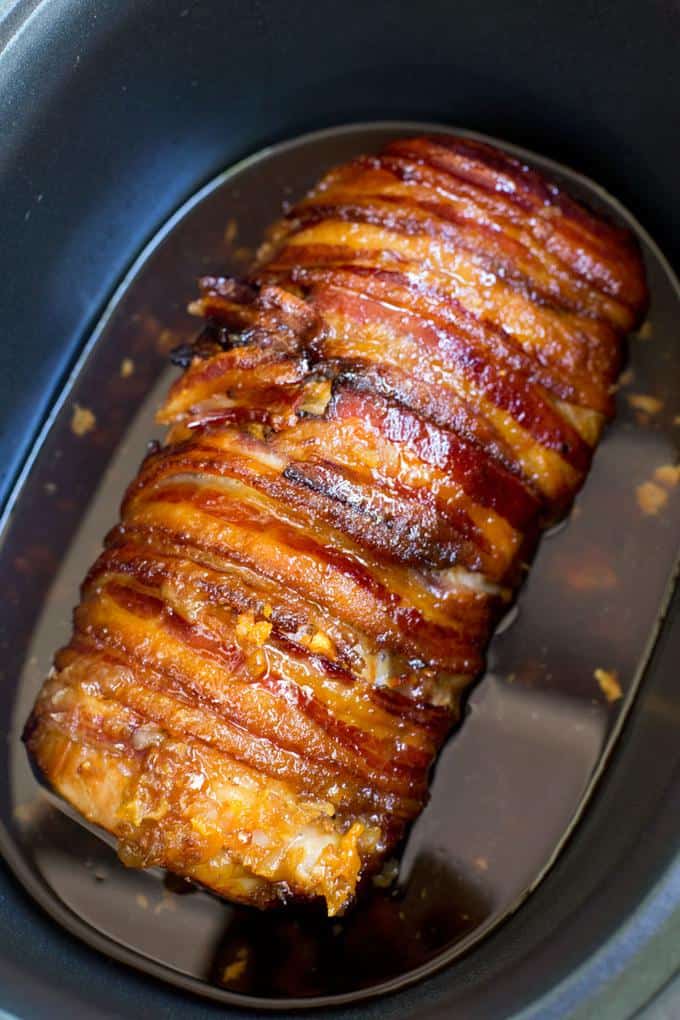 Crock Pot Pork Loin Is Here!
Slow Cooker Bacon Garlic Pork Loin is a play on my most popular recipe that has over half a million views in its first year, Brown Sugar Garlic Pork Loin. On an almost daily basis readers would reach out to me to ask if the recipe could be made in a slow cooker and for months I said: "no, sorry there isn't enough fat in the pork loin to keep it moist, this is best done in the oven."
Well, those days are over! I began testing the recipe a couple of months ago for a slow cooker version. I kept pork loins untrimmed, I added all varieties of fats, I even tried injecting the pork to keep it moist. No bueno. I finally decided it was time to take this pork show to the next level and go pork on pork.
This slow cooker pork loin Has Just 5 Ingredients!
Michael Symon would be proud of this recipe which is my original recipe wrapped in thick cut bacon and cooked to delicious pork perfection. Here is a look at the long list of ingredients.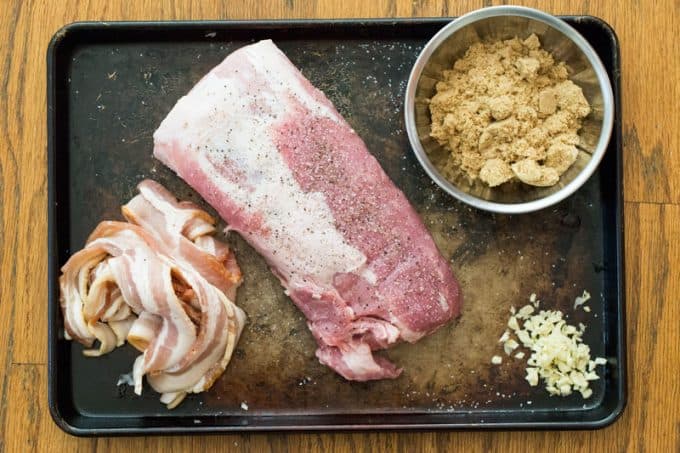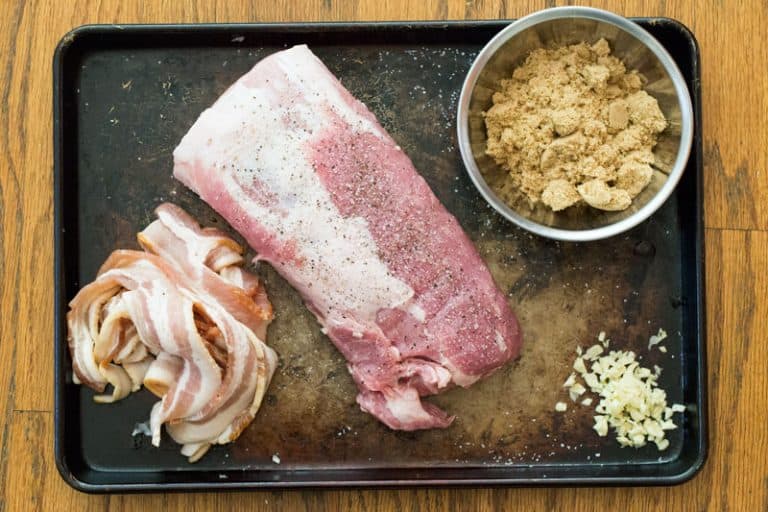 Just kidding! This Slow Cooker Bacon Garlic Pork Loin is 5 ingredients (not counting salt and pepper) and the hardest part of the prep is mincing the garlic. I add it to the slow cooker in true to my blog fashion, with no liquids. Don't worry as it cooks it will release liquids into the slow cooker.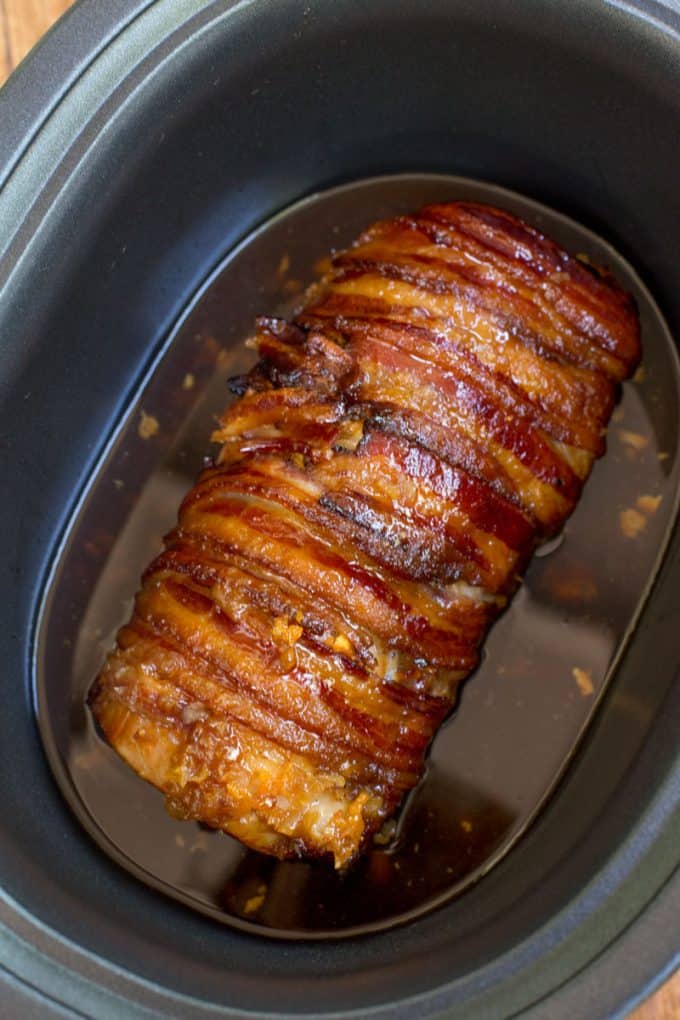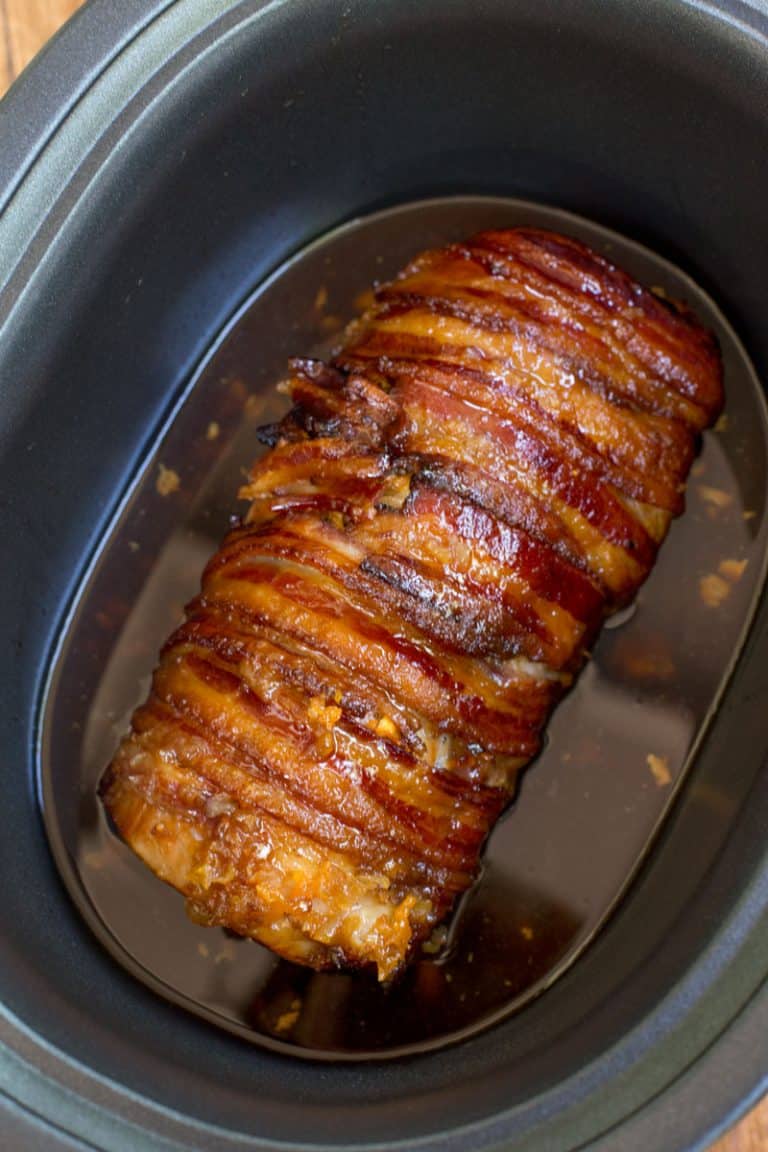 Crock Pot Pork Loin Tips
Give the Slow Cooker Bacon Garlic Pork Loin a rest for about 10-15 minutes (this may be the hardest wait of your day) and then slice into portions. I find ½ inch slices are best, and I serve 2-3 slices per person depending on size of appetite.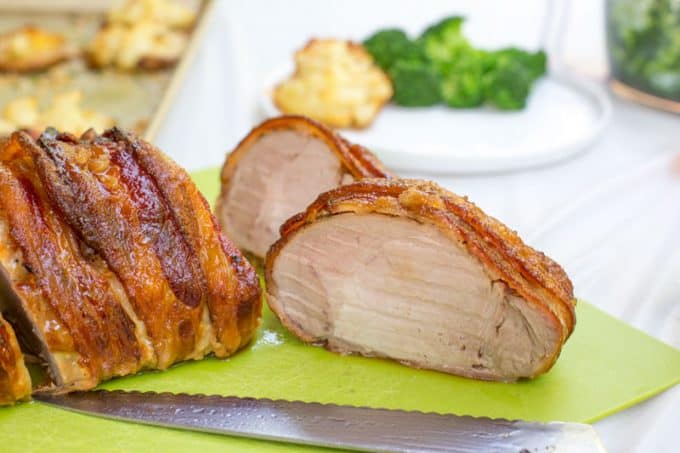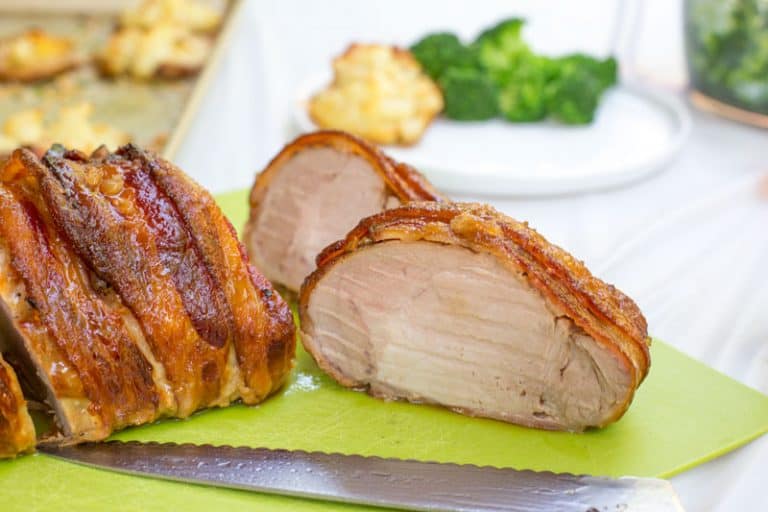 In case you need a delicious side dish for your Slow Cooker Bacon Garlic Pork Loin you can make my Parmesan Garlic Crash Hot Potatoes I shared earlier this week, or your favorite green vegetable or Roasted Carrots.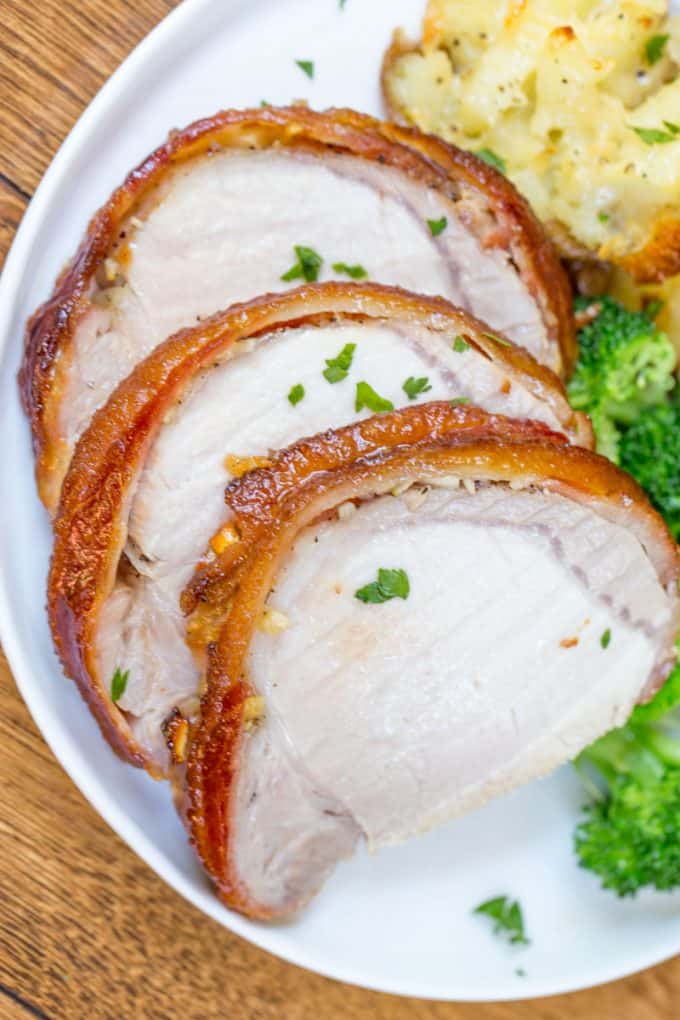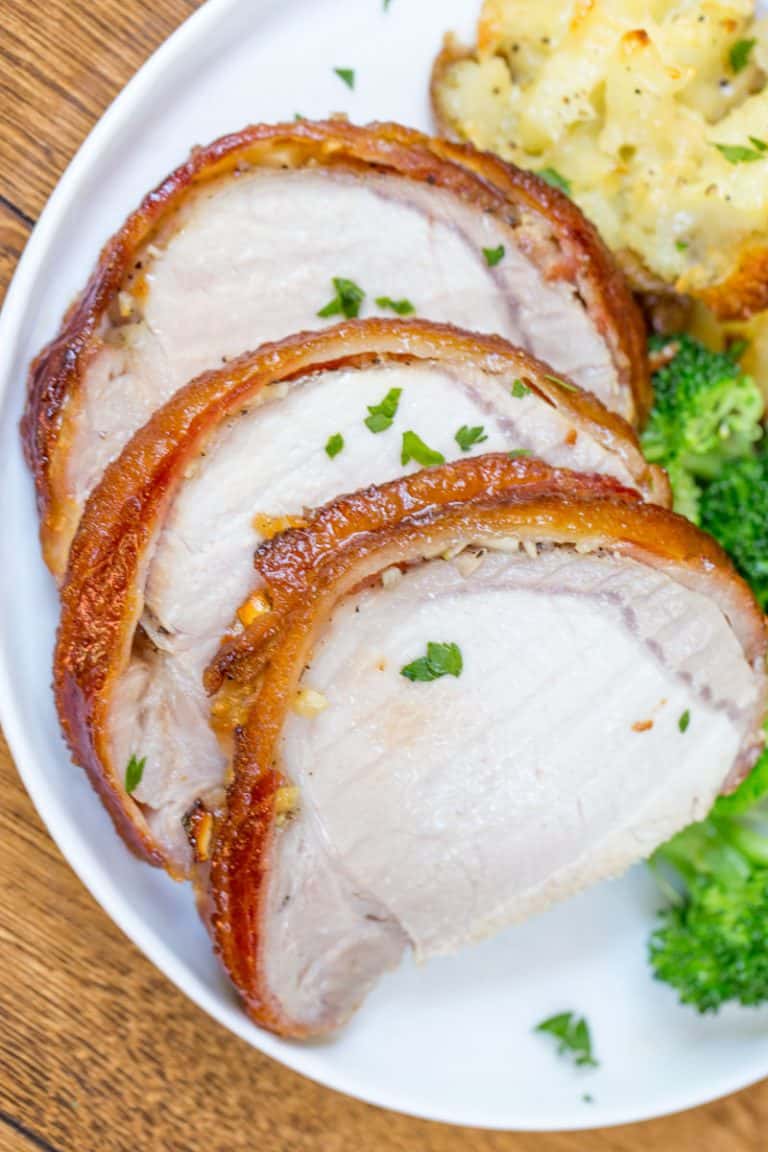 We're huge bacon fans around these parts… so much so that the official blog assistant (read: husband) stole a solitary piece of bacon from the end of the loin and said "What? It was basically falling off?!" Note: It was not.
Looking for more awesome Brown Sugar Garlic Recipes?
Tools Used In This Recipe:
Slow Cooker: Love this slow cooker and how programmable it is, it has been a workhorse for me… until…
My New Slow Cooker: This recipe was made in this slow cooker.
This beauty arrived only a few days ago and I'm already going gaga for it. Obviously common sense says you do not need such an expensive option, but the thing I LOVE about it is the cast aluminum insert that I can brown in and put in the oven. Now for roasts I can brown the meat in the insert and not lose a bunch of the flavor by transferring the meat and leaving the browned bits behind. If you're thinking of a new slow cooker, consider it if your budget is open. (this slow cooker will be appearing more and more in the future on here) ps. totally not a sponsored plug even though I have worked with them before, this beauty was out of pocket!
Kosher Salt: 3 pounds for less than 3 dollars I have had the same box for 2 years and the difference in flavor between table salt and Kosher Salt is night and day. Once you start cooking with it you will hardly use table salt again.


Ingredients
3

pound

pork loin

, trimmed of excess fat

1

tablespoon

canola oil

salt and pepper

, to taste

4

garlic cloves

, minced

1/3

cup

light brown sugar

8

slices

thick cut bacon
Instructions
Rub the tablespoon of canola oil and add Kosher salt and fresh cracked black pepper to taste.

Add the garlic and brown sugar to the top of the pork.

Wrap the pork with the bacon (I wrapped all the way around, if you want to drape them over the top you can as well.)

Place carefully into the slow cooker and cook on low for

4-5 hours

.

If you finish the cooking time and for some reason the bacon is not as crispy as you would like, remove the pork and put it on a baking sheet in the oven on broil for

2-3 minutes

(keep the pork in the middle of the oven, not too close to the top).
Nutrition
Calories:
388
kcal
|
Carbohydrates:
9
g
|
Protein:
40
g
|
Fat:
19
g
|
Saturated Fat:
6
g
|
Cholesterol:
134
mg
|
Sodium:
331
mg
|
Potassium:
768
mg
|
Sugar:
8
g
|
Vitamin A:
15
IU
|
Vitamin C:
0.5
mg
|
Calcium:
21
mg
|
Iron:
1.9
mg